If you would like to indulge in some fun activities during the weekend and the normal outdoor activities such as cycling, jogging, and other sports just don't grab your interest, you could always opt for something new that will get the adrenaline pumping. Extreme sports can be inherently risky, but if you decide to put the risk factor aside and live in the moment, then zorbing is one activity to try.
What is Zorbing?
Photo credit: Yeoh Thean Kheng / iW / CC BY-NC
If zorbing sounds like an alien term, it's about time to change your opinion about it and give it a go. Zorbing has been around since the mid-1990s, when Dwane van der Sluis and Andrew Akers came up with the idea in Rotorua, New Zealand.
Wanting to take the term 'adventurous' to a whole new level, the pair created what was essentially a human-sized hamster ball specifically designed for rolling and bouncing down sloping terrain. Of course, in perhaps the world's adventure sport capital of New Zealand, it didn't take long for zorbing to become a widespread sport. Although it's one of the stranger extreme sports out there, zorbing is actually pretty simple: climb inside a big inflated ball and roll down a hill. The soft plastic ball is double-walled, so the rider bounces around and gets the thrill of speed, but is protected, happily, from the full impact of crashing into the ground repeatedly.
Zorbing is a lot like somersaulting, only it goes much faster. The accumulating velocity of traveling downhill often changes the ball's centre of gravity, causing the orb to bounce unpredictably, adding an extra thrill to the downhill trip. The zorb is a big ball of flexible plastic with one ball inside another and an air space between the two. The inner and outer spheres are connected by nylon strings.
A Dry Zorb and a Wet Zorb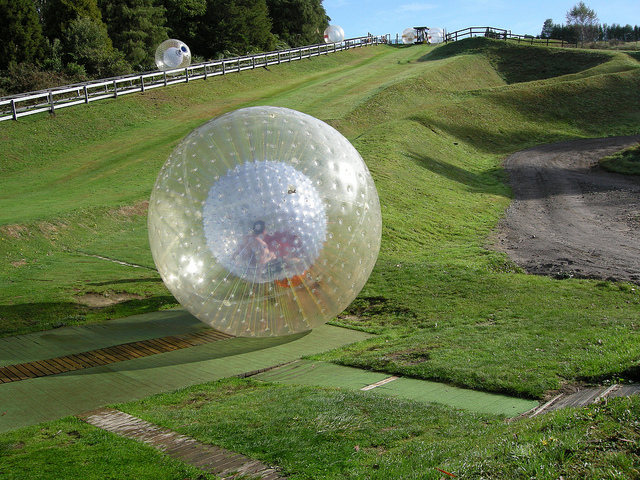 Photo credit: cridling / iWoman / CC BY-NC-ND
There are two types of zorbing; a dry zorb and a wet zorb. Both types sit at the top of a steep, grassy hill and are started when staff manning the zorbing site pushes your zorb over the top. With the dry zorb, you are strapped into the side of the inner sphere so you're suspended and as the ball travels downhill, the rider turns upside down continuously. Although there are hand holds, it truly feels as if you're independently turning through space strapped in and then rolled over the top. The dry zorb is quite popular and definitely worth trying. It feels like you are in a pinball machine, with the ball ricocheting from left to right along the downhill path.
Wet zorbing on the other hand is rather different. One option is similar to dry zorbing except that a bucket of water is thrown into the ball, resulting in the person inside the zorb being quite drenched by the end of the downhill roll. The other option for wet zorbing is the hamster-ball equivalent of walking on water, with the zorb being placed on a small lake. With this type of wet zorbing, the occupant stays dry. If you get a group of friends together you can even play games, where you try to knock each other's ball with your own. One of the greatest things about zorbing is that there is no training and you don't have to wear any special clothing. It also is a sport that doesn't take long for one to master, nor does it require riders to spend an entire day to enjoy the thrill of bounding down a slope. With a suitable hill, a zorb ride can last as long as four minutes – which may seem short but once you are rolling and bouncing down a steep hill, it will surely seem like much longer!
If you would like to engage in a spot of zorbing, then Taman Titiwangsa in Kuala Lumpur or Malaysia Agro Exposition Park in Serdang are the places to be.
Some Fast Facts About Zorbing
• Zorbing was invented in the mid- 1990s, and formalised in 2000.
• Although tumbling down a hill seems like it might churn your stomach, zorbing, like skydiving, doesn't really affect the digestive system. Even becoming dizzy or lightheaded after the ride is rare.
• This adventure activity doesn't require a lot of prep work or skills, but it's different enough from an everyday experience to really get the adrenaline pumping.
• The globes are generally made from a transparent soft plastic.
Read more:
What are your thoughts on this article? Let us know by commenting below. No registration needed.
Source: The Expat Magazine December 2014
---
"ExpatGo welcomes and encourages comments, input, and divergent opinions. However, we kindly request that you use suitable language in your comments, and refrain from any sort of personal attack, hate speech, or disparaging rhetoric. Comments not in line with this are subject to removal from the site. "
Comments