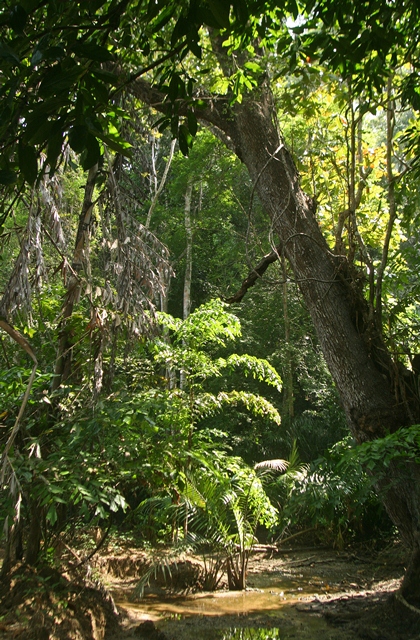 Languid and laid-back, the island destination of Langkawi offers considerably more than the usual sand and sea associated with such holiday retreats. Travel photojournalist David Bowden explores the wilder side of Langkawi and finds it an ideal place to get back to nature.
While Langkawi is well known for its sand, sun, and sea, it is the plants and animals that some consider to distinguish it from other island groups in the region. Many come to take a walk on the wild side while others are happy to enjoy a talk on the mild tides. With only three of the 99 islands in the archipelago having any form of development, the plant communities on all are becoming increasingly important sanctuaries in an ever-developing world.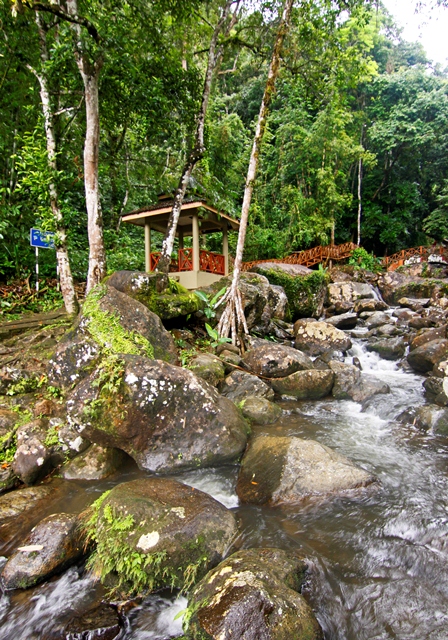 Perhaps Langkawi's most popular excursion is a visit to the mangrove forests to learn from informed nature guides about how these plants protect coastlines from erosion as well as being a habitat for many species of flora and fauna. Mangrove forests were once considered little more than wastelands best suited to filling in and leveling off, but now many have come to realise that they serve a number of critical functions. Mangroves are especially economically important as breeding grounds for fish and crustacean species. It was Langkawi's unique natural qualities that ensured parts of Langkawi were designated as a UNESCO World Geopark in 2007. Langkawi's sedimentary rocks are considered some of the oldest in Southeast Asia, dating back over 550 million years. The Geopark not only protects Langkawi's geology, but also the flora and fauna that thrive in the island's 100 Geopark sites scattered around the archipelago.
Championing the Cause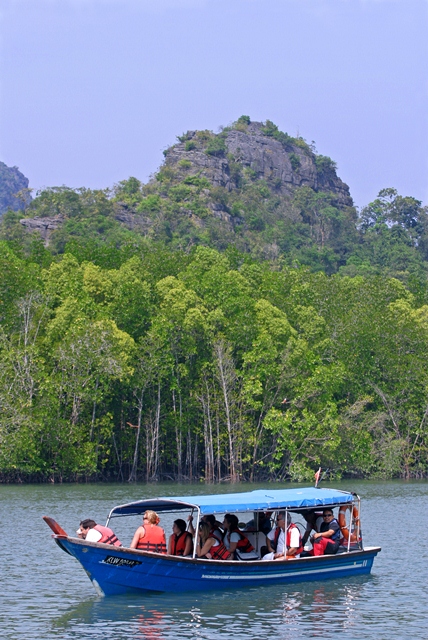 Green-accredited nature guides such as Irshad Mobarak along with Anthony Wong, Managing Director of Frangipani Resort and Spa, consider Langkawi unique because of its complex ecological inventory. "I had a dream for the northern part of the main island of Langkawi to be turned into a nature park," said Mobarak, "and that dream became a reality with the creation of the UNESCO Geopark." For him, legislation and education are equally important if Langkawi's natural areas are to be protected so that they are still there in years to come for others to enjoy.
Mobarak champions the cause of responsible tourism in order to minimise human impact throughout the islands. Through his personalised guided tours he has provided tourists with a very clear understanding of the many natural processes which continue to shape the islands. He introduces an intriguing tale for almost everything that he comes across on his daily tours.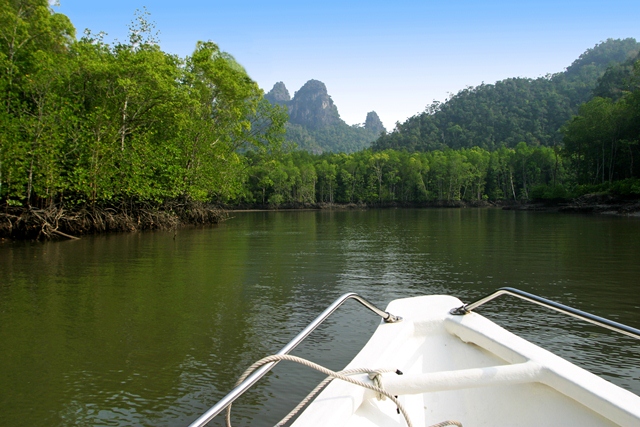 Likewise, Anthony Wong was using the word "ecotourism" decades ago before it became trendy. "What I love on Langkawi is the pace of life, and that you can explore some parts of it by bike. I have seen dolphins swimming in the Andaman Sea and eagles soaring on thermals all over the island," he comments. Being one to put words into action, Wong helped establish Frangipani Resort as one of Malaysia's first eco-friendly properties. He says, "Being green is something that has been part of me from a very early age. First, I became a nature guide and later, the owner of a travel company. It was a natural progression that we established Frangipani Resort and incorporated hundreds of environmental practices into its management. The beachside resort has numerous tanks capturing rainwater which are used to irrigate the gardens, there's an on-site wetland for filtering grey water, and we also grow organic vegetables to use in the resort's restaurant."
The resort has already been acknowledged as an industry leader in responsible tourism, having been awarded the ASEAN Green Hotel award and being highly commended in the Virgin Holidays Responsible Tourism Awards 2008 presented at the World Travel Market. It also attained a gold medal for its environmental education programmes at the 2009 PATA travel awards.
Green Places, Natural Spaces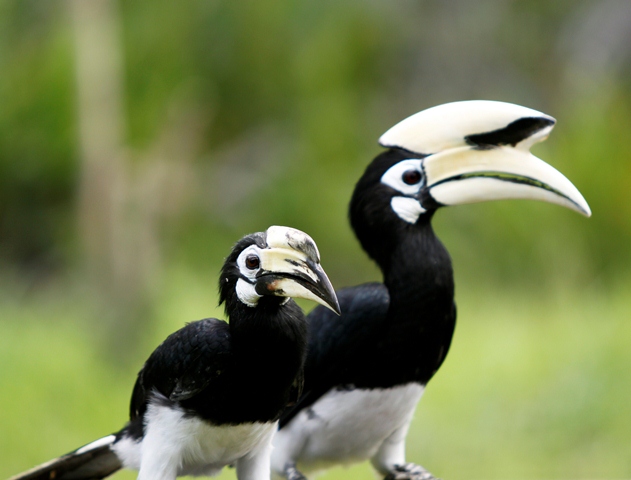 Getting in touch with nature appeals to a growing number of visitors, and Mobarak claims that even guests staying in five-star resorts regularly join his activities. Visitors are sure to see Long-tailed Macaques as they congregate around popular tourist sites such as Telaga Tujuh (Seven Wells). Flying Lemurs, which can be seen gliding at dusk around Datai Bay, are an unusual animal in that they are neither lemurs nor do they truly fly.
Langkawi is home to over 200 resident and migratory bird species with the Redwattled Lapwing, Mountain Hawk-Eagle, and Brown-winged Kingfisher being easier to find here than elsewhere in Malaysia. Bird habitats range from mudflats to mangroves, in forests, rice fields, reeds, and plantations to open areas, and some species can only be found in specific locations. While waders such as egrets are common in open areas like rice fields, Brahminy Kites and White-bellied Sea Eagles are species most commonly seen in the mangroves. Oriental Pied Hornbills are common especially when trees are fruiting, and Gunung Raya is one of the best places for birdwatching, especially for species like the Great Hornbill. Mangrove tours are conducted from the comfort of small covered boats that depart from Tanjung Rhu and Sungai Kisap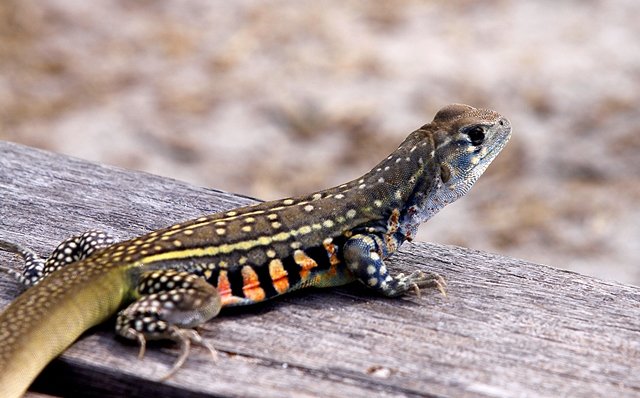 Mangrove Forest Reserve. In addition to seeing various species of raptors feeding, observant tourists may get a glimpse of large Water Monitor lizards, kingfishers, and snakes if they look hard enough. Grass verges next to sandy beaches are where the unique Rainbow Lizard can be found darting in and out of burrows. Langkawi is one of the best places in the world to see these fast-moving and energetic reptiles.
Langkawi is not a typical tourist island destination, but more a natural paradise that welcomes tourists. Make a visit there to enjoy its many fine resorts, superb restaurants, duty-free beverages, and pampering spas, but be sure to take some time to enjoy Langkawi naturally.
CONTACTS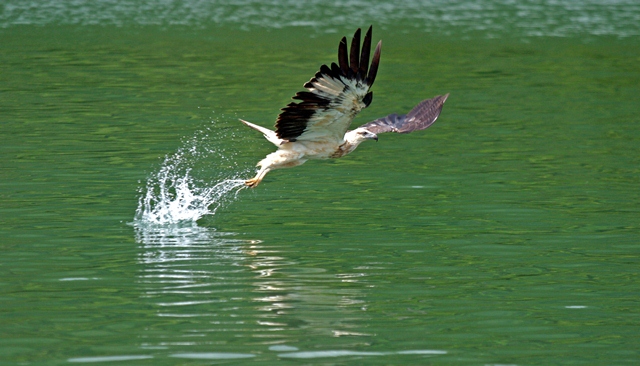 Asian Overland Services Tours & Travel www.asianoverland.com.my Frangipani Langkawi Resort & Spa www.frangipanilangkawi.com Irshad Mobarak (Nature Guide) www.junglewalla.com
David Bowden is the author of Enchanting Langkawi published by John Beaufoy Publishers (www.johnbeaufoy.com) of the United Kingdom. This 80-page, full-colour book is a photographic documentation of Langkawi as an exciting and vibrant travel destination and is sold worldwide.
Homepage Highlight Photo credit: ~Jin Han ~ / Foter / CC BY-NC-ND
Read more:
What are your thoughts on this article? Let us know by commenting below. No registration needed.
Source: The Expat Magazine January 2015



" ExpatGo welcomes and encourages comments, input, and divergent opinions. However, we kindly request that you use suitable language in your comments, and refrain from any sort of personal attack, hate speech, or disparaging rhetoric. Comments not in line with this are subject to removal from the site. "



Comments