Malaysia's inextricably linked sibling and southern neighbour, Singapore is a magnet for tourists from around the world. Editor Chad Merchant dons his travel bag and makes the short trip to the region's powerhouse island, the little red dot of Singapore.
Singapore is an enigma in many ways. Perhaps the world's only sovereign state to have had its independence forced upon it, Singapore is a country that's also a city, and a city that's also an island. It's draped in concrete, steel, mirrored glass, and countless thousands of escalators, yet maintains a startlingly lush canopy of trees and an abundance of flora. Economically, it punches far, far above its weight class, outpacing every country in the region despite its diminutive size. Everything seems to run smoothly, and the city-state is legendary for its cleanliness and efficiency, but also routinely derided for its soullessness and artificiality. There's a certain homogenous nature to Singapore, yet it's every bit as multicultural as Kuala Lumpur or Penang, and unlike some Malaysian cities, does not attempt to banish or abrogate its rich and fascinating colonial heritage.
Finding a Home Base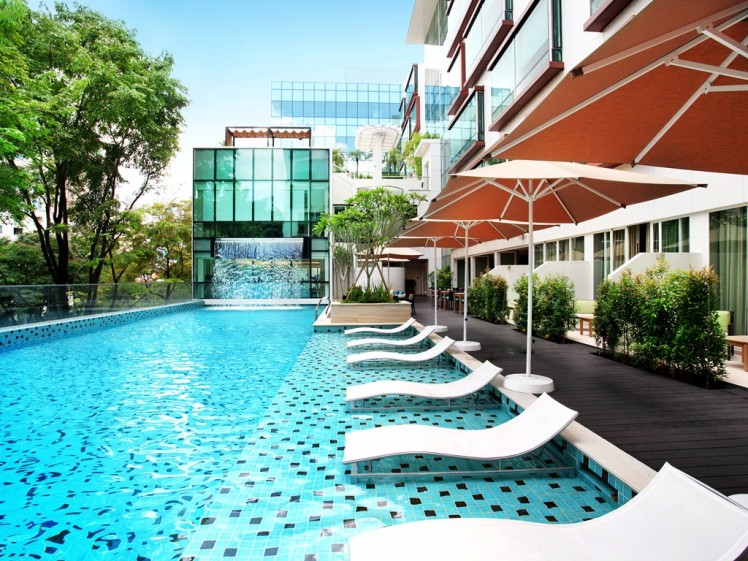 Whatever Singapore is or isn't, however, it's always a place well worth visiting. On a recent trip there, I notched a few firsts, despite having travelled there a dozen times or more. First, I stayed in a different area than usual, and it turned out to be a great choice. I dropped my bags at the contemporary boutique Park Regis hotel near Clarke Quay, perhaps the epicentre of nightlife and good times in Singapore. Just a very short stroll from the Singapore River and the Clarke Quay MRT station, Park Regis was an exceptional base for my three-night stay in an ideal location. The 202 studio concept guestrooms are generally on the small side, which is not terribly uncommon in Singapore, but they're beautifully designed and furnished and appointed to a very high standard, exuding a chic and upscale functionality. Indeed, if you're not planning to spend all your time in your hotel room, then the size is fine, and the brisk business Park Regis does seems to indicate that a lot of people agree. Ideal for solo travellers or perhaps couples, this hotel gets virtually everything right. The beds and linens were exquisitely comfortable, the room amenities were terrific, and the staff were friendly and willing at every turn to help with any requests. Park Regis is part of the StayWell Hospitality Group with most of its properties found in Australia and New Zealand. The Singapore property is the Group's first in Asia, and opened just over four years ago.
That newness was evident throughout the property, but even though Park Regis is still not old by any means, they're still ensuring things are kept up-to-date and suitably upmarket. Breakfasts in the newly refurbished lobby floor restaurant were always a morning treat, but for an even better experience, take your food and step out onto the covered patio walkway and dine al fresco. Though the Park Regis is strategically located just a short stroll away from the hip and happening Clarke Quay area, it's actually sited on a quiet, tree-lined street, offering the best of both worlds. If you are keen to stay fit while you're on holiday, Park Regis has a completely renovated and very well-fitted gym, just steps away from the immaculate 25-metre pool with its signature cascading waterfall and partially submerged comfy sunloungers. The property's Quay Rooms, in fact, offer direct access to the pool, a real plus point for avid swimmers.
A Landscape Marvel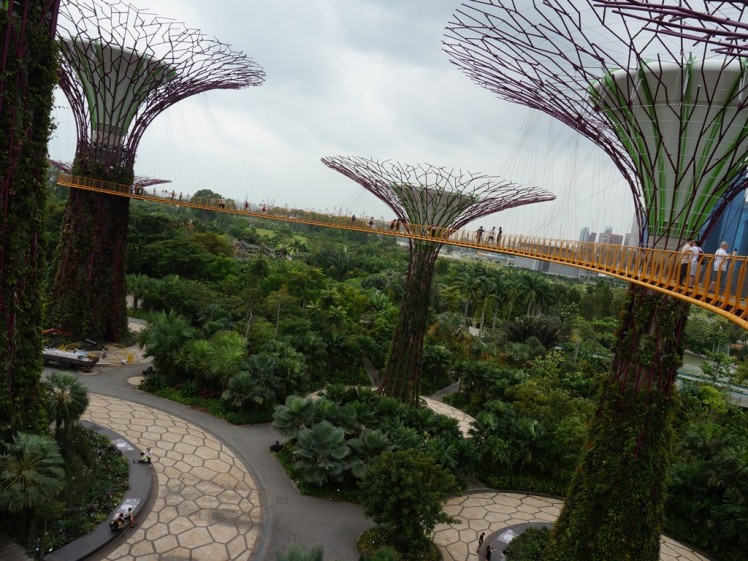 The second new thing for me was a visit to the impressive Gardens by the Bay, a lush 101-hectare park built on reclaimed land and opened in 2012. Two sizeable conservatories – Flower Dome and Cloud Forest – are complemented by a sprawling open-air park dotted with various gardens and dominated by the Supertree Grove, a collection of 18 tree-like structures that are both visually arresting and environmentally useful. The supertrees range in height from 25 to 50 metres, comprising a concrete core and steel frame, planting panels, and a wide-arcing "canopy" topping the structure. The supertrees overlook the entire park and along with the vast domed conservatories are its most iconic elements. The planting panels on the trunks of the supertrees serve as prolific vertical gardens, and these panels are planted with nearly 163,000 plants representing more than 200 species from around the world. Bromeliads, orchids, ferns, creepers, climbers, and tropical flowers are all in attendance here. Of the 18 supertrees, 11 have canopies fitted with sustainable and environmentally thoughtful functions, including banks of photovoltaic cells for solar energy harvest, and rainwater collectors for use in irrigation and park fountains. Some of the supertrees further act as air exchangers and cooling aids for the conservatories.
Strolling the magnificently landscaped gardens is free of charge, and Gardens by the Bay is accessed by the nearby Bayfront MRT station. Complimentary attractions and gardens here, enough to easily spend a day exploring, include the Bay East Gardens, the multisensory World of Plants, Dragonfly and Kingfisher Lakes (the former boasting a 440-metre boardwalk), Heritage Gardens with its four themed gardens corresponding to Singapore's three main ethnic groups and its colonial history, a Children's Garden with water play features, and the new Sun Pavilion, comprising a collection of over 1,000 desert- and dryland-dwelling plants representing some 100 different species. As Singapore's showcase park development, a paradoxical manmade wonder of nature, Gardens by the Bay offers plenty of free enjoyment for adults and children alike.
In what is surely an unintentional nod to the old Joni Mitchell song that says, "They took all the trees and put 'em in a tree museum," admission is indeed charged for entrance to the conservatories, a rather steep S$28 to access both the Cloud Forest and Flower Dome structures, with the under-12 child's fare set at S$15. This means a family of four would need to pony up well over RM200 to wander the conservatories, a price point that perhaps limits these lovely botanical experiences to only the most ardent of plant lovers. A far less wallet-busting choice is the OCBC Skyway, a curving 128-metre aerial walkway that connects two of the supertrees a breathtaking 22 metres above the ground, affording scenic vistas of the Gardens and the awe-inspiring Marina Bay skyline, just adjacent to the park and dominated, of course, by the dramatic triple towers of the US$5.5 billion Marina Bay Sands. The Skyway is open from 9am to 9pm, and admission is S$5 for adults and S$3 for children.
Eats and Treats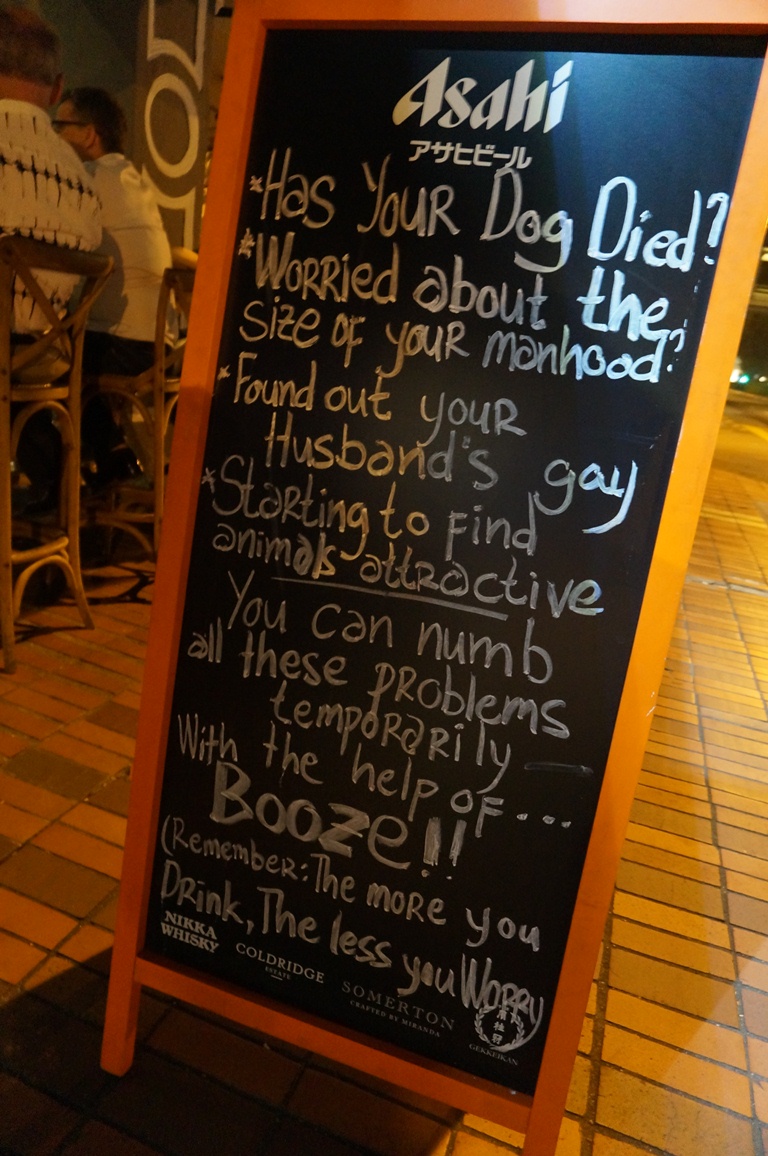 I also discovered a gem of a restaurant found in a bit of an unexpected place. Perched at the top of the soaring Ocean Financial Centre in Collyer Quay is Zafferano, a stylish, contemporary Italian restaurant and wine lounge that features a pair of open kitchens, a charcoal grill, and a walk-in wine cellar that puts the many excellent labels from Italy and elsewhere on full display. With restaurant manager Paolo Colzani and head chef Marco Guccio running the show, we expected some tantalizing, authentic Italian dining, and Zafferano delivered, particularly with Chef Marco's magnificent Signature Dishes. On the 43rd floor, some 240 metres above the ground, Zafferano of course provides sweeping views of the harbour and the Marina Bay skyline to complement the brilliant cuisine, and the wraparound terrace – glassed in but open to the sky far above at the building's very top – offers great al fresco dining. For excellent dining or evening cocktails, this is a sublime choice. The happy hours (early evenings until 7:30 except Wednesdays and Saturdays when they run all night) offer surprisingly good value-for-money prices on your chosen libations (just S$8 nett for a glass of good wine), and when coupled with the stunning views and Zafferano's delectable bar bites and pizzas, this is a near-unbeatable place to watch the sun set over Singapore's glittering skyline.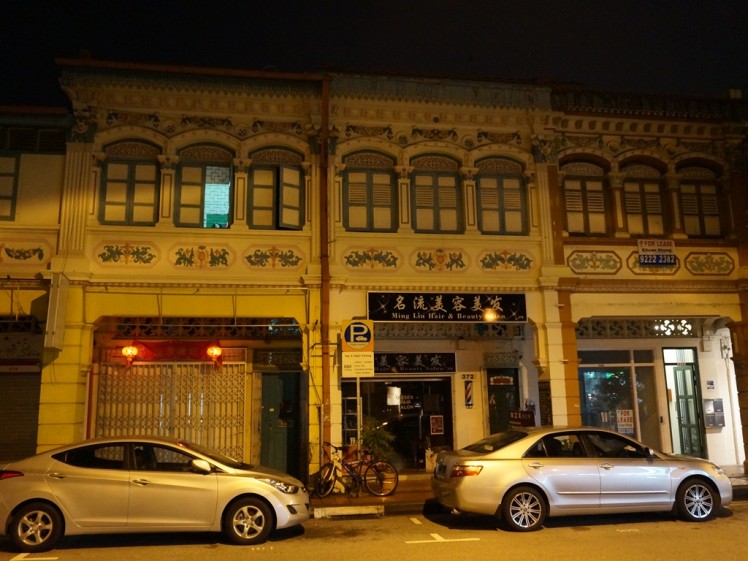 Another delightful first was exploring the Katong area, another lesser-known gem of the city. In some ways comparable to Bangsar in KL in that it's an upscale residential area that's become something of a fashionable expat enclave, Katong oozes charm and history. In the late 19th and early 20th centuries, Katong was the chosen domain of the Singapore elite, many of whom made their fortunes and built manors and retreats along the seafront east of the city. A melange of Portuguese, English, French, and Chinese settlers developed parcels of land here, and this rich, blended cultural heritage is what colours Katong's considerable appeal today. Walking along the streets, replete with a wonderful mix of Peranakan, Western, and Malay restaurants and shoplots, it almost felt like a more orderly version of Melaka. (In fact, a particularly spicy and renowned version of laksa is found here, known as Katong laksa, and is well worth seeking out.) Today, the Joo Chiat area, which is the heart and historical centre of Katong and features a fascinating blend of Singaporean, Chinese, Peranakan, and colonial English architecture, has been designated as a National Heritage Conservation area by the Singaporean government. No MRT station currently reaches Katong, but a handful come close, and in the mornings or relative cool of early evenings, walking is the best way to enjoy this area, anyway. Jump off the MRT Circle Line at the Dakota station and head east along Dunman Road for a little over a kilometre, which will take you across the Geylang River and right into the Katong area. From Dunman, you can go right on Joo Chiat Road and it's about 400 metres to the East Coast Road (and a welcome Brotzeit German Bier Bar, among several other pubs and cafés).
It's safe to say that Singapore gets a bad rap at times – and in some ways it's understandable and even perhaps deserved that it's thought of as a somewhat mechanical and sterile city. But it still has much to offer for those who wander away from the shiny malls and sparkling lights of the well-known Orchard Road. Explore a bit. Singapore's legendary efficiency and safety means you can do so comfortably and easily, and you may just discover a side of the Lion City you never knew existed.
Just an hour's flight south, Singapore is well-served from KL and Subang airports by Firefly, Malindo, Malaysia Airlines, and AirAsia, among others. Standard and luxury coaches such as Odyssey, Aeroline, and First Coach also ply the North-South Highway, making the trip in about five hours. Self-driving is also an option.
Park Regis Hotel: www.parkregissingapore.com
Gardens by the Bay: www.gardensbythebay.com.sg
Zafferano: www.zafferano.sg
Katong/Joo Chiat: www.yoursingapore.com/see-dosingapore/neighbourhoods
Source: The Expat Magazine March 2015



" ExpatGo welcomes and encourages comments, input, and divergent opinions. However, we kindly request that you use suitable language in your comments, and refrain from any sort of personal attack, hate speech, or disparaging rhetoric. Comments not in line with this are subject to removal from the site. "



Comments