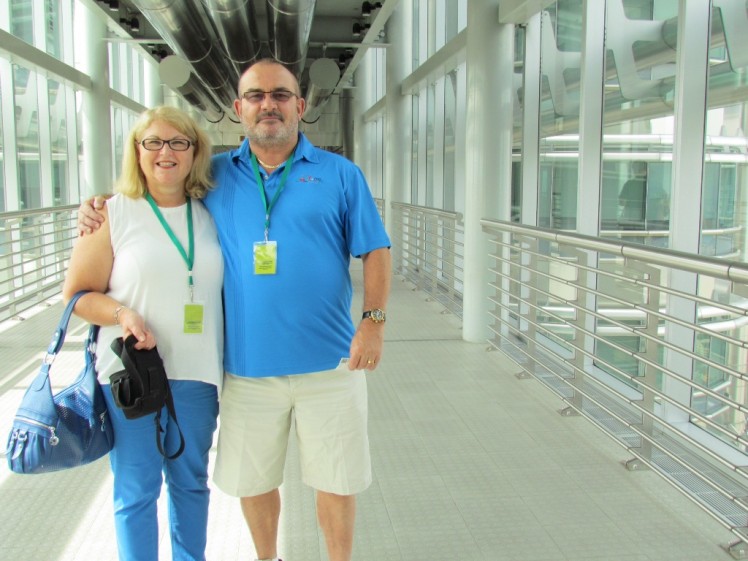 Name: Julie Taylor
Home Country: Australia
Marital Status: Married with two sons (back in Australia)
Other countries you've lived in: New Zealand, UAE, Qatar
What brought you to Malaysia?
My husband Paul was offered a job here with a new company after working in Dubai and Doha for three years. We arrived on June 1st, 2014 with our two Cavalier Spaniels who have had a privileged life travelling from Melbourne to Doha and now KL.
What do you like and dislike about living here?
Malaysia is so different from Qatar which was a very bland coloured country. Here, colours are more vibrant: the greens of the vegetation, the blues of the sky on a clear day, the colours of flowers. When we first arrived, a local Malay told us we could eat breakfast, lunch and dinner every day for a year in a different restaurant for each meal. Two things do frustrate me endlessly, the humidity that makes my hair frizz as soon as I walk outside and the fact that I would love to be able to teach, but I am finding that 32 years of experience makes no difference when an employer sees that I am on the wrong side of 50.
Name three typical weekend activities that you enjoy.
Most weekends we spend the day playing tourist, it might be visiting a museum, going to the Botanical Gardens, or a drive into the country or up into the hills for some cooler temperatures. Sometimes we just go out for lunch and enjoy a meal. We have a pool on our gated community but have only used it once as we are so busy.
What is your favourite holiday destination in Malaysia or in the region? Why?
A favourite holiday destination is such a hard choice as there are so many interesting things to enjoy in Malaysia. We have been to Langkawi several times and enjoy the quietness, but also love Penang as there is so much history and culture to experience and it is just full of energy. I am a Geography and History Teacher though, and to me Sabah is just amazing, jungle, reefs, endangered species, and so much history… it is the ultimate destination for someone like me.
Describe a memorable eating experience you have had here.
I love good food, be it from street stalls or a world class restaurant. Belonging to The Expat Wine Dinner group has given us the opportunity to experience so many different restaurants and food types, and the wine and company is always great.
What do you miss most about your home country?
I miss my sons, who are 27 and 22. I also miss the intense blue skies that we have in Australia, and the coolness on a spring or autumn morning.
What advice do you have for a newly-arrived expat?
Before we even arrived in KL, we had already checked out the expat groups so if you are new to being an expat, or even an experienced expat, join some groups. I joined ABWM, MANZA, and The Expat Group. If someone asks you to go for coffee or lunch, never refuse, take every invitation offered, you might meet your new best friend this way and above all, stay positive! Malaysia is such an interesting country and there are many opportunities out there for new experiences.
How long do you plan to stay in Malaysia? Where would you like to go next, and why?
We do hope to be here for three more years. I suppose if Paul is enjoying his job we may stay a little longer. As I refuse to talk about the word 'retirement', I guess after Malaysia we will head back to Melbourne and downsize. Who knows where the future will take us?
Is Malaysia a good place in which to work and do business? Why?
My husband seems very happy in his job compared to his time in Doha, so yes this was a good move for us to come to Malaysia. Everything moves at a slightly slower pace and rushing is not worth the time and energy as it won't change the pace that things get done. My husband gets frustrated, but I tell him to relax and go with the flow and accept the Malaysian clock works at a different pace.
Source: The Expat Magazine March 2015



" ExpatGo welcomes and encourages comments, input, and divergent opinions. However, we kindly request that you use suitable language in your comments, and refrain from any sort of personal attack, hate speech, or disparaging rhetoric. Comments not in line with this are subject to removal from the site. "



Comments