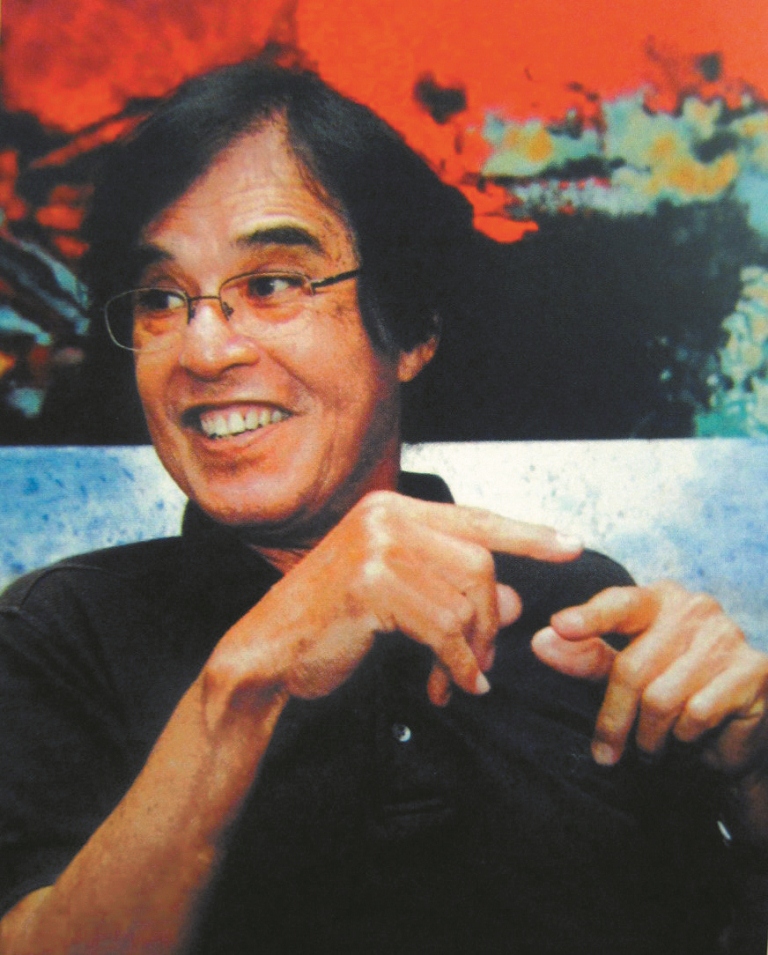 One of Malaysia's most renowned artists from the 1960s, Cheong Laitong, showcased some of his abstract artwork recently at the second part of his 'Expression Of 60 Years' exhibition. Sharuna Segaren got a glimpse into the fascinating artistic life of the humble and talented octogenarian.
Explosions of vivid colour and bold shapes, in stark contrast to white walls, greeted me cheerfully as I entered White Box at Publika, Kuala Lumpur. However, a closer look at the artwork showed darker undertones and deep, bold strokes, changing rapidly from each work to the next. Rightfully so, as the exhibition was Cheong Laitong's 'Expression of 60 Years, Part II,' the second chapter of a selection of 45 of the veteran artist's works between 1960 to 2013, giving visitors a chance to glimpse into a long and rich history of expression of one of Malaysia's pioneers in the local art scene. I met up with Cheong for a chat, and found him to be a spry and energetic man, full of warmth, at the age of 82.
He was more than happy to talk about his experiences, revealing a creative personality that is full of life, happiness, and appreciation for the arts. His contented persona depicted a man who is satisfied with what he has done with his life, currently at a time of his life where his hard work has paid off, and is now proud and ready to show the world a peek into his talented work over the decades.
Back in the early '60s, in Malaya as it was called then, abstract art wasn't very common. At the time, Cheong simply enjoyed the arts and found he had a natural talent for it, embracing it as a creative outlet. He said he had been drawing ever since he could remember and brought a sketchbook with him wherever he went. When asked how he gets his inspiration for his magnificent works of art, he answered simply, "Through my emotions and feelings."
Humble Beginnings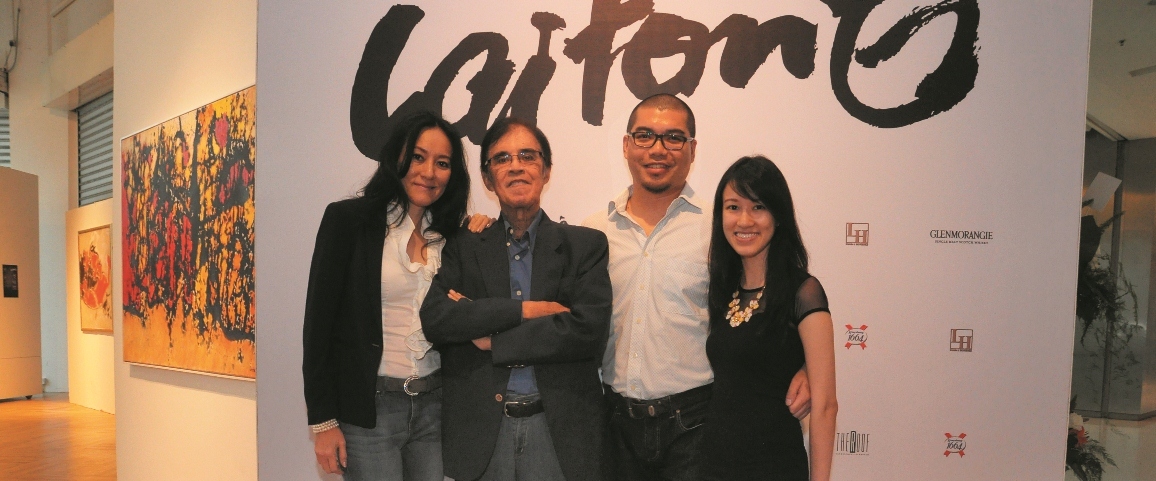 Cheong's early life wasn't easy. He was born in Guangdong, China into difficult times, as his family was seeking greener pastures to escape the Japanese occupation. When he was a small child, he moved with his family to Malaya, where his father ran a textile shop. A few years later, his father passed away. As he grew up, he was faced with growing financial obligations, thus developing the mindset that family and career come first. This is also what later led to his decision to put his career in art aside to seek better opportunities for his family.
Cheong first cultivated his passion for the arts in 1952. He had joined the Wednesday Art Group, formed by Peter Harris, an English art educator who was named the Art Superintendent of the Ministry of Education, Selangor. The group learned and grew from one another, with Harris utilizing government funds to provide brushes, paints, and canvases for the students, encouraging them to delve deeper into the arts. Through this, Cheong found a way to hone his talent. His peers included Dzulkifli Buyong and Patrick Ng Kah Onn, two other Malaysian greats in the local art scene.
Making a Living, Building a Life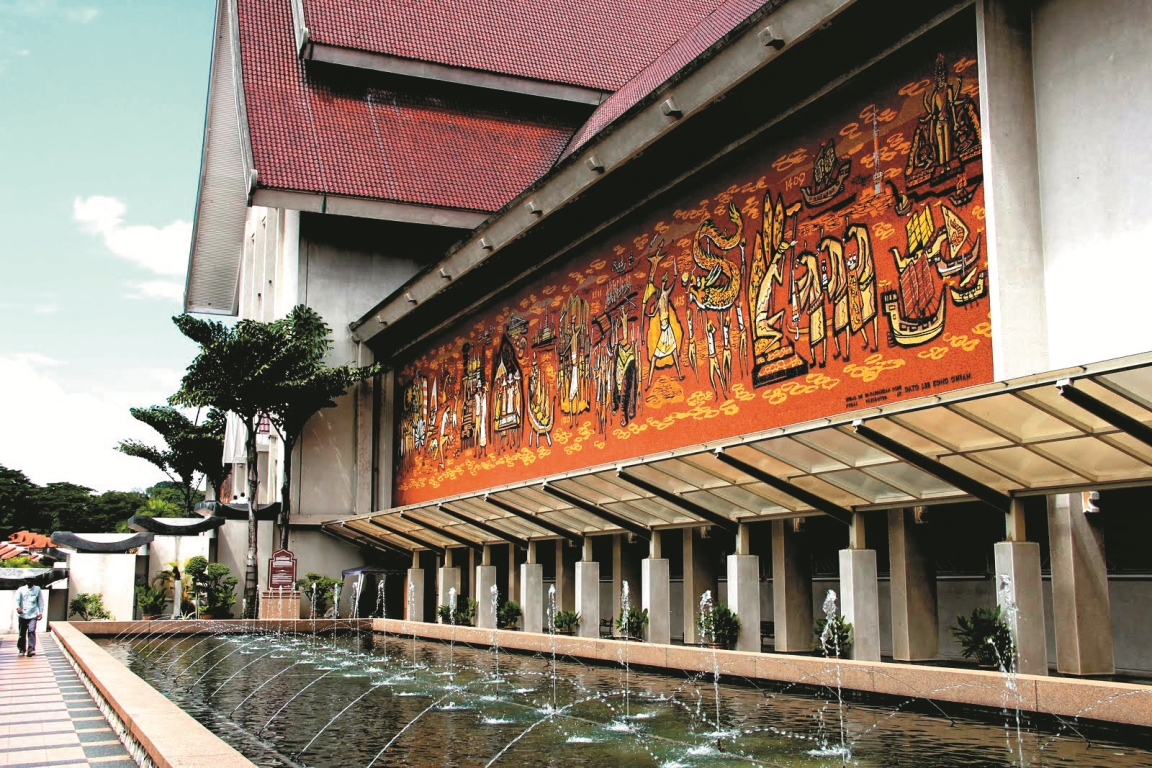 National Museum Murial Wall by Laitong
Recognizing that back in those days, surviving on making art alone was not enough to pay the bills, Cheong found a way to funnel all that creative energy into a more profitable industry – advertising. While art maintained a hobby and passion on the side, his career as the Creative Head of Rothmans International for three decades was immensely successful and rewarding. Many of his works during his advertising career reached more than 20 countries.
Cheong said, "When I was young, it was different. Needing to paint and to share my work with the world was a fire within me. The means by which I could change the world, my world. I threw myself into it and worked so hard and it paid off! It got me my scholarship which in turn got me a wonderful job which ultimately became my second great passion, and it allowed me to provide and give my family all that I could not have when I was a child." In the later years of his life, upon retirement, he found a renewed vigour and passion in his painting. Feeling satisfied and complete from working hard over the past years to provide for his family, coupled with a sense of accomplishment from having 'done his job', he felt an obligation to return to his true calling, and the paint flowed freely.
He explained, "In growing up, having a family and becoming a successful corporate figure, painting no longer played the same role anymore and ultimately it became a private and personal thing. The exhibitions I had were out of discipline to my own art foundations and responsibility to those in the art world who expected it of me."
One of the highlights of Cheong's career is the two Venetian mosaic glass murals at Muzium Negara in 1962. It was just as Malaysia had achieved independence, and in order to cement that, they were looking for an outstanding piece of work to display on the front wall. It was a tough competition, with only seven artists contending in the final selection.
It was Cheong's determination and talent that won him the chance to take up the once-in-a-lifetime opportunity, during an exciting and poignant time in Malaysia's history.
Cheong also earned a scholarship to Skowhegan School of Printing and Sculpture in Maine, USA, and won countless awards and prizes over his career. Among them, he won the top prize in the oil and acrylic section at the prestigious Salon Malaysia twice, and was selected to be a part of the Malaysian art traveling exhibitions to Europe, Australia, London, and India in the '70s.
Technique in the Talent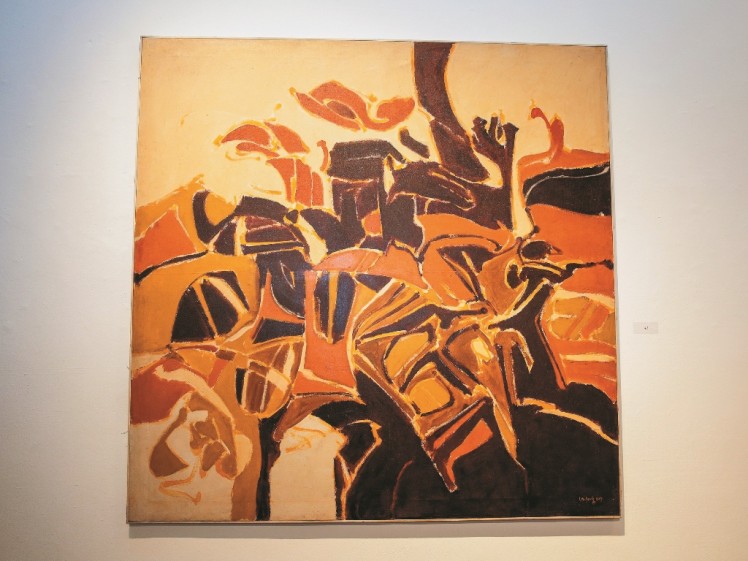 His work shows many elements on nature in them, along with broad brushstrokes, although he says his work has evolved into more thinner and muted lines along the years. He also uses streaks and splatters in his paintings, as well as sharp contrasting colours.
A night owl, Cheong revealed that he paints best at night, when everyone is asleep and the world is quiet. He puts on some soothing classical music, and loses himself in his work. Sometimes it takes two days, sometimes two months, to complete a single piece of art, depending on his state of mind and level of inspiration.
Just like how most of us need to find ways to express our many complex feelings, whether through exercise, writing, or music, Cheong has found art to be his channel. No matter the numerous accolades and achievements he has racked up throughout both his careers as an artist and in advertising, he has always remained humble and true to his real driving force behind his work, the need to express. You don't have to be an art expert to see this in his work, as the combination of colours, tones, and lines merge and explode in mesmerizing patterns, reflecting the inner clash and conflict of our emotions. His art, just like how he intends it to be, allows you to feel.
Indeed, I left the White Box feeling enlightened, and thrilled to have met one of the most prominent early painters of the Malaysian art scene. Having laid my eyes upon the manifestations of Cheong's raw talent, it truly opened my mind to the real meaning of 'artistic expression'.
Source: Senses of Malaysia May-June 2015



" ExpatGo welcomes and encourages comments, input, and divergent opinions. However, we kindly request that you use suitable language in your comments, and refrain from any sort of personal attack, hate speech, or disparaging rhetoric. Comments not in line with this are subject to removal from the site. "



Comments