This post was written by Ronni Pinsler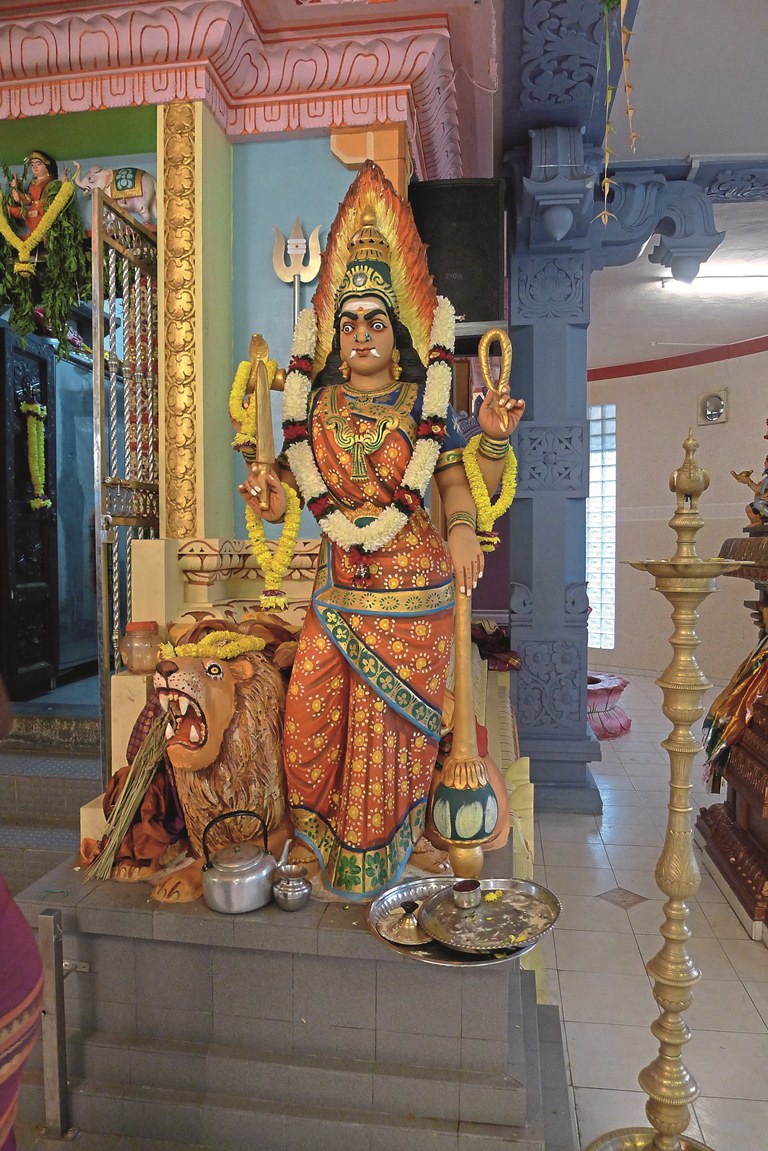 Ronni Pinsler met an ancient goddess, a bed of hot coals, and a friendly welcome when he visited a Penang Hindu community gathering at the Sri Mariamman temple in Tanjong Bunga.
This time it was my neighbours at the Sri Mariamman temple who were "festivaling". The fire walking ceremony had been announced earlier with a vibrant firework display. As an honorary Penangite I am used to these dramatic proclamations. Grabbing my cameras, I cycled to the temple which is just a five minute ride away in the normally sedate suburb of Tanjong Bunga. In the background darkening clouds threatened the glorious sunset of the evening. As usual a large contingent of the Hindu community thronged around the temple and on the cricket-sized patch of ground where a shallow ditch had been dug. A pile of logs had been fired since lunch time, so by now there was a covering of red hot ash.
I was invited to partake in a thoroughly enjoyable communal vegetarian banana leaf meal and was able to gather some facts about what was happening and learn more about the goddess, Mariamman whose name the temple carries. Mariamman, of course, was imported to Penang from South India where she is known to be more ancient than the already ancient Dravidian culture. She has many names, Mariamma (or "Amma, the mother"), and Marika amongst others. She is invoked to protect against disease and death and as a rain bringer.
However Mariamman is not a peaceful and benign goddess. She can be vindictive, inexorable, and difficult to propitiate. She is also the goddess of smallpox, chickenpox, and cholera – all dread diseases in the past. She can protect a village but has a dark side – and does not appreciate being neglected, and so may well create an epidemic if she feels a lack of attention. Blood offerings are provided for her on occasion and it has been reported in ancient times her worship was connected with human sacrifice. It's interesting to note that very little is written about her in the books of Hindu Deities, as she is considered a minor goddess, not at all with the same stature as Saraswati, Durga, and Parvati. Because of her pre-Dravidian, animistic origins she has been ignored by scholars, and yet every city in Southeast Asia has a grand temple devoted to her including Ho Chi Minh, Singapore, Bangkok, and Kuala Lumpur.
Legend tells us that she was the wife of an outcast poet who caught smallpox and begged from neighbours fanning herself with leaves from Neem, or Margosa, tree, and in this way managed to cure herself. At times she possesses by trance the bodies of her female worshippers who then becomes a living symbol of the goddess. Dancing wildly and using coarse language and grunts and screams, she will push onlookers around with her buttocks and flail her arms. This actually reverses the norm of social behaviour, which might be otherwise considered polluting, yet her demon like behaviour is actually considered purifying, and devotees seek out her spits and insults.
At Tanjung Bunga several women did go into trance but their behaviour was more circumspect than what has been witnessed in other locations. The musical crescendo of various musical instruments and approaching kavadis, with pierced devotees, accompanied by a stylish dancing Lothario in sunglasses kept the energy levels high all through the proceedings. There was no animal sacrifice to be seen as I have observed elsewhere.
A special blessing ceremony was held at the fire pit and coconuts were decapitated under the watchful eye of fierce male guardian deities brandishing large curved swords. We were almost ready to begin, and a long queue of devotees were waiting to cross the fire.
The noise was cacophonous with drums, small trumpets, and cymbals all beating in disco-style hypnotic trance mode. Many swayed and moved their bodies to the beat, it was hard not to surrender oneself to the energies created by the event. I asked one of the walkers, a moustachioed gentleman, what his story was. He told me, "My wife was going through a difficult childbirth, the doctors had pointed out several dangers. So I prayed to Sri Mariamman, promising to walk the fire in her name if my wife and the baby would be safe. So here I am." Many people were there to fulfil vows made in exchange for wishes granted. A woman present vowed to fire walk if her son passed his GCE exams. He did, and so she was here to walk.
As the last walkers made their way across the pit, mostly at running pace, amazingly no one seemed to be hurt. I could feel the heat two yards on the side of the pit. Perhaps sixty men and women of all ages made the crossing to keep a promise or purify themselves, and then the rain came down first in a drizzle then and then a steady fall, this considered an excellent sign of the Goddess's pleasure. Mariamman in her avatar as "Aatha" is also the goddess of rain and so she had done her work. Rain that is so precious for crops and village survival. Clearly she was satisfied with the sacrifices made and would ensure for the time being that all would be well within her kampong at Tanjung Bunga, at least for one more year.
In Penang Mariamman temples can be found in Tanjung Bunga, Queen Street, and in Ayer Hitam. They hold their festivals at different times. For Tanjung Bunga it's generally in April. The Mariamman temple in Kuala Lumpur, built in 1873, is located in the city's China town, as is the one in Singapore. Both of them are the oldest premier temples of their individual city. Not bad for a Goddess whose name rarely appears in books about Hindu deities.
Source: The Expat magazine June 2015
---
"ExpatGo welcomes and encourages comments, input, and divergent opinions. However, we kindly request that you use suitable language in your comments, and refrain from any sort of personal attack, hate speech, or disparaging rhetoric. Comments not in line with this are subject to removal from the site. "
Comments