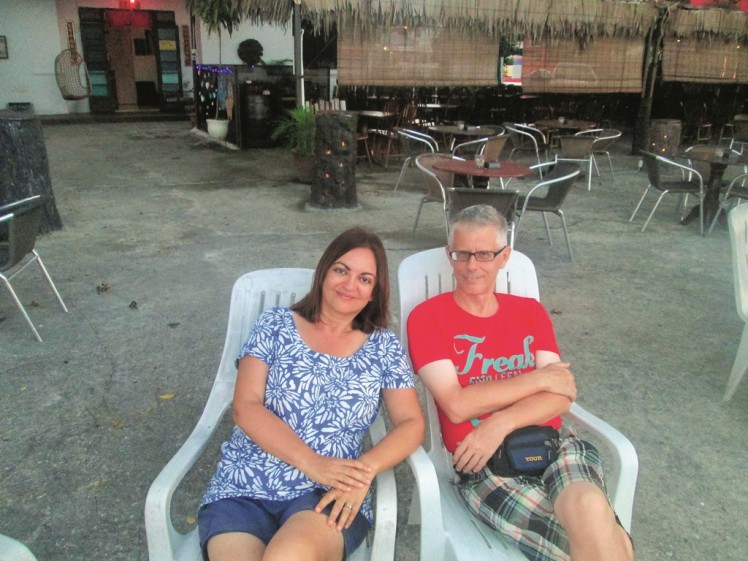 Suzanne and Ken Morgan
Suzanne and Ken Morgan have lived in Penang for over four years. You can catch up with them at their yoga studio Yoga Space, 98-3-39B Prima Tanjung Business Centre, Jalan Fettes, 10470 Tanjung Tokong, Penang, or on their websites: Penang Spirit – www.penangspirit.com Yoga Space – www.yogaspacepenang.com
We moved to Penang in early 2011 from the United Kingdom on the MM2H programme. After a few years of running an acupuncture clinic and teaching yoga in the north of England, we decided that we wanted an adventure before we got too old. After much research we decided that Penang fitted the bill. Also Ken would say that the reason we came to Penang is that he couldn't afford to keep me in the UK!!!
Having been involved in holistic health for many years and not knowing where anything was, we set up Penang Spirit, a website/blog promoting living a healthy lifestyle in Penang. We spend much of our time researching where to find vegetarian food, organic health food shops, alternative therapies and eco-friendly products. Also, being vegetarian, we set up a Facebook group called Penang Vegetarians to promote vegetarian food. We feel very honoured and grateful when people tell us that we have introduced them to places/ services that they didn't even know existed.
After four years in Penang, we feel very settled, which is why we decided to set up our own yoga centre called Yoga Space in Tanjung Tokong. Not only do we offer yoga, but also qigong and related workshops and events. The centre attracts a large number of locals as well as expats.
There are a lot of things we like about living in Penang, but I suppose the top three would be the food, climate and the cost of living. We enjoy the easy access to good and reasonably priced vegetarian food that we didn't have in the UK. We have adapted well to the climate and very rarely use air-con. When we go out, we always use an umbrella and apparently we are known by some as the "umbrella couple". We also use the buses which are very cheap and reasonably reliable. Of course there are downsides – everyone dislikes the busy traffic as well as the lack of respect for pedestrians. When we moved to Penang we made a conscious decision to become more environmentally-friendly and not to have a car. We soon discovered that Penang is not very pedestrian friendly, with a real lack of good pavements. What pavements there are, are often blocked by trees, vehicles and overflowing shops. Crossing the road can be somewhat hazardous since vehicles often don't obey the road rules. We have had to learn to be patient and to let go of our frustrations.
We have had quite a few visitors since we've been here and we always take them to the Botanic Gardens, Kek Lok Si, Batu Ferringhi and its night market, and the Georgetown heritage zone. However, I think most of our visitors are just happy hanging out by the beach or pool, relaxing and experiencing the variety of food available. Ken and I are very much creatures of habit and we have a few favourite places that we like to go to. We enjoy eating out, especially at lunch time, and we are often found in our second home, Arati Vilas in Tanjung Bungah. They are not totally vegetarian but have an excellent veggie section. We love to pile our plates with their excellent variety of fresh vegetables, curries, tofu and vadais.
We are not keen on hawker food, because we question the quality of oil and ingredients used. Having said that we have found a nice Indian stall at Old City Food Court at Prima Tanjung that serve an excellent masala thosai. We would rather pay a bit more and go for quality. Our favourites vegetarian restaurants are Idealite in Gurney Plaza, The Leaf Healthy House in Penang Street, Zen Xin Vegetarian in Nagore Road, and Real Food at Straits Quay.
We do own a property, a condo right on the beach front in Tanjung Bungah. We feel extremely privileged to be able to have such direct access to the beach and sea, something we could have never managed in the UK. Quite honestly we don't miss anything about our home country. There is no point in thinking about what we had in the UK, and even though we are on MM2H, we have chosen to make Penang our first and only home. Being in a foreign country is always a challenge because of language barriers and societal differences, but we have tried to adapt as best as we can.
Source: The Expat magazine September 2015



" ExpatGo welcomes and encourages comments, input, and divergent opinions. However, we kindly request that you use suitable language in your comments, and refrain from any sort of personal attack, hate speech, or disparaging rhetoric. Comments not in line with this are subject to removal from the site. "



Comments