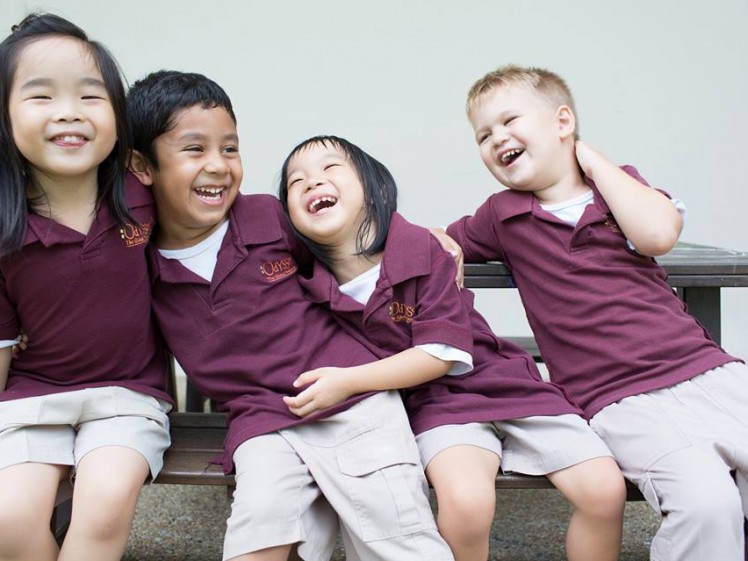 This post is brought to you by Odyssey, The Global Preschool.
As almost all parents agree, giving your child a good education is the most important gift that you can make to them. If you provide them with the a good foundation in the early years then it makes later education much easier and more likely to be successful. So the choice of a pre-school (taking your child from 18 months all the way through to six years old) is a vital one to get right if you want your child to have a head start in life.
Odyssey the Global Preschool has two Malaysian campuses (one in Selangor and one in Penang) and it offers a rich early learning experience, a comprehensive curriculum, and a safe environment. It lays great stress on developing a young child's creativity, critical thinking, and social-emotional literacy – all key skills in today's global and fast-changing world. It isn't just a pre-school, it's also a regional centre of expertise for innovative and creative early childhood education approaches.
Most probably you will visit the school and see for yourself but here are some questions that you may find useful in coming to a decision about which pre-school would be best for your child
1. Does the school's philosophy and core values match yours?
Odyssey's philosophy values everyone involved in the learning process (children, teachers, and parents) as unique individuals with distinctive talents, abilities, and strengths. Children are nurtured to become self-directed learners so as to express their unique gifts. Teachers also have their own special gifts which are developed through on-going professional development. Parents are seen as a vital link in the education process as their unique knowledge of their child serves as a tremendous resource for their learning and well-being.
The core values of Odyssey include:
Putting Children First
Embracing Diversity and developing respect for intercultural differences
Professional Conduct – integrity and professionalism are central
Collaborative Partnerships are fostered with all stakeholders
Continuous Innovation and improving best practice is a priority.
2. Do you like the teaching methodology?
 The way a child is taught will profoundly influence not only their learning but also their personal development.
Odyssey's innovative teaching methodology encourages children to ask questions and develop their problem-solving skills as well as their critical and creative thinking.  It's very hands-on emphasising experience, experimentation, and exploration. And it stresses the importance of encouraging positive feelings, independence, and motivation.
3. Do you think the curriculum will be the best preparation for your child's later education?
Odyssey's curriculum design is inspired by the most innovative internationally-acclaimed teaching pedagogies from around the world: United States, United Kingdom, Australia and the Reggio Emilia educational practices from Northern Italy. It offers many learner-centric benefits to the children and ensures that they become effective communicators, enquirers, and researchers.
The Odyssey curriculum is designed to develop and promote skills and competencies in the following areas:
Personal competencies and social development
Communication, language and literacy skills
Early numeracy skills
Knowledge and understanding of the world
Life skills and intellectual development
Creative and Aesthetic development
Science, technology and computer literacy
Physical skills and competencies.
4. Do you feel that the teachers and other staff members would partner with you in developing your child's potential?
At Odyssey parents are actively involved in their child's education. They receive daily communication about their child's activities. They meet with teachers on a regular basis and they are encouraged to drop by the school whenever they want.
5. Do you feel positively about the school's environment and safety?
Odyssey is a purpose-built environment with generous outdoor spaces which function as outdoor learning centres. This enables children to interact with nature and to develop a respect for it. Other features include: a piazza, an atelier, a music and dance studio, and a "Little Chef's" Lab. The Children's Museum is an art gallery that showcases children's works of art (paintings, sketches, craftwork and models) as well as documentations of projects and children's learning.
Each morning when the child arrives at school the teacher on duty conducts a health check. All teachers are trained in first aid and CPR for emergency situations.  Odyssey's campuses are secure – so that only authorised staff and families may enter and the safe, protected perimeters ensure that children can enjoy outdoor play safely.
6. Do you think that the school will prepare your child for the future?
The speed of change in the 21st century favours those who are flexible, creative, enjoy learning and who get on well with other people. Odyssey's mission is to enable its students to thrive in the future and play a unique and productive role in whatever sphere they choose.
Snapshot of Odyssey – The Global Preschool
Odyssey Setia Eco Park
Address: No 22 and 22A, Jalan Setia Dagang U13/AJ, Seventh Avenue, Setia Alam Seksyen U13,  40170 Shah Alam Selangor
Tel: +603 2092 3733
Odyssey Penang
Address: 358 Jalan Macalister, Georgetown, 10450, Penang, Malaysia
Tel: +604 226 9090
Website: www.theodyssey.my
Location on Map



" ExpatGo welcomes and encourages comments, input, and divergent opinions. However, we kindly request that you use suitable language in your comments, and refrain from any sort of personal attack, hate speech, or disparaging rhetoric. Comments not in line with this are subject to removal from the site. "



Comments