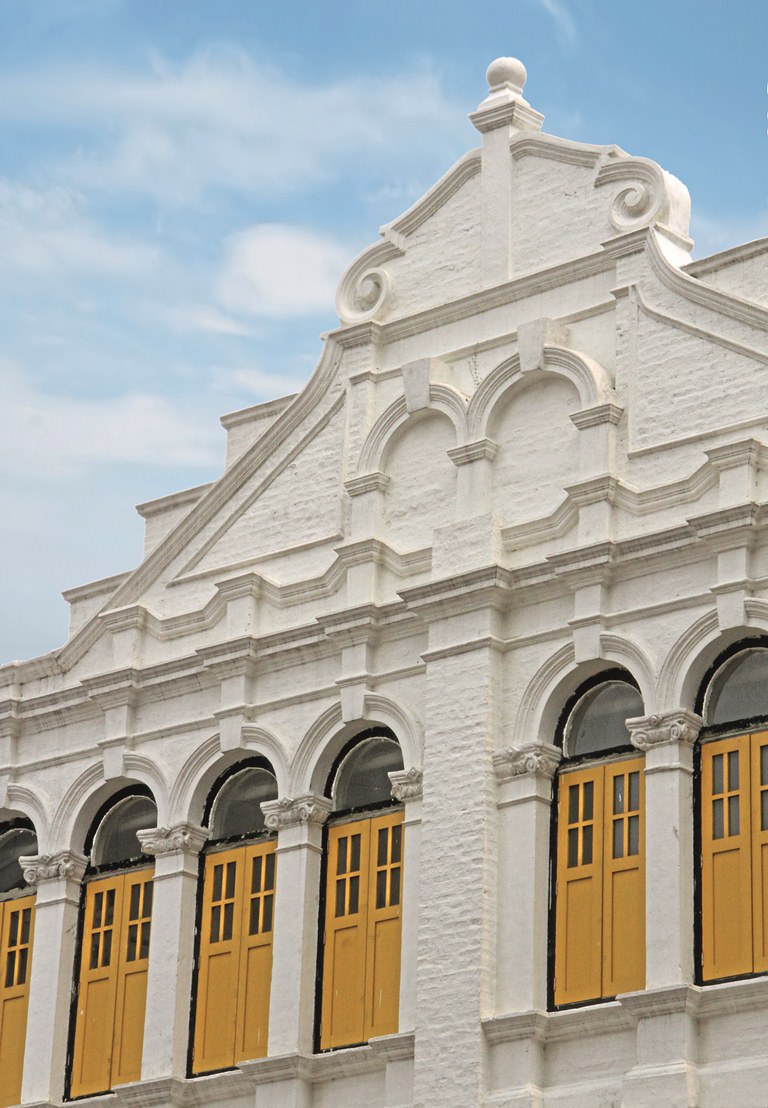 Sin Seng Nam Restaurant Building Market Square
Strolling around market square today, it's impossible not to draw a connecting line to the area's colourful past. Photojournalist David Bowden pays a visit and finds that the fascinating history of today's market square still carries over to today.
Kuala Lumpur's beginning is hardly a glorious one, and even its name – which means 'muddy estuary' – lacks the glamour of many other world capitals. Its humble beginning dates back to the 1850s when tin was discovered at the confluence of the Klang and Lumpur (the latter is now called Gombak) Rivers at the location now dominated by the ornately-decorated Masjid Jamek (Jamek Mosque). This location was probably chosen by default, too, as big boats couldn't proceed any further upstream from this river junction and were forced to offload their cargo on the riverbank.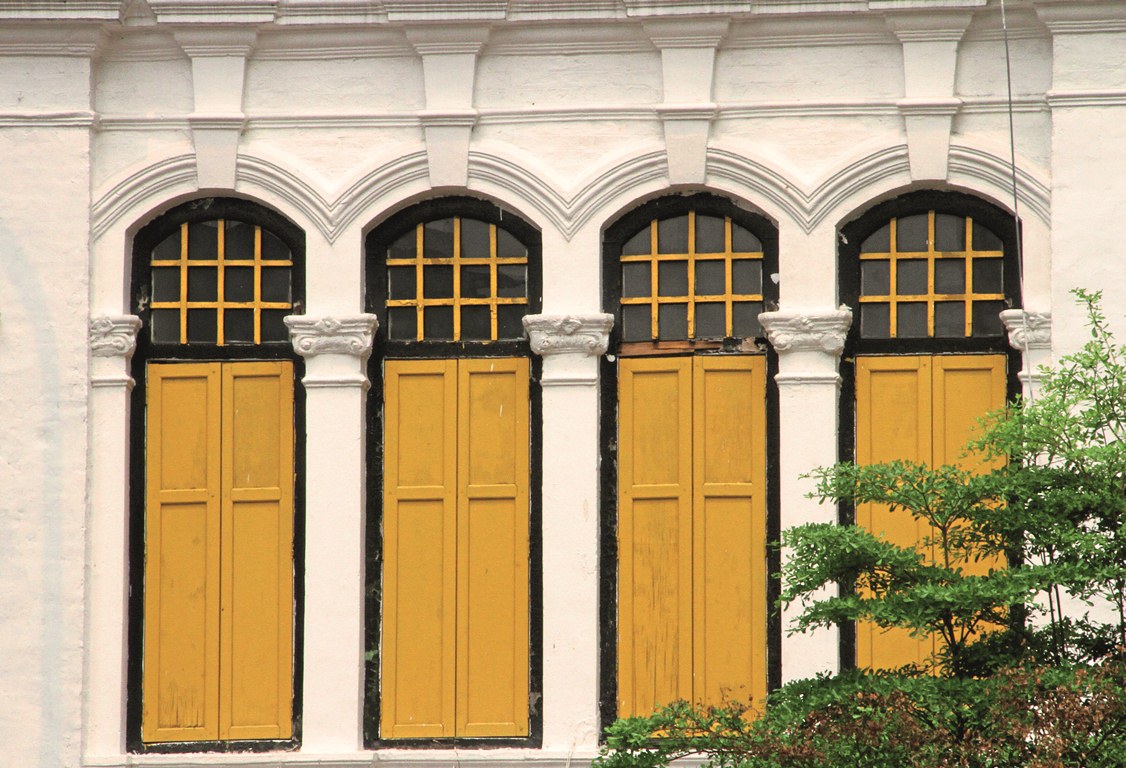 Sin Seng Nam Restaurant Building Market Square
Here, a rough and ready mining camp was established, and one can only assume it lacked any airs or graces and that it was a wild frontier certainly not for the faint-hearted. History records that the early days were plagued with disease, floods, and fires. Various factions muscled in on the tin production, and disputes were common. These culminated in the Selangor Civil War (1870-1873) which didn't help harmonious relations, but life became a little more ordered when a leading player, Kapitan Cina (headman) Yap Ah Loy, asserted his dominance.
The first markets had been established where the boats offloaded their goods from their journey from Port Klang and the outside world. Naturally, this became the economic hub of the new settlement, and historians suggest it would have been the first part of the burgeoning town to be rebuilt after the civil war.
Founding Father
Clock Tower Market Square KL
By this stage, Yap Ah Loy had become the most powerful man in the community and his house on Market Street was close to all the action. He was born in Guangdong in 1837 and moved to Malaysia in 1854 to seek his fortune. Like many, he first headed to Malacca and eventually became a tin miner and petty trader.
Known as the founding father of Kuala Lumpur, he also owned the land and market where he operated a piggery, abattoir, and workshop. The area in front of Yap Ah Loy's house became known as Market Square (Medan Pasar) as it was the town centre. Today, there is an information sign in the middle of Market Square detailing the contribution he set in place for the growing settlement and what was to become the capital in 1880.
Over time, he accumulated a small fortune and saw benefit in law and order being established, if only to protect his property. He successfully liaised with the local Malays and also the British when they intervened in 1874. Yap Ah Loy put in place a town administration and a small force to maintain law and order. After a disastrous fire in 1881, the then-British Resident Frank Swettenham mandated that buildings were to be constructed from brick and tiles and thatching (atap) roofing was subsequently banned.
Yap Ah Loy mobilised his forces and fortune to establish a brick-making factory in what is today called, not surprisingly, Brickfields. Many fine brick and tile buildings of this early era still stand in Market Square.
Eclectic Architecture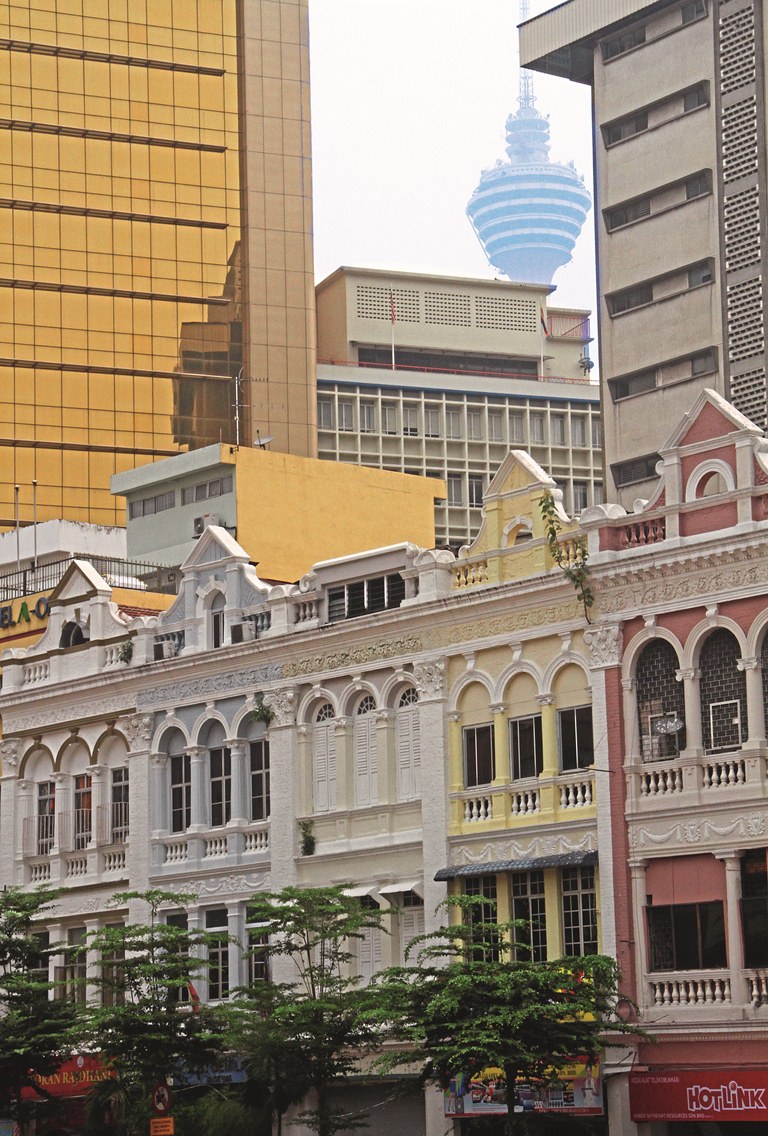 Market Square and Menara KL in background
Following Swettenham's mandate, it was possible to construct more substantial and multi-storey buildings from brick and mortar with the architectural inspiration mostly coming from southern China. Later, more Western elements were introduced and today, Market Square is quite eclectic in its architectural style with typical Chinese shop houses of two and three storeys dominating. These were initially built in rows (like terraces) with common walls between each one. These were typically long and narrow mostly to reduce rates paid, which were calculated on the width of the street frontage.
The bottom floor with street frontage was a retail outlet while the first and second floors were where the family lived (usually an extended family). Once the new building code was enforced, the first floor mostly extended over the ground floor to create a covered area which became known as the 'five-foot' walkway (kaki lima). This provided shelter from the sun and rain for those walking along the street as well as an area where retailers could extend their retail space. Retailers have commandeered these five-foot walkways in those parts of Malaysia where they are still retained to basically make them five-foot 'no' walkways.
Historians refer to the architectural styles as Utilitarian (1880s – 1890s), Neo-classical (1900s – 1930s), and Art Deco (1930s – 1940s). Examples of all can still be seen in Market Square with the building originally called Sin Seng Nam Restaurant (now with the name Kafe Old Market Square and looking like it no longer operates) is one of the most interesting buildings with its white façade plus black and yellow shuttered windows. It was designed by a Hong Kong-born architect by the name of A.K. Moosdeen who also designed the well known PAM Building (the home of the Malaysian Institute of Architects).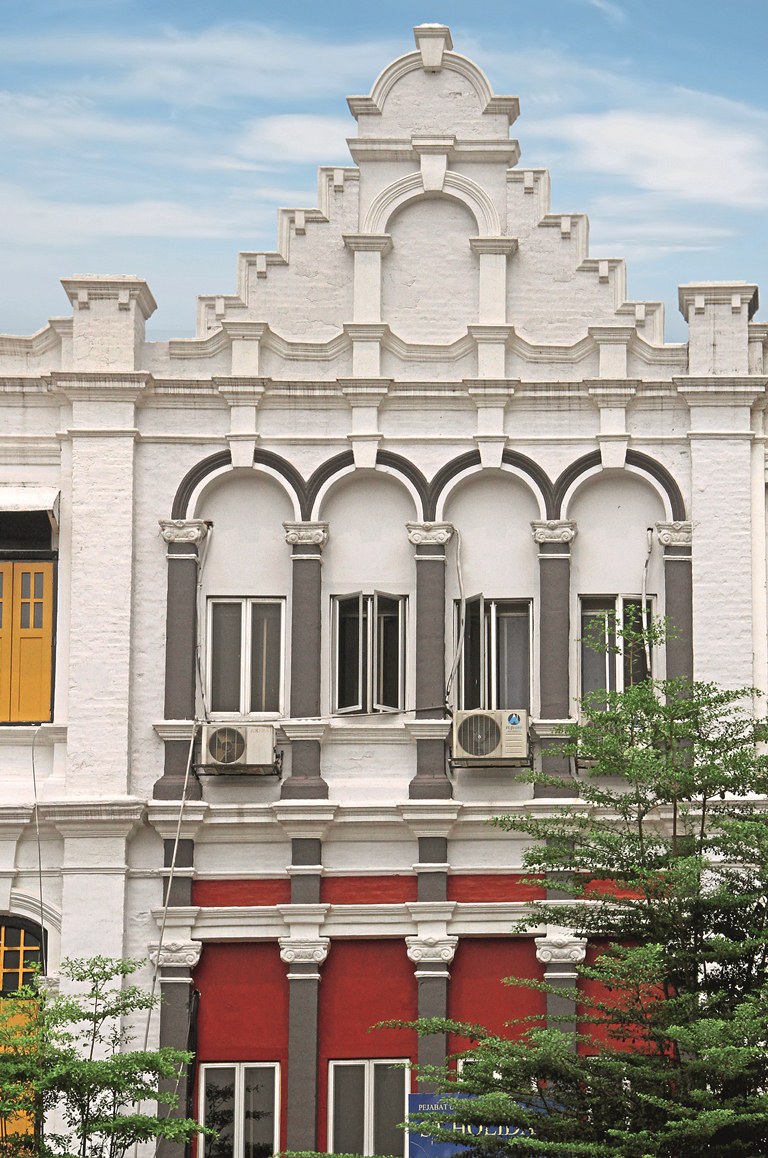 Shoplot Market Square
It was originally called the Red House because its bricks were initially unpainted. The building has fine Dutch gables which wouldn't make it look out of place along an Amsterdam canal. Art Deco architecture is seen in the clock tower in the middle of the pedestrian square. This was erected in 1937 to commemorate the coronation of King George VI and includes the classic sunburst motifs so typical of Art Deco.
The square is bounded by Jalan Pasar Besar Jalan Silang on the eastern bank of the Klang River. Just beyond it is Central Market. Market Square has the dimensions of a football field and being a pedestrian-only area, it is very popular as a meeting place, especially on Sundays when a sizeable number of Malaysia's foreign workers gather and meet here. It's a vibrant and colourful scene and while male-dominated, it's not entirely free of females. There is a convivial atmosphere, as most of these workers are very happy to have the day off from their working week. Many of the banks remain open so that these workers can transact business or send their wages back to their families in Myanmar, Nepal, Bangladesh, and other neighbouring countries.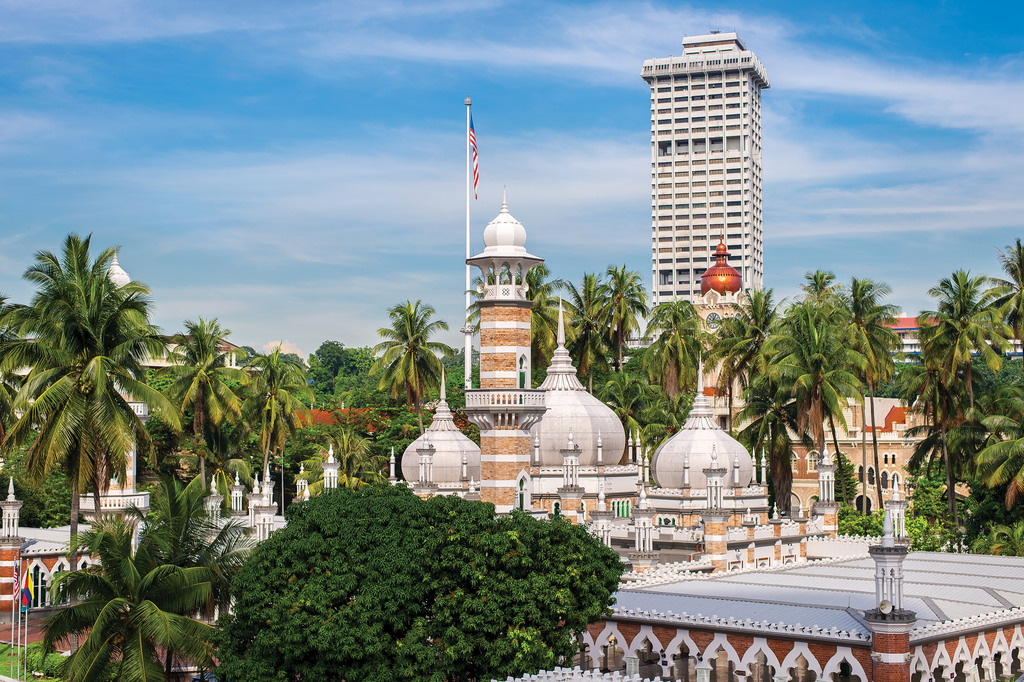 Photo credit: arthelvetica via Foter.com / CC BY-NC
Market Square is best accessed by public transport from the Masjid Jamek LRT Station which is a five-minute walk away.
For detailed information on the history and meaning of Kuala Lumpur's street names check out the very informative and appropriately named Kuala Lumpur Street Names, written by Mariana Isa and Maganjeet Kaur and just published by Marshall Cavendish.
Read more:
Source: Senses of Malaysia November-December 2015
---
"ExpatGo welcomes and encourages comments, input, and divergent opinions. However, we kindly request that you use suitable language in your comments, and refrain from any sort of personal attack, hate speech, or disparaging rhetoric. Comments not in line with this are subject to removal from the site. "
Comments