An island globally acclaimed for many things, the medical facilities in Penang are as renowned as its local food offerings. A booming trend that has contributed sizeable revenue to Penang's tourism, medical tourism is a multi-million ringgit deal in Penang. According to the Malaysian Health Travel Council, about 60% of all medical tourists coming to Malaysia make a beeline for Penang. In 2014, the hospitals accrued RM370mil in revenue. In 2015, it went up to RM390mil.
Most of the top-rated medical institutions on the island offer a comprehensive range of healthcare services, highly qualified medical consultants and come equipped with state-of-the-art facilities. The charges are considerably less when compared to similar ones in neighbouring countries and are a mere fraction of the rates in the West, which is perhaps the biggest drawing factor for medical tourism in this region.
The hospitals on this list are not only the go-to choice for Penangites and its surrounding states, but are popular picks for people from neighbouring countries such as Indonesia and Thailand. If you are new to Penang, here are some of the hospitals you would want to keep an eye out for, should you or your loved ones require medical attention:
1. Island Hospital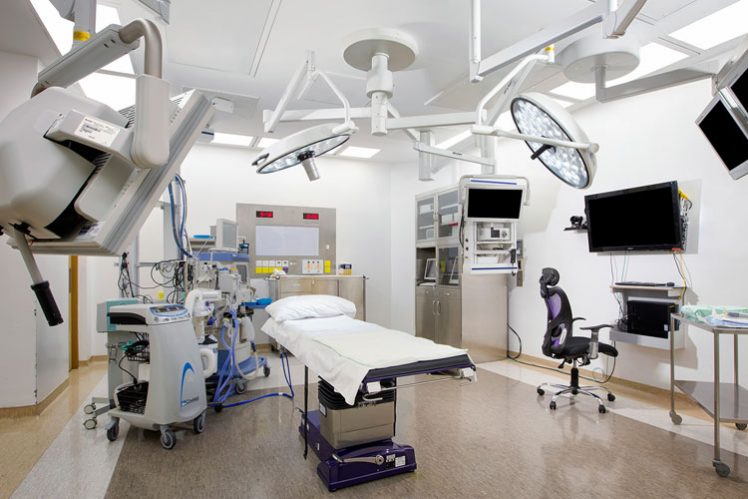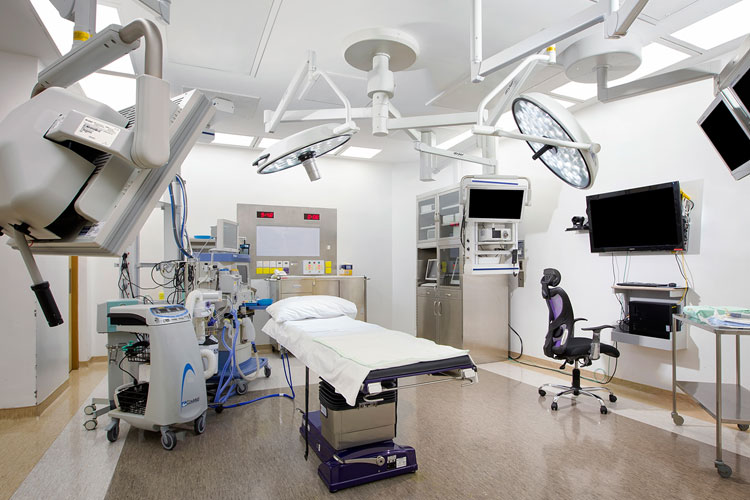 With over a thousand staff on hand and treating over 300,000 patients annually, Island Hospital is one of the foremost authority on medical treatments in Penang. The hospital's outstanding reputation precedes its' impressive lobby and impeccable system.
Founded in 1996, the 300-bed hospital has over 50 full-time specialists who are highly experienced in their respective fields and are supported by a dedicated team of nurses / staff. The facilities at Island Hospital include a heart centre, laser centre for vision correction, sports centre for physiotheraphy and rehabilitation, fertility centre, spine centre, urology centre, oncology centre and many more.
Address: 308 Macalister Road, Georgetown, 10450 Penang.
Tel: +604-228 8222
2. Gleneagles Medical Centre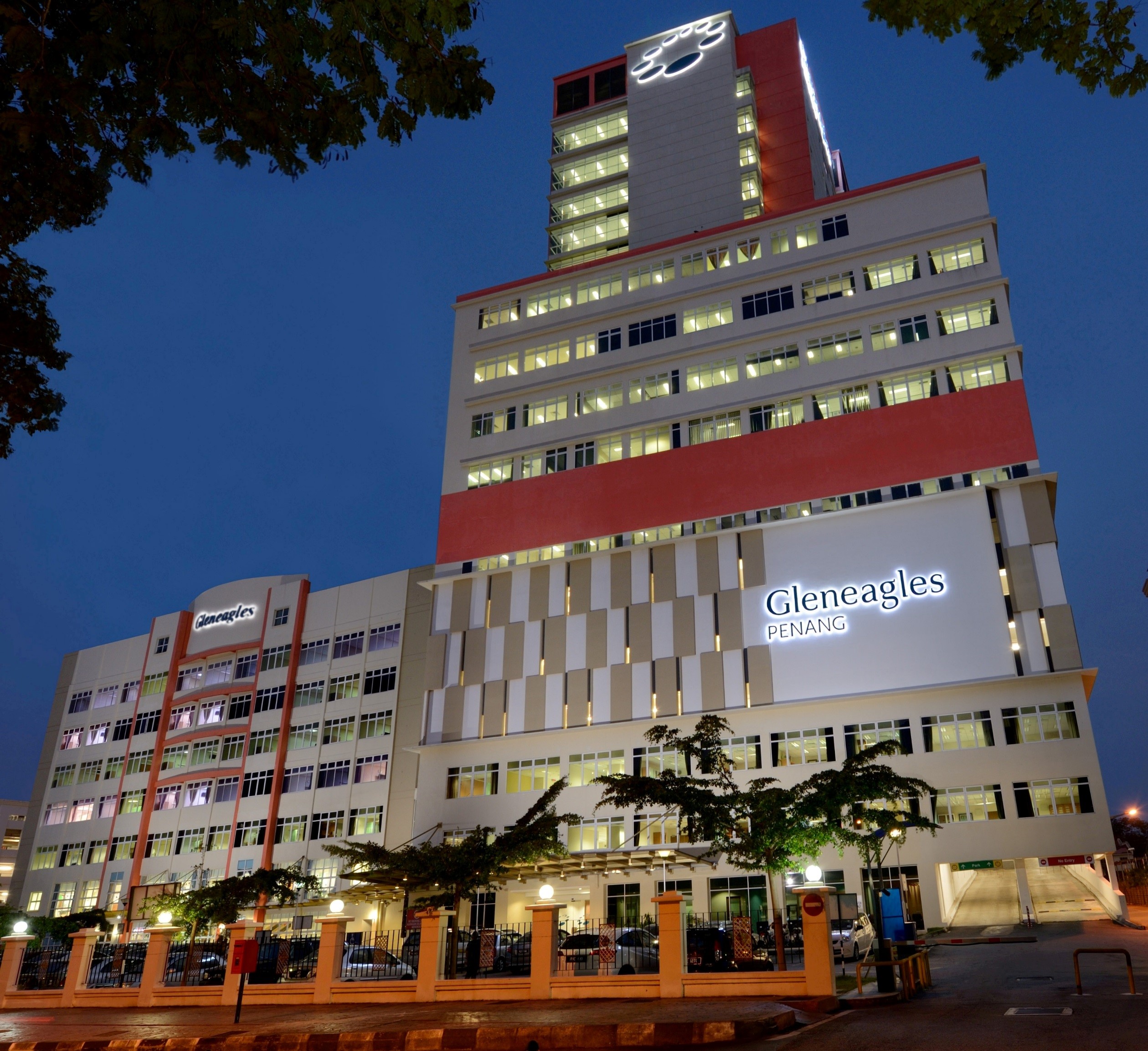 The first private hospital to be built in Penang, the pioneering idea came to a group of prominent businessmen.
This includes the late Tan Sri Dato' Loh Boon Siew, Dato' Tan Kim Yeow, Choong Eng Kim, Dato' Yeap Hock Hoe, Tuan Hajee Mayen Abubacker and Dr R.N. Pannikar – in the 1970s.
It was a risky move at that time, but their persuasion to establish a private medical centre paid off.
Today, countless lives have received the medical attention they need because of their vision and passion.
Initially known as Cantonment Medical Specialist Centre at the junction of Cantonment Road and Bell Road, an unfortunate blaze rendered the building useless. After the incident, the team purchased a 2.5-acre land on Pangkor Road and the hospital re-opened its doors on the 1st of July 1973 as Penang Medical Centre. In 1989, it changed its name to Gleneagles Medical Centre (GMC) when Gleneagles International, a wholly-owned subsidiary of Parkway Holdings became the majority shareowner of the company.
A 227-bedded facility, GMC boasts of a 24-Hour Accident & Emergency Department, a full-fledged laboratory (including blood bank services) and a host of services and treatments.
Address: 1 Jalan Pangkor, Georgetown, 10050 Penang.
Tel: +604-227 6111
Accidents / Emergencies: +604-220 2108
3. Penang Adventist Hospital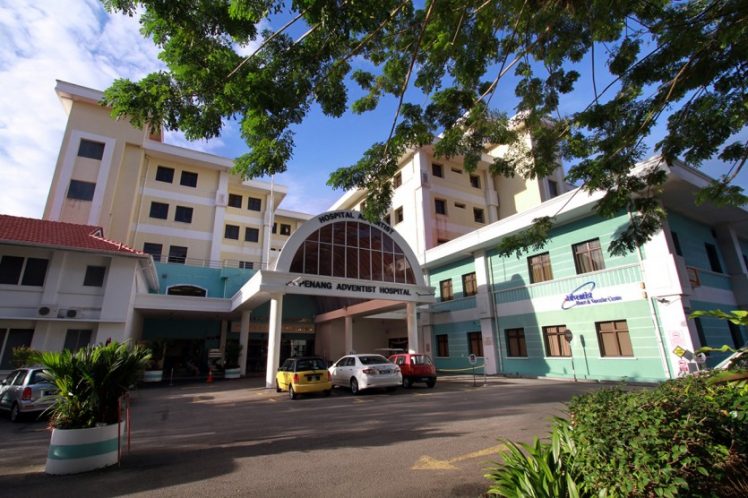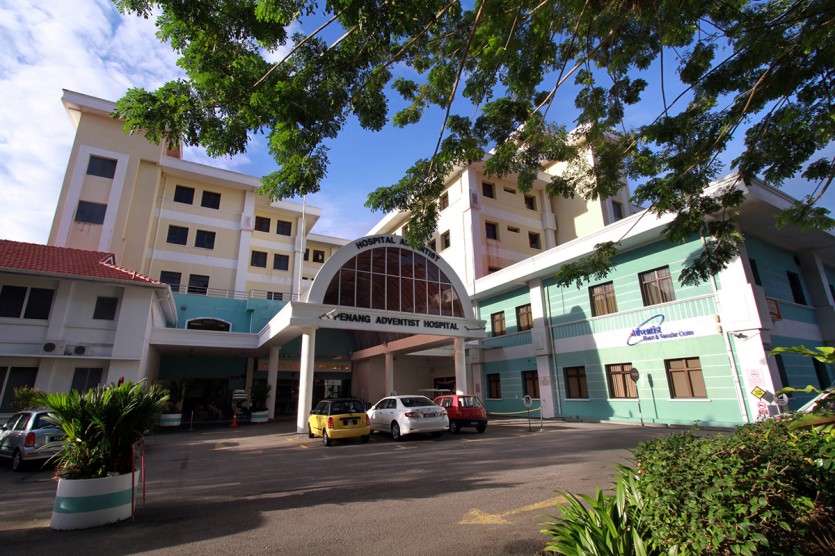 Penang Adventist Hospital (PAH)'s vision to demonstrate the love and healing ministry of Christ by providing comprehensive and competent healthcare to its patients is admittedly admirable. With over 80 specialists with 22 specialisations, this hospital with a heart was established in 1924 and is a not-for-profit hospital.
They are part of the Adventist Health Network and has garnered plenty of accreditation in Malaysian Society of Quality in Health and Baby Friendly Hospital Initiatives (BFHI), amongst a few others. The 253-bedded tertiary care facility is an active participant in the Cardiac Stem Cell research study and offers the Cardiac Rehabilitation Programme within its premises.
The five-story building houses a seven-theatre operating suite, a ten-bed intensive care unit, delivery suites, a neo-natal intensive care unit, an imaging (x-ray) department, a physiotherapy unit and three floors of patient wards. In 2015, the hospital added a new oncology building with radiation therapy, an effort in partnership with the National Cancer Centre of Singapore.
Address: 465 Jalan Burmah, 10350 Penang.
Tel: +604-222 7200
Emergencies: +604-222 7799
4. Loh Guan Lye Specialists Centre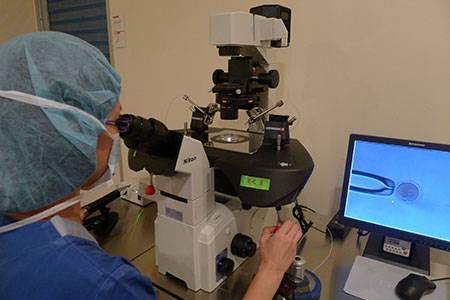 Strategically located in the heart of Georgetown, this 273-bedded private hospital was established in 1975.
October 2013 proved to be a monumental milestone when Loh Guan Lye Specialists Centre (LSC) became one of the first private hospitals in the Northern Region to install the 3T 70cm wide bore MRI.
Their expansion to a new wing back in 2009 saw to the building of a well-equipped Cancer Centre with the latest technology, the PET-CT Scanner for early detection, staging and management of cancer, including a Radiotherapy Unit.
The hospital has three wings – namely the Main Wing, Diagnostic Wing and Women & Children Wing with Fertility Centre. This one-stop medical centre takes pride in providing comprehensive and up-to-date healthcare services ranging from prevention, diagnosis and treatment of a wide range of diseases and medical conditions to aesthetic procedures and health screening packages.
Address: 238 Macalister Road, Georgetown, 10400 Penang.
Tel: +604-238 8888
5. Lam Wah Ee Hospital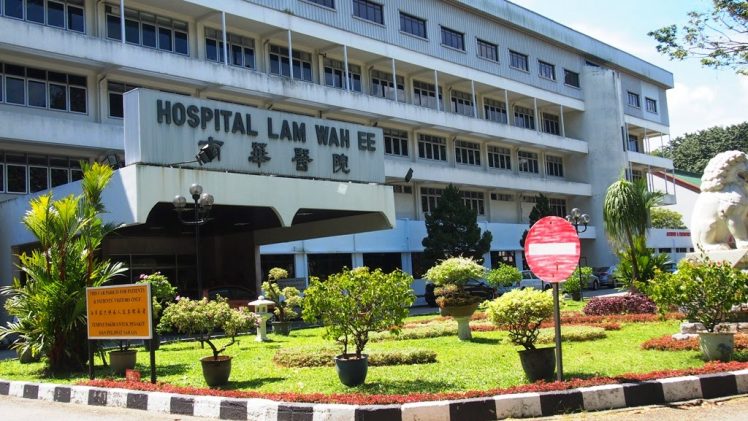 "Lam Wah" means "Chinese in the South" and "Ee" means "medicine". Put them together and you get "Chinese in the South medicine". A rather peculiar name for a hospital in this time and age, but back in the day, Lam Wah Ee (LWE) was regionally recognised for being a major practitioner of Chinese medicine. The hospital began as a provider of traditional Chinese Medicine treatment in 1883 and in 1983, the Western Medicine division commenced operations.
Free consultation and medication in traditional Chinese medicine was offered to the public when its' doors first opened. A charity hospital at heart, they still practice it today – a system based on background and needs is proposed for patients who need financial aid. Application for exemption from fees will be processed by the welfare department and once the assessment is complete, the patient will be charged with minimal rates (proportionate to their financial situation) or none at all.
Today, LWE is a 700 bedded tertiary acute care hospital with world-class facilities and a long list of services such as a 24-hr Emergency Department, delivery suites and nursery, classes for diabetic education, dietetics and nutrition counselling, an IVF centre and many more. In spite of its rapid progress, it is incredibly heartwarming to know that it has not forgotten its roots to serve the community.
Address: 141 Jalan Tan Sri Teh Ewe Lim, Georgetown, 11600 Penang.
Tel: +604-657 1888
6. Pantai Hospital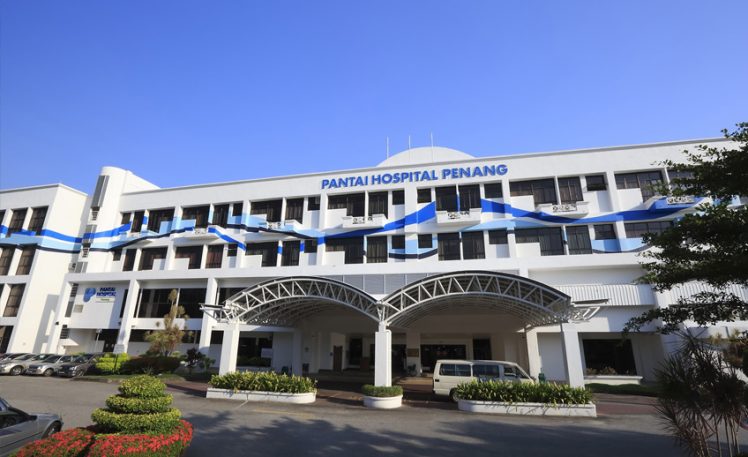 Formerly known as Hospital Pantai Mutiara, Pantai Hospital (PH) is the first private hospital to occupy the bustling town of Bayan Baru. Its close proximity to the Penang International Airport and the Penang Bridge makes the hospital the preferred healthcare centre for both locals and medical tourists.
The 190-bed specialist hospital houses more than 37 resident doctors, eight sessional and two visiting specialist doctors. It has an extensive list of medical services and specialities to boot, including cardiology, cardiothoracic surgery, neurology, neurosurgery, laparoscopic surgery and orthopaedics, interventional radiology, brachytherapy, and a centre for the treatment of stroke.
The hospital's commitment to exemplary healthcare service and patient experience is accredited by the Malaysian Society for Quality in Health (MSQH) and has reaped numerous subsequent awards.
Address: 82 Jalan Tengah, Bayan Baru, 11900 Bayan Lepas, Penang.
Tel: +604-643 3888
7. Optimax Eye Specialist Hospital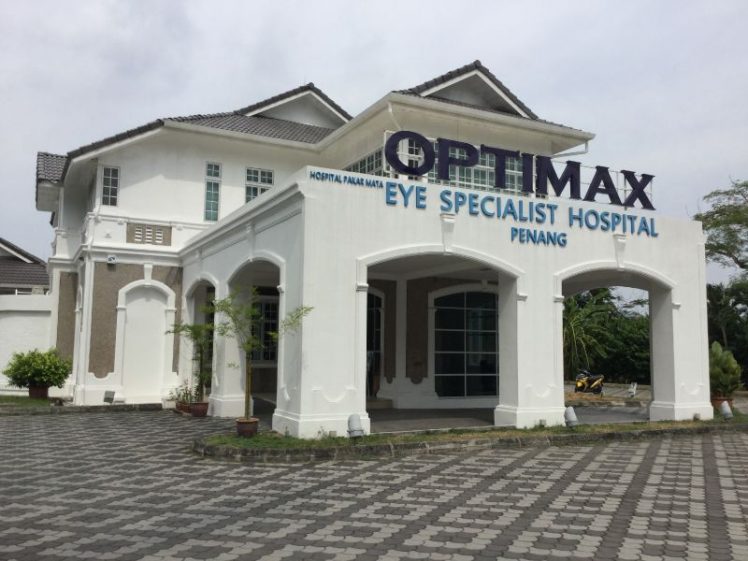 Their story started in Taman Tun Dr Ismail (TTDI), KL in 1995 – A modest beginning with an extraordinary purpose: To bring recovery of sight to those who need it through technology.
Optimax is one of Malaysia's recognised pioneers in the eye care industry today, especially in laser refractive surgery; offering people a solution to reduce their dependency on corrective lenses. In a span of few years, they expanded all across Malaysia and is one of the leading networks in their field in Malaysia.
There is a wide range of advanced procedures available such as LASIK treatment, cataract, glaucoma, paediatric eye care and other eye diseases management.
Address: 223, Jalan Masjid Negeri, 11600 Penang.
Tel: +604-282 3522
---
"ExpatGo welcomes and encourages comments, input, and divergent opinions. However, we kindly request that you use suitable language in your comments, and refrain from any sort of personal attack, hate speech, or disparaging rhetoric. Comments not in line with this are subject to removal from the site. "
Comments