Melaka is one of Malaysia's best-known centres of heritage, a city with a long and interesting history. Travel photojournalist David Bowden puts on his trusty walking shoes to explore Melaka's historic heart.
Melaka (also spelled Malacca) has always been a popular destination for both local and international travellers, especially those from neighbouring Singapore. The city centre has a wealth of unique and historic attractions that cannot fail to impress tourists seeking to discover what is an essential part of Malaysian history. Both the back alleys and more popular attractions like its museums, antique shops and restaurants in the historic heart of the old town are worthy of exploration. The heritage zone is best explored on foot as traffic, especially at the weekends, can be a real challenge.
Collectively, Melaka and George Town, Penang comprise a joint UNESCO World Heritage Site (Historic Cities of the Straits of Malacca), which means they stand alongside the world's finest cultural and natural sites. While both have common management, many visitors may wonder, as the two sites appear to on very different courses in their development.
While George Town appears to be making do with the heritage that is evident everywhere, Melaka has taken the, "all development must be good" approach in creating attractions. Some would argue that the heritage alone is more than enough to attract visitors and that the challenge for Melaka is to restore, renovate, and refurbish what is there to what it once was.
Maritime history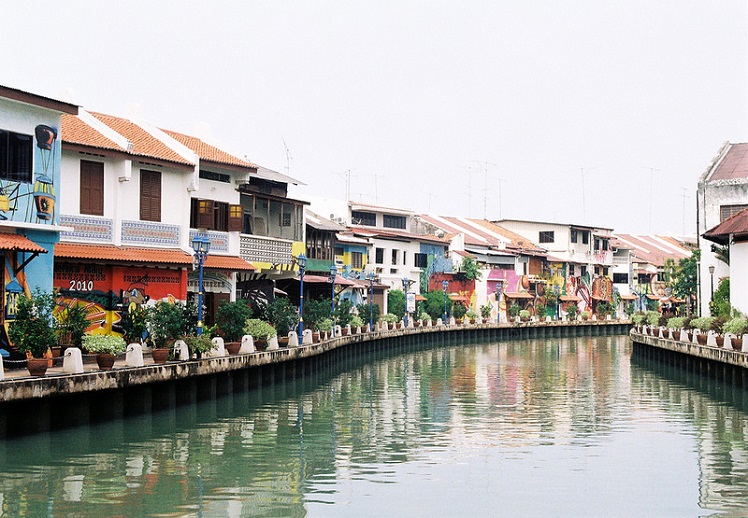 Melaka is strategically located along one of the world's busiest waterways. The Straits of Malacca (which retains its original spelling as it is an international geographic entity in being bordered by both Malaysia and Indonesia) evolved into a port to unload goods from vessels travelling from China and the region onto other boats heading to westward to Europe. It was once one of the region's busiest ports, although visitors today must wonder, as the docks are now insignificant. Foreshore reclamation resulted in the coastline being extended beyond the original Straits of Malacca boundary and these days, there is little resemblance to the former coastline.
Development has been rapid and every skyward on this land and now hotels, shopping centres and apartments present the modern face to the city's heritage. However, sections of Melaka's historic heart have been preserved for the all to admire who mainly descend upon the town centre to see the heritage sites.
Start near the bridge built over the river where Portuguese soldiers claimed the town several centuries ago. The Portuguese overthrow was one of many colonial incursions into Straits life, as Melaka was once a key port for trading spices, tea from China and goods from the Melaka hinterland. Melaka remained under Portuguese control for over 100 years before the Dutch took control.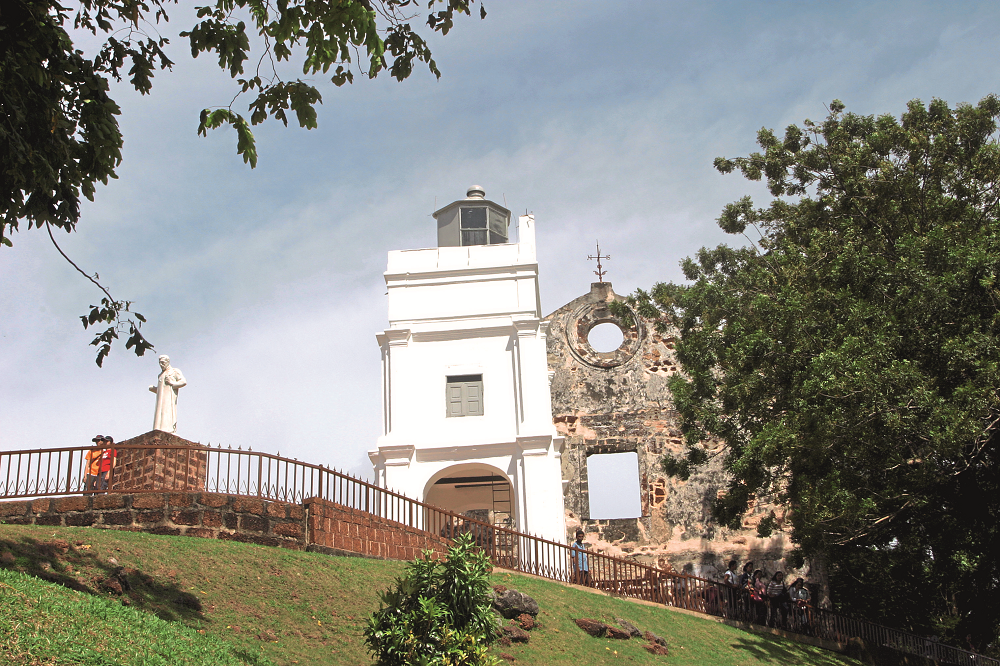 After occupying Melaka for 150 years, the Dutch in turn ceded their territory to the British. The architectural blend of contemporary Melaka is eclectic, vibrant and something of interest awaits at every intersection. Chinese buildings stand adjacent to Dutch-built churches and Moorish inspired mosques are also evident.
All colonial influences are reflected in the architecture of Dutch Square and visitors could well be forgiven for thinking they were in old Amsterdam while standing at the entrance to Christ Church and the neighbouring Stadthuys. Christ Church, in all its striking red glory, is Malaysia's oldest functioning Protestant Church.
The ruin of the St Paul's Church, built in 1512, is a well-visited tourist attraction especially for local school students. At the foot of St Paul's Hill is gate to A'Famosa called Porta de Santiago. In the early 19th century, the British East India Company planned to demolish the fort, but Sir Stamford Raffles intervened to save the site.
Heritage trail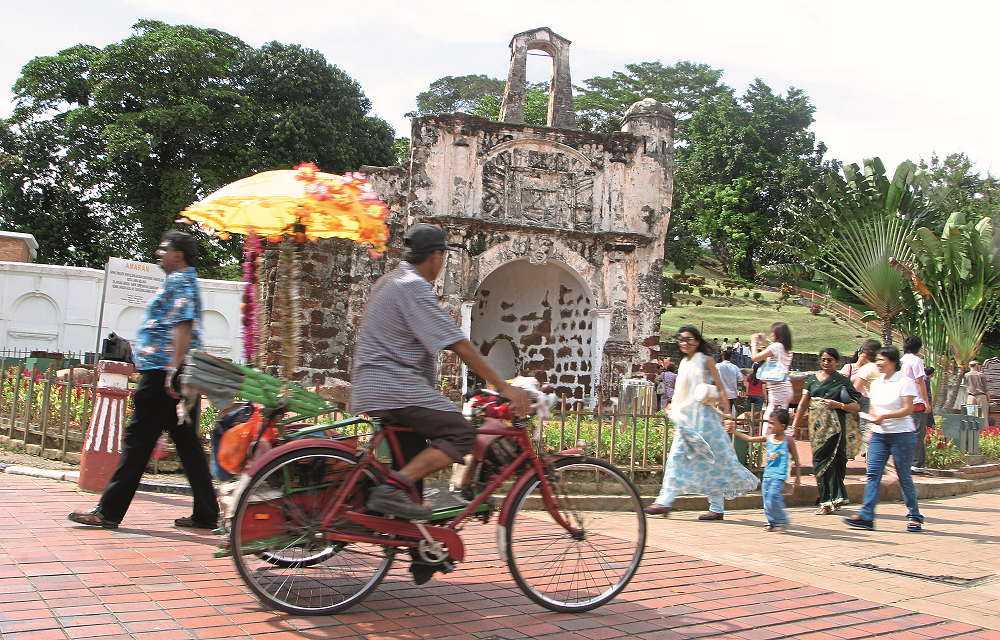 On the other side of the Melaka River, Melaka's historic commercial centre features old two-storey Chinese shoplots. Taking a cruise along the Melaka River offers an insight into the lifestyle of those living beside the river. While modern-day commercialism dominates the retailing scene here, there are some stores selling local items that are remotely authentic.
However, most of the sarongs, fridge magnets, and other assorted souvenirs are made anywhere but in Malaysia. The antique stores along Jalan Hang Jebat and Jalan Tun Cheng Lock are packed with antiquities from around Malaysia, China and the region. Jalan Tun Tan Cheng Lock was once Melaka's "Millionaires' Row" and there are some fine examples of Baba Nyonya-style houses here.
Temple Street has been dubbed the "Street of Harmony" as it houses three different places of religious worship within close proximity. These religious communities have coexisted peacefully here for over three centuries. While there are many landmark buildings in the historic heart, there are also many others that have yet to be listed in the guidebooks. Some shops look as if the families here have been doing the same economic activity for decades.
Out of town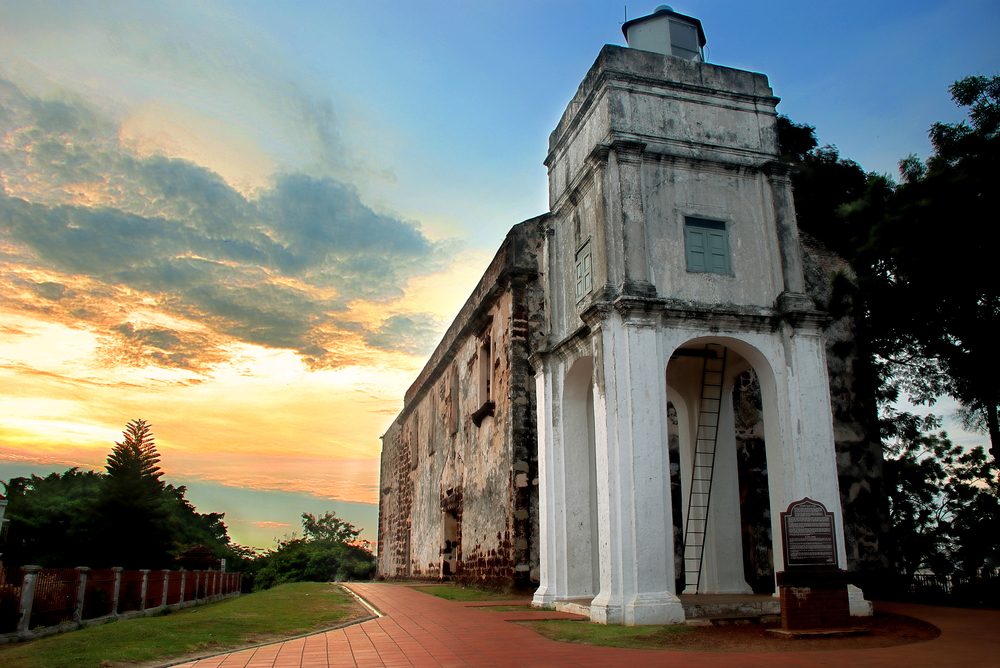 Visitors who travel to Melaka by road will mostly arrive via the Ayer Keroh toll gate of the North-South Highway. Several tourist attractions are located near Ayer Keroh including Zoo Melaka, Ayer Keroh Recreational Forest, the Crocodile Park, Taman Mini Malaysia and an Orang Asli Museum.
The small zoo has a good selection of animals, including the endangered Sumatran Rhinoceros. The Malacca Butterfly and Reptile Sanctuary is home to butterflies, snakes, lizards, crocodiles, birds, tortoises, and many more species in easy-to-see and visitor-friendly enclosures. Young children will love this as there are several opportunities for hands-on discovery.
Mini Malaysia and Mini ASEAN is home to miniature replicas of Malay houses, as well as others from around the region. Just down the road is what must be Malaysia's largest 10-pin bowling alley with scores of lanes. Immediately opposite is the Melaka Planetarium which has got to be one of Malaysia's best-kept secrets. This hands-on adventure science centre includes an amazing 15-m internal dome space theatre that shows a 3D journey through space.
Heritage homes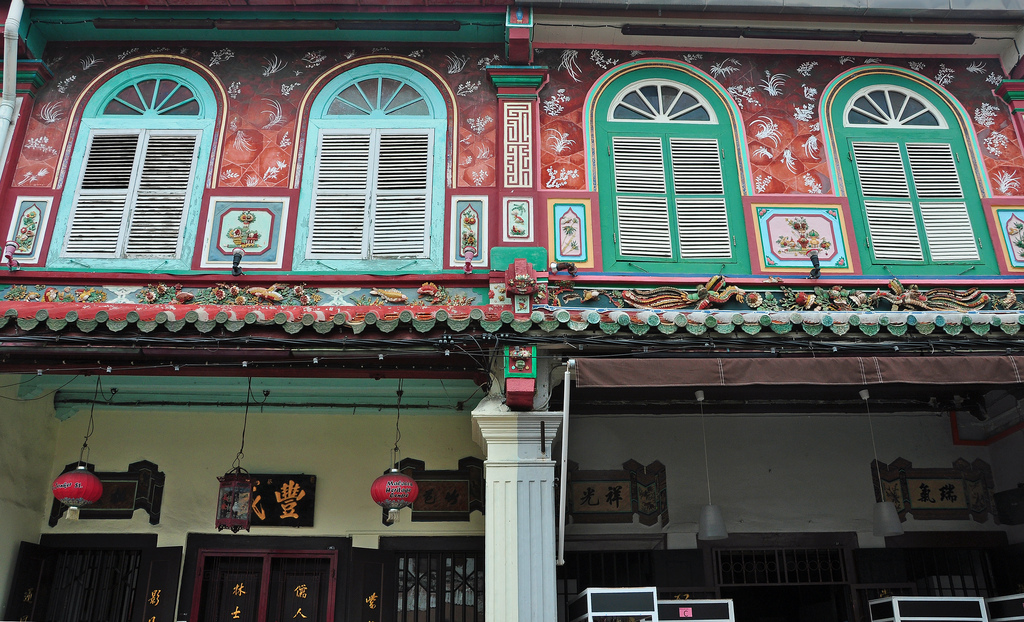 Location in choosing a hotel is important, as most of Melaka's historic highlights are best explored on foot. International hotel chains have arrived to complement local hotels that have been here since the beginning of the tourism boom.
Boutique hotels are also located in the historic heart with the Wayfarer Guest House (wayfarermelaka.com), a charming eight-room boutique property located immediately along the Melaka River immediately opposite St. Xavier's Church, being a terrific choice. This small, family-operated guesthouse is within easy walking distance of the main attractions and the rooms are very comfortably furnished, with each room having air conditioning and an en-suite bathroom.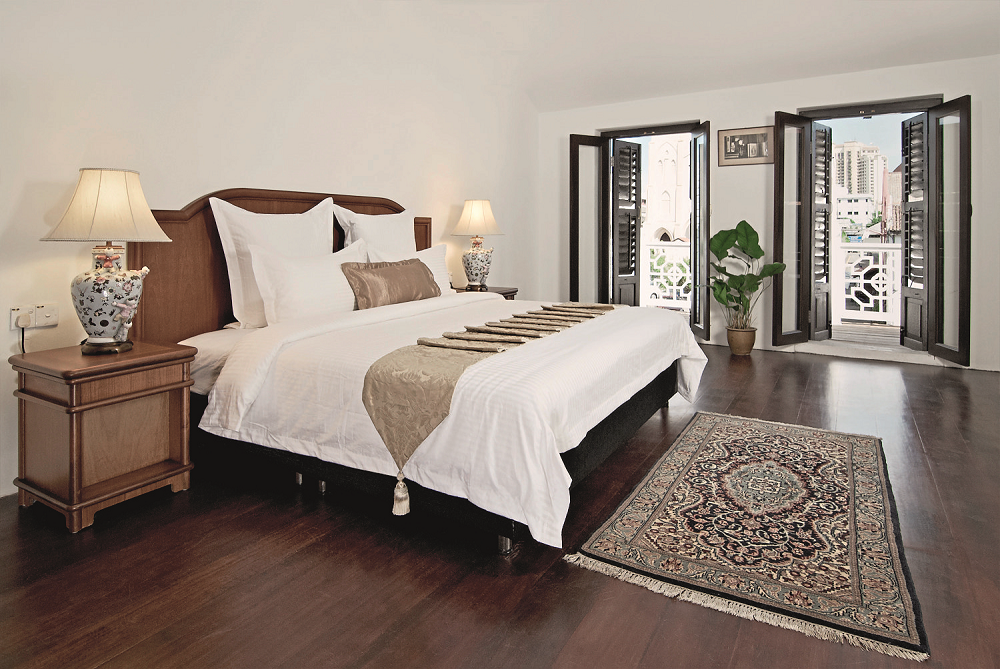 Complimentary Wi-Fi is available throughout the rooms and guest common areas, and excellent tea and coffee-making facilities are available, along with a cache of complimentary snacks which are regularly replenished. If available, rooms 1 and 6 (the latter pictured, above) are favourites, both boasting impressive spaciousness and a lovely private balcony overlooking the river.
Visiting Melaka always unearths something new on each visit and it's something that can be done on a regular basis, but bear in mind that the weekends are usually quite busy and weekend hotel tariffs are subsequently higher than mid-week rates.
This article was originally published in The Expat magazine (September 2016) which is available online or in print via a free subscription.
---
"ExpatGo welcomes and encourages comments, input, and divergent opinions. However, we kindly request that you use suitable language in your comments, and refrain from any sort of personal attack, hate speech, or disparaging rhetoric. Comments not in line with this are subject to removal from the site. "
Comments