Malaysia Day happens to fall on a Friday this year, much to the delight of most (if not all) working people.
A brief history lesson – Malaysia Day takes place ‪on 16th September‬ every year to commemorate the establishment of the Malaysian federation. It marks the joining of Malaya, North Borneo (Sabah), Sarawak and Singapore (until 1965, before Singapore separated from Malaysia to become an independent and sovereign state) to form Malaysia in 1963.
Inspired by the acclaimed memoir and movie blockbuster, Eat, Pray, Love, I drew up a list comprising the delicious, spiritual and artistic facets of Penang, hoping that on this momentous holiday, you'll enjoy the simple pleasure of local delicacies, take in religious sites of different faiths, and be inspired as you saunter through heritage spots.
Eat
Penang has been touted as one of Asia's greatest street food cities by CNN, and welcomed the arrival of people from across the globe because of it. The choices are abundant and even then, new establishments are constantly mushrooming. Here are three must-try options that cut across races and are well loved by all:
1. Roti Canai at Jalan Transfer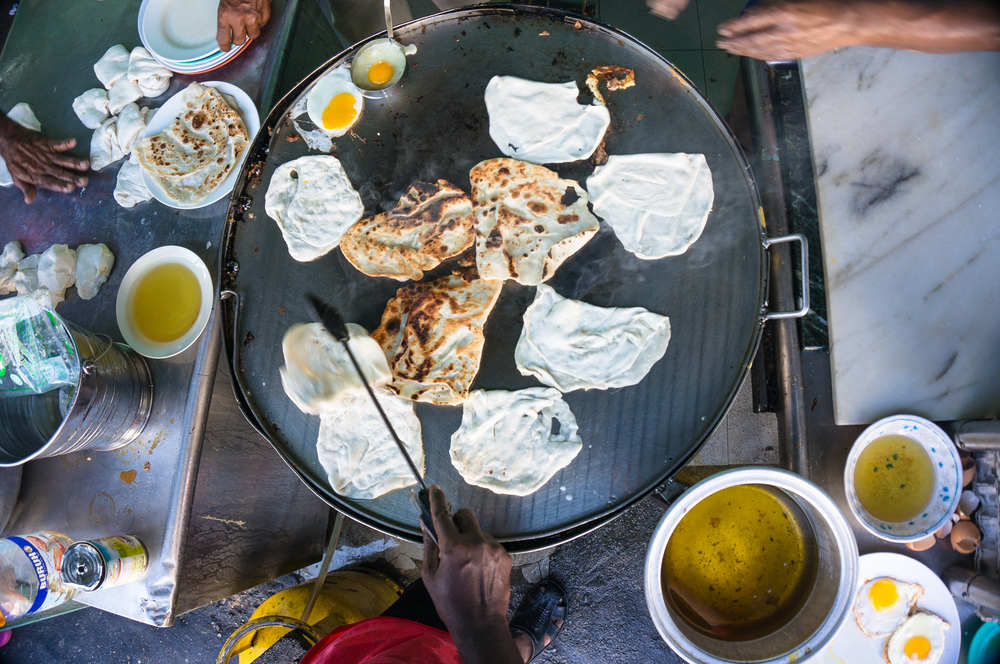 A typical Malaysian breakfast consists of a cup of hot teh tarik and roti canai – fluffy in the center, crispy around the edges – and paired with a plate of chicken curry or dhal (vegetarian curry). And when it comes to doing it well, there's no better place on the island than this one. The owner of this popular stall has been flipping roti canai for hungry Penangites for decades now, proving that at times, satisfaction is found in simplicity.
Address: 56, Jalan Transfer, 10300, Penang.
Opening hours: 6.30am – 1pm // 3.30pm – 7pm.
2. Nasi Kandar at Shariff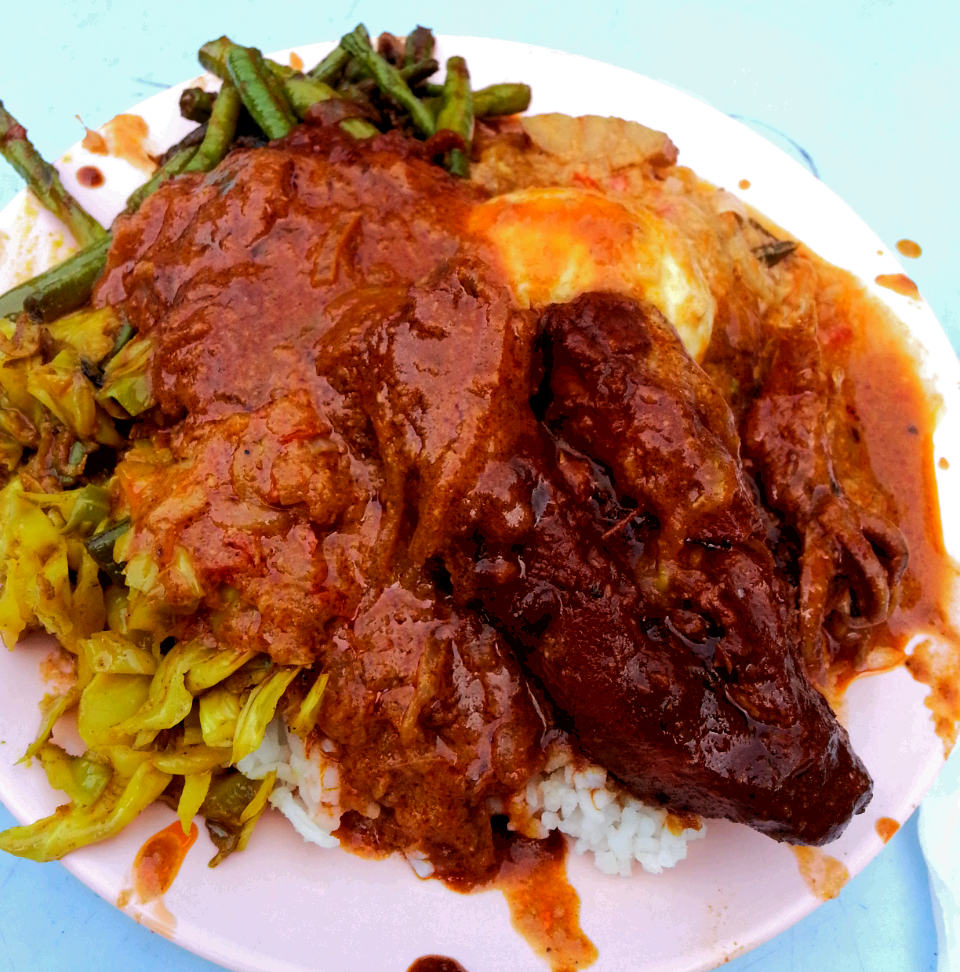 There's hardly a lack of nasi kandar eateries on the island with most declaring to be the best purveyor of curry-drenched rice, but not all live up to their claims. Thankfully, Shariff Nasi Kandar is as good as it gets. Some would queue as early as 5.30pm as the stall is known to run out of good dishes way before closing time.
The usual suspects such as fried chicken, beef rendang, mutton kurma and squid curry are all excellent, but your trip to Shariff would not be complete without tasting their lip-smacking Ayam Ros, onion omelette and mix of curries (locals refer to it as 'kuah campur') on fluffy white rice.
Address: 159, Jalan Permai, Taman Brown, 11700 Gelugor, Penang.
Opening hours: 5:30pm – 9pm (Closed on Saturdays).
3. Mee Goreng at Bangkok Lane
The incessant clanging of the metal spatula against the black wok – which can be heard from a mile away – is proof that you're in the right place. Look around once you're seated and don't be surprised to see a Malay uncle sharing a table with a Chinese family; an indicator that good food does bring people together, regardless of age or race. The stall has been around for more than 80 years and is manned by a father-and-son duo. Both are able to converse in several languages – Bahasa Malaysia, English, Tamil and even fluent Hokkien, a local dialect favoured by Penangites.
Address: 280, Jalan Burma, George Town, 10350 Georgetown, Penang.
Opening hours: 8am – 6:30pm (Closed on Mondays).
Pray
Islamic mosques with remarkable stained glass designs, Chinese pagodas, Indian temples and churches dating back centuries… With three major ethnic groups – Malays, Chinese and Indians – almost every turn on the island will have you spotting a place of worship.
4. Masjid Terapung
The first of its kind in Malaysia, Masjid Terapung (literal translation: Floating Mosque) was built in 2004 in place of an older mosque that was damaged in the year's tsunami disaster. It is the first mosque in the country to be built on sea, with pillars and stilts supporting its stunning structure. Situated along Tanjung Bungah's span of beaches, the mosque stands majestic with its Moorish design, towering minarets and panoramic view of the sea.
Address: Jalan Tanjung Bungah, Tanjung Bungah, Penang (opposite MarVista Condominiums).
Opening hours: N/A, but permission to enter must be obtained from the mosque officials. Closed during Friday prayers (‪from 12:00pm – 2:30pm). ‬‬‬‬‬‬‬‬‬‬‬‬‬‬‬
*No shoes are allowed inside the mosque, and all visitors must be decently dressed.
*There are jubah-s (long robes) provided for visitors to don before entering the prayer hall.
5. Goddess of Mercy Temple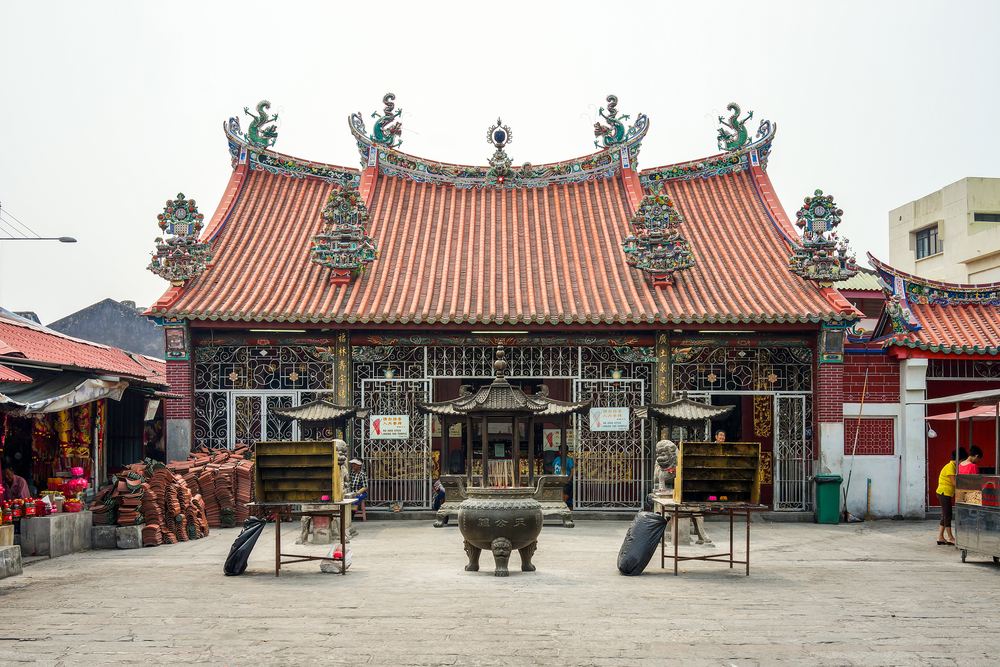 During the 1800s, this temple was one of the most magnificent Chinese structures in northern Malaya, boasting of an elaborate converging of Cantonese and Hokkien elements in its construction. 200 years of pious devotion later, the little dragons perched on the ornate temple roofs have endured the scorching heat and pouring rain, yet the colours of these ceramic guardians have not lost its lustre. On the 19th day of the 2nd, 6th and 9th month of the Chinese lunar calendar, devotees from all over the region would congregate at this temple as it is believed that the Goddess' birthdays fall on these dates here. This special occasion is marked by performances from Chinese opera troupes – which will go on for days – as well as the lighting of joss sticks to seek blessings.
Address: Jalan Masjid Kapitan Keling, George Town, 10200 Georgetown, Penang.
Opening hours: N/A.
6. Arulmigu Balathandayuthapani Temple / Little India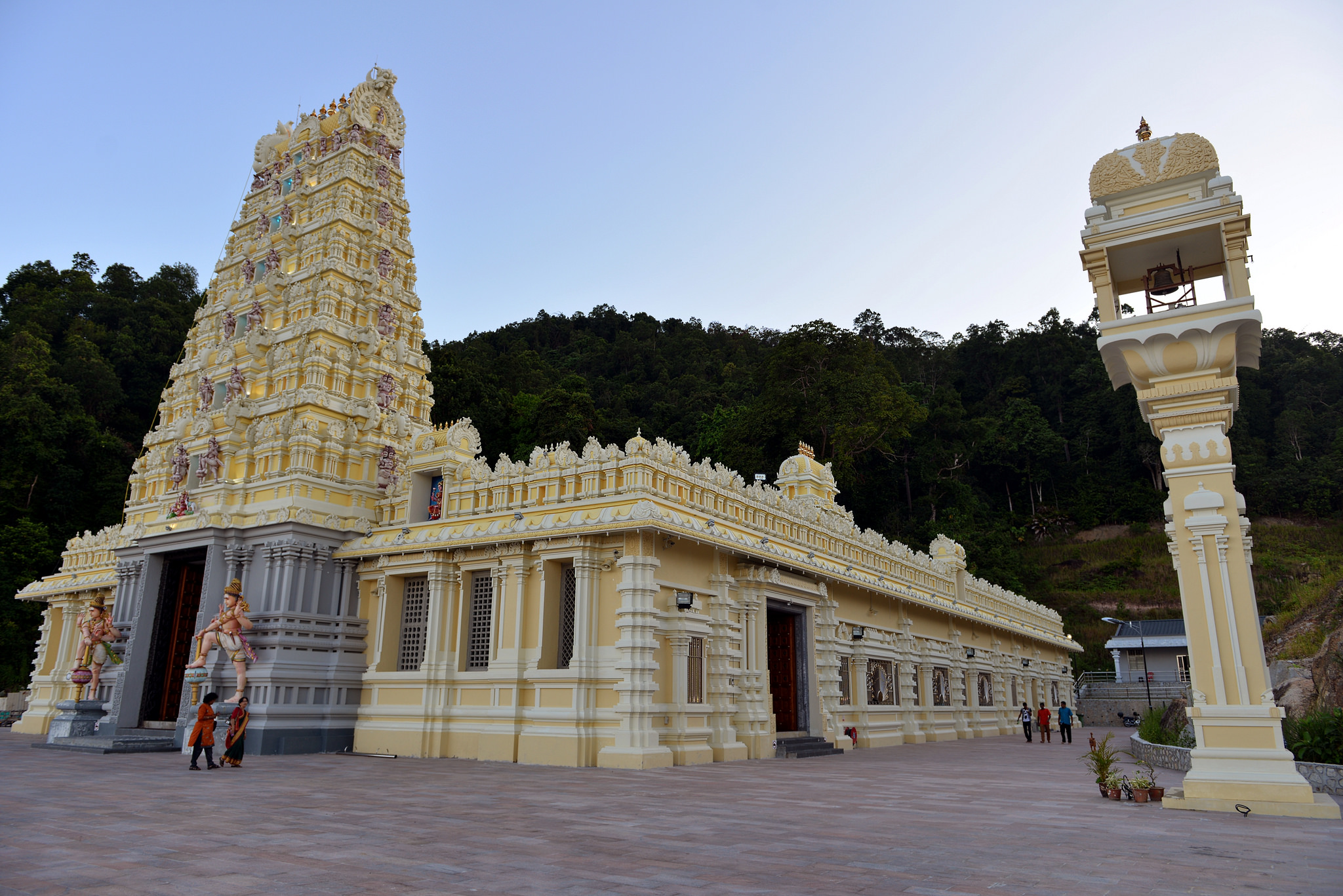 Due to a work-related photo shoot, the photographer and I decided upon The Arulmigu Balathandayuthapani Temple, one of the oldest Hindu temples in Penang as one of our locations. 250 steps later, we were breathless and in serious reconsideration of our choice. While catching our breath, a lady jokingly told us that the crazy number of steps (511, in total) was because Lord Murugan enjoys natural air-conditioning. The hilltop temple is nothing short of breathtaking (pun totally intended), as the crafting was done by artists flown in from India. Thousands of tourists flock to visit the temple every year and it is also the last pit stop during the annual Thaipusam festival.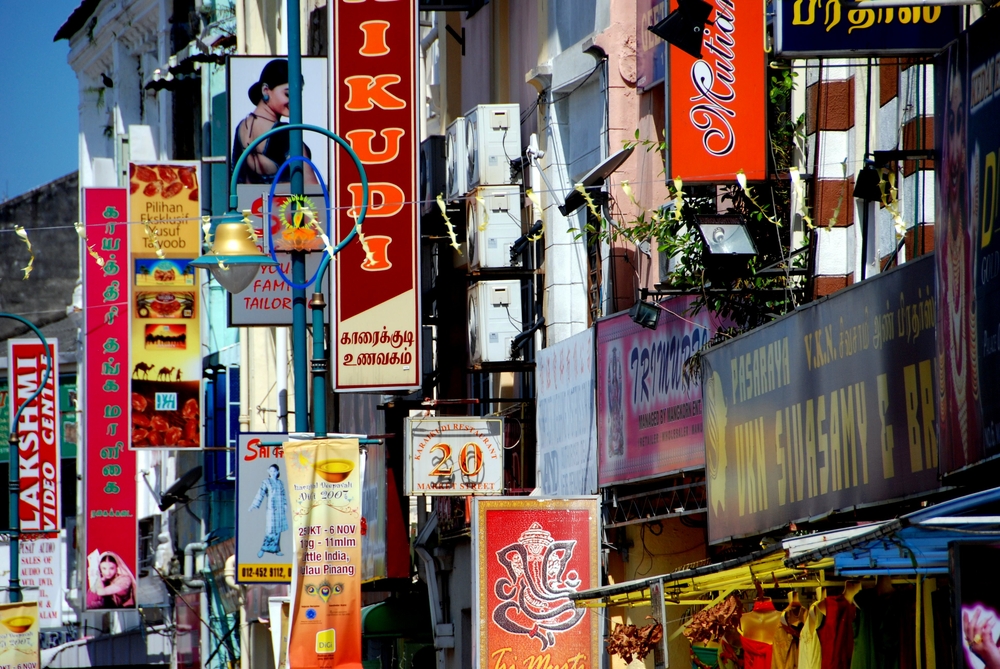 If hiking is not really your kind of thing – believe me, you need some semblance of athletic prowess to reach the top – take an easy stroll through Little India. Admire the vibrant colours, breathe in the intoxicating aroma of spices and while you're at it, sample traditional street food like vadai, samosas, coconut candy and many more.
Address: 17, Jalan Kebun Bunga, George Town, 10350 Georgetown, Penang.
Opening hours: 6:00am – Noon // 4:30pm – 9:15pm.
7. St. George's Church
Dedicated to the patron saint of England, St George's Church in Penang is South-East Asia's oldest Anglican church and Malaysia's largest. The stunning white building was constructed in 1817 by the East India Company; its architectural influence drawn from Britain and other parts of Europe during that era. The most eminent feature is the portico of Greek columns at the front entrance. These columns are 'Doric' in style, bearing a striking resemblance to the Parthenon in Athens. Till this day, mass service is still conducted here every Sunday morning.
Address: 1, Jalan Lebuh Farquhar, Georgetown, Penang.
Opening hours: 8:30am – 12:30pm // 1:30pm – 4:30pm (Tuesdays to Saturdays. Open all day on Sundays.)
Love
Georgetown. Globally famed for being the UNESCO-listed part of the city. To venture and explore parts of Georgetown is to fall in love with the exquisite fusion of cultures, the slightly strange but wonderful blend of old and new and the lively sounds emanating from the bustling streets.
8. Armenian Street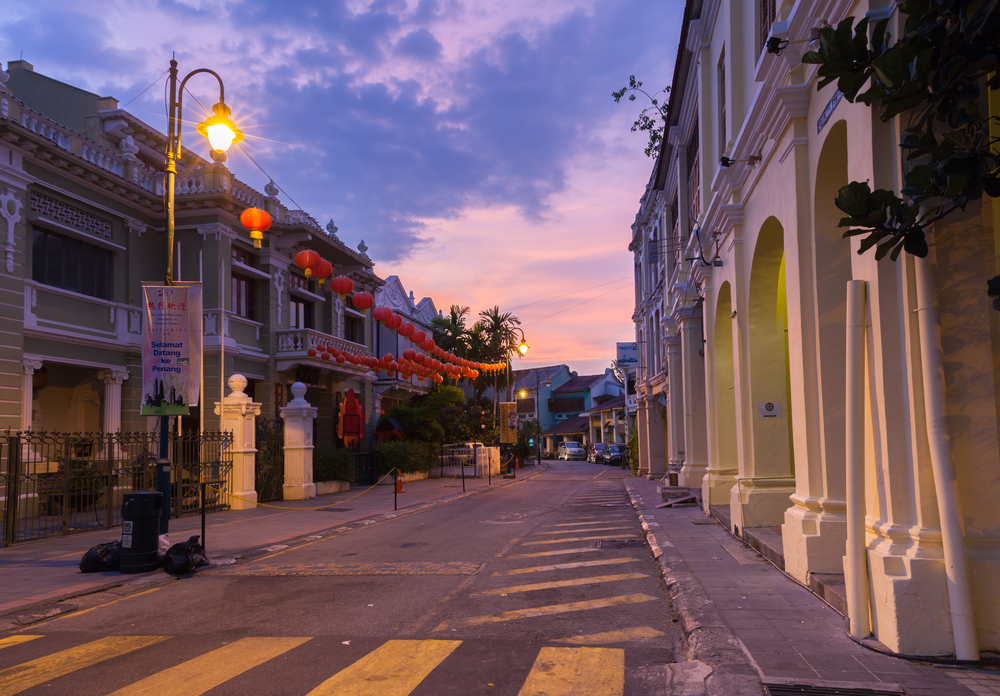 Quite possibly the most popular district in Penang, Armenian Street is a sought-after location because of its wall mural paintings. However, there is more to this narrow street than just that. The heritage site is an eclectic mix of the yesteryears and modernity, dotted with shop houses – some are restored and converted to art galleries, souvenir shops and cafes – and flanked by ancient Chinese temples as well as clan houses.
9. Chulia Street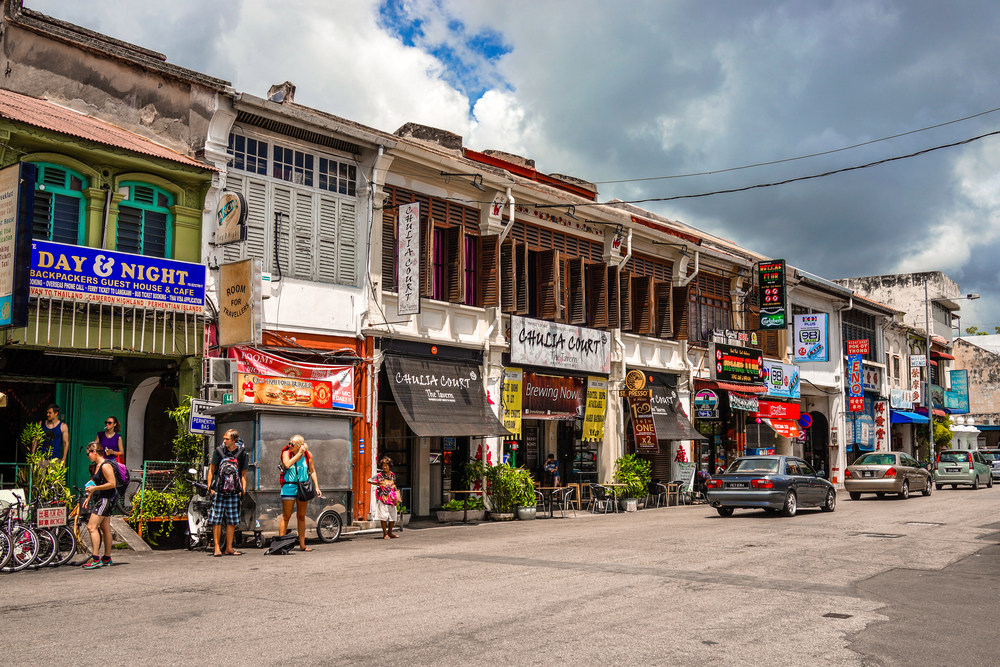 A backpacker's favourite place to be, this unassuming street is teemed with hostels and coffee shops interspersed with generational handicraft shops, a bookstore which sells second hand books, an antique clock repair shop and a rattan furniture shop – one of the many dying trades in Penang.
10. Fort Cornwallis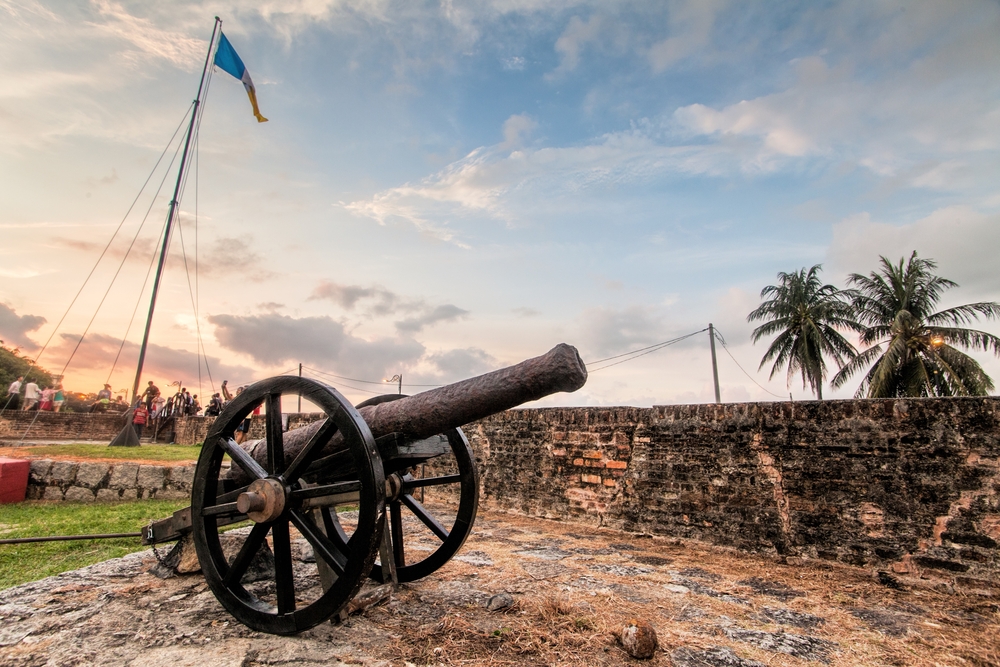 The biggest and most well preserved fort in the country, this 18th century star-shaped structure is a must-visit for history buffs. Built by Sir Francis Light to protect the British royal artillery troops from possible French attacks, this place of refuge also houses a chapel, a gunpowder magazine, cell rooms, several cannons and a surrounding moat. Today, some of the cell rooms have been converted into galleries displaying historical facts, artifacts and conservation efforts.
Address: Jalan Tun Syed Sheh Barakbah, Georgetown, 10200‬, Penang.
Opening hours: ‬‬‬‬‬‬‬‬‬ 7am – 10pm daily.
*Author's tip: Get there slightly earlier and head over to Padang Kota Lama (known to locals as 'Esplanade'), an area next to Fort Cornwallis. There is a food court located just opposite the sidewalk by the sea, where you can enjoy the refreshing breeze and lovely view. The mee rebus and mee goreng at Hameed make great teatime meals, served with a scoop of chewy, yet soft squid strips cooked in sambal (a tantalising blend of sweet and spicy chili paste).
Address: 6, Kota Selera Padang Kota Lama (Fort Cornwallis Food Court), Jalan Tun Syed Sheh Barakbah, 10200, Georgetown, Penang.
Opening hours: 11:30am – 8:00pm (Closed on Sundays).
---
"ExpatGo welcomes and encourages comments, input, and divergent opinions. However, we kindly request that you use suitable language in your comments, and refrain from any sort of personal attack, hate speech, or disparaging rhetoric. Comments not in line with this are subject to removal from the site. "
Comments