Mike Gibby's new book "Street Art Penang Style" chronicles the explosion of street art on the island in the last decade. He talked to Frances Wilks Somewhere between fresco and graffiti, there is street art.
With its roots in popular culture and yet no longer disdained by serious artists, painting on walls has transformed Penang, creating an outdoor art gallery which draws tourists from all over the world. "The street art phenomenon isn't just in George Town though it started there," says Mike. "When George Town got UNESCO World Heritage status, there was a need to 'brand' the heritage zones. The result was a series of 53 two dimensional wire framed sculptures that portray everyday life in the past with gentle, wry, quintessentially Penang humour."
Although the work of five different artists, they are instantly recognisable as part of the Penang narrative. Some of them poke fun such as the cheating husband caught in an embarrassing situation in Love Lane. Some provoke empathy such as "One Leg Kicks All', a depiction of the many duties the old black and white amahs had to perform a hundred years ago. There are historical scenes, such as the pilgrims in Acheh Street leaving for Mecca on a steamship, and more contemporary scenes such as the street seller in Prangin Lane calling out with fake sympathy at the customer who has no plastic bags to carry her goods – a reference to Penang's plastic bag ban.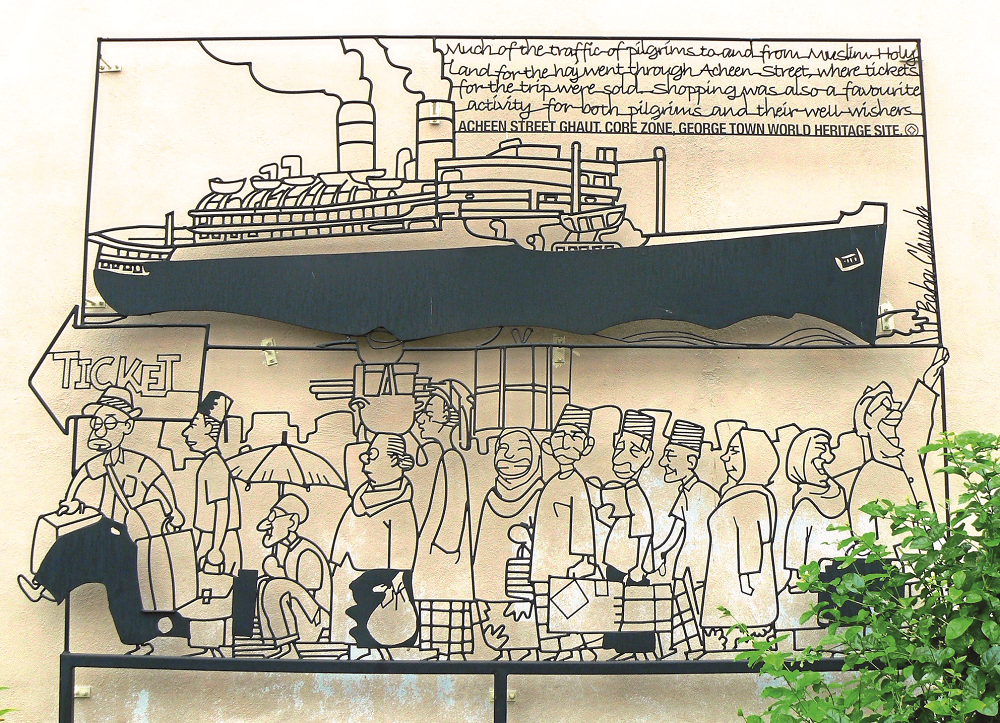 But while the wire-framed sculptures are relatively permanent (except regrettably for a few souvenir hunters who have stolen birds), George Town's painted walls are much ephemeral. "And that's a good thing," muses Mike. "There is an ongoing debate between the street art of the now and preserving the heritage of the past. Both are important. And, if in 20 years, people decide they're bored with the murals, they can whitewash them over and return to square one."
One of Mike's favourites, in fact, is an early example from Stewart Lane where an anonymous artist painted a seagull perching with the caption "Sometimes I still Dream". A little while later, another hand added an aggressive black eagle with the words "Get a Life". Yet others refer to the fact that their extinction is close at hand. In a series near Prangin Mall, a tragic tapir mourns that he will soon be gone. A nearby mural depicts an animal (perhaps the tapir) that has been whitewashed out while a sadistic panda (ironically also an endangered animal) stand nearby with a brush saying "Wish granted". All these murals have since disappeared, so photographs are the only record of them.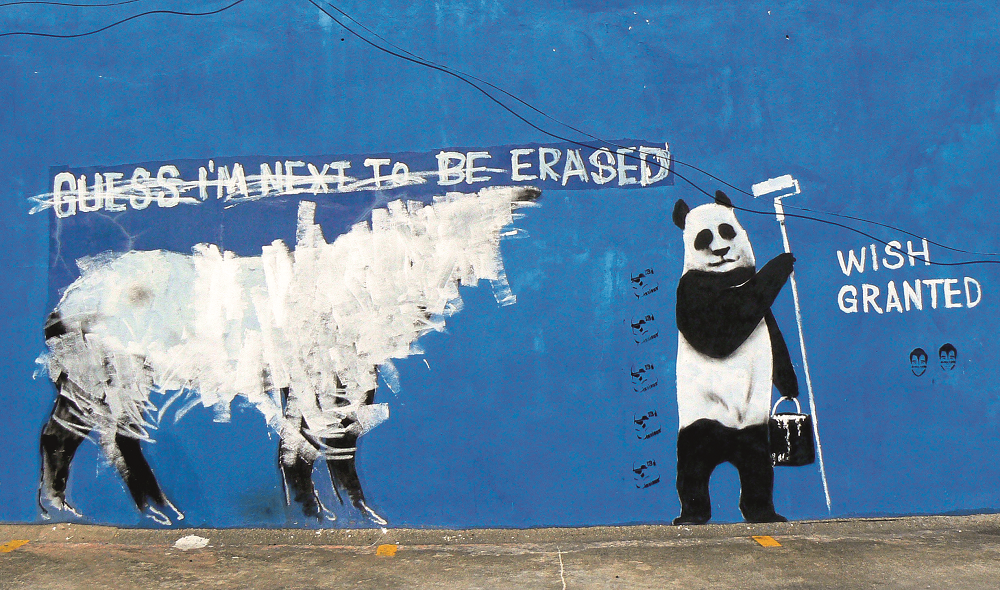 While the early muralists dialogued with each other, it took Lithuanian born Ernest Zacharevic to create a truly interactive Penang style. His Armenian Street "Bicycle", part actual cycle and part painted figures, has become a global icon inviting tourists to strike poses with it. The nearby motorbike, also interactive, has attracted interesting graffiti. An unknown artist added a stick drawing of a dinosaur and so Ernest responded by painting a boy and a leash thus taming the dinosaur and reducing it to the status of a pet.
Perhaps part of Ernest's genius resides in the blend of the real and the imaginary, as his figures are situated in the "real" world. In neighbouring streets, a boy reaches up to a tiny window, a girl walks tightrope on real electricity wires, and a trishaw driver takes a brief rest against a wall. Most of these paintings were commissioned for the George Town Festival in 2012, and have been an outstanding success. As Mike says, "Quite apart from their artistic merit, the choice of locations succeeds in drawing the viewer into the heart of the Heritage Zone."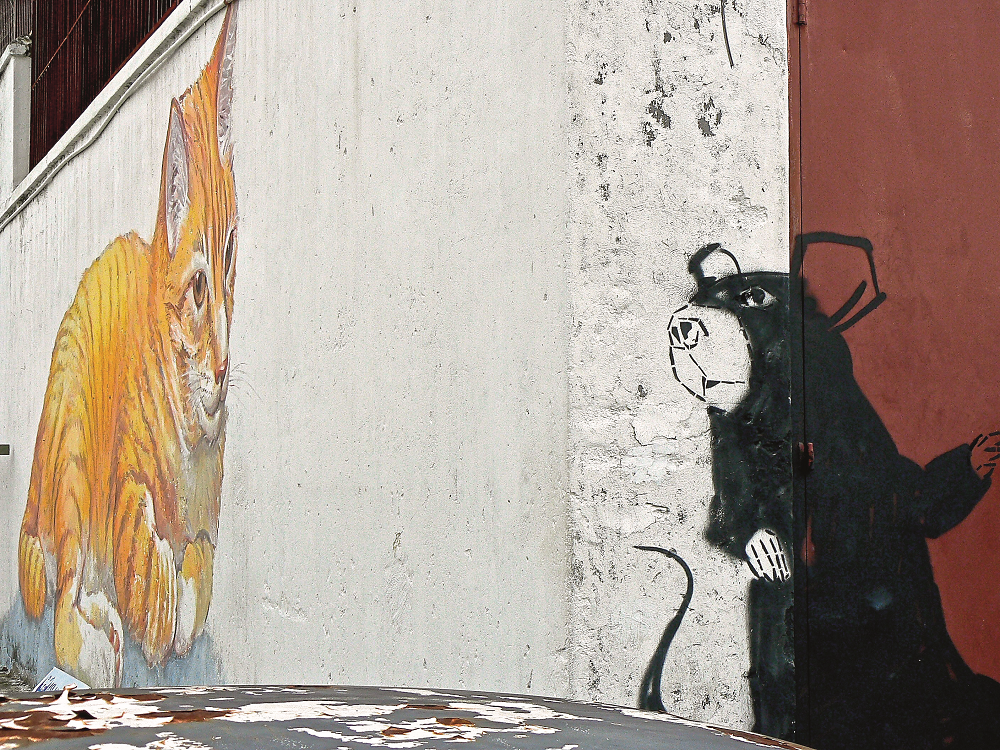 The following year George Town Festival also commissioned wall paintings. The result was the "101 Lost Kittens" which were painted by various artists. "Many of the 101 kittens are hidden in quiet byways that were previously rarely visited,' says Mike. "The idea of finding them was a treasure hunt and an animal awareness campaign that has also brought new life to these locations."
One of the most famous is Skippy, a giant ginger who dominates a wall in Gat Lebuh Armenian. During the festival, a large stencilled mouse appeared peeping round the corner as yet unseen by the feline – a playful piece of public participation in the artistic process. There were also unofficial additions such as the kitten who questioned whether he was number 102 but was actually advertising a bike rental business. Several restaurants have commissioned murals – most notably from Thomas Powell who continued his animal zodiac with mandarin monkey guarding the doorway at China House, a criminal rat lurking in Mugshot Café, and an ox sommelier pouring wine at That Little Wine Bar.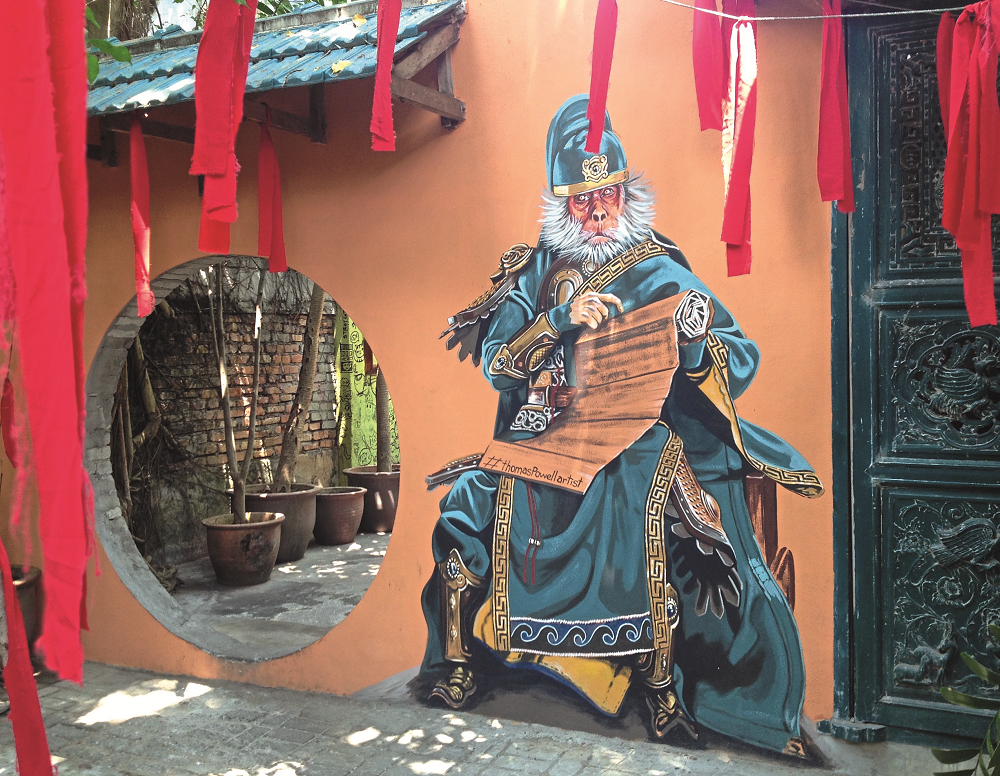 Urban Xchange, a collaboration of international street artists, started in 2014 with the aim of re-defining public space art. "They asked questions what street is, should it be controlled, and how does it benefit the community." Although sometimes their work has been criticised for not being sufficiently relevant to the local community, they have definitely added to the dialogue.
"The current hot spot for street art is Balik Pulau," notes Mike. Part of the reason for this is the monumental chiaroscuro paintings by Russian artist Julia Volchkova, one of the Urban Xchangers. In a class perhaps of its own, also in Balik Pulau, is Ernest Zaharevic's "Silversmith". It's remarkable for being created not by a paintbrush but by skillful manipulation of a high-pressure hose which washed away a century of grime and lichen to reveal a touching human portrait.
Watch out for new images around the island as they pop up and down. For example, the Yin Yang Cats of Cat Beach at Teluk Bahang may be swept away any day on a super spring tide. This article has only been able to highlight a fraction of the treasures of Mike Gibby's book – so for the rest you'll just have to buy it!
Street Art Penang Style by Mike Gibby is sponsored by Holiday Tours and published by Entrepot Publishing Sdn. Bhd. Costing RM80, it's available in all bookshop or from the Entrepot Publishing website entrepotpublishing.com.
This article was originally published in The Expat magazine (September 2016) which is available online or in print via a free subscription.
---
"ExpatGo welcomes and encourages comments, input, and divergent opinions. However, we kindly request that you use suitable language in your comments, and refrain from any sort of personal attack, hate speech, or disparaging rhetoric. Comments not in line with this are subject to removal from the site. "
Comments