With winter once again approaching in the northern latitudes, Paula Tan recalls her New Year's holiday in Seoul, where she and her family rang in 2016, ditching the tropical warmth for the chill of Korea, hitting the city's mega-markets, and discovering a very different side of Seoul.
The raised eyebrows at the mention of our family spending a freezing New Year's in Seoul were numerous, to say the least. And those eyebrows practically merged with hairlines when they heard my mother would be in a wheelchair. Nevertheless, off we went, and experienced one of our greatest travel adventures to date. Travelling with a wheelchair has its limitations, of course – but it was this, in fact, that lead us to exploring Seoul's best markets, cornucopias of virtually everything under the sun.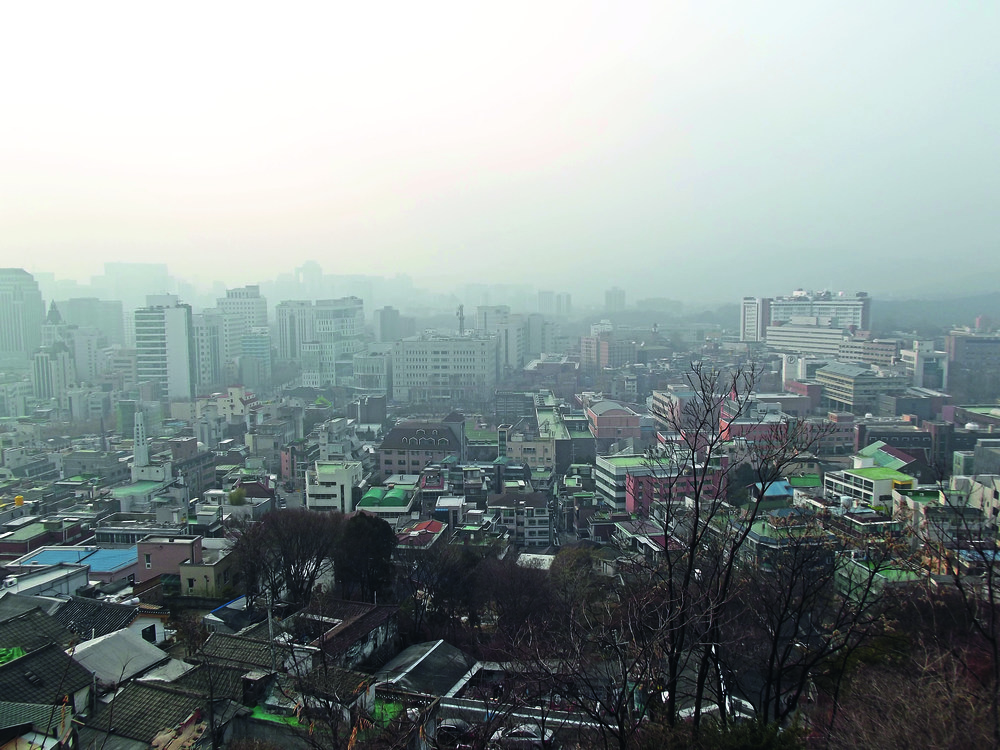 Easy to navigate, and filled with endless nooks to discover, Seoul's colossal markets are places one can allot entire days for. The Dongdaemun district is a massive commercial district where several of these were located. Our first experience of a Seoul market was the Noryangjin fisheries wholesale market, the city's largest fish market.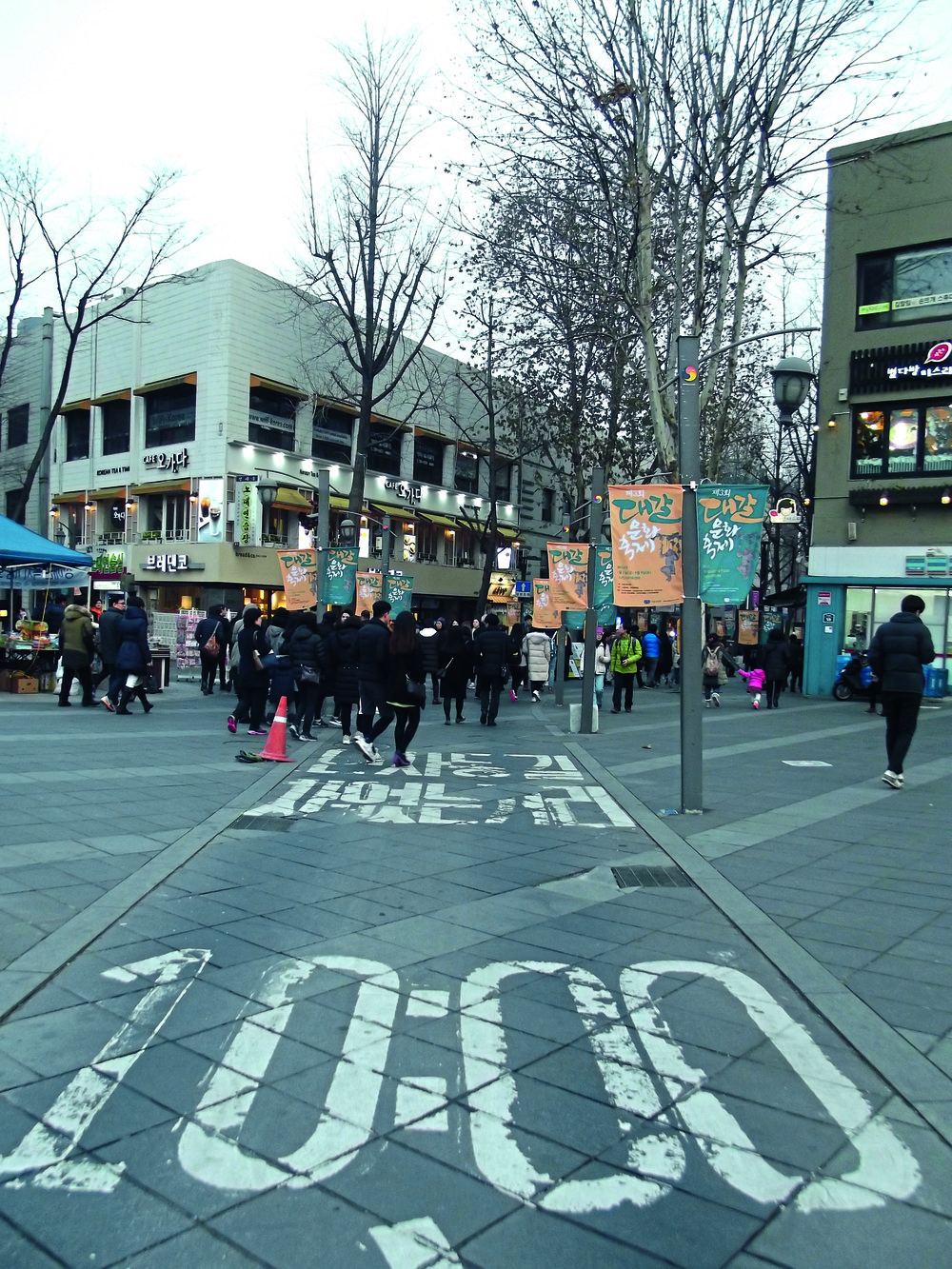 Open around the clock, it is populated by booth after booth of undersea wonders, from clams and octopuses to sea cucumbers, lobsters, and every species of fish imaginable.
Famed for serving the freshest sashimi available, Noryangjin was established in 1927 under the name Jung-gu, but moved to its current location in central Seoul in 1971.
Here, you can wander the market's many lanes and pick out fresh seafood that catches your eye.
The catch? They're still alive. The vendor will pick out whatever you choose from its tank, and either slice it up for you, or send it to one of the restaurants nearby, where chefs will prepare it according to your specifications.
Apparently, a visit around 3am will grant you audience at a live auction where buyers jostle for choice arrivals. While we did not fancy braving the freezing cold night, we were fortunate enough to catch a lively auction for apples in the morning, accompanied by the buyers' "lucky" dog.
Shopping through history
Dongdaemun Market itself started out as a traditional market in 1905 and underwent its first major transformation in the 1970s, developing into a wholesale and retail centre of the textile industry.
Currently, Dongdaemun district boasts 26 shopping malls and over 30,000 specialty shops, divided into two sections. As large shopping malls like Cerestar, Migliore, Designer's Club, and Doosan Tower cropped up in the area over the '90s, the market was reborn as Korea's most famous fashion street.
The latest trends often make their debut along with the newest fabrics at the market. Therefore, it is no surprise that it is home to the nation's largest clothing suppliers.
Aspiring designers come to here to hone their skills, and wholesalers across the country visit the market at night, forming an iconic night image of Seoul.
Dongdaemun pulls the youth by hosting music and dance performances, fashion shows and festivities throughout the year.
Frequented by leading Korean and international buyers, its cheap and diverse clothing selection attracts not just fashion industry leaders, but also the average shopper.
By the way, taking the subway to Dongdaemun cannot compare to walking there along the Cheonggyecheon stream and past the ultra-modern  Dongdaemun Design Plaza, in the golden glow of evening.
Also located by Cheonggyecheon stream and the Fashion Plaza, the century-old GwangJang Market in the Jongno-gu district is considered one of Seoul's best shopping areas.
With over 5,000 shops, Gwangjang is where you can purchase your own custom-made hanbok, the traditional Korean dress, and enjoy tasty mung bean pancakes at one of the many stalls.
Heighten your market snack experience in winter by enjoying them while toasting the ajummas, or market ladies, with a bottle of soju or makgeoli, Korean liquor. You shouldn't bypass the seaweed rice rolls known as mayak gimbap either. They aren't known as the "drug gimbap" for nothing!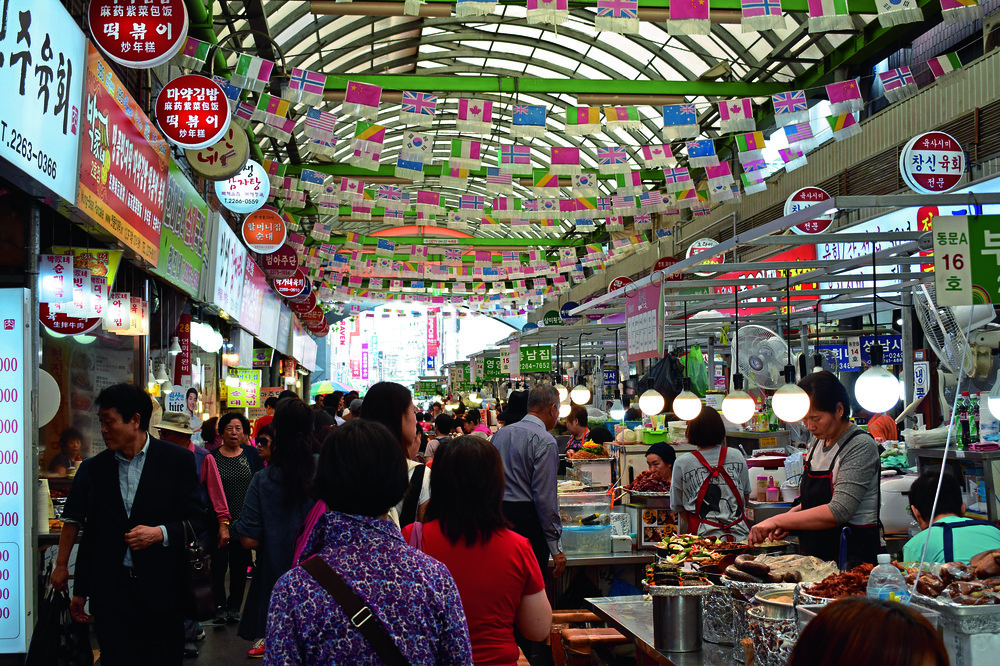 Be amazed, be well-fed
On the other side of town, within walking distance of Seoul City Hall and Deoksugung Palace, is Korea's oldest traditional market. Located by the Great South Gate after which it is named, Namdaemun Market dates back to 1414, during the reign of King Taejong, and was, in the early days, a government managed marketplace with goods mostly transported by hand-drawn carts.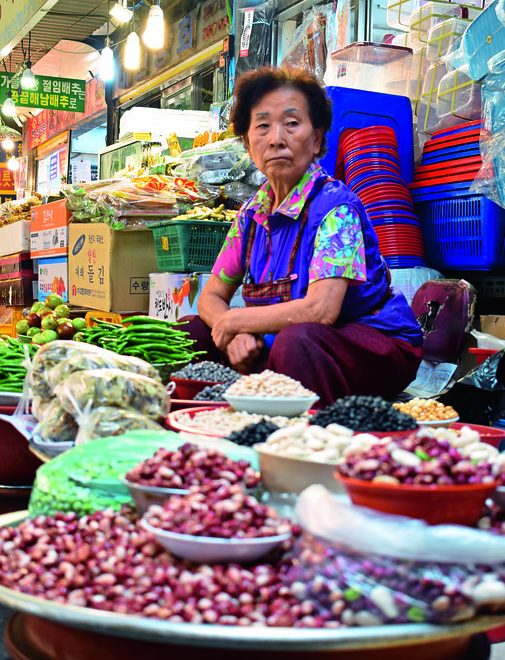 Today, it is filled with multi-storey buildings offering thousands of shops, as well as countless street stalls. Here, you can buy Korean-style cooking utensils, art supplies, Gangnam Style socks, ginseng, and everything in between.
It's that huge, the perfect place to buy souvenirs, and also to enjoy getting lost, despite the numbered stalls.
If you're the parent of a little girl, there are several stalls with the most beautiful pastel net tutus, guaranteed to have you emerging an instant winner in your daughter's eyes.
Packed with interesting small food shops, Namdaemun's must-tries would include the mackerel broiled in red pepper sauce and knife-cut noodles.
Head there on an empty stomach and you won't be disappointed. True to Seoul's reputation of being all about fresh food, Garak agricultural market, which is also a fish market, sits in Garak-dong at Songpa-gu.
Managed by the Seoul Agricultural and Marine Products Corporation, the capital's main wholesale market is mind-bogglingly large, clocking in at 543,451 square meters.
Hosting over 100,000 visitors daily, Garak is a place where losing your travelling companions would be
a nightmare, so if you're travelling with children, it is highly recommended to use a baby leash.
Here you can buy fresh produce at a 30% or more discount, compared to grocery store prices. Look out for the huge bags of red garlic, and watch barrels of spicy red chilies being ground into powder before being bagged and sold. All areas, except the livestock section, are open 24 hours a day. Still, the most entertaining time to visit would be between 6 and 9pm as this is when the auctions take place. Garak is mindblowing at any time, but if you're averse to crowds, a good point to note would be that people start pouring in after 9pm, to shop for goods to supply the thousands of restaurants and cafés across Seoul.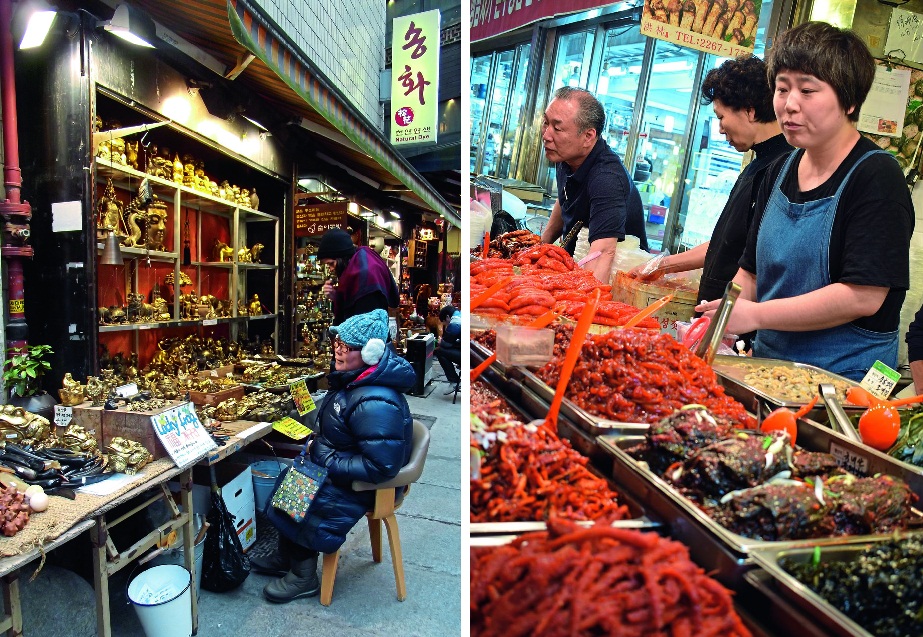 On a more urban slant and somewhat more touristy, Insadong is a popular neighbourhood in the heart of Seoul for those seeking traditional Korean culture. Streets and narrow back alleys are lined with art galleries, wooden tea houses, restaurants, cafes, and small shops selling arts and crafts. Many of the buildings in the area were once owned by merchants, bureaucrats, and government officials during the Joseon Dynasty (1392–1897).
Dohwawon, the National Department of Painting, was once located in Insadong. For centuries, this department created the royal paintings and woodwork found in many of the royal palaces. Artists and painters have made their way here for centuries, making Insadong art mecca. Today, there are about a hundred unique art galleries here which focus on traditional Korean art, including paintings, sculptures, pottery and porcelain.
While in Insadong, visit a restaurant that still serves royal Korean cuisine. Royal meals comprise about twenty different courses of traditional Korean delicacies and JinJinBara is one of the few places that still provides the royal dining experience. You can also pick from a myriad of street food stalls and of course, Korean barbeque, at a restaurant like Cha Iyagi, that means "tea story", and has a beautiful traditional interior.
Over six days, we explored the many streets that are Seoul's best markets, all with my mother in her wheelchair. Among the memories that will stay with us are those of the deliciously fresh food, the people's reverence for the past, and the kindness of strangers – a warm glow in Korea's winter cold.
This article was originally published in The Expat magazine (November 2016) which is available online or in print via a free subscription.



" ExpatGo welcomes and encourages comments, input, and divergent opinions. However, we kindly request that you use suitable language in your comments, and refrain from any sort of personal attack, hate speech, or disparaging rhetoric. Comments not in line with this are subject to removal from the site. "



Comments