We get it, the holidays are a time for merriment, celebration and indulgence. However, the reckoning after the holidays, is something we could all do away with, especially on an island famed for its calorie-inducing, artery-clogging, lip-smacking hawker food.
Fortunately, though, the clean eating food trend seems to be picking up. More and more meatless / vegetarian cafes are sprouting up across the island. If you've had too many sugar-filled, deep-fried and guilt-ridden treats over the recent stretch of holidays, this list is the preemptive measure your body needs:
1. Wholey Wonder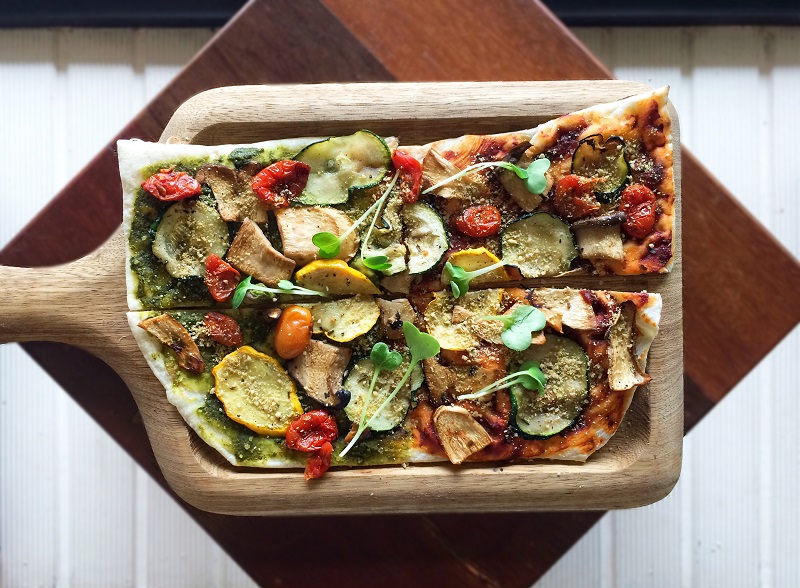 A very recent addition to the healthy eating scene in Penang – they started operating just eight weeks ago – Wholey Wonder is the perfect spot for those who'd like to be healthy inside and out. The menu is completely plant-based, with options ranging from pizza and pies to home-made raw desserts.
We loved the Wholey Pizza, a scrumptious vegan pizza with a thin, crispy sourdough crust. You can choose between a tomato, pesto or half-and-half base, which is then topped liberally with tomatoes, zucchini, mushrooms and radish sprouts. There will be a gluten-free version coming soon, a thoughtful option for people with wheat allergy.
As a devoted lover to all things peanut butter, I couldn't pass up on ordering the Peanut Butter Cheese Cake. The main ingredient for the 'cake' is Carver's peanut butter, from a home-based nut butter producer in Penang, and date honey; while the base is made from a granola-like trio of various nuts, oats and dates. With sweet cacao nibs on the side, we polished off every bit of the luscious confection, guilt-free.
The cafe is located on the ground floor, but slip off your shoes and saunter to the first floor to be greeted with a serene space with high-vaulted ceilings, dedicated for yoga classes. Check out their Facebook page for more info on the schedule if you're keen to join.
Address: 61, Jalan Gurdwara, 10300 George Town, Penang.
Tel:+604 218 9006
Opening hours: Wednesday – Saturday,  11am – 8pm ; Sunday, 11am – 6pm
Website: fb.com/wholeywonder
2. Awakenings Coffee N Tea House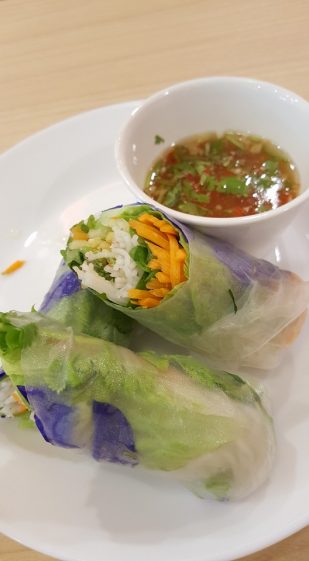 With an ambitious mission to educate and create awareness on the benefits of a wholesome lifestyle, the aspiring team helms the cafe with a fuss-free philosophy: simple, honest, fresh food.
The menu here isn't extensive, with a great part of it for finger food. If you are planning to visit this minimalist vegetarian establishment for a meal, do note that mains are only served within at lunchtime.
The Rolling Butterfly is one of their must-order items, which comprises Vietnamese Spring Rolls stuffed with rice vermicelli, crunchy greens and a vivid pop of colour from petals of the butterfly pea flower, all wrapped within a sheet of rice paper. The accompanying dipping sauce (minus the usual fish sauce) was refreshing and flavourful, rounding up the dish perfectly.
If you'd like to recreate the dishes or would simply like to adopt a healthier lifestyle, there are plenty of organic ingredients on sale at Awakenings – products from different countries that, when bought, will help a good cause.
Address: 2-1-27, Tingkat Mahsuri, Ideal 1 Square, 11900, Bayan Lepas, Penang.
Tel: +604 611 8827
Opening hours: Tuesday – Sunday, 10am – 10pm
Website: fb.com/awakenings2016ACT
3. The Leaf Healthy House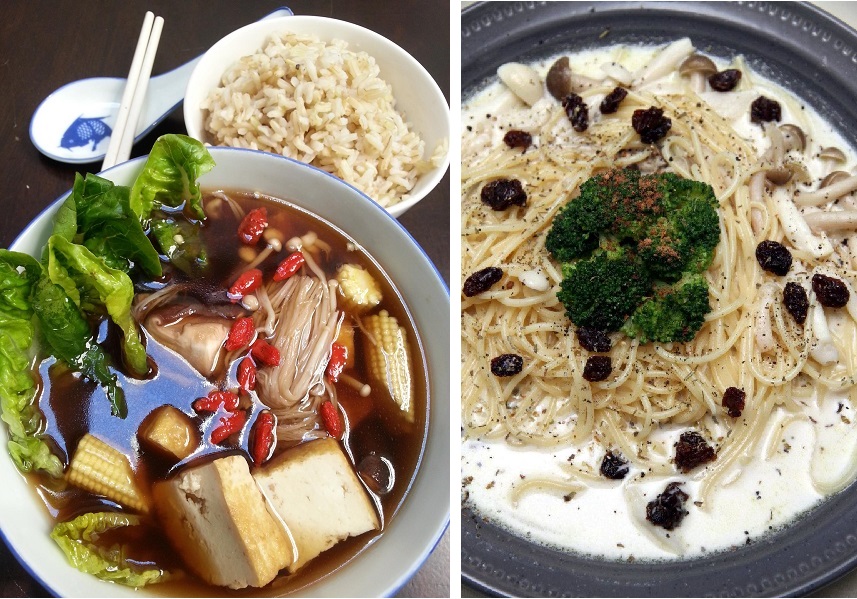 If the name isn't a giveaway, The Leaf Healthy House is a vegetarian cafe with down-to-earth dishes that are suitable for those who prefer to lead a less-is-more lifestyle. Favouring organic ingredients and following a strict mantra of 'No MSG, artificial colouring and preservatives', their servings are surprisingly flavourful and satisfying. Consisting mostly of Asian fusion, this homely cafe serves up mains such as Spinach Spaghetti, to Nasi Ulam.
The Mushroom Spaghetti is a noteworthy choice, a meatless take on the much-loved Spaghetti Carbonara. Shimeiji mushrooms replace the artery-clogging bacon and the al dente pasta is bathed in a creamy carbonara sauce, then sprinkled with raisins, blanched broccoli and cauliflower. Another must-try is be the Vegetarian Bak Kut Teh, a hearty bowl of herbal soup chock-full with bean curd, vegetables and straw mushrooms.
The food here is pretty affordable, with a just-nice portion size to boot. Not only will your body thank you for your lean lifestyle, your wallet will, too.
Address: 5, Lebuh Penang, 10200, Georgetown, Penang.
Tel: +604 262 7007
Opening hours: Monday – Saturday, 11:30am – 3pm and 5:30pm – 9pm 
Website: fb.com/TheLeafHealthyHouse
4. Lily's Vegetarian Kitchen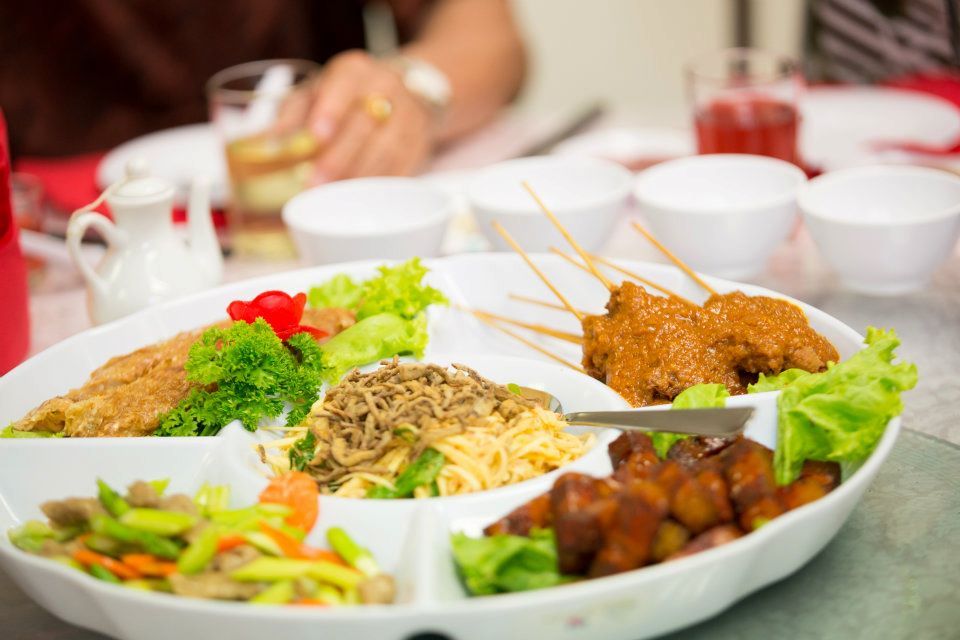 The owner of her eponymous restaurant, Lily doesn't just believe in eating green to lead a more fulfilling life, she goes green as well. She advocates a zero wastage policy and upon entering her establishment, one would be terribly unobservant to not notice the posters urging customers to not waste food.
Located a stone's throw away from Little India, the place is a haven for those who adore Oriental flavours. The fare is crafted with fresh ingredients handpicked from the valleys of Cameron Highlands, and we were momentarily duped while feasting on soya-based alternatives for local and international favourites such as Char Koay Teow, Rendang and Fish and Chips, almost mistaking them for the real thing.
Lily's Vegetarian Kitchen also provides outdoor catering as well as hosts full course Chinese banquets for special occasions.
Address: 98 Noble House, Madras Lane, 10400 Georgetown, Penang.
Tel: +604 226 3810
Opening hours: Tuesday – Sunday, 8:00am – 9:30pm
Website: lilysvegekitchen.com
5. Sushi Kitchen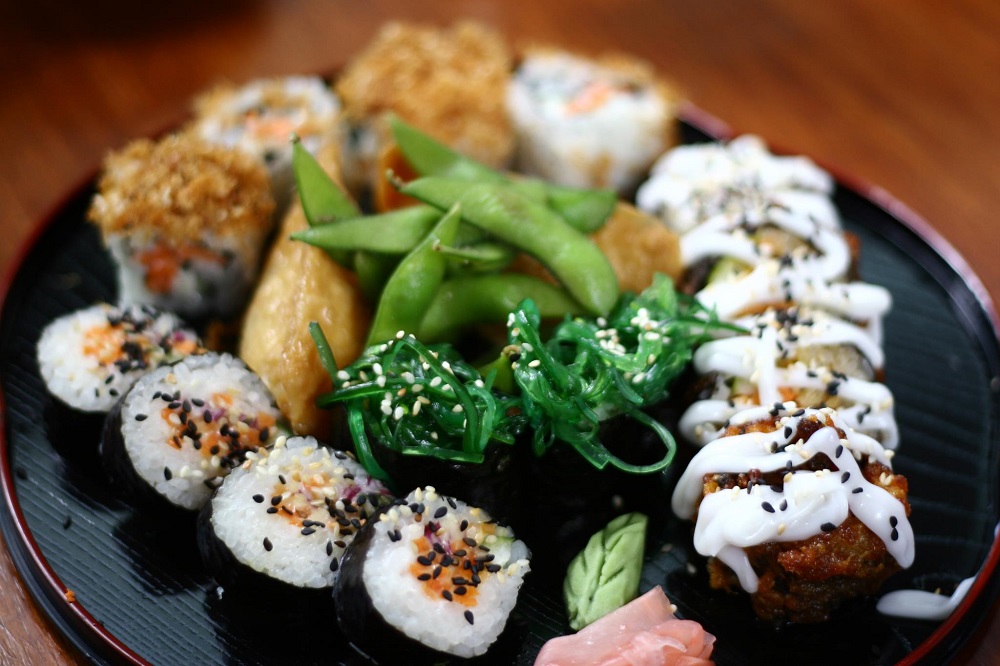 Ever heard of a Japanese organic vegan restaurant before? Nope? Neither had I, till a fluke visit to the subdued side of Georgetown. Sushi Kitchen is a paradise for vegans and the health conscious, as it does not add onion, garlic, MSG, white sugar, salt, artificial colouring or preservatives to its food. The plant-based cafe also claims to soak all of the veggies in enzymes for up to 45 minutes to rid off any remnants of pesticides.
If you thought that this tatami-laden dining place offers only the usual cucumber and avocado rolls, think again. A brilliant creation is the Low Beauty Roll, a yam and sweet potato croquette, fried to golden perfection, with a gloss of mayo and sprinkle of black sesame seeds. Carb fans, be sure to try the Edamame Fried Rice, a tasty treat made with brown rice, heaps of vegetables and (you guessed it) edamame.
Sushi Kitchen has now taken Penang by storm and there are now four branches throughout the island in Sungai Ara, Georgetown, Farlim and Gurney Plaza.
Address (Georgetown branch): No.12, Gat Lebuh Acheh, Georgetown, Penang.
Tel: 016 – 411 7570
Opening hours: Tuesday – Friday, 11.30am – 9pm; Saturday & Sunday, 11.30pm – 2.30pm and 6pm – 10pm
Website: fb.com/sushikitchen
6. Cloud Dreaming Vegan Cake House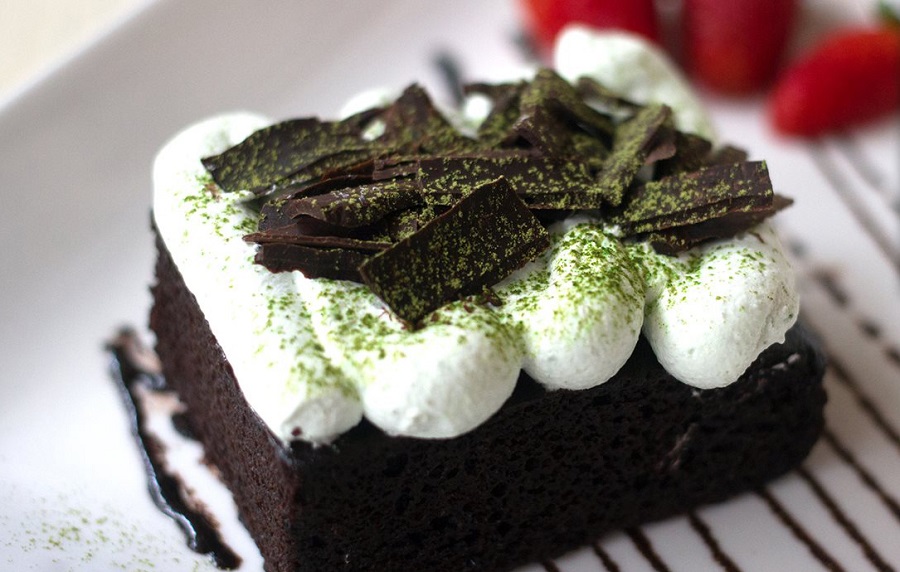 With a dreamy mural and fitting Disney-esque font painted on the left wall, this vegan (no honey, dairy or eggs) cake house was established since 2014. Nestled within an inconspicuous shoplot beneath Sungai Ara's Wet Market, Cloud Dreaming has an impressive menu with heaps of choices from Mushroom & Tofu Burger, to English Porridge (oatmeal in plant-based milk) to Pita Wraps.
For those with a sweet tooth but would like to watch their sugar intake – let's be honest, dear expanding waistline – this is one of few places where you are able to give in to your cravings, without needing to trudge home on a walk of shame.
The cakes are baked fresh daily, dairy-free and only high-quality Omega 3 flax seed is used. The Green Tea Chocolate Cake was an instant favourite. What's not to love about airy green tea mousse, a densely moist chocolate base and shavings of dark chocolate? The confection was impossible to fault, and although chocolatey, the teatime treat was hardly cloying.
Round up your afternoon break with a siphon / drip coffee or a pot of flower tea or Apple Cider Vinegar, a piquant after-meal drink that helps to promote digestion.
Address: 2-1, Jalan Sungai Ara 1, Desa Ara, 11900, Bayan Lepas, Penang.
Tel: 012 – 487 5503
Opening hours: Wednesday – Monday, 3pm – 10pm
Website: fb.com/clouddreamingvegancake
7. Woodlands Vegetarian Restaurant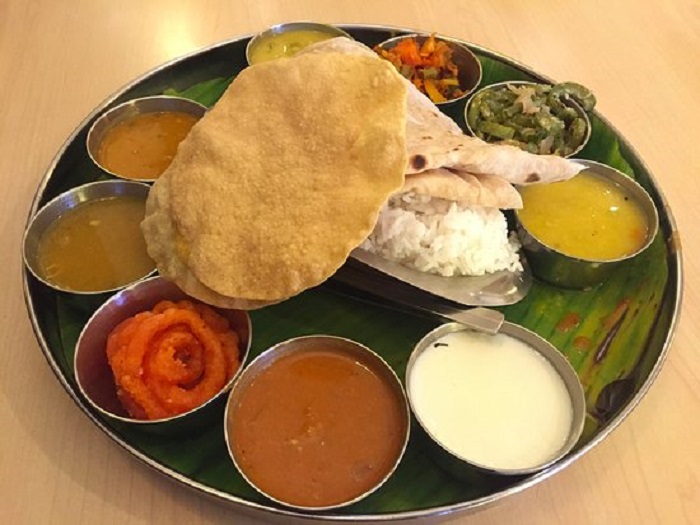 While most Indian eateries in Penang do offer some vegetarian options, Woodlands is a purist. This strictly vegetarian restaurant has an extensive menu and is open throughout the day – but do take note that some dishes are only available for breakfast, some only for lunch and so on.
If you're in the area during lunch, don't miss out on the Woodlands Special Thali, a rice dish with nine accompanying sides of curries, dhals and vegetables; all of which can be topped up upon request. Try their Mushroom Fry to fulfil your daily protein quota; the fragrant stir-fry of Indian spices and button mushrooms whose tantalising scent will make your mouth water before the spicy dish even arrives at your table.
Address: No. 60, Penang Street, 10200 Georgetown, Penang.
Tel: 04 – 263 9764
Opening hours: Daily, 8:30am – 10:00pm
Website: fb.com/pages/Woodlands-Little-India-Penang
As a parting tip, bear in mind that Woodlands is located in the heart of Little India – in itself a veggie haven. For travellers who'd like to stroll around Little India, don't miss out on the piping hot vegetarian snacks such as vadai, samosas and even coconut candy from street vendors dotted around the area.



" ExpatGo welcomes and encourages comments, input, and divergent opinions. However, we kindly request that you use suitable language in your comments, and refrain from any sort of personal attack, hate speech, or disparaging rhetoric. Comments not in line with this are subject to removal from the site. "



Comments