Whether you're a culture vulture, a savvy shopaholic, or a foodie fanatic, Malaysia is a true paradise… but it's also a wondrous place for consummate lovers of the great outdoors. Endowed with many natural and recreational jewels, like pristine beaches and mountainous tropical forests, Malaysia also has lesser-known natural wonders that will delight even the most adventurous of explorers. Usually located in forest reserves, Malaysia is blessed with plenty of excellent tropical waterfalls. Some people like to frolic and swim around in the pools of these waterfalls, while others are content to simply enjoy the continuous splashing and roar of the crashing water, always in full flow following a rainy spell.
When visiting waterfalls, particularly those off the beaten path, be aware of potential dangers like flash floods, which can occur suddenly when it rains upriver from the waterfalls. Backcountry hiking also carries the risk of getting lost while trekking to these falls. So it is important to know the weather conditions and also to let others know that you are going to a waterfall, telling them which one and when you will be coming back. It is also good practice to bring along salt to kill leeches, food if needed, and definitely drinking water.
With plenty of natural waterfalls in Malaysia, of course some are near major population centres, while others are further away or are still relatively unknown (or even undiscovered), lying deep in the jungles of Malaysia. The good news is that you don't have to have an 'Indiana Jones' type of expedition to find some of these natural wonders. In fact, you can easily reach them by car within an hour's drive from Kuala Lumpur. So, on a hot balmy dry day look no further than the following waterfalls which will cool and delight you with their therapeutic and rejuvenating 'hydraulic' splendour.
1. Chamang Falls, near Bentong, Pahang
Even the journey is picturesque, and when you arrive at this waterfall which comprises both cascades and rapids, you are met by a roaring thunder of rushing waters and spray.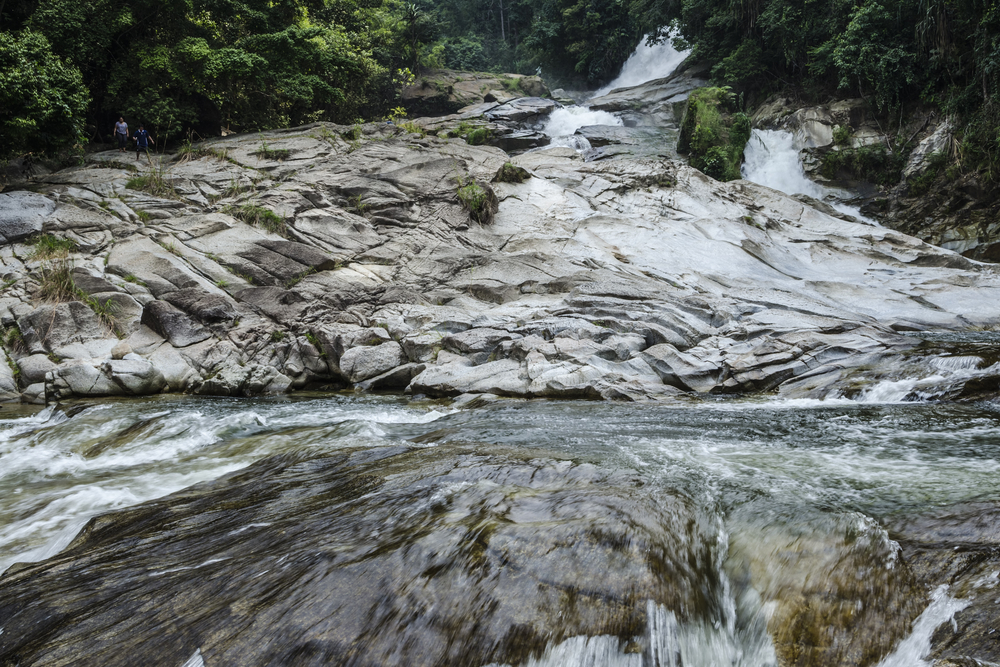 It's a sight to behold as the water gushes out and down the rocky face, especially after it's been raining further up in the mountains. There is ample parking here, and camping sites are also available, with picnic gazebos located around the area. Crossing the blue wire mesh suspension bridge across the rapids is an adventure in itself. There also are changing rooms, toilets, and shower rooms there, as well as basic barbecue facilities. Do not swim or go near the falls and its rapids when the red warning flag is up, however, as there have been accidents in the past.
To get there
Get to Bentong via the Karak Highway heading to Genting, then take the Bentong to Raub road, where you turn left just 2km out of Bentong (see the sign post at the T-junction). Follow the country side road for about 10km until you see the signage for the waterfall.
2. Kanching Falls, KL – Rawang Highway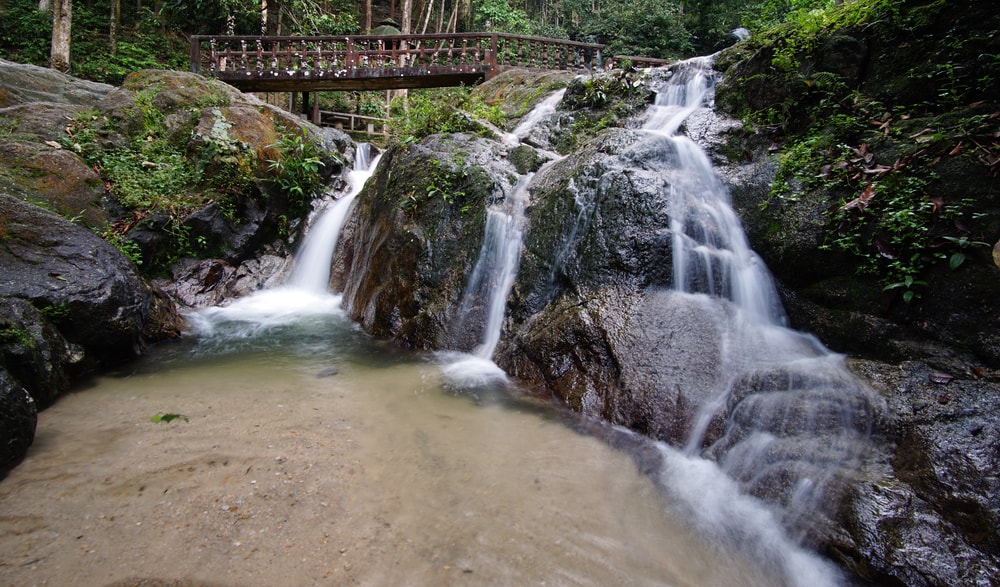 This waterfall is actually a popular local tourist attraction and accordingly, tends to be overrun with people on weekends and public holidays. Weekdays are the best bet for a bit more peace and quiet. Kanching Falls has seven tiers that comprise pools, cascades, and vertical falls, and the falls and host lands of Kanching Recreational Forest exist as an annex of Templer Park, just off Jalan Rawang.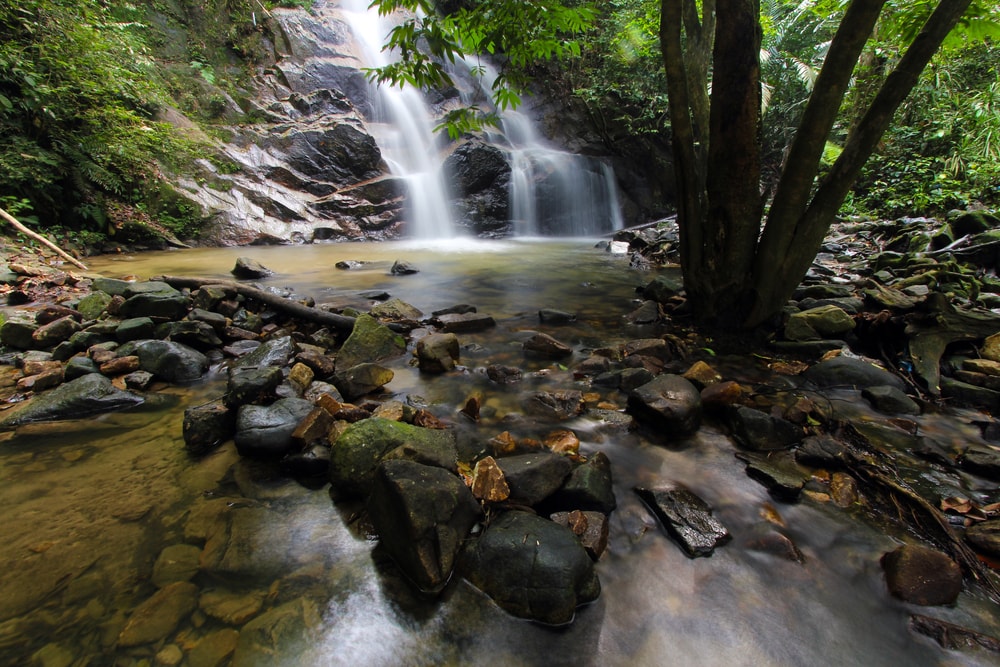 The falls' sixth and seventh levels are the most spectacular, while lower levels are great for having picnics at the gazebos provided. There are changing rooms and toilets at these cascading falls. The flora and fauna are interesting to watch, especially the birds so bringing along a camera or pair of binoculars is a must for bird lovers. The falls here are very much part of Templer Park's attractions, which also include the Templer Park Country Club, lakes, and private residences made up of large bungalows and terraced houses.
To get there
Kanching is reasonably well-signposted, and also appears in Waze. Just go along the KL to Rawang highway (trunk road), make a U-turn further up, and turn off the main road at the 22km marker to the side road.
3. Komanwel Falls, KL – Rawang Highway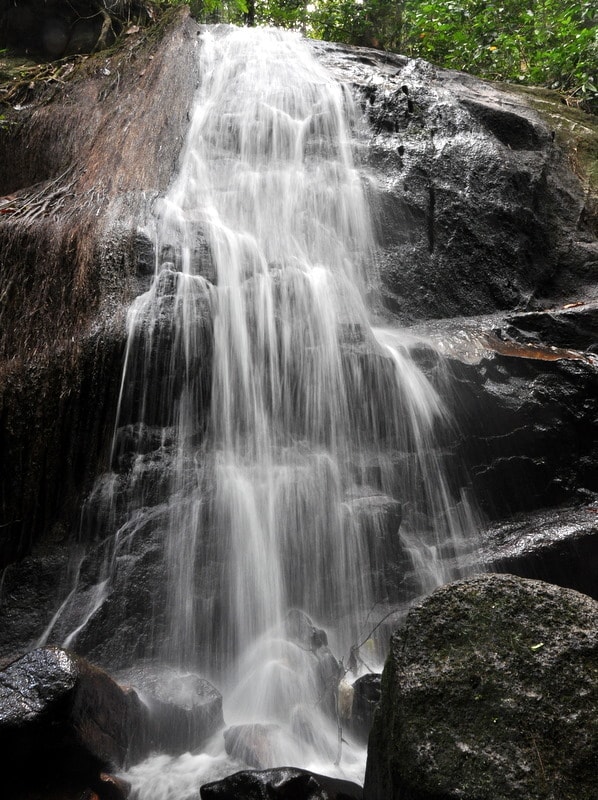 Located just a kilometre or so from Kanching Falls near the 23km marker of the Rawang Highway, on the opposite side of the highway, the Komanwel (Commonwealth) falls is within a pristine natural forest reserve.
It is well-supported with amenities like chalets, landscaped gardens, camping grounds, and an all-purpose hall, along with a small eatery called the Bamboo Café, which serves Malaysian cuisine. All if this comprises part of the Commonwealth Park or Taman Rimba Komanwel, which got its name from the 14th Commonwealth Forest Conference held here in 1993.
The falls here, although not big, are still pleasant and enjoyable which makes Commonwealth park also a great venue for having 'Team Building' or corporate seminars especially in view of the facilities and amenities available. There are also gazebos for picnics, a horse riding school, a paintball park, and ATVs (All Terrain Vehicles) for hire.
To get there
As with Kanching Falls, just take the KL – Rawang Highway (trunk road), look for the communications tower at the 23km marker, then turn off left to the side road.
4. Sungai Tua Falls, near Selayang
Made up of pools for wading and swimming, rapids, cascades, and a near-vertical fall, Sungai Tua Falls is ideal for picnics, bathing, barbecues, and camping. It is within the Sungai Tua Recreational Forest Reserve, which in turn is part of Selangor State Park, and is popular with locals. The drive to these waterfalls is a scenic adventure in itself, offering views of rainforests and the beautiful Batu Dam Reservoir.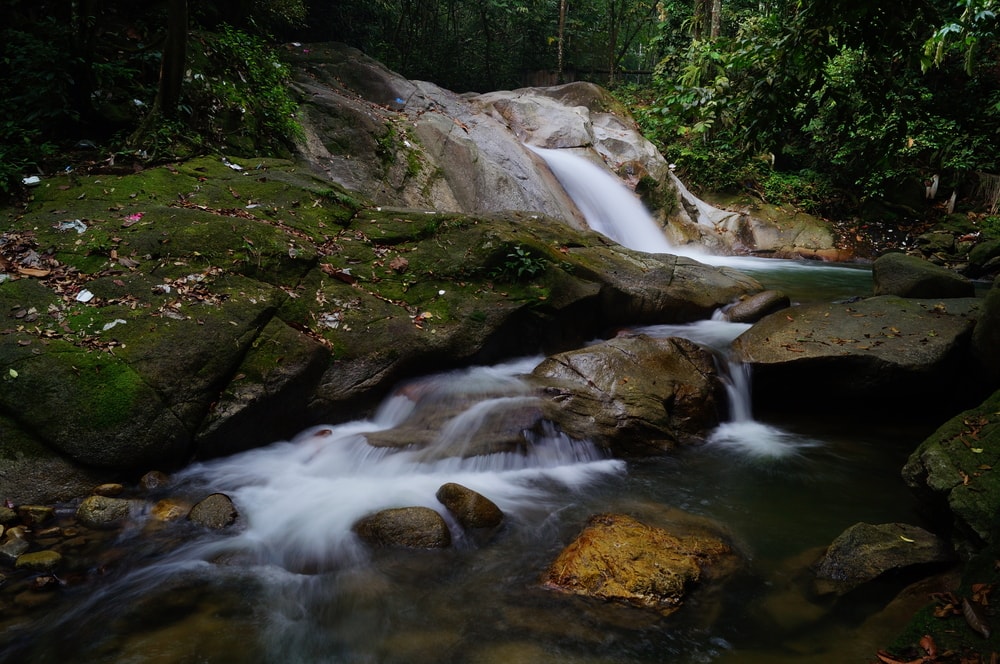 You'll also see the River Stone Eco and Nur Laman Bestari Eco Resorts nearby, where you can drop by and have a good meal after enjoying the waterfalls. Amid lush jungles, flora, and large growths of bamboo, there is also a suspension bridge crossing the large stream that feeds the waterfall. Three car-park zones are present (P1, P2 & P3), with P3 being nearest to the main waterfall.
To get there
Find your way from KL and get onto the B23 Jalan Ulu Yam Bahru Road and head north, passing by River Stone Eco Resort where you'll travel further up a few minutes and you will see the archway for Hutan Lipur Sungai Tua (Sungai Tua Recreational Forest).
5. Sungai Ampang Falls, near the National Zoo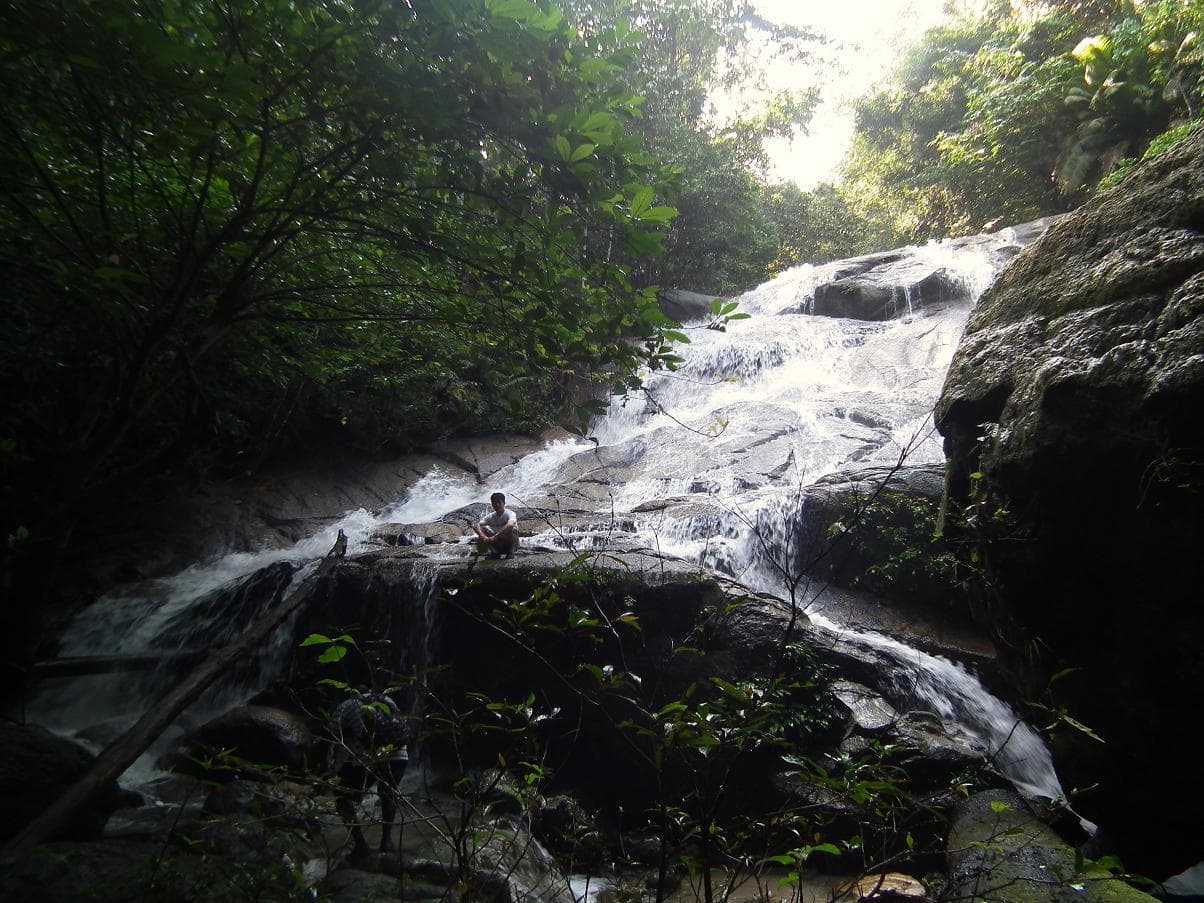 Here you'll find some relatively unknown and unspoilt waterfalls, further in from the road that exits the MRR2 highway at the National Zoo. One reason they're less-known is down to their accessibility: to reach the falls, you must hike a rather strenuous trail at least 45 minutes after leaving your car parked at the entrance of Institut Budaya Baru Melayu. And that's just to get to the first small fall Lata Shem, or Lower Ampang Fall. Then a one-hour trek is required to get to the Middle Ampang Fall (Lata Gitar), which consists of impressive vertical and near-vertical falls.
Just lazing at the bottom of these falls (perhaps recovering from your hike) is both relaxing and invigorating, and a nice reward for the journey. Nearby uphill is the upper fall (Lata Pinang), which is a lovely vertical fall that, quite likely, not all that many people have seen or enjoyed.
To get there
Get off the MRR2 highway at the Zoo Negara (National Zoo) exit, and take the road leading inside that passes by Kampung Kemensah (Kemensah Village) until the road ends at the Institut Budaya Baru Melayu (Institute of New Malay Culture). Park your car and walk in, about 100 meters after the guardhouse, and take the trail to the right.
Photo tips from ExpatGo:
Waterfalls photographed with typical point-and-shoot cameras (and phones) tend to look underwhelming because the water's motion, which is the entire appeal of a waterfall, is frozen in a split-second shot. To get the appealing, smoothly blurred water motion seen in many of the images here, you'll need a very steady hand (or ideally, a tripod). Typically, you'll need a shutter speed of about 1/10 second or a bit slower, so use your camera's shutter priority mode or manual mode, and set the shutter speed to 1/10 or 1/8 second, adjust the aperture accordingly – watch out for overexposure – and take the shot. Check to see if the results are what you want, then try more from different angles or with different settings. Slower shutter speeds will result in a more pronounced blur, but 1/4 second is about as slow as you want to go. And anything slower than 1/10 second usually will require a tripod or other external stabilisation (like a nearby tree).
Note that with really bright scenery, even the smallest aperture will yield an overexposed scene with slow shutter speeds (even at the lowest ISOs). For this challenge, you can adjust the exposure compensation (found on most DSLRs; try -0.7 to -1.0 EV), which will help, but pro photographers will typically use a neutral density filter to reduce the amount of light entering the camera. In Malaysia's forests, however, this usually won't be necessary, as daylight is dimmed considerably by the dense canopy of trees.



" ExpatGo welcomes and encourages comments, input, and divergent opinions. However, we kindly request that you use suitable language in your comments, and refrain from any sort of personal attack, hate speech, or disparaging rhetoric. Comments not in line with this are subject to removal from the site. "



Comments