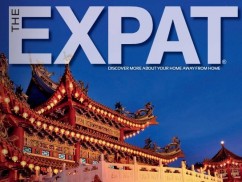 Let editor Chad Merchant and travel writer Petra O'Neill introduce you to one of the world's greatest marine environments, the wondrous seascape where the Indian and Pacific Oceans meet. Breathtaking scenery, pristine waters, secluded island beaches, and the most stunningly diverse oceanic ecosystem on the planet: This is Raja Ampat.
Mention Raja Ampat to most people and you'll be met with a blank stare. Mention it, however, to avid divers, and you'll see a glaze of either nostalgia or unfettered longing wash over their eyes. Raja Ampat – meaning 'four kings' in Indonesian, referring to the four largest islands in the area – is located off the far westernmost tip of the world's second-largest island, Papua New Guinea, and is the Holy Grail for many divers.
Though relatively easy to access, the area is nevertheless quite remote. From the Indonesian capital of Jakarta, nearly 2,800km distant, a four-hour flight is required to reach Raja Ampat's primary point of entry, Sorong, at the tip of West Papua. It can also be reached via a flight from Makassar on the large island of Sulawesi.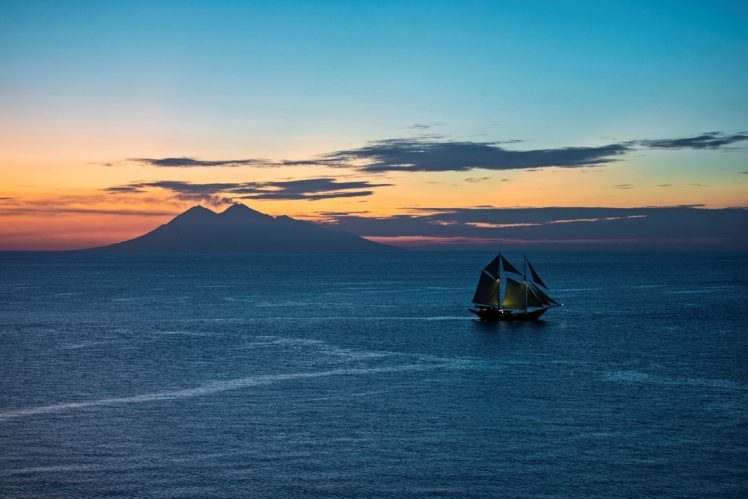 From Sorong, a boat is required to explore the many islands of Raja Ampat. It is this relative isolation, combined with the serendipitous commingling of oceanic currents from the Pacific and Indian Oceans, that gives rise to the region's startling beauty and biodiversity. This is the marine wonderland where two oceans meet.
Raja Ampat lies at the centre of the famed Coral Triangle, the global apex of underwater biodiversity. In Raja Ampat, that richness of life reaches its zenith, with some 75% of all the world's known coral species found here. Vast schools of fish, an abundance of sharks, giant manta rays, and a great host of invertebrates are on display here, with over 1,500 species of marine fishes having been recorded, along with an incredible 537 species of coral.
Into the world of Raja Ampat
A ramshackle busy port town that is the main jumping-off point for Raja Ampat, Sorong has a dusty main street stretching along the shoreline lined with markets and general stores. The town offers almost no preview of the wonders of Raja Ampat, but there are nevertheless several points of interest, including a Buddhist Temple located on a hilltop with splendid views, a fish market with a bountiful array of fish and a bustling produce market with necklaces made from shells, colourful bilum bags, wooden carvings and tropical fruit and vegetables sold by women with broad smiles and teeth stained red from betel nut.
Touring Raja Ampat is offered at many different levels, from budget to luxury. That said, even if you go on a shoestring trip, merely travelling to the regency is a near-status symbol among Indonesians. Airfare from Jakarta to Sorong is surprisingly costly, despite being available on two commercial airlines' schedules and flights being generally full. A similar phenomenon exists for flights from Makassar. Once you've arrived in Sorong, however, the options for reaching the magical islands and seas of Raja Ampat are numerous.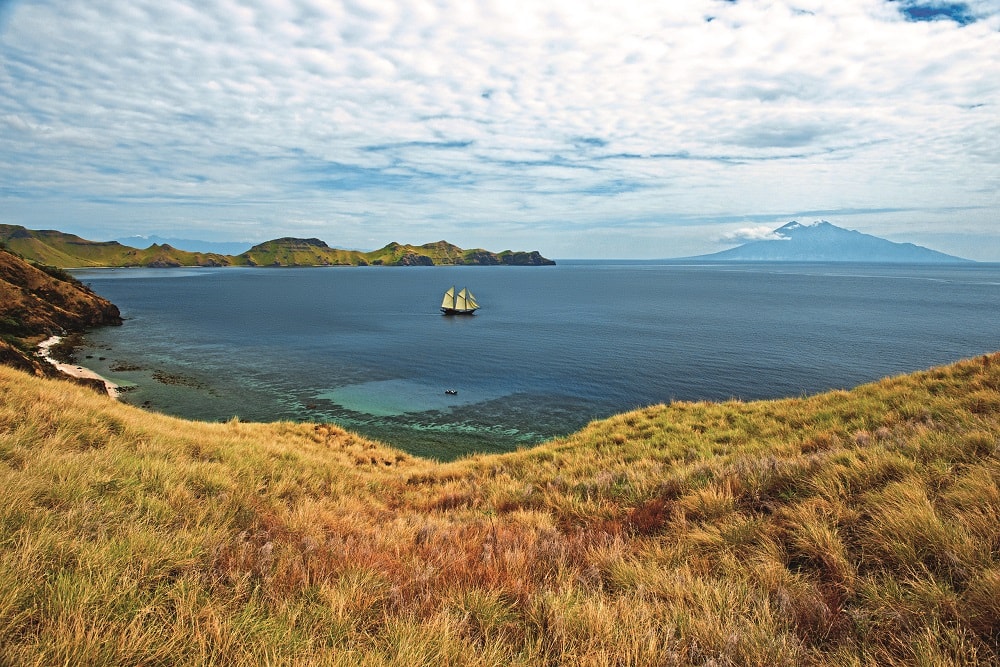 From live-aboard luxury charter yachts to local transport and basic home stays in a number of island villages, a vacation in Raja Ampat is everything you would expect it to be.
There are no grand send-offs in Sorong, as the jetty is as ramshackle as the town itself. Regardless of the class of boat you will ultimately be on, your departure is decidedly low-brow. Passengers will typically climb down from the jetty (of dubious construction, it must be said) into a small dinghy or inflatable runabout that then heads to one of the many boats bobbing at anchor in the bay.
Petra's tender made its way to the Ombak Putih, a traditional Phinisi sailing boat whose name means 'white wave', and she describes the scene:
Onboard were 17 other passengers – expats from Jakarta and intrepid travellers from the US, Netherlands, and Australia. We were about to embark on a journey of adventure, the course set westwards.
The many islands of Raja Ampat are characterised by rugged coastlines and lush tropical jungles, with steep cliffs, narrow ravines and deep valleys. Much of the terrain is inaccessible, with waterfalls, secluded bays, and powdery white sand beaches that are still largely unexplored.
The karst topography in the region is spectacular, a bizarre landscape of hundreds of tiny islands shaped like mushrooms that rise abruptly from the sea with bases eroded over time by the relentless motion of the sea. For the next 10 days, we would wake at sunrise before commencing our excursions on land and underwater. Best of all for me was the snorkelling, which had me flipping backwards into the sea several times a day.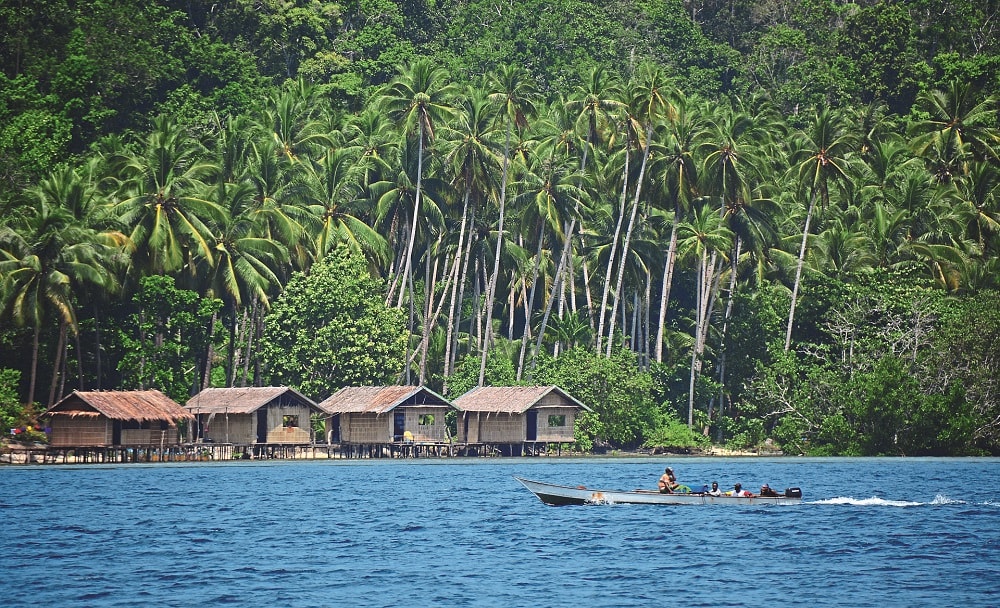 With my mask on, the world below was all-consuming, an onslaught of colour with countless species of fish that I noted diligently in my journal until the list became too long. My favourites were the yellow lionfish, angelfish, the golden trumpet fish, the purple, lime green and blue wrasse, giant multi-coloured clams, cuttlefish, parrotfish, and diagonally banded sweetlips. I snorkelled alongside inquisitive hawksbill turtles, and as my confidence increased, I went beyond the coral reef to deeper darker waters where barracuda and blacktip reef sharks patrol.
In a saltwater lake, we were surrounded Isolation and splendour abound by hundreds of large golden jellyfish and while we saw whales and dozens of dolphins that came alongside the boat to play, the most amazing sight of all had to be the corals: vibrant, multi-coloured, soft and hard, in a multitude of shapes resembling staghorn and crinkled champagne flutes.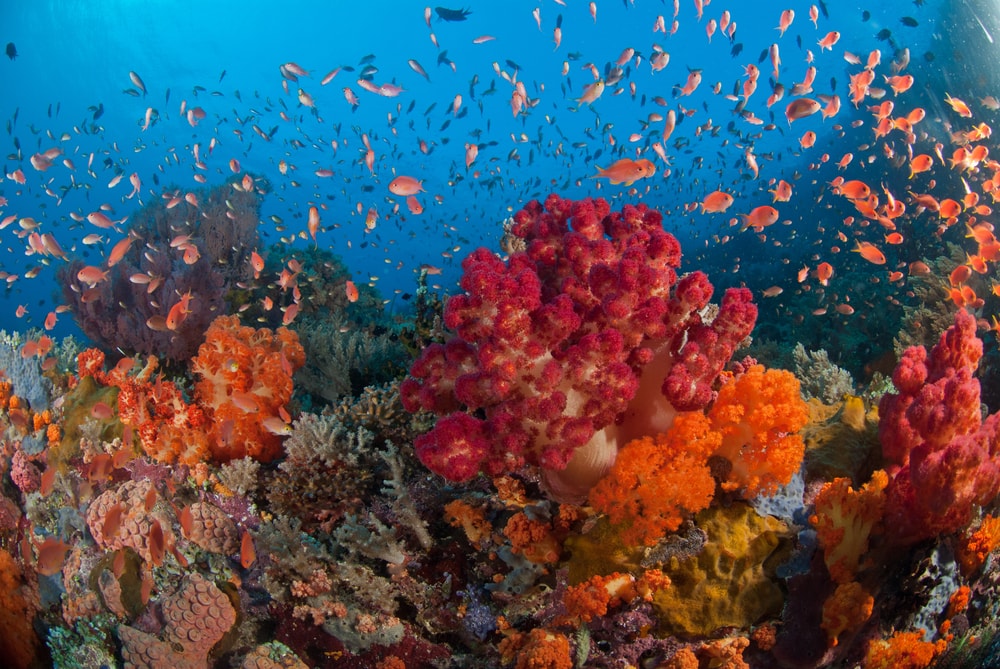 Meanwhile, Chad set out from Sorong to board Amandira, another traditional Phinisi sailing vessel whose name translates to 'peaceful and intrepid':
Owing to a rare and unexpected scheduling intersection of the 52-metre Amandira and 32-metre Amanikan, we were afforded the sublime opportunity to experience both of these incredible ships as we plied the waters of Raja Ampat and for six days luxuriated in the service and hospitality for which Aman is known.
Amandira carries a crew of 14 to 15 (for a maximum of 10 passengers), with Amanikan having a crew of 10 (for six passengers), both ships including a dive instructor, private chef, masseur, waiter, and of course the marine crew. Some of the crew members perform double duty, and we found all the crew, without exception, to be friendly, capable, and accommodating. Our itinerary included plenty of excursions both above and below water.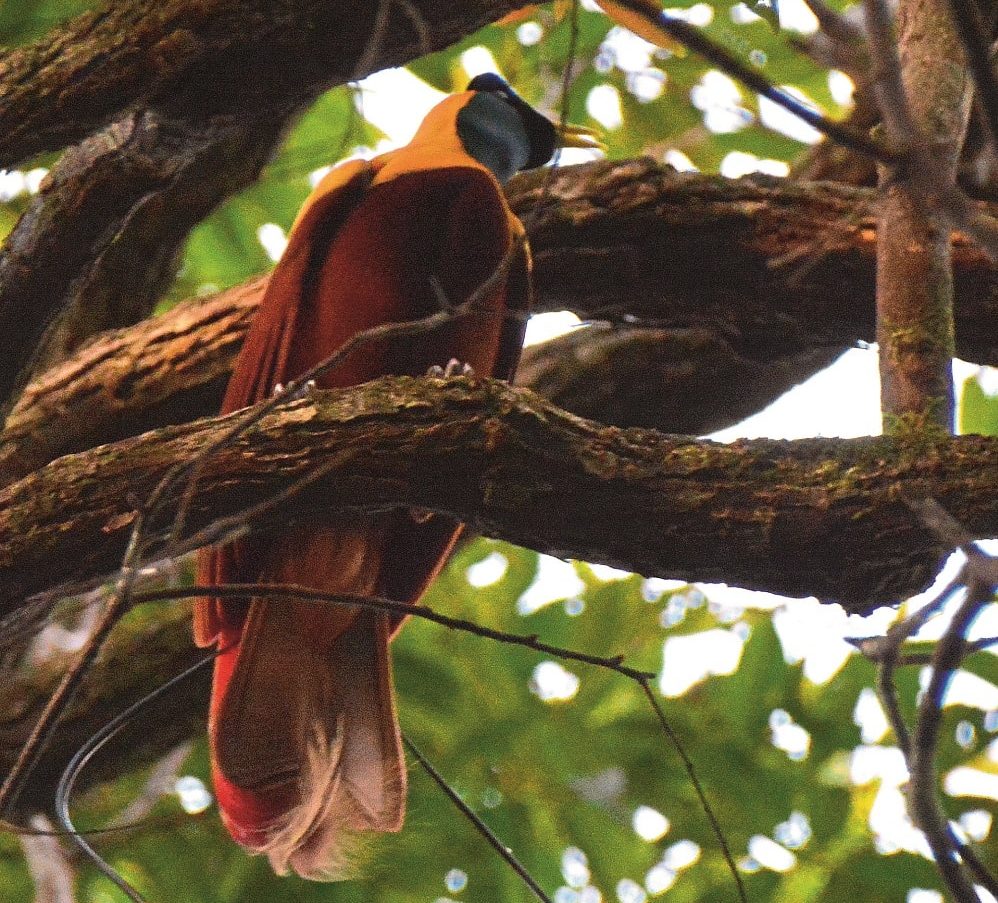 One of the more remarkable experiences early in our trip was a pre-dawn jaunt to the small island of Gam, as we set out to see the elusive Red Bird of Paradise (Paradisaea rubra). With a wizened local guide leading the way, we hiked through the jungle to the top of a hill where we crouched behind a weathered blind and quietly waited.
Naturalists and wildlife photographers often spend hours patiently waiting to observe Birds of Paradise, among the world's most stunning and curious birds. Endemic to this region, the 42 species in this family – each more bizarre and spectacular than the last – routinely represent the pinnacle of an ornithologist's observations.
As the Red Bird of Paradise is found only on a handful of islands in Raja Ampat, and nowhere else in the world, we were fortunate indeed to see an extended mating ritual, with two males loudly competing for a female's attention, dancing and displaying in the trees above us. We watched in rapt attention for an hour, then began our descent, the birds still locked in their cacophonous ritual.
Petra's own Bird of Paradise hunt, on the other hand, showed the more capricious side of nature, as she relates here:
A pre-dawn quest following in the footsteps of the naturalist Alfred Russel Wallace was a must-do adventure, but not even a pot full of Indonesian coffee allowed me to face the day at 3am with a smile, so I filled my pockets with coffee toffees to keep in reserve. Men from the village of Yembesir led us to canoes from where we silently glided over the water towards the island of Gam.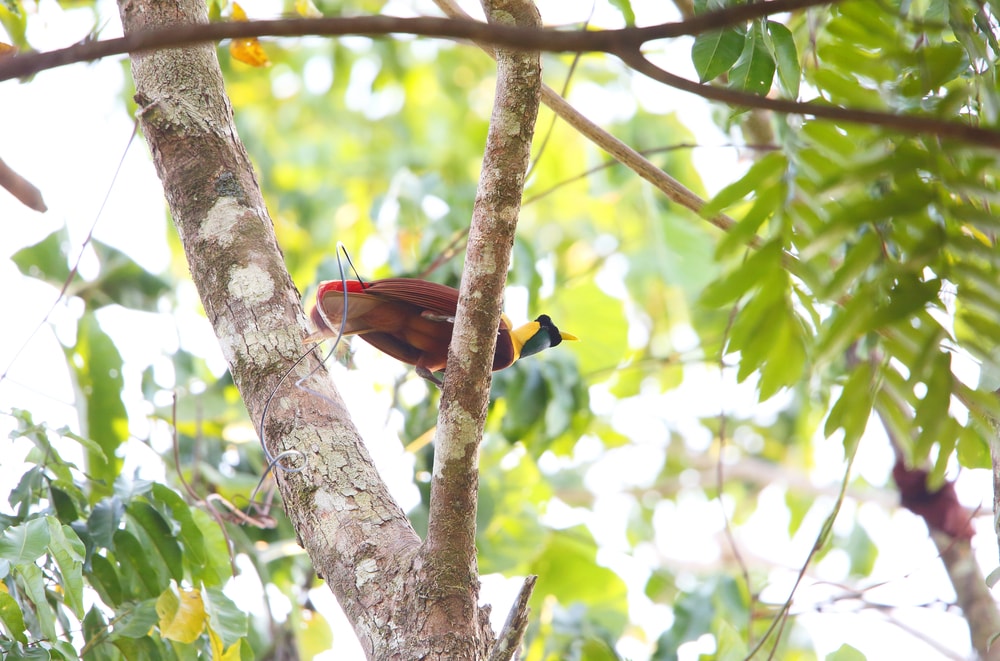 From here, we clambered onto a rickety jetty before clinging onto ropes and hauling ourselves up on a steep upward climb in pitch darkness. Sitting on hard wooden planks, we waited for dawn to break with the village men peering enthusiastically into the treetops mimicking the mating call of the Red Bird of Paradise. And then they came: one at first, followed by several more.
We could see the curious bobbing, flapping, and weaving dance, so took aim with our cameras, waiting for the birds to descend. But nature is unpredictable. They flew away, so I sucked on the toffees to keep the adventure sweet and began the slippery, muddy climb down, accompanied by the squawks of black cockatoos and the chuffing of hornbills.
Later, at the island of Batanta, we hiked from Arefi Village where local guides escorted us through the lush rainforest to a waterfall. The guides motioned for us to swim in the refreshing pool, but there was a second, much larger waterfall – and we could hear it. We continued on the uphill climb, following a rock-strewn freshwater stream that we ultimately had to cross in order to reach the waterfall, which was just as powerful and spectacular as its sound had forecast.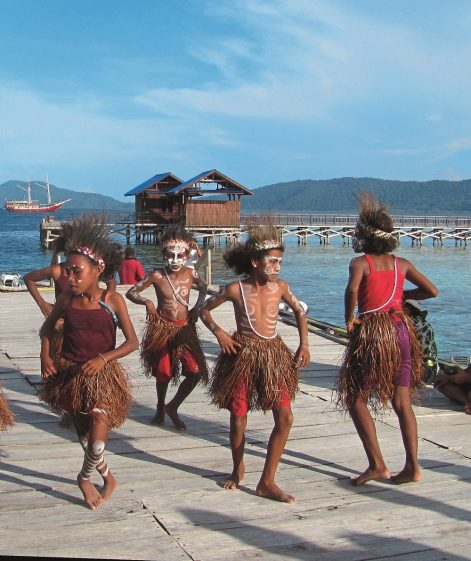 We also met with local villagers and experienced an ancient traditional culture, viewing rock paintings of hand prints, stencilled fish, and human figures dating back 5,000 years.
At Arborek, an island village that provides homestay accommodation to divers, we were given a traditional dance performance by young children who then ran and skipped behind us as we circumnavigated the idyllic tiny island.
For both Chad and Petra, the striking scenery in the Wayag archipelago in the north of Raja Ampat, was one of the trip's most beguiling wonders. Chad shares his experience: 
In Wayag, another pre-dawn morning saw us climbing a series of steep limestone faces – a trek not for the faint of heart, it must be said – to reach the summit of Mount Pindito, which afforded us with breathtaking, postcard-perfect panoramas of the stunning turquoise lagoons and forested karst islands of North Wayag, as the sun breached the horizon in the distance.
This was one of the more strenuous activities we undertook, and in truth, it presented quite a challenge for most of our group, but the crew managed to keep us safe and we were rewarded with some of the finest views of the entire voyage. Later that day, we found ourselves swimming with sharks, as a quartet of sleek blacktip reef sharks cruised effortlessly around us, oftentimes nearly at arm's length. Though these are not considered a dangerous species, being in the water with such graceful predators was thrilling nevertheless.
Petra agreed wholeheartedly:
Wayag was certainly the highlight of our trip. Few areas in Indonesia can lay claim to such natural splendour as the Wayag archipelago. The beauty of these karst spires is equalled only by the brilliant colours and vibrancy of the reefs and marine life. On a small boat, we explored the maze of mushroom-shaped islands, coves and lagoons, narrow channels and inlets, caves, and sandy beaches. And between towering jagged limestone cliffs that rise dramatically, we climbed almost vertically to reach the highest point, from where we looked across at the wide expanse below.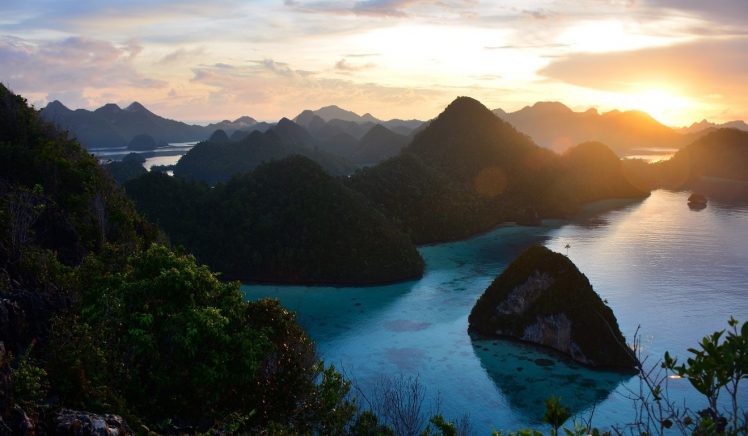 The time spent in the company of the boats' crews and new friends was also a marvellous part of the experience, as Chad found:
While still in Wayag, in a fitting end to such a remarkable day, we were provided with one of the most memorable moments of the cruise: a starlit barbecue dinner on a secluded island beach. The combined crews of the two ships spent the afternoon setting up a dinner that was frankly jaw-dropping in its nuanced execution. And when the moment came, and the guests of Amandira and Amanikan were taken to the small island, we stepped onto the transformed beach, spellbound with delight.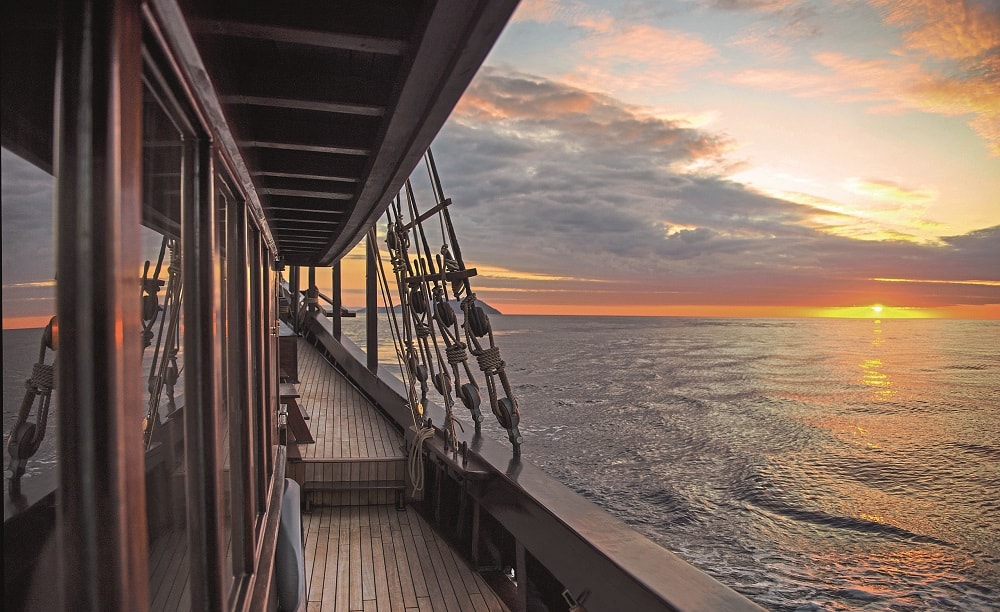 A wonderful dinner, sparkling company, and a flawless culinary performance from the crew – they even got in touch with their musical side, breaking out the bongos and guitars after dinner and treating us all to a very nice mini-concert. Afterward, we released lanterns into the cloudless, star-splashed night sky over the Raja Ampat islands and retreated – utterly satisfied and content – back to our luxurious accommodations on board. It was truly a magical time, affording memories that have only sweetened over the weeks since.
Getting there
Fly to Makassar (UPG) with AirAsia, Silk Air, or Garuda Indonesia, from where you'll catch a very early morning flight to Sorong (SOQ) with Garuda or Sriwijaya Air. From Jakarta (CGK), flights on Nam Air and Garuda are offered.
Where to stay
If you need an overnight stay in Makassar, the no-frills Ibis Budget hotel is located within the terminal building. Bring your earplugs. In Sorong, the Swiss Belhotel is the best in town. While you'll find spartan resort accommodation and homestays on islands such as Misool, for exploring nothing compares with travelling by boat.
Sea Trek Bali offers many itineraries to explore eastern Indonesia. To learn more about Amandira and Amanikan, visit aman.com/resorts/amanwana/cruises.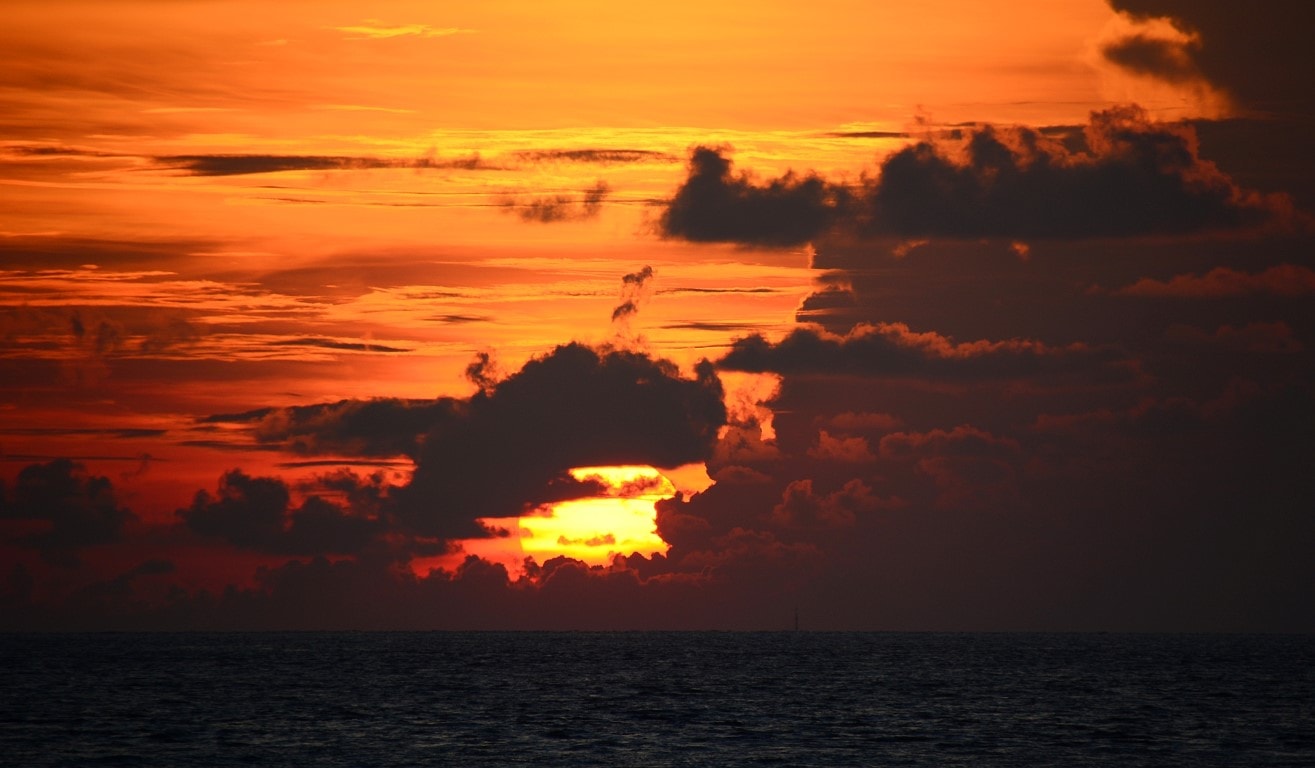 Weather
The best time to visit is from October to April when the weather is milder. The seas in Raja Ampat are generally fairly calm because of the many islands and surrounding large landmasses.
Further information
Doug Meikle from Stay Raja Ampat ([email protected]) provided invaluable advice. Check on entry requirements. The Surat Jalan travel permit is not required for Raja Ampat or Sorong. A marine park entry permit costing Rp.1,000,000 (about US$75) is required, though tour operators generally arrange this.
This article was originally published in The Expat magazine (March 2017) which is available online or in print via a free subscription.



" ExpatGo welcomes and encourages comments, input, and divergent opinions. However, we kindly request that you use suitable language in your comments, and refrain from any sort of personal attack, hate speech, or disparaging rhetoric. Comments not in line with this are subject to removal from the site. "



Comments