UPDATE, 5 April 2017: Various airlines have become very clever at helping their customers find ways around the ban, without actually circumventing it. For example, Etihad Airways offers free Wi-Fi and iPads to customers in first and business class. Emirates allows customers to hand in their electronics at the last possible moment before they board and then receive free in-flight Wi-Fi for their smartphones.
Qatar Airways will loan laptops to business class customers, so that they can copy their work to a USB stick, put it in the airline's laptop, and continue their work while they fly before giving back the computer at the end of the flight. Customers also get one hour of in-flight Wi-Fi for free or an internet package for US$5 for the entire flight. 
---
Many of us who reside in Southeast Asia fly frequently, and the expats who call America and Europe home often fly through the Middle East to get back to our friends and family.
Now that the British government has followed America and banned certain electronics from the cabin for air travel (and then only for direct flights to those two countries from certain countries), it seemed necessary to clear up exactly what is happening and who is affected, especially because the bans affect different people:
What exactly is banned?
For direct flights to the US or UK from the countries noted below, any electronic devices "bigger than a smartphone" – which means measuring more than 16cm in length, 9.3cm in width, or 1.5cm depth – will have to be checked in, either at the check-in desk or at the gate before boarding.
This means that all laptops, cameras, gaming devices, and tablets (including iPads) have been banned from the cabin. Medical devices will still be allowed in after security screening.
What are the exact reasons?
In America, Trump administration officials and the US Transportation Safety Administration (TSA) have said that 'evaluated intelligence' emerged that terrorists now favored 'smuggling explosive devices in various consumer items,' including laptop batteries. The British government's decision follows the receipt of intelligence reports, according to sources, without offering to discuss any specific terrorist plot.
Specific examples include the attempt by the Islamist group al-Shabaab to bring down a jet from Mogadishu, Somalia, using a laptop bomb to blow up a portion of the aircraft's cabin wall. Fortunately, the plane was not high enough at the time for cabin pressurisation to make the situation worse and the captain landed the plane. It has been mentioned that an affiliate of al-Qaeda was working on similar techniques to hide explosives inside the battery compartment of electronic devices.
The countries and airlines affected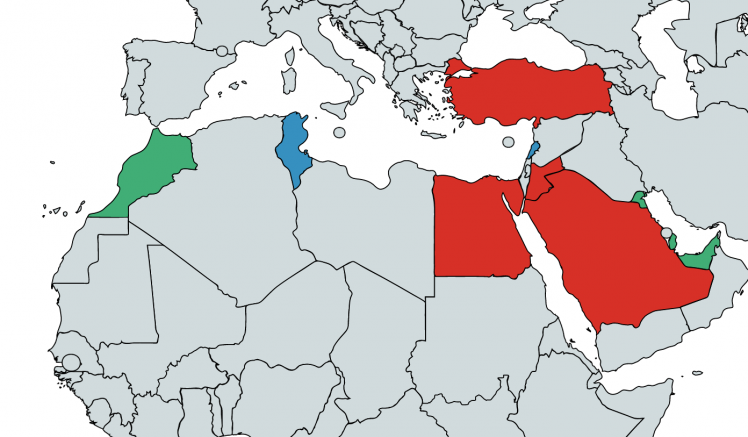 The US ban
The American measure, announced on Monday 20 March, affects nine countries in the Middle East and Africa: Jordan, Egypt, Turkey, Saudi Arabia, Kuwait, Morocco, Qatar and the UAE, which includes Emirates hub in Dubai, the world's busiest airport for international travellers.
The airlines that fly direct to the United States from the affected airports are EgyptAir, Emirates, Etihad Airways, Kuwait Airways, Qatar Airways, Royal Air Maroc, Royal Jordanian Airlines, Saudi Arabian Airlines, and Turkish Airlines.
The UK ban
Following a meeting between Theresa May and aviation experts on Tuesday 21 March, the new rules affect six predominantly Muslim countries: Turkey, Lebanon, Jordan, Egypt, Tunisia, and Saudi Arabia.
The UK restrictions apply to 14 airlines: British Airways, EasyJet, Jet2.com, Monarch, Thomas Cook, Thomson, Turkish Airlines, Pegasus Airways, Atlas-Global Airlines, Middle East Airlines, Egyptair, Royal Jordanian, Tunis Air, and Saudia.
Why has there been such an outcry?
You would like to think that these measures are necessary, and who are we to question the actions of people who know much more about the current safety of air travel than we do? A spokesman for Downing Street said:
"The safety and security of the travelling public is our highest priority. That is why we keep our aviation security under constant review and put in place measures we believe are necessary, effective, and proportionate."
However, so many people have been angered by the decision because there are also clear disadvantages to putting electronics devices in checked baggage; thefts from baggage will increase, as has been seen before during similar regulation changes, and many travel insurance policies don't cover electronic devices when stowed in the hold.
Some believe that the measures won't make flying that much safer, especially because most major airports already have baggage scanners that can detect dangerous material. Critics are arguing an explosive device could just as easily bring down a plane from within the hold; indeed, it is easier to detect smoke and fire from in the cabin than in the cargo hold, which could help with preventing a major explosion. Moreover, the danger from lithium batteries stored in cargo holds is well known, where potential fires would initially go undetected. However, it's worth noting that the scanners used for checked luggage differ from those used to screen carry-on items, and presumably have greater ability to identify potentially dangerous materials.
What should I do at the airport?
The best advice is just to arrive earlier than normal. If you're flying from Southeast Asia to, or through, the US or UK, leave plenty of time to check in your tablets, laptops, and other banned devices with your luggage. You will still need to hand in your devices even if your final destination is not the United States or Britain, for example if you're flying to Canada via an American city such as Detroit or Chicago.
It's very common nowadays to travel with a laptop that may contain personal or commercial data, so these new laws make it more likely that this data could fall into the wrong hands. Measures to avoid this include:
Ideally, do not bring a device at all
Set up a passcode or fingerprint lock
Do a full backup before you leave and wipe the device's data
 Shut the computer down completely, do not just put it into 'sleep mode'
Many airlines are already coming up with ways to minimise disruptions to your plans; for example Emirates and Turkish Airlines will allow you to keep your gadgets until just before boarding when you have to hand them over to staff at the boarding gate for stowing in the hold.
Also check your insurance policy to see if items stored in the hold are covered – chances are, probably not. You might be better off thoroughly wrapping and packing your devices in your hold luggage and simply checking them in at the check-in desk.
Anything else interesting?
What's especially curious to our team is the inclusion of Etihad Airways, who offer a US preclearance programme at Abu Dhabi International Airport. This means that all Etihad guests travelling to the United States actually clear US Immigration and Customs checks in the Middle East and so when they land in the US, they arrive as domestic passengers.
Etihad have made a statement that they will deploy more staff at the US preclearance facility to provide assistance and encouraged guests to pack the prohibited items in their checked baggage prior to reaching the facility in Abu Dhabi.
"Any prohibited electronic devices will have to be declared and placed in padded envelopes before being securely taken to the aircraft luggage hold by staff. Such items will be returned to guests on arrival in the US, while conveniently, other items of checked-in luggage can be collected at the final destination in the United States."
– Etihad Airways statement
Guests are also encouraged to avoid carrying spare battery packs larger than the permitted size as these will not be allowed in either the luggage hold or the cabin.
What are your thoughts?
Are you travelling through one of these airports soon? Do you perhaps work for one of the airlines affected? Let us know you thoughts on the airline electronics ban below – does it make you feel safer or is it completely needless?



" ExpatGo welcomes and encourages comments, input, and divergent opinions. However, we kindly request that you use suitable language in your comments, and refrain from any sort of personal attack, hate speech, or disparaging rhetoric. Comments not in line with this are subject to removal from the site. "



Comments