A tropical country with a peninsula, part of a huge island, and hundreds of small ones is bound to have a few good beaches. ExpatGo takes a look at the ones which made the cut on 101BestBeaches.com – and a few on the list may surprise you.
This isn't a tourism advert, so just let's be completely honest: if you're looking for the very best stereotypically idyllic tropical beaches in Southeast Asia, they're not likely to be found in Malaysia. With the planet's two largest archipelagic nations as neighbours – Indonesia and the Philippines, with well over 20,000 islands between them – it's going to be hard to compete with that. And that's not even taking Thailand's fistful of world-renowned beaches into account.
Nevertheless, Malaysia does have its share of beauties, and though not all these beaches look like a refined postcard cliché with turquoise waters, sugar-white sand, and gently swaying palms, variety really is the spice of life, and Malaysia has that in abundance.
So without further ado, let's see which of Peninsular Malaysia's many beaches made the list on 101BestBeaches.com – presented here in no particular order.
1. Teluk Kemang: Port Dickson, Negeri Sembilan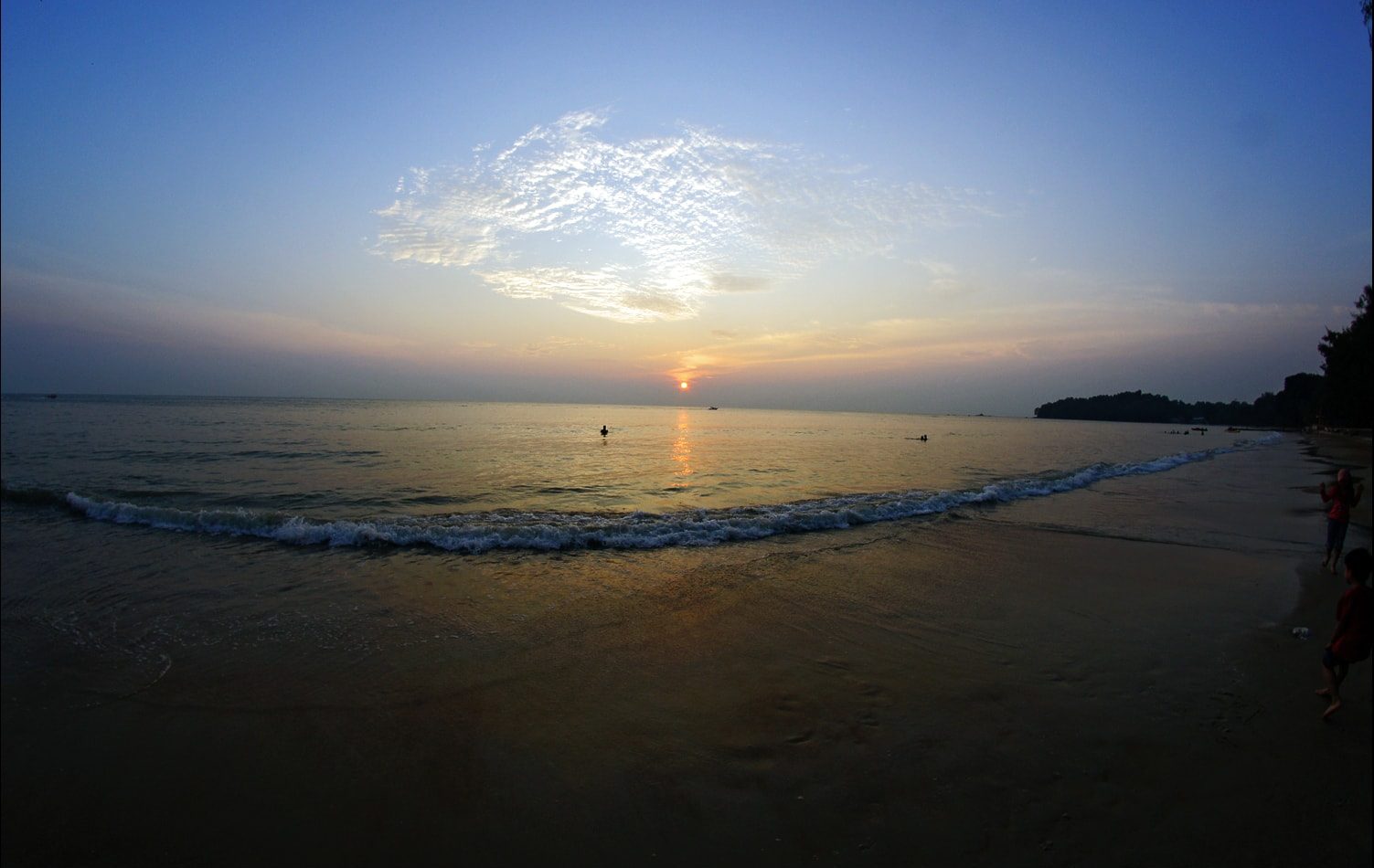 The notion that any beach near Port Dickson could qualify as one of Malaysia's tops is bound to come as a surprise to locals (and long-term resident expats). Most Malaysians regard the beaches of PD as merely somewhere nearby to go when you don't have time to get to a real beach. Teluk Kemang, however, just may be the exception. Don't expect a desolate and private beach-going experience here, though.
Teluk Kemang is the closest thing Malaysia has to a 'national beach' and during peak season, as many as 80,000 people a day descend on this 18-km crescent-shaped stretch of soft sand, and the best little bit of it is found at Teluk Kemang. The waters are clear, scores of casuarina trees line the beach, and the food on offer is abundant, and it's probably among the best representations of authentic Malay coastal culture found on the west coast of the Peninsula.
2. Desaru Beach: Kota Tinggi, Johor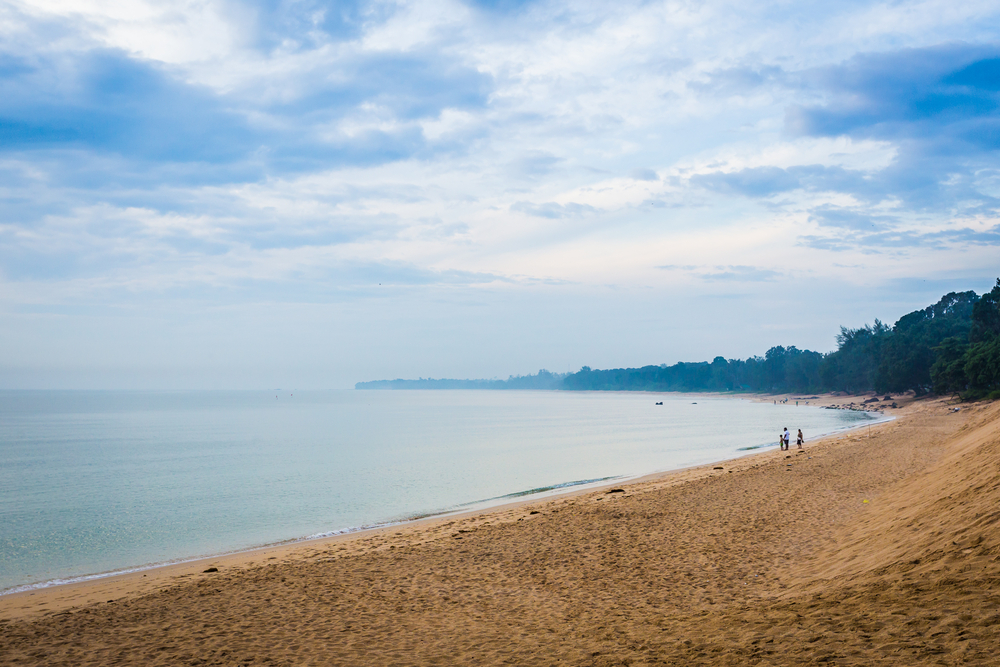 While you'll rub shoulders and enjoy conversation with almost exclusively Malaysians at Teluk Kemang, when you park yourself under an umbrella at Desaru Beach, your neighbours are just as likely to be Singaporean as Malaysian – perhaps even more so. Located off the southeastern-most tip of the Peninsula, Desaru's proximity to Singapore makes it an attractive destination for residents of the Lion City in search of a little seaside decompression.
Desaru's full stretch of golden sand beaches go on for about 6km, and the fact that the waters are both shallow and free of jellyfish makes this an especially nice beach destination for families. Desaru is also a fine jumping-off point for accessing the handful of islands located offshore, which tend to offer whiter sands and clearer waters.
3. Pasir Panjang Beach: Redang Island, Terengganu
Well, no huge surprise to find Redang firmly on the list. The small group of islands off the coast of Terengganu has long been known for its Instagram-worthy beaches. This is the part of Peninsular Malaysia that probably comes closest to that postcard-perfect scene, and this particular beach, located on the main island of Pulau Redang, offers white sand and gorgeous clear waters with a wealth of marine life sure to delight snorkelers and divers.
The main season here runs from about April to October, and the resorts tend to attract a slightly more relaxed crowd than the nearby Perhentian Islands. During the monsoon season, some places remain open (with discounted rates), and though you're more likely to have bouts of inclement weather, you'll also have less competition for that coveted spot on the beach.
4. Juara Beach: Tioman Island, Pahang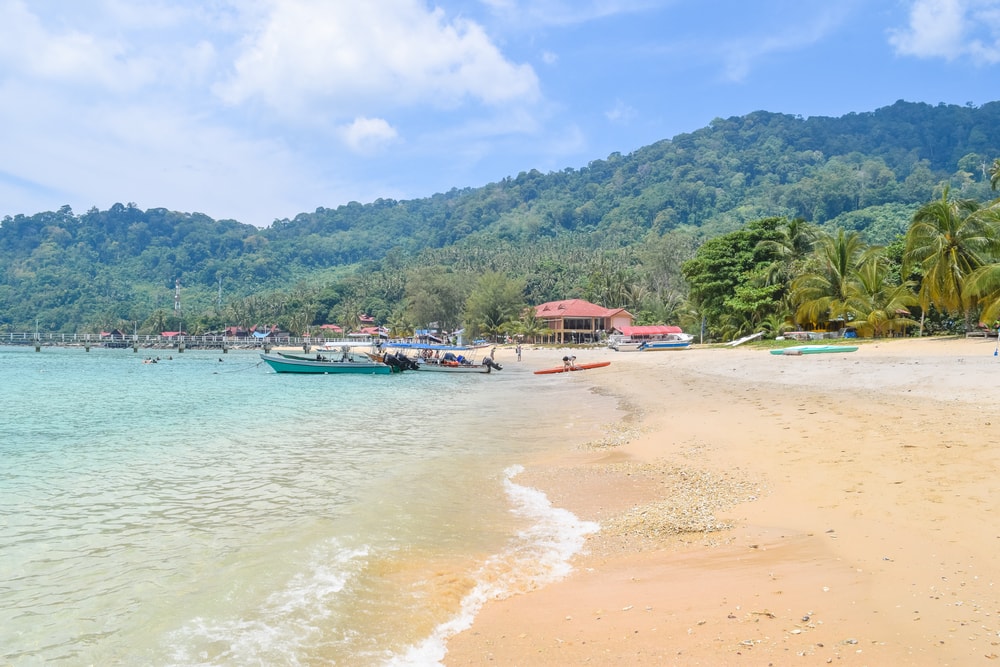 Tioman is an island of such immense tropical beauty, it was selected above scores of other choices as the location to film the classic Hollywood movie South Pacific (despite not even being located there). With only minimal development, life moves as a languid pace here, and a handful of resorts from basic to nouveau chic ring the relatively small (12 x 39km) island. There's something indescribably special about Tioman, and how it's managed to stay firmly under the radar of the international tourist scene is one of Malaysia's great and happy mysteries. After all, look at what happened to Phuket's Phi Phi islands after a big-budget movie was filmed there.
Tioman is not quite as easily accessible as it was a few years ago, when Berjaya Air offered direct turboprop flights from Subang Airport in KL, but it's still not hard to reach. Most visitors from KL just make the drive to Mersing and take a speedboat, and Tioman's proximity to Singapore makes it equally attractive for our southern neighbours. The paradise-like Juara Beach is backed by a dramatic backdrop of tropical rainforest and three waterfalls crash through the jungle as their rivers' waters flow to the ocean.
5. Coral Bay: Perhentian Islands, Terengganu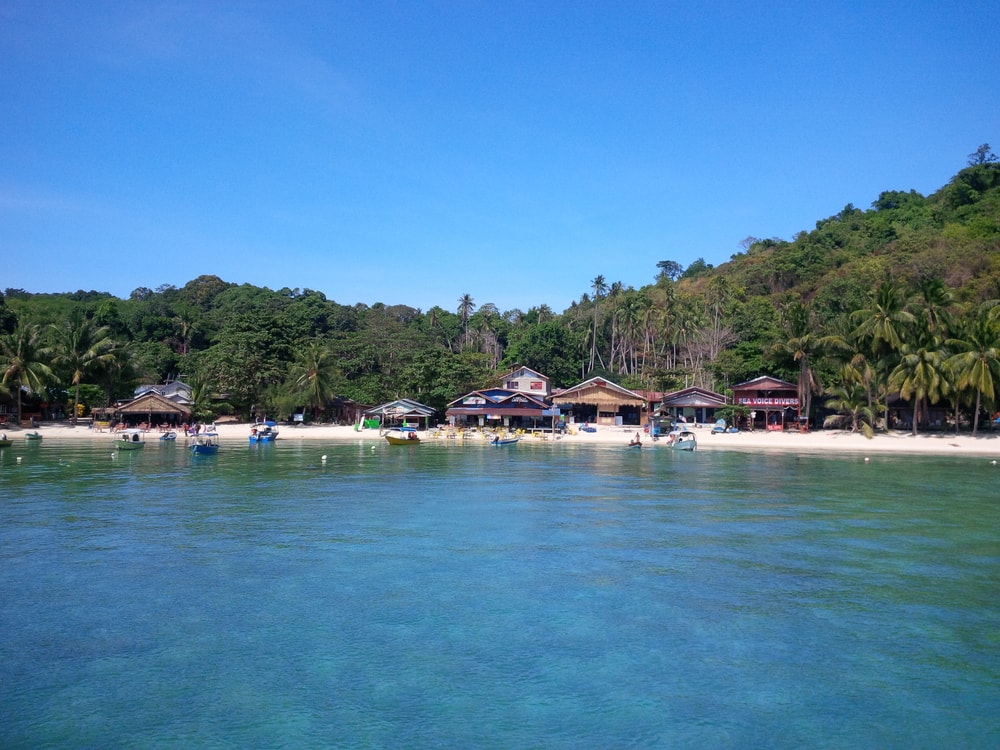 If you've been in Malaysia for any amount of time, you have probably at least heard of the idyllic Perhentian Islands, if not actually visited them. The word perhentian means 'stop' in Malay (as in a stopping-over point), and 101BestBeaches.com recommends that's exactly what travellers do on these islands. With two islands, Besar and Kecil (large and small, respectively), the Perhentians offer a great jungle beach vibe with clear waters and white sands on a number of inviting beaches. The islands lie about 19km from the mainland, and most people arrive via the jetty at Kuala Besut. Whether you opt for a speedboat or a slower ferry, transport is regular and inexpensive, if not always entirely reliable as the monsoon season approaches – safety first!
Once you've settled in at your resort or hotel, all of your transport will be sorted either by foot or by boat, as the islands have no roads. In fact, the big island has no permanent residents and the small one is only called home by about 2,000, despite the proximity to the mainland. It's this lack of development and relative ease of access that makes the Perhentian Islands such a great alternative to the tourist crowds on the beaches of Bali and Phuket. The best of the many splendid beaches here is Coral Bay, which boasts its own jetty and regularly offers stunning sunsets.
6. Batu Feringghi Beach, Penang Island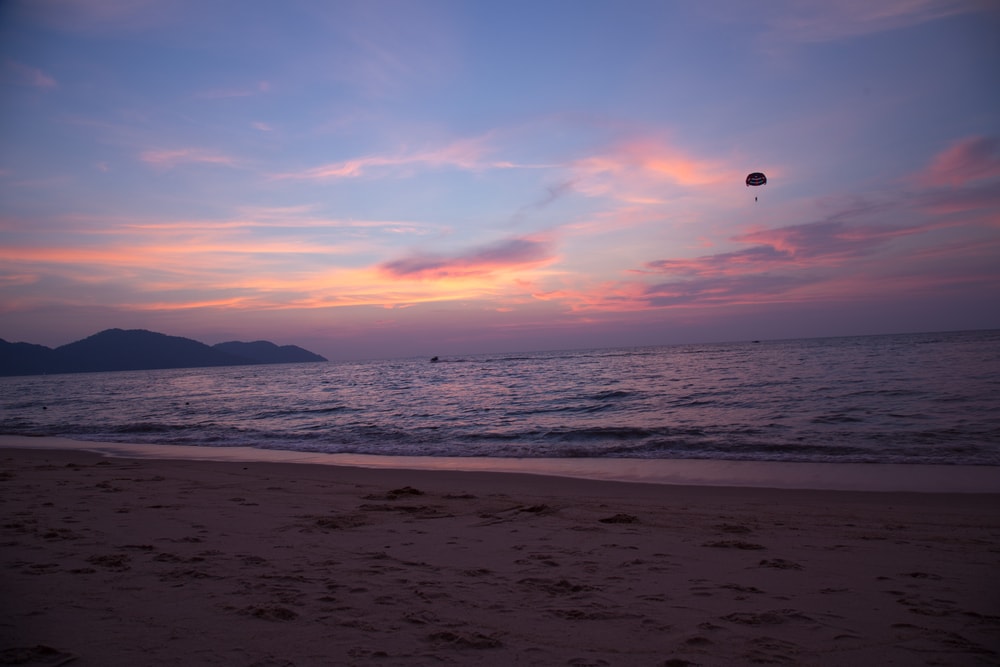 This one might not be quite as surprising at the Port Dickson entry, but it's safe bet that plenty of locals will see any beach in Penang appearing on a 'must-visit' list as being a bit suspect. Fair enough: Of all the many things Penang has going for it, gorgeous, world-class beaches are really nowhere to be found on the list. Still, though, Batu Feringghi clearly offers significant appeal, as it's Malaysia's most-developed beach, and some of Penang's nicest luxury resorts are found here. This thin stretch of beachfront on Penang's north coast, featuring golden sands and swaying casuarina trees, is not affected by the seasonal monsoon, so it's a good destination for a beach getaway anytime of the year, and is certainly Penang's best beach… though that's admittedly faint praise.
Of course, a big plus point for Batu Feringghi is, ironically enough, not the beach itself, but the nearby delights of George Town and beyond, with plenty of heritage, shopping, and what is perhaps Malaysia's best food – enough to satiate any island tourist. So if you like your beach to feature high-rise condos, resorts, and easy access to delicious street food, night market-style shopping, and – well, let's just throw it in there – what's surely some of Penang's best live music at the Hard Rock Hotel, Batu Feringghi might just be the place for you.
7. Pangkor Island, Perak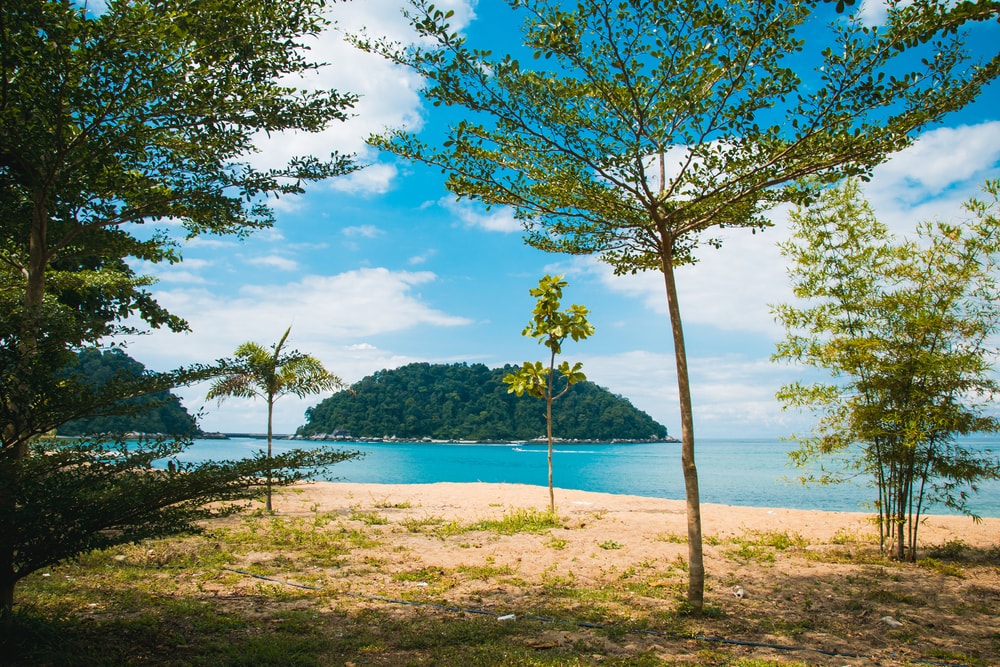 This 18 sq km island, just a 10-minute speedboat ride from the port town of Lumut on the Peninsula's west coast, maintains quite a hefty appeal with locals, offering pleasant and easily accessible beaches, modest prices, and a laid-back attitude. Once you've arrived on the island, getting around is easy enough via hired taxi or rented bicycles and motorbikes, and there's an authentic feel to the villages and people here. Fishing has sustained many generations on Pangkor, and accordingly, you won't have to go far to find fresh seafood.
As for the beaches, Puteri Dewi, Pasir Bogak, and Teluk Belanga are all quite popular, with Pantai Nipah at Coral Bay offering good all-around appeal with light golden sands and plenty of palm and casuarina trees. During low tide, it's possible – so they say – to walk to neighbouring Giam Island from Nipah. The waters here aren't as crystal-clear as those off the northeast coast of the Peninsula, but considering the island is located in the Straits of Malacca, one of the world's busiest shipping lanes, they're impressively appealing nonetheless, with the west coast being home to the best beaches. Just a short hop from Pangkor is its smaller sibling, Pangkor Laut, a privately owned island that is home to the upmarket Pangkor Laut Resort.
8. Pasir Tengkorak Beach, Langkawi Island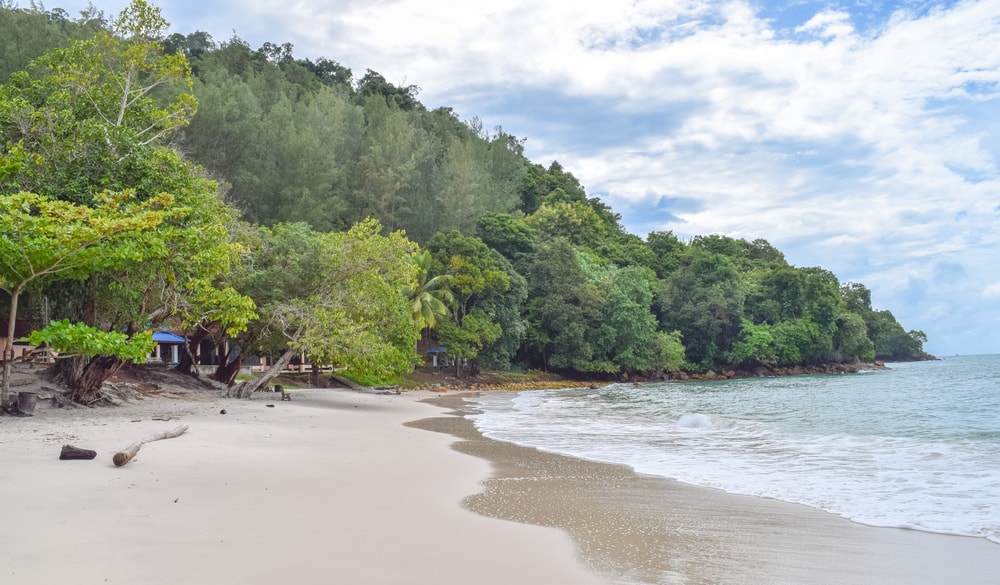 No list of Peninsular Malaysia's must-visit beaches would be complete without a mention of Langkawi, one of the country's most popular holiday destinations. While most tourists head for popular Pantai Cenang on Langkawi's southwest coast, a few head north to the far less crowded Tanjung Rhu, with its white sands and striking views across the sea to Thailand's islands and mainland – the beauty spoiled only by a massive cement factory set by the sea to the west. But this archipelago of 99 islands holds many secret coves, inlets, bays, and beaches, and even on the main island, one of Langkawi's most beautiful beaches is also one of its least-known.
Located off the road leading to the Els Club golf course and neighbouring resorts The Datai and The Andaman, Pasir Tengkorak Beach is natural beauty at its simple best. The defining feature of the beach is the nearby Temurun Falls, a spectacular three-tiered waterfall just a 15-minute trek from the beach that soars to 200m, allowing visitors to immerse themselves alternately in both freshwater and saltwater on the same outing.
The beach itself is barely 150m long, but what it lacks in size, it makes up for in undeveloped natural splendour. The surrounding area boasts some of Langkawi's most lush and undisturbed rainforest, and the jungles here are home to a teeming array of birds, reptiles, and mammals. Pasir Tengkorak Beach is unquestionably off the beaten path for almost anyone in Langkawi, but it's nevertheless a journey well worth taking.
---
"ExpatGo welcomes and encourages comments, input, and divergent opinions. However, we kindly request that you use suitable language in your comments, and refrain from any sort of personal attack, hate speech, or disparaging rhetoric. Comments not in line with this are subject to removal from the site. "
Comments