Update – 21 April 2017: As we expected, many of the measures in the news below have been rescinded. The Tourism Authority of Thailand (TAT) has made an announcement stating that they would like to assure everyone that "Bangkok remains a top destination for street food". The statement said:
"There is no outright ban on the sale of street food… BMA has said that it will be providing support to the city's street food vendors to help them raise hygienic standards."

---
If anywhere is more famous than Malaysia for street food, it's Thailand. However, Thai authorities have announced that street food stalls are to be banned from Bangkok's streets. The Bangkok Metropolitan Administration (BMA), the city's local governing body, has ordered all street food vendors to shut down, citing prioritising "order and hygiene" and to "return the pavements to pedestrians."
This is a country whose street food is among the best in the world according to even CNN and the most visited capital according to Forbes, largely due to its cuisine. We here at ExpatGo think this is quite an extreme measure – and certainly difficult to achieve – and many would say this would be a near-fatal blow to the country's tourism industry.
Still it got us thinking: if this ban went through, it could work out very well for Malaysia. Less famous for its food than Thailand, but still with an incredible selection for those in the know, here are a few suggestions for Malaysian dishes that could replace the Thai street food you might soon be craving. Obviously it's not really possible to find direct equivalents in different countries – if it were, local cuisines wouldn't have their own identities! – but we think these dishes below might fill the void for your appetite for Thai ('appeThaite'?):
Instead of chok: nasi lemak or porridge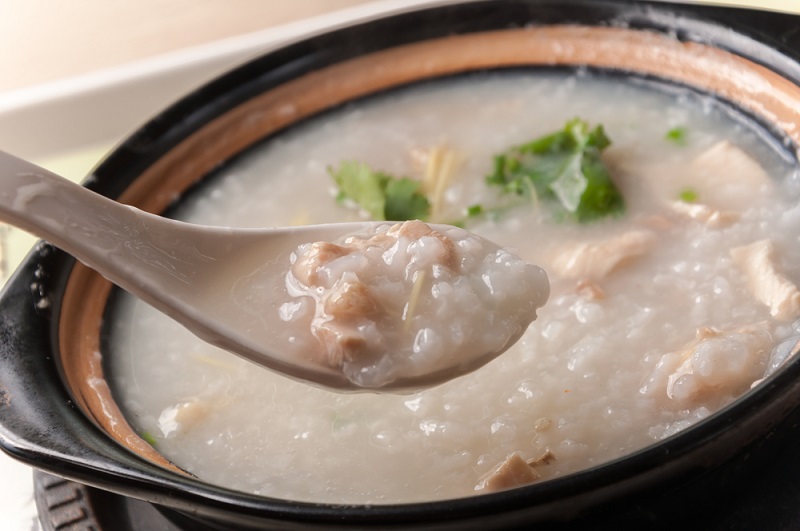 Malaysia's nasi lemak, often served with anchovies, peanuts, boiled egg, lamb curry, cucumber, and traditional chilli paste will be a great replacement for your breakfast rice dish.
Alternatively the porridge in Thailand is similar to the Hakka porridge here in Malaysia (not Teochew porridge which is usually more watery). In Malaysia  you get even more joy from your dish because it usually comes with fillings like shredded chicken and hard boiled eggs, or peanuts, plus soy sauce and sliced ginger.
Instead of pathongko: you char kway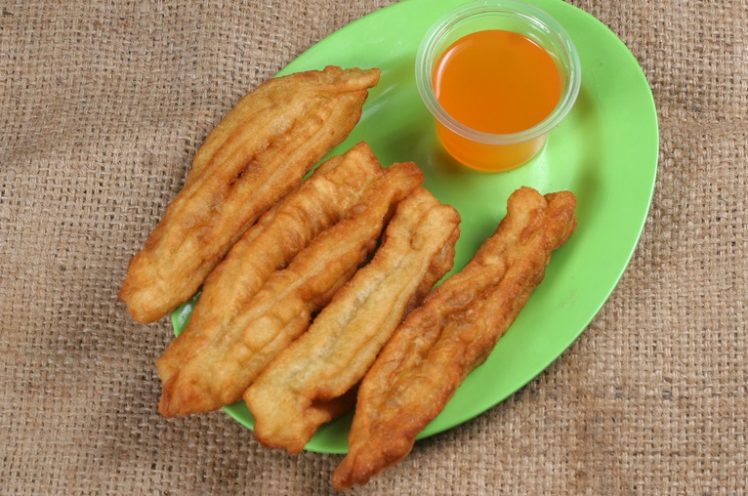 Also known sometimes as youtiao (mainly in Trang Province in the south of Thailand), these 'Chinese doughnuts' are essentially deep-fried breadsticks; golden-brown  strips of dough that are very popular at breakfast.
In Malay it is spelled 'cakoi' and the Malaysian version again has more fillings that its Thai counterpart, including sweet red bean paste or savoury sardines. The plain version is usually eaten with coconut jam, known here as kaya, or dipped in coffee.
Instead of pad thai: char kuey teow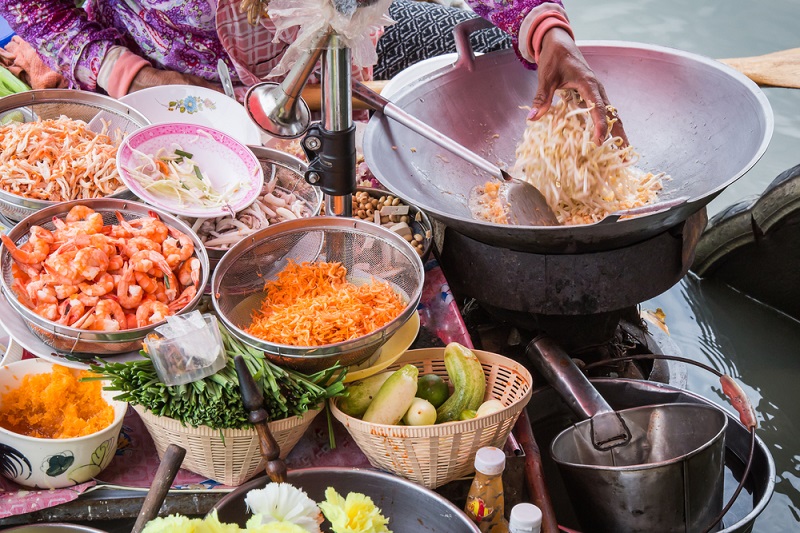 This dish is so quintessentially Thai that it's impossible to find a local equivalent outside of Thailand; the combination of tamarind paste, fish sauce, garlic, peanuts and lime with noodles and chicken or prawns is the definitive taste of the Bangkok's street food and it's the dish that will be most missed from the city's streets, in my opinion.
Although it's not a direct taste equivalent, Malaysian char kuey teow is an equal in status and shares some of the same palate. Even better, char kuey teow may also include belachan, cockles, beansprouts and Chinese chives. The Penang version of the dish is also world famous and often comes served on a banana leaf – said to enhance the aromas of the already fatty, smokey, iconic dish.
Instead of khao mu daeng: char siu rice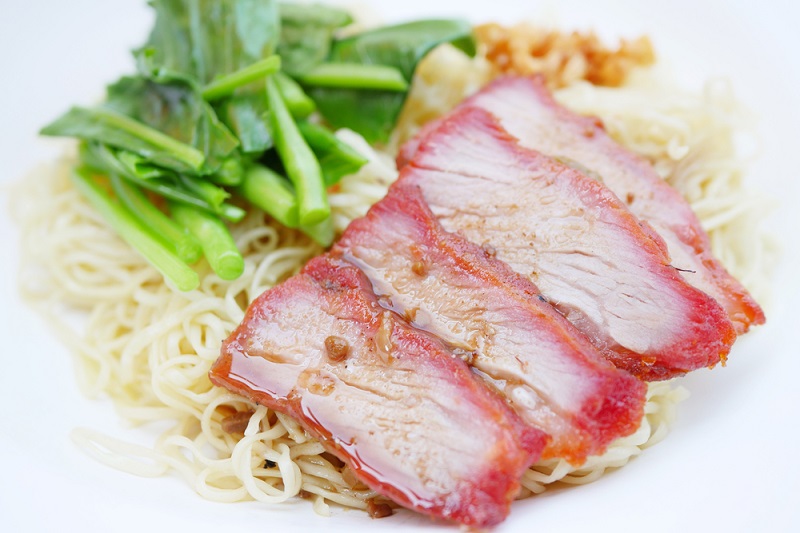 This plate's translation is as self-explanatory as food gets: 'khao' means rice, 'moo', pork, and 'dang' is red so this literally red pork rice. It combines barbecued pork and crispy pork with Chinese sausage, hard boiled egg, and a sweet but sour red sauce.
In Malaysia, char siu or char siew is easily available from 'shaola' (Chinese food stalls), often with roast duck. Or you can find it in a Hainanese chicken rice shop, with the same accompaniments as you would get with regular chicken rice, such as beansprouts or pak choi, plus garlic chilli and soy sauces.
Instead of tom yum goong: sambal udang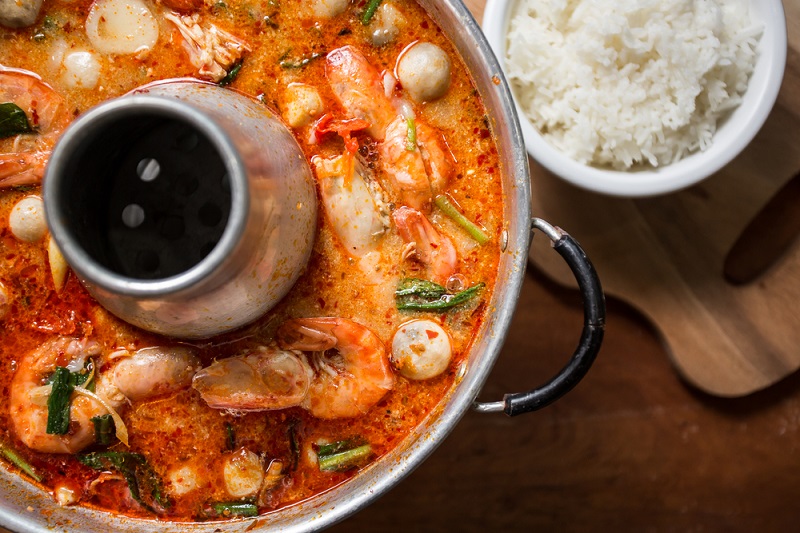 Lemongrass: it's perhaps the fragrance of Thai cooking. Add in prawns, mushrooms, chilli, galangal, lime and fish sauce and you have tom yum goong, with its sour and spicy kick that is so recognisable, and quite distinguishable from the famous Thai curries (see below).
If you're looking for something similar in Malaysia – something a little sweet and spicy with fresh prawns – sambal udang will hit the right notes. Also served with rice, the prawns are cooked in a slightly sweeter sauce that combines onion, prawns sambal, beansprouts, lime, sesame oil, chilli, sugar and soy sauce.
Instead of red curry (gaeng daeng) or massaman curry: laksa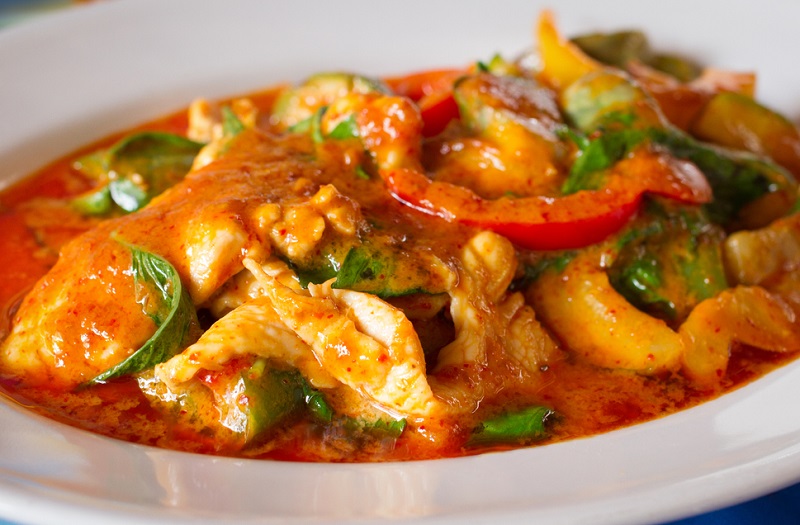 Red curry has to be one of the most popular Thai dishes for visitors, as it combines the hot and aromatic Thai spice palate with creamy coconut milk to keep the dish relatively mild. The colour and spice comes from prik haeng met yai, or dried red chillies, and the recipe includes galangal, kaffir lime, coriander and lemongrass, plus meat such as chicken, beef, or duck.
Malaysia's laksa, originally from Peranakan cuisine, also features a creamy coconut milk blended with spices like sambal chilli paste, and may also contain bean curd puffs, fish sticks, shrimp and cockles.  There are almost countless ways to cook laksa, depending on the region it comes from.
See our article for more info:
Instead of khao phat kung: nasi goreng sotong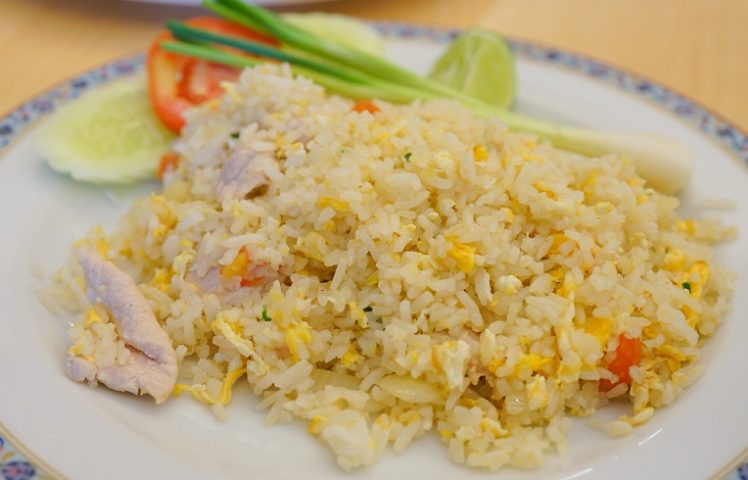 Again a direct translation into English for this rice dish in both Thai and Malay, 'phat' is Thai for stir-fried, while goreng means the same thing in Malay. Although slightly different in terms of the main ingredient; in Thailand kung – or shrimp – are often seen in this dish whereas in Malaysia, sotong – squid – is more common.
Most of the seasoning and accompaniments – including soy sauce, sugar, salt, chilli, vegetables and perhaps egg, plus cucumber, lime onion and coriander – are the same, however, so you'll still satisfy that craving for seafood.
Anything else?
What food are you going to miss from Thailand's amazing street food scene? How would you replace a specific dish with a Malaysian equivalent? Let us know in the comments below!
---
"ExpatGo welcomes and encourages comments, input, and divergent opinions. However, we kindly request that you use suitable language in your comments, and refrain from any sort of personal attack, hate speech, or disparaging rhetoric. Comments not in line with this are subject to removal from the site. "
Comments