Let's all put our hands on our hearts, and be honest – there's only one reason why we look forward for weekends, and that is the blissful absence of blaring alarms to silence. After five consecutive days of rising at the break of dawn, it is only fair – nay, only deserving – that we get to sleep in come Saturday and Sunday.
This is why weekend brunches are perfect. Here are seven recommended venues for you to visit in the upcoming weekends:
1. Vadai and Dhal at Arati Vilas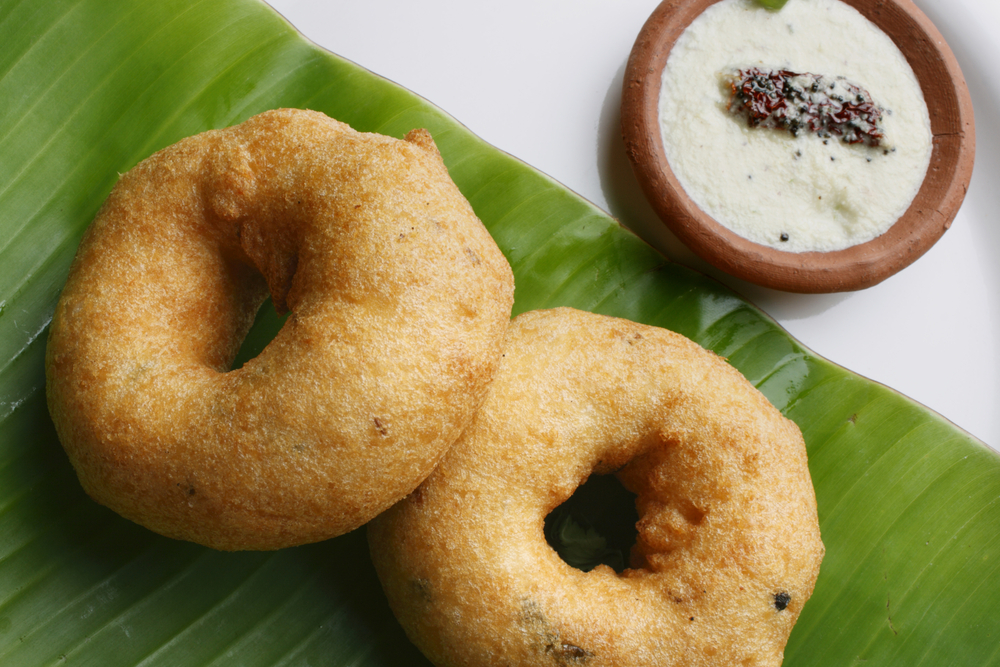 Hailing from India, vadais are delicious, doughnut-shaped snacks made from legumes (sometimes, sago or potatoes). The legumes are soaked with water and then, ground to a batter. Afterwards, the mixture is seasoned with cumin seeds, chopped onions, curry leaves, chillies, black pepper and salt. When ready, the mix is shaped and dropped into a wok of hot oil, resulting in a scrumptious, savoury doughnut.
I might be castigated for this declaration, but I believe wholeheartedly that vadais are better than doughnuts. And, you'd probably agree with me if you've tried Arati Vilas' vadais. Served warm, the skin is gloriously crispy, while the centre remains fluffy. The snack is best eaten whilst drenched in dhal, which you can get from the communal curry container – with chicken curry, fish curry, and dhal (vegetable curry). Coconut chutney is also available upon request.
More than vadais, there's a spread of Indian delicacies such as poori, roti jala, packets of nasi lemak and fried beehoon (rice vermicelli) served every morning, followed by banana leaf rice for lunch and dinner.
Address: 9, Tanjung Bunga Park, Tanjung Tokong, 11200 Tanjung Bungah, Penang.
Tel: +604 899 1379
Opening hours: 8:00am – 10:30pm. *Closed on Mondays.
2. Sunday Roast at Farquhar Bar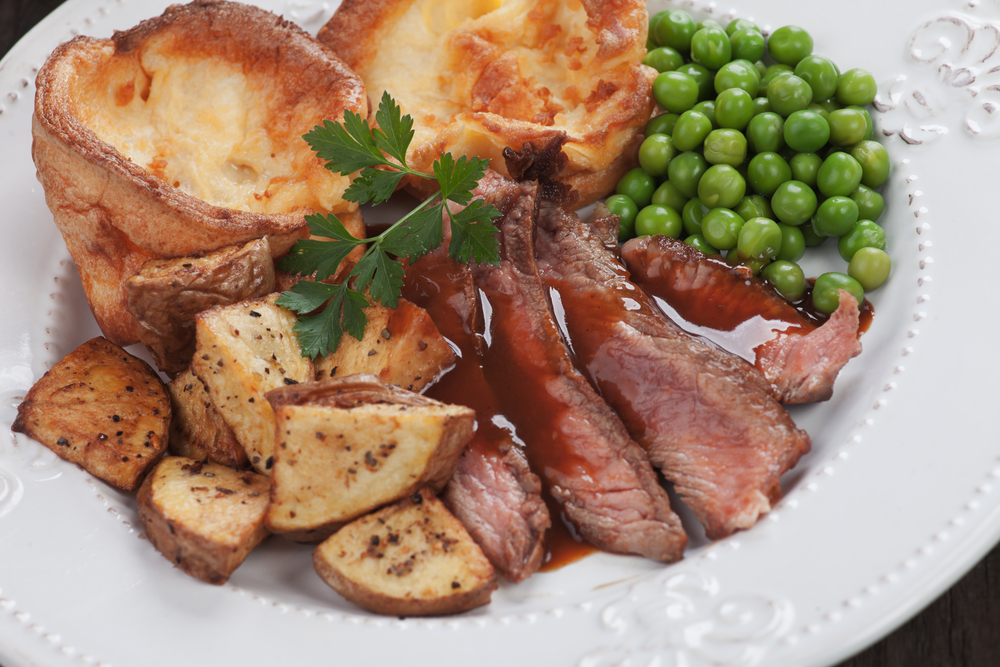 For those who adore a smorgasbord of meat, you should most definitely consider a visit to Farquhar's Bar at E&O Hotel, Penang. The 35-seater English-style bar's Eat-All-You-Can Traditional Sunday Roast is available only on Sundays, and serves up an enticing selection of roasted beef, chicken (with sage and onion stuffing), rib-eye, as well as slow-cooked lamb shoulder.
The roasts are delightfully flavour-packed with a blend of fresh herbs, which one can have with accompaniments such as goose-fat roasted potatoes, seasonal vegetables, and Yorkshire pudding; which Enid Blyton said Sunday Roast would be incomplete without. Other sides include mesclun salad, green peas, velvety mashed potatoes, and creamy potato-leek soup.
End your meal on a sweet note with slices of tropical fruits, or another traditional British favourite, bread and butter pudding, with a generous drizzle of vanilla custard sauce.
Address: Eastern & Oriental Hotel, 10 Lebuh Farquhar, 10200 George Town, Penang.
Tel: +604 222 2000
Operating hours: 11:00am – 12:00am
Website: eohotels.com/farquhars-bar.php
3. Kway Chap and Roti Babi at New Cathay Coffee Shop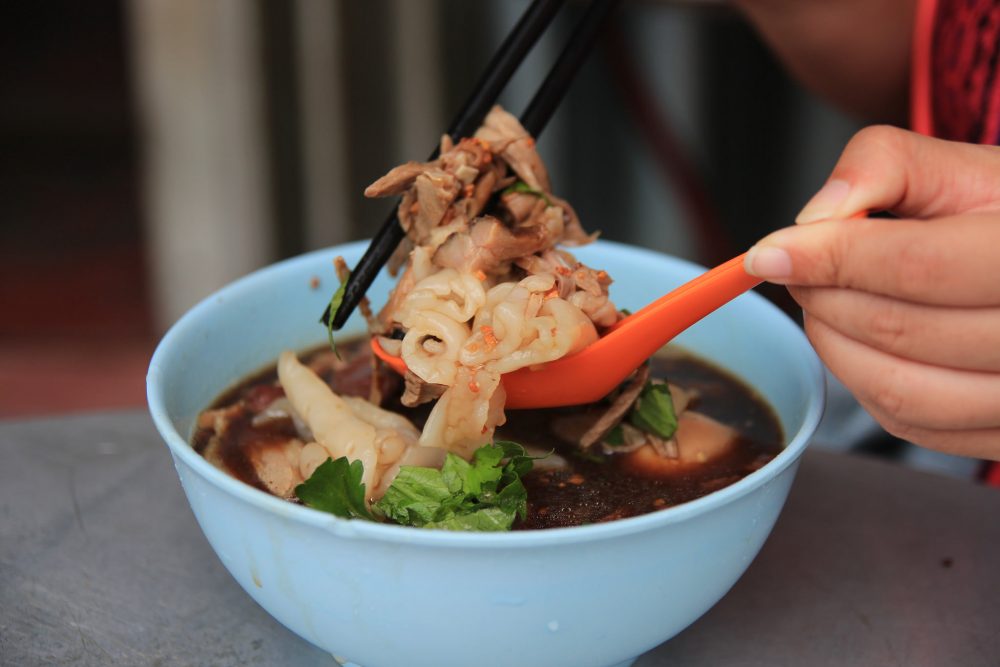 Situated along the ever bustling Burmah Road, this coffee shop is one of my go-to places for a fix of Penang's best, because of the plethora of hawker fare. A favourite amongst locals, the place usually begins to fill up from as early as 7am, and is usually packed by 10am on weekends.
As you wait for a seat, you'd soon notice most people slurping soup from a bowl of noodles with thick, dark broth. What you see is Kway Chap, a Chinese, more specifically teo chew, noodle soup that consists of flat wide rice noodle rolls, bathed in duck meat broth. This particular stall has been in operation since the turn of the new century, and the quality has been successfully maintained through the years. Served with duck meat, various offal, cakes of coagulated pig's blood (entirely optional) and braised egg, this dish is a perennial must-have at New Cathay.
For those opting for a lighter snack, the Roti Babi – literal translation, 'pork bread' – which essentially is minced pork mix sandwiched between two slices of bread, coated in egg and breadcrumbs, then deep-fried to golden crispiness – is another crowd pleaser. The accompanying dipping sauce – made from the smoky flavours of Lea & Perrins sauce and tinge of heat from sliced chillies – complements the crackling bite wonderfully.
Address: 425, Jalan Burma, George Town, 10350 George Town, Penang.
Tel: +6016 452 1378
Opening hours: 8:00am – 2:30pm. *Closed on Sundays.
4. Dim sum at Tai Tong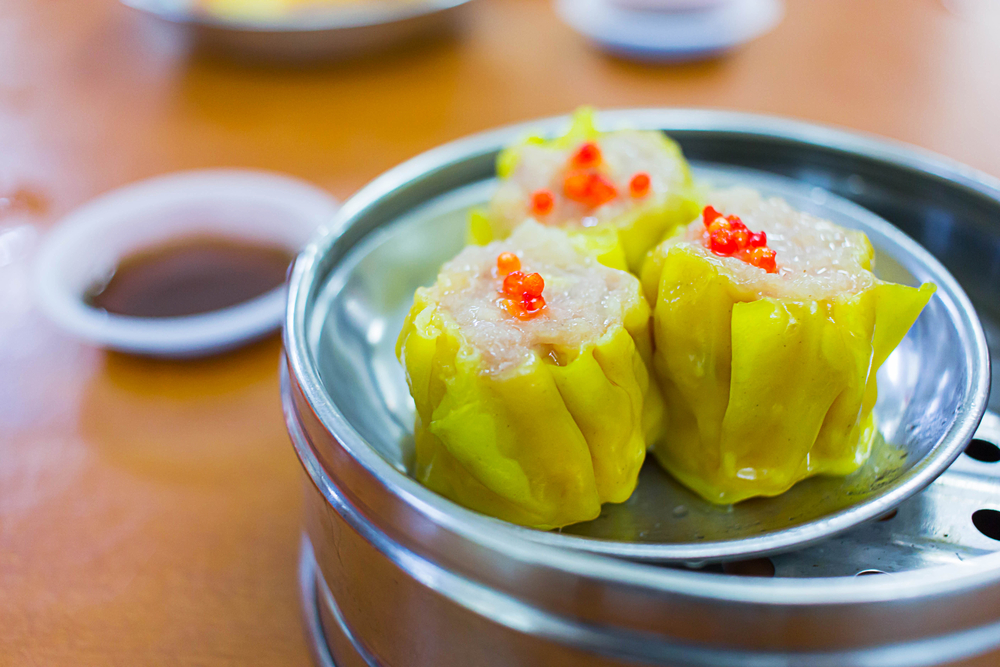 Tai Tong is an oldie but a goodie. One of the earliest dim sum establishments on the island, the venerable restaurant is reminiscent of the dim sum places in Hong Kong, where silver-haired employees weave their push carts through a maze of tables.
The traditional Cantonese eatery, staffed by mostly middle-aged ladies, offers a tempting array of dim sum at breakfast, and made-to-order dishes with rice for lunch and dinner.
Their Siew Mai (steamed pork-shrimp dumplings, topped with shrimp-roe) and Har Kow (steamed shrimp dumplings with translucent skin) are arguably one of the best on the island. The silky-smooth century egg congee is only available at breakfast, and is a must-try for those who have yet to be inducted to the delicious world of porridge.
Address: 45, Lebuh Cintra, George Town, 10100 George Town, Penang.
Tel: +604 263 6625
Opening hours: 6:00am – 2:30pm, 6:15pm –11:30pm (Mondays to Saturdays) / 6:00am – 12am (Sundays).
Website: facebook.com/TaiTongRestaurant
5. Egg Koay Teow Thng at Sri Nibong Cafe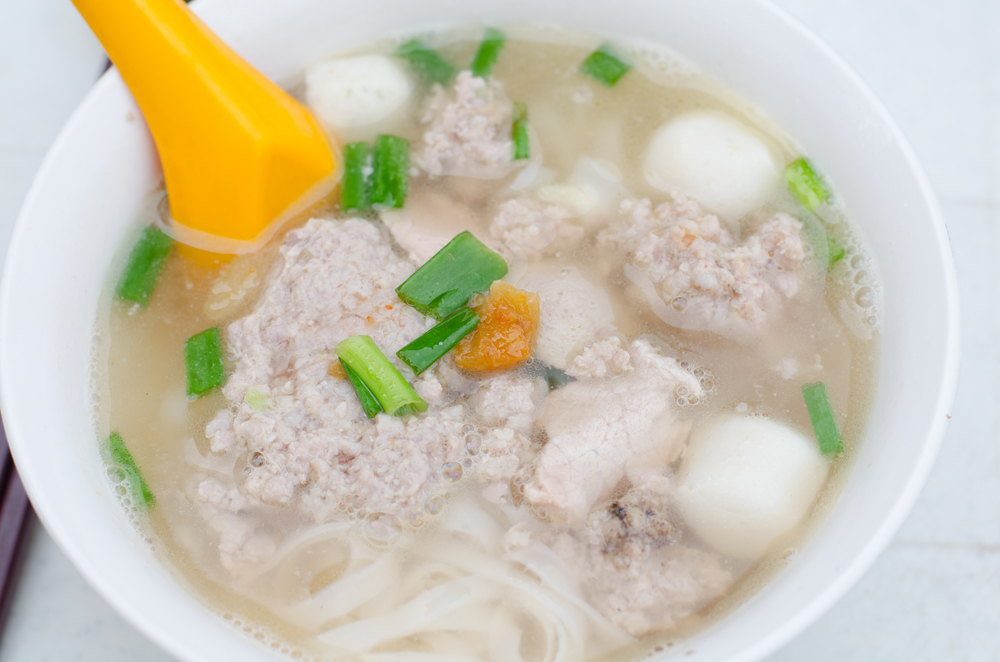 Located close to the junction of Jalan Sultan Azlan Shah and Jalan Bukit Kecil 1, the corner lot coffee shop serves the best koay teow (rice noodles) soup on the island. To this writer, at least, who wouldn't be caught dead having it anywhere else.
The most important component of this dish is the soup, a delicate art which this stall has perfected. The soup almost has a sweetness to it, which I believe comes from the enormous amount of meat used during its preparation. Satin smooth noodles and chunks of minced pork are then assembled in the bowl, doused with the flavoursome broth, and here's the best part: topped with a half-boiled egg.
If you're still hankering for post-prandial nibbles after, do also try the toasted bread with luncheon meat (or Spam, for any Americans reading) and egg; or choose from various other options such as peanut butter (God's gift to mankind), jam, dried meat floss, tuna or prawn sambal.
Address: Jalan Sultan Azlan Shah, Taman Sri Nibong, 14300 Bayan Lepas, Penang.
Opening hours: 7am – 12pm / 7pm – 9pm (Closed on Mondays)
6. Roti Canai at Wahid's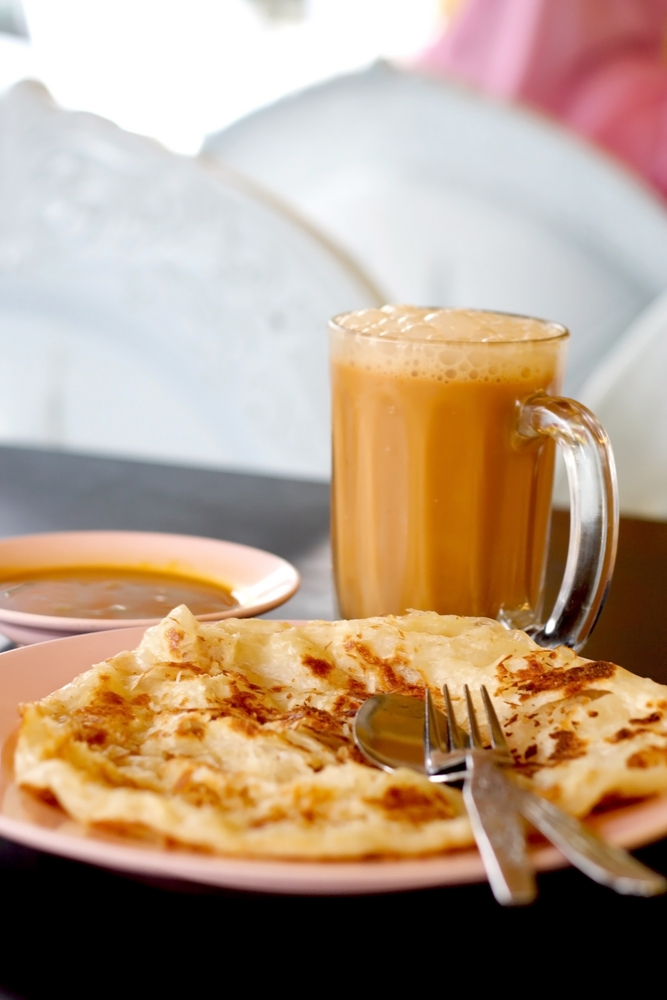 I'm surprised I made it to the penultimate number of this article without mentioning Wahid's.
A childhood favourite, this was the default breakfast for my late maternal grandfather and I during weekends and long stretches of school holidays.
A thin piece of dough, flipped over a hot griddle till crispy, then flooded with a concoction of curries, might not seem like much to most, but it is constant reminder, to me, of the simple pleasures in life.
Astaka Taman Tun Sardon is a conglomeration of cultures under one roof, evident through the plentiful food options.
From nasi lemak and kuih, to fried koay teow and beehoon, to capati and tosai, patrons are spoilt for choice with great-tasting food, all in one convenient location.
Address: Astaka Taman Tun Sardon, Hilir Pemancar, 11700 Gelugor, Penang.
Opening Hours: 7:00am – 12:30pm (Monday – Sunday)
7. Eggs and Toast at Ah Wang Cafe
For more than three decades, Ah Wang Cafe has been feeding Penangites with kaya-butter toast and half-boiled eggs. And, we keep coming back for more.
There are three kind of bread available for the kaya-butter toast; Roti Benggali (crusty Indian Bread), soft butter bread, and white bread. Regardless of the bread type, they came chock-full with an indulgent smearing of butter and sweet kaya (coconut jam).
Whether the toast is dipped into a cup of freshly brewed coffee or well-done half boiled eggs, you'd be in for a treat either way.
Address: J-6, Gerai Uda, Flat Uda Fasa 3, 10470 Tanjung Tokong, Penang.
Tel: +604 898 2318
Opening hours: 12.30pm to 7:00pm. *Closed on Sundays.
Tell us your favourites
What is your go-to venue for a lazy brunch or a Sunday lepak session? Let us know in the comments below!
---
"ExpatGo welcomes and encourages comments, input, and divergent opinions. However, we kindly request that you use suitable language in your comments, and refrain from any sort of personal attack, hate speech, or disparaging rhetoric. Comments not in line with this are subject to removal from the site. "
Comments