King Street and Queen Street are bustling thoroughfares at the heart of George Town's Little India. Frances Wilks took a stroll and discovered the area's very unregal and vibrant present, as well as its rich and chequered past.
George Town's Indian quarter only spans a few streets but, despite its small size, somehow manages to re-create the vibe of a South Indian City. It's loud in every sense of the word – Hindi music blares from the loudspeakers of video emporiums, flower garlands of clashing hues are everywhere, as are the endless racks of flamboyantly-coloured silk and synthetic saris.
If you feel in the mood for a bit of bling, this is the place to come, there are entire shops devoted to sparklers of every kind – jewellery for hands, feet, hair, ears, and nostrils.
And the smells – the rich spicy scents of street-cooked food – you're never far from a fresh samosa or mouth-watering vade.
Vats of Teh Tarik, or milky "pulled" tea, sweeter than a ripe peach, abound – the ubiquitous all-day breakfast drink. You can see racks of spices laid out to dry under the blistering sun on the pavement.
Old-style barbers and astrologers still ply their trades. And there are plenty of small shops, some only the size of a hole in wall, selling everything from piles of red onions to cigarettes, newspapers to stainless steel cookware.
Dozing shopkeepers wait for customers in boutiques heady with incense. There's even the Tropical Spice Garden's Shop in the City (19 China Street) with rather more elegant souvenirs, spices, and textiles. Cars and vans drive through its narrow one way streets; it might be better pedestrianised but perhaps if it were, it would lose that blaring-horn, edgy immediacy.
Its southern perimeter is Beach Street with its stately banks or temples to the god, Money, and to the north is Pitt Street where three of Penang's major religions have their rather more celestial temples. Indeed Pitt Street is sometimes known by the moniker the Street of Harmony, a reminder that multiculturalism doesn't have to lead to cultural blandness but can tolerate and even celebrate different traditions.
St. George's Church, the oldest protestant Church in Southeast Asia, a copy of St George's in Madras, is a reminder of Penang's close ties with the subcontinent across the Indian Ocean since the earliest days of the colony.
The recently restored Temple to the Goddess Quan Yin, or the Kwangtung Hokkien Temple, is next, perpetually shrouded in upwardly wafting incense. Finally, the august and serene glories of the Kapitan Keling Mosque rise above it all, looking as though it might have been dropped in from Samarakand or Bokhara, but in actual fact was designed by the German architect Henry Alfred Neubronner in the early 20th century.
There is a third name for Pitt Street, which is Jalan Masjid Kapitan Keling, hinting at the early history of George Town for 'keling' is a Malay word for people of Indian origin, which is nowadays considered offensive. A 'kapitan was the headman or representative of a community, established by the British as a way of keeping peace amongst the difference ethnic groups of early Penang. So this area has been associated with Indian migrants since the beginning, so much so that it was nicknamed 'Little Madras'.
George Town was established as a 'grid' with areas for each of different groups that characterised early Penang: the Europeans, the Eurasians, the Malays, the Chinese, and the Indians. Some of the Indian migrants came as labourers – for instance, nearby Fort Cornwallis was constructed with the help of Indian convict labour. Stevedores from southern India worked at the port loading and unloading vessels and lived along King Street, called by the Tamils, 'The Street of Boatmen'.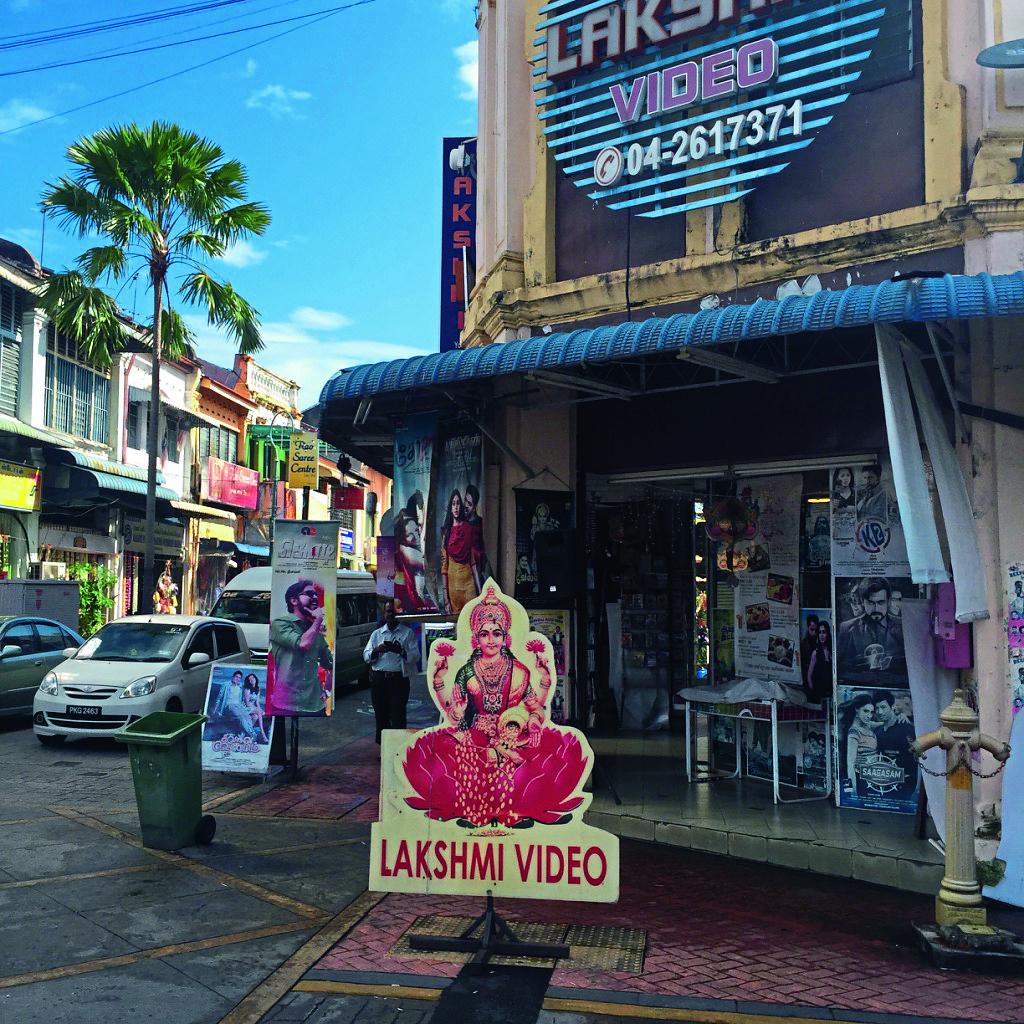 The Malays called Queen Street 'Grass Godown', probably because bullock carts were parked along the side of the street. One building is of particular interest in this street – the Star Building, formerly the offices of The Star newspaper, now an information centre and bookshop.
In the 19th century, however, it was the rather picturesquely named the Opium and Spirit Farm Offices. These government departments handed out the lucrative licenses for the legal import and preparation of raw opium from India. No doubt there was also many an opium den in Little India as the new immigrants sought to ease the pains and losses of their lives.
Nearby Market Street was known as 'The Street of Shops' and, over the years as the community became richer, goldsmiths, silversmiths, diamond dealers, and moneylenders all plied their trade.We think of 'Indian' as a generic description, but many different communities are represented here, including Tamils, Chettiars, Gujaratis, Punjabis, Bengalis, and Telugus and brought their distinctive cultures, foods, and religions to George Town.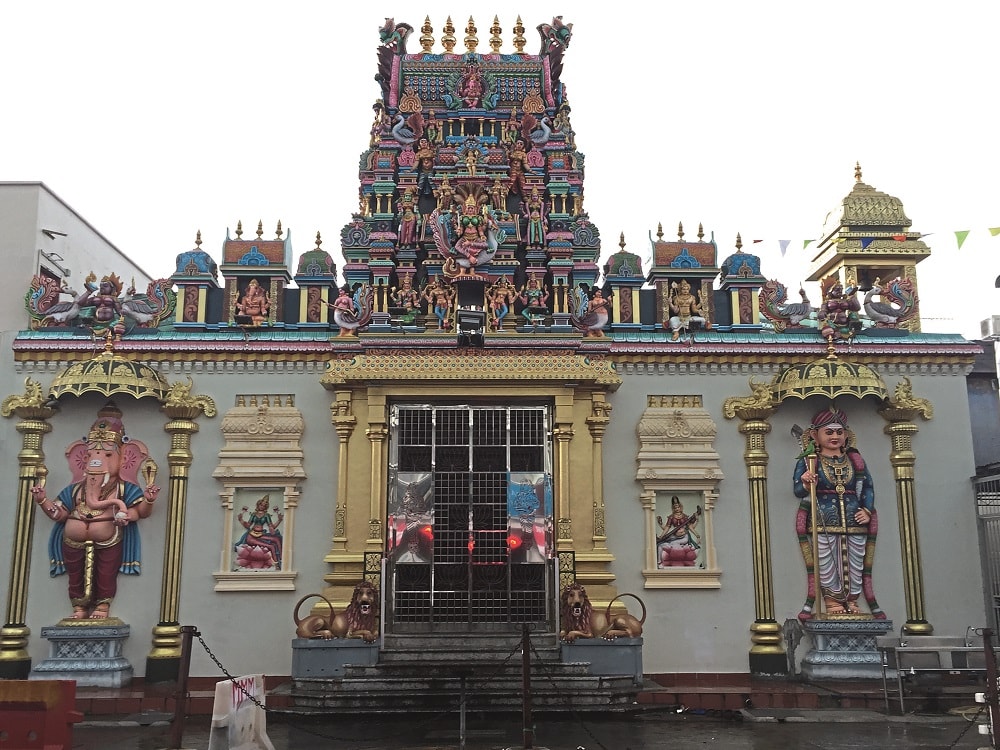 Very fittingly, Queen Street contains one of the jewels in the crown of Penang – the Sri Mahamariamman Temple, which was built in 1833 making it the oldest Hindu temple on the island. In fact it dates back even further than that as there was a place of Hindu worship on the site as early as 1801 when the land was granted by the British to Betty Lingam Chetty, who was then the kapitan of the South Indians.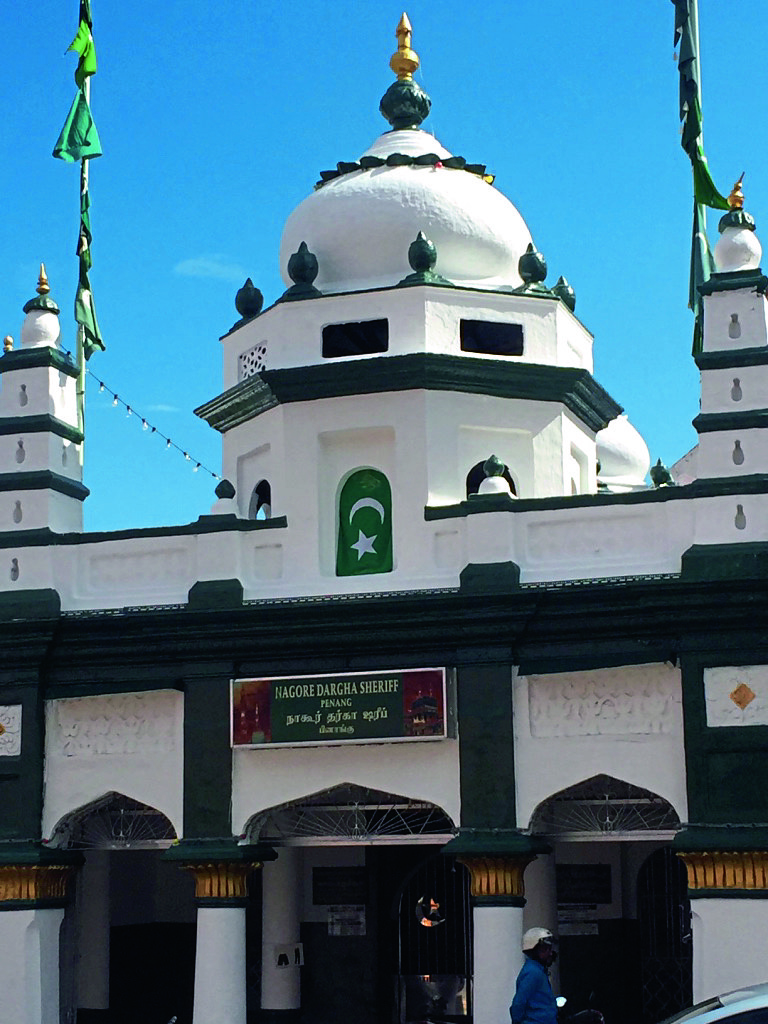 It has two entrances, one in Pitt Street and the main one in Queen Street. Although it's dedicated to the goddess Mariamman, many deities of the Hindu Pantheon have their statues, both on recently decorated facade and in the inner sanctum of the temple.
Ganesha, the elephant-headed god and his brother Murugam, who is celebrated at Thaipusam feature heavily.
The Silver Chariot, whose procession from George Town to Waterfall Road is such a central part of Thaipusam, sets out from this temple. Among the priceless possessions of this ornate building is a statue of the god Subramaniam, richly decorated with gold, silver, diamonds, and emeralds.
At morning and evening poojas, these gods are offered the floral garlands displayed on the streets nearby. But just around the corner, in Chulia Street, is the Nagore shrine. Often overlooked by visitors, this simple shrine is in sharp contrast to the ebulliant and colourful Sri Mahamariamman Temple.
Built by Indian Moslems, its dignified white and green exterior with its delicate minarets and onion dome houses a memorial to Syed Shahul Hamid, the 13th-century patron saint of Nagore. He was, by all accounts, a Sufi mystic and an Islamic preacher.
Even if the shrine is locked, which it frequently is, just looking in through the bars of the window gives you an insight into a spiritual world, where kings and queens and temporal powers no longer hold sway.
Tips for visiting Little India, Penang
Leave your car in a car park and walk the streets. Parking is almost impossible and you will miss a lot of the street life if you're not on foot.
If you're not sun-hardened, take a hat and carry water. The streets can be very hot and it's easy to get dehydrated.
Be careful with handbags and shoulder bags. Although the crime rate isn't worse than any other city, it pays to keep a guard on your belongings at all times.
If you want to visit the interior of the Sri Mahamariamman Temple, note that is is open daily from 6.30am – 12noon and 5pm – 9pm when poojas (prayer Sri Mahamariamman Temple rituals) are offered.
A version of this article was originally published in The Expat magazine (April 2017) which is available online or in print via a free subscription.
---
"ExpatGo welcomes and encourages comments, input, and divergent opinions. However, we kindly request that you use suitable language in your comments, and refrain from any sort of personal attack, hate speech, or disparaging rhetoric. Comments not in line with this are subject to removal from the site. "
Comments