This year, whilst I was in a deep discussion with my work pals on the best place for a buka puasa gathering, I was reminded of the beauty of celebrating Ramadan in Malaysia and the simple significance of sharing a meal. Not only is it a wonderful tradition, it inadvertently creates a moment of stillness; something we should all have more of in this hurried digital age.
What better way to usher in this holy month than with a delicious spread of food to iftar (break fast) after dawn-to-dusk fasting? Last Ramadan – which didn't seem like all that long ago – I wrote about the delectable Ramadan bazaars in Penang:
So this year let me present to you – the best of this year's Ramadan buffet promotions across town, sorted by price.
RM100 and below
1. Ixora Hotel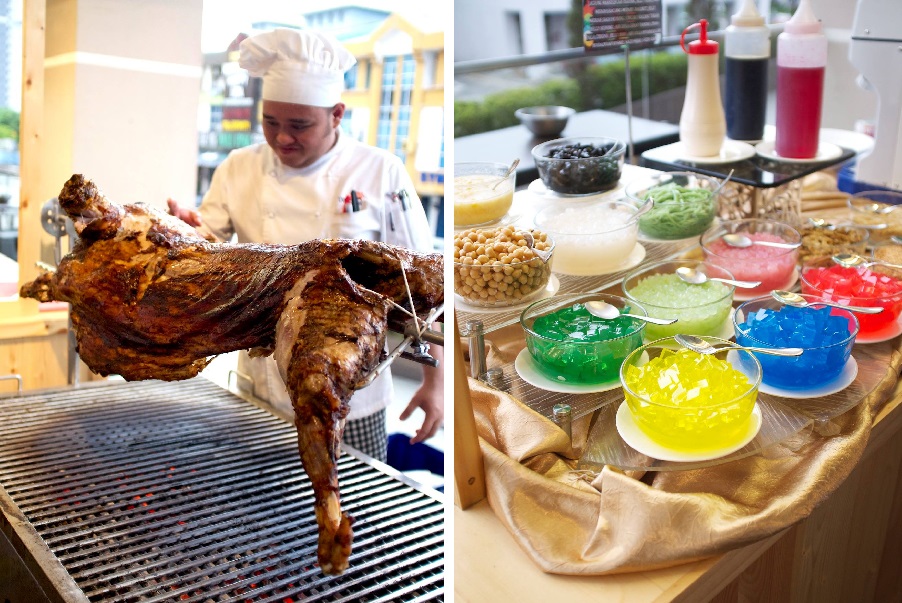 Buffet period: June 1st – June 21st 2017
Price: RM82(nett) per adult // RM52(nett) per child
The spacious Ixora Hotel – located on the mainland of Penang – celebrates the fasting season by offering a wide range of traditional Malay cuisine and their pièce de résistance, the Kambing Panggang (Grilled Whole Lamb).
The commonly seen Romaine leaves made way for petai (stink beans – they truly live up to their name!), ulam (a popular traditional salad within the Malay community), assorted fresh vegetables, condiments such as salted fish and salted duck eggs at their DIY salad bar.
Fill up your platter with kampung favourites such as Nasi Hujan Panas, Ayam Masak Merah, Beriani Udang and many more savoury-spicy dishes. Interestingly, there was a pasembur stall, a mee goreng pitstop, an oxtail soup corner, and even a Chicken Shawarma station, where the chicken was carved upon request and stuffed into a pita, then garnished with vegetables and sauce.
Round up your meal with cut fruits, a colourful variety of cookies, and traditional Malay kuih – a personal favourite, Kuih Ketayap (pandan-flavoured crepe with sweet coconut filling) makes an appearance at the desserts line-up. Wash it all down with Malaysia's iconic beverage, the Teh Tarik or Nescafe Tarik. It doesn't get any better than this.
Address: 3096 Jalan Baru, Bandar Perai Jaya, 13600 Perai, Penang.
Tel: 04-382 8888
Website: ixorahotel.com
2. The Northam All Suites Hotel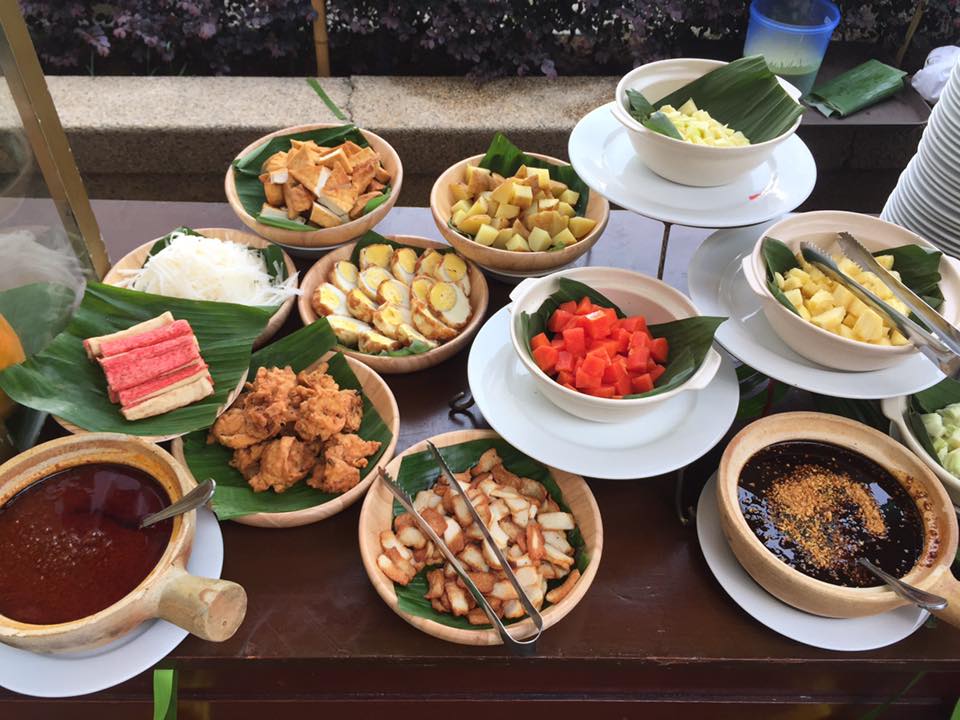 Buffet period: June 2nd to June 23rd 2017
Price: RM88nett per adult // RM58nett per child aged 4-11.
I don't know about you, but to me, a fabulous meal accompanied by a gorgeous view is one of my best-loved indulgences. The Selera Kampung Ramadan Buffet Dinner at Northam All Suites Hotel is all that, and more.
Boasting of tantalising specialties such as Kambing Golek (whole lamb that is generously marinated and grilled to perfection), Rendang Daging, and many more traditional recipes, Chef Din and his talented culinary team will be the ones doing all the hard work. You, on the other hand, will get to savour the fruits of their labour whilst watching a mesmerising sunset from the 9th floor roof terrace.
If this is my reward after a 13.5 hour fasting period, I could very well live with it.
Address: 55, Jalan Sultan Ahmad Shah, 10050, Georgetown, Penang.
Tel: 04-370 1111
Website: northam-hotel.com.my
3. Hard Rock Hotel
Buffet period: June 5th – June 23rd 2017
Price: RM88(nett) per adult // RM48(nett) per child (6-12 years old)
If there is one thing I've gathered from my years of participating in a buffet marathon (it should be an official sport), it is that buffets are all about pacing. Which is key when you are greeted an enticing spread that is Bintang Rock Buffet Dinner.
Hard Rock Hotel's annual Ramadan feast features a selection of local delicacies, hawker fares, a plethora of appetisers, Arabian dishes, a kebab station, and charcoal grills.
For those who favours Middle Eastern flavours, the beautifully peppered Arabic Roasted Lamb Leg – served with Arabic rice, cous cous, or pita bread – with chutney and mint yoghurt as condiments is a wonderful delight; each mouthful is a medley of robust flavours.
The Hot Dishes and Grill Section is a not-to-be-missed. From Chicken Shawarma Wrap, to Roti John, to Ikan Bakar (marinated fish and shellfish, wrapped in banana leaves, then grilled on a griddle), you'd most definitely leave this place with an incredibly full, albeit satisfied, stomach.
Address: Jalan Batu Ferringhi, 11100 George Town, Penang.
Tel: 04-881 1711
Website: penang.hardrockhotels.net
RM100 and above
4. Eastin Hotel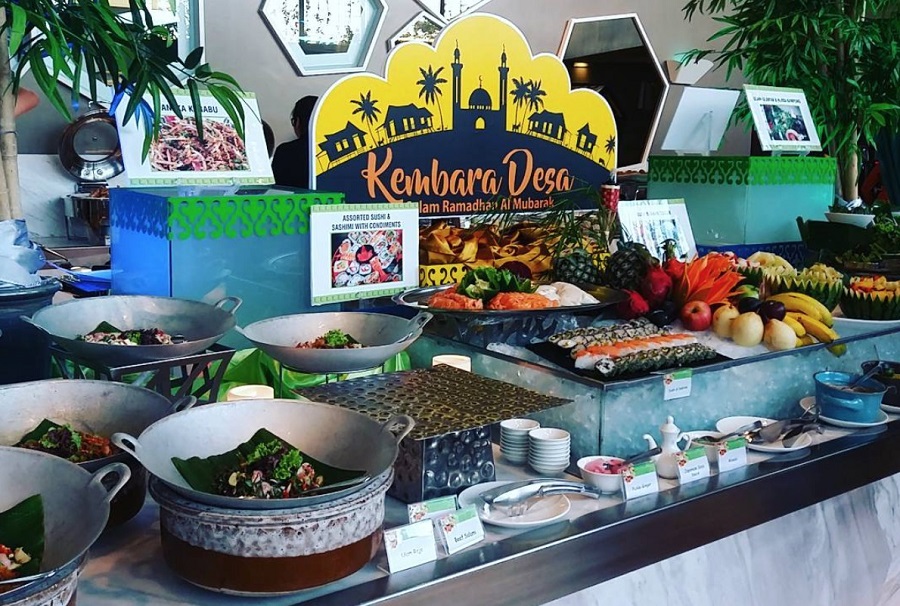 Buffet period: May 28th – June 24th 2017
Price: RM120(nett) per adult // 50% discount for senior citizens and children aged 6-11 years old.
Right off the bat, one would be remiss to not notice the sheer variety of food being offered at Eastin's Ramadan buffet; the star of the show being the Kambing Golek (roasted whole lamb with an impressive balance of flavours). A walk around the venue, and I found that most of the dishes were a heart-warming range of masakan kampung – home-cooked dishes, the kind my friend's grandmother used to prepare when I visited her house during Raya.
Specialties such as Bubur Lambuk (reminiscent of the Chinese congee), Gulai Kawah (literal translation: crater curry, which is a rather apt name, as the meat curry is stewed in a large, crater-like wok for hours) and Gearbox Soup (beef bone marrow soup) are both hearty and satisfying. They even have a DIY rojak platter with cucumber, jicama, pineapples, taukua (beancurd) and deep-fried cruellers.
One of the drawing factors of a buffet lies in its options. Salmon sashimi and sushi were present, and so was chicken tandoori and Penang Curry Mee (imported from popular chain, Noodle Station), satisfying even the pickiest eaters.
Enjoy your dinner amongst the company of family and friends, serenaded by the soothing sounds of Venus Combo, Eastin's three-piece lounge band.
From now till June 24th, purchase tickets online (https://www.facebook.com/eastinhotelpenang/) for RM20 off the full price.
Address: 1 Solok Bayan Indah, Queensbay,, 11900 Bayan Lepas, Penang.
Tel: 04-612 1111
Website: www.eastin.com
5. Olive Tree Hotel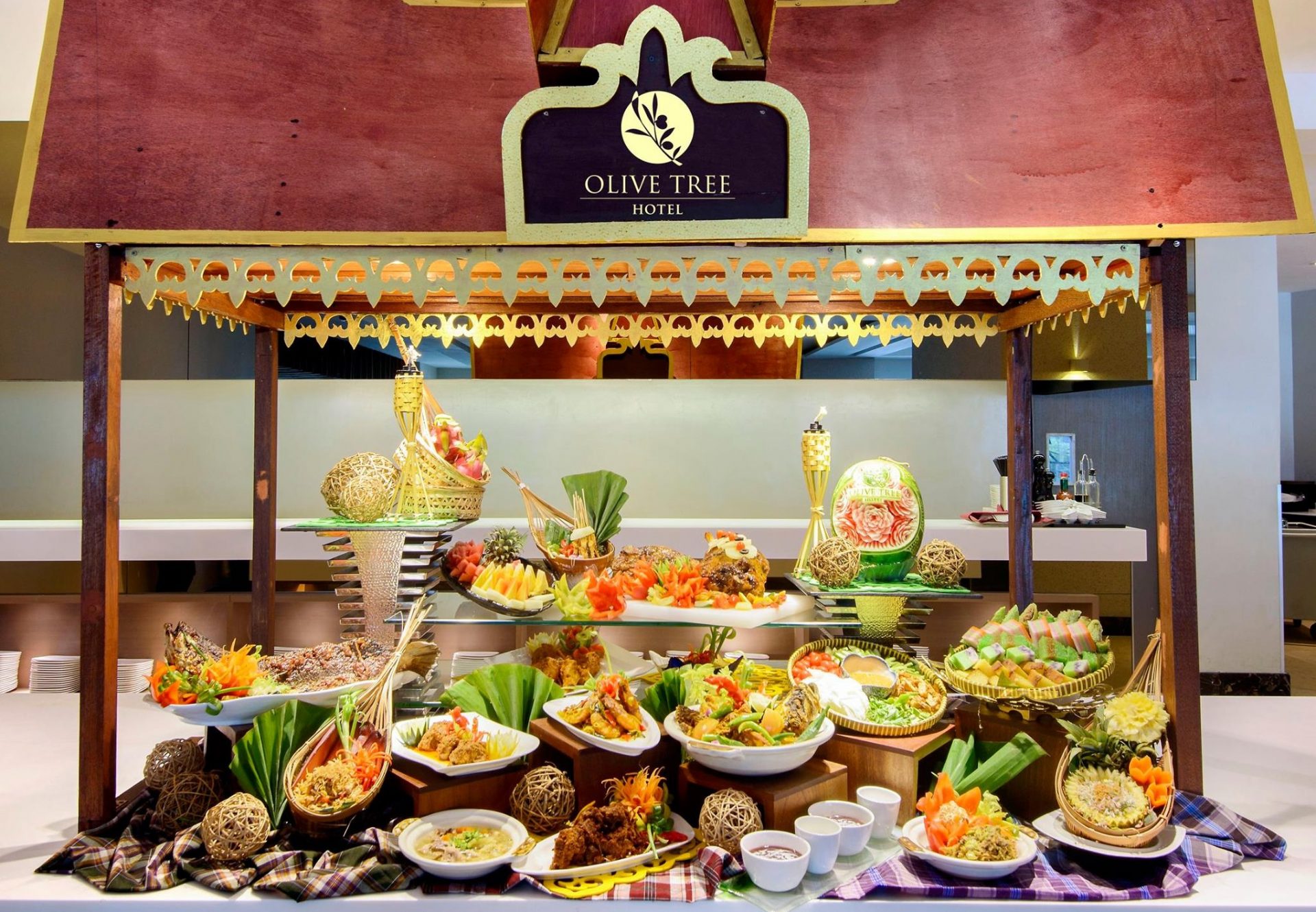 Buffet period: May 27th – July 2nd 2017
Price: RM120(nett) per adult // RM80(nett) per child (5-12 years old) // RM80(nett) for senior citizens (aged 55 and above)
This year, Olive Tree Hotel pays homage to the Minangkabau community from Negeri Sembilan through its themed decor, buffet stalls, photo corner, and its month-long Ramadan buffet at Sukkah Coffee House.
Heavily influenced by Padang cuisine, Minangkabau recipes lean towards a hot and spicy palate, often with Sambal Balacan and Sambal Balado as condiments. Dishes such as Sambal Ikan Bilis Petai, Kambing Masak Keruntuk, Rendang Daging Minang, Pucuk Paku Masak Lemak Cili Padi, and Gulai Ikan are, in their own right, uniquely spiced up concoctions which will be highly ambrosial to those who'd like to tickle their tastebuds with some heat.
Afterwards, tamp down the temperature with desserts such as Bubur Pulut Hitam (black glutinous rice porridge) and Badak Berendam (literal translation: soaking rhino – what it is: glutinous rice balls stuffed with palm sugar and shredded coconut, bathed in creamy coconut milk).
Address: 76, Jalan Mahsuri, 11950, Bayan Lepas, Penang.
Tel: 04-637 7856
Website: olivetreehotel.com.my
6. Equatorial Hotel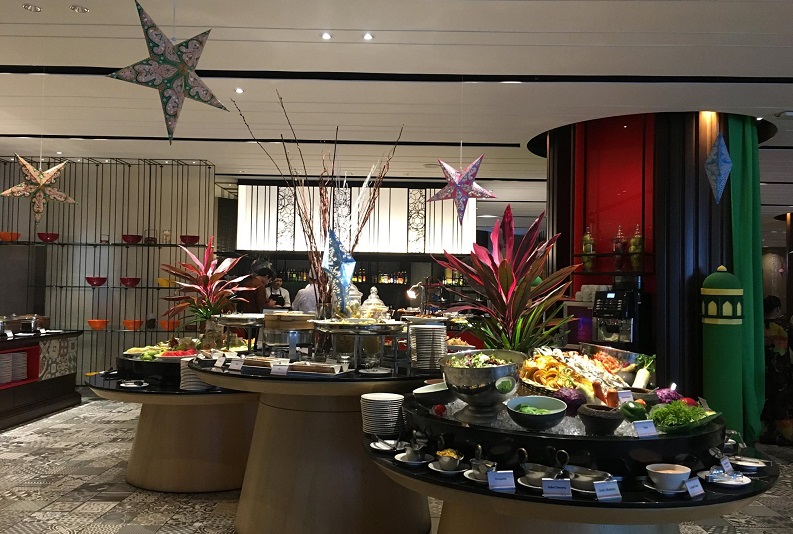 Price: RM128(nett) per adult // RM64(nett) per child // RM98(nett) for senior citizens
Year after year, Equatorial Hotel continues to wow patrons with its wonderful array, and this year is no different.
The Muhibbah Ramadan Buffet brings out big guns such as its all-time favourite, Kibas Panggang with Nasi Arab (roasted lamb with long-grained Arab rice), Equatorial's signature Chilli Crabs, a made-to-order seafood grilling station, a Create-Your-Own-Nasi-Ulam hut, in-house chefs manning the Mongolian BBQ pit (with lamb, beef, or chicken for meat choices) and many more. If I may, the buffet bears a striking resemblance to a Ramadan bazaar, only infinitely better.
Hit your sweet spot with the bevy of desserts; from ais kacang (shaved ice, drizzled with sugared syrup and packed with toppings such as red beans, grass jelly, corn, and nuts), to dainty cakes, jellies, and sweet pastries, and segue into a relaxing evening by the poolside with a three-piece live band.
Address: Jalan Bukit Jambul, Bukit Jambul, 11900 George Town, Penang.
Tel: 04-632 7000
Website: equatorial.com



" ExpatGo welcomes and encourages comments, input, and divergent opinions. However, we kindly request that you use suitable language in your comments, and refrain from any sort of personal attack, hate speech, or disparaging rhetoric. Comments not in line with this are subject to removal from the site. "



Comments