When it comes to travelling, I'm very rarely content to just snuggle up by a fireplace or lounge all day by the pool. I would much rather put on a pair of sensible shoes and get stuck into my surroundings, either through having a look around the nearest museum or church, or hunt out a local restaurant serving authentic cuisine.
However, we all change from time to time, and I would like to think that I can 'go with the flow' and embrace the culture of my destination, even if that clashes with my usual approach. And the culture of the Summer Lodge in Evershot, Dorset, is very much 'Why would you venture out anywhere else?!' – and as it turns out, it's a mindset I was more than happy to adopt.
Furthermore, if I had wanted to follow all my regular exploratory exploits, I could have anyway, and, at times during my weekend, did: I lay by the heated indoor pool and read the Sunday papers; I sipped a cup of steaming hot, black coffee next to a roaring fireplace; I walked around the English countryside; and I enjoyed the local produce – and boy is the local produce used well. More on that later.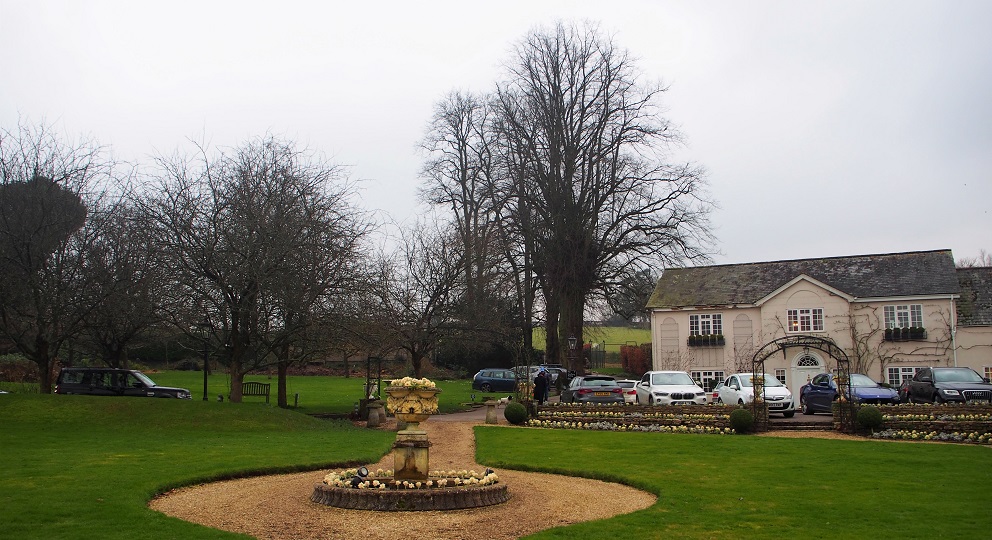 There are very few places I've been that are so geared up to the pursuit of doing nothing, and loving every single moment of it, for the entire weekend (or duration of your stay). From the moment we got off the train at Yeovil (2 hours 40 minutes from London Waterloo), we were picked up by a man with a beaming smile and a calming Antipodean accent.
As we walked to our private minibus, we learned that the man was Jack Mackenzie, a South African who had moved to the UK to become a chef and ended up becoming the Head Chef at the Acorn Inn (also in Evershot), which was awarded an AA rosette in 2008. He has since become the General Manager of Summer Lodge – yes the hotel's GM had come to pick us up – and runs the hotel with wife, Alex.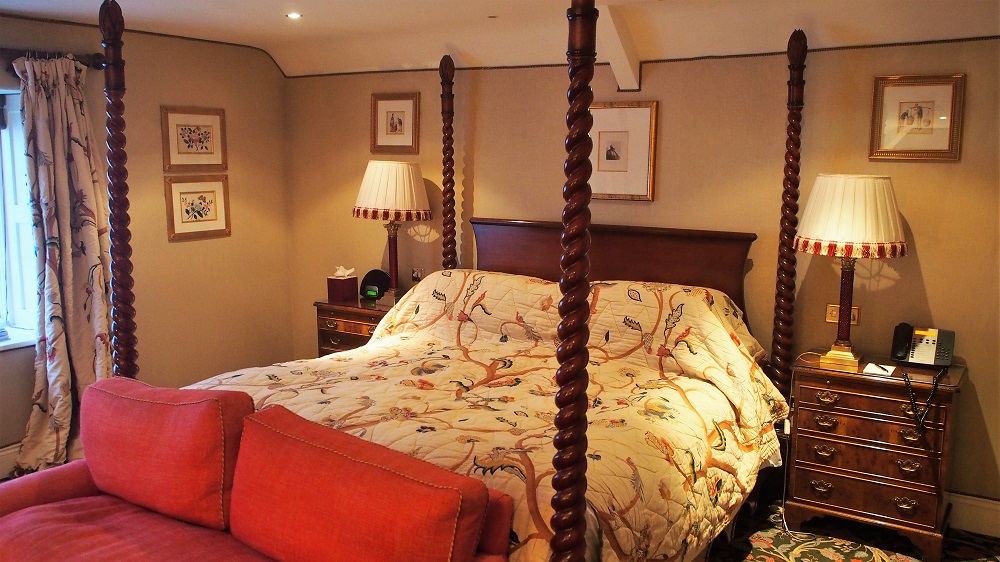 The minibus rumbled along the country roads of England's green and pleasant land before sweeping through the village of Evershot itself and rolling up the driveway to Summer Lodge hotel. On the way to our room, the hotel valet greeted us with a polite "How are you?" and, when I asked him the same question, replied "Unbelievably amazing!" – and that was a good omen for things to come.
Straight to business
After a quick check-in, mooch around the grounds and a brush up, it was straight onto more important business: dinner. As we perused the extensive menu and wine list, two dishes of goat's cheese, heritage tomatoes and balsamic dressing arrived at our table. It was refreshing yet indulgent and a lovely way to settle in to our meal.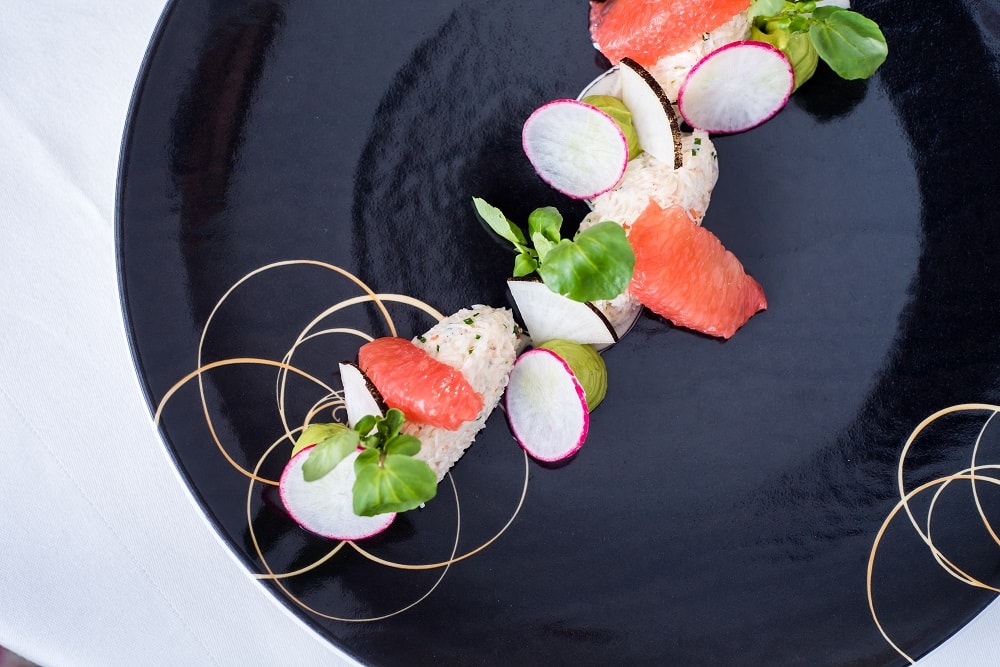 For starters, I opted for the gateau of Portland crab with pink grapefruit, avocado puree and garden radishes, while my partner enjoyed pheasant and chestnut soup with chestnut pannacotta.
My crab was everything you want a starter to be: revitalising, colourful and fresh – and absolutely gorgeous to look at. My partner's soup was served straight our at table; an enjoyably elegant flourish to a normally simple dish.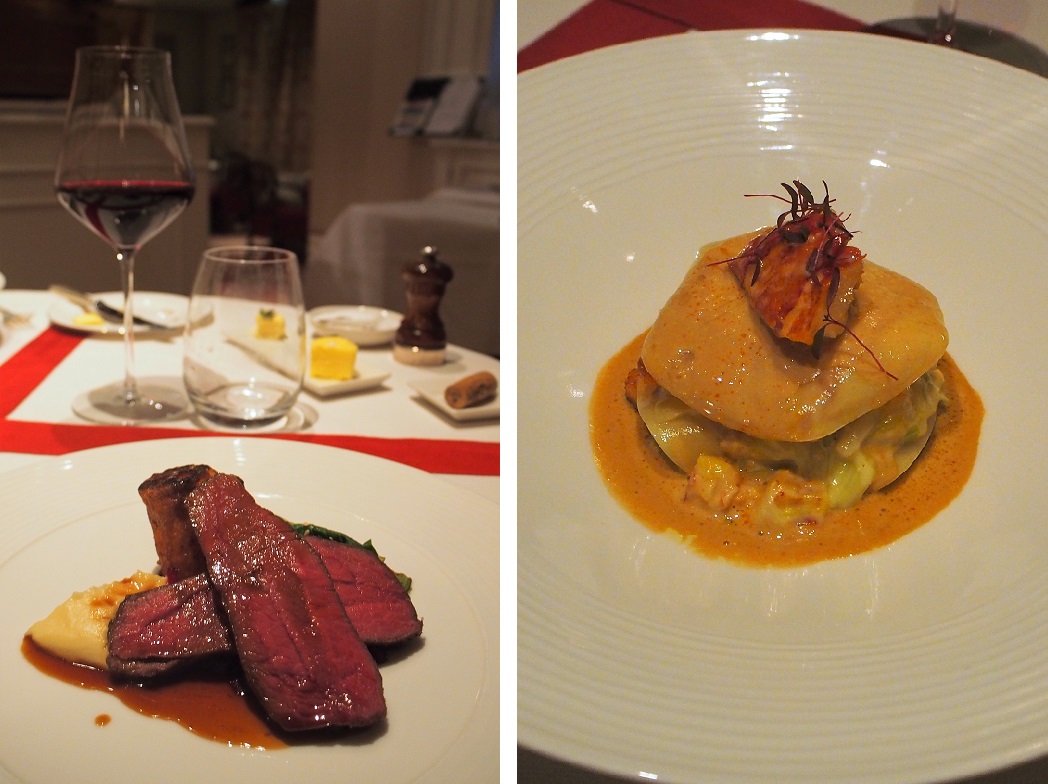 This was followed by Exmoor venison loin with sweet potato fondant and red cabbage for me and lasagna of Loch Duert salmon and lobster and creamed leeks and lobster cognac for her.
The loin was purple-coloured almost to the point of being neon; a deep, gamey colour that reflected the quality and freshness of the meat. It was delicious. The lasagne was stylishly presented as a stack of circular layers; the fish was somehow dainty yet meaty and hugely satisfying, and beautifully balanced by the rich orange sauce.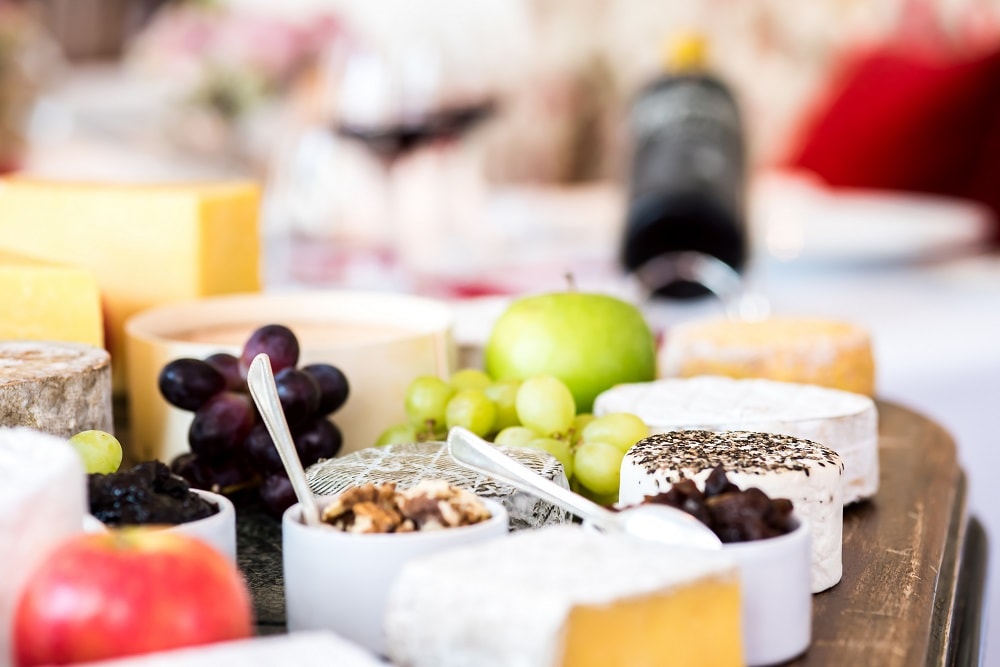 Perhaps the centrepiece of the meal is the restaurant's cheese board – and when I say 'board ', I mean a banquet hall-sized table filled to the brim with an astounding 27 different cheeses from around the region, plus crackers, grapes, celery and chutneys.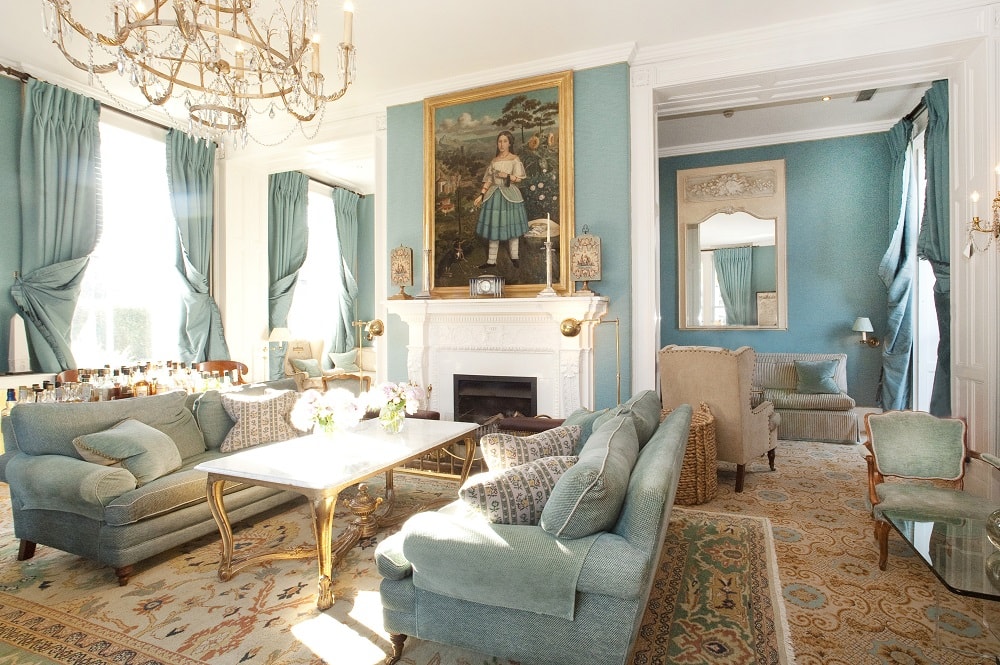 While my partner enjoyed a creamy, indulgent and exquisitely presented peanut butter mousse, I couldn't resist and had to order a cheese platter. The cheese board is brought to diners' tables so that they can gawp at the dairy goodness – two waiters are required to carry it!
Sated to the point of bursting, we retired to the hotel lounge for coffee and petits fours in front of the fire. Having almost instantly shaken off the hustle and bustle of the week – even with London only a few short hours away. I had a feeling that we would sleep well that evening as we walked back to the accommodation building under a dazzling white moon dotted with clouds.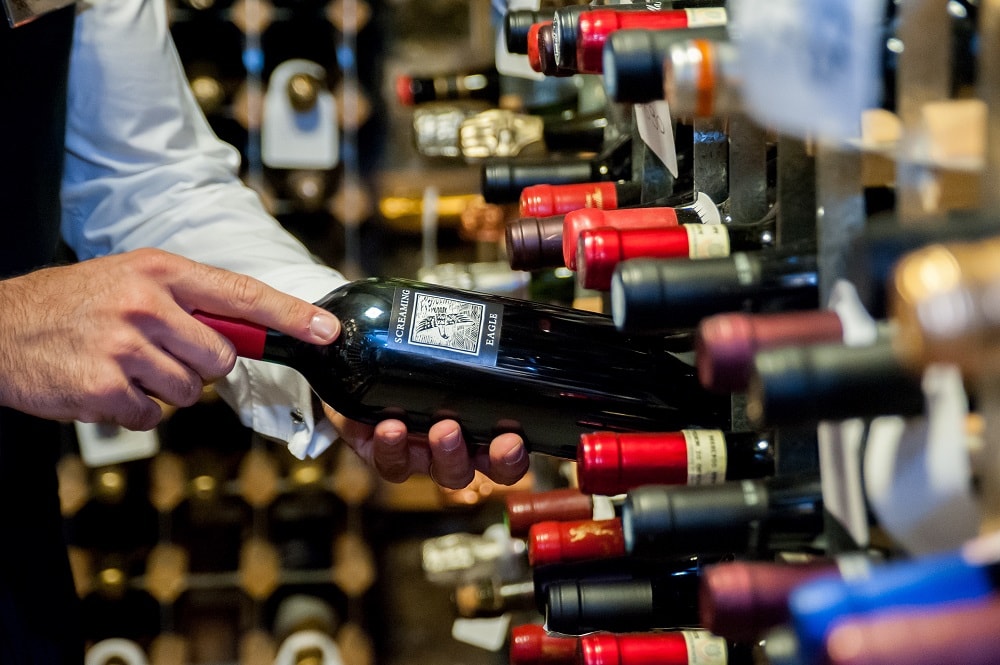 The chef, Steve Titman is passionate about sourcing local and seasonal. As Executive Chef at Summer Lodge he has built collaborative relationships with local food producers, fishermen, farmers and foragers to ensure he has top notch Dorset ingredients to showcase on his imaginative Modern British menu.
Time for some activity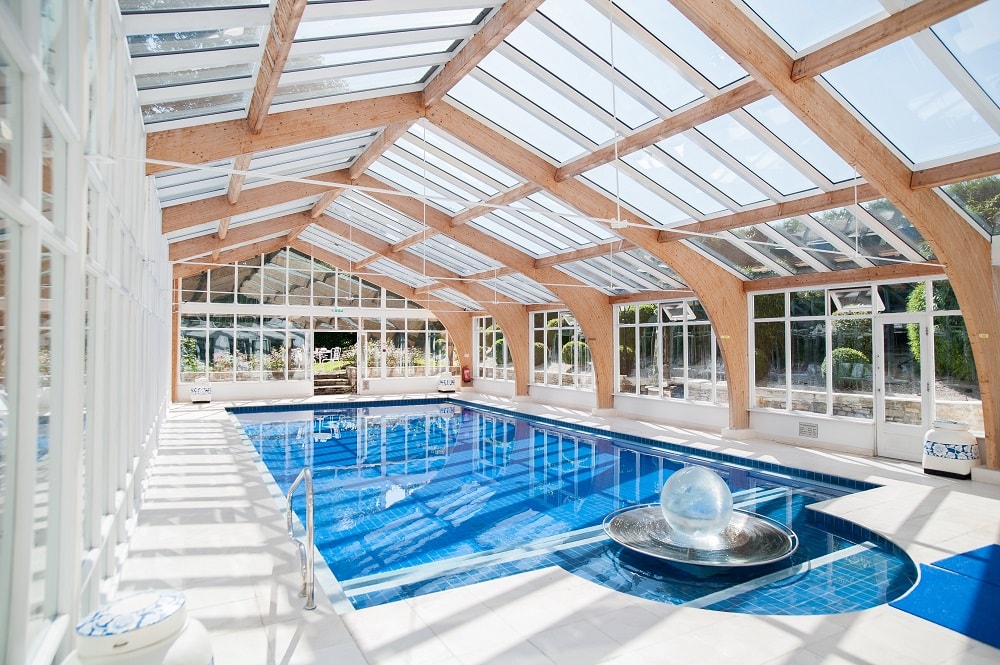 After waking, refreshed and rested, we realised we were definitely in need of doing something a little more active – even if this was to justify going back to the hotel restaurant for breakfast. Luckily, the hotel pool and sauna were a short walk away.
Having lived in Malaysia for the best part of three years, I had gotten quite used to having a sauna nearly every day and this would be the first time in months that I had been able to sit back and sweat out the previous evening's indulgences.
Better yet, Summer Lodge has a quite lovely indoor pool and hot tub, both housed in a large conservatory-style building, as well as an area with sunloungers and fresh fruit-infused water. A good hour in the pool area, followed by a stroll around the hotel gardens, had managed to quite amazingly restore my appetite.
Melbury Deer Park and around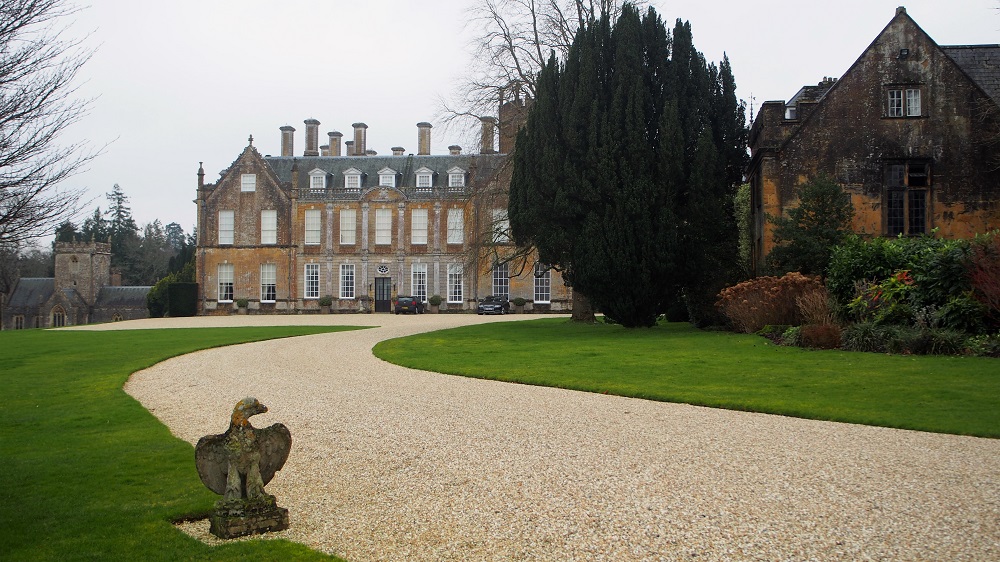 My appetite was roundly quashed again at the substantial breakfast offering and so quickly afterwards, we decided that some more fresh air and exercise was required.
Just outside of Evershot is the delightful Melbury Park, home to deer, sheep and rabbits as well as the noted Strangways family, who moved into the staggering Melbury House in the 1500s. This building, restored by Sir Giles Strangways (five-times MP for Dorset in the 1550s), was the inspiration for King's Hintock Court in Thomas Hardy's 1891 book A Group of Noble Dames and the birthplace of Henry Fox Talbot who would go on to revoutionise the photography industry.
We took a stroll north through the park towards the cute villages of Melbury Sampford and Melbury Osmund, site of the atmospheric church of St Osmund, the patron saint of the mentally ill and paralysed.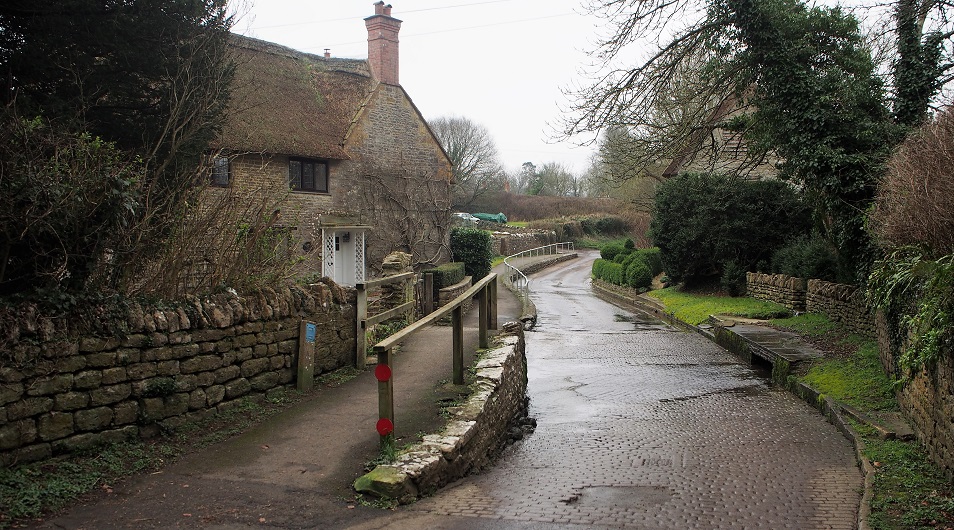 On our return into Evershot, we wandered through the village – which really just requires going from one end of Fore Street to the other – so I could see the church, also devoted to St Osmund. This man, originally the son of the Count of Sées in Normandy, France, was the bishop of Salisbury from 1078 until 1099 and (according to some scriptures) the nephew of William the Conqueror, so a revered character in his time.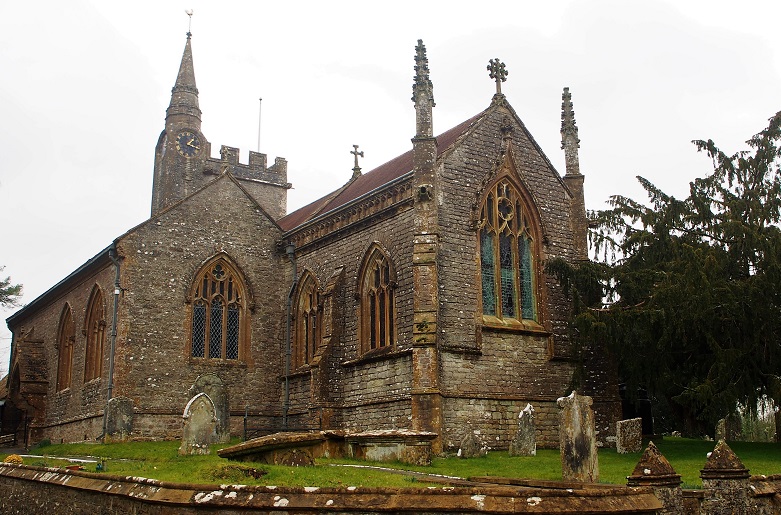 The Acorn Inn
Just down the road from the church (indeed, in Evershot everything is down the road from everything else), is the Acorn Inn, a former coaching inn dating from the 1500s where we would be having our evening meal.
We settled at a table near the open fireplace and prepared for what was sure to be another Dorset feast. After quenching my thirst with a pint of the local tipple, we gave our order: to start, lasagna of confit rabbit with leeks and mushrooms and a rosemary jus plus spiced West Country crab broth with king prawns.
For mains, my partner enjoyed the twice-cooked pork belly with chick pea and chorizo ragu, while I demolished a trio of beef; namely, braised ox cheek with caramelised parsnip puree, cavolo nero and red wine jus, and fillet with bacon in a cottage pie.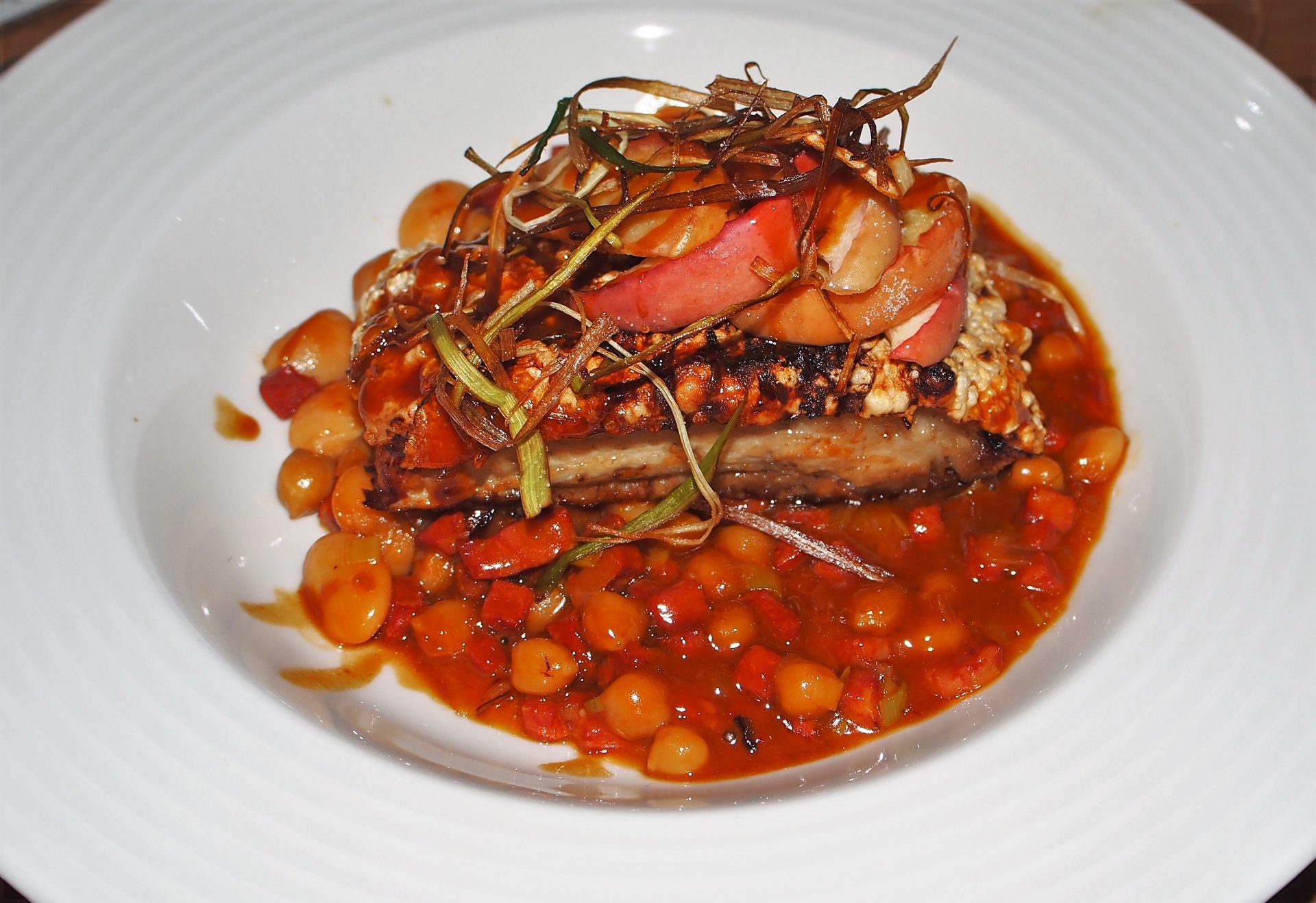 The food carried a simple elegant grandeur – local ingredients, done justice with preparation and smart flavour pairings, then served with local pride. Smart but not overly haute cuisine; hearty but not stodgy – this, in my opinion, is the epitome of high-end British gastropub food – if not all British food.
To finish, my partner again opted for something sweet and was rewarded with a huge salted caramel, chocolate and hazelnut blondie, served with peanut brittle and banoffee ice cream.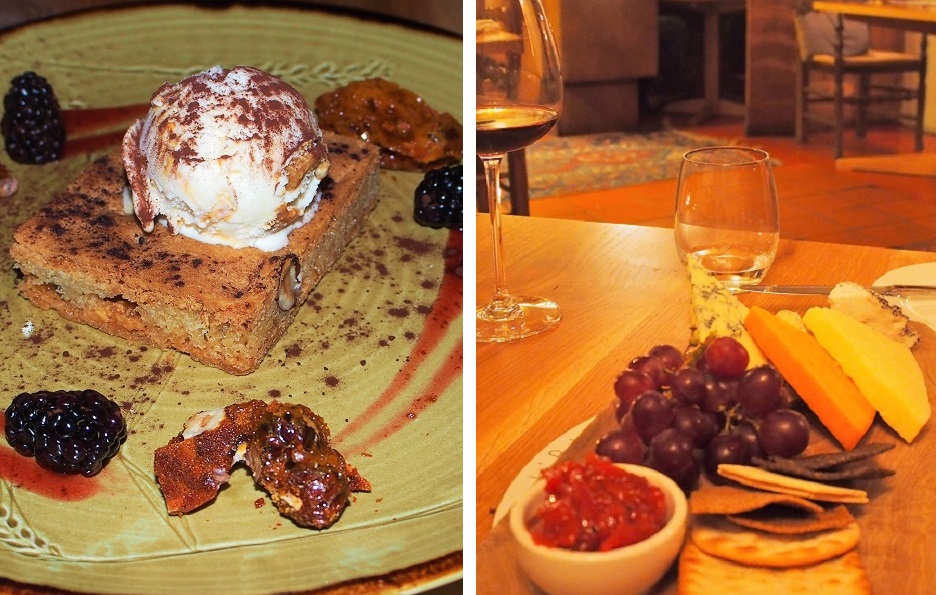 Yet again, I simply could not resist the cheese board and once again devoured a platter of Dorset red, Wookey Hole cheddar, Dorest blue vinny and even a goat's cheese which I never normally order but in this case really rather enjoyed.
Again, contented and just the right side of stuffed, we retired to the hotel's whiskey lounge to sample some of the quite astounding selection of enchanting bottles in the bar for a nightcap.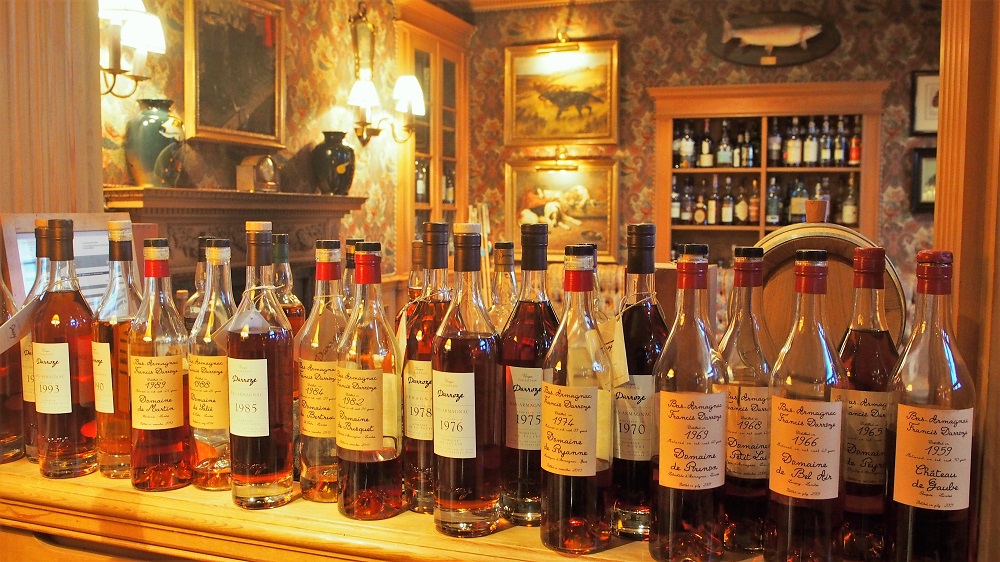 A sad farewell
As I woke the next morning, that common post-holiday blues feeling hit me – which was a little odd because we had only been away for two nights and I wasn't on holiday; I was here to work. My partner looked equally upset as the reality dawned on her too: this would be the last time in the sauna and pool and the last hotel breakfast for a while.
After we ate and climbed back into the minibus, our valet loaded our luggage into the boot and again assured us that he was still feeling "unbelievably amazing". This time, though, I could understand why: here he was, surrounded by quintessential English greenery, where peace and quiet is everywhere and happiness and comfort are the norm.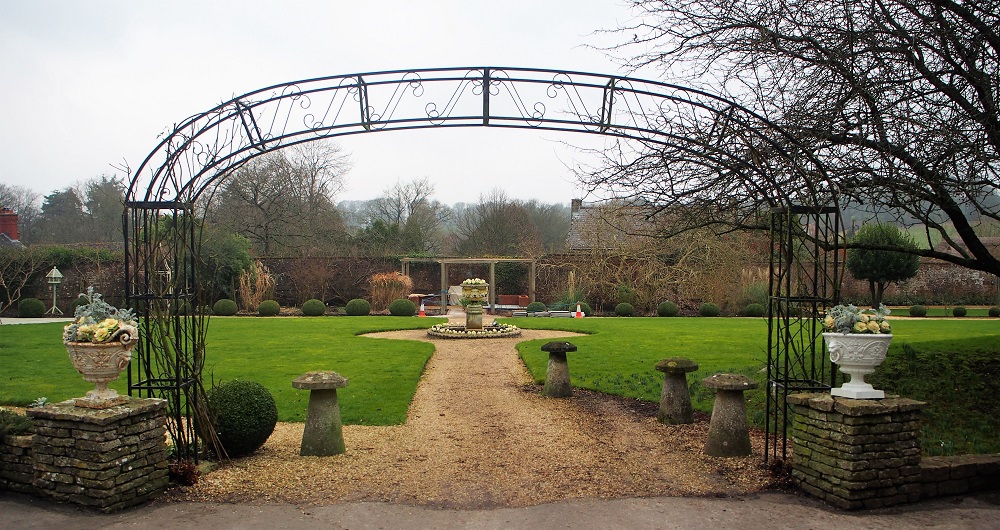 Again with General Manager Jack at the wheel of the bus, we bumbled back through the Dorset countryside, but the mood in the bus was severely changed: it had turned from wonder and excitement to the 'back to reality blues'. GM Jack must have noticed as he offered to take the scenic route back to the train station to extend our final moments of fresh air, gorgeous countryside and relaxed mind.
The valet had been right all along: Evershot and its surrounds – and especially the staff and setting of the Summer Lodge in Evershot – are unbelievably amazing.
And it's shouldn't come as a surprise since Summer Lodge as part of Red Carnation Hotel Collection has an impressive number of accolades under their belt including Condé Nast Gold List (2016) and Traveler Readers' Choice Awards for one of the top hotels in the UK in 2015 and 2015 as well as the Nuffield Health Excellence in Customer Service (2016) at the Dorset Business awards, and plenty more.
The multi-award winning Red Carnation Hotel Collection comprises 17 luxury hotels located in London, Dorset, Guernsey, Ireland, Geneva, Florida and South Africa. TripAdvisor recognised London properties The Egerton House Hotel, The Chesterfield Mayfair, The Milestone Hotel and The Montague on the Gardens for their excellence in service and luxury; while in Ireland, the extensively renovated Ashford Castle was awarded the number two 'Top Hotel' spot. The beautiful Twelve Apostles in Cape Town was also recognised as a 'Top Hotel' choice in South Africa for 2017. For more information about The Red Carnation Hotel collection please visit www.redcarnation.com.



" ExpatGo welcomes and encourages comments, input, and divergent opinions. However, we kindly request that you use suitable language in your comments, and refrain from any sort of personal attack, hate speech, or disparaging rhetoric. Comments not in line with this are subject to removal from the site. "



Comments