In 1976, an enterprising British wine merchant named Steven Spurrier arranged a challenge: a blind tasting that would pit the very best French wines – then considered to be the pinnacle of the winemaking world – against the cheeky upstart wines from America, specifically California. The panel of all French judges was widely expected to rubber-stamp the French wines as winners, thus confirming their inherent superiority.
But something very unexpected happened. In both the red and white wine categories, California's wines won the blind tasting. A Stag's Leap Cabernet Sauvignon and a Chateau Montelena Chardonnay – both Napa Valley wineries – took the top honours of what, in time, came to be known as the Judgment of Paris. The wine world was shaken to its core; it was a true paradigm shift in the industry, a realisation that New World wines could be every bit as nuanced, complex, and impressive as their Old World counterparts. It was the beginning of globalisation for the wine market.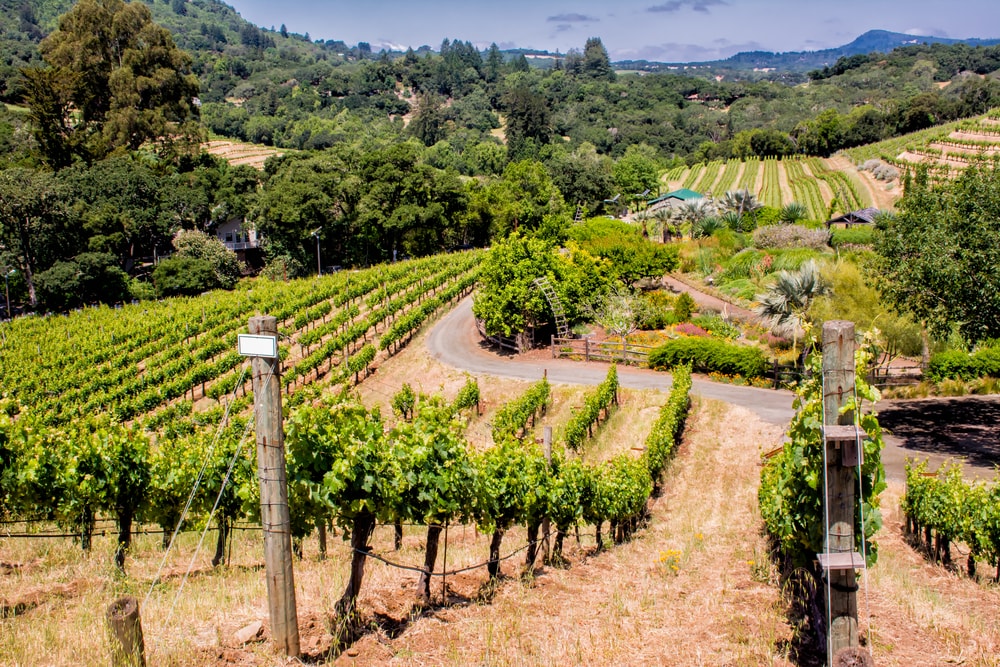 Since that fateful wine tasting over four decades ago, California's wines have become the stuff of legend. (Well, some of them, at least.) Napa Valley, in particular, is revered as one of the world's best wine-growing regions.
So if these wines are so good, why are they so uncommon on the shelves of Malaysian wine stores? Primarily it's simply because of America's domestic demand. Even though the single US state of California produces more than twice the volume of wine each year as does the entire country of Australia, the United States is also the world's largest wine market – by far. So what's produced there is, more often than not, consumed there.
Happily, though, Californian wines are getting quite a bit easier to find here. Though of course there's nowhere near the vast variety that's on offer in a typical US wine store, it's encouraging to see a wider and wider range of wineries, varietals, styles, and price points being brought into Malaysia.
California dreaming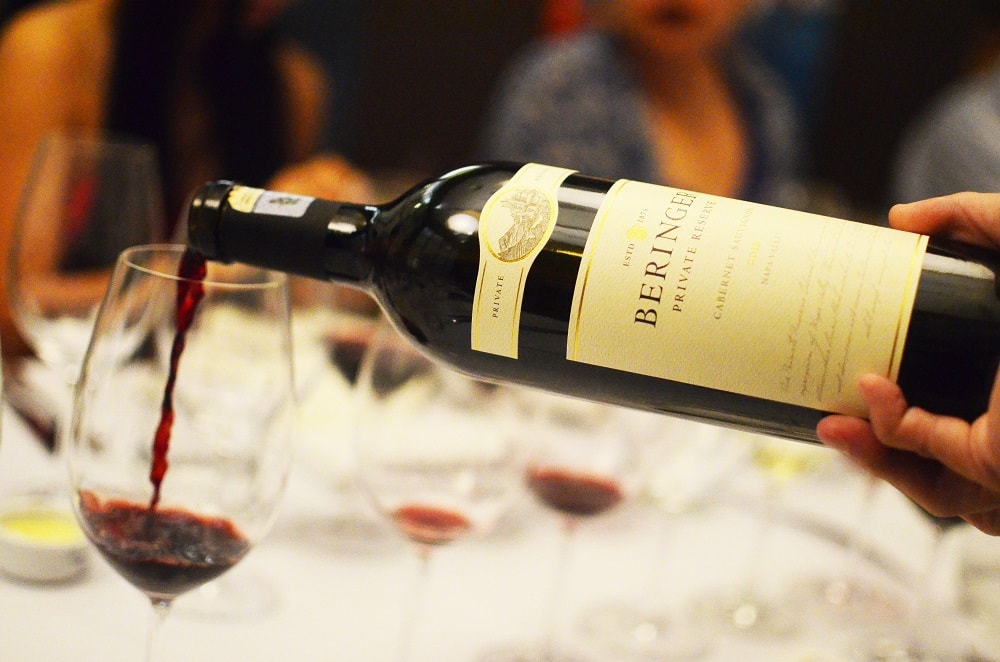 At a recent tasting event at Graze, the venerable fine-dining venue at Hilton KL, several California wines were sampled and paired with the excellent cuisine. Hosted by winemaking ambassador Mr Stuart Rusted and Treasury Wine Estates (which is, ironically enough, actually Australia's largest wine company, though it also holds a number of  acclaimed, award-winning US wineries in its portfolio), a nice range of labels and varietals were offered and paired with a procession of dishes from the culinary team at Graze. Mr Rusted guided us through the tasting, remarking, "We are so pleased to be able to bring our wines here to KL consumers to meet the increasing demand for quality, premium wines. These wineries are considered by many to be the benchmark producers of the Napa Valley, which we are confident that KL wine lovers will appreciate, as their tastes become ever more discerning." And with that, we kicked off the tasting.
We began with a 2014 Beringer Founders' Estate Sauvignon Blanc. Rather different from the crisp, acidic offerings typically hailing from New Zealand, this California white has a more nuanced palate, balancing the acid with an appealing earthiness, a slight vegetal tone that brought a rich counterpoint to the sharper tones and resulted in a nicely drinkable wine.
Next up was California's most famous white grape, Chardonnay, presented in a 2015 Sterling Vintner's Collection. Absent the overwrought oakiness some California Chardonnays have been known for, we once again enjoyed a fruity, rich, well-balanced white wine. With a bit more body and structure than the first wine, this was an all-around winner, and certainly a great choice for a wide range of food-pairing options, too.
Progressing to the reds, we began with a 2015 Sterling Vintner's Collection Pinot Noir. This varietal is known for its difficulty, and making a good Pinot is among the industry's top challenges. This one was equal to the task, though unremarkable overall. A good, but not truly great, Pinot, aged for 10 months in American and French oak, that delivered a full palate of cherries and stone fruits, with a nice musty earthiness, too. Silky tannins, a good mouthfeel, and a smooth and flavourful finish. Perhaps this vintage would appreciate a few more years of aging in the bottle – two years is still a youngster for a nice Pinot.
Another popular grape made its appearance next in a Stags' Leap Merlot. Though not the same Stag's Leap vineyard that won the Judgment of Paris – note the different placement of the apostrophe – this Napa Valley vineyard is still a powerhouse, and delivered beautifully with its 2014 vintage. A well-structured wine, this is not a 100% Merlot, but rather a strong Merlot blend, with 86% of the varietal complemented by a touch of other reds, including Petit Syrah, Malbec, and Petit Verdot. In my opinion, Merlot is best when blended with other varietals, so I quite liked this wine. Aged for 16 months in 100% French oak, the Stags' Leap Merlot was a pleasant and expressive jammy red wine. Personally, I'd like to see bottles of this winery's superb Petit Syrah made available here in Malaysia. Their Merlot is nice indeed, but apart from sharing a very similar name to the Judgment of Paris winner, it's their multiple award-winning Petit Syrah that really propelled this Stags' Leap into the limelight.
Finally, we came to the true star of California – Cabernet Sauvignon. First up was a fruity 2015 Beaulieu Vineyards Cab Sauv. I was not a fan of this one, though many others found it to be very pleasant. I felt the residual sugars a bit too high for my liking, but if you like a slightly sweeter red wine, this one will delight you. Fairly well-balanced despite being very fruit-forward, this wine had a smooth mouthfeel with a relatively short finish.
The last wine we sampled – along with a dazzling 180g sirloin from the grill at Graze – was, for me, the standout among the reds, the 2012 Beringer Private Reserve Cabernet Sauvignon. A superb effort from the chaps at Beringer, this bottle blends 98% Cab Sauv grapes with 1% each of Cabernet Franc and Petit Verdot. Sourced from five different vineyards under the Beringer Estate, the grapes were pressed, the juice fermented, and the result aged for 18 months in new Nevers French Oak, then another 12 months in the bottle before going to market. A powerhouse of a wine at just under 15% ABV, the Private Reserve offers complexity, blackberries and plums on the nose and palate, and a hint of charred oak that led to a sufficiently long and dry finish. Well-developed tannins, lovely balance of acid and fruit, and just now beginning to enter its best drinkability, this is an easy-to-recommend Cabernet.
Kudos to the folks at Luen Heng F&B Sdn Bhd for bringing in such a range of California wines: a terrific variety of reds and whites from different wineries, different regions of California (including the renowned Napa Valley), and different price points. The range of wines we sampled are far from the only Californian wines they import – Luen Heng actually provides a fairly wide array of very nice Californian wines to retailers and F&B outlets throughout Greater KL, so keep an eye out and pick up a bottle to enjoy the best of the Golden State.



" ExpatGo welcomes and encourages comments, input, and divergent opinions. However, we kindly request that you use suitable language in your comments, and refrain from any sort of personal attack, hate speech, or disparaging rhetoric. Comments not in line with this are subject to removal from the site. "



Comments