In case you haven't realised, the holy month of Ramadhan is coming to an end soon. This Sunday, Muslims in Malaysia will complete their fasting month and usher in Hari Raya Aidilfitri in a grand manner. This happy occasion sees family and friends coming together to indulge on festive dishes like ketupat, lemang, and of course rendang.
However, Hari Raya Aidilfitri also means something else is coming to an end – Ramadhan bazaars. There's no dispute that we Malaysians love our Ramadhan bazaars. The one-month long food market sells some of the best classic Malay dishes. Although most of the dishes sold can be found throughout the year in Malaysia, there are a few exceptional ones that are found exclusively only during Ramadhan, and difficult to find at any other time of the year. Here's our list of these delectable dishes that come your way once a year.
1. Kuih Pelita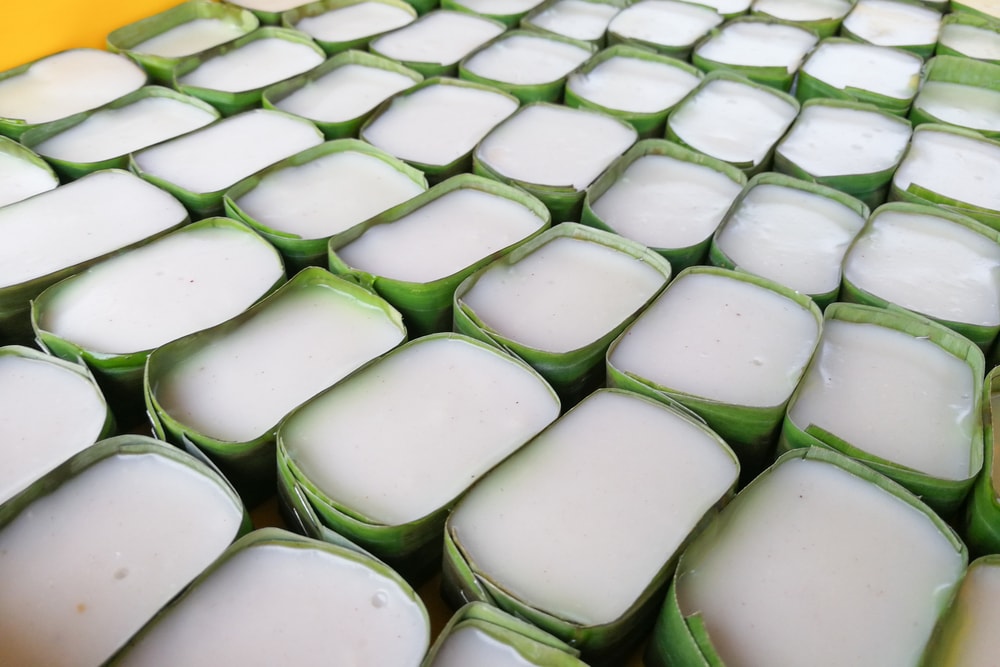 Kuih pelita, or also known as kuih tako, is a famous traditional Malay snack that has the perfect balance of sweetness and saltiness. Made of coconut milk, rice flour, and pandan (screwpine) leaves, the snack has two layers – the silky smooth white top layer and the springy green bottom layer. Both these contrasting textures complement each other wonderfully, making it a crowd's favourite in Ramadhan bazaars. Although these delicious treats can be commonly found in certain villages, in the city they are hard to come by unless you visit a bazaar.
2. Kambing/Ayam Golek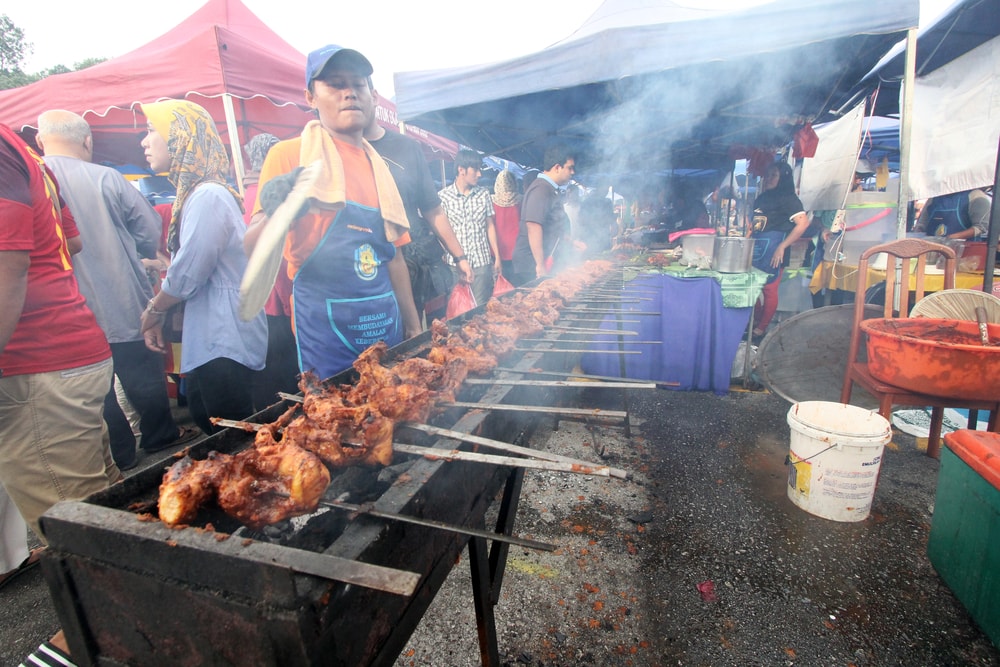 If you've been to a bazaar during Ramadhan before, you've almost certainly seen stalls that sell rotisserie chickens or whole goat/lamb. Cooked on a makeshift charcoal grill or a regular open-air grill, the dish is basically grilled meat basted with spiced coconut milk gravy. Quintessentially a Malaysian dish, the meat is tender and in terms of flavour, it has the best balance of spiciness and sweetness. So if you're someone who can't handle spicy food, then kambing or ayam golek is probably the best dish for you to start training your taste buds with rich spices.
3. Onde-Onde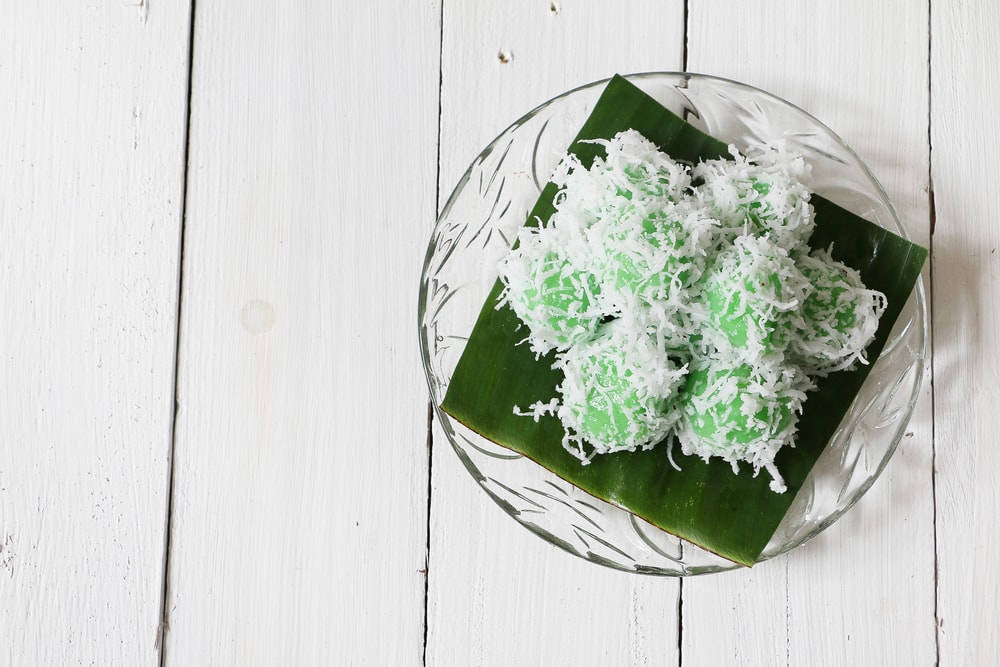 For those who've never eaten these little gems before, be prepared for a sweet burst of surprise when you bite into it. Also known as klepon, this is a traditional green-coloured ball of rice cake filled with liquid palm sugar and coated with grated coconut. It has a chewy and salty exterior but a sweet filling, making it quite an exciting eating experience.
Tip: In order to avoid spilling the sugar syrup all over yourself, it's best to eat it in one go.
4. Kek Batik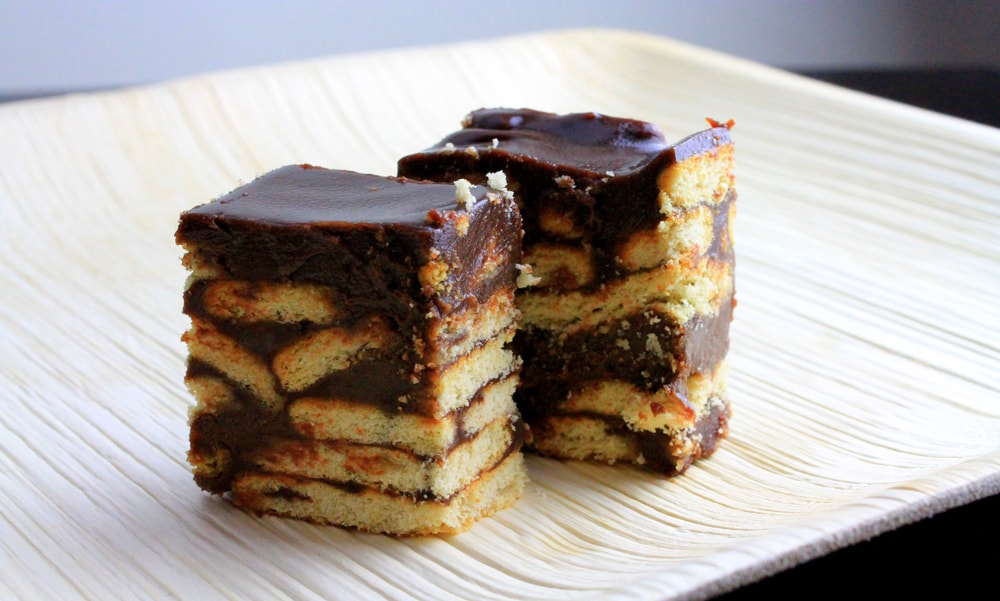 Besides savoury dishes, Ramadhan bazaars also have an array of sweet treats to offer, and one of them is the kek batik.  It is believed that this cake is originated from Sarawak and it's a must-have for many families in East Malaysia during the Hari Raya celebration. The name is derived from the batik-like pattern that you get when you slice into the cake. The reason why kek batik is so popular, aside from its delectable flavor, is that it is very easy to make and no baking is required. The basic ingredients to make this scrumptious treat include Marie biscuits, malt chocolate powder (think Milo), butter, and condensed milk.
5. Putu piring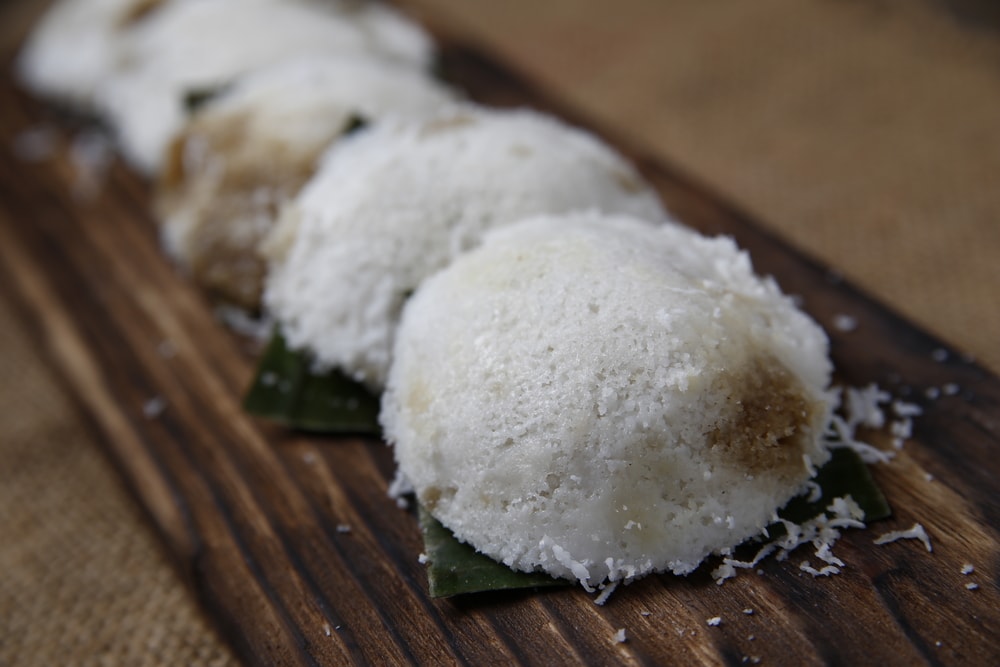 Putu piring is another coveted Ramadhan bazaar snack. It's basically a round, steamed rice cake filled with melted palm sugar and eaten with grated coconut, which adds a savoury punch to the sweet cake. Piring is the Malay word for saucer, probably a reference to the miniature plates that are used to cook the dish. Although the snack uses simple ingredients, it's not the easiest to make as you need to get the right texture of flour before steaming it. If the flour is too wet, you'll get a clumpy mess of rice flour with palm sugar, and if it's too dry, then you'll bite into something dry and unpleasant that crumbles immediately upon touch. Due to its complicated cooking method, putu piring is commonly found only in Ramadhan bazaars so do keep an eye for it the next time you visit one.
6. Assorted jellies
This is not particularly a Malay dessert, but in a Ramadhan bazaar, assorted jellies are highly in demand. Since it's a popular appetiser during the fasting month, many people opt to buy it as it's supposedly cooling for the body, apt for Malaysia's hot and humid weather. Vendors usually sell more than 20 types of jellies and they get extremely creative with their offerings, ranging from impossible patterns and shades. Some of the popular flavours include caramel jelly, kole kacang, agar-agar mutiara and jagung.
So there you have it – six food items that typically can be found only in Ramadhan bazaars. So, head out now and get yourself these items, or you'll have to wait for a year before sampling them again!



" ExpatGo welcomes and encourages comments, input, and divergent opinions. However, we kindly request that you use suitable language in your comments, and refrain from any sort of personal attack, hate speech, or disparaging rhetoric. Comments not in line with this are subject to removal from the site. "



Comments