So you've just been invited to a Chinese wedding and we have to say, you're in for a treat! Generally, Chinese weddings are extremely enjoyable. However, they can be slightly trickier than Malay or Indian weddings as there are certain traditions and superstitions that are observed. That said, it's still quite easy to follow through, even if it's your first time attending.
Here's a simple guide on how to attend Chinese weddings in a breeze:
The ceremony
Just like Malay weddings, Chinese weddings are also separated into two parts – the wedding ceremony during the day and the wedding banquet (reception) in the evening.  The morning event, which is the actual wedding ceremony, is usually conducted in private with only the family of the bride and groom in attendance.  Unless you're extremely close to the couple or you're a groomsman or bridesmaid, chances are you won't be invited for the ceremony, so it's wise to check your invitation before attending the wedding.
But, if you do get an invitation for the wedding ceremony, we can guarantee you it's a lot of fun. It starts very early in the morning when the groom and his men arrive at the bride's parents' house to pick up the bride. Here's where all the fun starts as the bridesmaids try to "prevent" the groom from seeing his bride with a series of enjoyable and entertaining games.
These games are unique to a Chinese wedding and are commonly known as 'heng tai' (groomsmen) games. They can range from extremely raunchy to downright humiliating such as waxing the groomsmen's leg hair off and being forced to drink a disgusting concoction. The more creative and embarrassing, the better!
Once the groom completes all the tasks set out for him or convinced the bridesmaids with some li shi (lucky money in a red pocket), he'll be finally allowed to see the love of his life.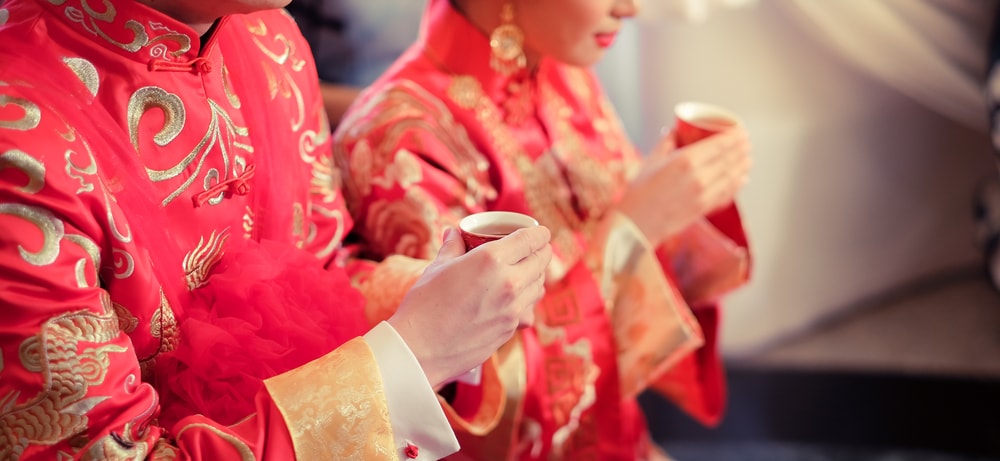 The couple will then make their way to the groom's house for the ceremonial prayers before commencing with the traditional tea ceremony, an official ritual to formally introduce the newlyweds to each other's family. This ceremony sees the couple serving tea to their older relatives, hand out li shi to the younger ones, and pose for some pictures with the guests.  After settling the ceremony on the groom's side, the bridal entourage will then travel back to the bride's side for another tea ceremony. With all the travelling involved, it is estimated that the wedding can last well into late afternoon.  In some cases, the tea ceremony is done at the bride's residence right after the groom picks her up before proceeding to the groom's place. This obviously can cut the time short, but it doesn't happen in all families.
As for the evening ceremony, it is typically an eight-course dinner held in a restaurant, hotel ballroom, country club, or community hall. Some couples invite hundreds of people to the dinner while some only invite a select few. So, do check your invitation card and see whose name is written on it. It's also probably not a good idea to bring extra people as there won't be seats for them. But, if you do want to bring someone along with you, it's advisable to inform the bride or groom beforehand so they can allocate a seat for your guest. Also, do RSVP your attendance in order to avoid unwanted surprises for the host on the event day itself.
What should I wear?
Since the bride will most probably be adorned in red, it's best to avoid this colour as you don't want to overshadow the bride. It's her big day after all. It's also worth mentioning that guests should avoid wearing white or black as these colours symbolise mourning and death. Besides these three colours, the sky is the limit for you. For ladies, evening gowns or cocktail dresses will be your safest bet. For the gents, a shirt and pants with a pair of nice shoes or you can go all dapper with a pair of suit and tie. Just don't arrive in something too casual like a T-shirt, jeans and sneakers as it is a formal function.
What should I bring?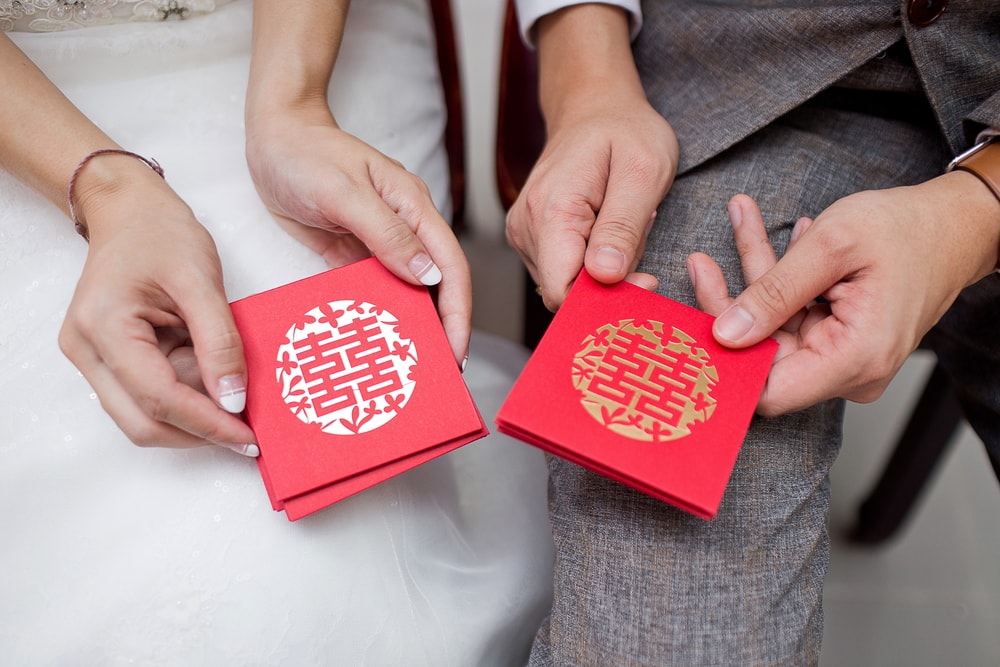 You're expected to bring an angpow (red envelope) as a wedding token for the couple and the amount is based on how close you are to the newlyweds and their family as well as how many people you bring to the reception. Besides that, the venue of the event also plays an important role in the amount that you should put in your angpow. So if the function is being held in a hotel, then you will obviously put a larger sum in the envelope. This might sound like a business deal, but do write your name on the envelope before handing over to the newlyweds as they will usually use that as a point of reference on how much to give to you when you get married, or when someone close to you gets married.
What should I do when I arrive?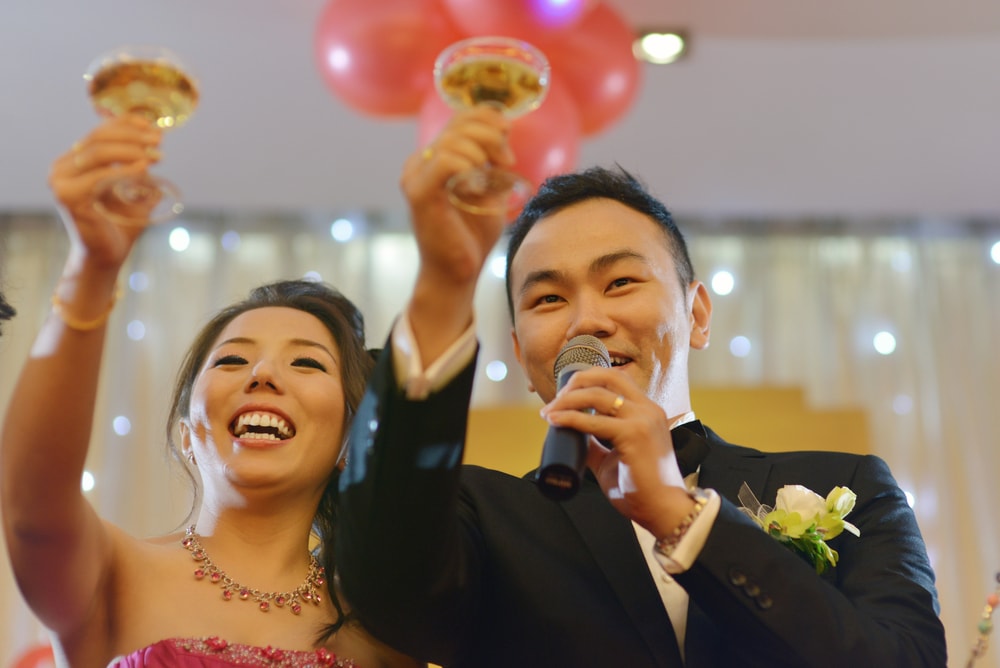 The wedding reception normally starts around 7 pm so once you've arrived at the destination, make your way to one of the guest ushers or the parents of the bridal couple. Congratulate them and hand over the angpow while doing so. You will then be ushered to your seat and soon will be served a decadent eight-course Chinese dinner.  There is also usually liquor, beer and wine served, but don't go overboard as it's seen as bad taste to be drunk at another person's wedding.
While at the event, do ensure that you move around and mingle with other guests while enjoying the performances and speeches that is put up for you. Karaoke singing is another common occurrence at Chinese wedding dinners so don't be alarmed if that's the case!
Since you're all dolled up, remember to take plenty of pictures with your friends and the newlyweds. If there's a photo booth, fully utilise that too!
As a whole, Chinese weddings are a fun and jovial affair that should be experienced by everyone. The next time you get invited to one, just let loose and enjoy yourself to the hilt!
---
"ExpatGo welcomes and encourages comments, input, and divergent opinions. However, we kindly request that you use suitable language in your comments, and refrain from any sort of personal attack, hate speech, or disparaging rhetoric. Comments not in line with this are subject to removal from the site. "
Comments