Since I last met Marisa Ng in 2015 to discuss her exhibition on figurative paintings done in charcoal, she has grown both as a person and an artist. Her latest exhibition, 'Ong', is starkly different from her previous works, with vivid colours, unique textures, and carefree strokes, proving she is a versatile artist in more ways than one.
On her third solo series, she says, "The motivation behind these works were to confront the sadness of knowing that my beloved grandmother, Ong Chiew Bee, has terminal colon cancer. We found out too late and this realization was devastating to us as we could not do anything about her illness. She also suffers from dementia. I love my grandmother very much and I am very close to her as she raised me since I was just a day old. Her life revolved around me, and now, mine revolves around hers. She lives with me and even sleeps in my bed."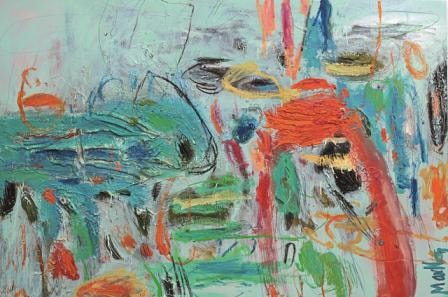 Marisa explains that this series is as much a tribute to her grandmother as it is a mode to raise awareness on dementia and early cancer detection. "When one suffers from dementia, they regress into an almost childlike state. This is why, as you can see in the paintings, the colours and patterns are childlike in nature. My grandmother has days where she throws tantrums just like a child and we cannot reason with her. However, just because someone has dementia it doesn't mean we should treat them any differently. We should still accept them and love them just as we would have without this condition."
Every painting is a depiction of a happy time in her grandmother's life, seen through her eyes. For example, the 'Happy Birthday' painting is particularly meaningful as a birthday is so much more auspicious in one's golden years. It was painted inspired by the memory of her 86th birthday in December.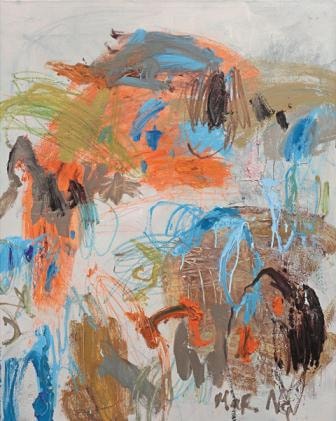 2016, a vibrant and joyful night that was filled with much laughter, where guests enjoyed a buffet made up of her grandmother's signature dishes such as asam laksa and nasi lemak. This painting is a reminder of that night and the hope that Marisa and her family will have the chance to celebrate many more birthdays of hers.
Marisa said she loves seeing how her grandmother's child-like behaviour allows her to connect more and enjoy the company of her 12-year-old son, Connor. "They sing, joke around, and even argue like kids sometimes. These moments make it easier knowing she might be leaving us very soon. All I want is to focus on making her as happy and comfortable with what little time we have left. My goal is to make her laugh every day, helped by Connor who is our in-house clown. Because of her love for me and Connor, and the countless things she's done for us, I also wanted to honour her for giving me the freedom to pursue my art. This is my Mother's Day tribute to her."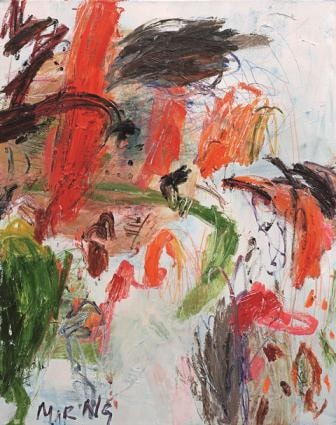 Raising awareness of early cancer detection is important to Marisa as she said she could have recognized the signs earlier if she was aware of them. "When a person is in their golden years, you need to watch out of signs that they may have a serious condition, not just symptoms of old age. We noticed her appetite deteriorating but we chalked it up to her aging. However, appetite loss is actually a common symptom of colon cancer."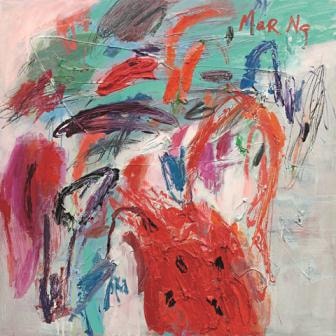 Marisa's abstract works were held at a recent exhibition at the National Visual Arts Gallery in Kuala Lumpur, curated by Tan Sei Hon. In the short book released for the event, he provided some insight on the appreciation and expression of abstract art in Malaysia, writing:
"Marisa is one of the few pure abstract painters in the local art scene. Contrary to popular misconception, abstract painters are a minority in Malaysia where the general public (including many art lovers) prefer representational/ realistic images as they can be easily understood when compared to the seemingly chaotic daubs, strokes, and splashes of colours that do not coalesce into recognizable forms or images.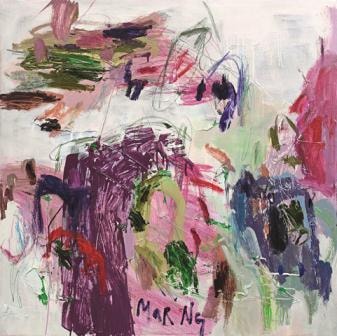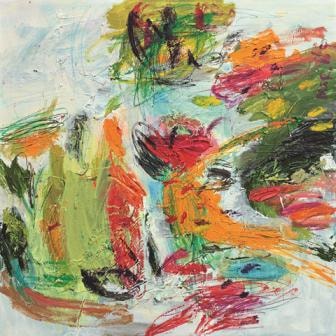 "As someone who is passionate about abstract art, I must point out that abstraction is not a mindless act of desecrating the surface of a canvas with paints, brushes or palette knives where layers upon layers of colours are callously applied without reason or forethought. Abstraction is a conscious, wilful act of rebellion in the visual arts to free the human spirit which had for too long been incarcerated in the body of representational art under the bondage of fossilized tradition inherited from the Renaissance."
Marisa adds that she hopes more Malaysians as well as visitors here will appreciate the complexities of abstract art and how it can invoke thought and emotion. Her successful 'Ong' series, which received plenty of attention from the media as well as from local visitors, some of whom were extremely moved and touched by the emotional landscape of the paintings, suggests she's already taken steps in the right direction.
For more information about the artist and her paintings, please contact [email protected]



" ExpatGo welcomes and encourages comments, input, and divergent opinions. However, we kindly request that you use suitable language in your comments, and refrain from any sort of personal attack, hate speech, or disparaging rhetoric. Comments not in line with this are subject to removal from the site. "



Comments