It's been almost a month since the Rainforest World Music Festival in Kuching and I find myself still longing to go back. The rainforest festival, as it's commonly called, is not a new thing – in fact, this is the 20th anniversary of the festival. And they have a lot to celebrate, for sure. The 20,000 strong crowd this year is a far cry from their first one in 1998 which only saw 300 attendees.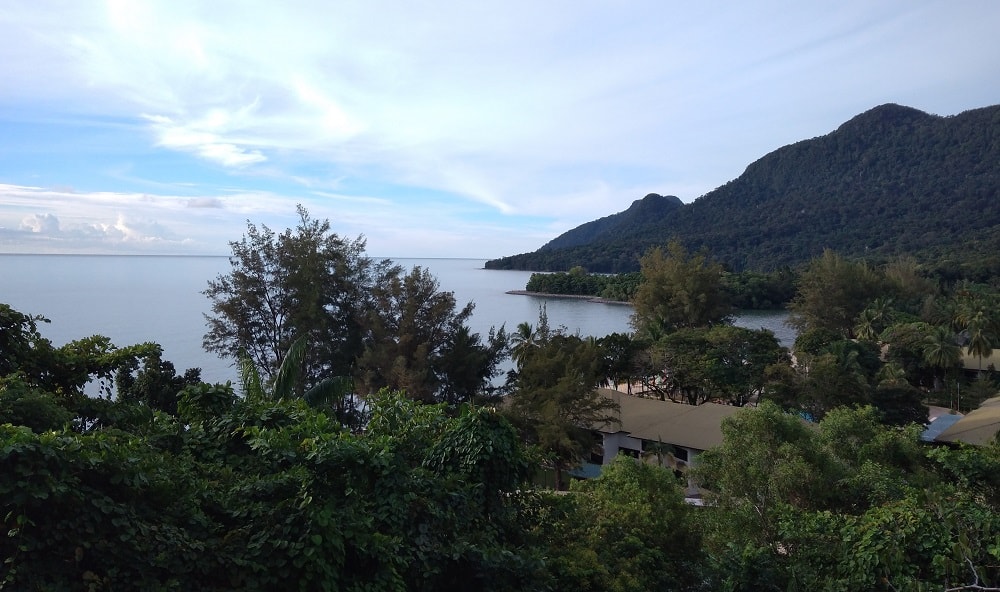 The festival, set inside the Sarawak Cultural Village just outside of Kuching City, is a celebration of all things traditional – whether in pure form or with a rejuvenating, contemporary twist, with music taking centre stage. Starting from about 12pm, you can already find performers from around the world banging on drums, blowing their flutes and strumming their guitars to both folksy and modern beats.
Being forewarned about the full programme, I decided to plan out my weekend so I can make the most of my time there. I'm glad I did.
The music
Due to the intense Malaysian heat, the early afternoon concerts were held in the air-conditioned theatre. Here, I saw Lan e Tuyang, a Sarawakian band with sape players and one of the last nose flutist left in Sarawak. I also saw Don Flemons from the USA furiously strumming his banjo and singing about fried chicken and the Taiwu Ancient Ballads Troupe from Taiwan who had the crowd on their feet by the end of their set. No phone quality video would have done them justice, so I didn't even try. And I highly recommend that you don't either. Just be there and enjoy the performance in its purest form. You will not regret it.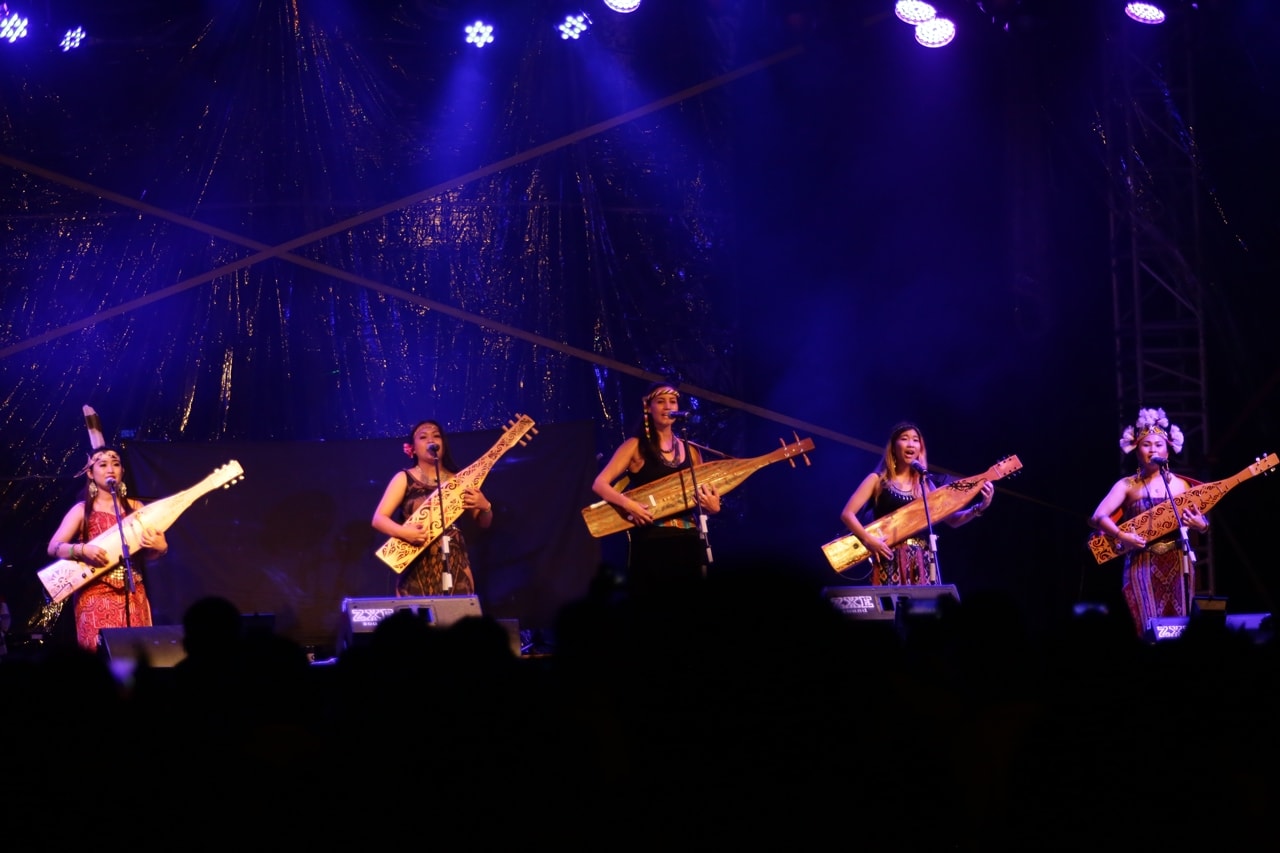 After the indoor-sessions, the concerts are moved to the main festival ground that boasts two stages: the main Jungle Stage, and the smaller Tree Stage just to right. Starting on the smaller stage, one act kicks off the party – on the first day, this was Sarawak's own all-female sape band, Ilu Leto – while the next band sets up on the other stage. As soon as the first band ends their set, the crowd rushes over to the other stage to catch the rousing performance from the next act.
On and on it goes; the crowd moving like a herd between the stages while bands from different parts of the world play their music, both traditional and contemporary, using instruments of their homeland. It's one of those magical moments that you'll probably only get at RWMF, watching the crowd ebb and flow between the stages, pumped up with so much energy that even the most stoic person wouldn't be able to help swaying from side to side.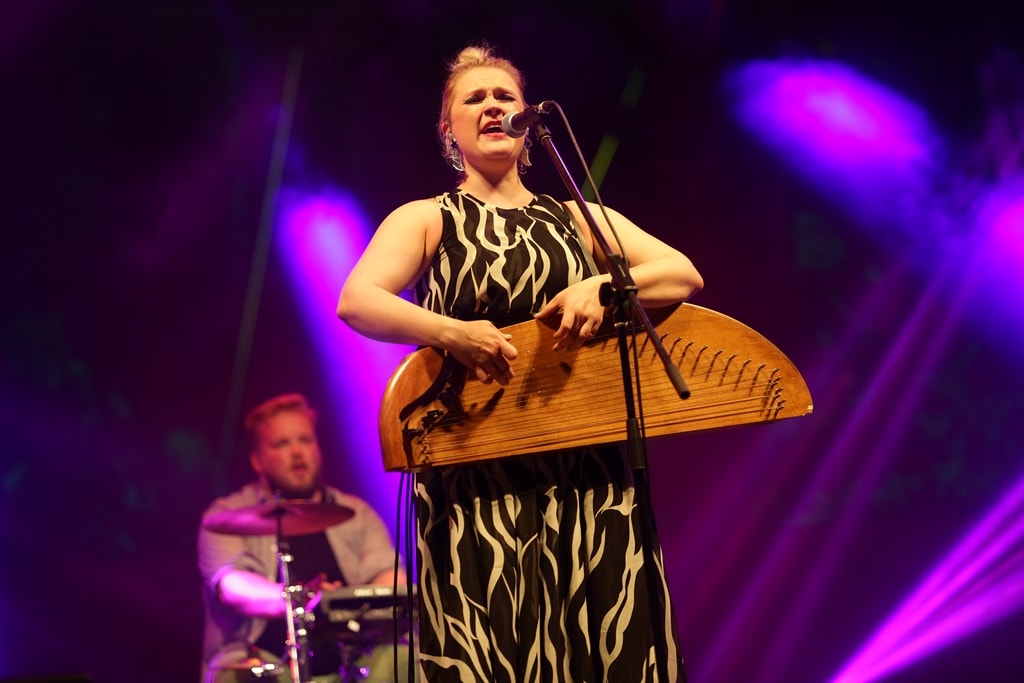 At the end of the day after the last note of music is played, every one headed back to their hotels to rest up for another day of the same excitement.
The culture
Walking around the cultural village – which is set up like a circuit of wooden walkways lined with traditional houses – I was greeted by happy, hippie-looking festival goers who were bright eyed with excitement for the day.
My first stop was a mini session on the dying tradition of ring ladies. These women wear brass and copper rings around their lower arms and legs as a symbol of beauty. Now in their 70s, the three ring ladies of the Iban tribe in Semban are possibly the only ones left who are living the tradition.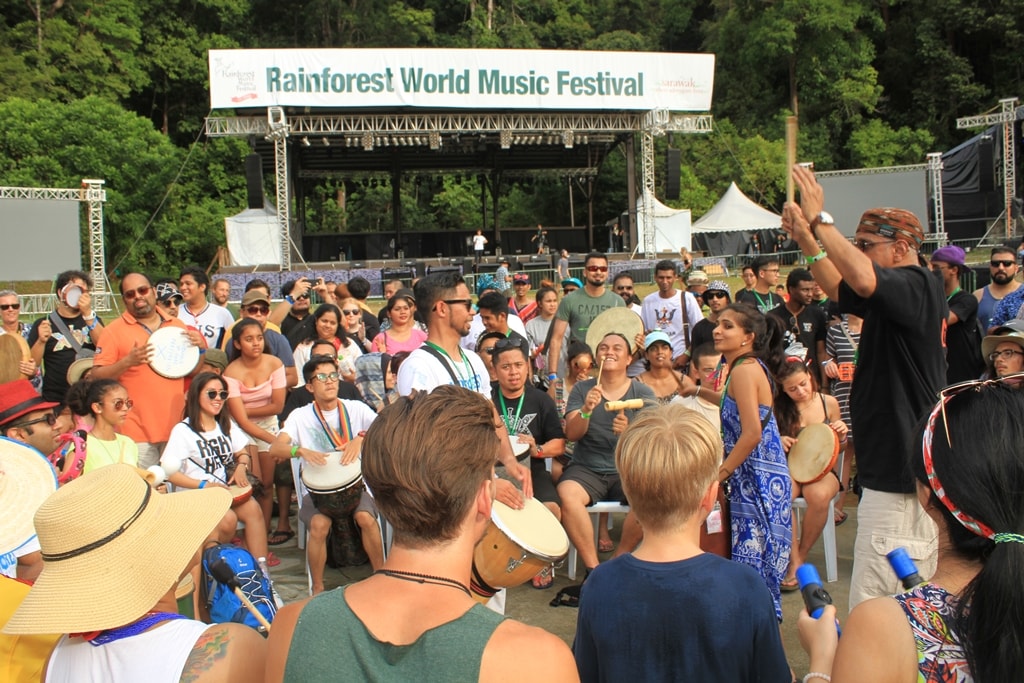 We were treated to a little talk the cultural significance behind the rings (beauty and status) and the ladies demonstrated a short traditional dance. Eventually, a bunch of local Iban women joined in, followed by the Portuguese dancers from Melaka who were to present at the next mini session. If I weren't so bad at dancing, I would've joined them!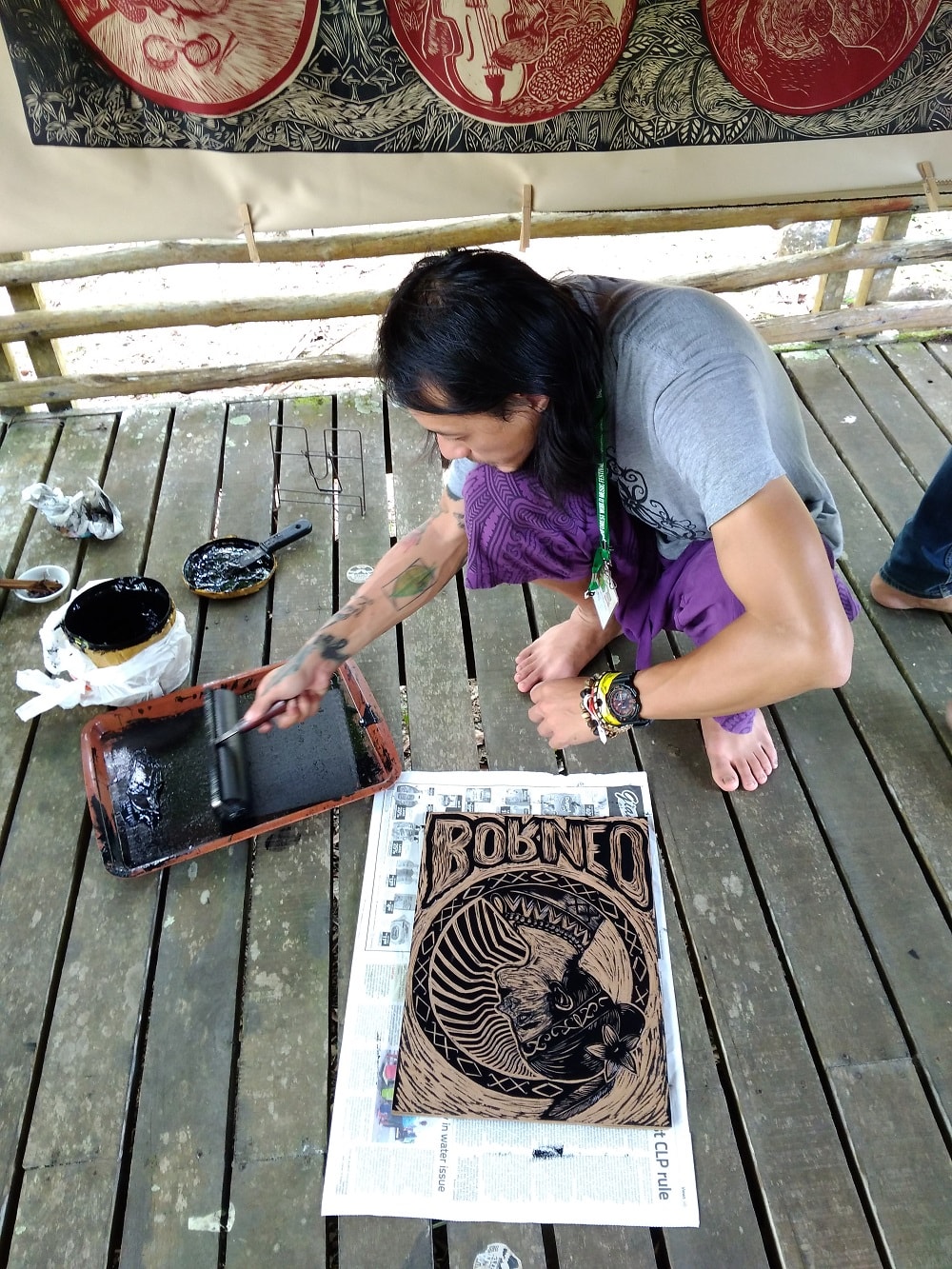 After this mini session, I decided to walk around a little more to kill time before the night concerts. I explored the craft bazaars where tourist were shopping for woven baskets, intricately beaded necklaces, batik paintings, traditional woodcut and ink printed t-shirts, tie-dyed apparel and so much more.
I also took some time to explore the traditional houses that weren't being used for festival sessions. First up was the impressively tall Orang Ulu longhouse that was accessible via a flight of regular wooden stairs and an intimidating log that had notches carved out of it as footholds.
It was steep and very scary to climb the log, especially with flip flops, but once I reached the top, the view was incredible. The entire village below was visible from the verandah.
It was the kind of view that you'd find on a really good stock photo – only this was real. I had a little Lion King moment, feeling like Simba did when Mufasa was showing him the kingdom.
After that spellbinding moment, I came across the Bidayuh round house which was occupied by a bunch of a tattooist who were set up for the festival, ready to tattoo eager inkheads. Walking around the festival, one common denominator among a majority of festival goers was the ink. Almost everyone had a tattoo, from small delicate flowers and butterflies to chunky tribal designs and colourful sleeves. There was even an elderly gentleman in his 60s, who was walking around shirtless, his body completely covered in tattoos right up to his neck. If you're a fan of body art, this is a good place to be. You can very easily strike up a conversation with a random stranger about their tattoos.
The people
That's another thing that made the entire experience quite memorable – the overall pleasant vibe and general approachability that everyone had going on. It's something that you don't see often in big cities or formal events. As I walked around the relatively small village, it was inevitable that I ended up walking past the same people, sometimes two or three times an hour. So I suppose it was only natural that I ended up smiling at complete strangers, shouting out a cheery 'hi' or 'you again!?' If you're a social butterfly, you would fit right in, flitting around the scene and making friends with just about everyone. And if you're a little more introverted like me, you'll be coaxed out of your shell a little by all the happy, friendly faces.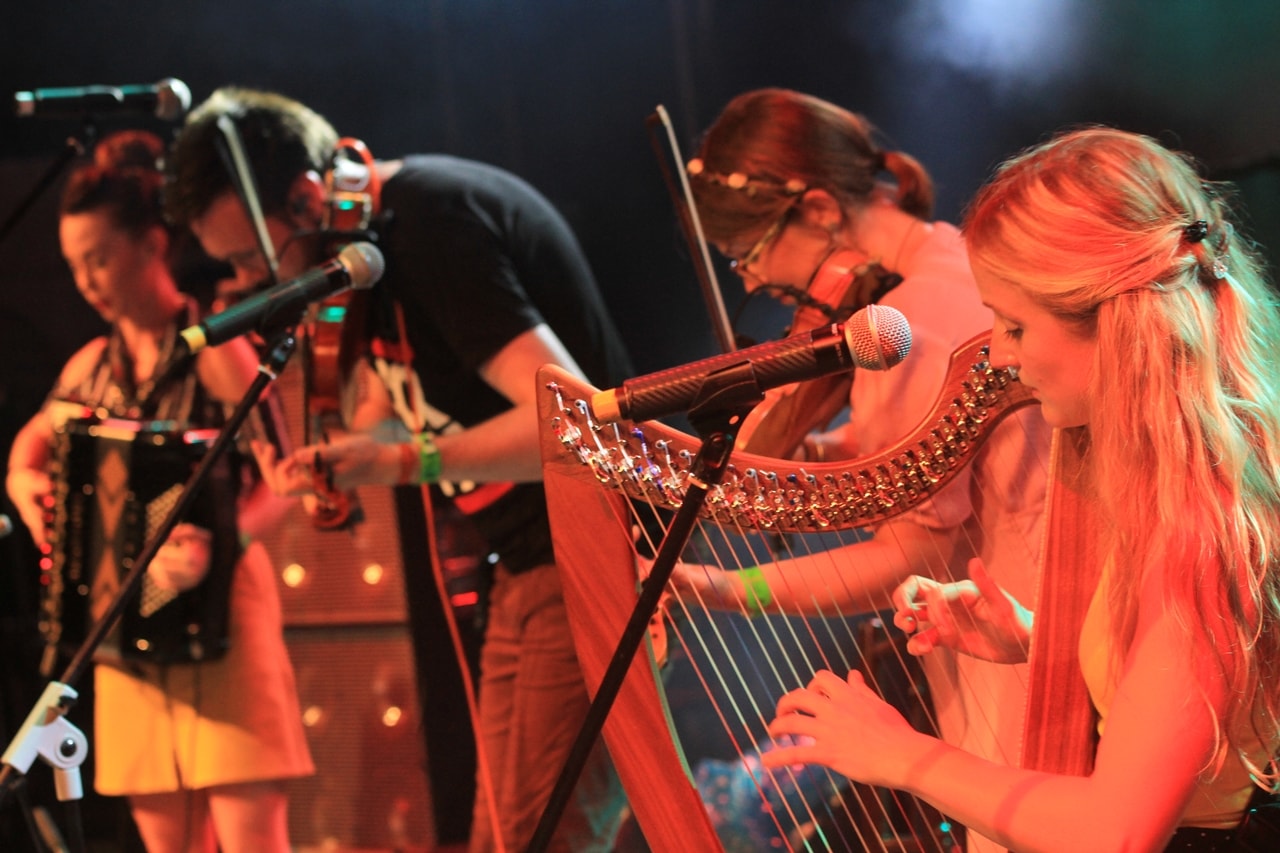 One memorable moment that will likely stay with me for a long time happened on the Saturday night when the skies unleashed buckets full of rain on us. Most people ran from the concert ground to the cover of the hall nearby while other more enthusiastic people stayed to enjoy the storm, dancing around and being generally merry while the musicians carried on, playing hard to be heard over the rain.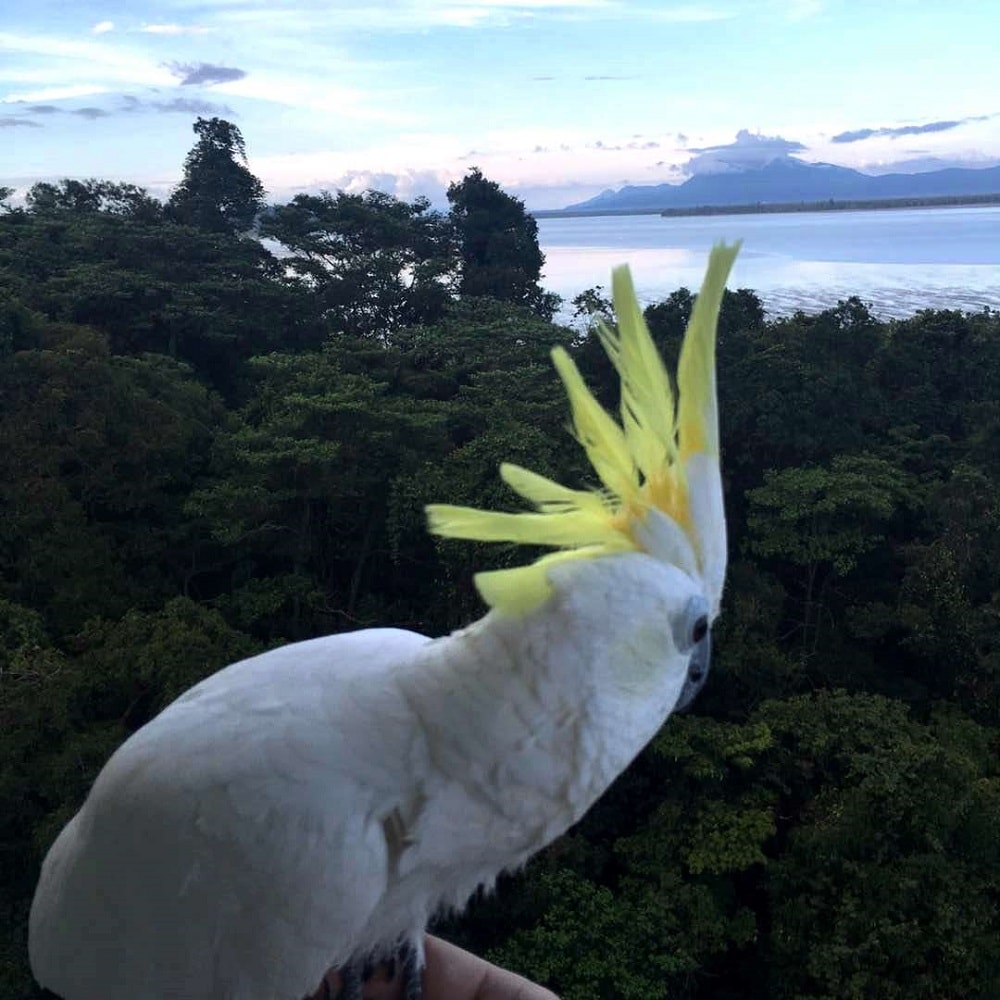 I decided to run for it, though. I'm not one for crowds and especially not crowds dancing in rain and mud. While I was squeezed into one corner of the hall (many people were moving in and out of the hall, trying to figure out how to stay dry on their way back to their hotels), I met a cockatoo called Marshmellow who was hanging out on her human's shoulder. It turns out Marshmellow really likes crowds, parties, and people watching.
After a little more shuffling around trying to stand somewhere higher up so that I could breathe fresh air (I'm short, so this is a challenge and it's another reasons why I don't like crowds), I managed to find a nice spot along a raised banister.
There I sat on the banister, listening to the Mongolian band Hanggai rip out some incredible rock songs using traditional instruments and having an interesting conversation with a photographer about work, life, music, tattoos, and everything in between.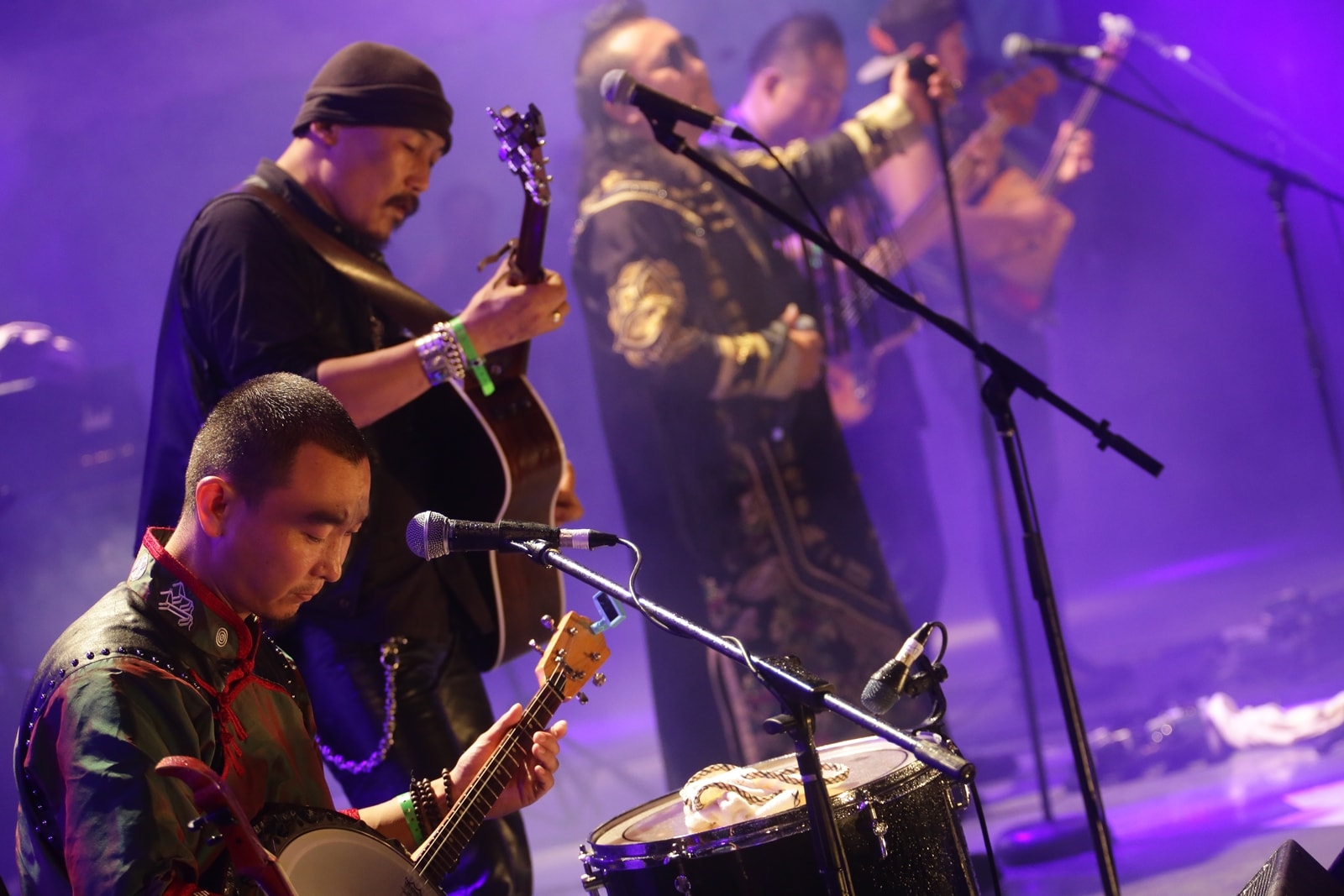 It was the kind of conversation I'd usually have with my girlfriends at 2am after six glasses of wine. But I guess waiting out the rain with a glass of beer in a room full of strangers and Mongolian throat singing in the background created the same kind of safe, cosy energy of a slumber party. It was easily my favourite part of the entire experience.
Mini concerts
One of the best parts of the Rainforest World Music Festival is undoubtedly the mini sessions I mentioned earlier. This is somewhat of a festival mainstay, and they have both cultural and musical mini sessions aimed to educate the public on various traditions from around the world.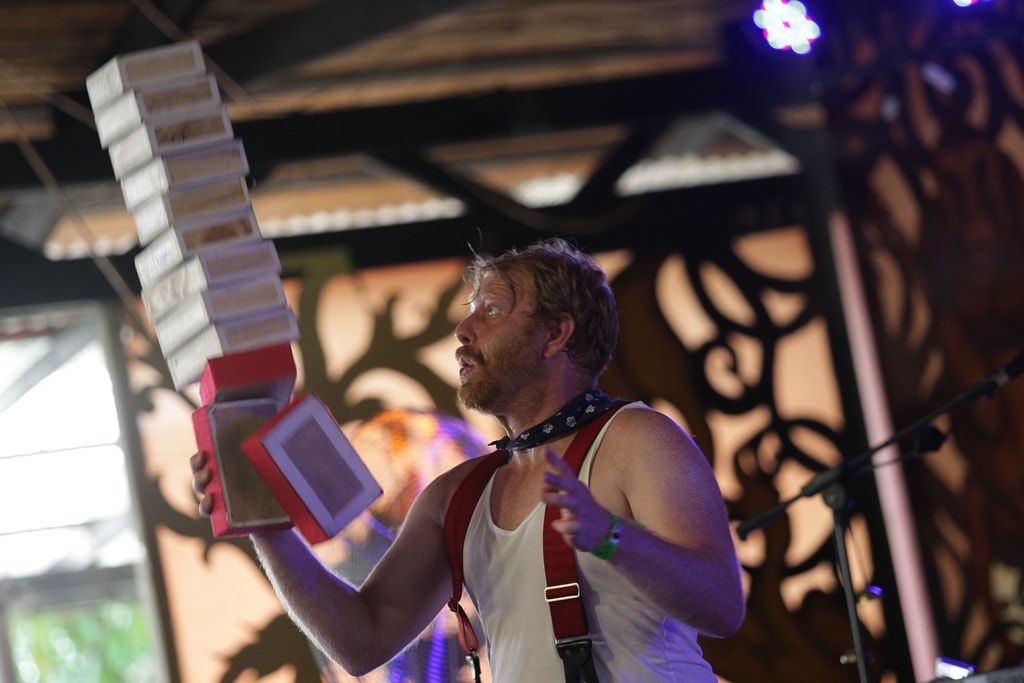 The session on the Ring Ladies was one such cultural mini session. However, on all three days, there were three mini sessions happening simultaneously in three different houses. So when I was learning about the Ring Ladies, I missed two other sessions: one on drums and another on keyboards. From across the walkway, I could hear the exciting drum session that I was missing. So after that, I was determined to attend a couple of musical mini sessions before the weekend was over.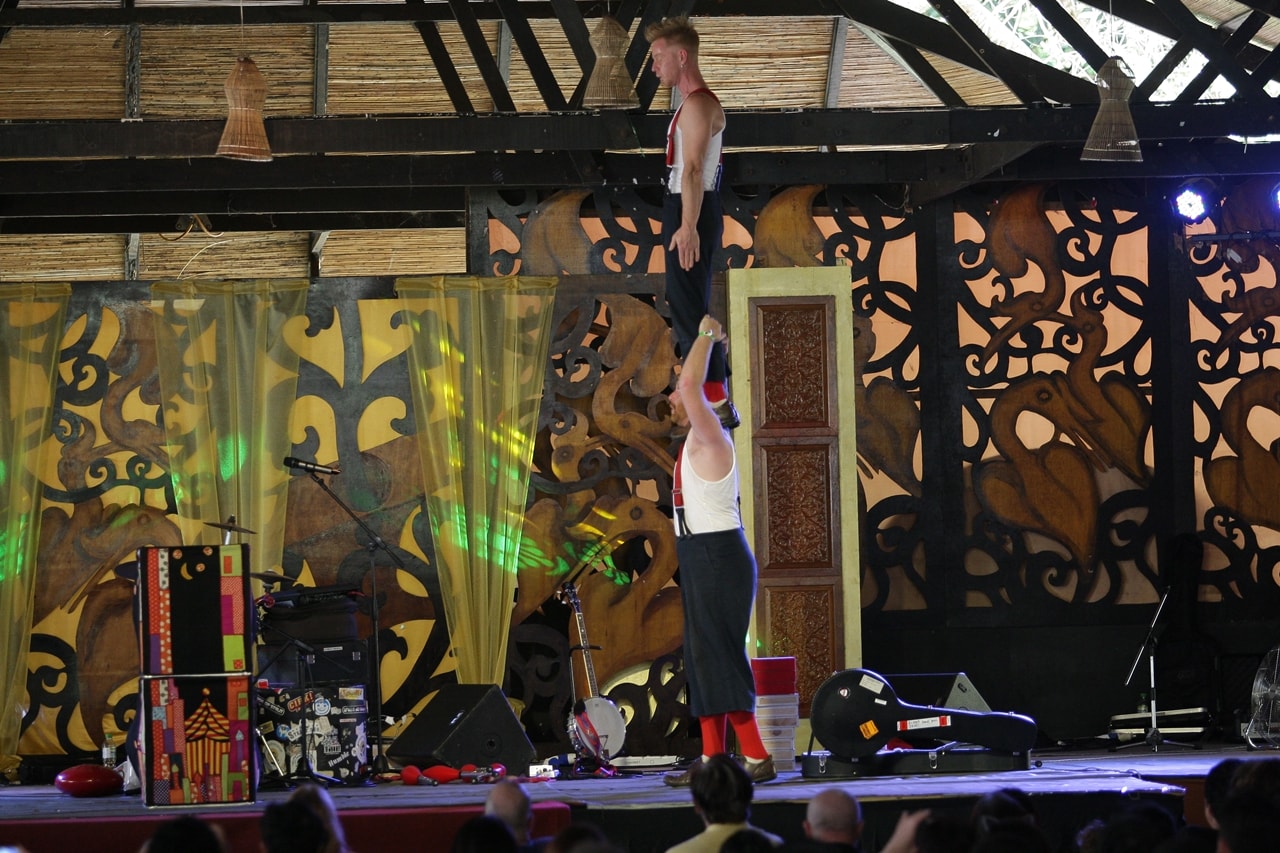 One of the sessions was a performance by a band of travelling musical clowns called The Chipolatas. The three-piece band consisted of a an accordion player who looked like Ricky Gervais, a drummer who looked like Bono, and a banjo player/juggler who reminded me of an older, chubbier Ed Sheeran. Together, they made eclectic sounding music with messages on conscientiousness and unity while the juggler threw around some balls and clubs with incredible dexterity. The energy in the room was palpable and everyone was enchanted by their exuberance. The Chipolatas received a standing ovation for their first performance of the weekend and it was truly well-deserved.
Musical and educational mini sessions
The other two mini sessions I attended were more educational in nature. The first was a gathering of all wind instrumentalists from the various bands with their traditional flutes, bagpipes, horns, as well as other instruments that I had never heard of before like a massive mouth organ called Daegeum from Korea and something called Amnehuur from China.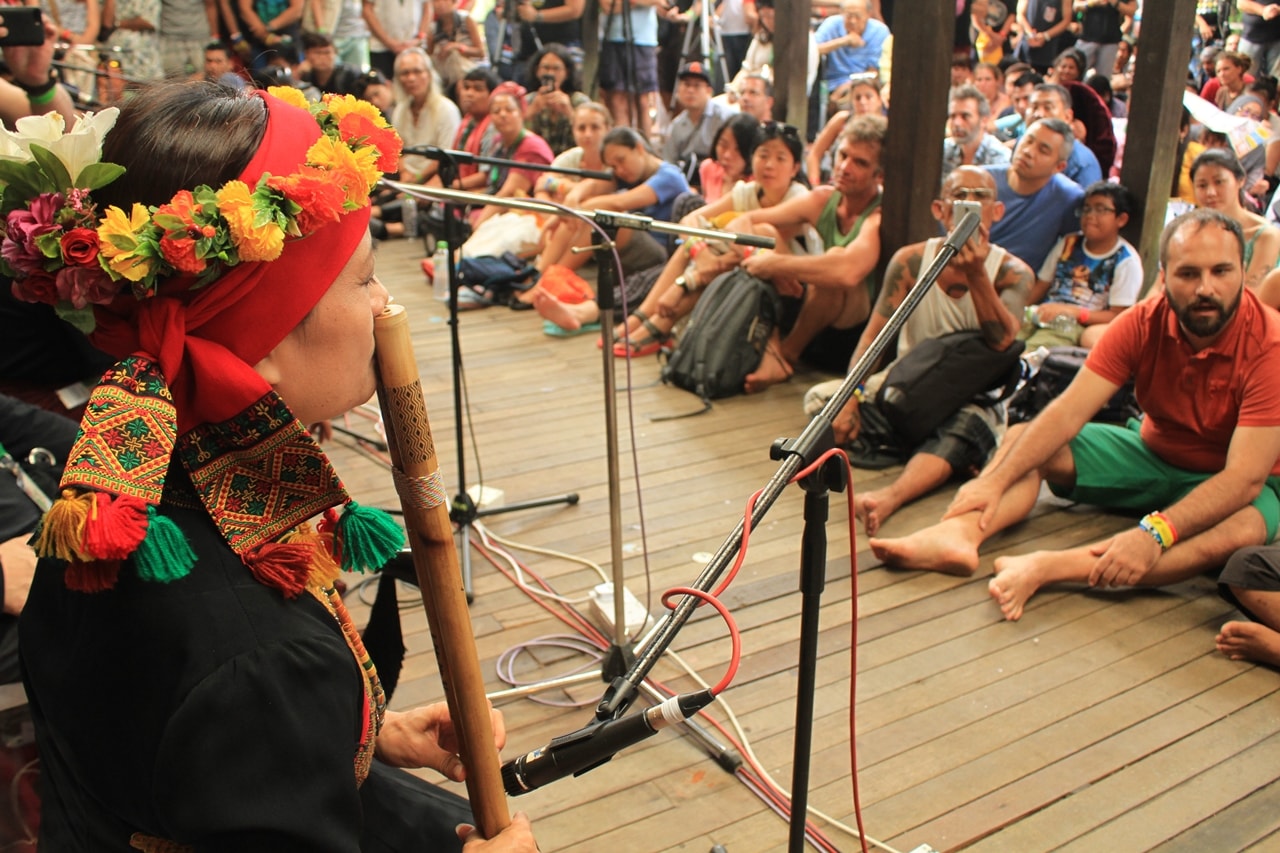 The 12 musicians each gave the audience a little snippet on the history of their traditional instruments followed by a quick little tune to show us what it sounds like. The experience was quite magical since it was a small, cosy setting with the audience sitting on the floor only a couple of feet away from the line-up of musicians. I was sat right in front of the bagpipe player from the Welsh band, Calan!
In this session, the most surprising instrument was the Amnehuur which was introduced to us by Huriza from the band Hanggai. The small, unassuming wind instrument – which looks like a wooden semicircle – produced a loud, almost electronic sound that it surprised every single person in the house! The moment Huriza played the first note, there was a collective from gasp from the audience and other musicians. Huriza played us a little pop-rock sounding tune that I would have sworn sounded like it was cooked up using a synthesiser in a modern studio. Needless to say, I have Hanggai on my Spotify playlist now.
Just before the session ended, the musicians tried to make a little 'world music' together. I say 'try' because it wasn't as melodic as I think everyone was hoping it would be. I think harmonising 12 wind instruments, all with different keys and chords, was quite a challenge. The musicians seemed to quite enjoy just making noise though, which was fun to watch. The string instrument mini session fared a little better with their world music bit which was very nice to hear.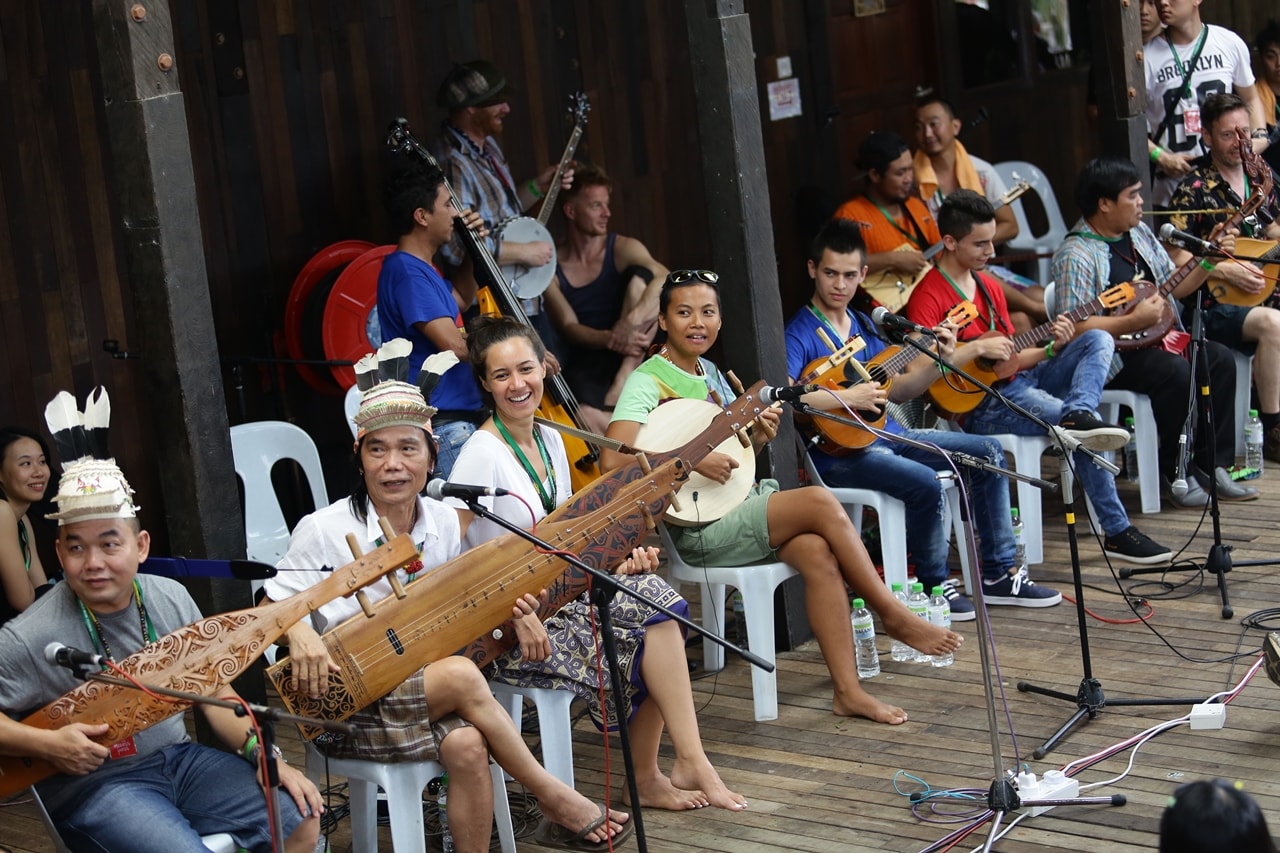 In hindsight, I should have attended more musical mini sessions as these were one of the best things on the programme during the whole shindig. But still, the entire experience wouldn't have been half as enjoyable if not for the cheerful crowd and good planning by the organisers.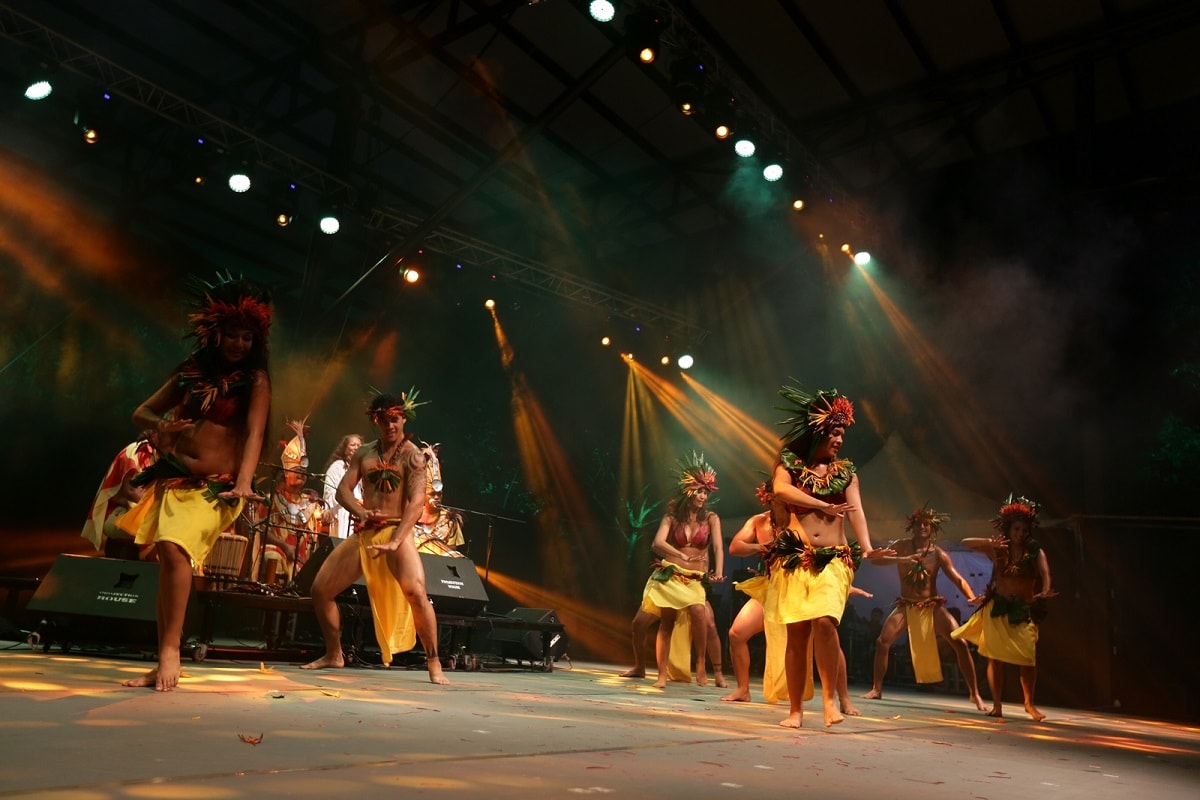 I'm a music festival noob, having never attended one before so I arrived with little to no expectations. I had no idea that I was about to experience the best RWMF to date and I did not realise that my first music festival would set the bar so high that I'll probably not enjoy any future music fest as much as this. The music was brilliant on all three days and the conversations I had really made the festival memorable for me. I can't wait to do it all over again next year!
---
"ExpatGo welcomes and encourages comments, input, and divergent opinions. However, we kindly request that you use suitable language in your comments, and refrain from any sort of personal attack, hate speech, or disparaging rhetoric. Comments not in line with this are subject to removal from the site. "
Comments