No matter how many different topics of conversation you go through in Malaysia, you will eventually end up talking about food at some point. In my experience, many conversations tend to begin with the very simple but effective, 'dah makan?' (have you eaten?)
If you've been here long enough, you already know about the range of delicious savoury dishes in Malaysia, from nasi lemak to char kuay teow, nasi kerabu, rendang, soto, roti canai – I could go on and on.
This time, we'd like to focus on some of the best sweet treats of Malaysia that will satisfy anyone with a sweet tooth. Warning: There will be plenty of coconut milk and gula melaka (coconut palm sugar) mentions coming up. We Malaysians really love our fat and sugar.
1. Sago Gula Melaka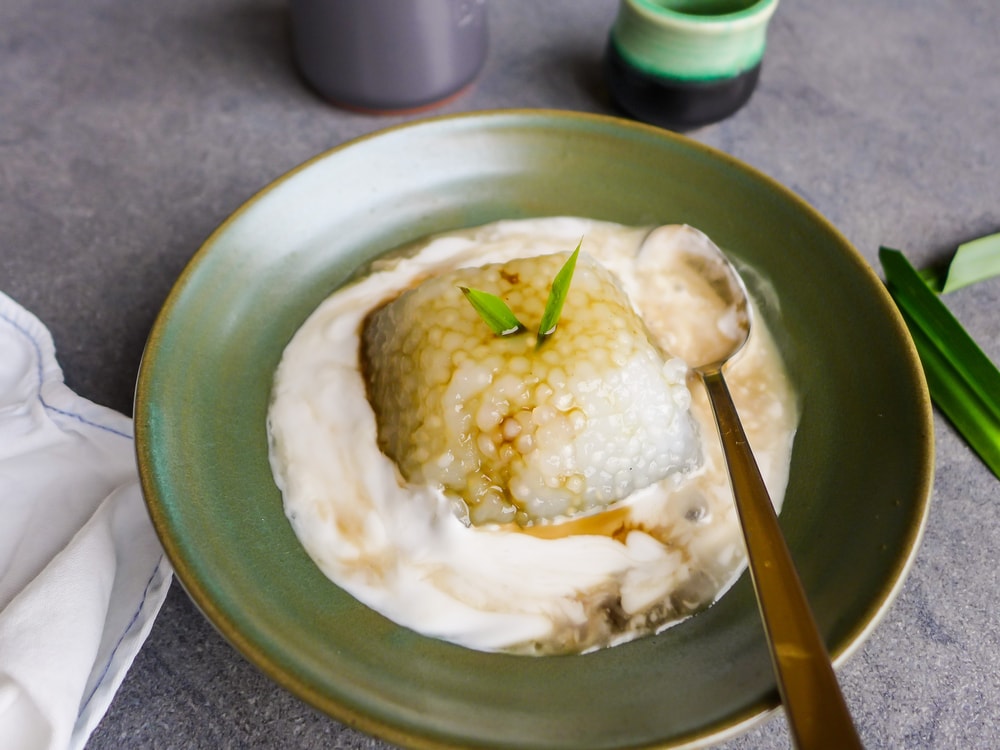 Kicking off with my personal favourite, the Sago Gula Melaka is a dish of chewy sago pearls served with thick coconut cream and a generous splash of melted gula Melaka. This simple dish disguises a flavour bomb courtesy of the salty coconut and sweet, earthy gula Melaka. And though it may seem simple, this is one dish that is difficult to get right. Some places take a shortcut by using melted date palm sugar instead of authentic gula Melaka, they dilute the coconut cream, and sometimes even overcook the sago pearls.
Where to find?
In my experience, the best places to find deliciously made Sago Gula Melaka is at Nyonya restaurants. Bibisik in One City, USJ serves a decent bowl of this with a sprinkle of pomegranate seeds for texture and brightness. Another great place that gets this dish right is Limapulo: Baba Can Cook on Jalan Doraisamy in KL.
2. Cendol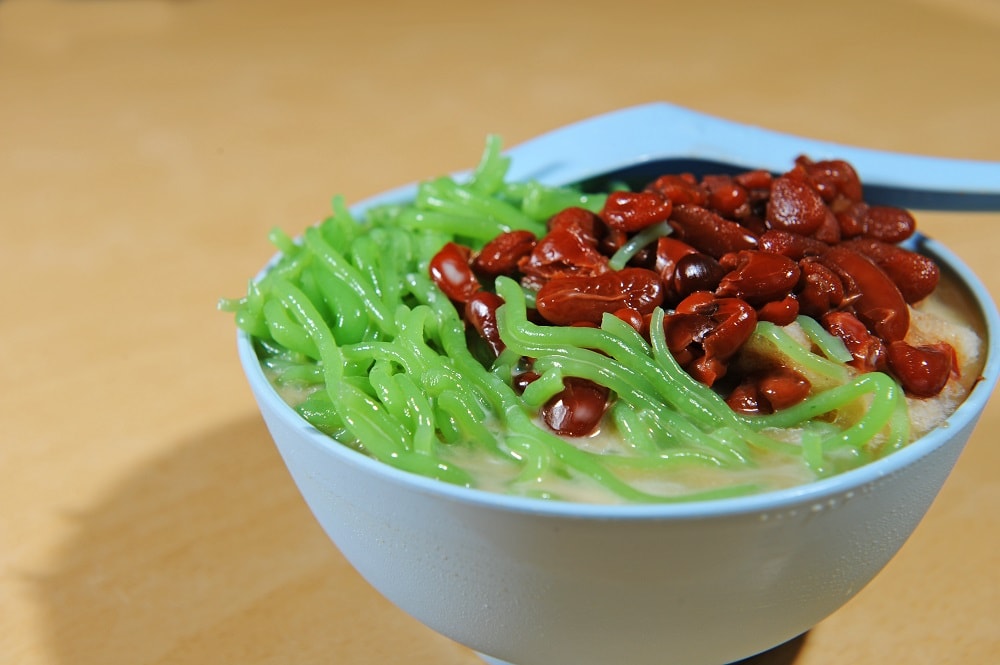 This second dessert needs no introduction. Both locals and tourists rave about cendol and with good reason. The green pandan flavoured cendol 'noodles' are the crowning glory of this dish, usually served with coconut cream/milk, melted gula Melaka, kidney beans, an a heap of shaved ice. In some stalls, you can even find speciality cendols like durian cendol, jackfruit cendol, and even oreo cendol for adventurous diners. Many people have their favourite cendol vendors so you can ask three people where the best cendol is and get three completely different answers.
Where to find?
Melaka and Penang are two places where you can find cendol that most people will agree are winners. In Penang, Lebuh Kwen Kee is where you can find the Penang Road Famous Teow Chew Chendul stall. Our tip would be to skip the long lines at that stall and try the one directly opposite it instead. The flavours are slightly better and you can avoid the queue.
In Melaka, look for Aunty Koh's cendol – she serves it in a little stall just inside her compound only on weekends and she usually sells out by 12pm, so you'll have to be quick.
Although these two places are known for their cendol, Klang Valley has some good choices too to get your fix of delicious and refreshing cendol. Penang Road Famous Teochew Chendul has expanded their brand into little cafes around KL and Selangor, mainly in malls. While not as good as the original stall, you can still get a taste of the classic Penang cendol. Sulaiman's Famous Cendol & Rojak in Pudu Market also serves great cendol.
3. Pandan Cake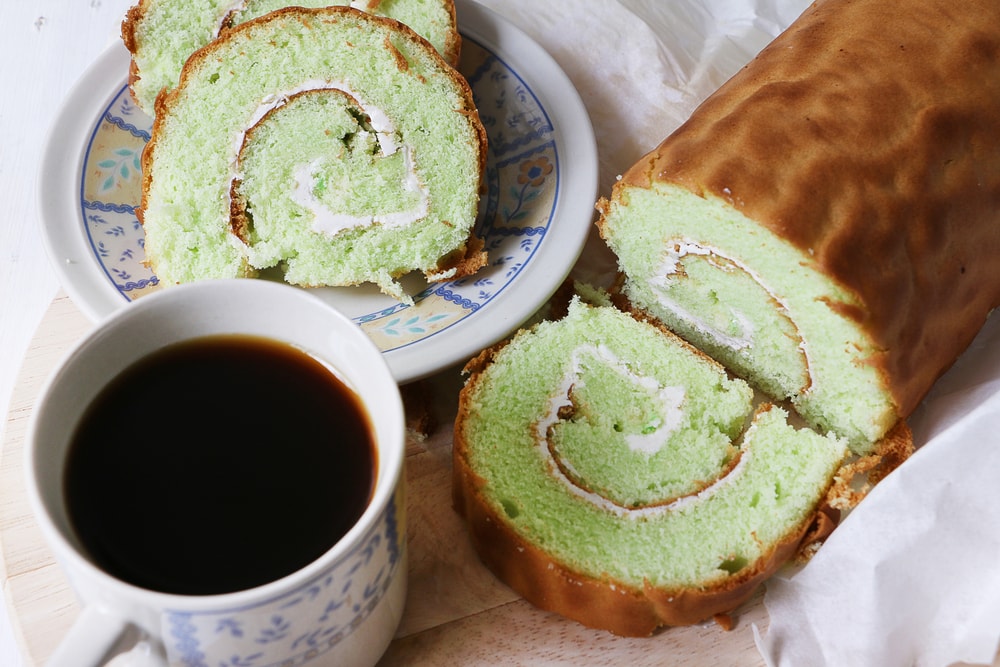 Pandan (screwpine leaves) cakes is another of those simple yet comforting desserts. The light green chiffon sponge is airy, pandan-y, and super tasty. It was the staple snack of my childhood and I'm sure many other Malaysians as well. Some pandan cakes can be a little bitter from the use of too much green food colouring but if you spot the right kind made with actual pandan, you'll understand why this humble cake made the list. If you like your cakes with some cream, you can try the pandan swiss rolls which will give you a similar flavour.
Where to find?
Small, independent bakeries tend of have pandan Swiss rolls, while kopitiams selling snacks might have the classic pandan chiffon cake. For this, you can try Chung Hee Coffee Shop in Lucky Garden, Bangsar.
4. Ais Kacang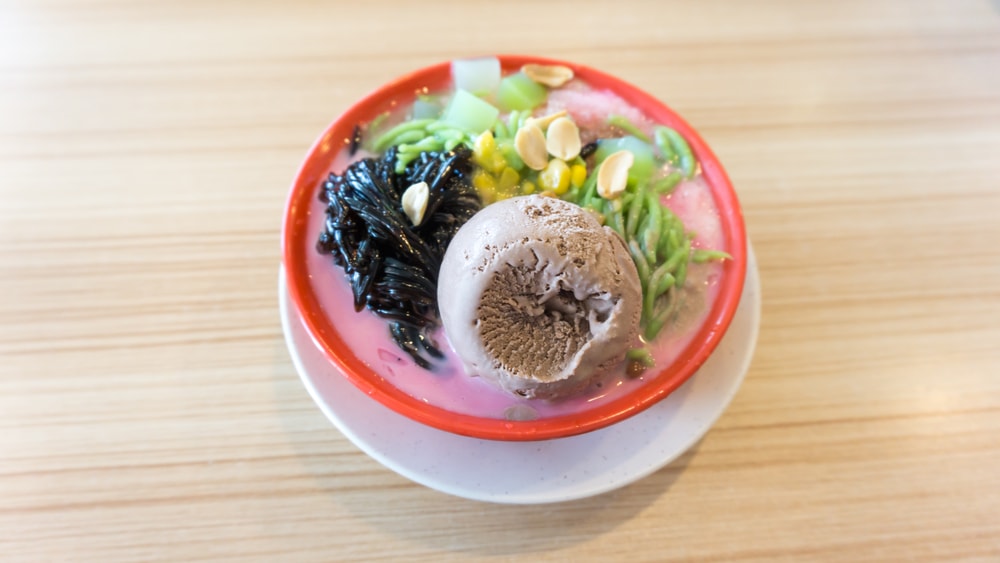 Another icy dessert that's great at any time of the day, especially during the Malaysian summer is ais kacang, also fondly known as ABC which stands for Ais Batu Campur (mixed ice). This dessert comes with kidney beans, an assortment of jellies, sweet corn, topped with shaved iced, evaporated milk, rose syrup, and melted palm sugar (or gula Melaka). Some places even include roasted peanuts, cendol 'noodles' and ice cream, so this dish is actually highly customizable. You can ask the maker to leave out the things you don't like and add more of what you do like. Similar to the cendol, many stalls will have their own special bits and pieces in the ais kacang.
Where to find?
This is one dish that you can find in most hawker centres and food courts and they're mostly decent.
5. Kek Lapis Sarawak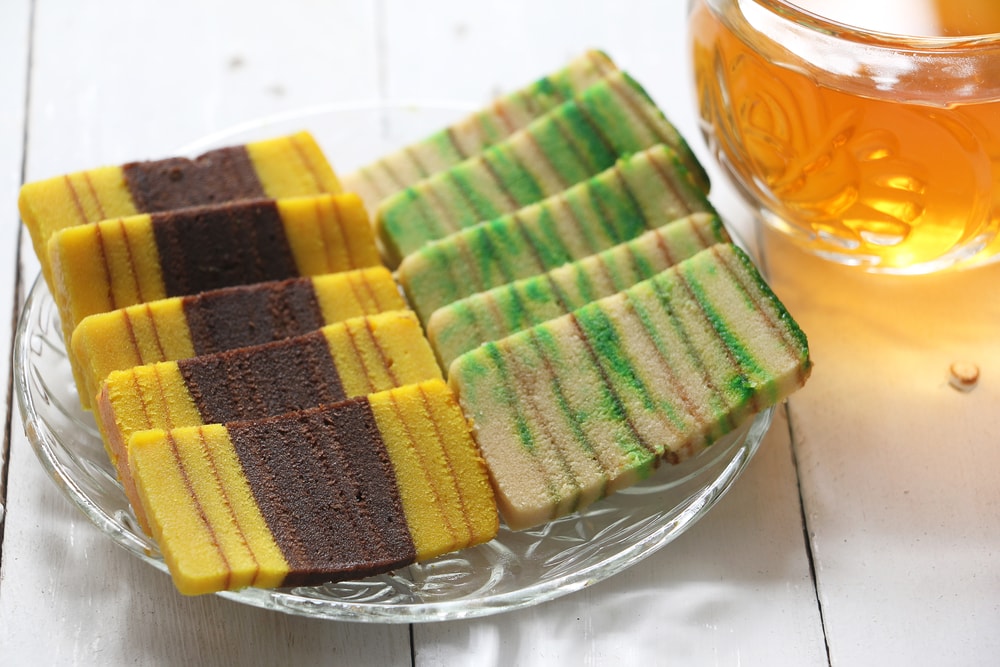 Not to be confused with kuih lapis, Kek Lapis Sarawak, a.k.a Sarawak Layer Cake is a spiced cake that is grilled one layer at a time with each layer being a different colour, building up to a complete cake. The classic Kek Lapis is flavoured with a special spice mix but nowadays you can find kek lapis is a multitude of other flavours including chocolate, almonds, green tea, berries, and cheese.
Where to find?
You can find this very easily in Sarawak markets and supermarkets. If you're anywhere else in the world, you can also buy these online from several Sarawak-based bakeries and have them delivered to you instead. Try Firdauz Patisserie and Mira Cake House.
6. Nyonya Kuih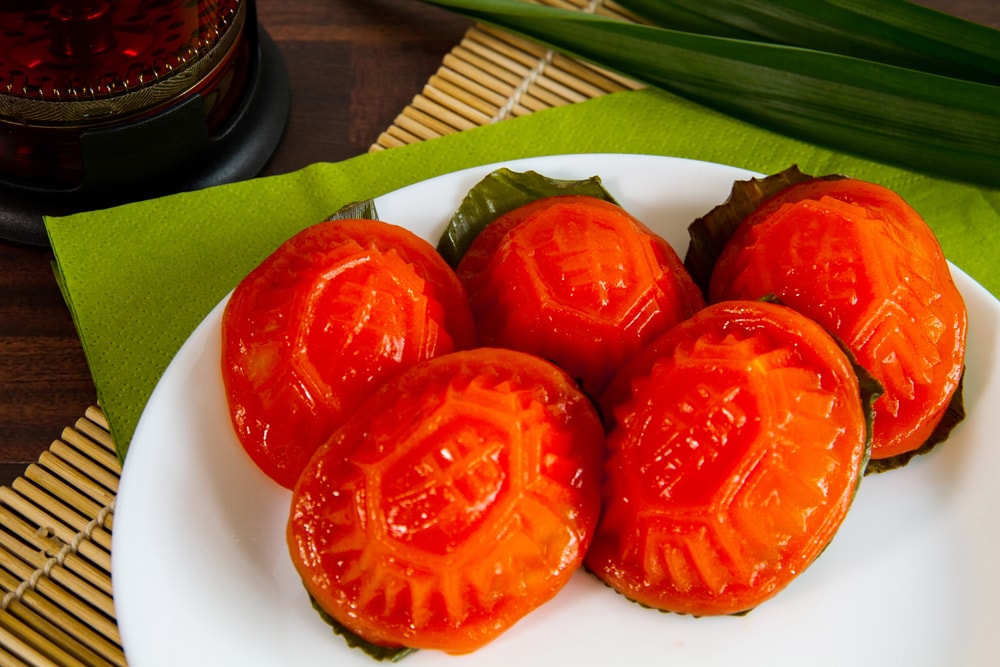 Nyonya kuihs are undoubtedly the best types of kuihs in Malaysia. Kuih is a broad Malay word to describe traditional cakes. The Nyonyas in Penang and Melaka will have their own variations of some of these kuihs, but both are perfectly delicious. Someone also eaten as a tea time snack, the most popular and easily available kuihs are the pulut tekan (glutinous rice served with kaya), kuih serimuka (a layar of coconut pandan jelly over sticky glutinous rice), kuih angku, and kuih bingka.
Where to find?
During Ramadhan, you'll be able to find Nyonya kuihs in nearly every bazaar. However, if you're craving these on any other time of year, you can try Nyonya Colours which is in several malls.
7. Apam Balik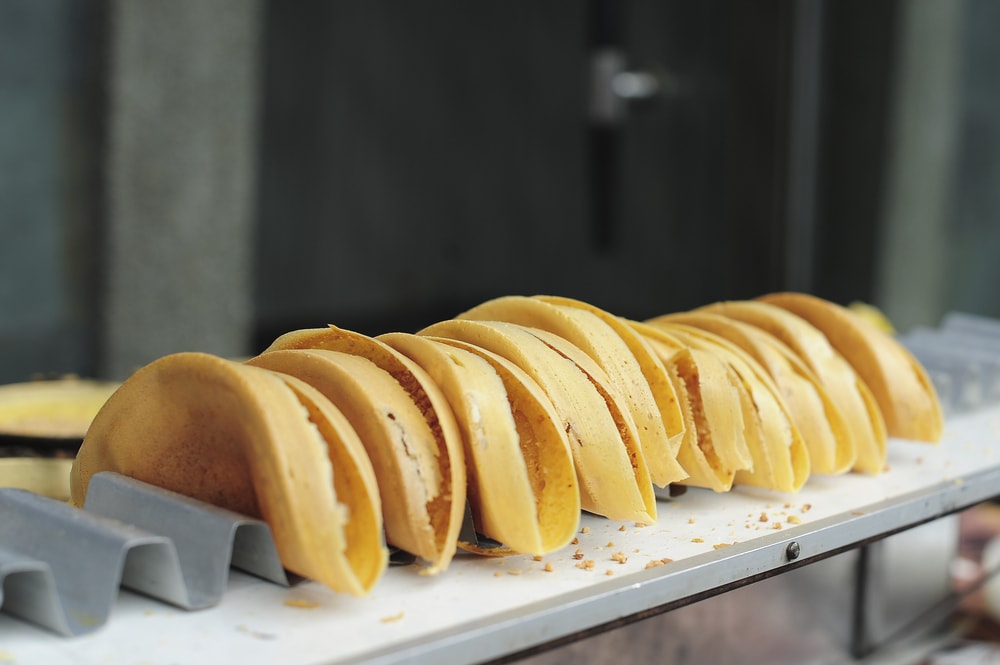 Apam balik (turnover pancake) is the Malaysian version of Indonesian martabak. These are Asian style pancakes filled with crushed peanuts and sometimes corn. Apam balik is a staple in nearly every night market in Malaysia and you can get them in various sizes. The standard thick apam balik have a soft, slightly cakey centre while the thinner, crisp versions are crunchy and sweet. They make a great dessert after a heavy meal of curries – at least, I think so!
Where to find?
Night markets are the best place to find apam balik. Also keep and eye out as you drive around neighbourhoods – you can find roadside stalls selling these as well, usually in the evenings.
8. Tau Fu Fa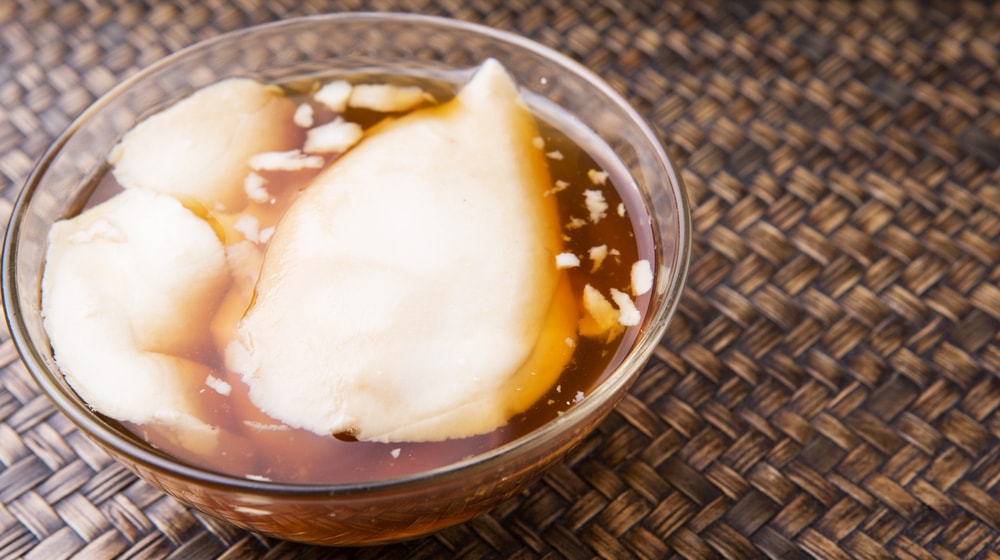 This is a popular dish in Singapore as well. It's made from steamed soy bean curds served with melted sugar, either brown or white. Another deceptively simple dish, this one can unusually be found in night markets or by street-side vendors selling homemade soybean milk.
Where to find?
Night markets and Chinese kopitiams! Also, during the afternoon near busy shoplot areas, you may see a 'food truck' selling this along with fresh soybean milk. Once such food truck is the Jenny Hong Soya Bean on Jalan Haji Openg, Taman Tun Dr Ismail.
9. Sweet Apam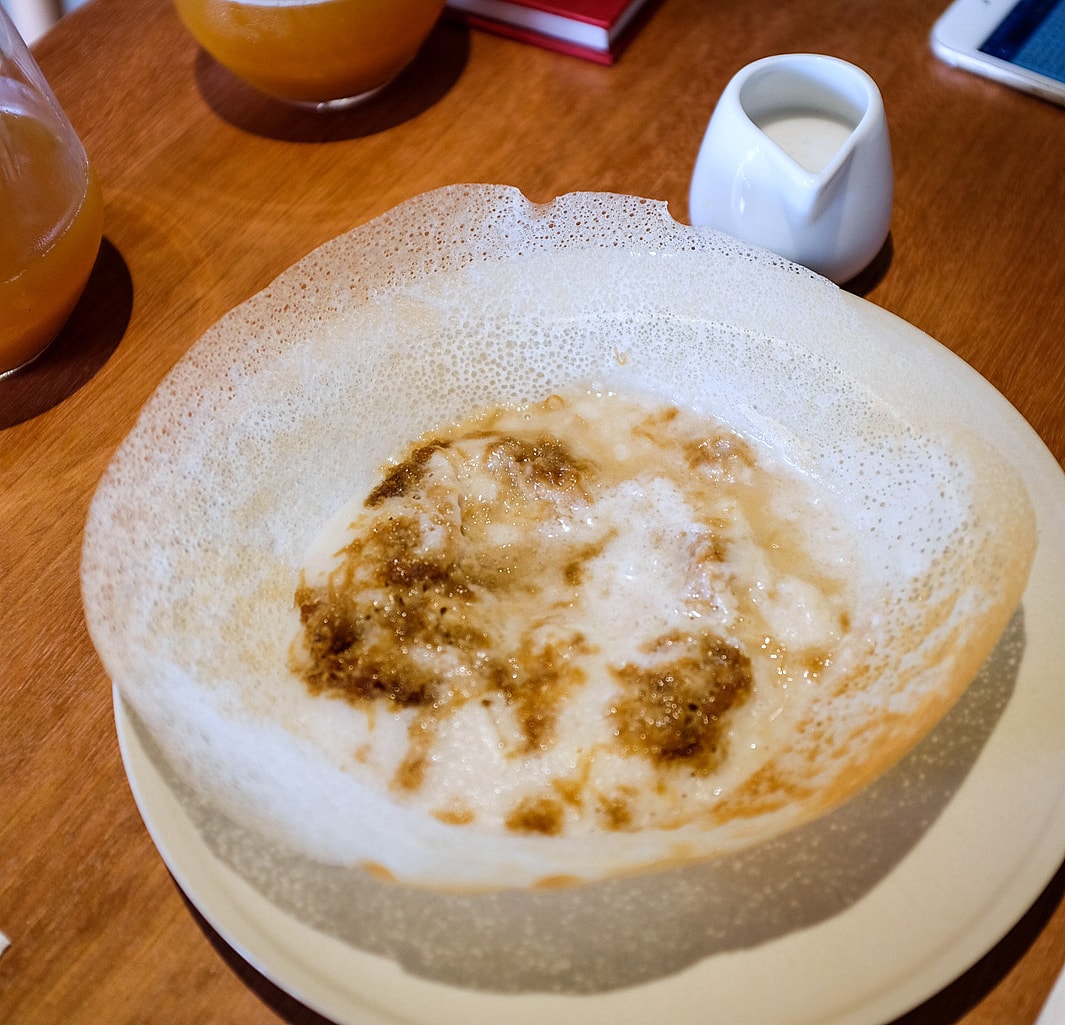 The sweet apam is basically a variation on the basic Indian Apam which is normally served with coconut milk or curry. A sweet apam come with brown sugar and coconut milk, sometimes with other toppings as well. In English, this is known as Hoppers.
Where to find?
You can find sweet apams in many Indian restaurants or stalls such as the sweet apam stall in Lucky Garden, Bangsar or in the Sri Lankan restaurant, Aliyaa in Medan Damansara. In Pudu, Hoppers KL serves up modern variations on the sweet apam with toppings like mango and coconut or even milo powder.
10. Indian Sweets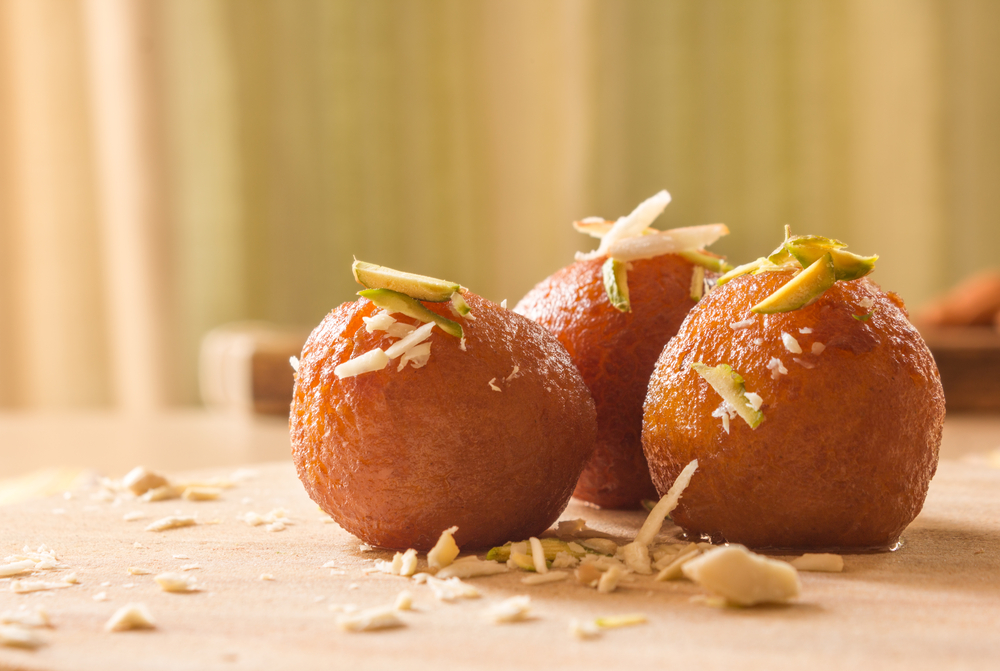 Easily found during Deepavali, all Indian sweets are fragrant and full of sugar. From ladoos to jelebi, gulab jamun, kulfi, halwa, kesari and so much more, the distinct combination of spices, milk, and sugar is hard to resist. Many Indian restaurants will offer one of two of these treats all-year round and add more sweets during the festive season. This year Deepavali will be in October, so prepare yourself for a spiced induced sugar coma!
Where to find?
Try Little India in Brickfields or Klang for these treats all year round. Most Indian restaurants will have them too, such as Saravanaa Bhavan in Bangsar.
11. Bubur Cha Cha
Yet another coconut based dessert! Bubur cha cha is a popular local dessert filled with yam, taro, sweet potatoes, fruits, and peas in a warm coconut broth. The tubers are steamed and then added to the sweetened coconut soup flavoured with pandan. Many bubur cha cha dishes are served with the standard three colours of tubers but some recipes call for extras like sago pearls and fruits – these can include bananas, jackfruit, durian.
Where to find?
Most families make this at home for special occasions and I've not had any outside before, so if you know where to find it, let us know below!
12. Pulut Hitam
This sticky sweet Nyonya dessert is another local favourite. Made of black glutinous rice topped with salted coconut milk (yet again), the sticky sweet salty combination is obviously something us Malaysians really love in our desserts.
Where to find?
You can try Little Penang Cafe and any other Nyonya restaurants.
---
"ExpatGo welcomes and encourages comments, input, and divergent opinions. However, we kindly request that you use suitable language in your comments, and refrain from any sort of personal attack, hate speech, or disparaging rhetoric. Comments not in line with this are subject to removal from the site. "
Comments