Penang native Lillian Chan writes about the history of the iconic Chowrasta Market, and what kind of treasures lie within this market that still holds onto local roots. 
In this quick-paced modern world, one probably gets their meals delivered right at their doorstep with just a quick tap on a food delivery app. For those who cook, they conveniently pick up nicely packed and cleaned meats, vegetables and seafood from air-conditioned hypermarkets and upper-class food grocers.
So, will the traditional wet markets survive in this modern world?  As expats, would you consider it worth the trip to a messy, wet, noisy market where chicken get slaughtered, and the smell of fish probably cling to your clothes?
Well, the heartbeat of a city lies where the locals converge. The rhythm of the city is made of up local chatters and the true essence where the aroma of local foods make you salivate.  Therefore, the wet market is where one gets the freshest kinds of seafood, vegetables, and meat, not forgetting the priceless experience of mingling with the friendly locals.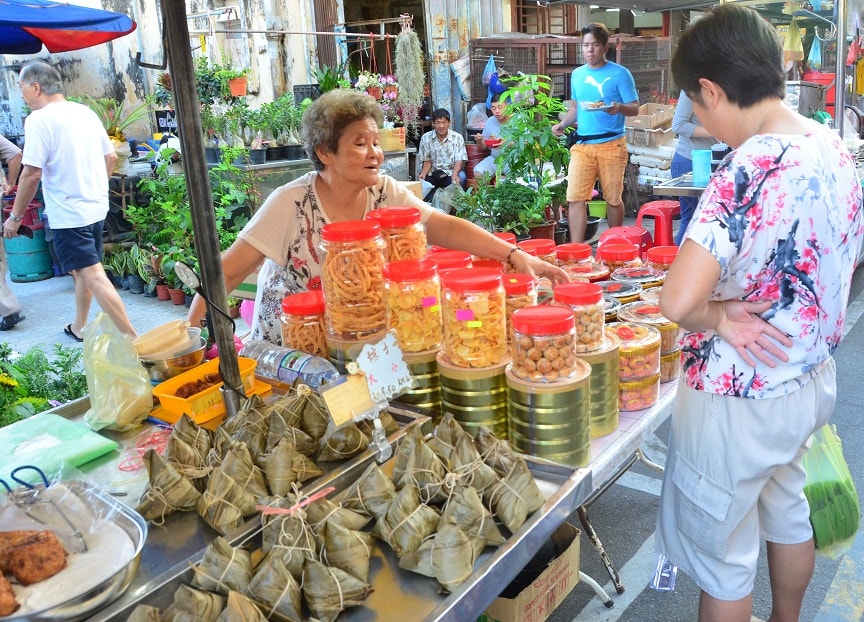 Right smack in the middle of George Town is one of the oldest markets, said to be the oldest in Malaysia. A check with Penang's heritage body confirmed that the Chowrasta Market has a history going back 120 years.  From what I've seen in old photos, it appears that the market began when a group of Indian migrants from Tamil Naidu traded under shady trees before the building was erected.
The original single-storey market was built in 1890. Then, in 1891, Chowrasta Market was converted into a two-storey building. In its heydays in the 1970s, the building housed one of Penang's earliest supermarkets.
The romanticism of a place that old, with so much history interwoven in its existence, certainly is worth a visit. The Chowrasta Market is still known as Kelenga Ban San which in local Hokkien dialect means 'Indian Market'.
From Convicts to Compost
According to the book Glimpses of Penang, published in conjunction with The Star 30th anniversary, prisoners or ex-convicts began trading there and were taken over by the Indian traders and then, Chinese traders. The origin of the name Chowrasta came about because, in Urdu, it means four cross roads.
The remnants of the Tamil history is inscribed in steel structure which one can see at the wall of the market. It says, "The early convicts-labourers were reported to have built the government buildings in Penang. Some ex-convicts became petty traders and were the core group who started the Chowrasta Market." In simple terms, these labourers turned carrying bricks to cakes and were the ones who began trading. Some people referred to Chowrasta as 'Thieves Market'.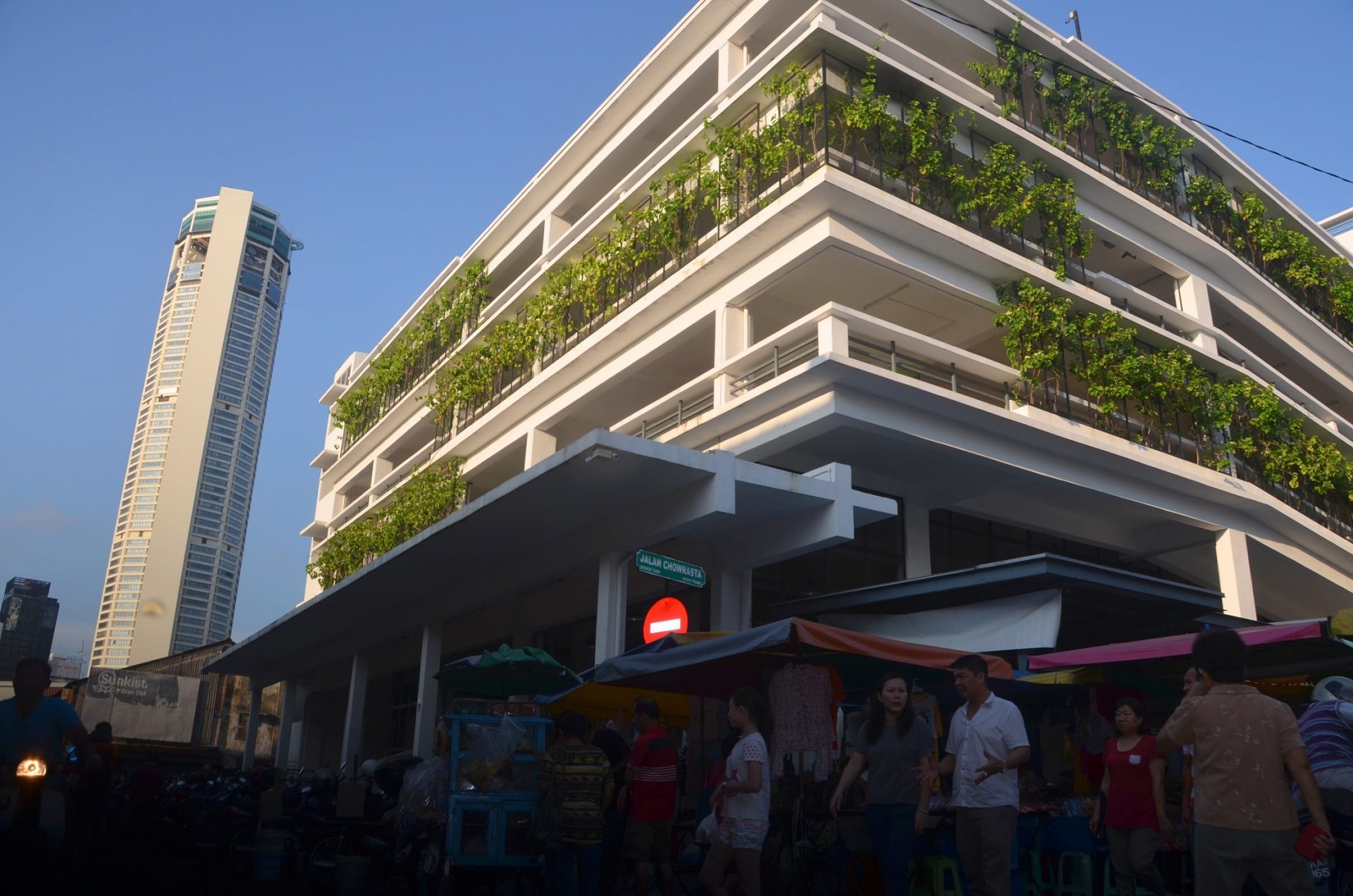 As the centuries roll on, Chowrasta has seen many transformations. From its early dark past, it has evolved to earn awards and was even mentioned by UN Environments for its composting efforts.
In 2017, after an upgrading project by the City Council of Penang Island (MBPP), Chowrasta gained recognition and received an Honorary Mention in The Edge Malaysia-PAM Green Excellence Award 2017. The Malaysia architect association (Persatuan Akitek Malaysia) recognised the first Green Building Index (GBI) certified market in Malaysia for its features.
It went through another a rejuvenation makeover between 2013 and 2017. The market upgrading project began after tedious public feedback sessions and hence, the current arrangement is one which is agreed by the traders who have been in business for decades.
Chowrasta is serious about going green and has a food processing system whereby all organic and food waste are fed into the machine to turn them into fertiliser. The effort has earned a mention for Penang as being one of the five cities who manage her solid waste well.  UN Environment's International Environmental Technology Centre has supported the efforts for Penang to go and helped local authorities to better manage organic waste.
History and accolades aside, Chowrasta is now a tourist hotspot.  Buses of tourists from European countries and China frequently drop inquisitive tourists for a tour.  However, it still maintains its local charm and is still peaceful for a pleasant stroll.  It hasn't reached the level of chaos you would find in markets such as Chatuchak in Bangkok or Ben Thanh in Vietnam.
Shopping at Chowrasta
Depending on how adventurous you are, there are plenty of delicious food to try here for breakfast.  For example, the pork intestine porridge is a popular choice among locals, where elderly Chinese women perching on stools tuck in a bowl of gooey rice porridge filled with pig's intestine, tongue, heart, and whatever else you can stomach.  Smoke rises from the temporary hawker stalls covered with colourful umbrellas.  Follow your nose, and you will be rewarded with tasty food hot from the wok.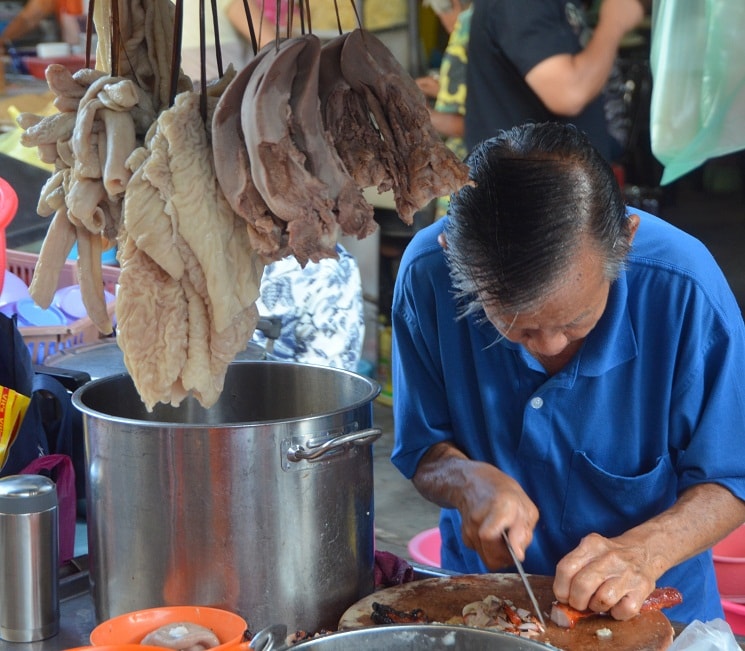 The roads surrounding Chowrasta has plenty of shops selling kitchenware, barbequed pork and dried seafood. Unlike some morning markets like the Pulau Tikus Market or the Tanjung Market, Chowrasta traders have somehow not tapped into the expatriate market. The former two markets sell herbs and vegetables for Westerners, but Chowrasta remains pretty much local.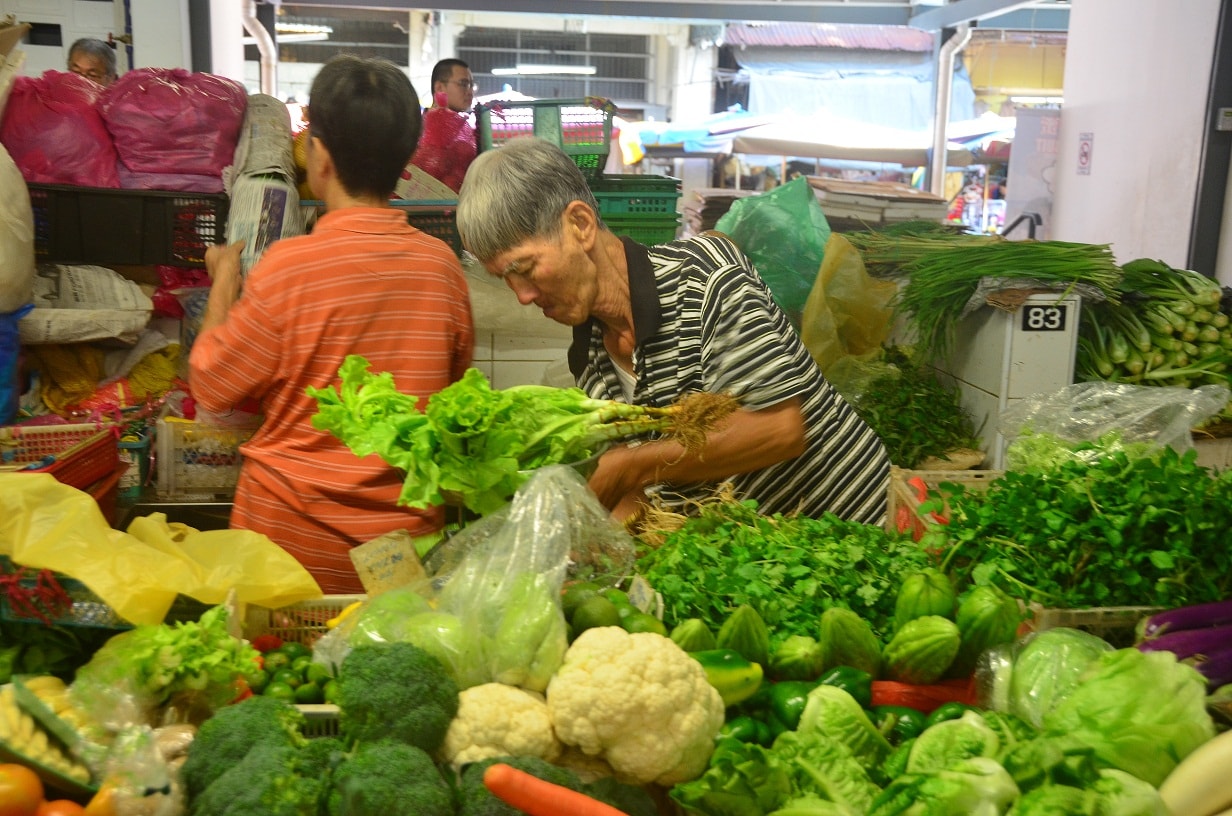 Time will tell if someone finally opens a few stalls catering to the modern folks and expats selling imported vegetables, fruits, and herbs.  With the influx of European tourists, traders may have to start being innovative and offer more variety of options.
There is still plenty to buy for souvenirs or knick-knacks for the home. The local pickled fruits are certainly eye candies to many and much sought after by local tourists. Nutmeg and other spices are abundantly available, which were the main attraction why Europeans set sail to Penang back in the 1700s, and are still popular in the market.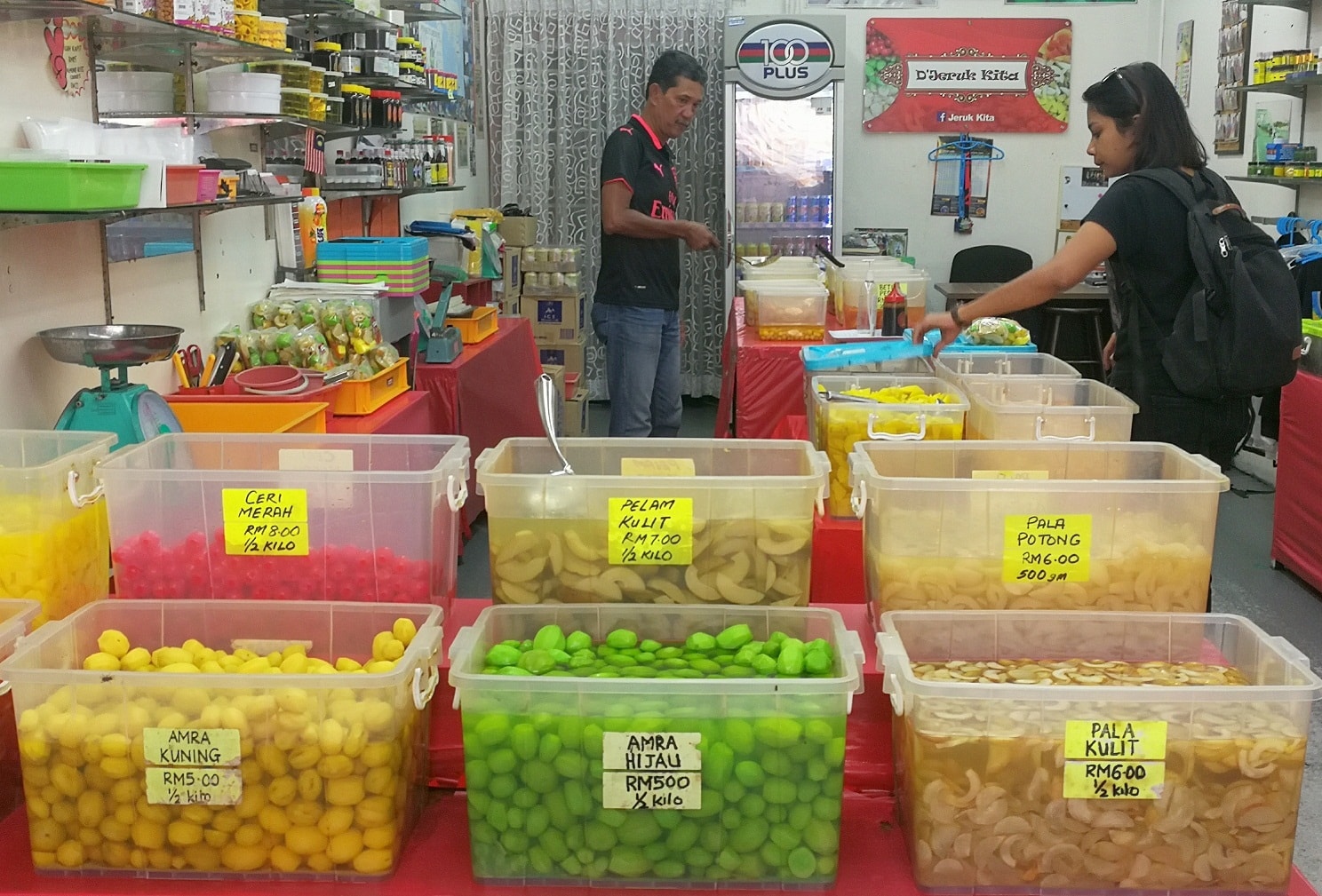 Book lovers may find the pre-loved books on the first floor fascinating. Bundles of old books perch one on top of another haphazardly, waiting to be discovered and taken home by appreciative book lovers. These books are sold at a much lower price, and the bonus is you can bring them back and sell to the trader again after you are done reading them.
A sight not to be missed is the Poh Piah skin trader. With a deft hand, the friendly chap makes the skin from a blob of rice flour stuck to his hand.  With a twirl, the blob of dough touches the flat hot pan and leave a thin layer of crepe.  This crepe is what locals call spring roll skin.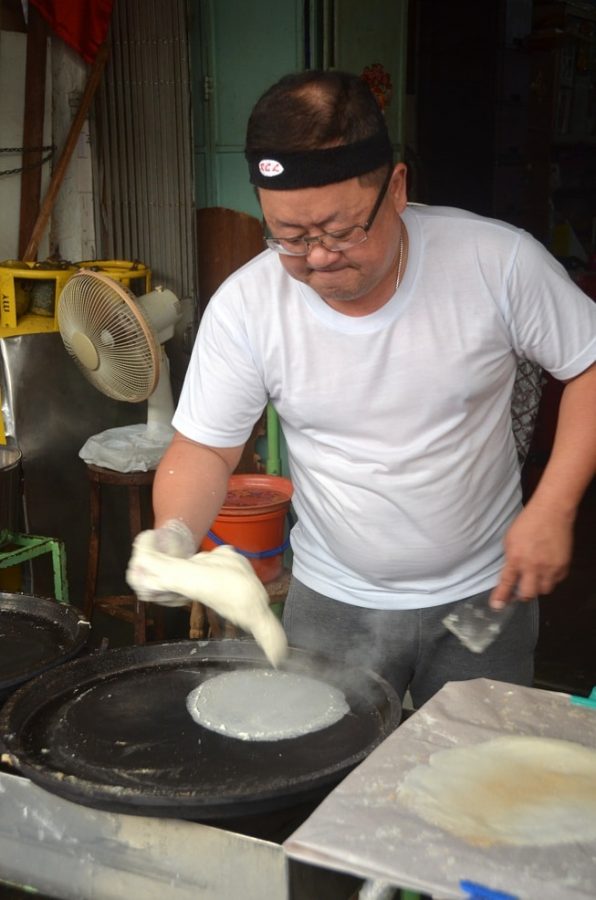 With modern parking with 120 parking bays, a visit to the market is no longer a problem.  Chowrasta is also easily accessible by Rapid Penang buses or on the bicycle using the bike sharing system LinkBike. Take a walk along the streets in the vicinity, and you get to browse through the Chowrasta bazaar selling ethnic batiks and Thai imports of breezy cotton pants and tops.
---
"ExpatGo welcomes and encourages comments, input, and divergent opinions. However, we kindly request that you use suitable language in your comments, and refrain from any sort of personal attack, hate speech, or disparaging rhetoric. Comments not in line with this are subject to removal from the site. "
Comments