This post is brought to you by Gramp's Asia.
What initially started out as simple herbal remedies made out of love for the family, has grown into a business of selling natural products for the home. Vanessa Gomes speaks to Nor Rezan Mohamad Noor, the person behind local brand Gramp's Asia.
The birth of most family and traditional recipes have the same elements — love, care, and knowledge passed down from generation to generation. For Gramp's Asia, their products are not that different. It's founder, Nor Rezan Mohamad Nor, 66, is an accomplished herbalist, thanks to the knowledge he garnered growing up and working as the Chief Public Health Inspector in the Health and Licensing Department for 33 years with the Penang Municipal Council.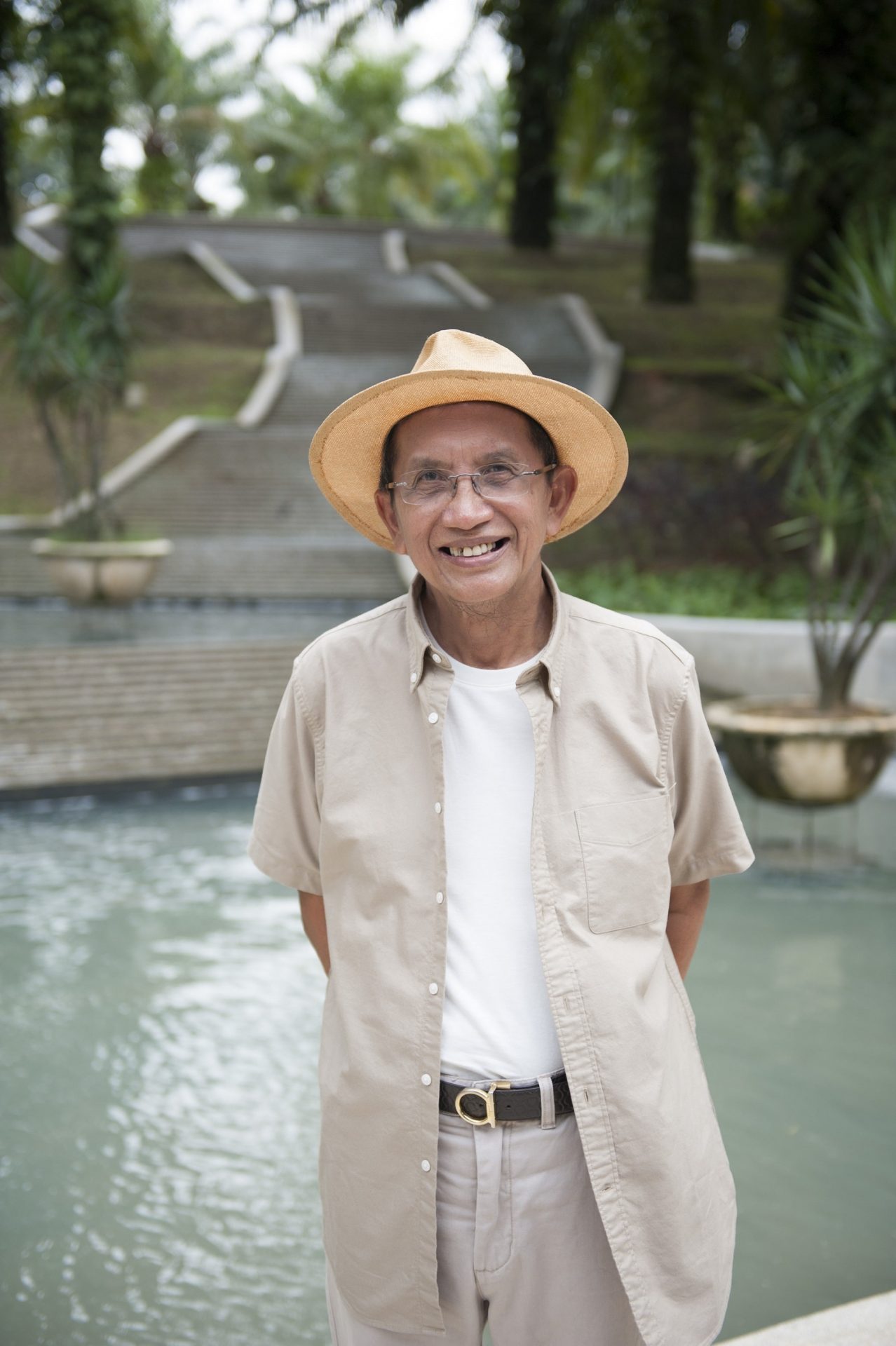 "I was born in an era where we used to get water from a well and we had no electricity. At that time, there were no pharmacies, no drugs, and antibiotics. So how did we take care of ourselves? With the things that our great grandma and great grandpa used from our very own backyard," he said.
Fondly known as Tok Ayah, he said herbalism is a lost art and the younger generation was not interested to learn it. "Back in the day, even when it came to pharmaceutical medicine, the difference with current medication is that it was mostly natural or derived from nature, at that time."
The Old Meets New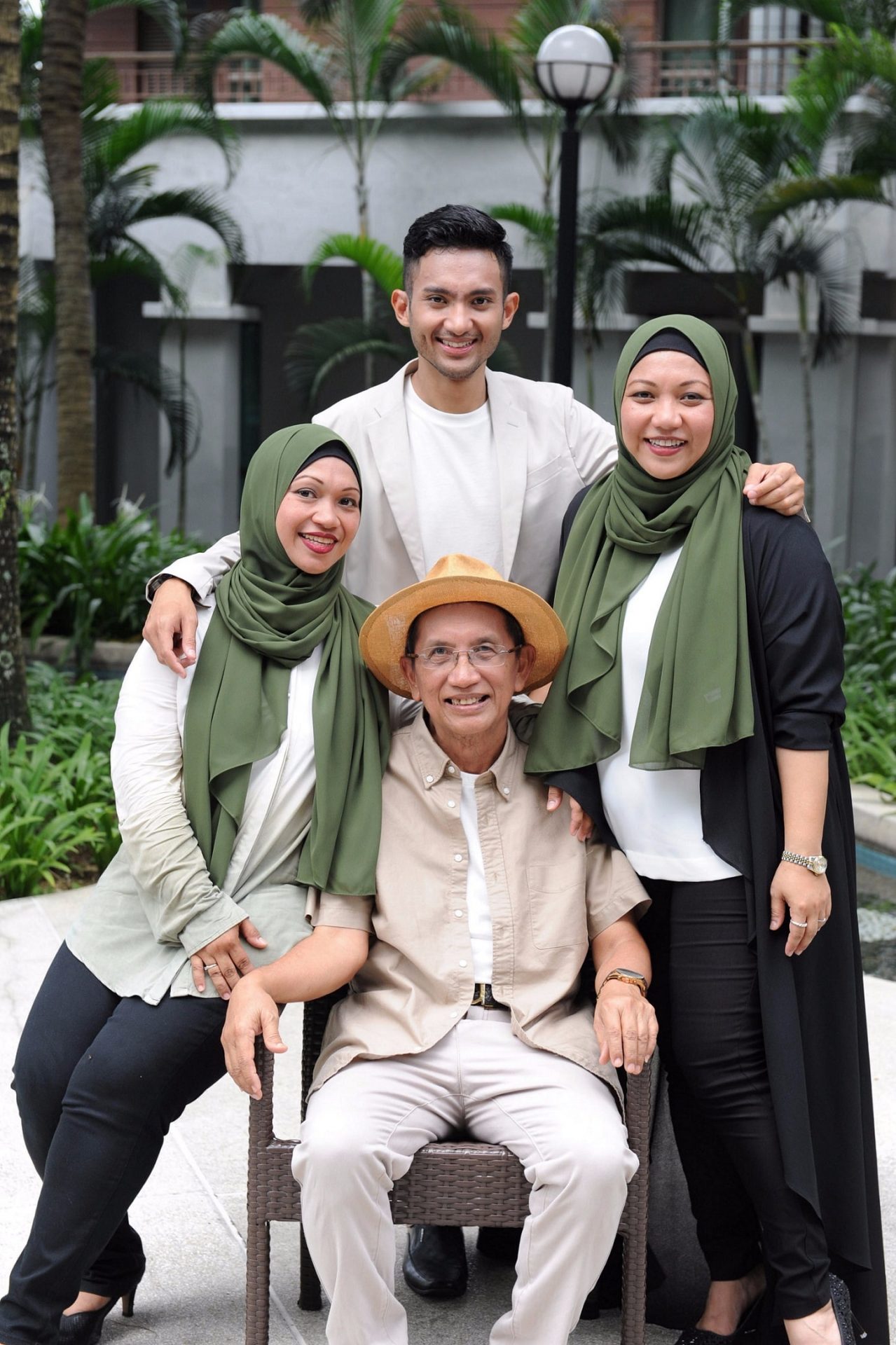 Tok Ayah's time in civil service played a large role in expanding his skill in herbalism. Having been granted access to academic research papers and laboratory facilities as well as meeting many people who were willing to share their knowledge with him, he put in hard work and dedication to learn the study of herbal extraction.
Merging science with traditional remedies, all of which encompassing over 40 years of knowledge in traditional herbal applications, he created the products seen in Gramp's Aisa. "All I did was marry older traditional remedies with new technology," said Tok Ayah.
On top of that, his time in civil service opened his eyes to how food stalls operate, particularly when it came to hygiene. He noticed that most stalls used cheap and harsh chemicals to clean their plates and equipment. "The product used to clean cement floors was the same cleaner used for dishwashing. From here, I saw that it was one of the most common problems faces by food stalls, so I came up with an alternative for them."
This was the inception of the dishwashing liquid, the first Gramp's Asia product. As the story goes, it all began when there was an issue that Tok Ayah faced at work, whereby a Chinese restaurant catering for international tourists were facing problems with their melamine serving plates. Due to the heat and the oil used in the food, the plates were discoloured from red and yellow, resulting in the shop needing to change their plates every three months because people did not want to use it.
"I was asked to solve his problem so I took a plate back to the lab and checked it under the microscope. I saw lines and checked with the lab in the chemistry department, and found out it was turmeric and chilli. From there, we realised the washing liquid was abrasive," he said.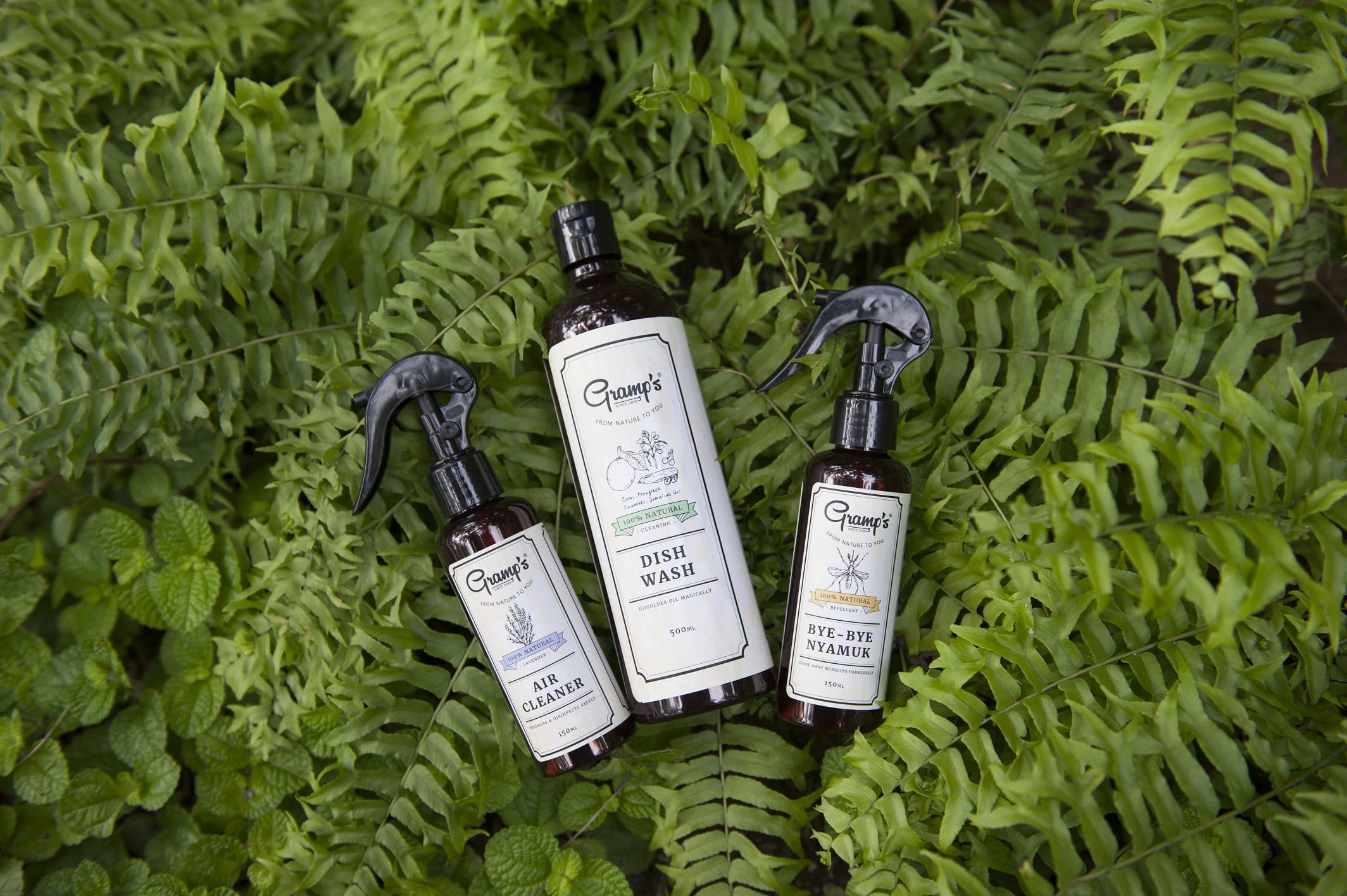 True enough, it was. The chef was using soda ash, the same chemical used to clean floors, to clean plates because it was cheap. It's also corrosive to the point where his skin was damaged too. From there, Tok Ayah created a natural cleaner and incorporated it with herbs to heal the chef's hands.
"I made it so it won't hurt your hands when washing, and those with sensitive or cracked skin can also use it too because it can heal your hands. It wasn't difficult to come up with, all I did was marry skincare ingredients with natural cleaning ingredients."
Back to Basics
It's all about the basics with Tok Ayah, as he applies simple chemical theories to try and make the best products. The oil, he said, is made up of hydrogen, oxygen, and carbon which acts as a chain binding the other two molecules. Applying the basics of chemistry, Tok Ayah found a way to break the carbon bonds so that the oil breaks down to water, without any oil residue.
Gramp's Asia products aren't just for cleaning. One of Tok Ayah's gripes as a public health officer was that mosquitoes were still abundant, even though a lot of time and money were put into projects to eradicate mosquitoes. He spent years observing the habits of mosquitoes and one day, while meeting a friend and mentor, he was told that for every disease created by God, a remedy was also provided by God.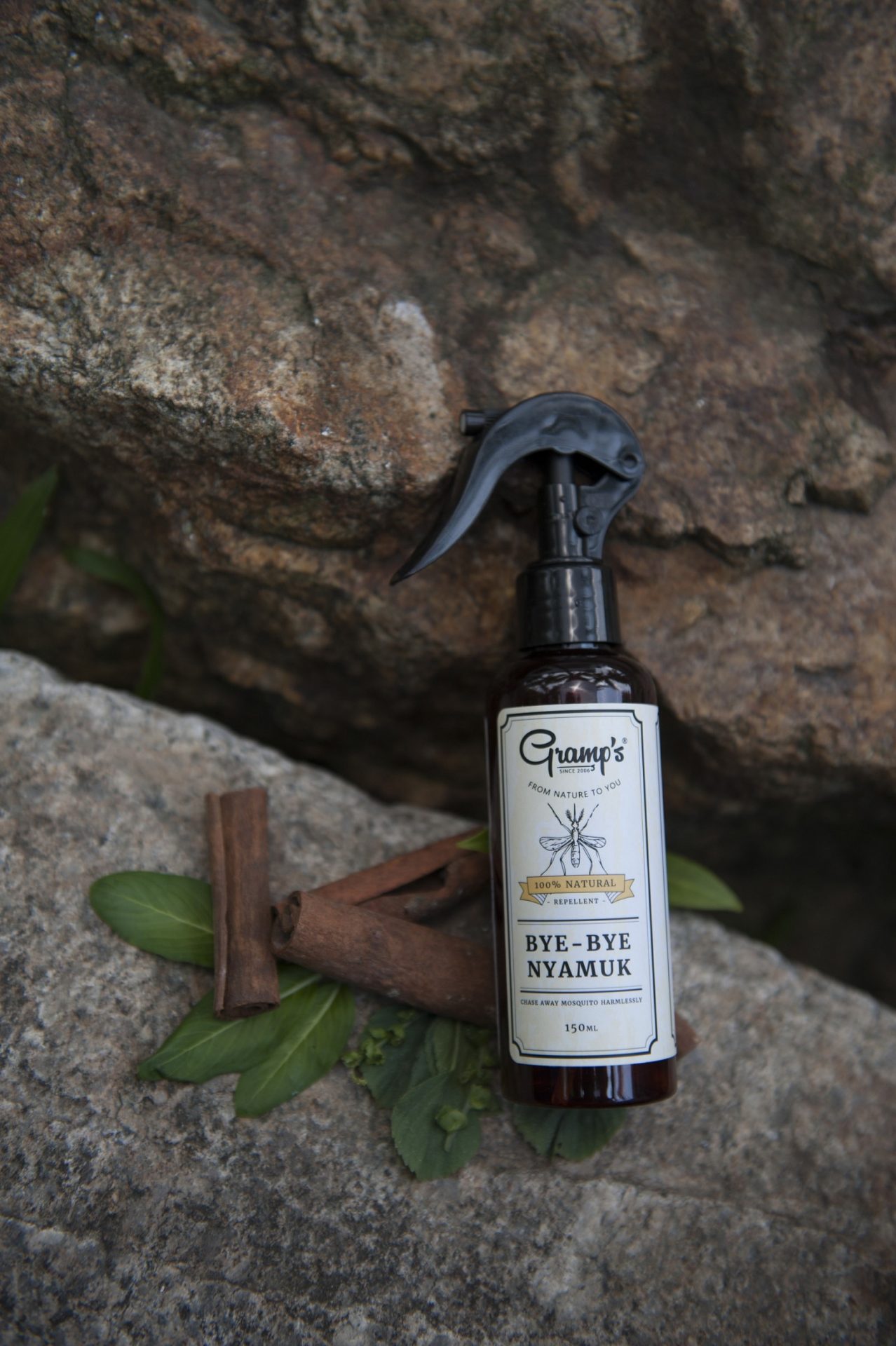 This led to his formulation of the 'Bye Bye Nyamuk' repellent, (nyamuk means mosquito in Malay), a fully-natural product that actually smells good, using ingredients like lemongrass, thyme, and cinnamon, effective for keeping those pesky mosquitoes at bay.
Being a humble man driven by making products out of the love of his family and friends, Tok Ayah initially didn't want to commercially sell his products as it was exclusively for his family and friends.
"There were some friends who wanted to recommend the products to others, but I told them not to. One day, all my children came together and spoke to me, saying it was a waste to hide something so useful. So I put my trust in them and Gramp's Asia was born. I'm only in charge of the production process, when it comes to mixing the ingredients together for the products."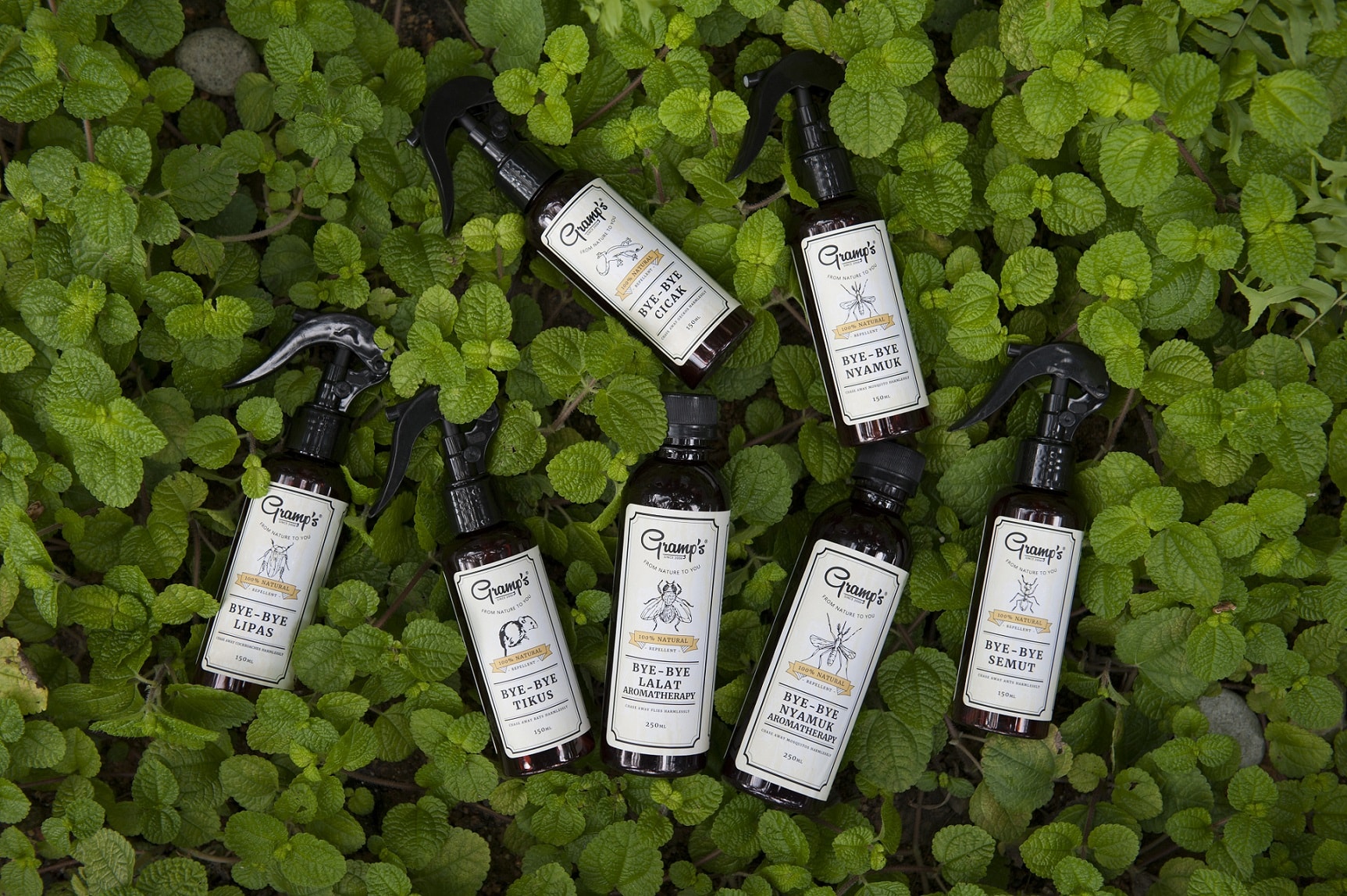 But Tok Ayah's vision transcends that of business profit. "Synthetic chemicals have caused a lot of havoc in the world, especially when it comes to personal health and the environment. The faster we stop using synthetic chemicals and revert back to natural remedies, the faster we will live in a healthier world. Nature knows best and doesn't cost a thing," he said.
His ultimate vision? To have a healing park, filled with herbs and spices that can be used as natural remedies. "I want to help people and educate them so that we will accomplish sustainable living. I want a park so that the younger generation can learn of plants, herbs, and spices that can be used for healing," he said.
"It is also important for the current generation to go back to nature because it is for their own good."
However, picking up the skills of herbalism is not as easy as it seems, as Tok Ayah said one must have the passion for herbalism and patience to learn it. But we've all got to start somewhere, right?
The Surface Wipe is a great testament to what the secrets of herbalism can offer. Many has found it incredible this 100% natural product has been lab-tested to kill 99.9999% of germs, including the technicians at the accredited laboratory who ran the test.
From now until June 30, 2018, enjoy a free travel-size Surface Wipe (30ml) with any purchase on their website, www.grampsasia.com, by keying in the promo code, EXPATGO1.
---
"ExpatGo welcomes and encourages comments, input, and divergent opinions. However, we kindly request that you use suitable language in your comments, and refrain from any sort of personal attack, hate speech, or disparaging rhetoric. Comments not in line with this are subject to removal from the site. "
Comments