Seasoned travel photojournalist David Bowden finds that when it comes to hitting the links and then enjoying a quality tipple, few places can compete with the bounty of South Australia.
In his hilarious and insightful book of Australia called Down Under, author Bill Bryson notes of Adelaide. the South Australian capital, that visitors have "the pleasant option of stepping out of it from time to time to get a breath of fresh air in a spacious green setting."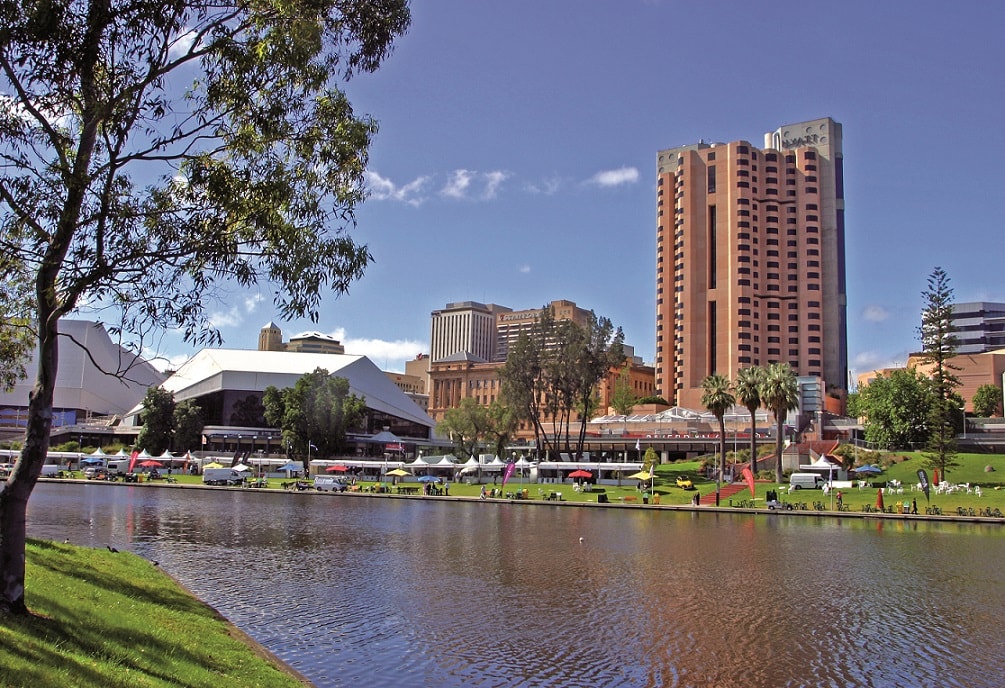 Bryson adds that Adelaide is the most overlooked of the Australian cities, but that it is unquestionably lovely. Visitors enjoy its parks, fresh air, blue skies, and a compact and ordered inner city that can be walked around, while a free tram service provides excellent backup. Adelaide positions itself as a centre for cultural excellence and its Adelaide and Fringe Festivals are perfect times to put this claim to the test. Above all else, Adelaide offers all the friendliness of a big Australian country town, but with the sophistication and conveniences of city living.
Adelaide is also the gateway to some of Australia's finest wine regions, including the acclaimed Barossa Valley and others such as the Clare Valley and McLaren Vale. South Australia's celebrated red and white wines and the greens of its golf courses were eagerly anticipated when I recently headed Down Under.
Golf Before Wine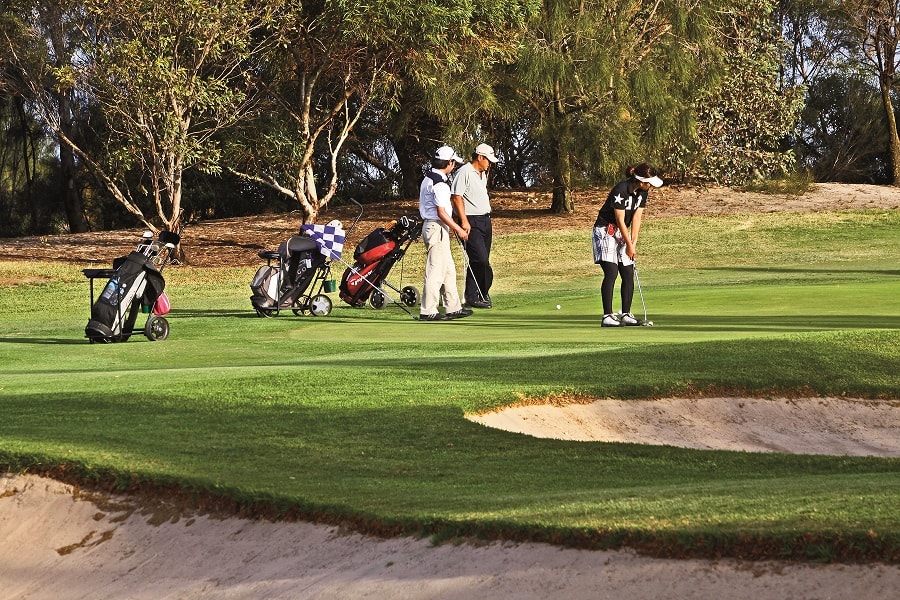 While Royal Adelaide is considered one of Australia's top 10 golf courses and ranked in the world's leading 100 courses, there are other great courses here, as well as several within a few hours' drive away. McLaren Vale captured my imagination as it is close to Adelaide and home to some iconic wineries. While some make the journey on a day trip, I decided on an extended stay in the self-contained winery accommodation, The Vineyard Retreat.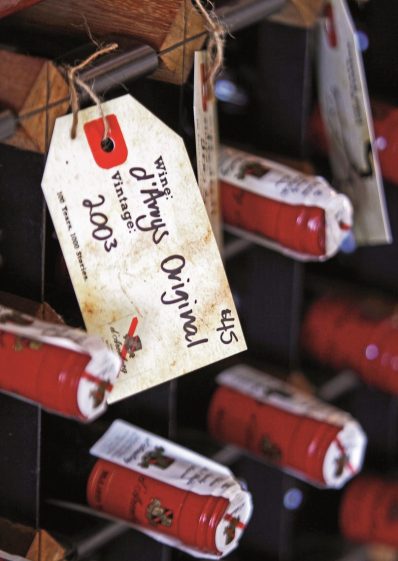 With an early morning touchdown courtesy of Malaysia Airlines, a round of golf was planned before heading south to McLaren Vale. Adelaide Shores Golf Course is close to the coast and just a short drive from the airport; so close, I discovered that some of the fairways had to be reconstructed to accommodate extensions to the runway.
There are two 18-hole courses here – 'Patawalonga' is the championship links-styled course of par 72 and 5,947m in length, while the 'Executive 50' is a par 50, 2,654m-long, 15-hole course that is perfect for a quick game. While the fairways on the championship course are wide and forgiving, prevailing winds from the Gulf of St. Vincent can add a fair bit of excitement to your game. Water hazards come into play on eight holes and, even though they are not overly intimidating, they will nevertheless become a repository for wayward balls. The flat terrain is enhanced with some well-positioned fairways and bunkers around the greens, which demand accurate ball positioning.
A few holes stand out with the 434m-long sixth having wide fairways – and with a concealed green tucked away to the left. There are bunkers to avoid on the fairway and water hazards along the left-hand side of the fairway. Fairways on the eighth are even wider and possibly Australia's broadest expanse of golfing grass. Many golfers find the back nine more interesting than the front, with the 10th generally considered the perfect par four hole.
Other courses south of Adelaide include Willunga, Mount Compass, and The Vine Golf Club of Reynella.
McLaren Vale Lunch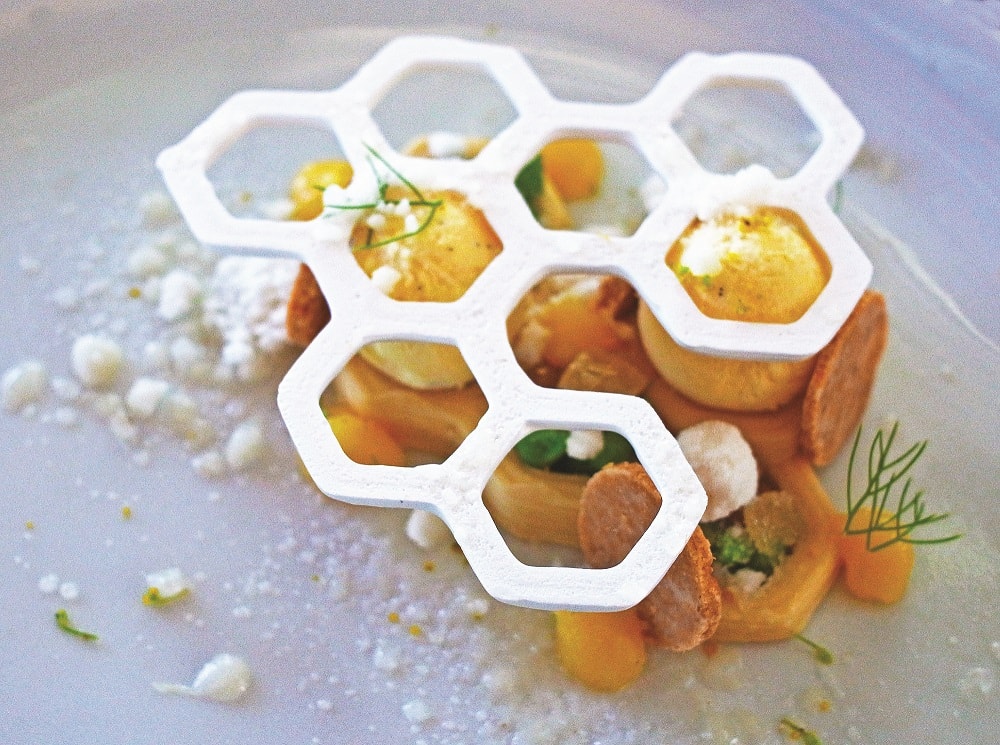 Suitably reinvigorated after my round of golf, it was time to drive south. I was informed that my lunch reservation at d'Arenberg Cube in the famous McLaren Vale region would involve both the visual and culinary arts.
Upon arriving, I immediately realised that the restaurant takes its name from Rubik's Cube, the multi-coloured 3-D cubical puzzle of the 1970s and 1980s that fascinated a young Chester Osborn, now winemaker at d'Arenberg. So fascinated by Rubik's Cube was Osborn, he has built a black and white, four-storey replica amongst a sea of grapevines as the estate's wine centre and new destination restaurant.
It is a recommended arriving early for lunch, as the lower floors of the Cube are a repository of contemporary modern art. Opened for just a few months, the Cube has already received rave reviews for its landmark architecture, creative wine pairings, and its hard-to-label, artistic plating and premium produce. The total dining experience will appeal to diners with an open mind, a few hours to spare, and a sense of dining adventure. Truly, few global restaurants can create the dining artistry offered by the Cube and, as each of the 11 courses was served and 15 wines poured, I kept searching – and largely failing – for descriptive words that captured the dining magic.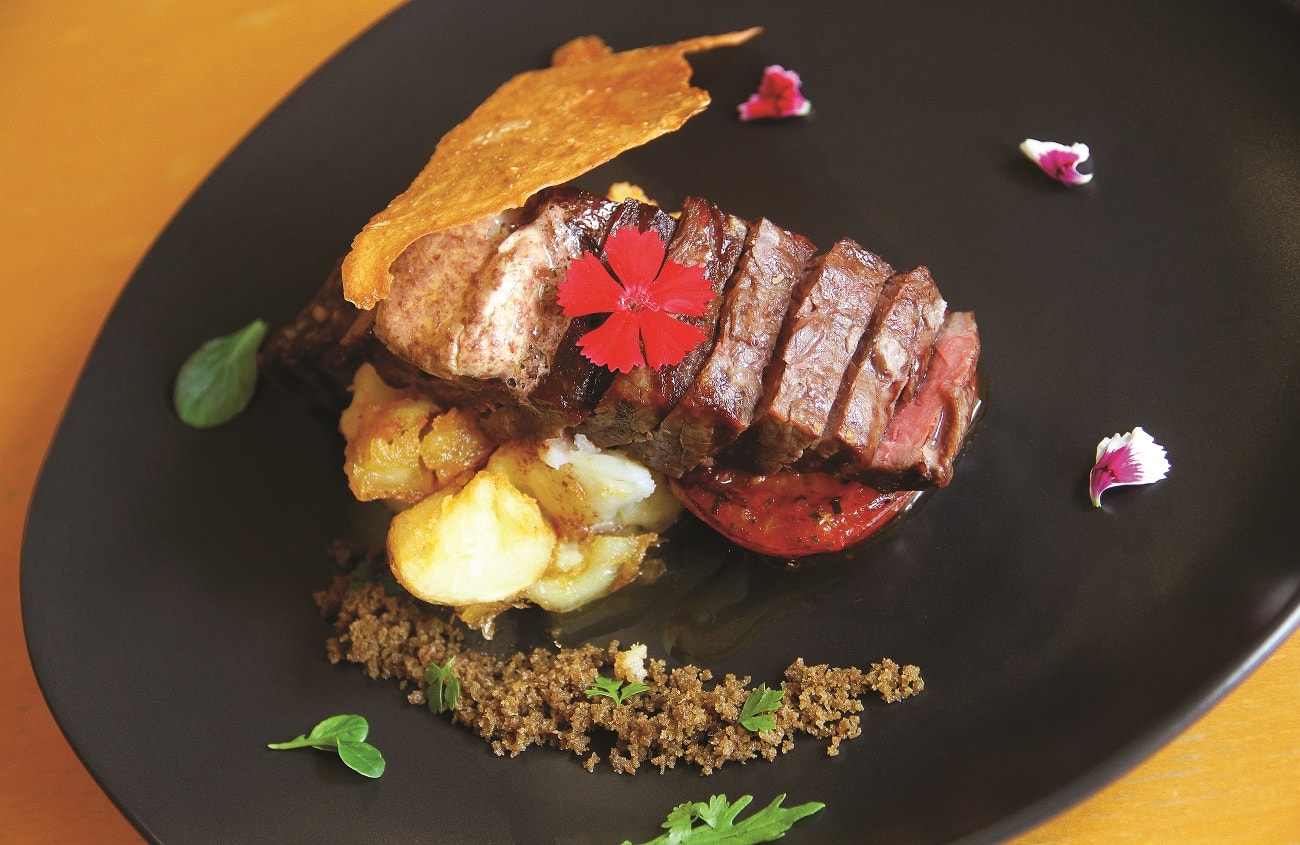 A dégustation menu that commences with Louis Roederer 'Cristal' Champagne deserves respect. Quirky wine names such as The Laughing Magpie, Dead Arm Shiraz, and The Feral Fox Pinot Noir have also contributed to d'Arenberg's success on the international wine stage, and some of these wines are not only served but matched with other iconic global wines. Typically, a d'Arenberg wine is served with each dish but with another iconic wine from around the globe that compares and contrast with those from the estate.
My first dish resembled two grapes on the vine, but was actually foie gras encased in wine jelly to take on the appearance of grapes. The meandering meal unfolded over three hours and it was as much the anticipation as the delivery that captured my imagination.
The Winery and Its Region
Chester's father, Francis d'Arenberg Osborn (d'Arry) Osborn is considered McLaren Vale's senior wine statesman. He still presides over the 100-hectare, family-owned d'Arenberg property and its wines bottled with a distinctive red-striped wine label. The estate produces an extensive range of wines with those produced from Shiraz, Grenache, Viognier, and Marsanne grapes, each highly regarded. While Chester has taken over much of the winemaking, d'Arry also carefully monitors each harvest.
There are many other well-respected McLaren Vale wineries such as Beresford, Chapel Hill, Clarendon Hills, Coriole, Fox Creek, Kay Brothers, Maxwell, Rosemount, Wirra Wirra, and Yangarra Estate. In addition to Shiraz, Cabernet Sauvignon, and Grenache varieties, winemakers are not afraid to use newer varieties to the region like Touriga Naçional, Tempranillo, and Nebbiolo in their blends.
Some new wineries like Brash Higgins, Vigna Bottin, and Petagna also impressed. Brad Hickey travelled here from his native United States and visited – and subsequently fell in love with – the McLaren Vale, and now produces several innovative wines such as a co-fermented Grenache-Mataro wine as well as the Sicilian variety, Nero d'Avola.
Paul Petagna, formerly Petagna Wines and now Sellick's Hill Wines, makes several enticing wines from Grenache, Shiraz and Mourvèdre grapes. His Rosé-style made from Grenache grapes is labelled in good Italian style as Rosato.
Vigna Bottin winery champions several Italian varieties in the wines that it produces. Winemaker Paolo Bottin's parents migrated from Treviso in northern Italy to Australia in 1954. Over the years, the family has grown grapes for larger vineyards, but recently Paolo branched out to produce Vermentino, Sangiovese, and Barbera wines under the Vigna Bottin label.
Fresh and Local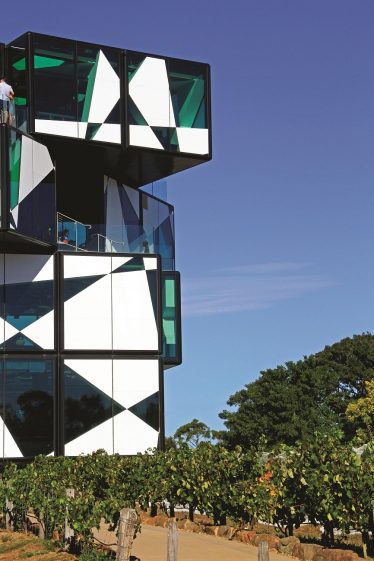 Visitors can expect to see many people involved in the wine industry at the Saturday morning Willunga Farmers Market. It is very popular, as it is a place with real farmers and local people who drop by to stock up on the freshest regional produce like cheeses, heirloom vegetables, artisanal breads, olives, olive oil, and almonds.
Locally grown and sourced produce is also a feature of McLaren Vale restaurants like Salopian Inn, Au Pear, Harry's Deli (at Wirra Wirra Winery), The General Wine Bar and Kitchen, and the Star of Greece. The Star of Greece overlooks Port Willunga Beach and serves seafood sourced from the waters immediately offshore.
Wine lovers must also dine at the Victory Hotel (established in 1858) at Sellicks Beach and check out the atmospheric cellars below. Here, some of the finest wines from around the world, including an impressive Burgundy selection, are stored.
Getting There: Malaysia Airlines has direct flights from Kuala Lumpur to Adelaide on several days of the week.
Getting About: Hiring a rental car is the best way to discover Adelaide and surrounding districts where negotiating the traffic is relaxed and easily done.
Where to Stay: In Adelaide, stay in the heart of the city in the Mercure Grosvenor Hotel (mercuregrosvenorhotel.com.au) or relax out amongst the vineyards of the McLaren Vale at The Vineyard Retreat (thevineyardmv.com.au). The latter has fully equipped kitchens for those who want to cook, an outdoors barbecue, and luxurious fittings to ensure the highest level of comfort.
Dining Out: d'Arenberg Cube (darenberg.com.au), Victory Hotel (victoryhotel.com.au), and The General Wine Bar and Kitchen (thegeneralwinebar.com.au).
Weather: Adelaide has a Mediterranean climate so it enjoys moderate temperatures, mostly without extremes (the end of the year is warmer than middle of the year winters).
Contacts: Adelaide Shores (adelaideshores.com.au) and South Australian Tourism (southaustralia.com.sg).



" ExpatGo welcomes and encourages comments, input, and divergent opinions. However, we kindly request that you use suitable language in your comments, and refrain from any sort of personal attack, hate speech, or disparaging rhetoric. Comments not in line with this are subject to removal from the site. "



Comments