Most people know Penang for her world-renowned street food, UNESCO heritage sites and vibrant cultural scene. But you've probably seen all that before. There is only so many times you can visit the street arts, temples, and jetties before you are used to it all, and only head there for a food trip over the weekend.
There is another side of Penang that often go unnoticed, slowly unfurling with its pristine natural charm. Located at Seberang Perai, Tasek Gelugor on mainland Penang is filled with mangrove trees, fishing villages and river wildlife. Over the past few years, it has been marked for transformation into an agrotourism destination.
Ready to explore a Penang you have not seen? Here are 9 things you can do at Tasek Gelugor.
1. Join an immersive river cruise adventure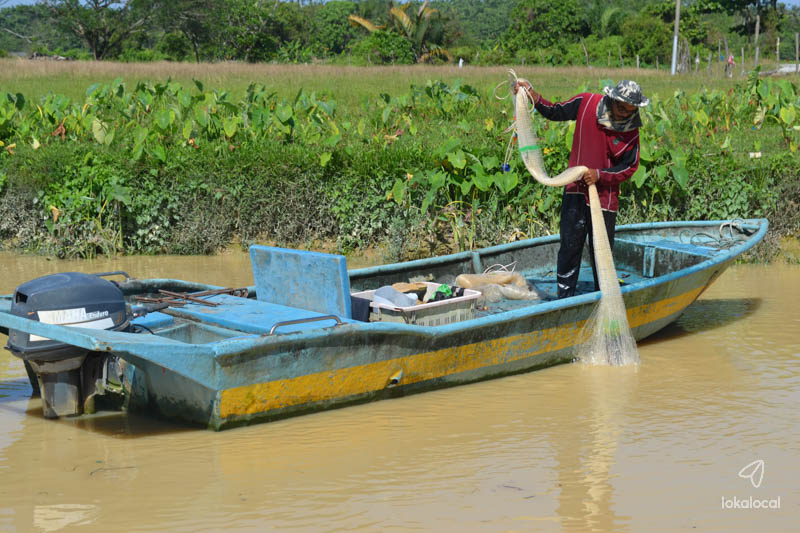 This is where life by the river unfurls naturally. Monkeys, reptiles, birds and other creatures find refuge in the forest. Fishermen reel in their daily catch using traditional fishing methods, such as the cast net, rod and cage. You can even get close to them to see how they go about their daily lives – imagine seeing a fisherman casting his net right before your very eyes!
2. Birdwatching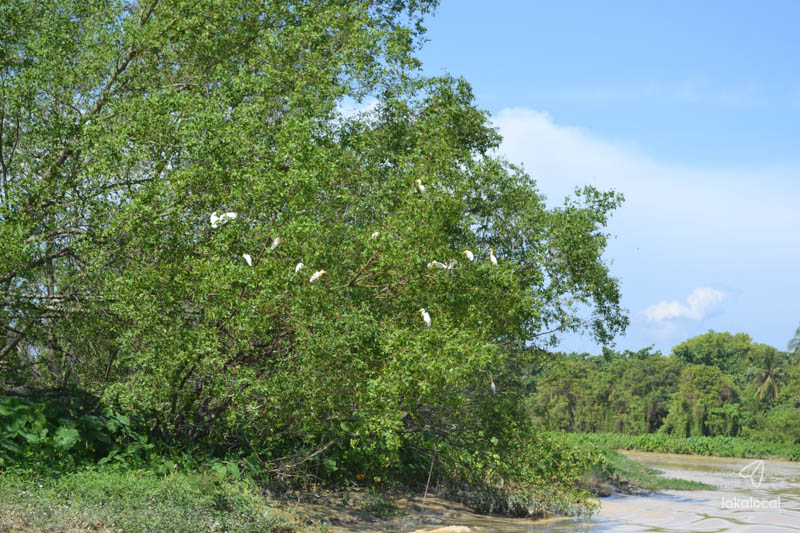 With its natural richness, Tasek Gelugor is fantastic for spotting migratory birds. The best time to experience birdwatching here is during the first quarter of the year, when colourful birds from Korea, China, Japan and Russia settle in Tasek Gelugor to escape from winter.
3. Visit the Air Hitam Dalam Educational Forest
Amidst the elevated walkways and observatory towers, there is a suspension bridge of about 400m stretching over the large expanse of lush greenery. Some of the plants here include the Nipah Palm, Jejawi, Putat Darat, Pong-Pong Tree and Cotton Tree. As you explore the forest, you will be introduced to the diverse flora and fauna in the forest.
4. Sample and learn how to cook local dishes
It's one thing to enjoy local food, it's another to learn how these dishes are prepared. Off the jetties along the river, you can see many locals selling local goods. There are several stations where locals would demonstrate how selected Malay dishes which are commonplace in the village are made, such as ikan gulai, salted perkasam, tapai rice, and snacks.
5. Play cakplong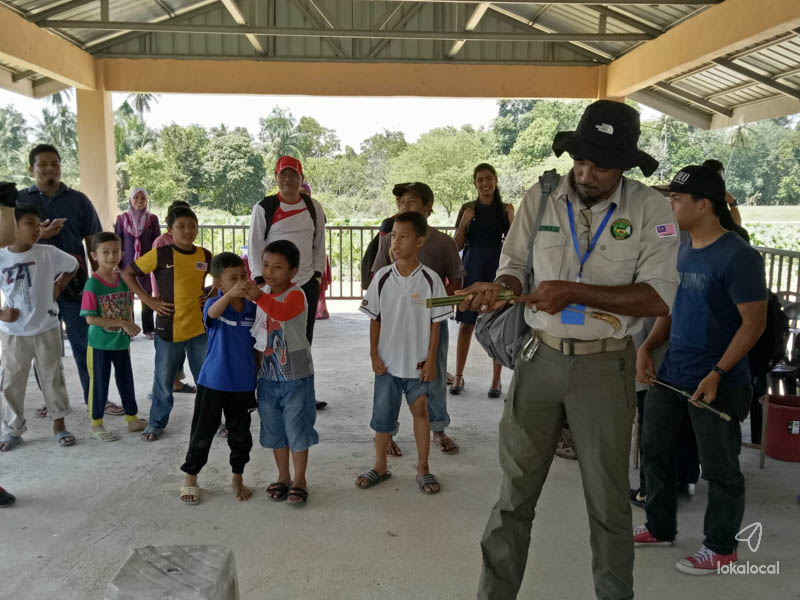 Cakplong is a traditional toy akin to Paintball or Nerf Guns, but you get a bamboo pistol which shoots out bullets made from the cenerai fruit. Those who grew up in villages would remember engaging in a kampong-style battle using this imaginative device! You have the opportunity to try this curious childhood game with rounds of target shooting, and experience that rush of joy local kids loved back then.
6. Watch traditional cigarette making
The Nipah palm tree has many uses, from its edible fruit to nipah salt and leaf wrappers. Traditionally, young nipah leaves can be rolled with tobacco to create cigarettes. These days, making traditional cigarettes with this plant is still practised in Tasek Gelugor, and you get to see how locals do just that.
7. Sip honey straight from the hive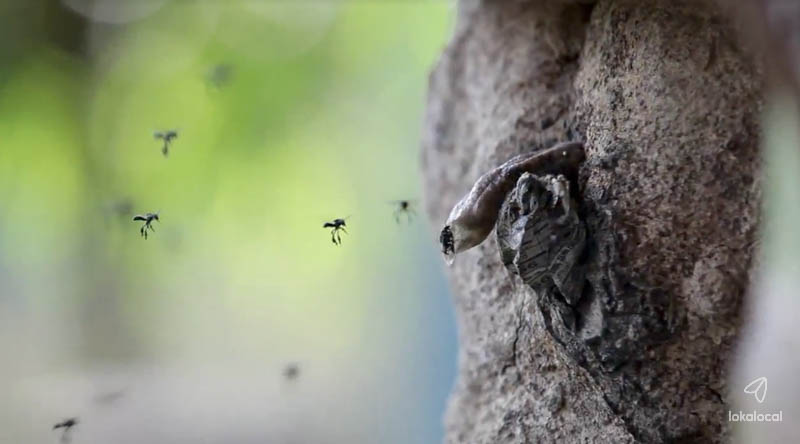 Did you know that stingless honey bees can be found in tropical regions like Malaysia? These "kelulut" or stingless bees produce honey that is high in antioxidants, and good for your immune and digestive system.
At one of the stops along the river, you can visit a honey bee farm where the farmers are happy to let you taste pure honey from the hive through a straw. You can also get local honey products here.
8. Meet a famous blacksmith family
For a glimpse into the historical side of Penang, visit the blacksmiths of Pekan Darat. Located at Butterworth, Penang, these master blacksmiths have been around for at least eight generations.
Legend has it that this traditional trade originated from a blacksmith who arrive in Penang from Thailand during the 1820s. In the past, they were also appointed by the Sultan of Kedah to craft weapons for war.
9. Stay overnight at a local homestay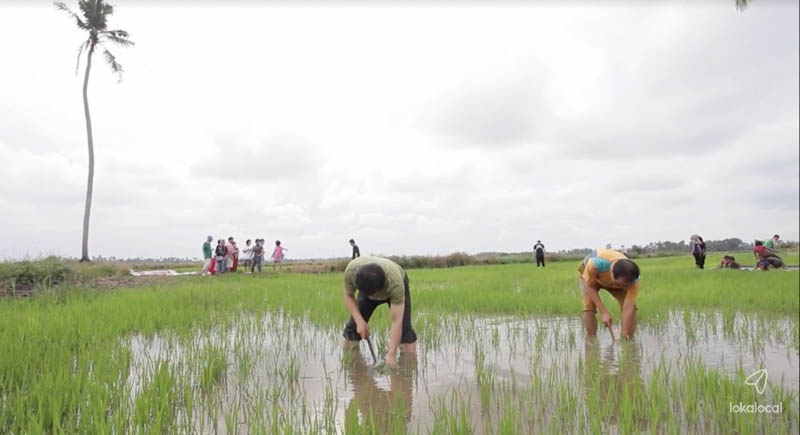 If you have more time to spare, you may want to stay at a local homestay at the Pearl of the Orient. There are 11 villages in the state under the Penang Homestay Programme, each with their own distinct highlights. There is Mengkuang Titi with its rural and cultural activities, as well as Pulau Aman with its fishing traditions. Lahar Yooi is the closest homestay to Tasek Gelugor and its attractions. And to kick your balik kampong experience up a notch, you can learn about their local traditions right there and then, from paddy harvesting, to playing traditional childhood games, milking a goat, cooking, and cycling.
Supported by the Fisherman Cooperative, the River Cruise Adventure hopes to introduce more people to this agrotourism gem, while educating locals on how they can combine their village traditions and tourism to support their livelihood.
If you would like to experience the natural wonders of Tasek Gelugor, book The River Cruise Adventure with LokaLocal.
They will be running a one-day featured tour to Tasek Gelugor on 21 July 2018 – click here to find out more!
---
"ExpatGo welcomes and encourages comments, input, and divergent opinions. However, we kindly request that you use suitable language in your comments, and refrain from any sort of personal attack, hate speech, or disparaging rhetoric. Comments not in line with this are subject to removal from the site. "
Comments