Part of the cultural crossroads bridging Western Asia and Eastern Europe, the country of Georgia is a powerhouse of a travel destination, offering scenery, architecture, history, friendly locals, and a heritage of wine unrivalled by any other nation. Editor Chad Merchant visited earlier this year, and months later, is still revelling in the memories.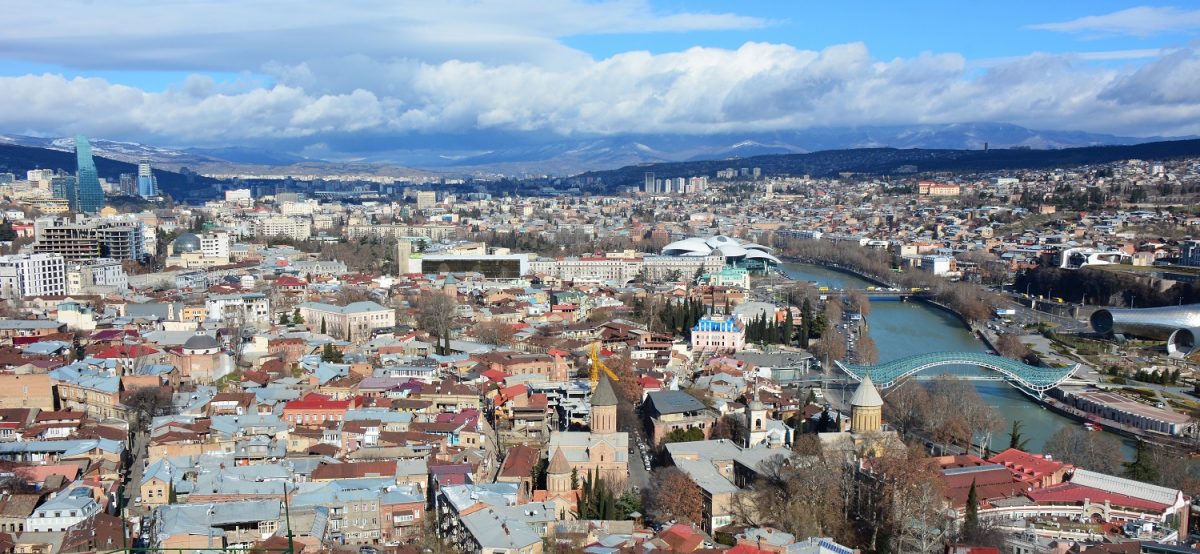 Poring over the itinerary for a 12-day journey to the Caucasus region, including time spent in Turkey, Azerbaijan, Georgia, and Armenia, I was struck by how few of the various cities and towns were familiar to me. In fact, I hadn't even heard of most of them, which I found both fascinating and embarrassing in equal measure. Names like Baku,
Batumi, Yerevan, Gobustan, Tbilisi, Borjomi, Sheki, and Kutaisi swam before my eyes, with only Istanbul standing out as a city with which I had some familiarity.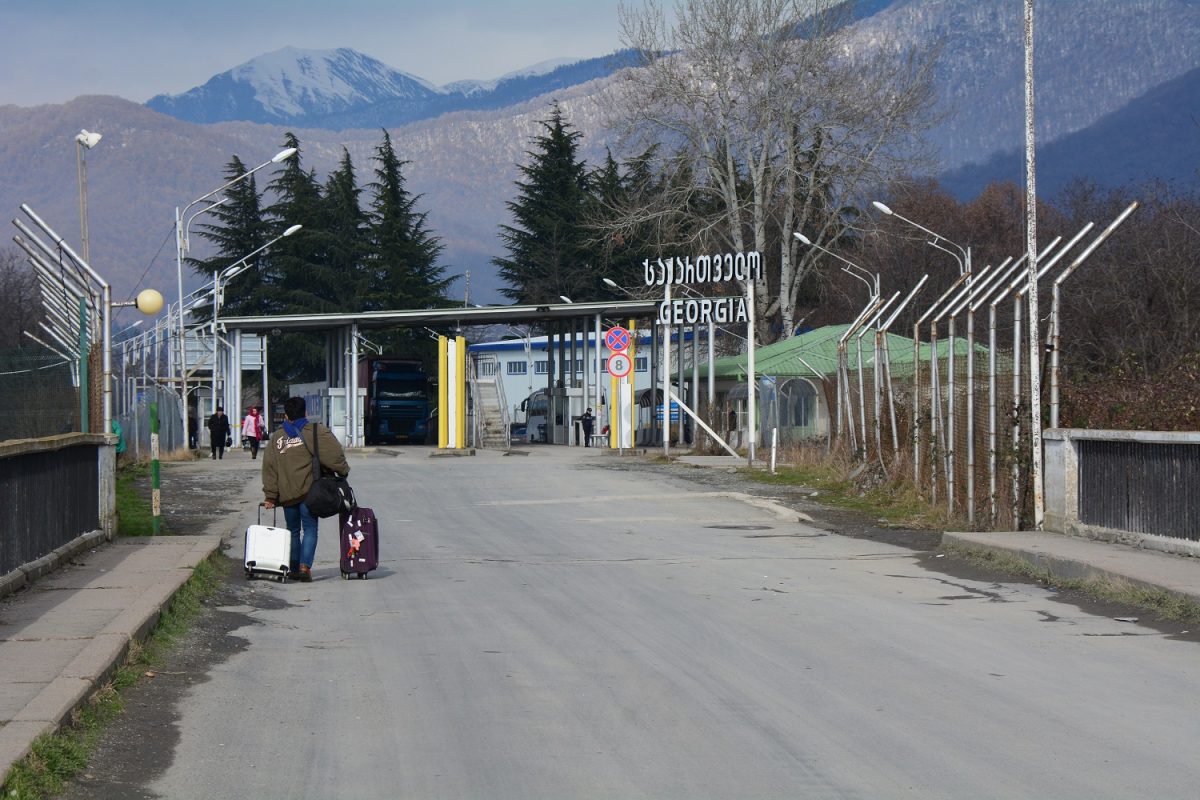 Crossing the border
The adventure began in style, with Turkish Airlines providing the comfortable flight from KL to their hub in Istanbul. Serving over 300 cities worldwide makes Turkish Airlines among the most well-connected airlines in the world, and once you've arrived in the sprawling Atatürk airport in Turkey's capital city – which will be replaced soon by an even bigger one – you can get to a dizzying number of destinations with just one more flight. So after a short stopover in Istanbul, it was on to Baku, the capital of Azerbaijan, located on the edge of the Caspian Sea. We spent several days in both Baku and other places in Azerbaijan – a country incredible enough to warrant its own standalone article – and then, less than 20km south of the Russian border, crossed from Azerbaijan into the country of Georgia on foot, also changing from one tour bus to another. It's not often that you get to walk from one country into the next, so this was a rather different experience.
Going into Georgia also heralded a notable, significant change. Azerbaijan is a Muslim country, albeit one of the most liberal in the Islamic world, with the vast majority of its resources coming from the oil and gas under the Caspian Sea. Baku was stunningly modern and impressive in its scale and architecture. Crossing into rural Georgia, one of the most historically rich countries in a region that's overflowing with them, was like stepping back in time.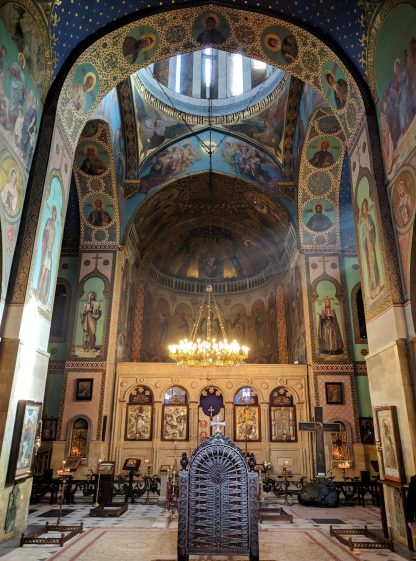 Eastern Georgia is nearly all agrarian-based, and Christianity has been the official religion there since 337 CE, following centuries of paganism, Zoroastrianism, and even Mithras-centred cultism. Moreover, within minutes of gazing out from the coach's windows onto the small towns and rural landscapes, one thing became fairly evident: In Georgia, everyone grows grapes. No matter how modest the house, which were usually fashioned from cinder blocks, rough hewn stones, and timber, there was invariably a lattice canopy or trellis, typically over the garden or driveway
area, supporting a maze of vines.
Wines for the ages
I knew that the oldest evidence of wine making – dating back over 8,000 years – was  discovered in what is now present-day Georgia. But beyond that, the practice of making wine here is so enmeshed in the cultural heritage and identity of the country, it is inscribed by UNESCO as such. Though the more familiar European style of  wine making also takes place here, the uniquely Georgian style is quite different. The traditional local skin-contact wine making method involves harvesting the grapes (which is often a collective effort by neighbours), then pressing them and placing the entirety of the must, often including the pips, leaves, and stems, along with the naturally occurring yeast on the grapes themselves, into large earthenware urns called qvevri, which are buried in the ground.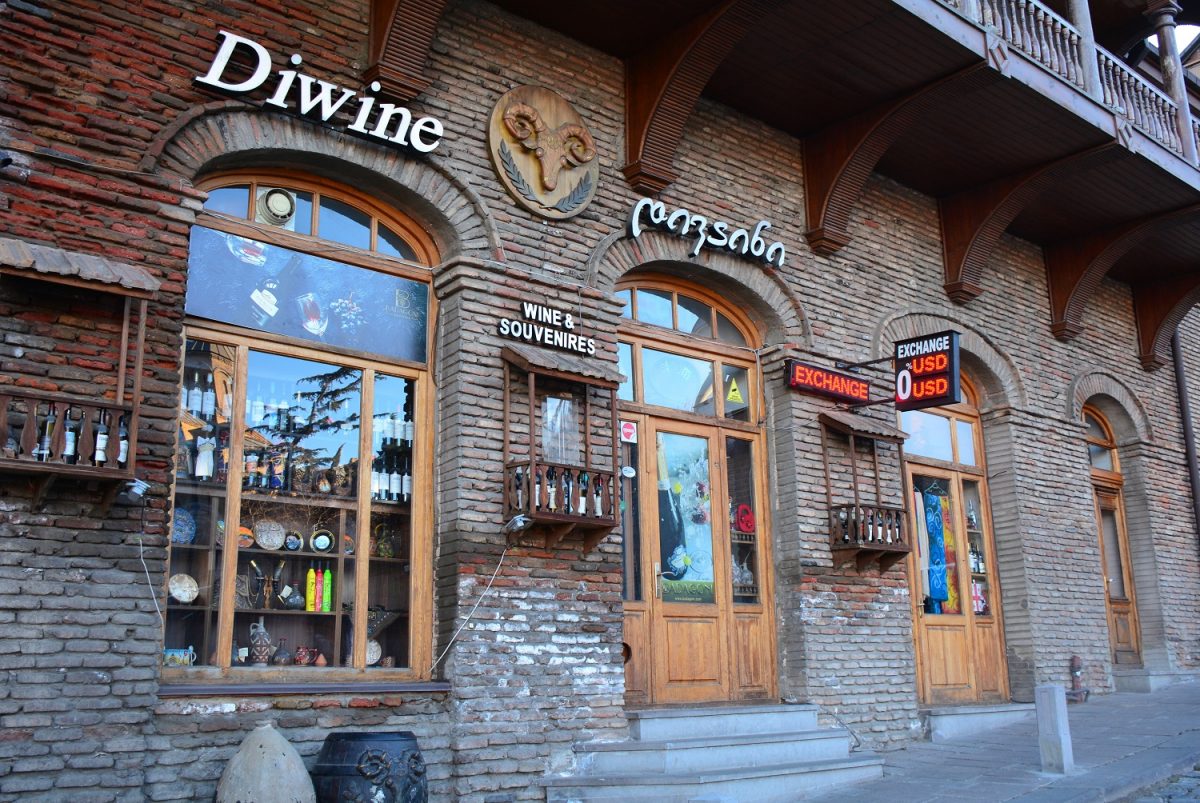 Wine shop in Tbilisi
These vessels, usually holding about 200 litres, are shaped something like a banana flower – think of an egg shape tapering to more of a point – and are coated inside with beeswax, making the vessel more hygienic and easier to clean. A typical qvevri can be used for hundreds of years. After the primary fermentation, which occurs over a period of days, the qvevri is capped and the wine is left to further mature for up to about six months.
During this time, the secondary fermentation – malolactic fermentation for all you oenophiles – takes place. The tapered shape of the vessel ensures that the lees (a muddy sediment of particles and dead yeast cells) settle at the pointed end of the qvevri, so that their contact with and impact on the new wine is minimal. Special utensils are used to extract the wine from the vessel, where it is then bottled, sometimes after a transfer to an intermediate vessel. The residue that remains in the original qvevri is also removed and used as a 'starter' for the double distillation of a high-proof pomace liquor called chacha, similar to grappa in production, but with both vodka- and brandy-like characteristics that, at least for me, makes it far more palatable than grappa. If you go to Georgia, trying at least a sip of its native spirit is a must. I could scarcely tolerate the homemade hooch, which is a blistering 70% alcohol, but the
oak-aged commercially produced version, usually weighing in at about 50% alcohol, is much better.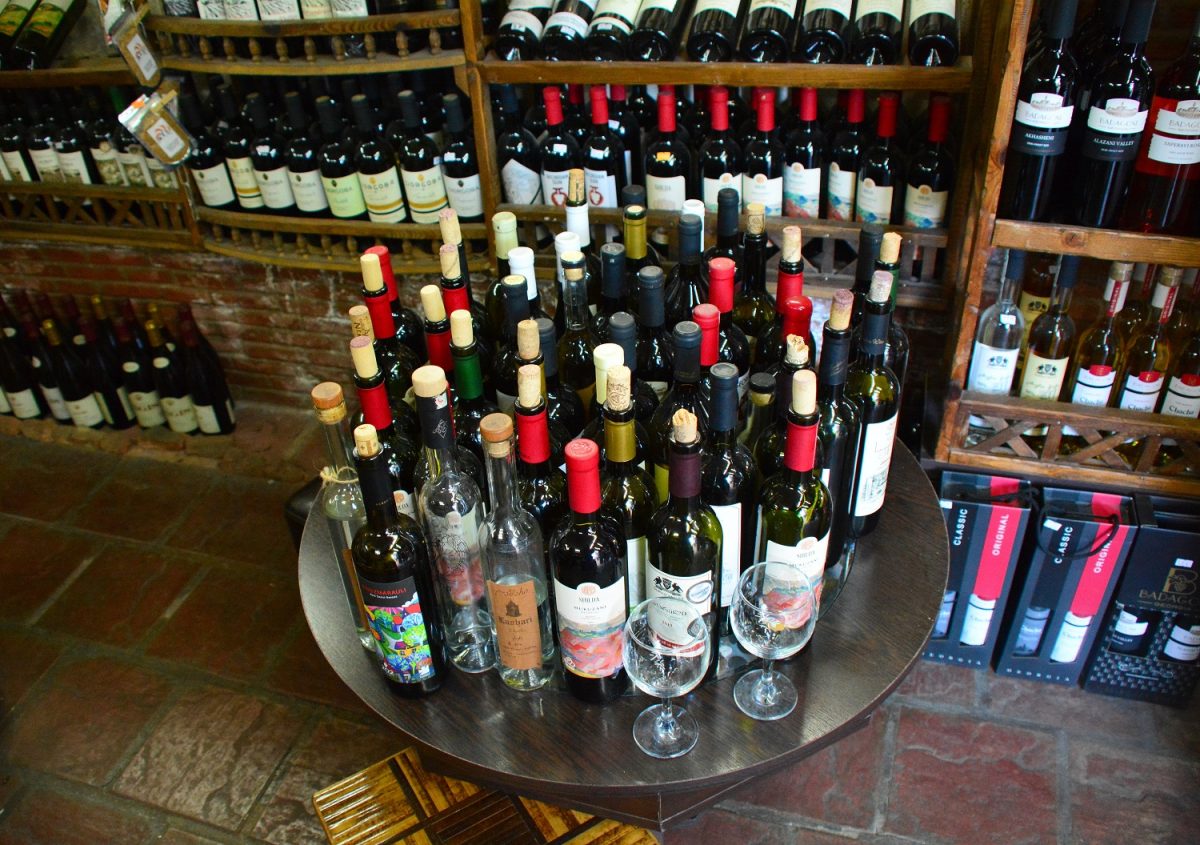 If you're a lover of the vine, this alone will make a trip to Georgia worth your while. Of course, there is a lot more to see and do here, but wine truly saturates the fabric of the country. Every Georgian I met was more than happy to engage at length in wine-focused banter. Most wine shops have several (if not dozens) of bottles opened and ready to sample, and the proprietors were always delighted to serve up both tastings of their offerings and a mini-education. I learned plenty about Saperavi and Rkatsiteli, the most important Georgian grape varieties (red and white, respectively).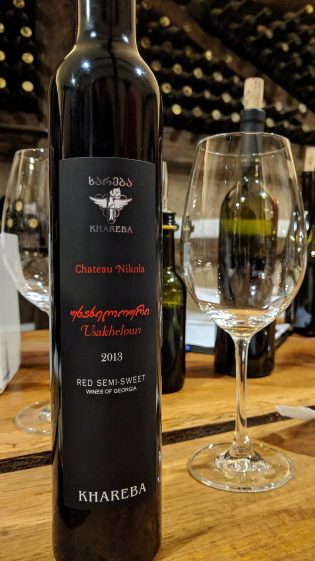 I also learned to keep an eye out for the plush Usakhelauri wine varietal, a scarce, naturally semi-sweet red grape that's considered the premier wine grape of Georgia. In a very good year, maybe only 1,000 bottles of Usakhelauri wine will be produced nationwide, so limited is the land available for this particular varietal. I got to  sample it while touring the beautiful Khareba winery in the famed Kakheti region. It was also here where I perhaps rather naïvely asked the young lady serving as our guide if she enjoyed wine when she wasn't working. Her response, delivered with a winsome smile as she swirled her glass of inky, ruby-coloured Saperavi, was unrehearsed perfection: "Without wine, I would not be Georgian."
Capital experiences
Georgia's capital city is a textbook study in contrasts. Tbilisi, which was established late in the fifth century, is possessed of a deep and fascinating history, and there are visual cues of this everywhere you look, with the medieval and neoclassical architecture balanced and offset at once by art nouveau, modern and post-modern expressionism, and a handful of Stalin-era edifices which often reflect the austerity and utilitarian nature of that period, though some are admittedly intriguing. And dotting the city at seemingly regular intervals are the distinctive churches of Georgia's dominant Eastern Orthodox Christian religion. We loved our time in Tbilisi, a bustling small city that, as much as any other in the region, sits at the crossroads between Western Asia and Eastern Europe.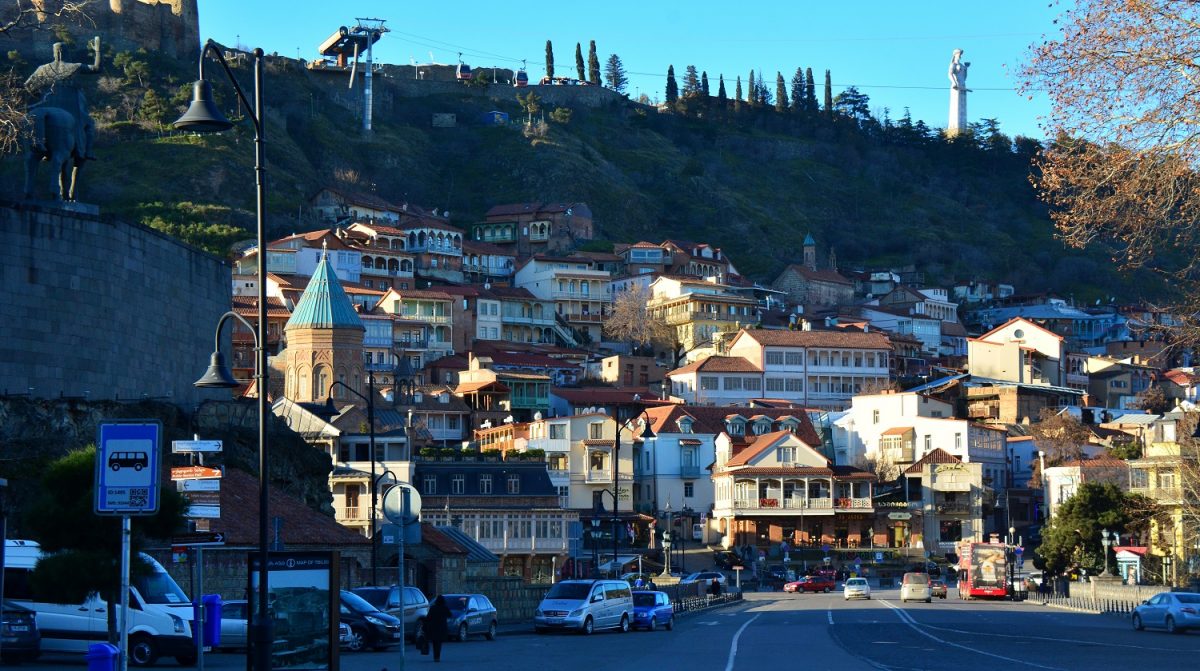 Hillside scene in Old Tbilisi
Since the collapse of the Soviet Union in 1991, which was immediately followed by an almost absurdly brief two-week civil war, Tbilisi endured years of rampant crime and corruption, patchwork infrastructure, and a crumbling  economy. It took over a decade before an electoral uprising in 2003, the so-called Rose Revolution, saw Tbilisi begin to truly recover and stabilise. Today, the passage of another 15 years have wrought considerable improvement in the state of things, and the city feels vibrant, safe, and appealing. Old Tbilisi is a magnet for tourists, boasting the ancient fourth century hilltop fortress of Narikala, one of the many enjoyable sights we took in on several successive days of
walking tours. Taking the inexpensive cable car, built in 2012, high over the Mtkvari River and enjoying the stunning views from the top before visiting Narikala was definitely a Tbilisi highlight.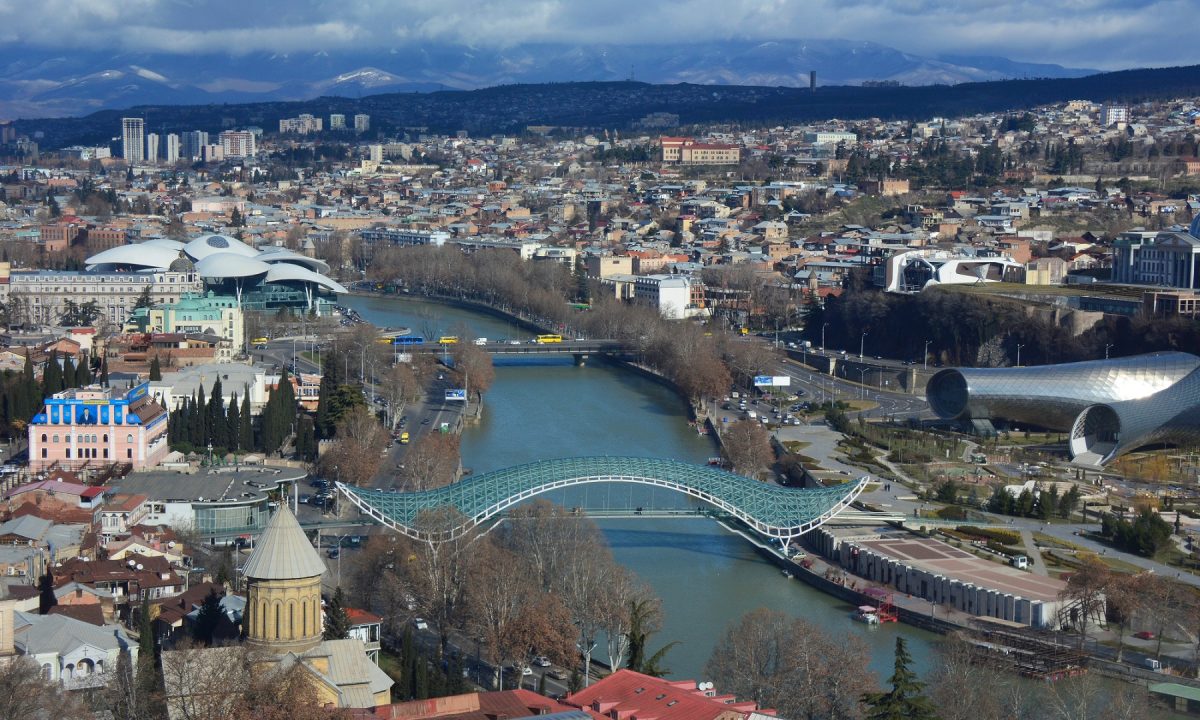 It is no exaggeration to say that every single meal we had in Georgia included freshly baked bread and cheese in some form. Eating and drinking in Georgia was an absolute delight. Bakeries and open-air cafés proliferate in Tbilisi, particularly along the scenic cobblestoned streets of the Old Town area, and we never had to take more than a few steps before finding another wine shop to nip into. We stayed in the beautiful, modern Biltmore Hotel Tbilisi, and eating here was excellent, as well: breakfasts in particular were incredible, as were the outstanding views of the Mkvari River and surrounding city from this, the highest hotel not only in Georgia, but in the entire Caucasus region. Leaving Tbilisi was hard, in large part because we had to say goodbye to the Biltmore!
Water and walking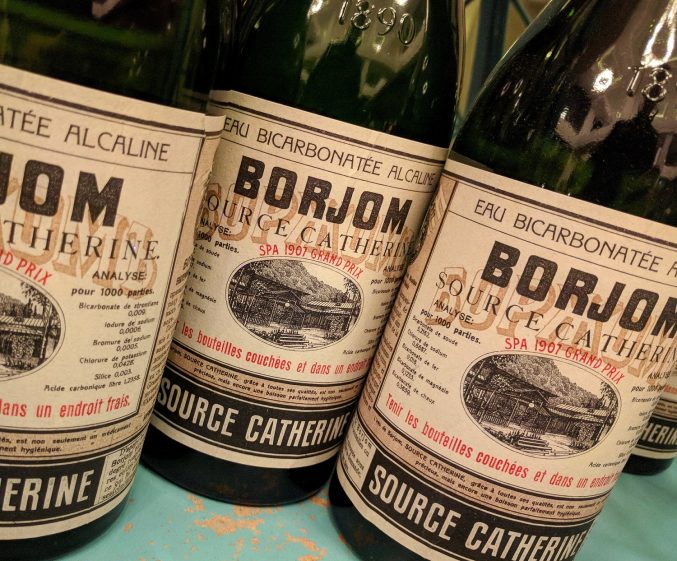 Heading west from the capital, we made our way to the resort town of Borjomi, located in the lovely Borjomi Gorge, surrounded by old forests. The town is particularly well-known for its deep-well mineral water, which is naturally carbonated and forced upward some 1,500m to the surface by carbon dioxide pressure. The mineral water purportedly has some curative properties and is so famous, particularly in former Soviet countries, it has become Georgia's number one export, shipping to over 40 countries.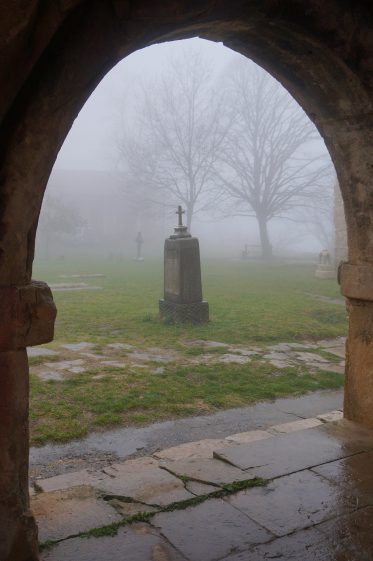 Following our time in Borjomi, we headed further west to Kutaisi, which has a curious parallel with Malaysia's own Putrajaya, in that Georgia decided in 2012 to make Kutaisi the legislative centre of the country, complementing
Tbilisi's status as the capital. However, the move here also served to recognise the small city's historic significance, as
Kutaisi was the capital of the Kingdom of Georgia in the Middle Ages, and also serves to this day as the capital of the
Imereti Region of the country. A particularly special afternoon was spent at the ancient UNESCO-inscribed Gelati Monastery near the city, founded in 1106 by the revered Georgian King David IV, who is buried on the monastic grounds. A misty rain and thick blanket of fog persisted that day, and it lent a remarkable atmosphere to the medieval monastery.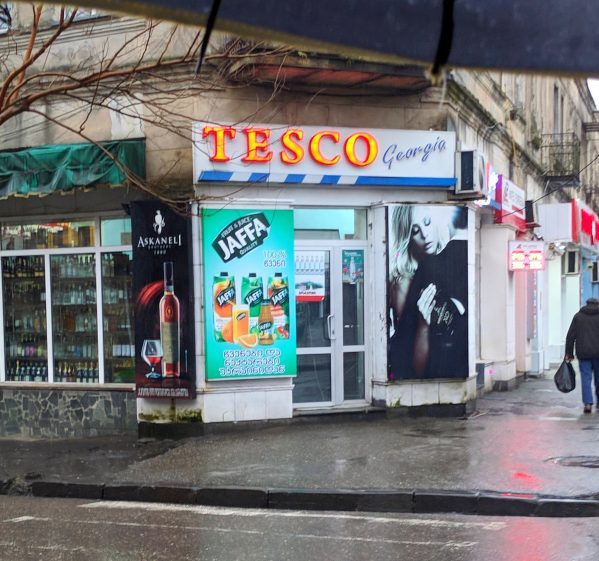 Kutaisi was well-suited for walking, and we even stumbled on a very small Tesco near the hotel, though it was certainly nothing like the ones here or in the UK. It was here, however, where I personally picked up a bottle of one of the best brandies I've ever had, an Old Kakheti 7-year-old bottling. It's available in a wide range of ages, and knowing nothing of the label, I aimed for one that hit that sweet spot of price and age. It was some months  later when I finally opened it, and it's a very special brandy indeed.
Final days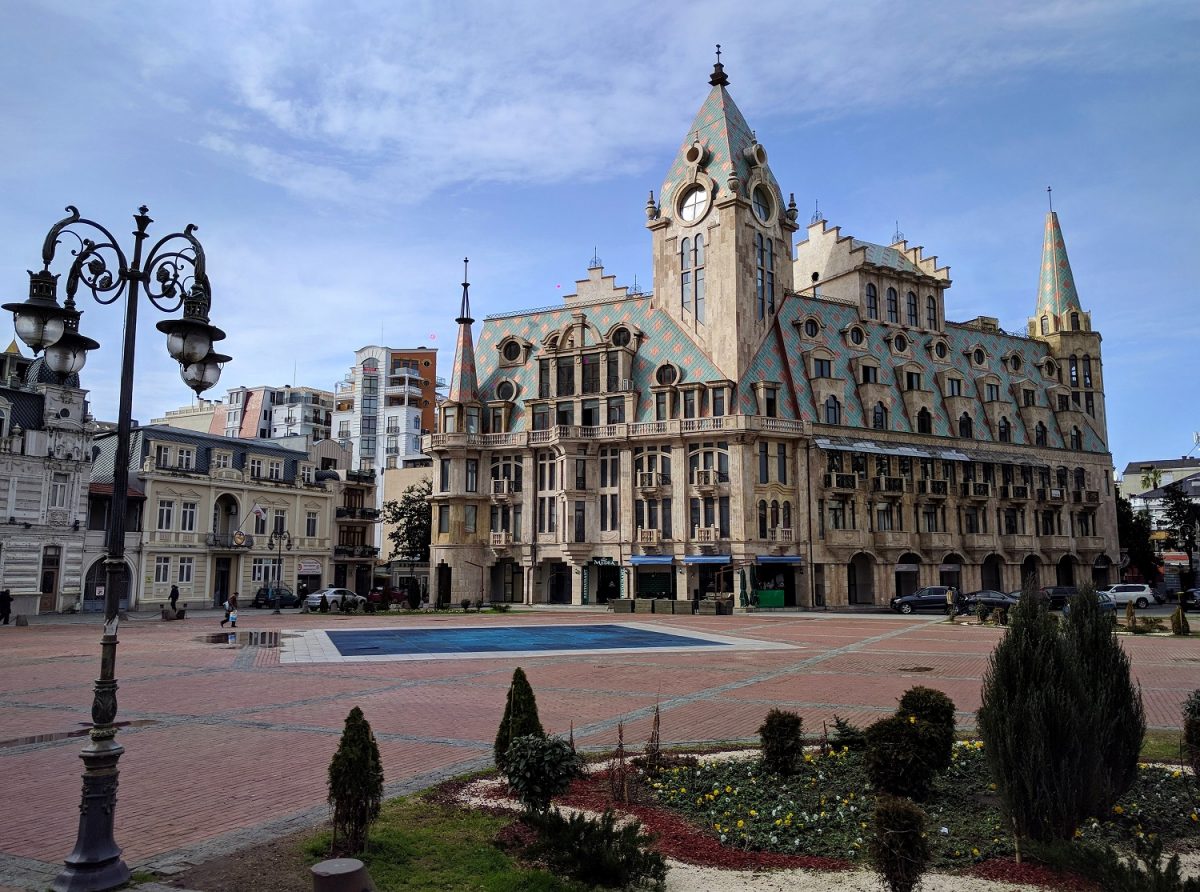 We wrapped up our time in Georgia in its second-largest city, Batumi, located in the far west of the country on the shores of the Black Sea. Batumi was a traveller's delight, with plenty of interesting sights to see, most of which were able to be reached on foot. We particularly liked Europe Square with its distinctively European architecture, all the cafés and shops along Port Batumi Boulevard, and the contemporary buildings and skyscrapers in the city centre, including the Alphabetic Tower and Batumi Tower, a bizarre 200-m high-rise with a small Ferris wheel embedded in its upper façade. Batumi is also notable for its handful of hotel-casinos, several of which are located on or near Rustaveli Avenue in the city centre.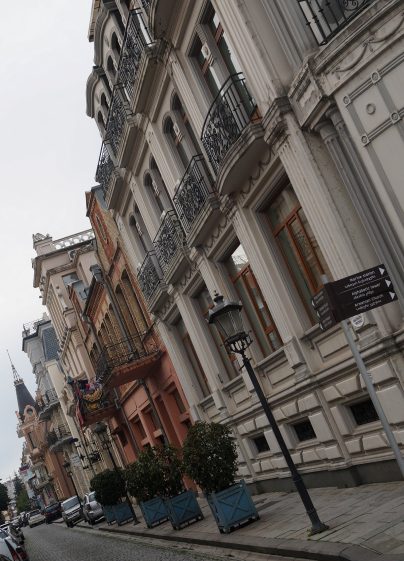 The city's coastal location and subtropical climate, influenced greatly by the Black Sea, has seen its 'beachside' appeal grown tremendously in recent years, with modern condos and other development hastened alongside the city's more traditional buildings. Georgia is one of those countries that had never really occurred to me as a prime place to go as a tourist, but now that I've been, I can say it's a place I'd love to visit again. Though it's been a few months now since I left the Caucasus region, the memories I hold are even richer now (having had the chance to age a bit in my mind, perhaps), and chief among those treasured times are the splendid days we spent in Georgia.
Travel file
Fly Turkish Airlines nonstop from KL to Istanbul and connect from there to Tbilisi or Batumi with ease. Book your flights at turkishairlines.com.
Recommended accommodation: The Biltmore (Tbilisi), Rixos Hotel (Borjomi), Best Western (Kutaisi), and Piazza Boutique Hotel (Batumi).
Georgia time is GMT+4, which is four hours behind Malaysia time.
Comments