Contributed by Lean In Malaysia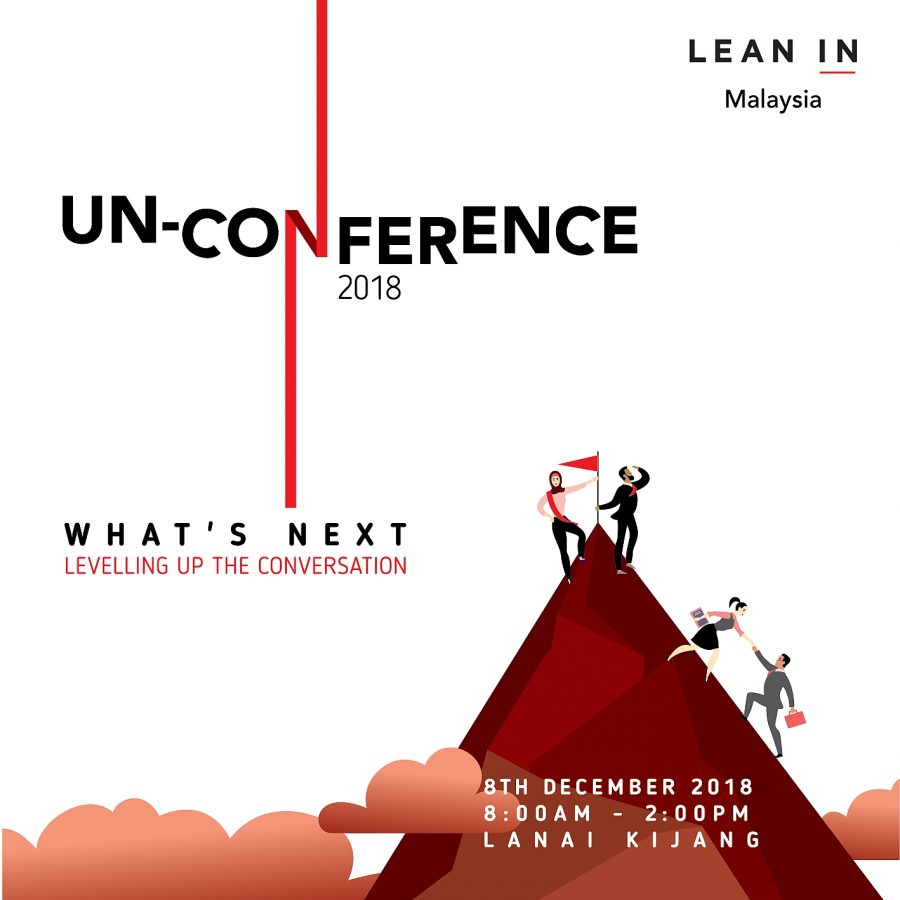 EDITOR'S NOTE: Kindly be advised that, due to the anti-ICERD rallies held over the weekend of 8 December, the Lean In Unconference organisers have decided to reschedule the event. We will update this article when the new date is announced. You may also contact the organisers using the phone and email contact info following the article.
Asia Women Circle @ Lean In (AWC) is proud to announce the return of Lean In Unconference 2018 (LIUC 2018) entitled, "What's Next: Levelling Up the Conversation." With the theme 'Diversity in Career and Societal Issues,' the conference aims to create a platform for women from all walks of life who want to take part in nation-building by bridging conversations and actions from different segments of society into one. The goal is to broaden our coverage of inclusion amongst the members of our nation. Lean In Unconference, an alternate version of our annual flagship event, the Lean In Malaysia Summit, is where we gather prolific speakers who are experts in their fields to discuss a wide range of progressive ideas on the betterment of the Malaysian society. Our conference themes differ each year, but the primary focus is to inspire more women to be empowered professionally and personally. We help by providing platforms, connections, and spaces to guide women in their pursuits, whatever it may be. At the conference, participants will see a showcase of Lean In Malaysia's best practices and most popular modules that have been delivered throughout the year.
We are now living in an era of unprecedented change in the form of technological and economic disruption, geopolitical instability and an uprising of grassroots, social movements such as #TimesUp, #MeToo, and March for Our Lives. Women leaders are reclaiming their rightful power on the domestic and international front, both as the voices and icons of change, as well as inspiring role models creating a wave of empowerment for other women around the world.
Realizing this, Lean In Malaysia is focused on nurturing and supporting more women leaders who can use their talents to improve their surroundings and the state of the nation through societal, legal, industrial, and cultural means. LIU 2018's panel session on Malaysia Baru seeks to discuss these issues with key opinion leaders such as prominent social activist Ivy Josiah.
This year, The Unconference will be held on 8 December 2018 (Saturday) at the Lanai Kijang, Bank Negara Malaysia and is expected to attract over 300 participants from 18 to 45 years old. We are also pleased to welcome the participation of the founders of Lean In Circles from all over Malaysia who will present their circle stories with the audience. The High Commissioner of Australia in Malaysia, Mr. Andrew Goledzinowski, is expected to deliver the opening remarks, and the Dean of University of Malaya, Datuk Prof. Dr. Roziah Omar will be our keynote speaker. The honorable Deputy Minister of Youth and Sports YB Steven Sim will officiate the event and share his vision for youth and women empowerment in the closing remarks.
Since the inaugural launch of the 2015 summit, Lean In Malaysia has held monthly dialogues and launched multiple career accelerator programmes. This year, our community grew exponentially, and we witnessed the birth of eight Lean In Circles: Lean In Sabah, Sarawak, Penang, Kedah, Perak, Johor, SP Setia, and Lazada. Lean In Malaysia is also becoming just as invested in the future of the youth as we are in empowering women. In early January this year, we launched our second youth accelerator program, Lean In Youth (LIY). LIY provides a platform for university students to educate and expose themselves to the challenges and skills required to succeed in the working world as well as receive mentoring by esteemed leaders in their respective fields.
For further information and inquiries, please contact Miss Kamila Solihin at +6 011 2862 5951 / [email protected]
Comments