Ever wanted to do something totally unorthodox? How about a different sort of travel experience altogether? Join  Achim Lauermann aboard a gigantic container vessel, and embark on a fantastic cruise from Asia to Europe, and gain a whole new perspective on getting from point A to point B!
As frequent flyers who often see the world from above, there were two travel-related things we had always wanted to do but hadn't, usually due to time constraints: cutting straight across the Indian Ocean and traversing the desert by
ship. With one unusual journey, both were going to happen. We were setting sail, travelling from Asia to Europe, but
not on a typical cruise ship with endless buffet lines, casinos, and crowded sunloungers by the pool. We would be making our journey aboard a huge container ship, trading luxury for a uniquely enjoyable experience.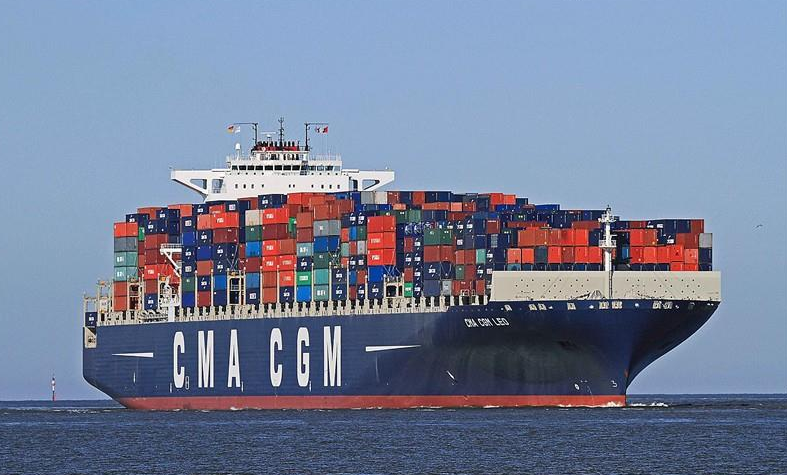 Singapore was our starting point, from where the vessel would transport us, non-stop, to the historical port of Malta – located in the Mediterranean Sea about 80m south of Italy – sailing down the Suez Canal. If we had taken the opposite direction, the vessel would also have stopped at Beirut, Jebel Ali, Dubai, and Port Klang. However, as we  would not be allowed to disembark during any of the calls, we did not really consider this as an alternative.
Settling in, setting sail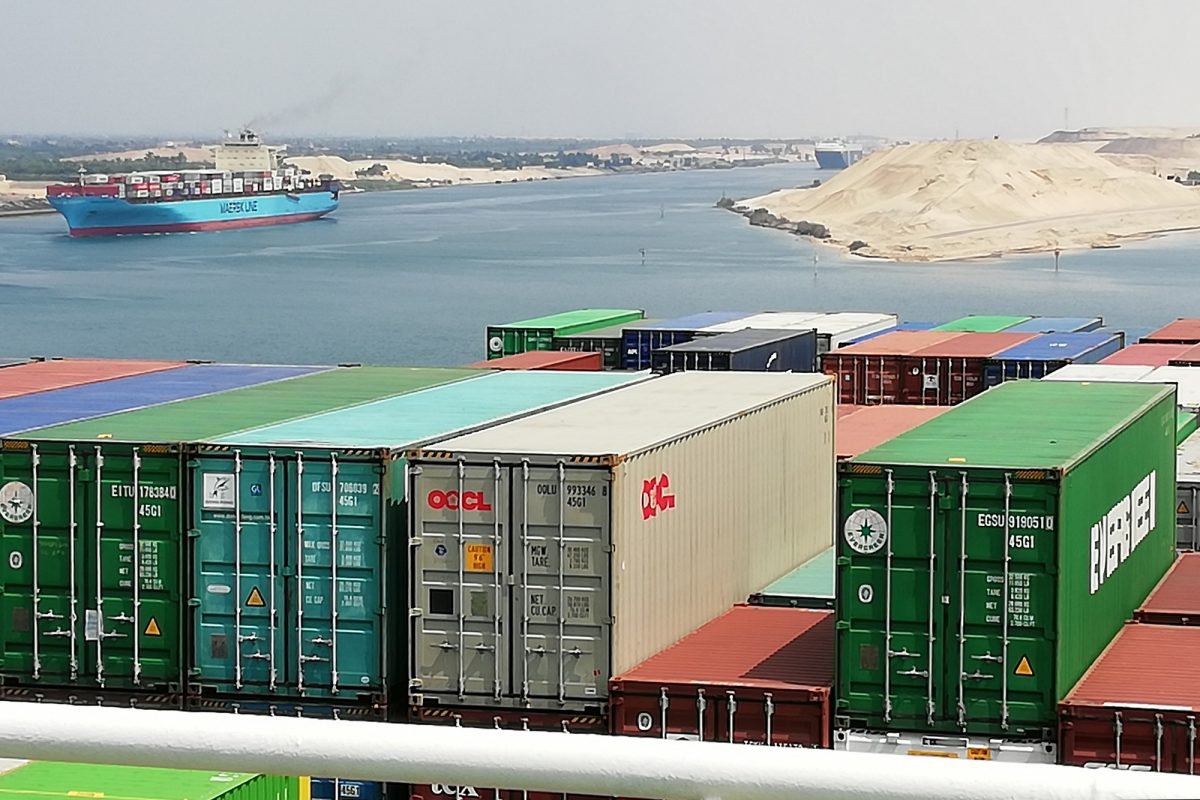 It was already late in the evening when the van finally picked us up from our hotel and our overall cruise experience began. We were driven into the port's security area, given our photo security ID card, and taken past thousands of shipping containers. What an amazing sight! The van stopped alongside the huge 11,400 TEU-capacity CMA CGM Leo. That means the ship can carry 11,400 'twenty-foot equivalent unit' standard shipping containers, which makes it a very large container ship indeed – though the world's largest carry over 20,000 TEUs. But at a whopping 363m in overall length, not to mention a 46-m beam (width), this was a huge ship, regardless of its place in the rankings.
Curiously, although there were lots of activities going on, such as five cranes and many trucks moving around, no  people were in sight – no welcome committee, no fanfare, no bellboys. We were asked to leave the van and then left alone, just opposite a marine ladder leading (hopefully) onto the ship deck above. For a brief moment, we felt a bit lost. A sailor came out of nowhere, saw us, and showed us the gangway up, helping us to carry our luggage – by picking the lightest of all the bags. We took our other suitcases and followed him, counting the steps while  mounting… 69, 70… 88… and understanding why the travel agent had checked on our fitness as passengers!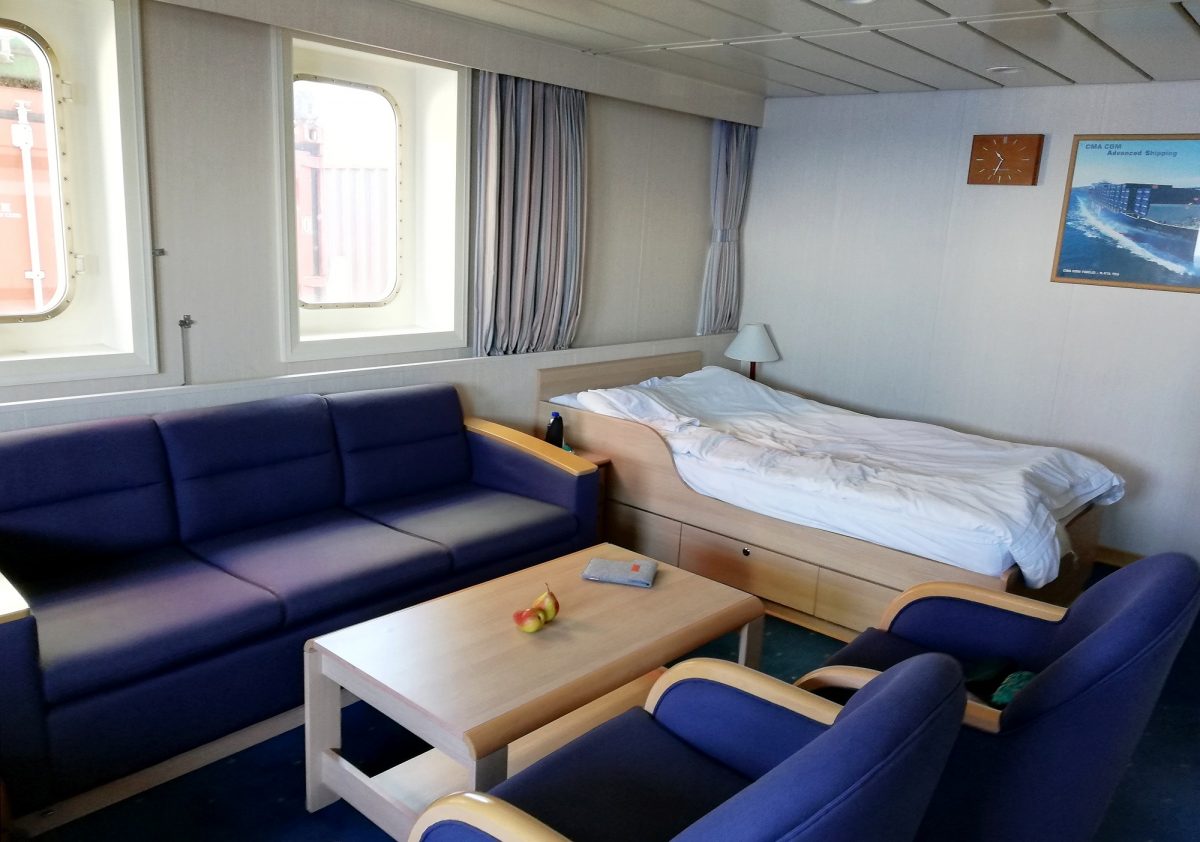 Breathlessly, we reached the ship's deck, met another seafarer, registered, and were finally greeted with big smiles  and friendly handshakes. Looking around, we saw five gigantic dockside gantry cranes in full action, containers flying through the air, and a few sailors in the cargo hold lashing or unlashing them. Everyone was very busy tending to what was apparently more important cargo than us, the two sole passengers on board. Taking a lift to the seventh floor, we were shown the way to our cabin and politely asked to stay inside for our own safety. This time, happily, our luggage was handled by a crew member! We were taken by surprise when we opened the door to our cabin: it was a very spacious and beautifully decorated corner suite with four big windows, two queen-size beds, lots of cabinets, a  comfortable sitting area, and a clean and fully equipped ensuite bathroom.
We could now relax, and on a ship as massive as this one, we had lots of space to ourselves (well sort of, apart from a few thousand containers and 26 crew members). We could already smell the sea, feel the vibrations of the ship, and had almost three pleasant weeks of traveling ahead of us. No calls, no news at all. Breakfast was scheduled for 7am, and departure was planned for noon. Arrival in Suez was scheduled to be on a fixed date in the future at 2200 sharp. All properly planned! But it was no ordinary cruise, of course, and the containers got all the attention: loading and discharging them, which had taken place all night, continued all the following day. Even though a large gantry crane can handle two TEU containers at a time, it still took until the next evening before our vessel was fully loaded and finally left Singapore's port… 10 hours late!
Life on board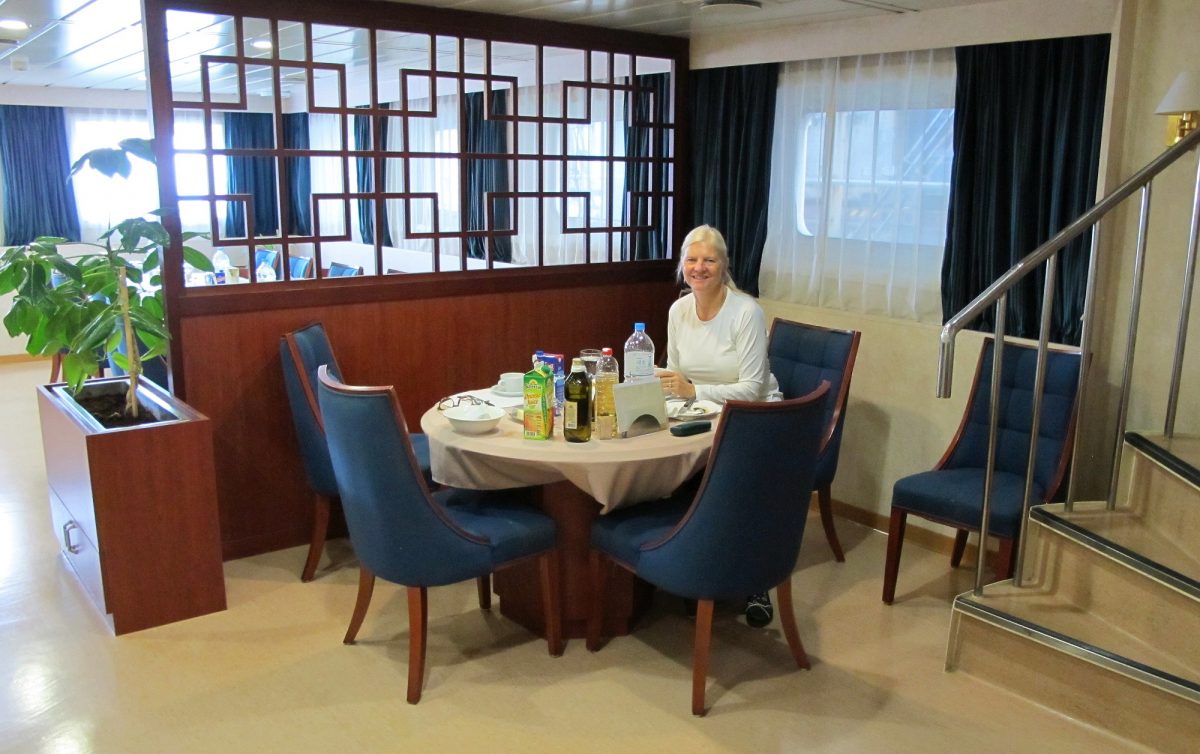 The second day of the trip was very different, though: we got all the attention we wanted from the First Officer, were introduced to some crew members and safety procedures, obtained our private safety gear, and were made to feel  very welcome. With the ship now moving methodically ahead at 18 knots, and having no access to Wi-Fi (our own choice), we tried to find a routine. It turned out that our life would soon revolve around regular exercise in the gym and meals: breakfast, lunch, and dinner, all freshly prepared by the Filipino Chief Cook, Bautista. There was no need for impatiently pressing in the line at a buffet as all meals were served by the Mess Man, Leo, in the Romanian  Officers' Dining Room – separate but adjacent to the Filipino Crew Lounge. The food was tasty and plentiful, always including vegetables, salad, fresh fruit, and lots of different kinds of meat, plus pastries and baguettes. Even though we were seated at separate tables, we had many opportunities to chat with the officers – two separate BBQ dinners
helped additionally in getting to know each other better. In general, alcoholic drinks were prohibited on board, though we were offered a bottle of Rioja wine per day, if we asked for it, to be enjoyed in the privacy of our spacious cabin.
We enjoyed the 'no-dress-code' policy and hospitality very much, and although all crew members were quite nice and friendly, they were frequently a bit short of time as they had jobs to do, which did not include entertaining the passengers! On the bridge, where we always felt welcomed, we spent a lot of time studying the nautical charts, monitoring the radar screens, and watching the sunrises and sunsets. At night, the skies glittered with innumerable stars: it was so beautiful and so undisturbed by scattered light. Surprisingly, we did not see any animals in the ocean but, happily, also not much litter or polluted, oily waters.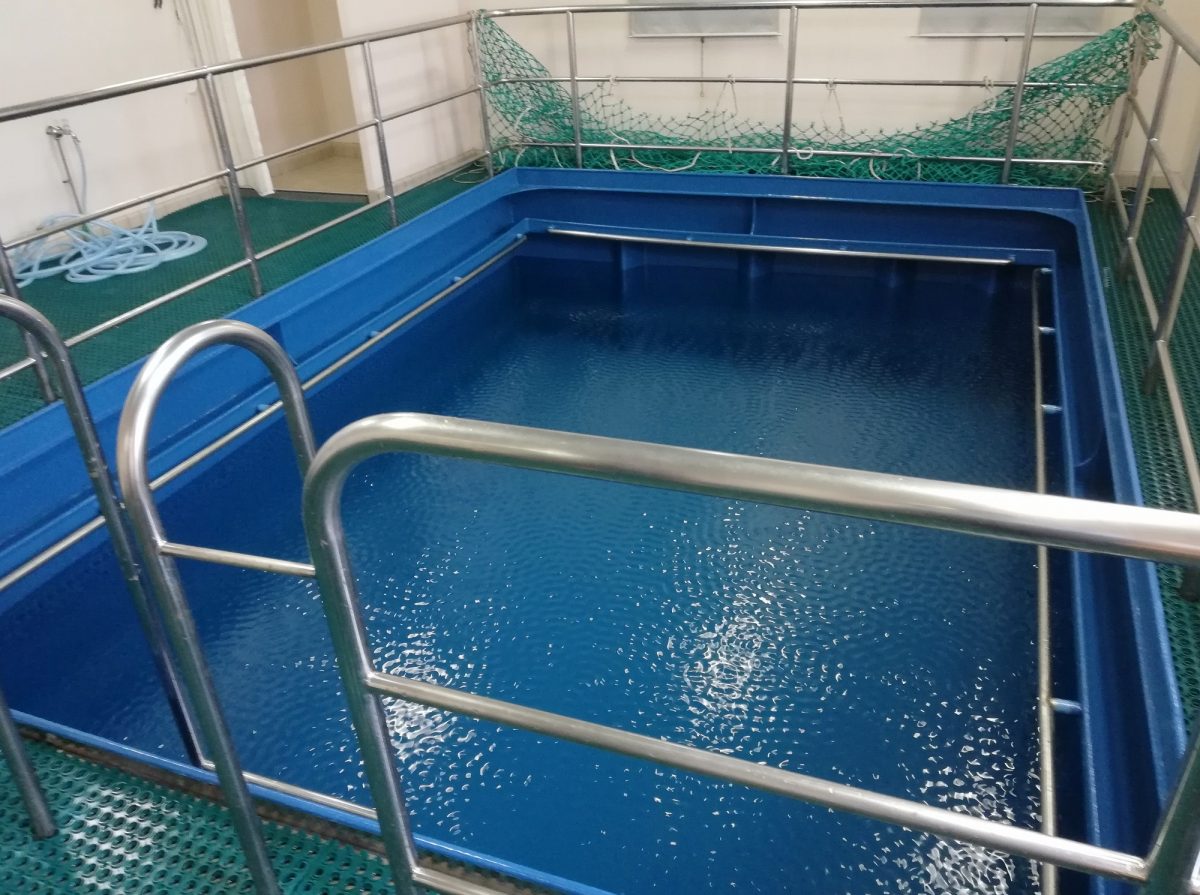 Sailing in May and June was very smooth, with no rocking and rolling of the huge vessel, even with fairly high waves. The northern Indian Ocean lived up to its reputation as being calm, with no monsoon to cross our path. We usually had to cope with a stiff breeze when on deck; however, the air was always warm and so was the salty ocean water,  which was used to fill the small swimming pool, only for our convenience.
Believe it or not, our time on board was never boring. Quite the opposite, in fact, it was exciting, cutting straight across the Indian Ocean, and always so interesting to see the crew at their routine work, often with unfamiliar tools, or to listen to them talk of their experiences. We did not even find enough time to finish reading all the books we had taken with us or discovered in the relaxation room. And most nights, we fell sound asleep at 9pm, satisfactorily tired  and overwhelmed by the adventure of it all.
Enduring memories
One particular highlight of this trip was our tour of the massive engine room, under the guidance of the engineers, something that is only very rarely offered on a non-cargo cruise. We learnt a lot about the inner workings of the  vessel, were shown the 12 three-storey-tall cylinders, the five 6,600-volt generators and many back-up facilities, and the unbelievably long shaft of the single propeller. It was also amazing to see that the entire space was kept extremely clean.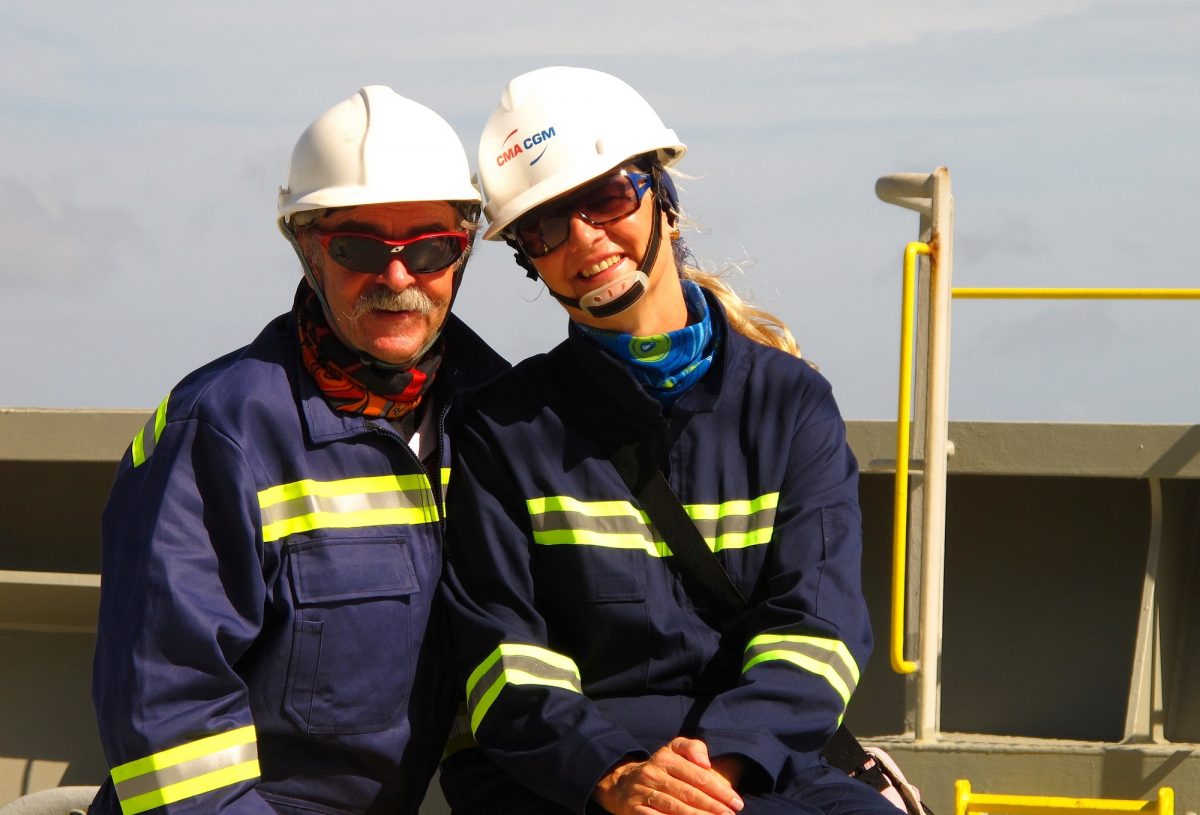 Another highlight was the transit through the Suez Canal, something which we had looked forward to for the two weeks since departure. We arrived at the Red Sea's city of Suez at exactly the date and time scheduled back in  Singapore, meaning that the vessel had made up for the 10-hour delay when we started this wonderful cargo cruise.  The Canal's waiting area was jam-packed with other gigantic container vessels, 'parked' at buoys, and their transit  was allowed only under strict adherence to the Canal's administrative rules, terms, and conditions… and under guidance from local pilots. They allowed a maximum of 24 vessels, in convoy, in one direction, with war and  passenger cruise ships sailing in front of container vessels, so we had to queue and wait to be called. Some 12 hours  later, at a constant speed of eight knots, and exiting the canal at Port Said, we had found the whole experience quite thrilling. The changing scenery had been fascinating, with desert on the canal's eastern side and much more fertile and urbanized land on the western side. Then what happened in Ismailia topped it all: in the middle of the desert, some 40 of the world's largest vessels passed side by side as the northbound convoy met the southbound convoy, leaving very little room for manoeuvres! It was an incredible sight for us to observe, and surely something not a lot of people outside of the cargo shipping industry get to witness. When we finally disembarked a few days  later at Malta, we felt we were saying goodbye not only to the container vessel Leo, but to a bunch of hard-working, interesting people… a crew who had shown us hospitality, interest, and fellowship, and shared so many experiences, even though that was not their job. All that remained for us were great memories of a unique travelling experience,  lots of spectacular photos, and the realisation that we would do it all again, no question, and would always choose a cargo vessel over a cruise liner.
Travel tips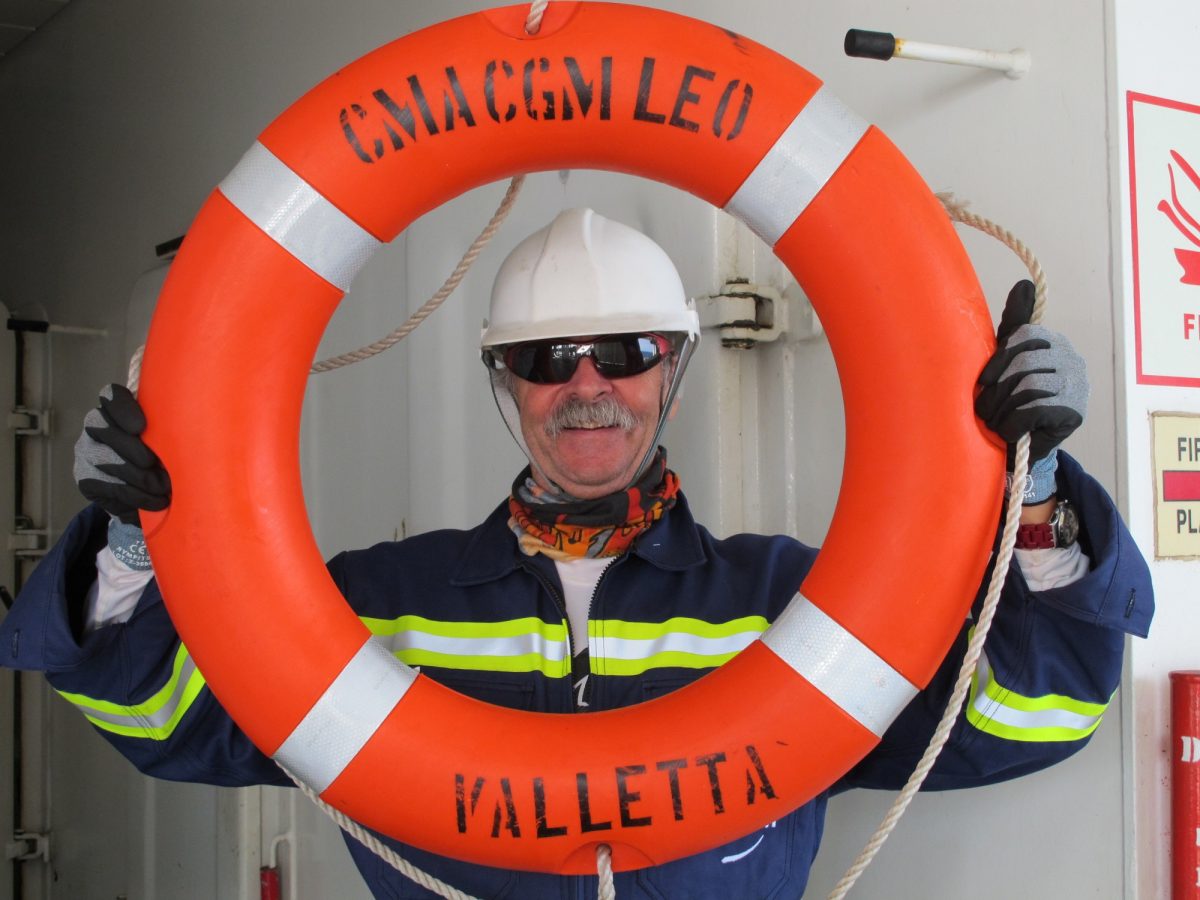 We chose CMA CGM, the French leading worldwide shipping group, to offer us this unique way to travel to Europe – across the Indian Ocean and the Red and the Mediterranean Seas, a journey taking approximately 18 days and nights. The total voyage cost roughly US$110 per day, per person. Additionally, one would have to pay for transfer  within the ports, security clearance fees, and Wi-Fi, if desired. Documents of medical checks needed to be presented upon embarkation and flexible departure dates are advised, as ours were only provided some days before the start of the cargo cruise. English was the compulsory language spoken on board, and all information was provided in English. A Yellow Fever vaccination is required for any Suez Canal trip.
For more info about prices, availabilities and routes, visit cma-cgm.com/news/527/
cargo-cruise-a-thrilling-andunforgettable-experience. You can also check out partirencargo.com or drop an email to
[email protected], reference "VEC2018."
Comments