This post is brought to you in part by Ish Salon.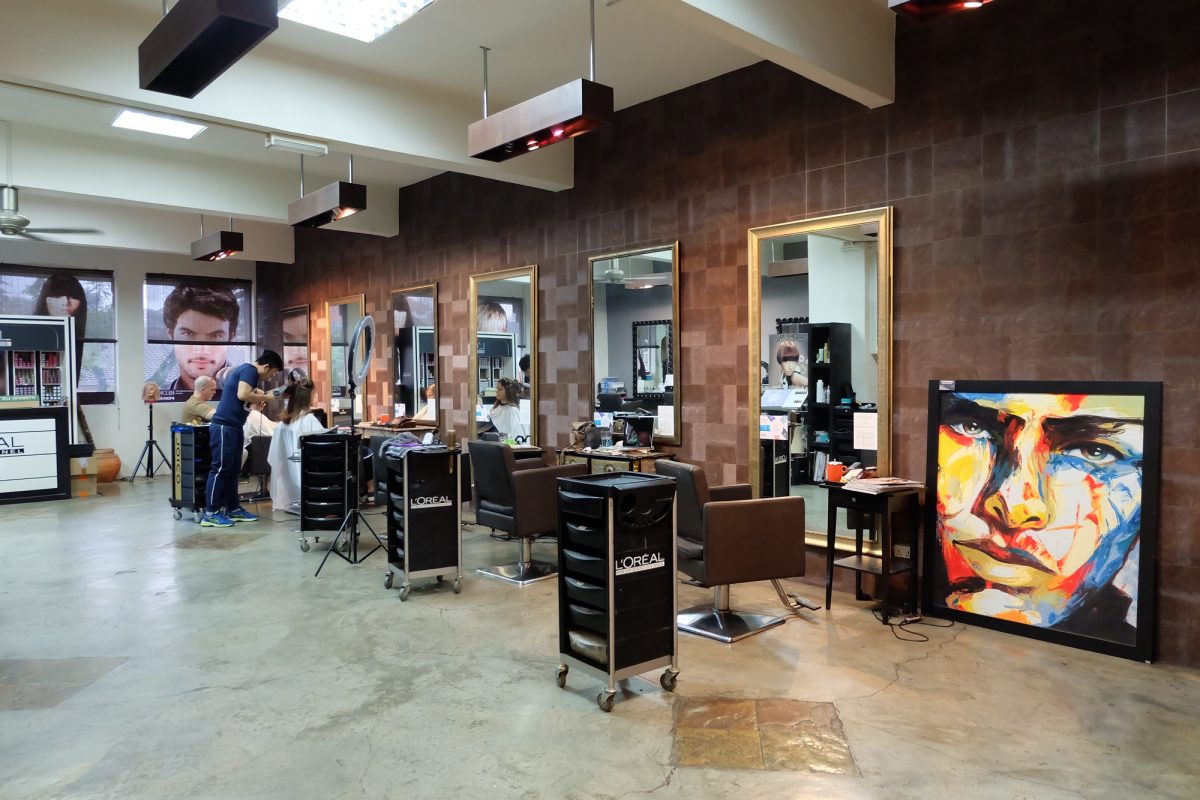 Ish Salon is comfortably tucked along the row of shops on Jalan Telawi. Situated on the first floor, the salon faces the residential area and enjoys just a little bit more peace and quiet than the other Telawi businesses. I had the opportunity to visit Ish Salon to experience their services for myself. For the past three years, I have had coloured hair – purple, teal, and green, respectively. This involved my hair being bleached a total of five times in the last few years, so suffice to say my tresses were pretty stressed out.
After sending the Ish Salon team a current photo of my hair, we decided that I would get a haircut, then recolour my locks. Previous experience taught me that the dyeing process alone would take several hours, so we set the appointment for 12pm to be safe, since the salon closes at 7pm daily.
I arrived at the agreed time and chose my seat. Then, the owner of Ish Salon himself, Michael, had a look at my hair to assess the situation. Since I wasn't keen on changing my length too much, we decided that just a little trim would do, to get rid of any damaged ends. The process started with a quick wash and shampoo, and Michael began working his magic.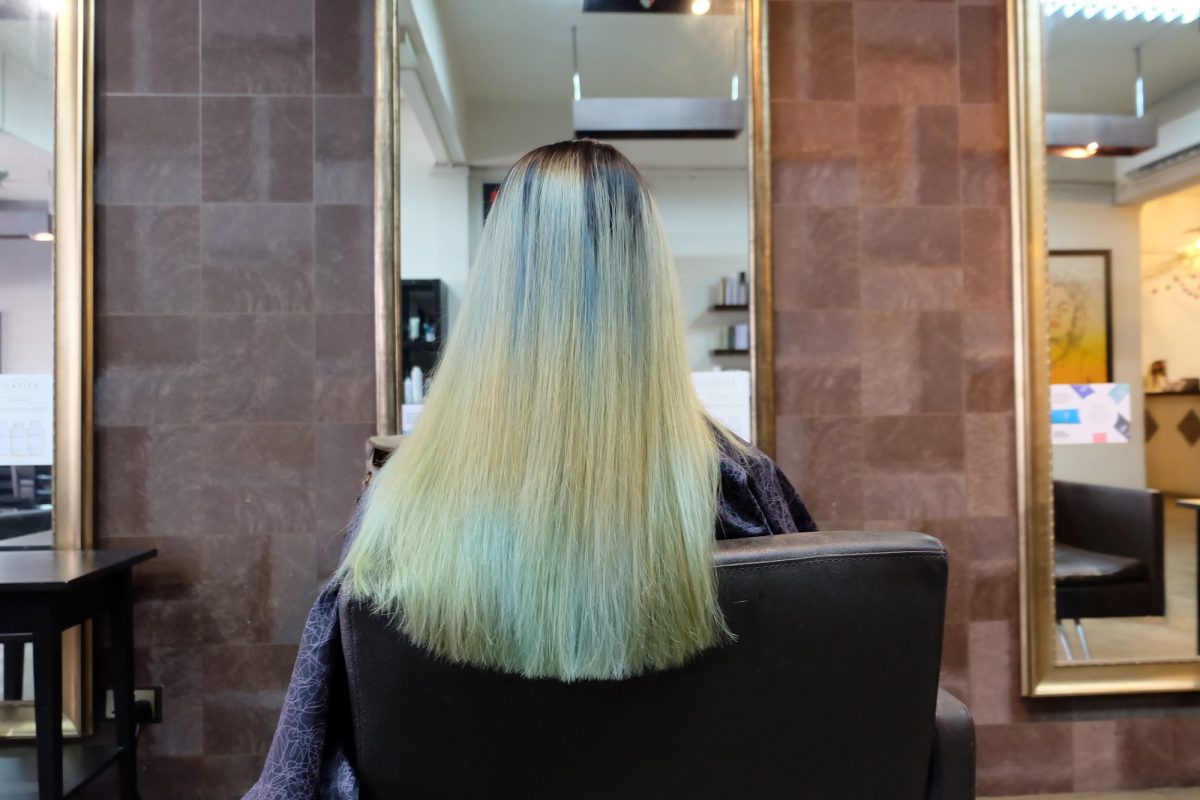 He was very calm, professional, and reassuring, which I appreciated. Some hairstylists are all for pushing you out of your comfort zone to try something new (which you might not be comfortable with), but I felt no pressure from him to drastically change my hairstyle. The haircut took a little under half an hour. After a quick blow dry, Kenneth, colour consultant extraordinaire, took over.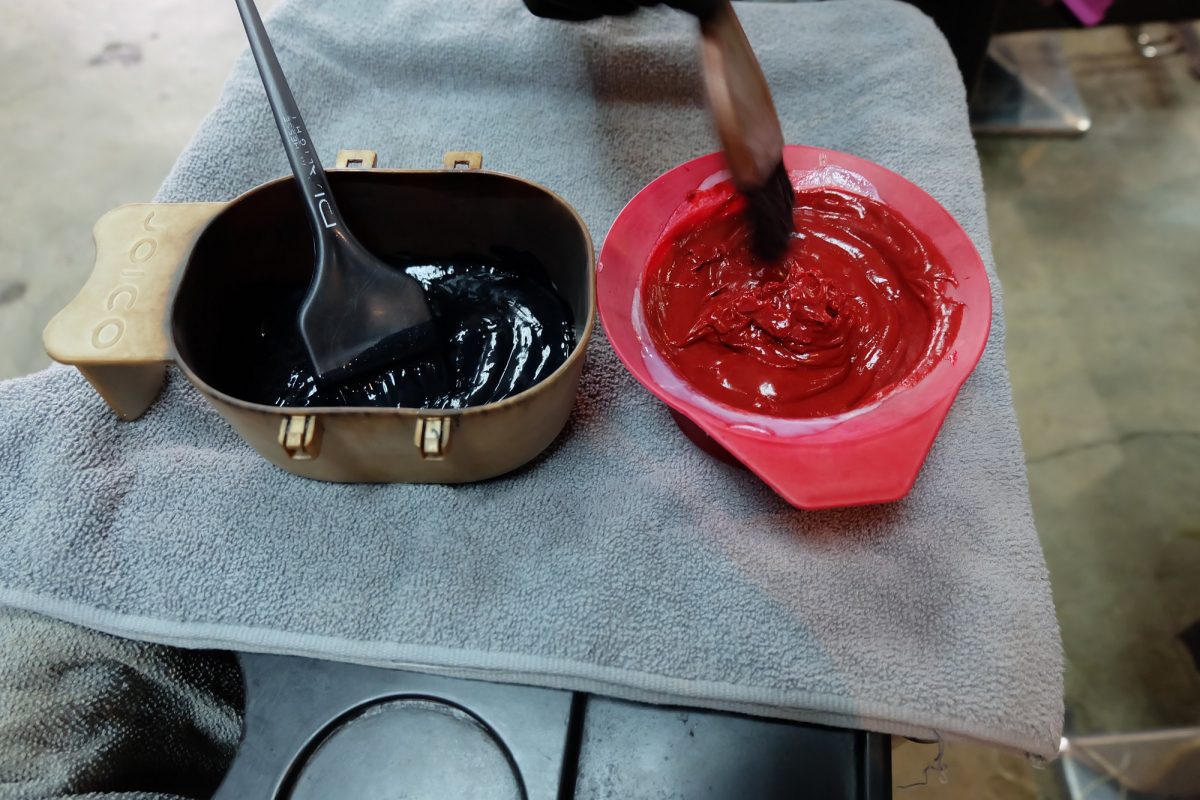 I have wanted to dye my hair a silver tone with traces of blue and purple for the longest time. However, Kenneth advised against it, as did my previous hairstylist. The frosty silver hair colour is known to stay on for just over a week before fading to the undesirable 'naked bleached blonde' tone. Additionally, the green I once had left behind some very yellow tones that would require additional bleaching to achieve the frosty silver look. As Kenneth believes in "minimal damage, maximum results", he suggested to make the most of my blue undertones by adding a splash of purple to create a #galaxyhair look but in the balayage technique.
Dyeing hair is no walk in the park, folks; especially when it comes to multicolour projects like mine. That's why hair colour experts are given the due recognition. Kenneth created his own concoction to achieve the desired colours. He mixed colour dyes by L'Oreal, Joico, Wella, and Pharmacy to come up with two shades of purple and a brilliant blue.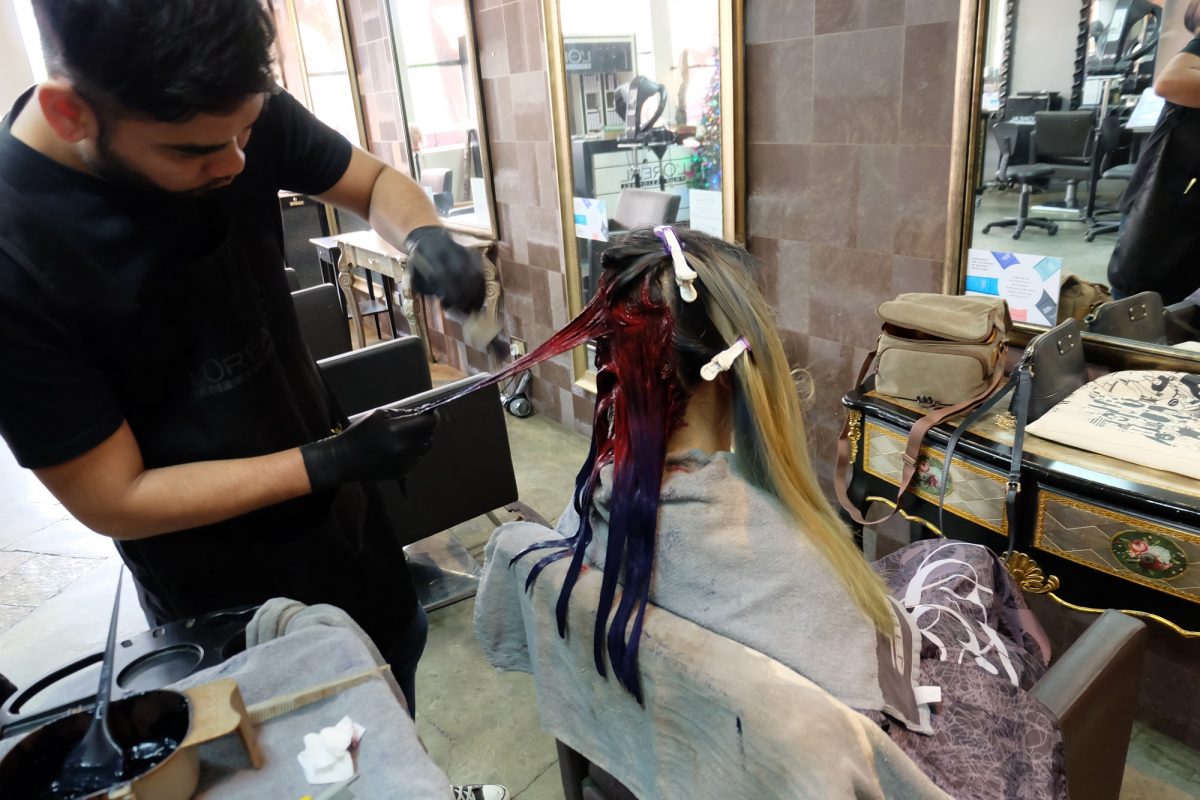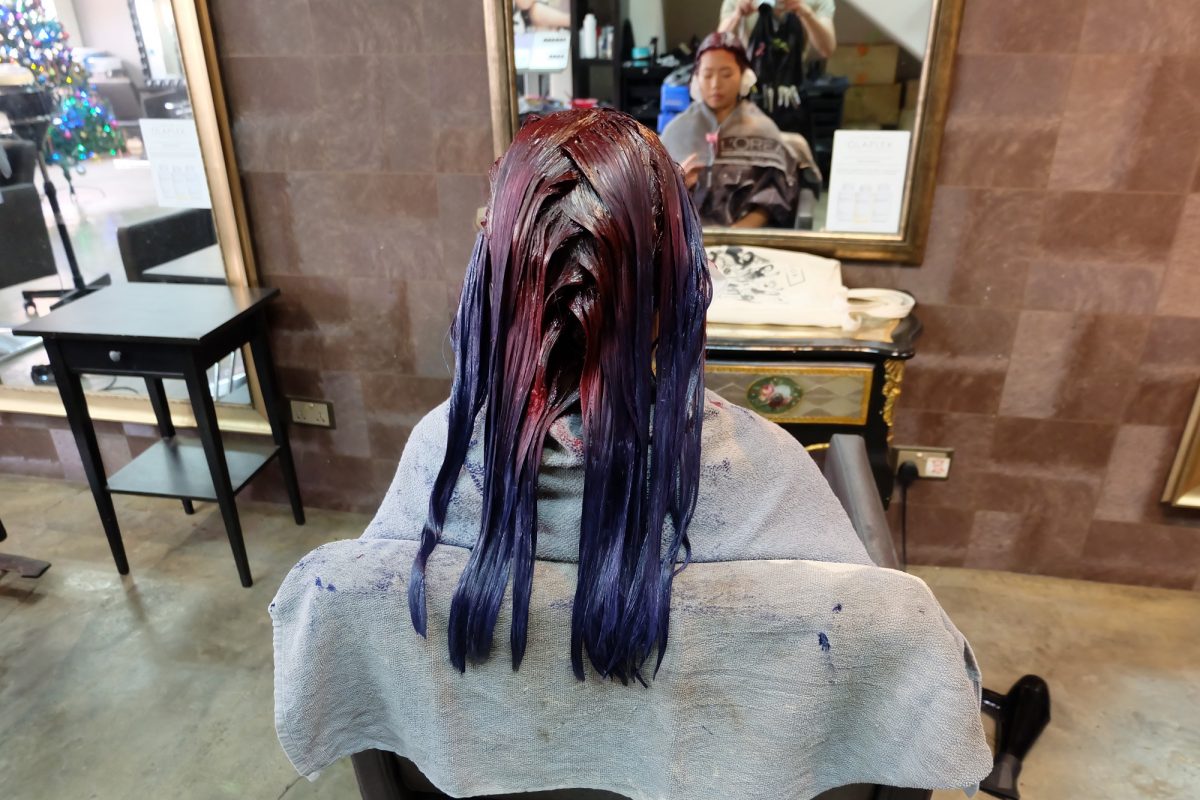 Andy and Ayun worked on my hair simultaneously for the first round of dye. One handled the purple dye while the other did blue, and they took turns painting streaks into my hair by sections. Because the hair had already been bleached, aka slightly damaged, they did not use a steamer. 45 minutes, a shampoo, and conditioner later, the first layer was done.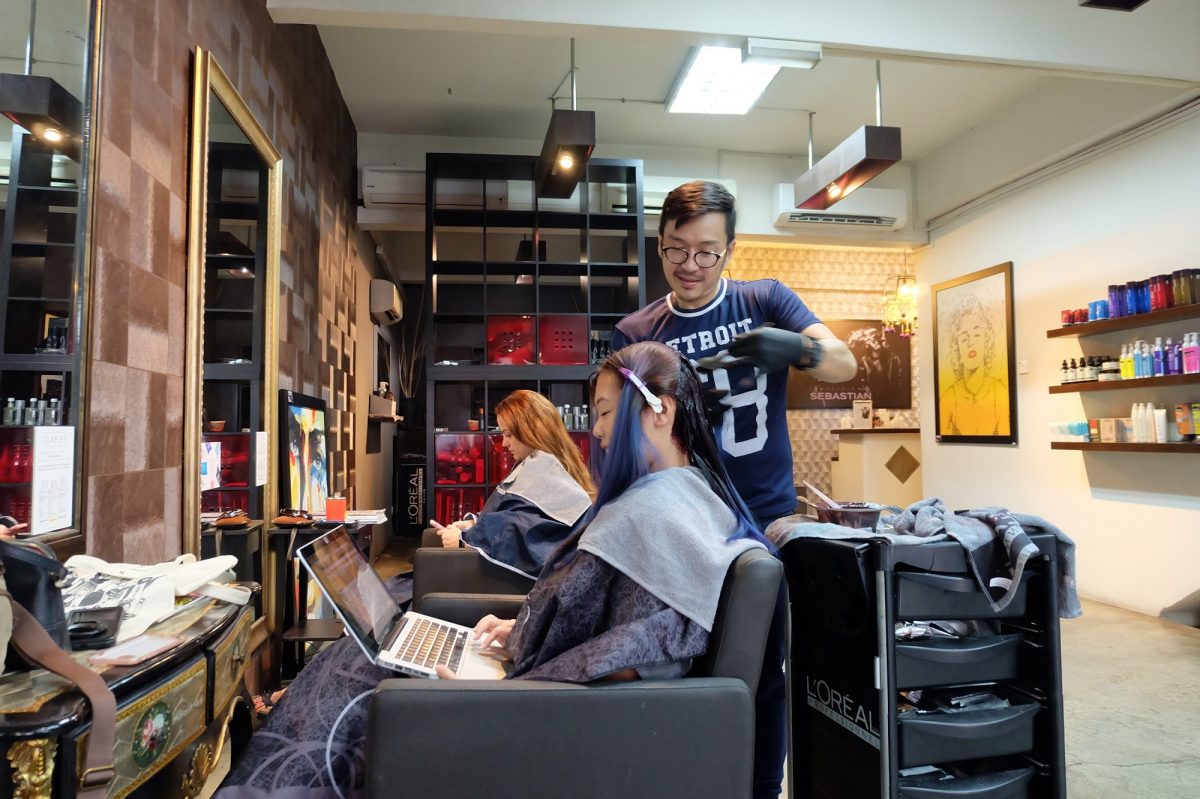 Kenneth took one look and decided that the purple needed to be intensified. This time, he mixed up a darker shade of purple to cover my unbleached roots and to blend the colours together better. Another 45 minutes and a wash later, we knew it was done.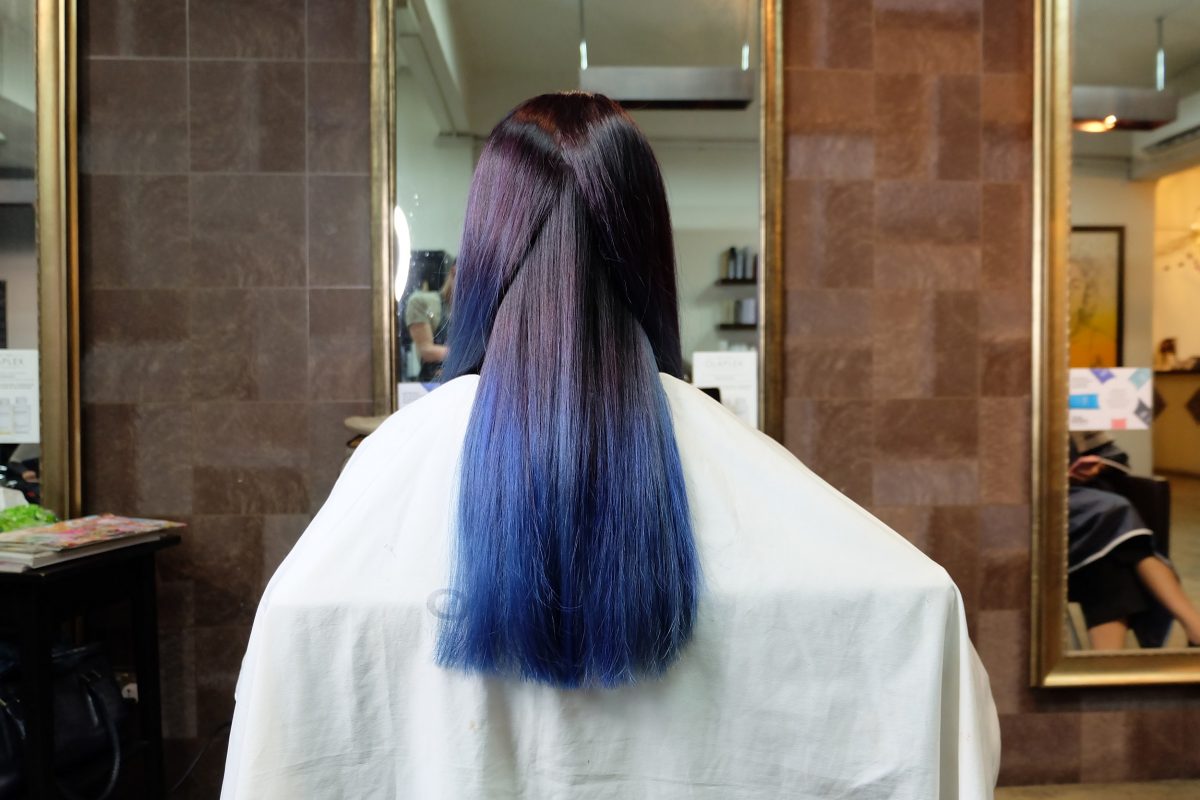 Six hours, four hair experts, and a sterling flat-iron curl later, they brought out the photography lights. Ayun specialises in using the flat iron to produce va-va-voom curls, and he created beautiful waves that lasted for days. The Ish Salon team did a wonderful job, and I received many compliments for the gorgeous colours and fabulous curls! Another important thing to note is how soft and healthy my hair felt despite being dyed twice. Kenneth places strong emphasis on choosing a hairstyle and technique that suits the customer's preferred level of maintenance. As I preferred something that would last me for months without going in for a hair update, he recommended darker colours in the balayage style. This means that when my hair grows out, my hair will have a smoother colour transition from natural brownish-black to purple, and finally the brilliant blue.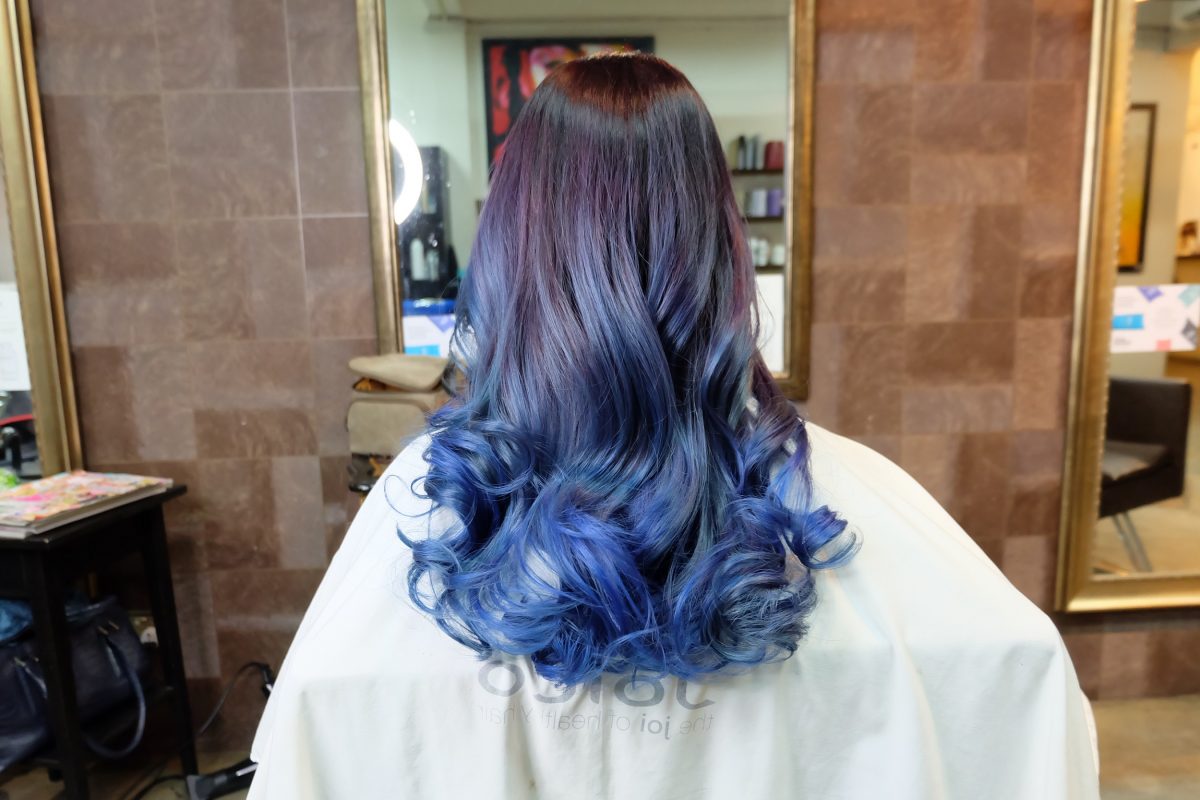 The entire experience would have costed me RM480 in total – RM130 for the haircut by Michael, and about RM350 for the colours (because I didn't need any additional bleaching, which would typically be priced at RM260 for my hair length).
Ish Salon is popular among the expats in KL, and for good reason. Michael has a solid team of experts on hand, who are real darlings, as I had the pleasure to discover. They provide exceptional service, are ever ready to share hair tips and knowledge, and are incredibly pleasant to chat with. At least five regular customers visited while I was there, and seemed very comfortable with the Ish Salon team.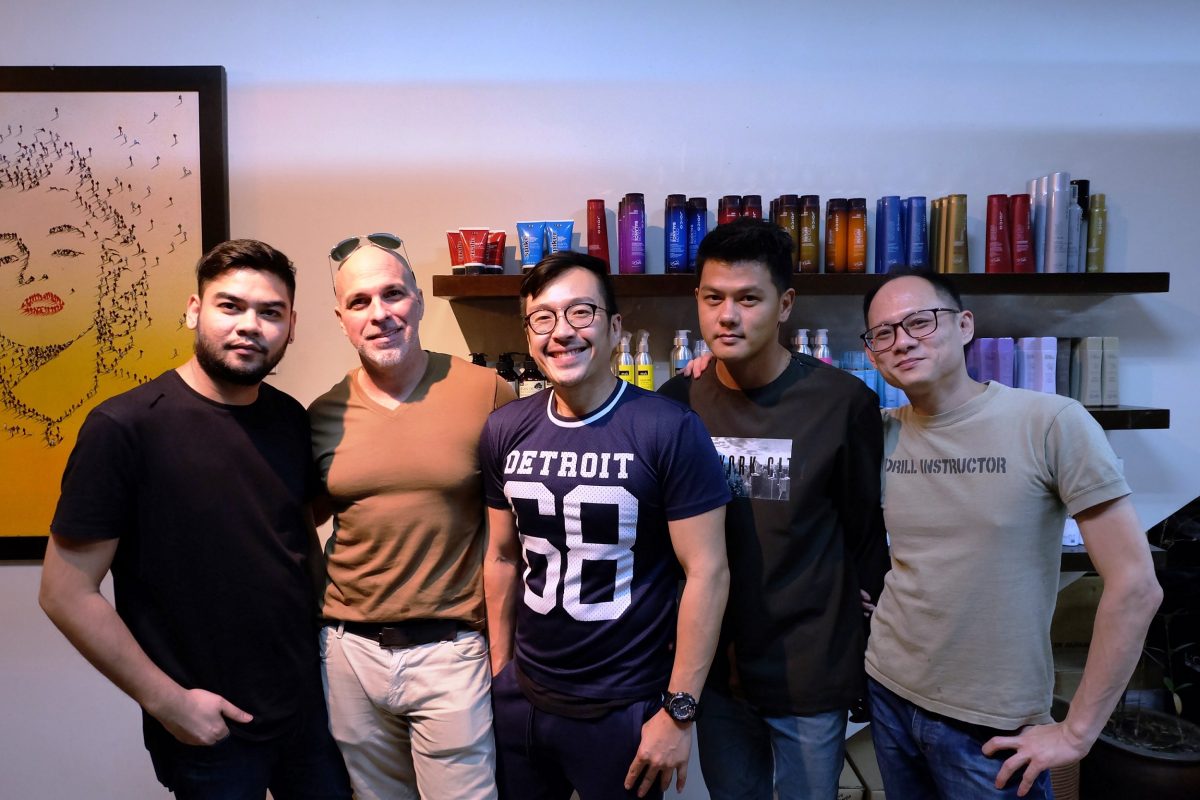 If you need to get your hair or nails done, give Ish Salon a try if you haven't! Make sure to call ahead and book, because the festive season has them all tied up with appointments.
Address: Ish Salon, 1st Floor, 46, Jalan Telawi, Bangsar Baru, 59100 Kuala Lumpur
Number: +603 2287 0920
Website: www.ishsalonkl.com
---
"ExpatGo welcomes and encourages comments, input, and divergent opinions. However, we kindly request that you use suitable language in your comments, and refrain from any sort of personal attack, hate speech, or disparaging rhetoric. Comments not in line with this are subject to removal from the site. "
Comments