This article was written by Rachael Lum for Lokalocal.
You wouldn't have thought that a place like Gombak could be considered a heritage site. Apart from Batu Caves and a residential area, this backwater district is mainly filled with forest reserves, along a highway snaking up to Genting Highlands.
Meet the team who is fighting to preserve Gombak's jungle and rich indigenous culture for future generations
You wouldn't have thought that a place like Gombak could be considered a heritage site. Apart from Batu Caves and a residential area, this backwater district is mainly filled with forest reserves, situated along a highway snaking up to Genting Highlands.
After driving past several rural settlements along Jalan Gombak, we finally reached Kampung Orang Asli Batu 12. While most might consider this curious village the middle of nowhere, it is actually the heart of the largest ancestral home of the Orang Asli in Peninsular Malaysia.
There are 18 Orang Asli tribes in Peninsular Malaysia, of which 10 can be found in this village alone. Among them are tribes like the Senoi, Temuan, Temiar, Jakun, Semelai, Jahai, and Bateq.
There are only two noticeable evidences of their existence here. The first is Hospital Orang Asli Gombak, built in the 1950s to provide much-needed healthcare services for the marginalised community. The second, Muzium Orang Asli – a quiet museum with wordy exhibitions that do little justice to the oldest inhabitants of Malaysia. Apart from that, the indigenous tribes hardly command a presence here.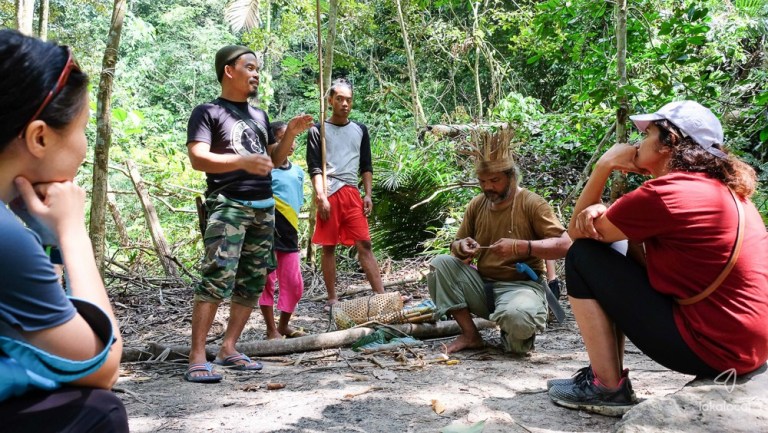 So it seemed that fate had plans for Mejar Kalam bin Pie and Raman Bahtuin. Since 2011, their small team has been working together to empower the indigenous people through an Orang Asli Jungle School.
Making a Change on Ancestral Lands
Raman, 48, is a Semai tribesman who was raised in the jungle. Unorthodox by city standards, but common in upbringing among his people. He later lived in a remote part of Cameron Highlands for several years. It was only in 2002 that Raman, along with his wife and five daughters, returned to his hometown.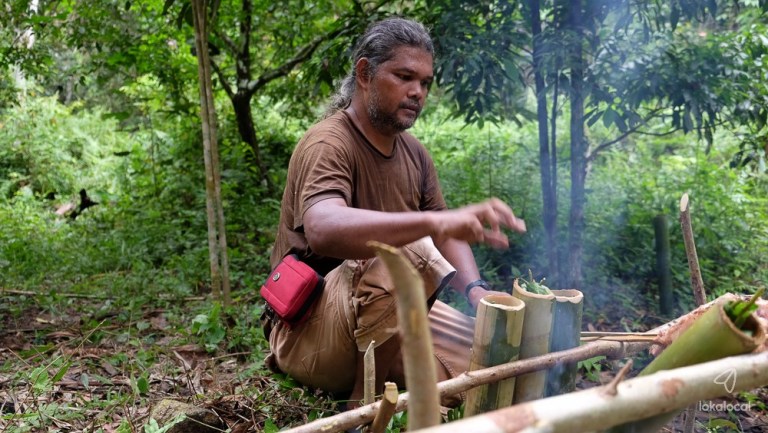 "I was born here in Gombak. But I grew up in the jungle. All my skills are from my late grandfather, [and] late grandmother," said Raman.
For the most part, Raman lives off the land, and often gets involved in community-related activities. His skills, stories and traditions became the centre of attention for customers who approached him at Gerai OA, a nomadic stall for indigenous people to sell handicrafts. As more people asked him about his lifestyle in the forest, Raman realised the value of his inheritance. He began toying with the idea of sharing this intangible heritage.
"In 2010. That's when the Jungle School started, with friends who have outdoor [equipment] stores. They sell outdoor recreation equipment, but they want their customers to be able to set up a hammock, set up a tent, those kinds of activities," he explained.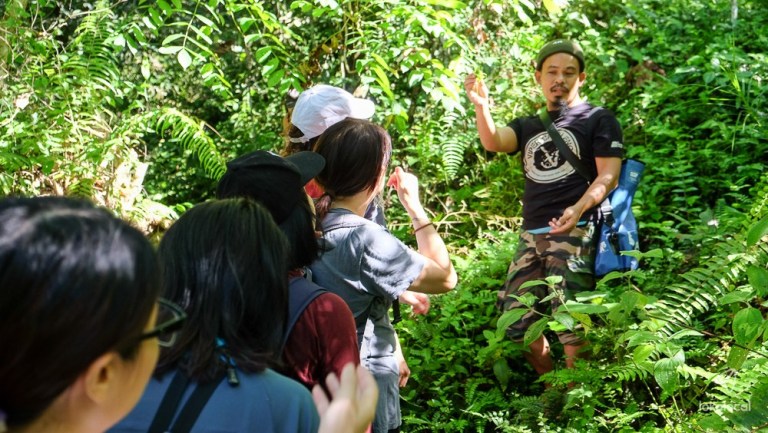 In 2011, Raman met Mejar Kalam at a charity trail run in Gombak. After retiring from his 11-year service in Royal Malaysian Air Force, Mejar Kelam often took part in activities that helped the indigenous community. This was perhaps in part because of his mixed heritage – his parents were Minangkabau Malay and indigenous Semalai. Naturally, he felt compelled to support this initiative.
"When I came in here in 2011, I saw what he (Raman) was doing and I said, okay, maybe I can help him in some way to bring it up. So we started with the jungle school. Just doing what he is doing, but on a bigger scale," he said.
Three years ago, he and his family moved to Gombak, where they focused on reviving the dying Orang Asli cultural heritage. Apart from working with UNESCO to get Gombak recognised as a World Heritage Site, they have collaborated with universities like the International Islamic University Malaysia (IIUM) to improve Orang Asli outreach through the Jungle School programme.
"What we are promoting now is the living culture of Orang Asli. How they live together with the jungle. We are promoting the environment and the indigenous [community] together." – Mejar Kalam
Secrets of the Wild
So what was there to learn in this mysterious Jungle School? We followed in the duo's footsteps to find out.
Before wandering into the wild, we went around the museum with Mejar Kalam to learn about Orang Asli history and cultural traditions. With anecdotes peppered throughout the tour, he added a refreshing perspective to the exhibitions.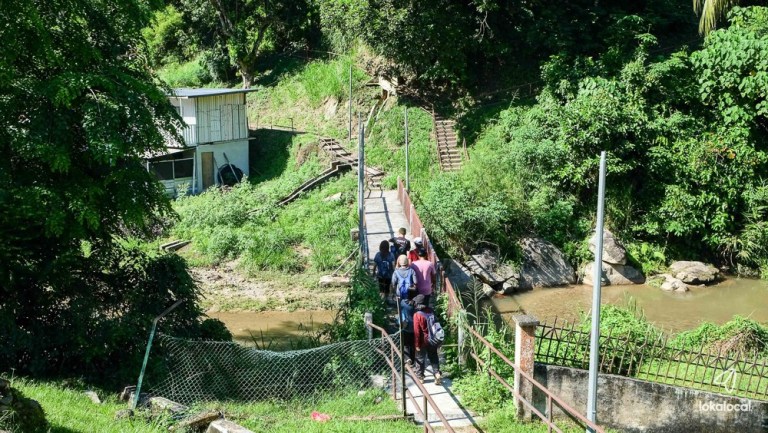 We were then led down a trail familiar to the Orang Asli villagers, stopping along the way to learn about several local plants that the indigenous people would use as medicine. Weaving past concrete buildings and wooden stilt houses, we found ourselves on a small clearing of the forest, next to the busy highway. Mejar Kalam joked that it can be amusing to watch the traffic jam unfurl during holiday seasons from our vantage point.
For a brief moment we watched the modern world rush by, oblivious of our existence, unaware that they are surrounded by settlements that have been there for generations.
A little further in, there was a clearing in the forest that served as the Jungle School. There was a rustic shelter made from wood, and a homemade barbecue area for our lunch later. This was where Raman greeted us, and so the 'lessons' began.
The worldly Semai gentleman explained that everything he showed us were basic survival skills which have allowed his people to live independently in the forest. In the next few hours, we managed to experience a few "firsts" – the first time any of us started a proper fire, weaved a shelter using bertam leaves, and cooked rice in bamboo. Exciting achievements for city folks like us!
For me, the highlight was the mini blowpipe competition. Raman demonstrated how he would insert and shoot the dart out by blowing into the mouthpiece. Normally the dart would be dipped in the sap of the ipoh tree, which would be used to poison hunted animals or, at one time, enemies. The ones we had were free from poison, of course.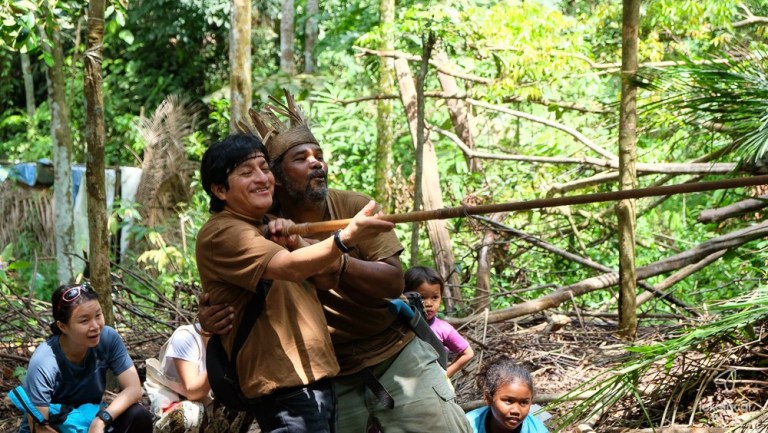 We took turns using the blowpipe, our victory determined by the "pop" of the balloon hanging from a tree. Hard to imagine that this traditional hunting tool can be found anywhere other than Borneo!
While we were not able to see it for ourselves that day, Raman would also introduce his guests to the Kerchang, a handmade rattan puzzle designed to test one's intelligence. As is tradition, Raman once had to solve the Kerchang puzzle before he was eligible to marry his wife. Other times, he may treat his guests to an entrancing nose flute performance.
According to Raman, there are many more traditional activities that have not made it into the programme: "In our community, there are 18 tribes. Now the skills I show is just one way. The Semai way. The Temuan way of living in the jungle, and their culture, are all different."
It's A Jungle Out There
"It is a challenging time for us. Many going to school. Going to cities. Our traditions are diminishing. It is no longer the same as it was before." -Raman
For the Orang Asli, the concrete jungle taking over their home is drastically changing their way of life. And unfortunately, not for the better. According to the United Nations Development Programme (UNDP) 2014 report, about 34% of Orang Asli live in poverty, a disproportionately high figure considering that they are the smallest minority in Malaysia. Mejar Kalam believes that whenever the Orang Asli villagers are asked to leave their home to make way for development, the community becomes poorer.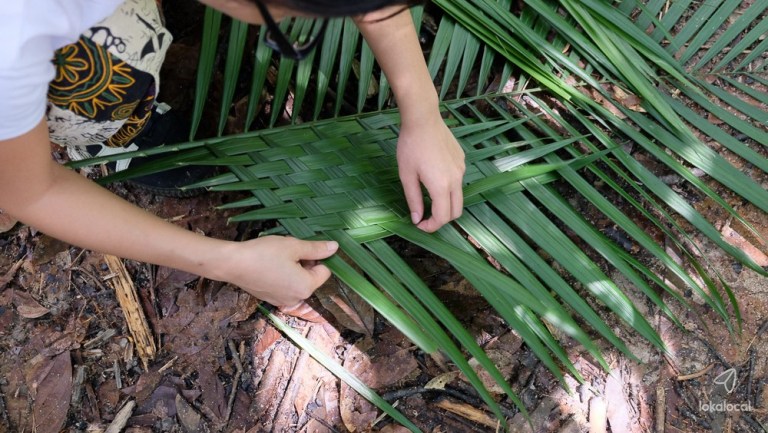 In some cases, illegal poachers have taken advantage of this situation by paying Orang Asli villagers who desperately need the money to catch rare animals in the forest.
By getting Gombak gazetted as a UNESCO World Heritage Site, the team hopes to educate the public and even the Orang Asli on the natural wonders and indigenous culture that exist in the area.
As for the Jungle School, Raman is the midst of training more dedicated guides. While encourage youths to become entrepreneurs themselves, the programme could provide them with an alternative career path that does not involve illegal activities.
There are also plans to develop a hiking trail that traces the footsteps of the once nomadic Temuan tribe. In the past, their ancestors would travel by the river in Gombak to settlements in Genting Sempah, Janda Baik and Ulu Yam.
At the end of it all, they hope that by showing the Orang Asli community how valuable their heritage is, their new generation may be inspired to revive their craftsmanship, preserve the culture and make a living out of it.
"What we want them to know is that they have to fight to keep their tradition."– Mejar Kalam
To enjoy a trip or team building experience that empowers the Orang Asli community in Gombak, join the Jungle School One-Day Programme.
*This article first appeared on Lokalocal blog 22 March 2019.
---
"ExpatGo welcomes and encourages comments, input, and divergent opinions. However, we kindly request that you use suitable language in your comments, and refrain from any sort of personal attack, hate speech, or disparaging rhetoric. Comments not in line with this are subject to removal from the site. "
Comments