As much as I love the city and its endless options of activities and events, getting away from KL every once in a while is an absolute necessity… something many city dwellers would agree with. Especially when we're able to take a long weekend and dash off somewhere with a more natural environment, getting away from the concrete jungle has a real appeal.
Having grown up on the island of Penang, I am what you would call a total beach bunny at heart– I love the ocean. So on my last long weekend, I decided to go to another island that's well-loved by Malaysians, expats, and international travellers alike: Langkawi.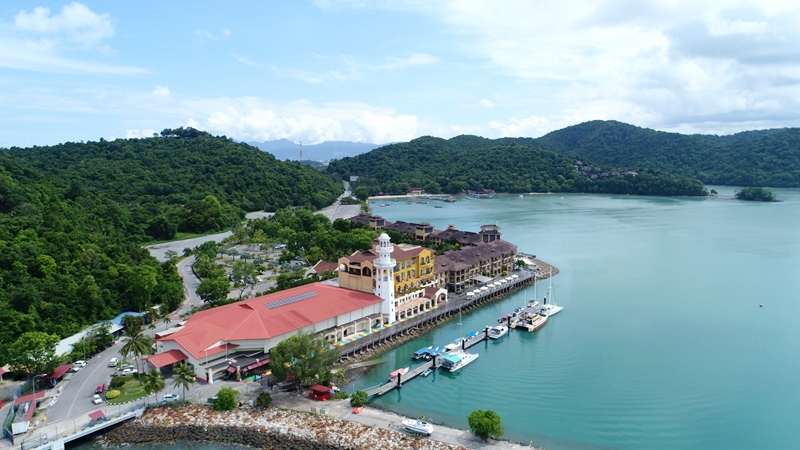 It was a toss up between staying at Cenang, or somewhere a little more private so we would not be swallowed up by almost the same kind of busy bustle. I really wanted proper "chill time" so I decided on Resorts World Langkawi which is just 10 minutes away from Cenang town ensuring that I wasn't too remotely accommodated.
Resorts World Langkawi, previously known as Awana Hotel, is a sprawling resort property that's sat facing the Andaman Sea in all its glory. Palatial, stunning, and completely private, it was everything I needed to relax, but still have a bit of fun.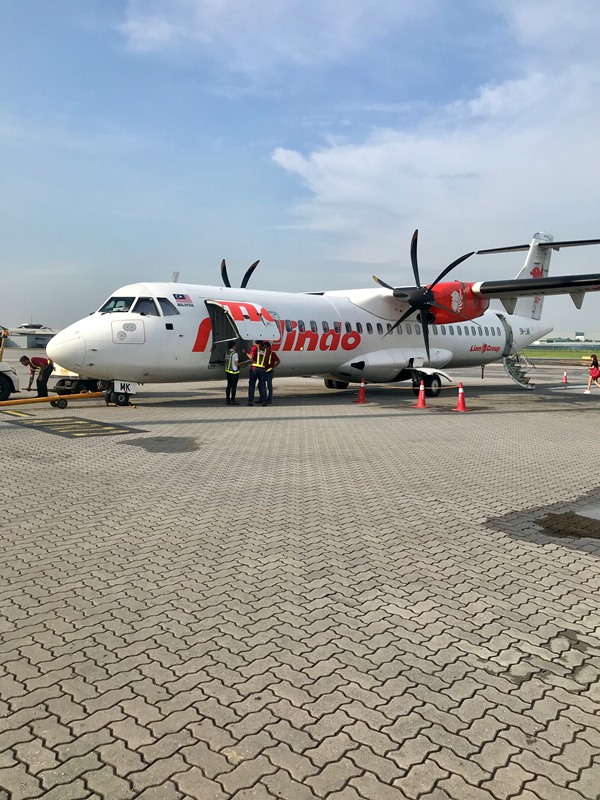 Getting on an early morning Malindo flight wasn't entirely ideal having to leave home at 6am, but it definitely was a lot easier having my flight depart from Subang rather than KLIA or KLIA2. After a quick check in, I was happy to have at least 20 minutes to revive my tired self with a coffee at Toast before proceeding to my boarding gate.
Once arrived, it took another 20-25 minutes to get to Resorts World Langkawi. It was also a great help having arranged for transportation with the hotel beforehand.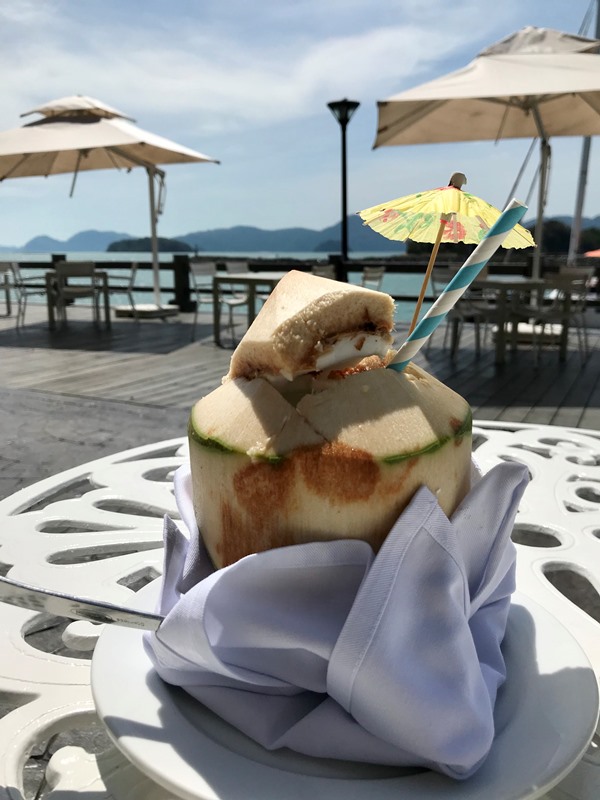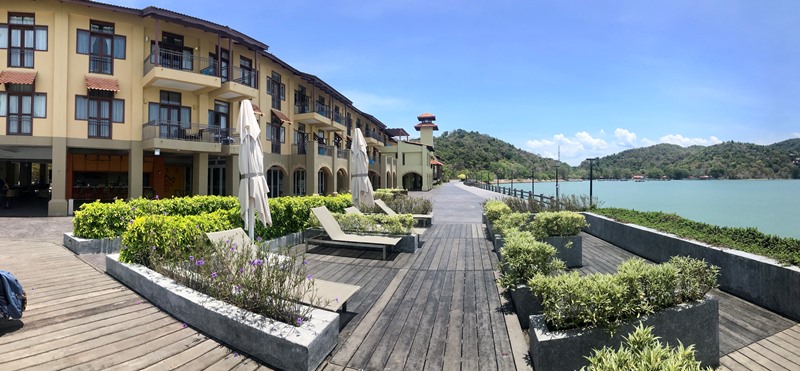 Shaking off all my worries, I stepped into the wide lobby space of the hotel, breathing in deeply of that balmy and salty sea air that always brings back a rush of memories for me. The lobby had a very lovely Mediterranean-style interior that made me feel like I was walking around in a large and beautiful Spanish hacienda. Once checked in, I took my "welcome coconut" out onto the terrace to soak up some island sun before going up to my room.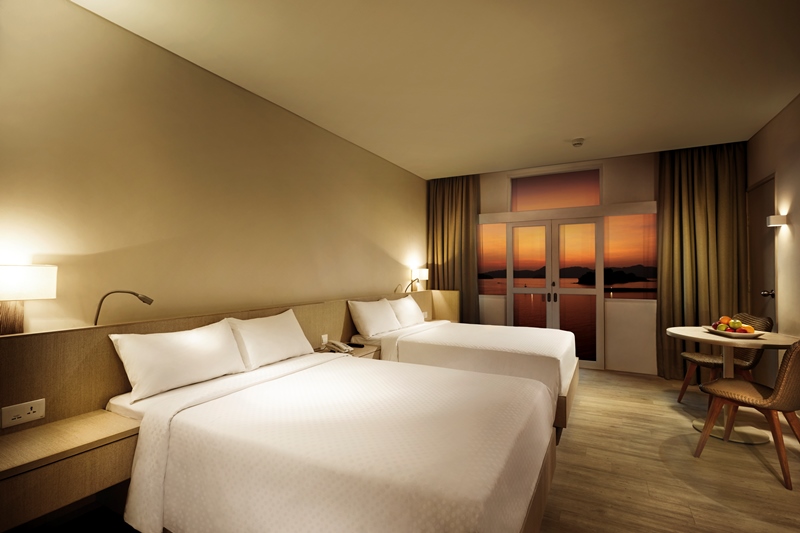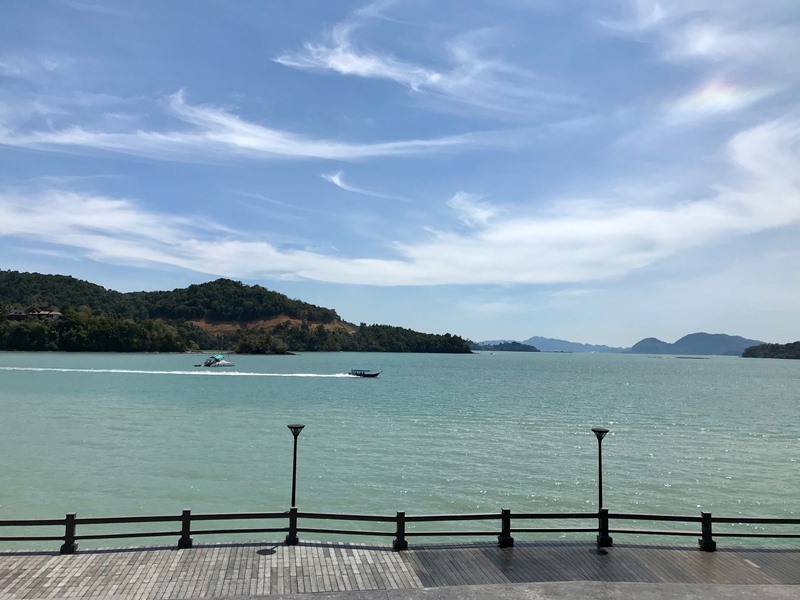 Needless to say, I was happy as a clam with my Premier Seaview Room overlooking the water. Absolute bliss.
Seeing as it was already nearing lunch time, we decided on checking out the entire property before settling down to eat. The hotel's boardwalk makes for an extremely scenic stroll and before you know it, you would have taken quite a number of photos while trying to take everything in.
We had lunch at the newly built Jingga Jinga Pizzeria that's also adjacent to the Salt Shack Sports Bar. Languishing over mocktails and gazing out at the sea already had me feeling particularly island-y and contented.
There was time to spare before the evening, so once we had digested our meal, I made an appointment to have a foot massage at the hotel's Taman Sari Royal Heritage Spa. The Javanese spa was located in a charming courtyard facing a sprightly fountain. Do not be fooled by the pleasant and smiling therapists, as delightful as they are; they are super strong! But of course they're happy to adjust massage pressure to what you're comfortable with.
Feeling unburdened and invigorated, I headed out to the gorgeous salt water infinity pool for a leisurely swim as the hot and humid evening wore on. With panoramic and undisturbed views of Dayang Bunting (Pregnant
Maiden Island), local folklore believes the famed island is known to bless women looking to conceive with the fertility they so desire.
This was one of the two pools in the hotel, with the other one located at the garden area of the property.
Dinner that first night was perfectly pleasurable. We dined at Zest Boardwalk next to the water with the sea breeze on our faces, and views of the changing colours of falling dusk. I absolutely loved the restaurant's signature dishes of Oxtail Assam Pedas, Roast Lamb, and Stir-fried Prawns in their buffet line-up. There was an array of popular local dishes made fresh at designated live-cooking stations such as Satay, Char Kuey Teow, Mee Goreng Mamak, Assam Laksa, and many more.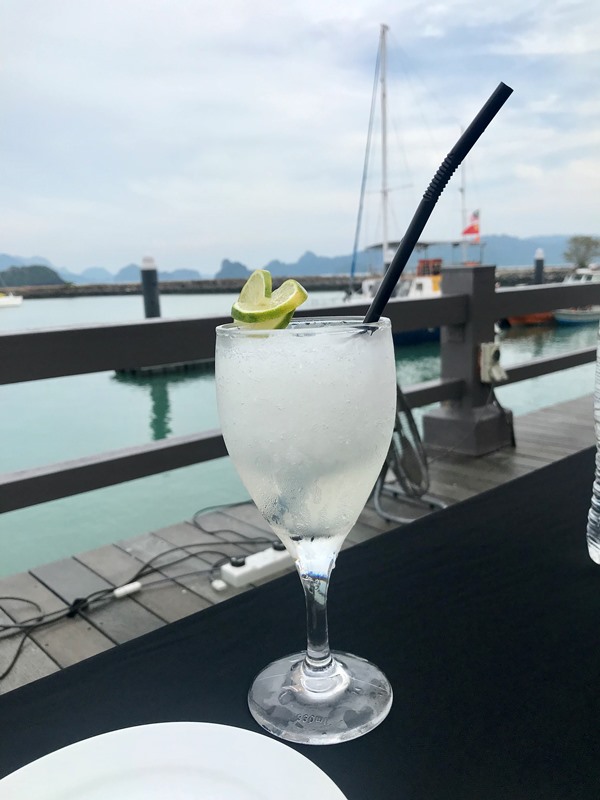 As an added guest activity, at 6:30pm every evening the hotel staff bring out bread slices so people can feed schools of fish that assemble right under the boardwalk.
The hotel offers a shuttle service to Cenang town four times a day, so after dinner, we took the night departure to hit the duty-free shops.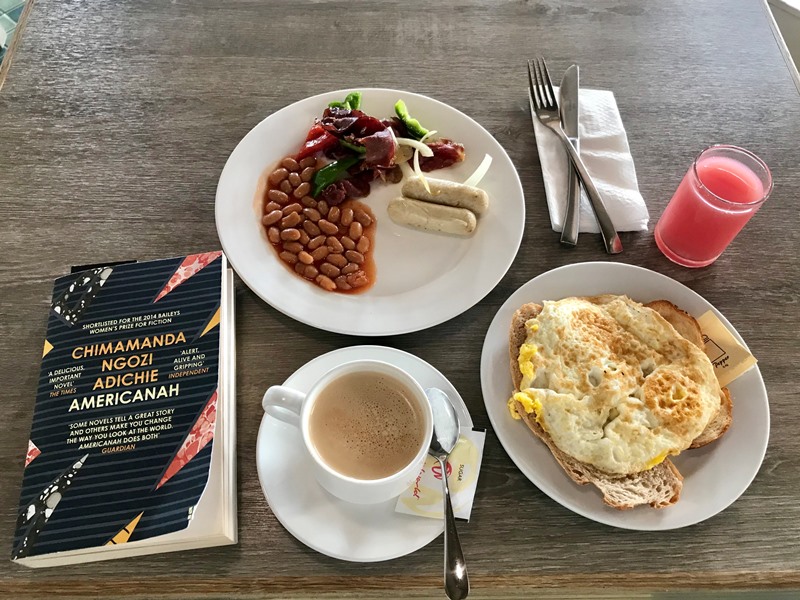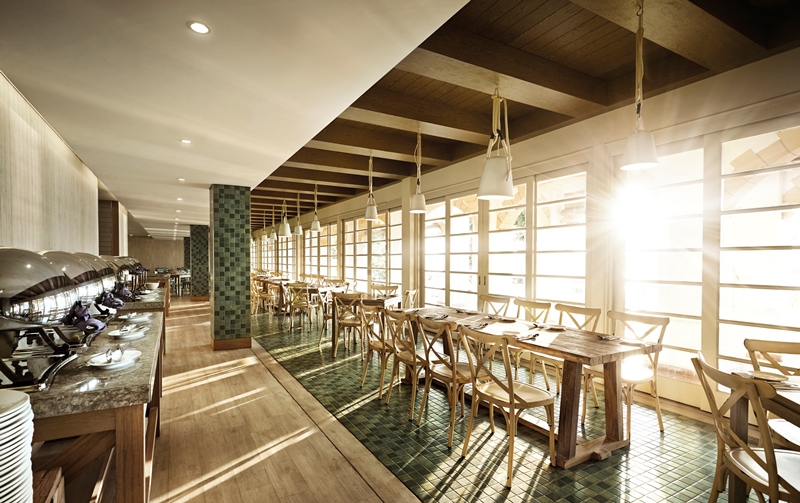 Breakfast the next day was energising and plentiful, making sure we had a good head start. Seagull Coffeehouse is open from 7am to 11pm with a good spread of breakfast essentials that include both Western and local options. Tucking into made-to-order eggs and sipping on coffee while gazing at the Straits of Malacca glinting cheekily in the morning sun is certainly a memorable way to start the day.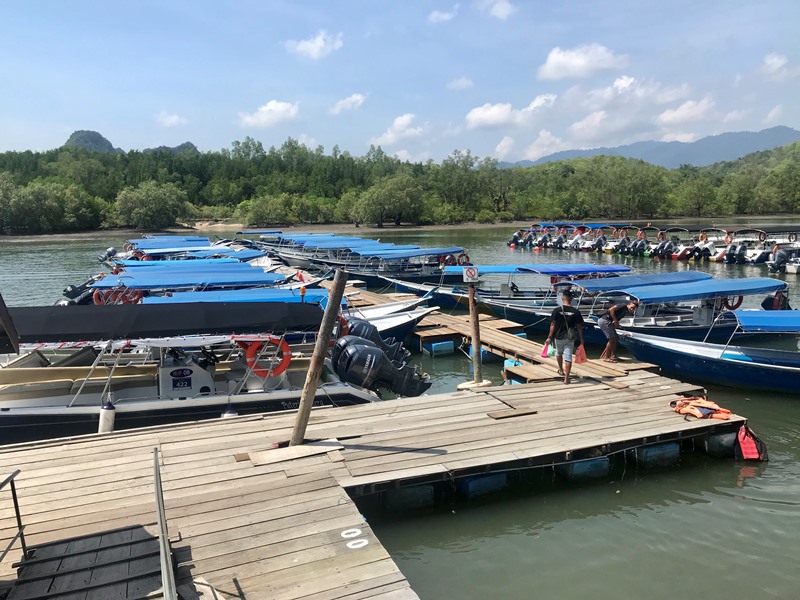 Having already experienced Langkawi's cable car ride up to Mount Mat Chinchang, I opted to do a tour of the island's UNESCO Global Geopark, exploring protected mangroves sites. This was easily facilitated at the hotel itself, and next thing I knew, I was being whisked off to the boat jetty for a very exciting and educational nature tour.
Before heading to the mangroves and caves, we were taken to a local fish farm near Tanjung Rhu, where local fisher folk showed us and described the various marine life that exist in Langkawi's waters.
The mangrove tour proved to be a worthy trip highlighting not only a lot of information about our indigenous ecosystem but how natural biodiversity is declining rapidly with climate change. In Langkawi alone, there are up to 41 different species of mangroves found among the islands that are tantamount to the survival of both marine and land life.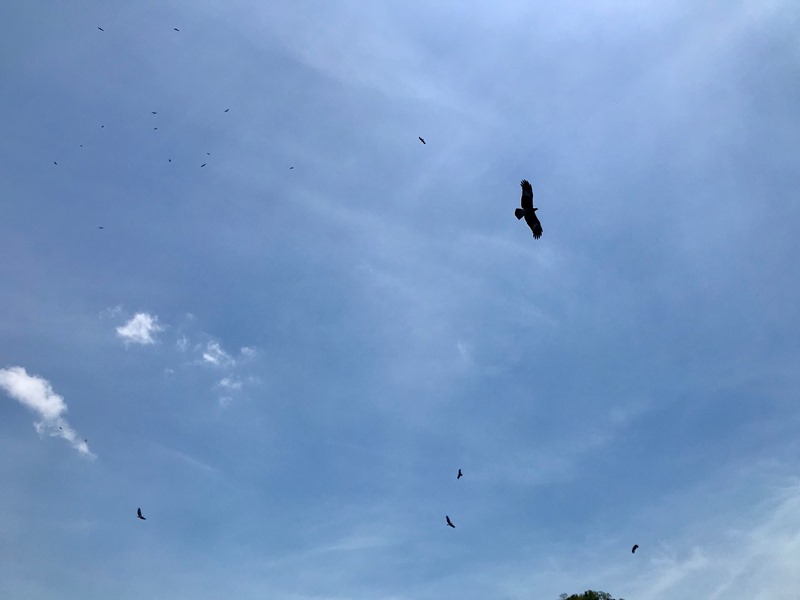 We also got to witness many White Bellied Sea Eagles and Brahminy Kites soaring, gliding, and swooping down to feed off the water's surface in a splendid display of airborne acrobatics.
Our very experienced and knowledgeable tour guide also took us to a bat cave which had its ceiling positively covered in those little nocturnal winged creatures. The caves were an explorer's dream of rock formations and trees that were over 450 million years old! As for the stalactites and stalagmites within the caves, they were a wonder of their own. Looking up at some of the magnificent stone formations, we learned that it takes up to 10 years for a single centimeter to form. So trying to figure out how many hundreds of millions of years it took for them to get so enormous just about made my head spin!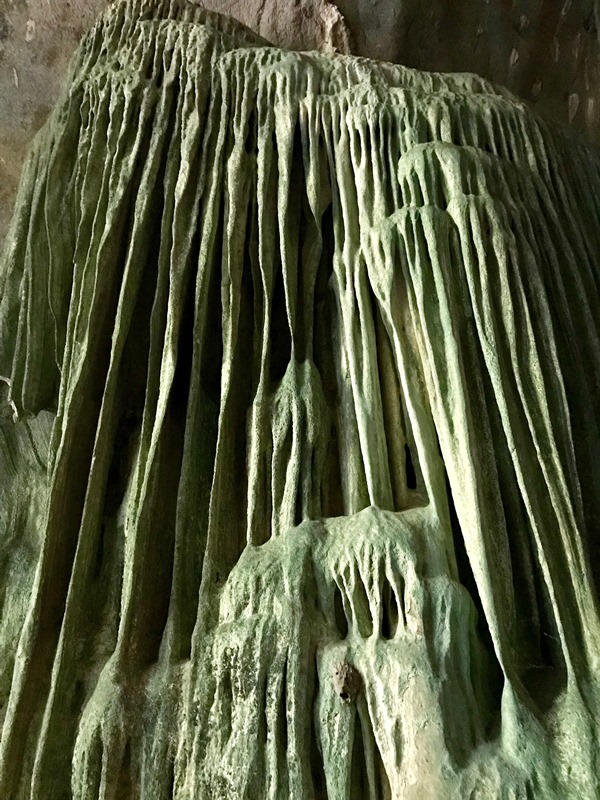 It was such an exhilarating experience being able to appreciate and marvel at these natural structures and flora that existed even before humans did.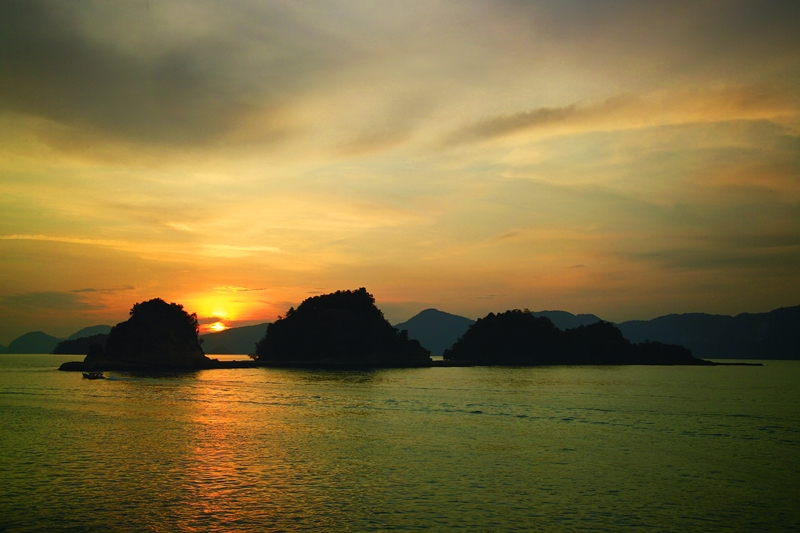 Once we were back at the hotel, it was time for a good lunch at Seagull Coffeehouse as we were famished from all the exploring. After which was an afternoon spent reading and lounging before the next exciting activity: a sunset barbecue cruise!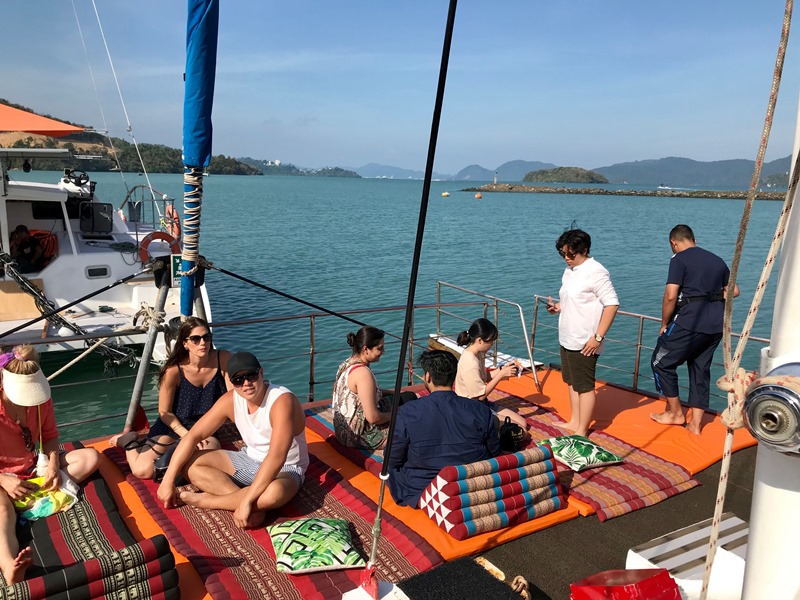 As much as I loved the nature tour, I think this was my favourite thing about this trip. I love the sea, so this was something I would definitely want to do again. The hotel arranges a sunset boat cruise that leaves the Fun and Adventure Centre dock at about 5pm.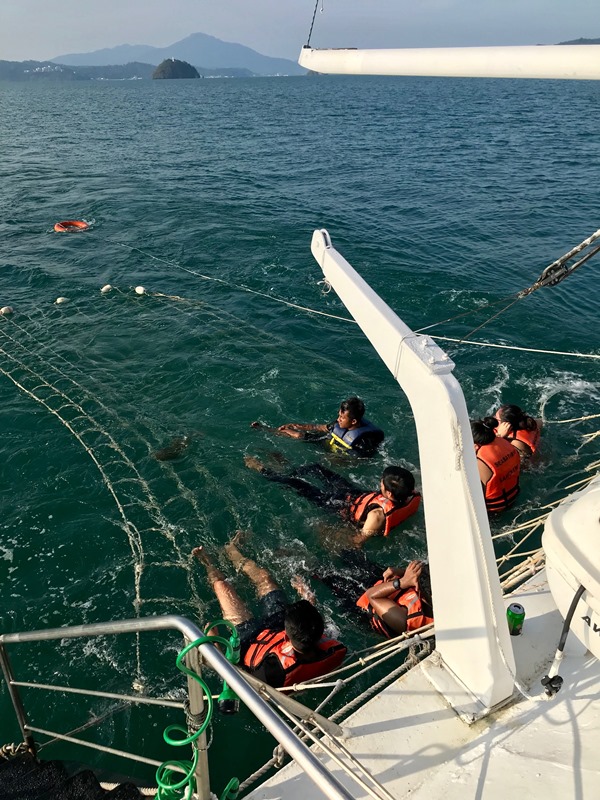 For two or three hours, we enjoyed gliding along the Andaman Sea on a boat stocked with chilled beers, cocktails, and more… we listened to music, and took the chance to sit on a type of rope net in the water while the boat was cruising. Fun is an understatement when you're hanging onto this net being dragged by the boat, and then the crew hands you a beer to drink!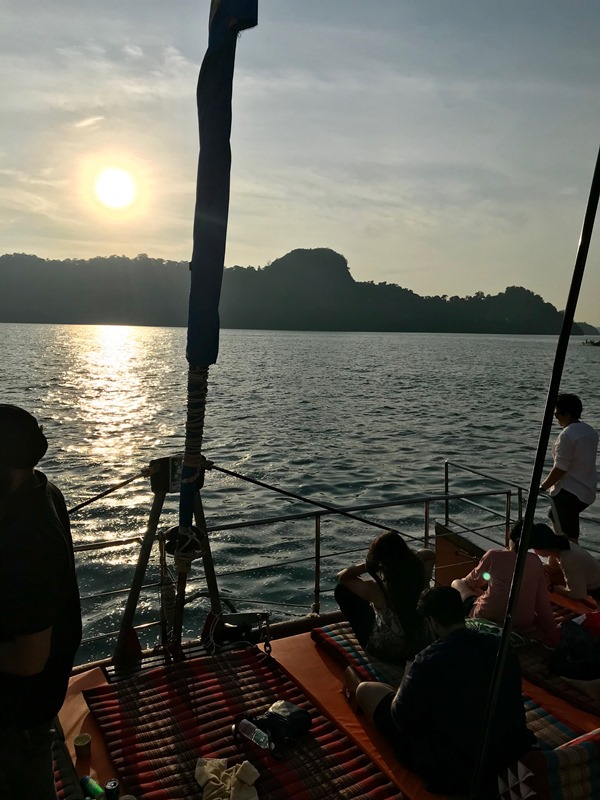 The smells of satay being grilled on the barbecue, mingling with the strong scent of sea air is something I wish I could bottle up to take back with me.
After we docked back at the hotel, I jumped back into the pool for a last quick swim before heading back up to my room to shower and change before heading out to Cenang again for more drinks!
The next day was perfect for more pool time and relaxation before catching our 3:15pm flight back to Subang. I was rested, fulfilled, and brimming with holiday memories.
For more information on Resorts World Langkawi's current promotional room packages, click here. Alternatively, you can email [email protected]



" ExpatGo welcomes and encourages comments, input, and divergent opinions. However, we kindly request that you use suitable language in your comments, and refrain from any sort of personal attack, hate speech, or disparaging rhetoric. Comments not in line with this are subject to removal from the site. "



Comments