Stunning many observers around the world, both Brunei and Myanmar in the last few days have reversed course on decisions made by their respective governments in the face of crushing international condemnation.
The oil-rich sultanate of Brunei sparked global outrage when it recently announced that the third and final phase of its implementation of the Sharia penal code would go into effect. Most of the press coverage went to the prescribed punishment of death by stoning for same-sex relations or adultery, though there were other barbaric punishments noted, as well (such as amputation of limbs for theft).
Despite initially holding fast to the law's rollout despite massive criticism, the sultan of Brunei, who rules with absolute authority, has backed off the imposition of the death penalty. In a speech televised on May 5, Sultan Hassanal Bolkiah (above) stated that he would extend a moratorium on capital punishment, which had previously applied only to common law, to cover Sharia law, as well. He further noted that Brunei would ratify the United Nations Convention Against Torture.
Following initial reports of the implementation of such severe punishments several weeks ago, a number of celebrities, including George Clooney, Ellen DeGeneres, and Elton John, joined human rights groups in encouraging a boycott of hotels owned by the sultan, while financial companies such as JPMorgan and Deutsche Bank directed their employees to avoid using Brunei-owned hotels.
Though news of the moratorium on the death penalty was welcomed, this is by no means strictly a win for human or LGBT rights in Brunei, as many have noted. It appears to be, at best, little more than a PR move. In his speech, the sultan said, "For more than two decades, we have practiced a de facto moratorium on the execution of death penalty for cases under the common law. This will also be applied to cases under the Sharia Penal Code Order."
So while people might not be stoned to death, they could still be fined, imprisoned, whipped, or otherwise punished. Indeed, despite the announcement on the death penalty moratorium, the sultan affirmed that he still stood by his new penal code, saying, "Both the common law and the Sharia law aim to ensure peace and harmony of the country. They are also crucial in protecting the morality and decency of the public as well as respecting the privacy of individuals."
Rights groups have noted there is nothing preventing Brunei from lifting the moratorium at any point. Clearly, there is still a long way to go in Brunei before all its citizens enjoy equality and protection under the law.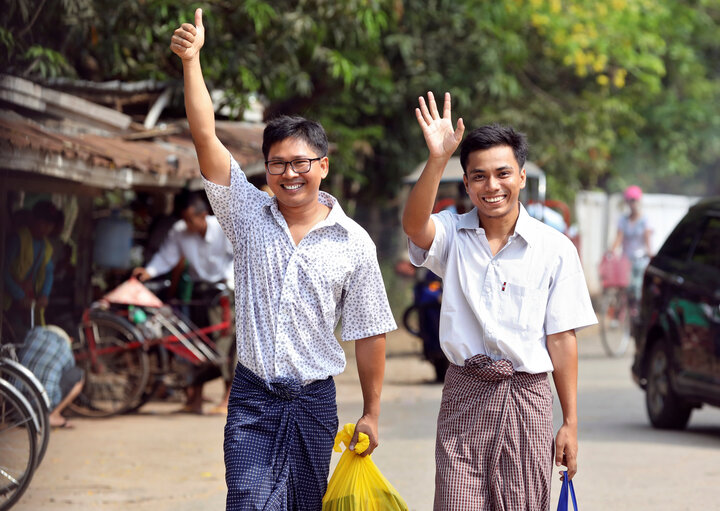 Meanwhile, in Myanmar, a smaller-scale human rights outrage has come to a strikingly abbreviated end. Two Reuters journalists, Wa Lone, 33, and Kyaw Soe Oo, 29, had been imprisoned since late 2017. The official story was that their arrest was over allegations that they had received documents containing state secrets from a police officer, thus violating Myanmar's Official Secrets Act.
Press freedom advocates, however, told a different tale, and accused officials of ginning up the charges as retaliation for the journalists' reporting on the crackdown of the minority Rohingya Muslims, and specifically, the massacre of 10 Rohingya, which was reportedly carried out by Myanmar troops and Buddhist villagers. The two journalists were found guilty and, subsequently, sentenced to seven years' imprisonment.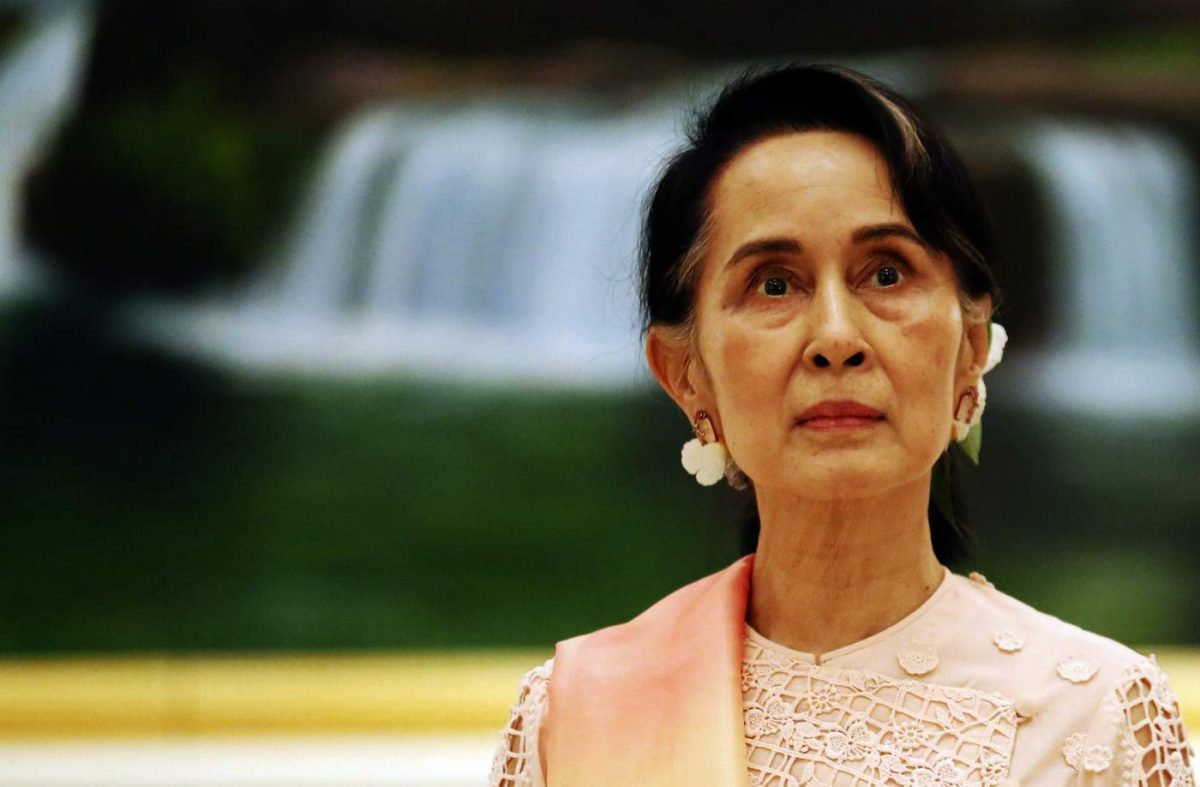 Similar to the Brunei story, Myanmar's government, including State Counsellor Aung San Suu Kyi (above), initially stood steadfast in the face of withering criticism from around the world. Myanmar's Supreme Court was similarly unmoved, and rejected an impassioned appeal at the end of last month, apparently ensuring the two journalists would have to serve the full seven-year prison term. That decision was reversed by a pardon, however, and the men were released on Tuesday, May 7.
Myanmar has attracted broad international condemnation for its treatment of the Rohingya, who had mostly resided in the country's Rakhine state. Hundreds of thousands of people were violently displaced and many were killed. The U.S. House of Representatives declared the event a genocide in December 2018, and the UN Human Rights Council has issued directives for a tribunal to prosecute those responsible for the violence.
Myanmar's treatment of the Rohingya, along with Aung San Suu Kyi's notable silence on the matter, has called into question the Nobel laureate's once-promising political career. Suu Kyi herself was a political prisoner, and only gained her release from house arrest in 2010. In the following years, she became Myanmar's State Counsellor and de facto head of state. There was worldwide applause at her ascension, with many believing it would lead to a more Democratic process in the country after decades of rule under Myanmar's military junta. However, given the horrid treatment of the Rohingya and the imprisonment of many journalists during her time in office, Syu Kyi's reputation as a beacon of human rights and democracy has been left in tatters.
The release of the Reuters journalists was a stunning development and shows that international pressure can yield real results.



" ExpatGo welcomes and encourages comments, input, and divergent opinions. However, we kindly request that you use suitable language in your comments, and refrain from any sort of personal attack, hate speech, or disparaging rhetoric. Comments not in line with this are subject to removal from the site. "



Comments