This article was written by ExpatGo Penang correspondent Yukeshwaran Devadas.
Be sure to free your schedule and camera space before making your way to one of the most anticipated street festivals in Penang.
Rituals and festive events vary from religion to religion, but one thing remains the same: they are all interesting and culturally important. You may find traditional traces scattered across Georgetown, but for a symphony of cultures like never before, the Street Festival held on the 6th of July is the place to be.
The annual community-driven celebration is one of the two main events held in conjunction with Georgetown Heritage Celebrations 2019, which marks the 11th anniversary of the city's inscription as a UNESCO World Heritage Site. Themed 'Let's Celebrate – Rituals and Festive Events', participants will be introduced throughout to a wide range of events that honour deities, traditions, and lifestyles that have been preserved through the ages.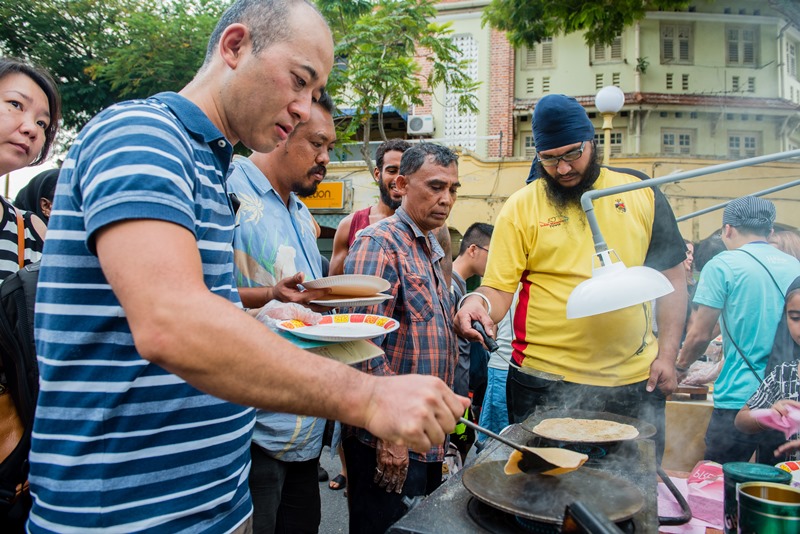 The most expected segment of the Street Festival are the 22 community workshops. The traditional hands-on experience gets people of all ages to connect with one another and to fill the environment with positive, shared energy. Each workshop itself feels like a mini-festival and you'll be tempted to try out as many as possible since the event is from 6 pm to 11 pm.
Here's a glimpse on some of the workshops.
Percussion, Traditional Temporary Tattoos, and Origami
We, Malaysians, have grown up listening to kompang, a handheld drum that is used in special events, particularly Malay weddings. Learn from the experts to play the traditional instrument and return home with rhythms lingering at the back of your head. Henna for the bride and groom is a sign of blessing for an Indian Muslim wedding, and at the Inai workshop, you could turn into a henna expert. The Malaysian-Japanese Society's workshop is all about making origami dolls, which are aesthetically folded in belief to bring all the goods to girls.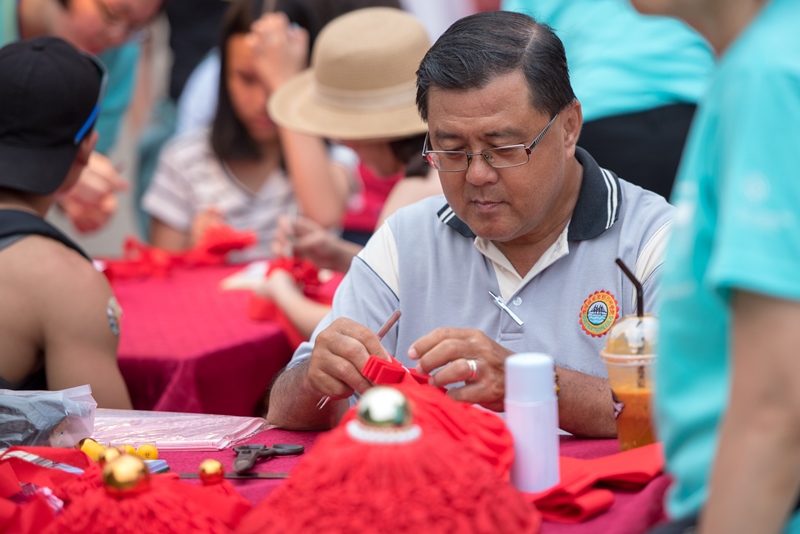 Name the Baby
A baby's first birthday sees different ceremonies across different religions and the Hokkien version is among the standout. Objects are usually encircled around a baby and based on what he/she holds onto, interest is determined. You'll leave the workshop learning the pronunciations of the items and their symbolism.
Desserts and Turmeric Rubs
Sweet ghee balls (Nei Urundai) are an essential treat during a Hindu's engagement ceremony. Despite its simple appearance, your hands-on experience of making the flour into its desired round shape will be memorable. Also, don't miss to prepare Schultute, cones filled with treats and toys to celebrate a kid's first day of school at the Malaysian-German Society workshop. Get a window into Maiyaan, a Sikh pre-wedding ritual in which the couple is covered with a turmeric-yoghurt mixture to help their skin glow on the wedding day. As you've already guessed, dance and music are a big part of the procedural.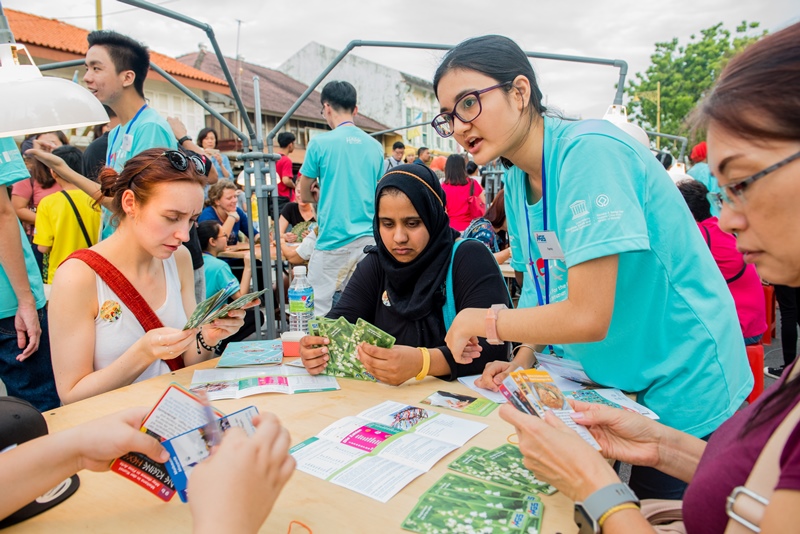 Other anticipated workshops include Majlis Cukur Jambul (by Warisan Balik Pulau), Rod Nam Sang (a Siamese wedding tradition), and Mua Guek (the introduction of a one-month-old Peranakan baby with a variety of traditional food).
Culural Dances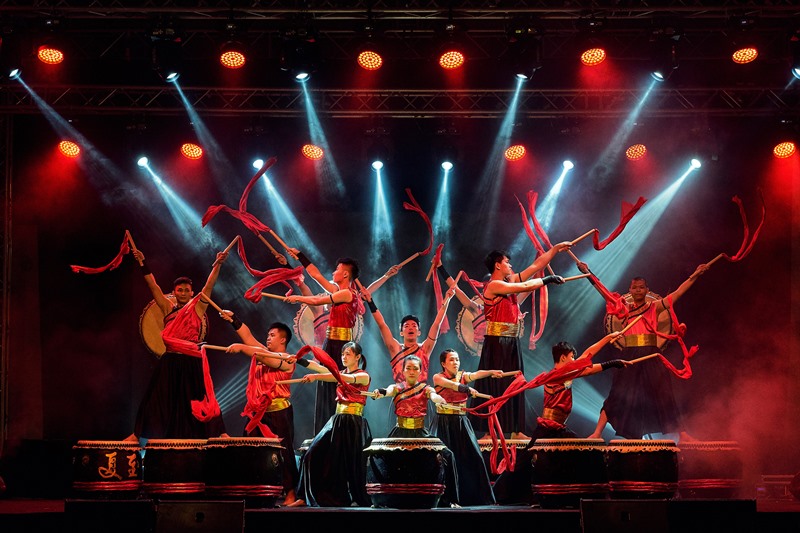 What's better than a street festival? A street festival with cultural performances and dance floor. Yes, you read that right. The main stage will see highly revered performances such as Kavadi Attam by Temple of Fine Arts Penang, Hakka Pixiu by Penang Hakka Association, Shimokita Ondo – a merry dance of Japanese-Buddhist custom and a few others. As the evening wears on, the stage would come to life with a marriage of colours and customs that would set your eyes unpeeled.
And on the dance floor, featuring performances like Bhangra, Rock 'n' Roll and Tarian Buluh (to name a few), visitors are guaranteed to have an unforgettable experience as well. The sheer merriments with other attendees would seemingly overpower one's ability to leave without putting on a move or two. To ensure you don't feel out of place during the beats, the dancers themselves will teach you a few of their traditional movements. Within no time, you might have evoked the professional dancer within you.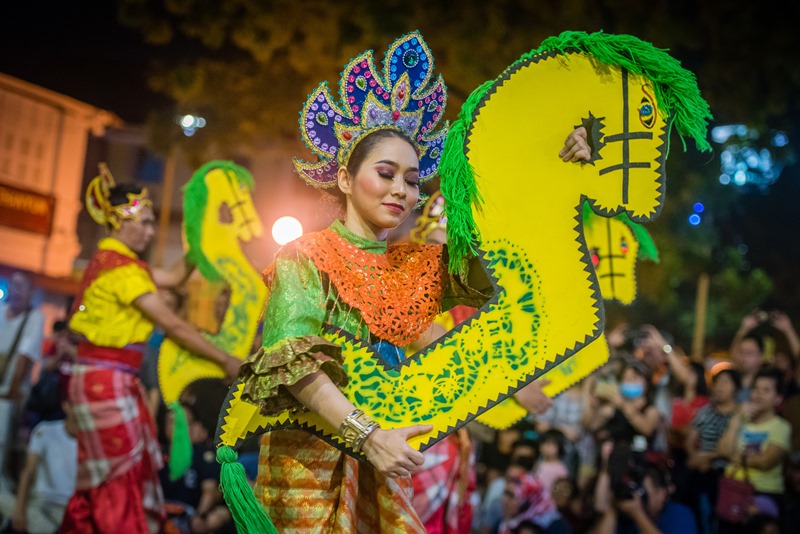 Assumptions about other rituals and festive events would turn into appreciations after five hours of cultural euphoria. Apart from the value of preserving our traditional roots, the bigger picture of the Street Festival is sensing a harmonious bond among the multicultural crowd. Which sums up the growth and glory of Penang it is today.
Find the full schedule of The Street Festival here on George Town World Heritage site, and their Facebook page.
---
"ExpatGo welcomes and encourages comments, input, and divergent opinions. However, we kindly request that you use suitable language in your comments, and refrain from any sort of personal attack, hate speech, or disparaging rhetoric. Comments not in line with this are subject to removal from the site. "
Comments