Nightlife party venues in KL and Selangor have multiplied over the years, creating impressive, and bewitching spaces worth bragging about on social media. There's always something for everyone from hardcore EDM clubs, to jazz, to speakeasy's and specifically themed bars that bring the spooks (The Deceased Bar) . From the hundreds that we know off, here are seven places you will want to check out if you haven't already.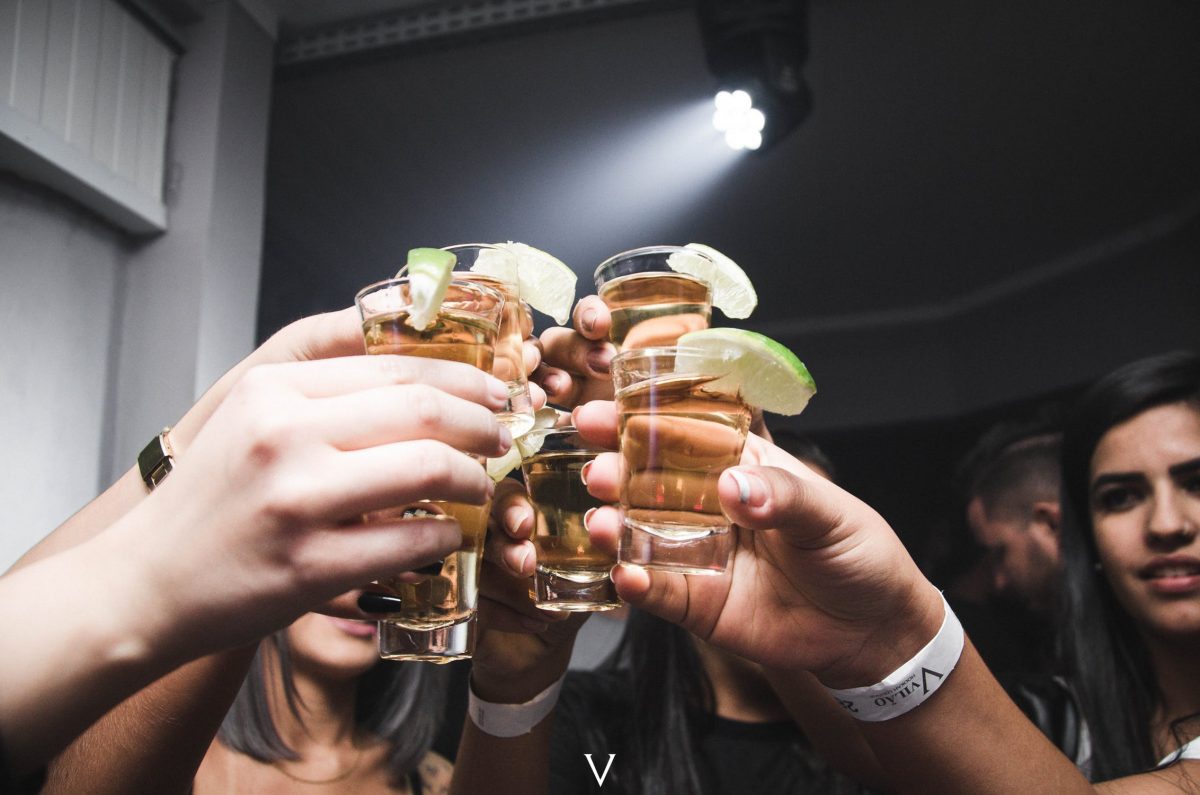 1. Canopy Lounge Rooftop Bar, KL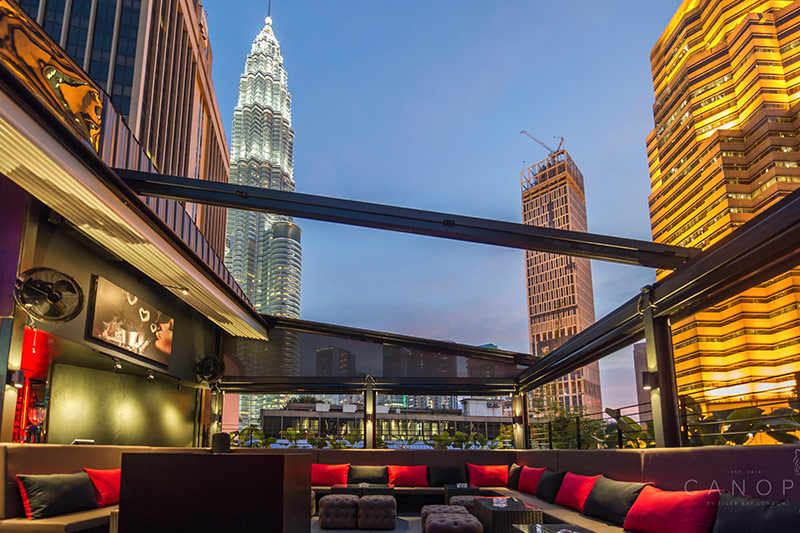 Rooftop bars have been all the rage in recent years, and what's not to like about taking in the city lights while sipping on specialty cocktails. Canopy Lounge located at the heart of Kuala Lumpur, has it all with four eclectic spaces being the shisha lounge, rooftop lounge, dessert bar, and cocktail bar overlooking the spectacular view of the Petronas Twin Towers. Ideally, its cozy rooftop lounge mainly serves for the purpose of intimately sized parties. Puffing on fruit flavoured shisha with premium tobacco while gazing around at the city right below you sounds like the perfect after-work activity, and the wide selection of Indochinese cuisine should please anyone with an appetite. Otherwise, Canopy Lounge by TigerBay has plenty to offer visitors with its secret blend cocktails and dulcet desserts for the sweet tooth.
Location: Tigerbay, Kuala Lumpur,183, Jalan Mayang, 50450, Kuala Lumpur, Malaysia
Opening hours: Monday – Sunday (4.00 p.m.- 3.00 a.m.)
For reservations, kindly contact tel:+601151398301/ tel:+60321817907 or visit thecanopylounge for more information.
2. Stratosphere at The Roof, Petaling Jaya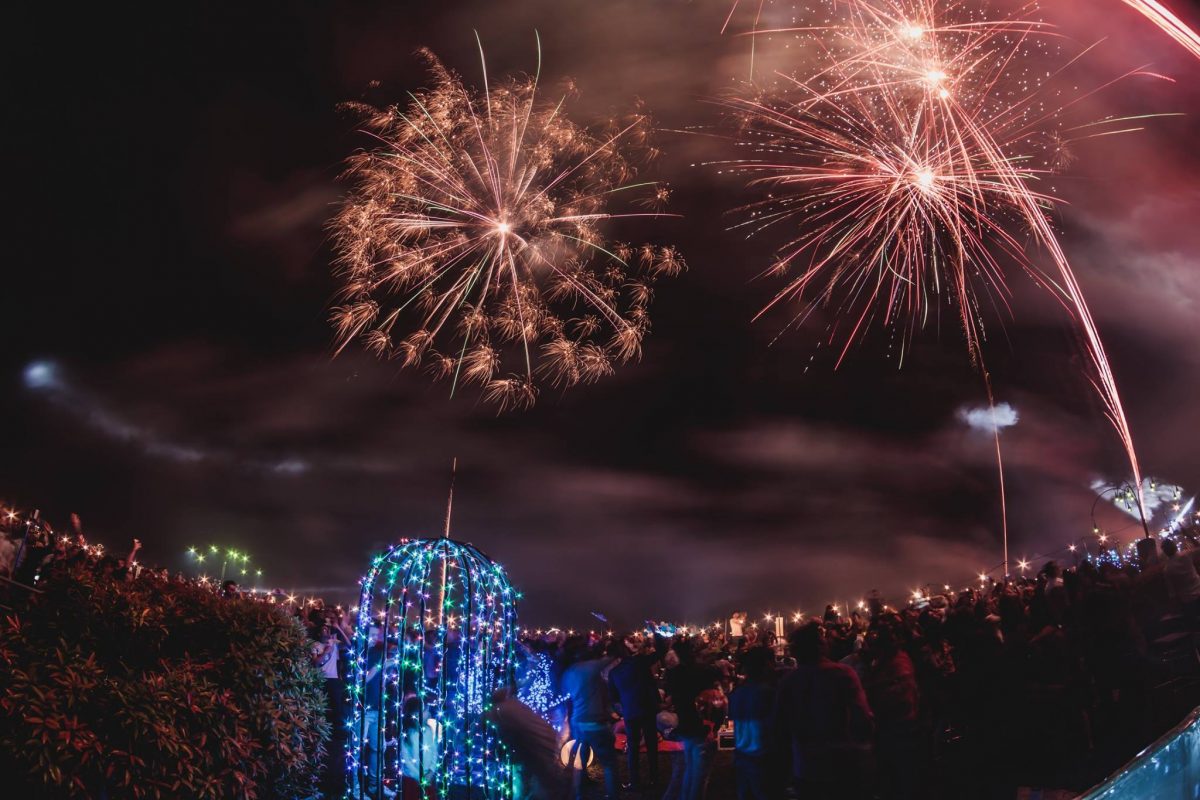 Stratosphere is one of the niche rooftop venues surrounded by the panoramic view of the city. If you love to drink while basking under the open sky, then without a doubt, this grassy helipad with its alluring setting should be your next bar-scape. It has hosted many festive events such as Oktoberfest and Songkran water festival for those who love immersive, and engaging social activities. Whether you are planning for a garden themed wedding or perhaps throwing a party for your loved ones, Stratosphere provides the charm of a fairy tale setting.
Location: Stratosphere at The Roof, 1 First Avenue Bandar Utama Petaling Jaya, Malaysia
Opening hours: Tuesday – Sunday (6.00 p.m. – 2.00 a.m.)/ Closed on Monday
For general inquiries, kindly contact tel:+ 03 8605 3388 or visit theroof for more information.
3. Suzie Wong, KL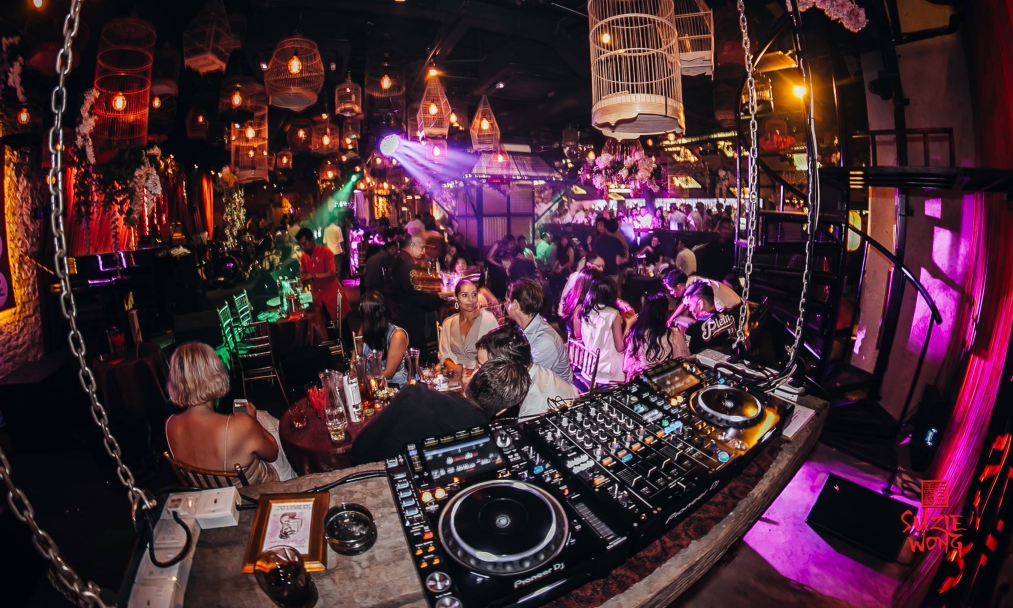 A multipurpose venue suitable for any events be it weddings, stag or bachelorette nights, and especially birthday parties, this East-meets-West fusion establishment is known for their glam and glitzy cabaret girls who dazzle the crowds. Suzie Wong is a time vortex that makes you feel as if you've travelled back to the 1950s Canto period nightlife scene with its grandeur oriental interior and presence of charming ladies clad in classy vintage outfits. Known for being cheekily provocative, nevertheless, the bar/club prides itself on offering quality entertainment with the utmost priority on delivering the best services and remarkable shows for your pleasure. All you have to do is to appear in your best outfit and enjoy being a little bit extravagant to blend into the world of Suzie Wong.
Location: Wisma Lim Foo Yoong, 86, Jalan Raja Chulan, Kuala Lumpur, 50250 Kuala Lumpur, Wilayah Persekutuan Kuala Lumpur.
Opening hours: Monday – Friday (4.00 p.m. – 3.00 a.m.), Saturday (6.00 p.m. – 3.00 a.m.)/Closed on Sunday
For general inquiries, kindly contact tel:+60172266480 or visit suziewongasia for more information.
4. Le Noir, KL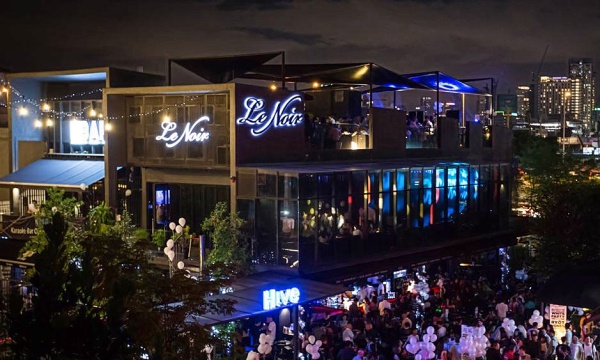 Le Noir has everything you will want and need in a single building. Club, bar, and rooftop lounge, this three-level establishment is popular among club-goers. Located at the entertainment district of TREC, Le Noir remains a highly regarded venue that offers premium service and great live music performances. If champagne and wine are your preferences, then the led-lighted bar is at your service.
Location: Le Noir Malaysia Sdn Bhd, Unit H-G-07, The Hive, TREC, Lot 435, Jalan Tun Razak, 50400, Kuala Lumpur
Opening Hours: Sunday – Tuesday (5.00 p.m. – 3.00 a.m.), Wednesday & Thursday (5.00 p.m. – 4.00 a.m.), Friday & Saturday (5.00 p.m. – 5.00 a.m.)
For reservations, kindly contact tel:+60 122245416 or email at [email protected] or visit lenoir.com.my for more information.
5. Club Kyo KL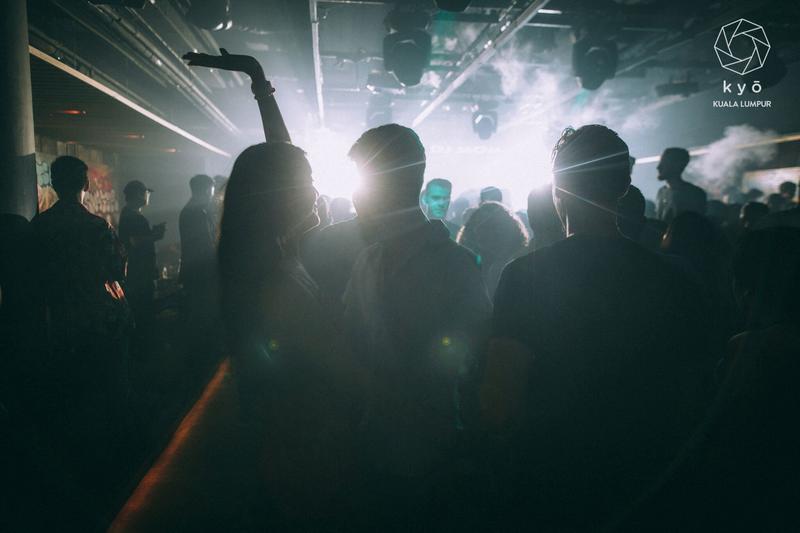 Pulsating music throbs through the underground club, with beams of lights that shine on the sophisticated atmosphere of cosmopolites and urbanites. If you've had your fill of the chilled-out environments of rooftop bars, feel free to submerge yourself at Club Kyo for a wild night out. With samurais, geishas, and interestingly framed paintings on the walls, this Japanese-influenced club is for you to be as expressive as you want accompanied by contemporary music, with interspersing vibrant lights and cocktails.
Location: Club Kyo, #B2 & #B3, Mandarin Oriental, Kuala Lumpur, Kuala Lumpur City Centre, 50088 Kuala Lumpur, Malaysia
Opening hours: Wednesday – Sunday (11.00 p.m. – 5.00 a.m), Thursday (11.00 p.m. – 4.00 a.m.)/ Closed on Monday & Tuesday
For general inquiries and service, kindly contact tel:+60 129211730 or visit clubkyokl for more information.
6. Marimbar the Rooftop Bar, Petaling Jaya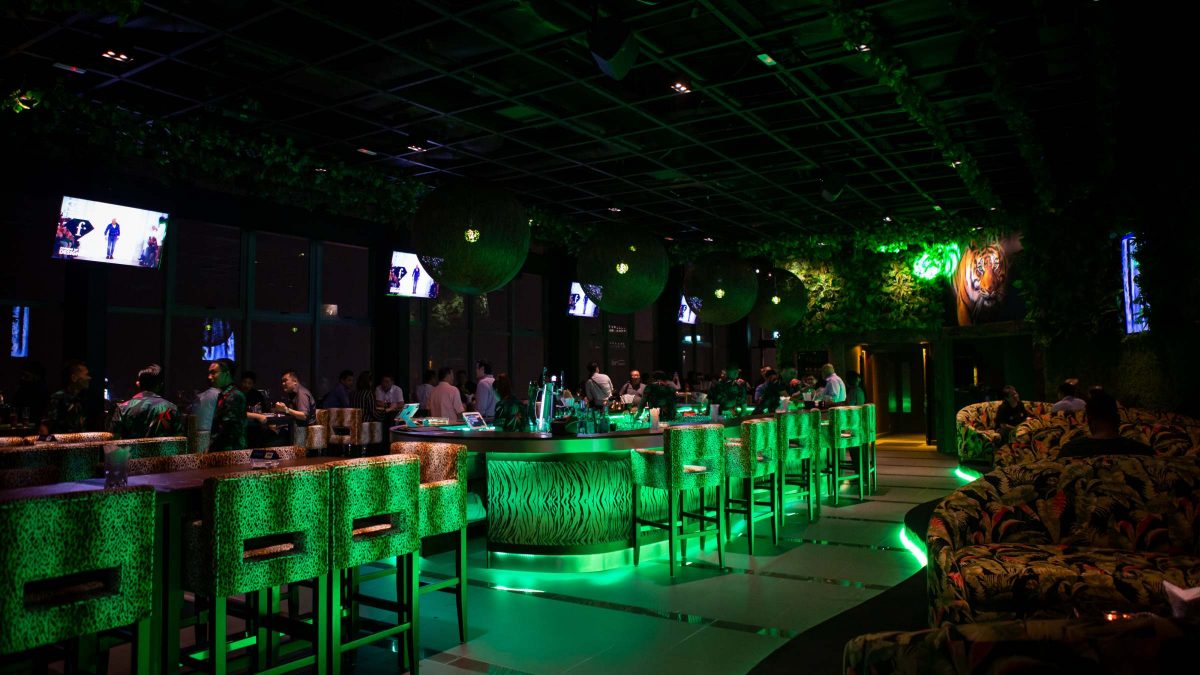 Inspired by the lush greenery of our tropical rainforests, Marimbar is an exclusive bar marked with its special one-with-nature concept. Expect to spend more than usual here as prices are catered towards an upmarket clientele. If you love to watch live performances, this is the next luxury hideout to spend your night.
Location: Marimbar The Rooftop Bar, level 35, Pinnacle PJ Tower A, Lorong Utara C, Pjs 52, 46200, Petaling Jaya, Selangor
Opening hours: Monday – Sunday (3.00 p.m. – 1.00 a.m.)
For reservations, kindly contact tel:+603 2386 6030 (before 8.00 p.m.)/ tel:+60129352098 (after 8.00 p.m.) or email at [email protected] or visit marimbar the rooftop bar for more information.
7. The Berlin KL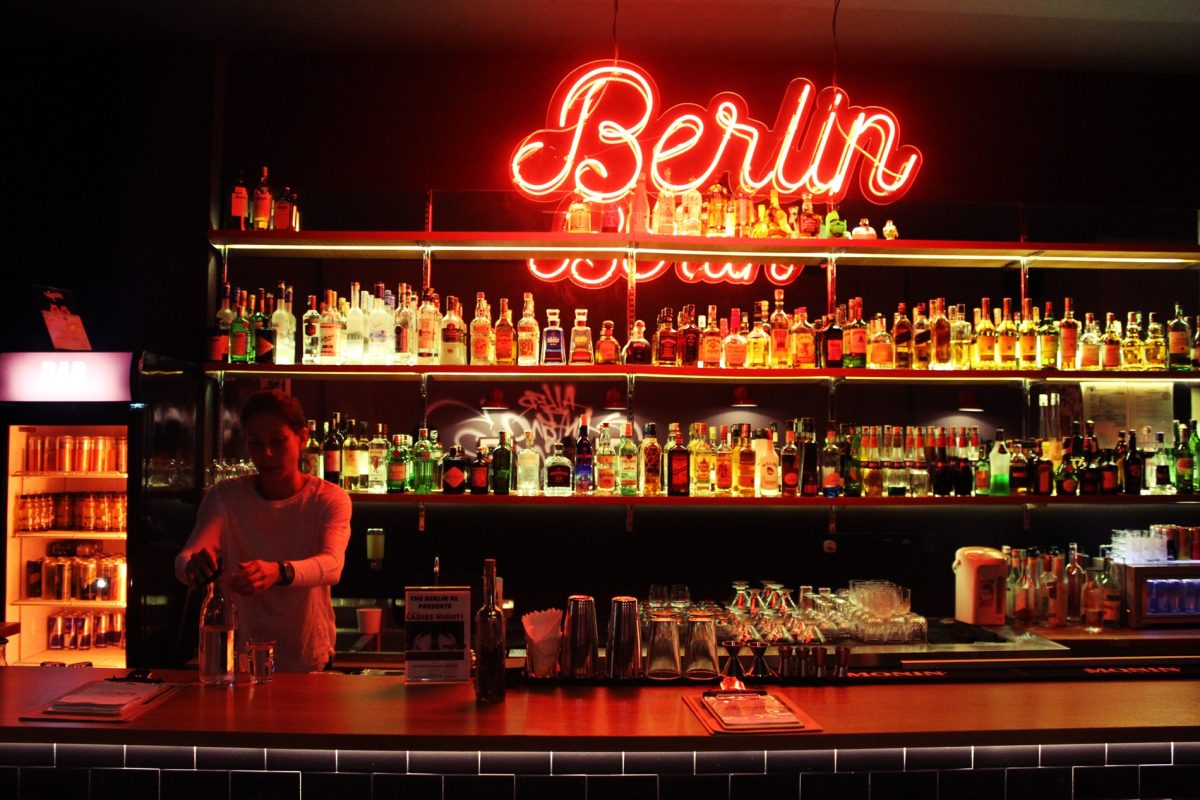 If you've not experienced the Berlin KL, you'll need to do so if you are cocktail lover as the establishment offers the edgiest ambiance infused with techno and hip hop music. An "Ich bin ein Berliner" neon sign which stands for I am citizen of Berlin greets you at the front door as you enter the lowly lit bar. Once you are in, get a taste of their signature cocktails such as Branderburg, Lust garden, Berlin wall, and JFK. If you are planning to arrange for a party, just check out their promotions or you can join in on their monthly themed parties. The Berlin KL brings electrifying music with KL's urban setting.
Location: The Berlin KL, 208, Jalan Tun HS Lee, 50000 Kuala Lumpur
Opening hours: Monday, Wednesday and Sunday (6.00 p.m. – 2.00 a.m.), Thursday, Friday and Saturday (6.00 p.m. – 3.00 a.m.)/ Closed on Tuesday
For general inquiries, kindly contact tel:+03 2022 2111 or visit TheBerlinKL
Comments