The smoke from rows of burning joss sticks caught my sight and stole its way into my nostrils as I passed by the Goddess of Mercy Temple. Glinted by the early morning light, the neighbouring shops in shades of red were well-stocked with bundles of joss sticks of various sizes and shapes. The sheer number of prayers and wishes of devotees, mostly with a handful of joss sticks, overpowered the surrounding hustle and bustle, rather creating collective, positive energy that one anticipates for a start to the day. Tourists, wielded with cameras and maps, were having a field day observing traditional Chinese customs.
These scenes were nothing but a fitting welcome note ahead of my meeting with the oldest joss stick maker in the world, Mr Lee Beng Chuan. Photographs and documentaries about the living legend have already formed my preconceptions yet my eagerness showed no signs of slowing down.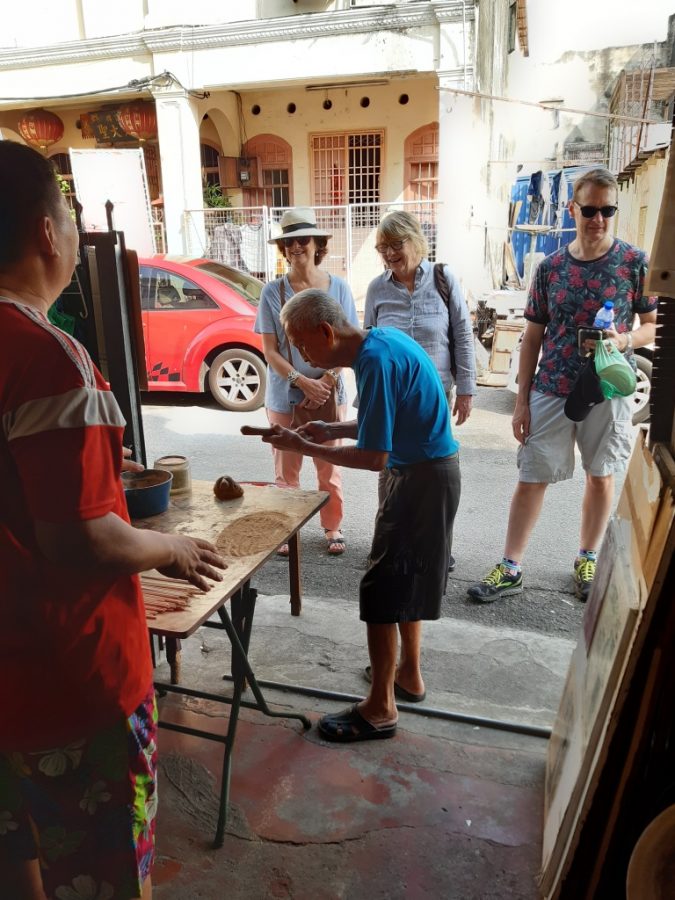 Turning into a quaint, narrow lane, I witnessed an elderly man moulding thick mixture onto thin bamboo sticks within an unassuming shophouse. If it weren't for the newspaper cuttings of Mr Lee himself and an array of joss sticks, one might assume the building only operates as a simple home. Following a warm welcome from his son, Mr Chin Poh, who was drying joss sticks under the sun, I was introduced to the senior gentleman; his skills fluid and his smile sincere. He was preparing a fresh batch of sticks which were rather plump and short compared to the more common slender ones. Recognising my curiosity, his son explained, "These are being custom made for a tourist from Germany who wants the joss sticks to be identical to frankfurters."
Commitment to Tradition with No Sacrifice in Quality
What the shophouse lacked in size, it more than made up with its charm and character. Adorned with even more newspaper features, old-school furniture, large dragon joss sticks, nostalgic family photos, bags of ingredients and an altar, it felt like a momentary step back in time. And thankfully, my imagined nemesis of a room filled with smoke irritating my eyes and throat never materialised. Mr Chin emphasised that the items produced here are made only from natural ingredients hence the lack of side effects. As such, the joss sticks are thicker and last longer than commercially produced ones.
The main ingredients are agarwood powder, sandalwood powder from Australia, and sticky powder and sawdust from Kuantan, Pahang. The mixture is prepared into a dough-like consistency by his father every morning, before being individually formed onto bamboo sticks by hand. Once the joss sticks completely dry under the sun, they are shaped into their uniformity using a roller board. Quality control is part of the morning routine as well. The freshly made stock is evaluated based on smell and the duration the sticks last once burnt.
Since I was more observant on the shapes of the joss sticks, Mr Chin put a match to a small incense cone, permeating the space with a refreshing aroma. The little pyramids are infused with artemisia argyi, an herbaceous plant known for its health benefits and ability to expel mosquitos. "Place it in your bedroom and you'll be sleeping like a baby," he gleefully said. Other ingredients used are Tibet Holy Grass and kemenyan (Frankincense) – resin obtained from trees of genus Boswellia, which are said to fend off bad energy and offer a soul-soothing fragrance.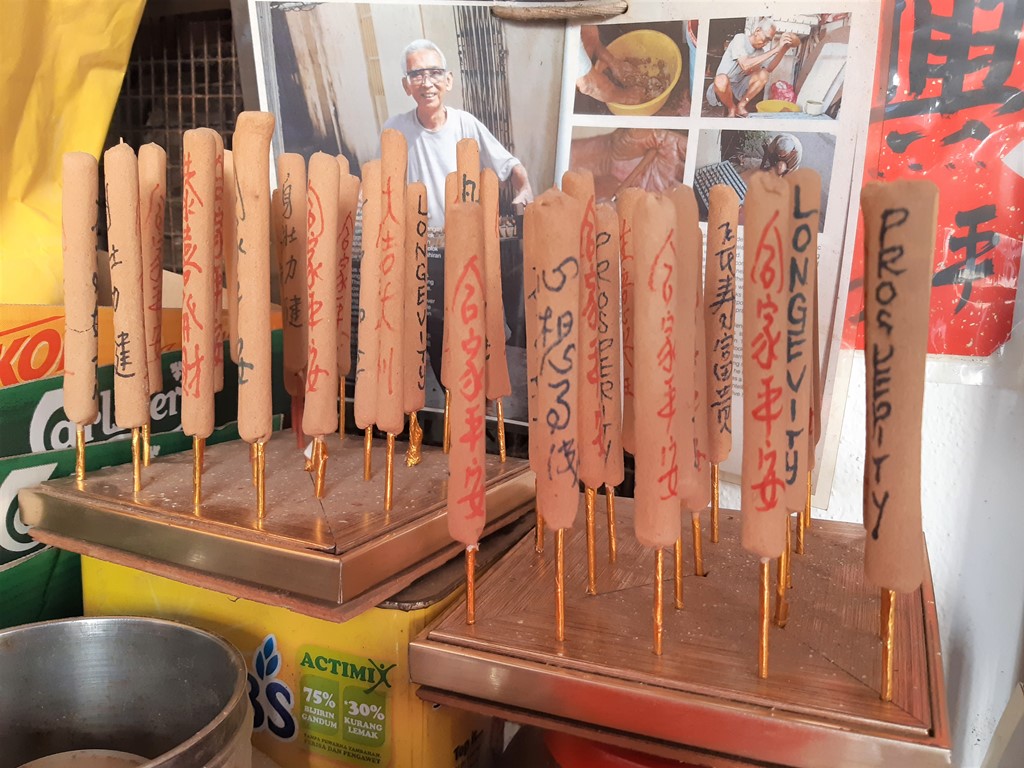 Joss sticks with Chinese characters in blue and red ink were interesting as well. Wishes can be written onto the joss sticks and once up in smoke, it acts as "messages to heaven."
To the naked eye, most joss sticks and cones appear to be of the same kind but once they are burned, the distinctive differences of the aroma are notable. When asked about upcoming combinations, he replied, "Holding onto the traditional roots is key and I'm also sourcing more organic ingredients to produce a variety of joss sticks."
Sheer Passion and Skills are Key to Success
The smorgasbord of joss sticks was impressive, but it was Mr Lee's history that left me equal parts fascinated and motivated. His father used to sell joss sticks and passed away in 1935 when Mr Lee was only 7 years old. 5 years later, he decided to follow his father's footsteps yet he didn't have a master to learn from. The only spark of hope came when he was permitted to stay and watch Chinese masters making the sticks in temples. After a lot of time spent developing sufficient knowledge and skills, he started to produce joss sticks with a unique spin of his own. Despite being only in his 20s then, he gathered positive responses towards his chosen trade which further fuelled his passion.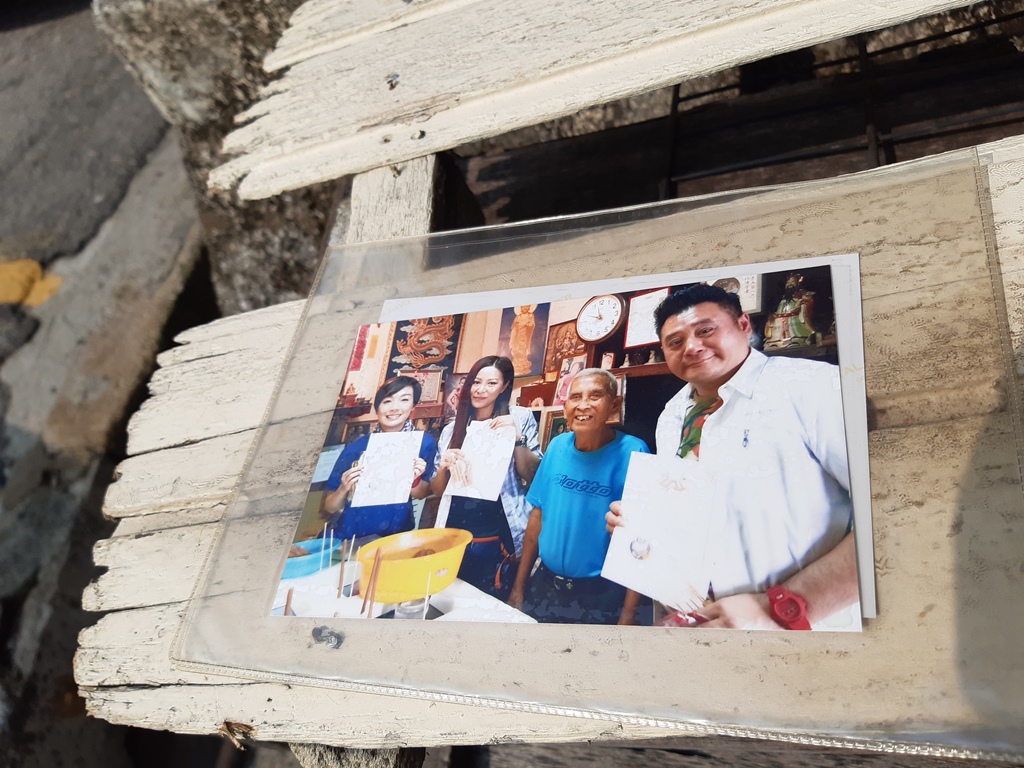 As his experience grew, so did the size of the joss sticks. He began producing big dragon joss sticks, but it was no easy feat as there was zero supervision. In the early stages, the ambitious man bought dragon incense sticks from others, dismantled and painstakingly re-assembled them to study the ins and outs of the complicated craft. His late wife was a pivotal part of his growth as she used to help him in many ways, particularly to paint the dragons in bright colours. From small incense sticks that fit home altars to eye-catching giants that line Chinese temples and special festivals such as Jade's Emperor's Celebration and Hungry Ghost Festival, Mr Lee's joss sticks were making a name for themselves. He has since been plying his trade for more than 70 years, without the slightest dip in passion.
A Heart-Warming Promise to His Wife
While Mr Chin hosted an Australian family and shed some light on the traditional methods, I opened a conversation with the modest joss stick maker. I pointed out to a few photos, which he affably nodded with short responses. Just when I was expecting another brief reply while looking at a picture of him and his wife, he uttered, "She was very beautiful during her young age." His gestures and constant glances towards her photos nullified the need for additional words to describe his love for her.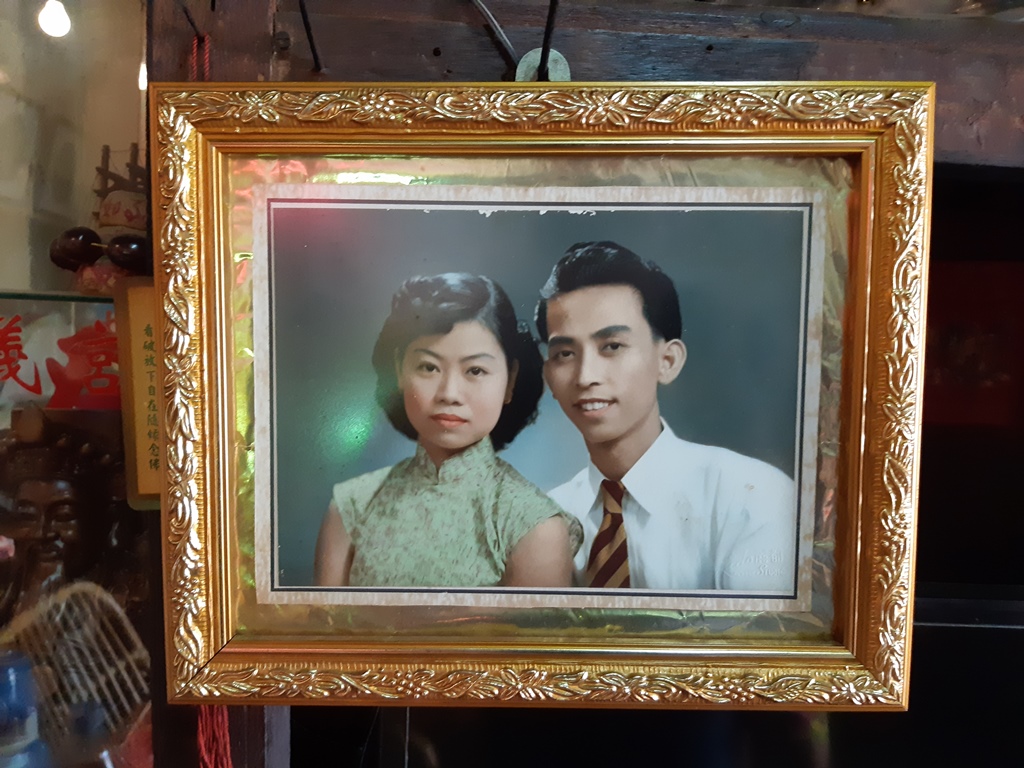 Before her passing in May 2015, she used to help him daily. Beyond her beauty, she was known for her kindness and has always inspired him in life and profession. Just before she passed away, she urged him to continue producing joss sticks and to give to others as blessings for happy and long lives. Touched by her words, he vowed to carry on this uncommon profession for the rest of his life. When not making the joss sticks, he does couplets and calligraphy to present as gifts for others. In many ways, he reminded me that there are some things that money can't buy.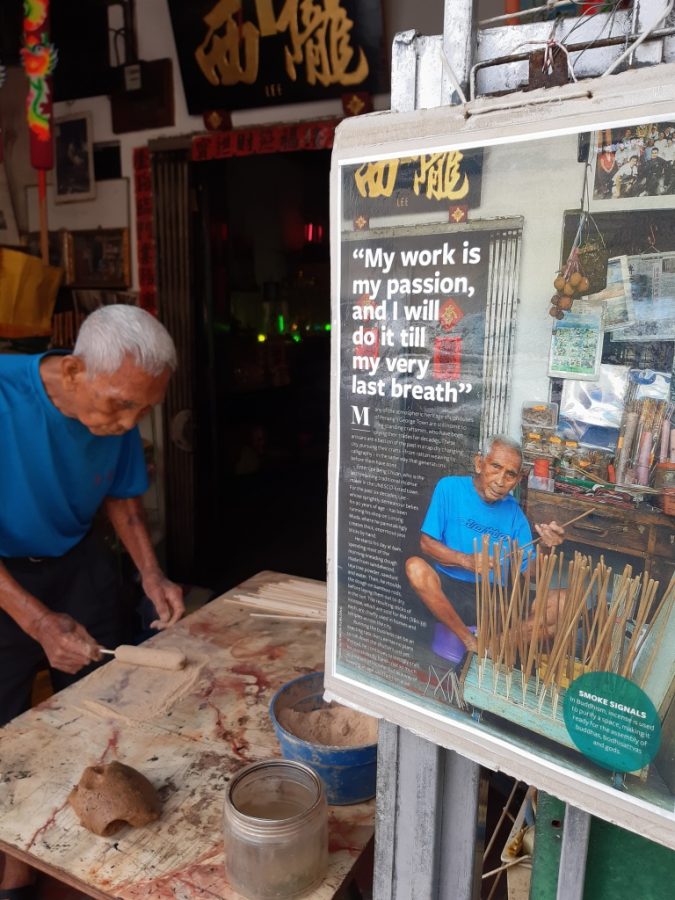 Today, he does not produce intricate joss sticks as he prefers making a smaller number of regular ones for loyal customers. He is currently passing down his knowledge to his son and daughter-in-law to ensure the handmade joss stick tradition remains alive.
Not Your Average Workshop
The hand-carved incense sticks aren't the only aspect of attraction that makes the shop worth visiting. The store has also doubled up as a workshop for all walks of life. Mr Lee finds himself to be happier when he teaches others to make incense sticks. Observing the workshop photos, I realised that so much can be communicated and shared between people without the use of a common language as joy and excitement were evitable in every face. Despite the popular notion of kids preferring to be shackled to smartphones these days, Mr Chin mentions that the little ones eagerly participate and return with joss sticks and of course, a certificate to be proud of. Many companies and colleges have organised their teambuilding sessions here as well.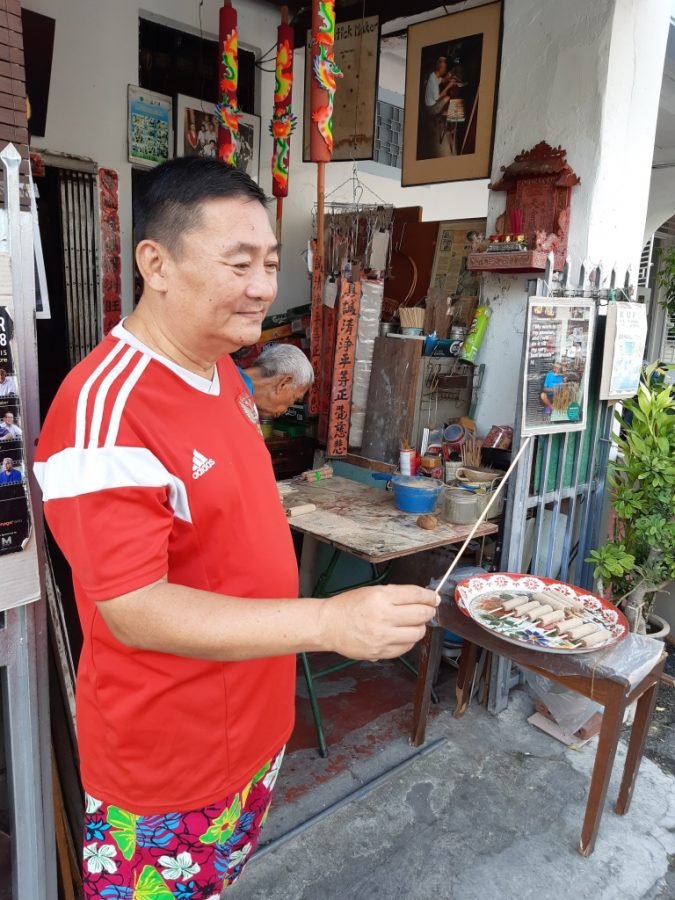 I myself tried my hand at moulding a lump of mixture onto the natural sticks. As simple as it may sound and seem, that wasn't the case when put to the test. The real deal was consistently making all sticks to appear alike, which Mr Lee still does effortlessly.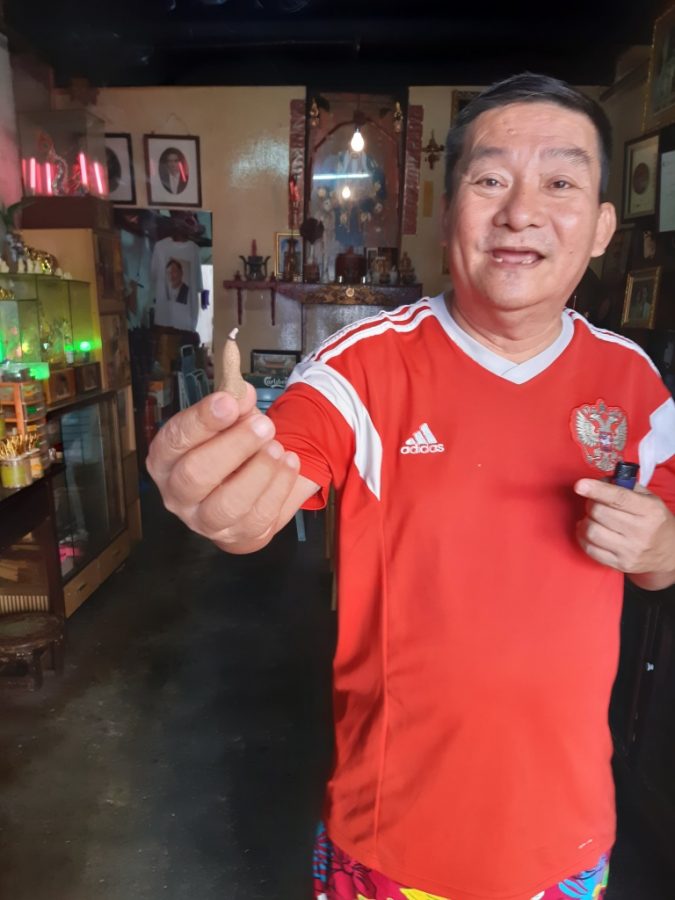 However, infiltrating the edges of even my most positive thoughts were "What the future lies for such local handmade business?" Having visited numerous factories, where production seems like a dead sprint to the finish line, Mr Lee Beng Chuan's store is steeped with much history and tradition. Expressions indelibly etched on the faces of Mr Lim and his son, showed hope and a belief that the future is bright. It was no doubt written on my face as well, returning home with armloads of joss sticks and memories of an inspiring icon.



" ExpatGo welcomes and encourages comments, input, and divergent opinions. However, we kindly request that you use suitable language in your comments, and refrain from any sort of personal attack, hate speech, or disparaging rhetoric. Comments not in line with this are subject to removal from the site. "



Comments