A Public Relations rep by day, photographer by night, and artist by trade, Visithra Manikam talks to Priscilla Emmanuel about her distinguishable style of art.
When we were invited to Visithra's first solo exhibition at APW, Bangsar, I have to admit that I was positively drawn to the central piece (Evolution) used as her promotional image on the flyer. It made me sit up, and automatically feel a pull of familiarity and intrigue. Familiarity not because I have seen her art before, but because the painted face looked like mine.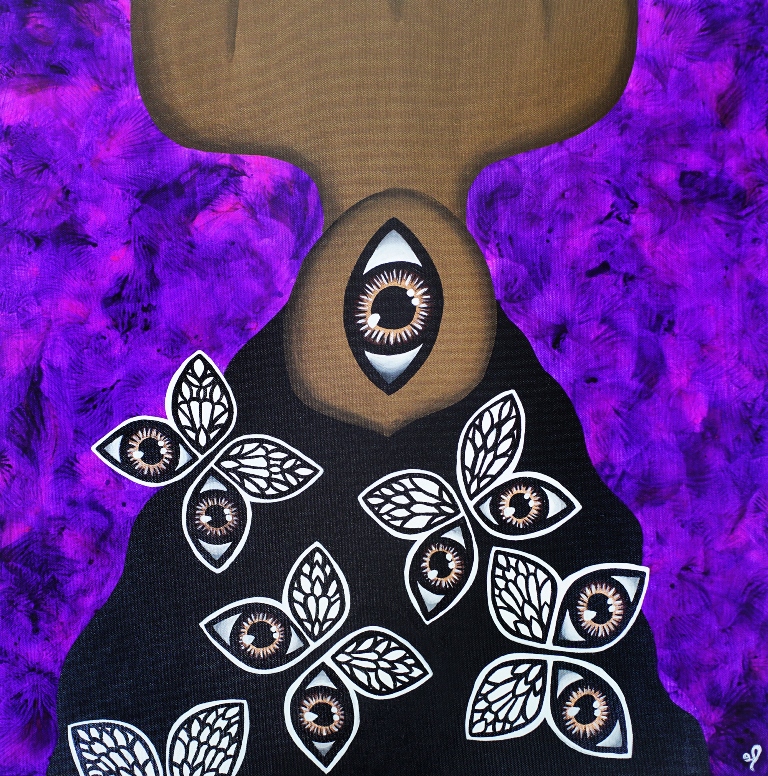 Upon entering S.L.A.M's (Support Local Artists Malaysia) space at APW, and taking in each and every one of Visithra's paintings, it suddenly became a struggle to contain the bubbling of emotions that threatened to spill among strangers. I was arrested, struck, hypnotized, and oddly comforted at the same time. It was the first time I had experienced what representation truly meant in art, in a public space, in my very own country; a place where women like me, like Visithra, and many others are not considered to be part of a marketable aesthetic.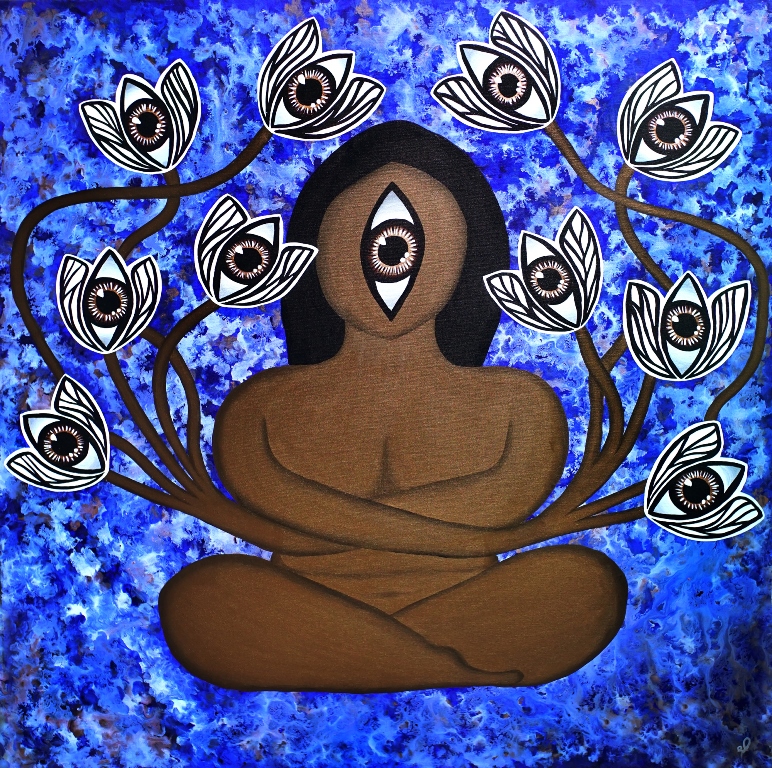 To see interpretations of human behaviour, the conseptualization of death and life, as well as the conscious and subconscious mind given form through dark-skinned bodies of plus-sized women saw me experience something profoundly intimate, and powerful. I believe this is what Visithra wanted others to feel with her art: a sense of being seen, and our stories acknowledged.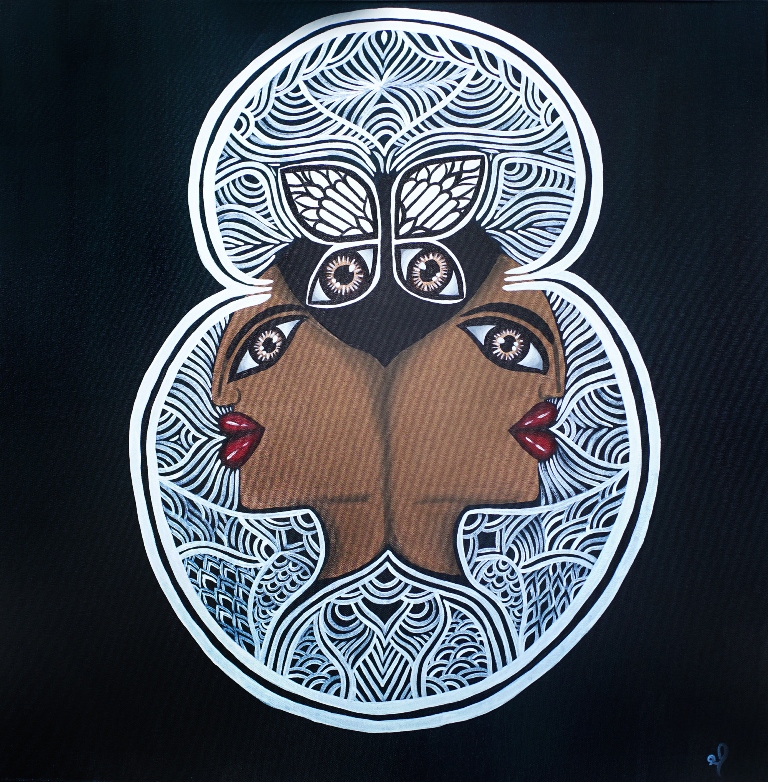 Having only started her journey as an artist in 2016, Visithra who is also a photographer, has perfected a style that's uniquely hers. She talks about being spiritually inspired by the Indian art styles of Madhubani and Patachitra, as well as Jamini Roy who paved the way for the emergence of modern art in India. Visithra has taken her root influences and turned them into her version of pop art and pop surrealism that's dosed with Indian ethnicity and cultural references.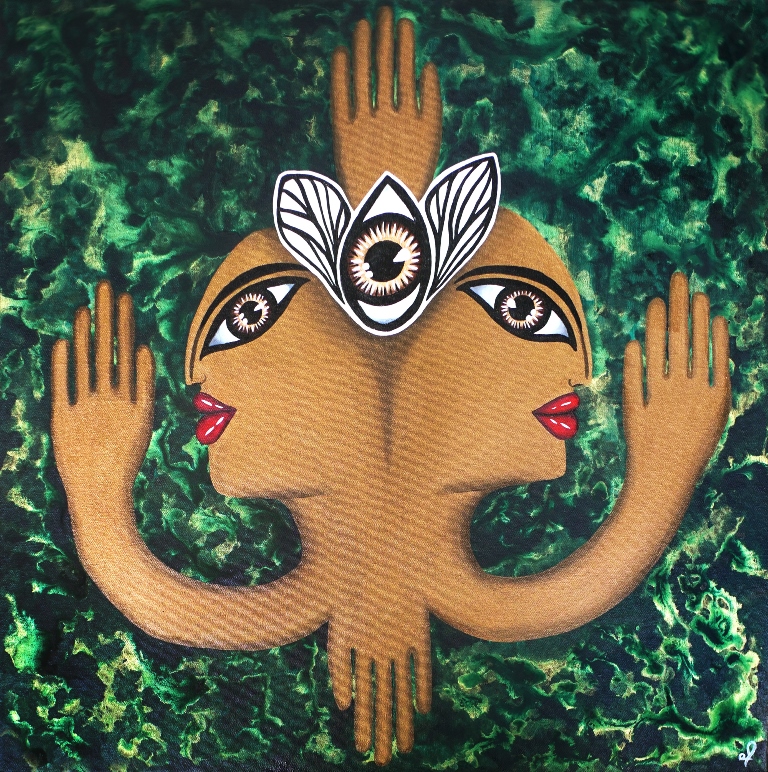 "Discovering one of my art influences came from travelling in India where I was introduced to the works of the famous Indian artist Jamini Roy. Jamini Roy is considered by many to be the father of modern Indian art. In his quest for an Indian identity and to rebel against the colonisers, he sought inspiration from East Asian calligraphy, terracotta temple friezes, and traditional art to find his style. Similarly, I choose to be influenced by eastern art and symbolism and developed my own style. Eventually I realised I could use art to send out messages on different social issues," Visithra tells me.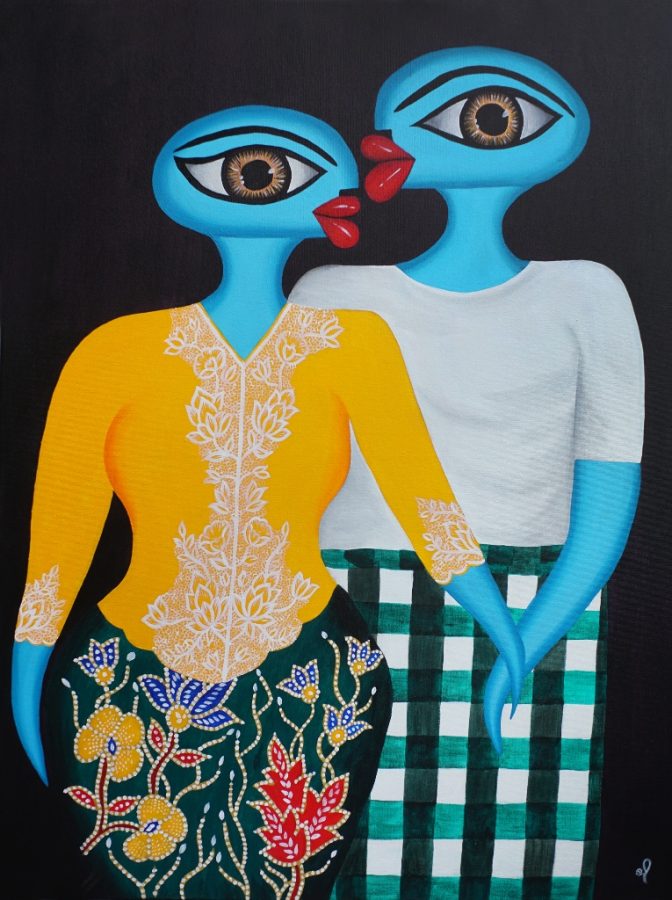 She goes on to say that, "One of the things you will notice is that all my art features dark skinned people. One of my goals is to expose people to dark skin in order to normalise it. I feel it is important that children grow up with art that looks like them to develop their identity and embrace themselves. Besides that I have an anti-racism series, a series that questions social expectations placed on women, and a series protesting child marriages called 'Girls not Brides.'"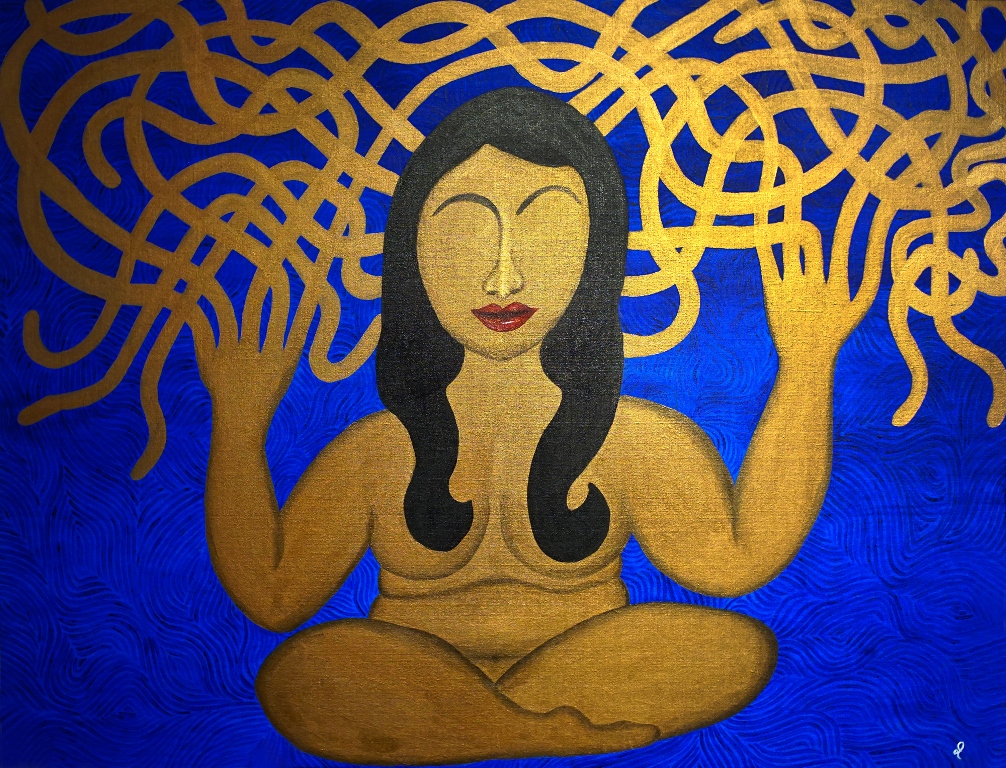 Visithra's paintings are vivid, hypnotic, and surreal with colours that shine vibrantly from across the room. Up close, the paintings shine glossily and you will notice that the backgrounds all have a distinct style, seemingly like paint that has been poured onto a surface rather than applied with a brush or palette knife. When asked about this, Visithra responds that it is indeed a rather specific technique used but refrains from giving away her secret method. She mainly uses acrylics on canvas.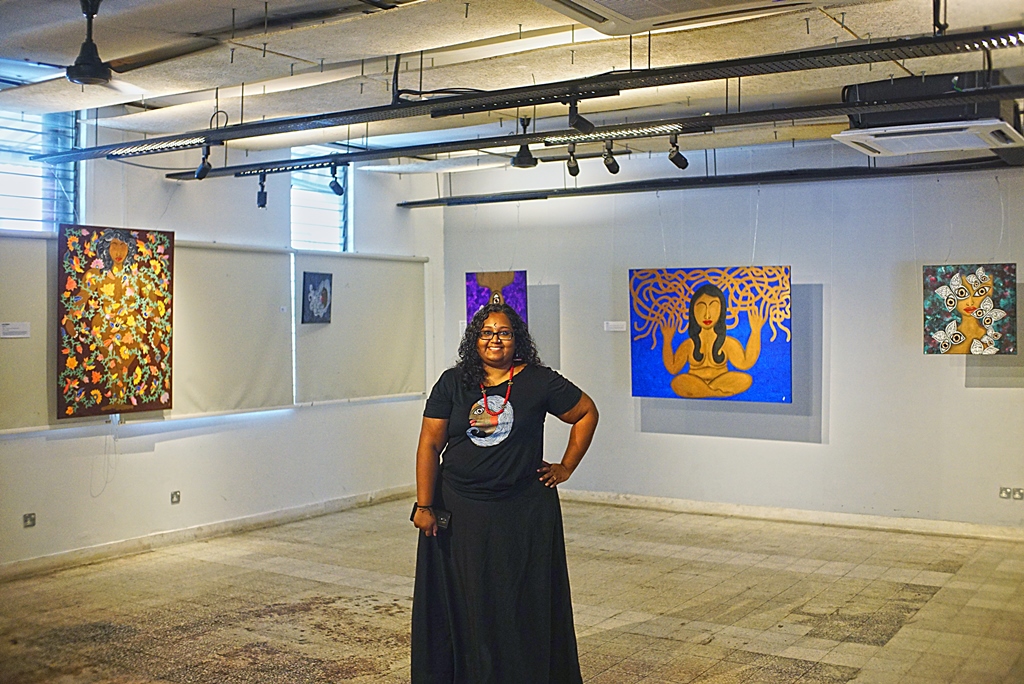 Her solo exhibition titled 'Sweet Dreams are Made of This,' were made up of paintings that each told of a different story or experience expressed through an amalgamation of Eastern symbolism and the parallels within Carl Jung's psychological analyses. Visithra's deep study of Carl Jung's work explores how people can achieve wholeness through knowledge and the acceptance of the unconscious by understanding the symbols of dreams. She simplifies this by explaining, "In Eastern religions and cultures, symbols were part of human vocabulary to express and see things in a new dimension through our connection with nature. Symbols and visuals were a way to explain complex ideas and expand the mind. It was interesting to see how people connected to the paintings and the meaning behind each one. This is the reason why I provide descriptions for most of my pieces so that viewers can understand the basic psychology behind it and connect with the paintings. I have always been interested in human behaviour and psychology so it was natural for me to start exploring these subjects in my art."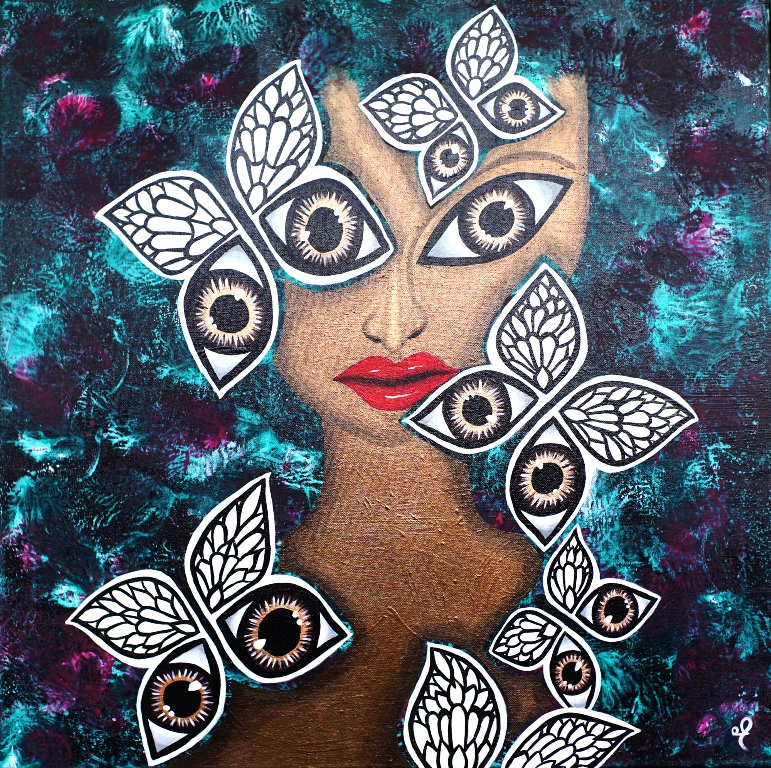 When asked about the challenges of being an artist in Malaysia, Visithra shared her views on the broad range of talent we have in the country that doesn't get the exposure needed due to the lack of collaborative efforts. She refers to her time spent in Indonesia's artists circles who all worked together to foster growth. She spoke of witnessing prominent artists there who opened their galleries up as a space for new talent to exhibit, and regularly put together group exhibitions that included artists not only from Indonesia but elsewhere as well.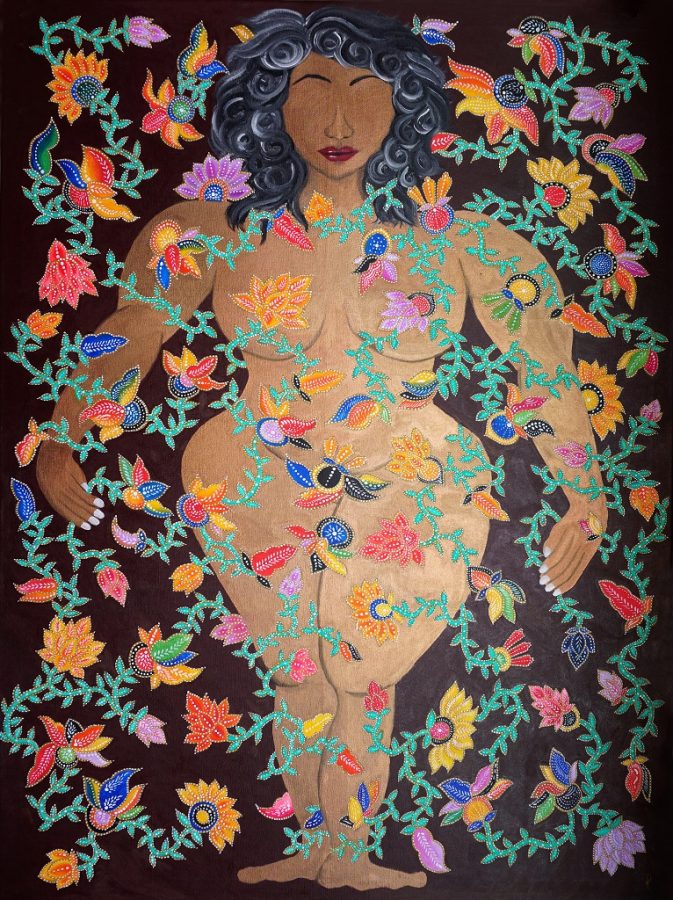 "They used their popularity to get these artists opportunities, exhibitions, and media coverage. Not only that, they invited their collectors and anyone they thought would be interested to see and purchase art to join them at these exhibitions. I really loved the collaborative culture I saw there," she says.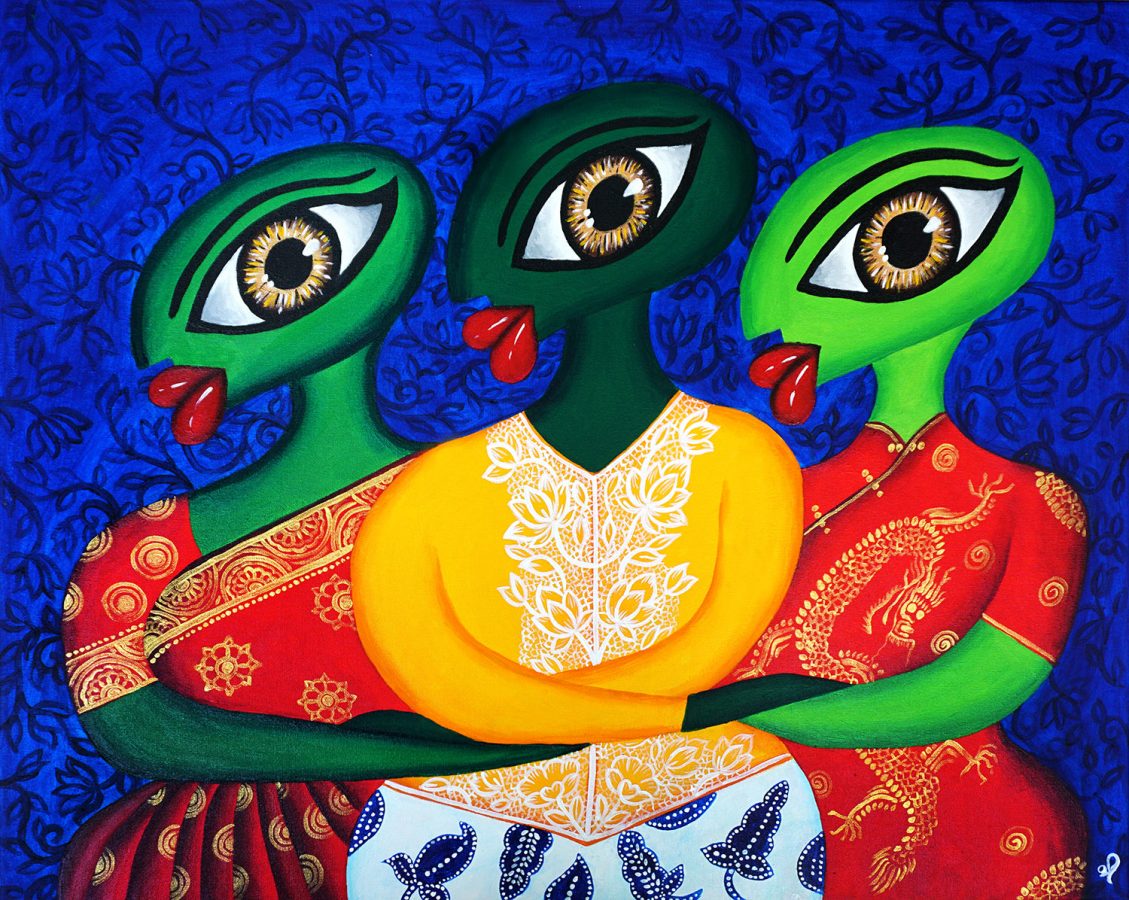 Wanting to get the same ball rolling on home soil, Visithra came home and after months of planning, conducted her first open call exhibition in June with 10 artists, including 3 new artists who were exhibiting for the first time.
She ends our interview by expressing her gratitude for "Places like APW Bangsar and One Utama have provided spaces for artists to exhibit their work and I'm glad to be able to work with them. It is important that such spaces are available for artists to share their art. I hope to bring more opportunities in the future."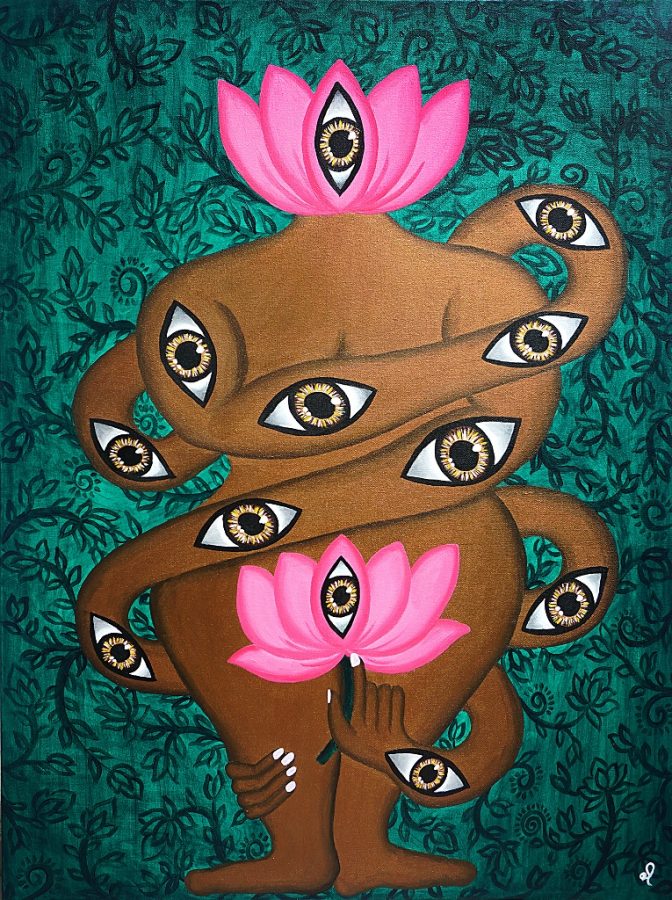 Visithra has also created a clothing line showcasing her now identifiable female face with the red earring, red bindi, big eyes, and long hair – what she calls "wearable art" that can be ordered online at Redbubble.
Find her wearable art on Instagram @vissywears, and her online art gallery @vissyarts.
Featured image: Evolution by Visithra Manikam.
---
"ExpatGo welcomes and encourages comments, input, and divergent opinions. However, we kindly request that you use suitable language in your comments, and refrain from any sort of personal attack, hate speech, or disparaging rhetoric. Comments not in line with this are subject to removal from the site. "
Comments