Henna as an art form has always fascinated me. From elaborate Indian bridal adornments, to fun quick temporary tattooing of sorts at markets, and intricate mandalas seen in adult colouring books; the recognisable patterning of floral waves have unfailingly struck me as excited and proud to witness the legacy of ancient artistry making its way into contemporary times.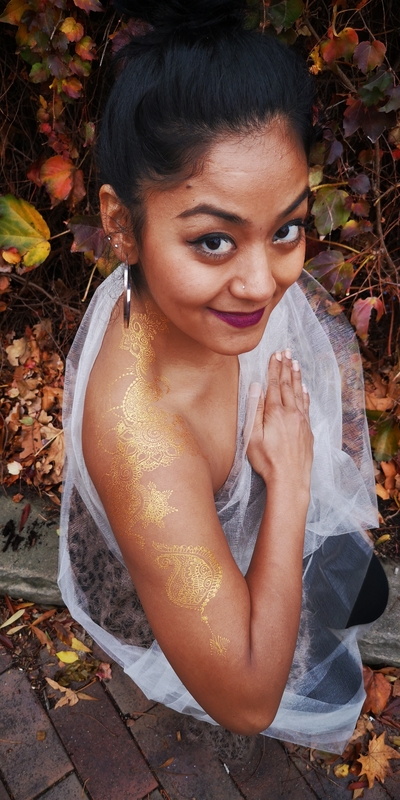 But though I may carry this excitement as a lover of culture, the true history behind henna has never been quite clear to me until I had a proper conversation with a practitioner of this body art.
Manjurah Nandarajah was born into a family of artists, most influencing of all being her mother. As a home-based baker, Manjurah's mother filled her home with the smell of goodies fresh out the oven, and gained the admiration of her daughter with the intricate and skillful decoration of many types of cakes. With a love for art and design curated, Manjurah began practicing her art on willing friends with an Artline pen, and evolved into Sharpies on every surface she deemed suitable (but she insists she never committed vandalism!) like notebooks, bags, pencil cases, and shoes.
With the growth of technology, her tools also expanded to the digital verse, familiarising herself with ProCreate apps. But Manjurah also remains strongly traditional, and will practice with a henna cone filled with either acrylic paint or the original henna paste; a convention she does every day to hone her craft to perfection.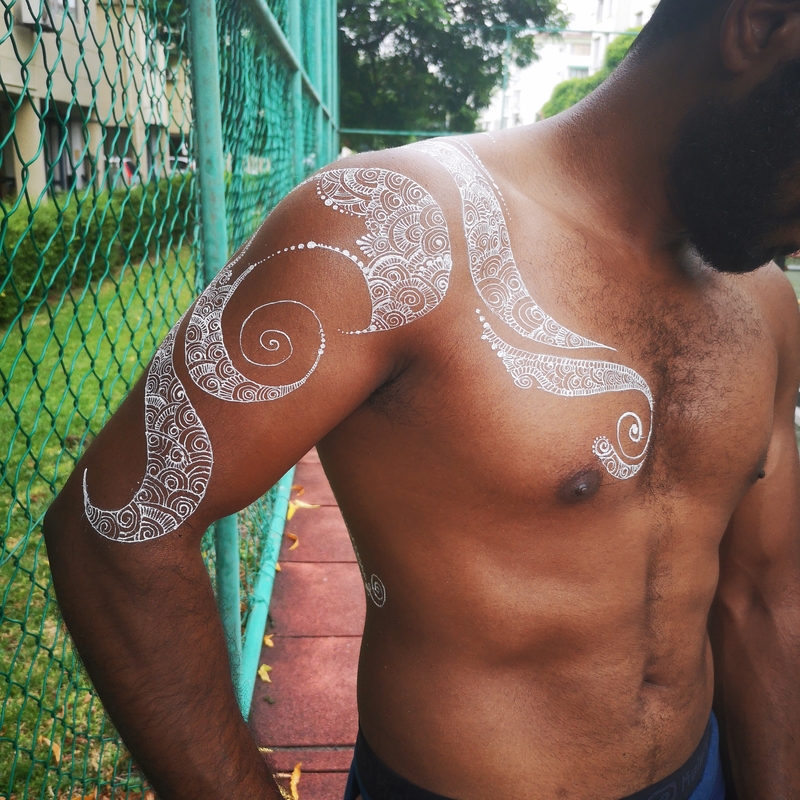 The process of drawing is her centering, something she described to me as a form of meditation that calms her down while helping her learn and constantly improve.
You, like me, would be a little surprised to hear that her professional background was previously rooted in the corporate world of banking and logistics for over 14 years. And even after she decided to have a change in career, it would be a couple of years more of working part time in the hospitality industry while studying in Sydney before Manjurah decided to fully quit the corporate lifeto focus on her art and studies. She now has acquired an ideal balance studying at Australia's prestigious College of Make-Up & Special Effects (ACMUSE) where she is free to test how far her skills can go.
With this, her roots in henna artistry have transcended to a whole new level.
Unlike traditional henna, where a paste is derived from the namesake plant, grinded, stewed, and applied as a staining element, Manjurah has created a formula for the world of entertainment, dedicated to the artistic values of henna.
Her own concoction retains the beauty of the design, but given the fast-paced necessity of short-term makeup, Manjurah introduces a range of coloured henna in the version of body paint with the addition of bejeweling. The traditionally black-only henna that stays on the skin for over two weeks can now be a 24 hours-only commitment, and in colours such as white, gold, and even UV-sensitive neon, perfect for a day-long photoshoot or event. If you were stunned by our beautiful The Expat magazine cover for the month of September, model Claudia Gutierrez (shot by Sabahan-born professional photographer Tammy TingTing) was also Manjurah's foray into exploring water resistant body art, and we couldn't be more convinced that she has absolutely succeeded.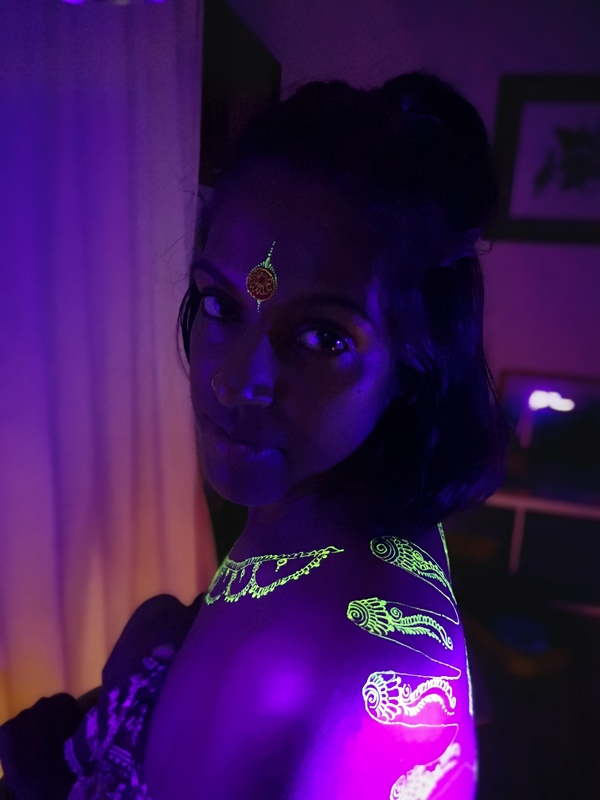 She proudly displays the fruits of her two to three-month long research via gracious demonstration on the arms of my co-workers Priscilla, Liyana, and I, and mentioned that her foundations in body paint and performance makeup, as well as research into dermal allergy had perfected a recipe suitable for even those suffering from latex irritation. Her daily practice evidently paid off, as we noted the extra fine lines, quickness, and delicate strokes as she painted us with the swirling floral petals reminiscent of lace.
I couldn't help but question Manjurah on the sensitive topic of cultural appropriation, as my own ethnicity of Chinese with an interest in Indian art had often raised eyebrows here. Her response was deeply comforting, as she gently explained to me the fine line between cultural appropriation and cultural appreciation.
"Like tattoos, henna is another form of art to express creativity and individuality and it should be universal. Like everyone from any part of the world should be able to enjoy this art and it has to start with awareness and education."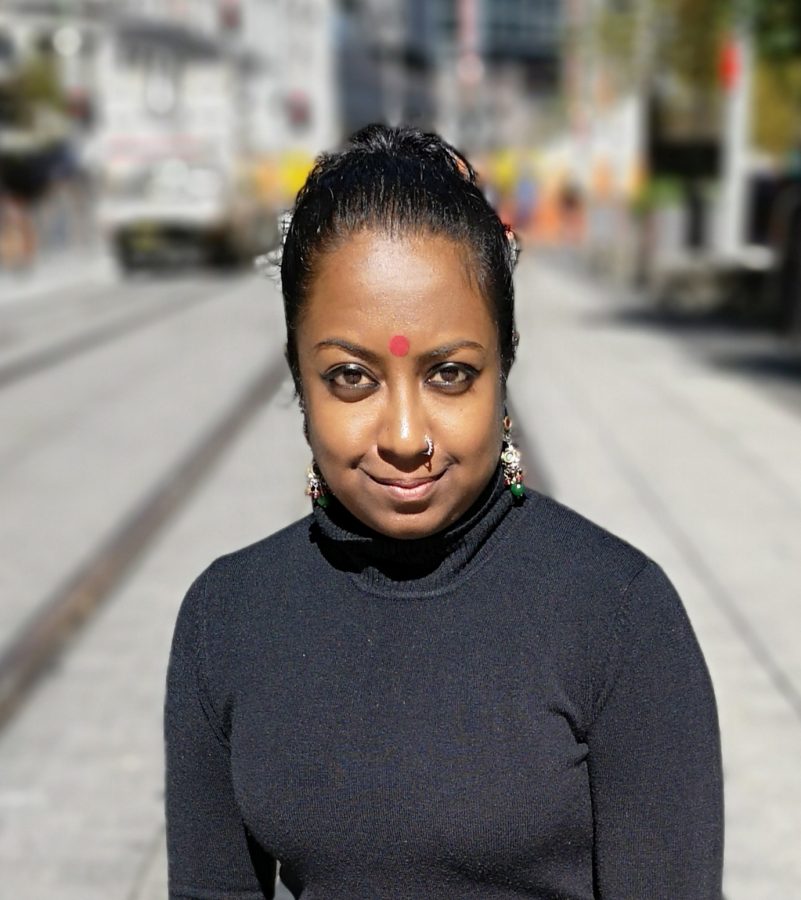 The art of henna dates back to ancient times, and was practiced medicinally to deal with ailments of the skin wherever the plant grew. From the famed Egyptian kingdoms, to the proud Indian Rajasthan dynasties, and widespread Mogul empires, application of the plant took on a naturally artistic form in addition to its healing qualities, and became synonymous with celebration and beauty.
Manjurah's experimentation and collaboration in furthering the tradition pays homage to when henna was embraced for artistic value, and in current times, she wishes to see the acceptance continue without fear of strict propriety.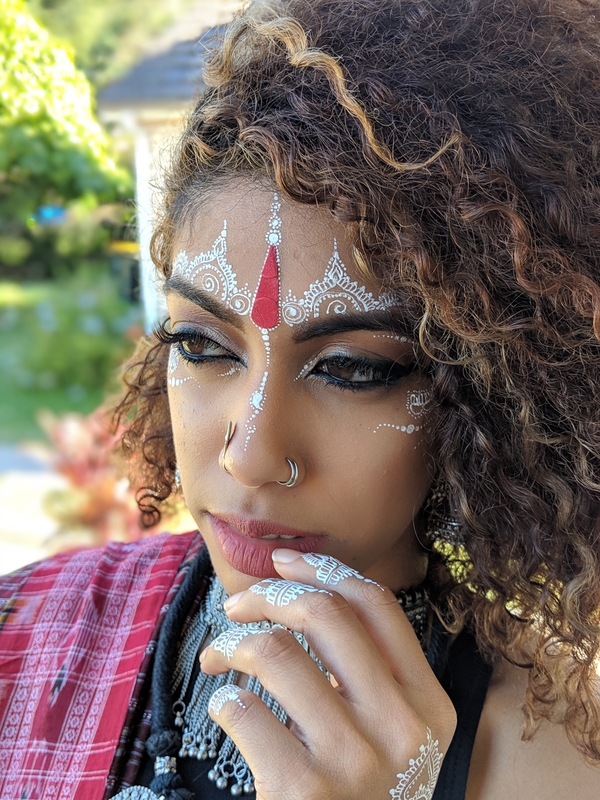 As of now, Manjurah is wholly devoted to building her brand Mongkee Henna into a global sensation, with dreams of henna-adorned people walking down international runways and on screens. Her achievements include this very feature, as well as being given free rein to create original, unique and beautiful pieces during her own personal workshops, client-based commissions, and at festivals. She is also the collaborative artist for Australian-based dance group Bindi Bosses, and has made henna their signature look.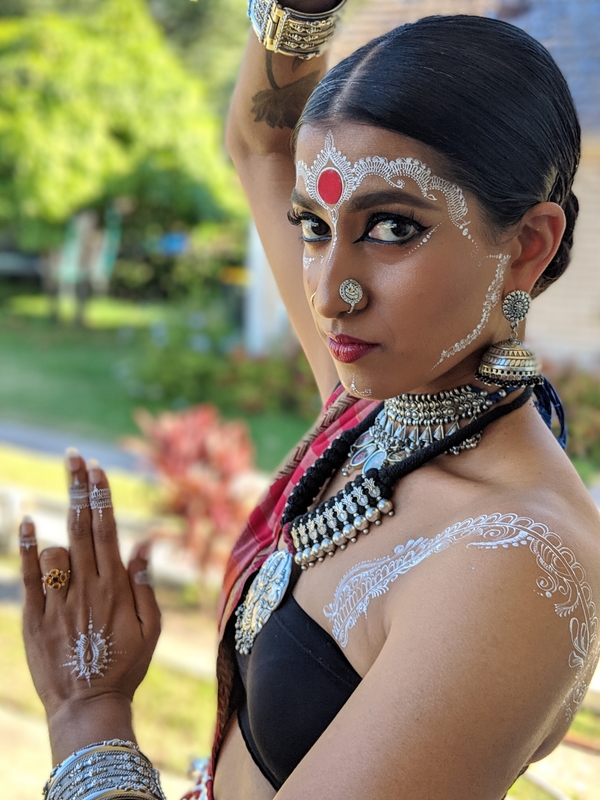 The fact that she can tie this niche part of her heritage to the larger creative realm remains a strong encouraging factor in her exploring opportunities in the world of fashion, and educating people from different parts of the world on henna and its growing popularity in Western countries.
---
Mongkee Henna is based in Australia for now, but Manjurah also often returns to Malaysia to visit family and host workshops and demonstrations. Visit her Instagram profile @mongkee_henna to know more about her latest artworks and when her next henna session will be.
---
"ExpatGo welcomes and encourages comments, input, and divergent opinions. However, we kindly request that you use suitable language in your comments, and refrain from any sort of personal attack, hate speech, or disparaging rhetoric. Comments not in line with this are subject to removal from the site. "
Comments