As our world grows smaller, our expectation for travel grows larger. Gone are the days where travellers visit a different city or country simply to shop and dine; the days of purposeful travel are on the rise.
In line with this trend, wellness and sustainability are two of travel's latest buzzwords. More and more, travellers around the globe are jumping on the clean and green bandwagon. According to reports by the Global Wellness Institute, wellness tourism grew into a $639 billion market in 2017, while the global wellness industry grew by 12.8% in the last two years. While destinations such as Hawaii or Big Sur immediately spring to mind, over the past five years, Asia has led the gains in wellness tourism. (Such trips increased by a whopping 33% in two years, to 258 million annually.)
Capitalising on its Natural Legacy
Enter Phu Quoc, a once-sleepy fishing hamlet fringed with white-sand beaches and cloaked in dense tropical jungle. Of late, Vietnam's largest island has morphed from a remote backwater to a tranquil beach retreat for sun-seeking tourists. Despite the rapid development, as well as local and central governments' plans to develop it into an international hub for eco-tourism, the island remains unmarred from overt gentrification, where much of its natural legacy are carefully protected.
Dubbed as Pearl Island, the biggest island in the country spans 600 square kilometres, where islanders have traditionally earned their living from seafaring ways and through the production of high-quality nuoc mam (fish sauce). Made exclusively from anchovies caught in the waters encircling the archipelago, the island's most renowned export was granted a European Union Protected Designation of Origin (PDO) status in 2012, the very first for Vietnam.
A Destination Unto Itself
Rarely is any resort a destination. Fusion Resort Phu Quoc defies all norms by being the exception, not the rule. Sporting 130 villas sprawled over 25 hectares, "generously luxe" would be a fitting description for the resort. The same could be said for their world-class hospitality.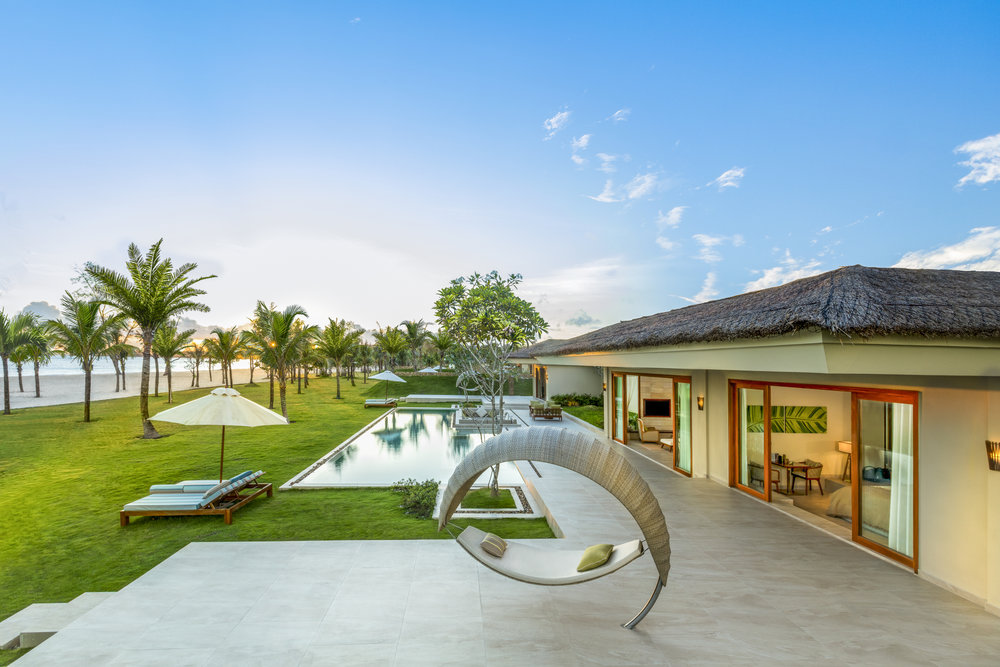 The embodiment of an all-inclusive vacation, the nightly rate at Fusion Resort Phu Quoc includes a myriad of pleasures to revel in such as spa therapies, a Fushionista (butler of sorts), and breakfast "anywhere, anytime". Our Fushionista, Quynh (we affectionately called her 'Q' after the genial Bond character) was incredibly thoughtful and accommodating, on hand to help with anything we needed throughout our stay. Booking a taxi? Done. Making arrangements for a night out in town? Sure. Recommendations for a local nosh spot? Here you go. No request was ever too big or too menial.
The oceanfront resort's unique breakfast policy came in handy on a morning with pelting rain when fluffy scrambled eggs, freshly squeezed orange juice, and a platter of local fruits were delivered, still warm, to our thatched villa. For those who may be reluctant to part from the sanctity of their villas (understandably so since each villa has a private pool), the all-day dining restaurant, Secret Garden, is well worth the venture. The Banh Xeo (stir-fried vegetables, mung beans, and minced pork tucked within a crispy egg crepe) is a must-have. So, too, is the Banh Mi Panini, a delicious carby melding of Western and Asian flavours, and Vietnamese Spring Rolls,hand rolled and chock-full with fresh vegetables.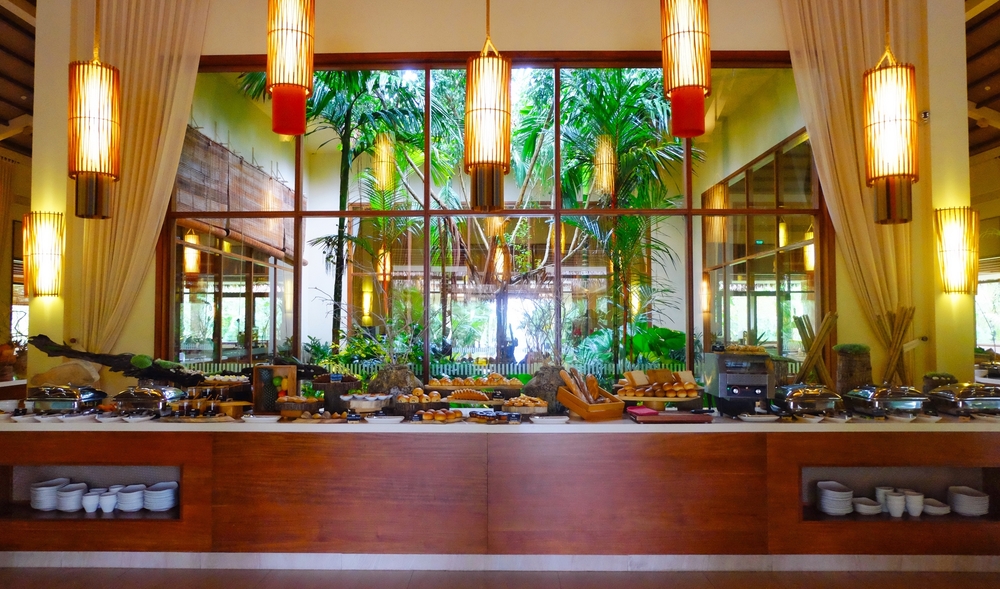 Keen to indulge in some pampering, I was inducted into the world of Maia Spa. Embracing a healthy farm-to-table ethos – for both the dinner table and the massage table, mind you – the pepper used in the dishes and the spa were harvested from the resort's on-property plantation. Their signature treatments, Freshly Ground Body Scrub and Natural Living Pepper Massage, which incorporated a bespoke blend of herbs and black pepper, were heavenly thanks to the well-trained and nimble staff.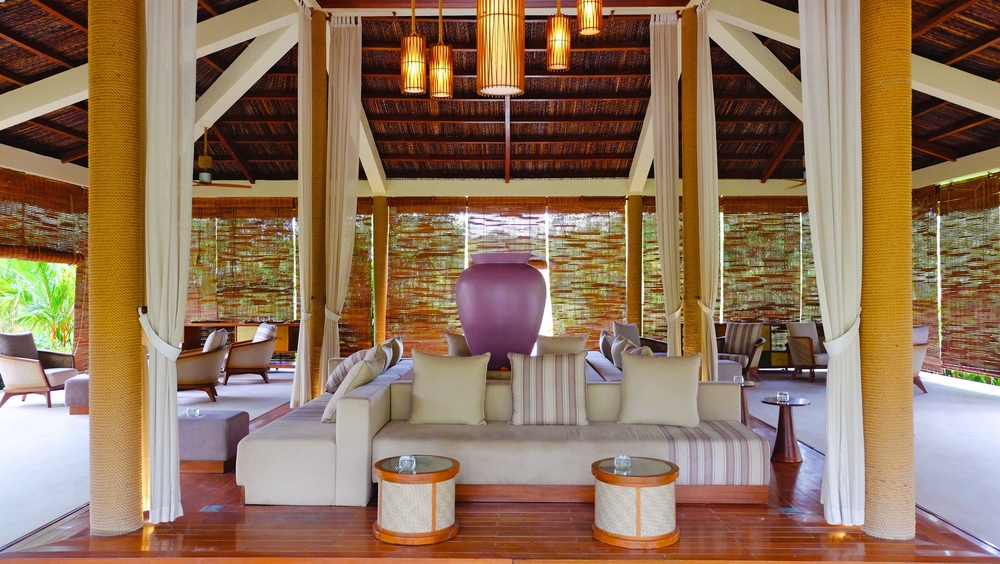 There was a heartening absence of mini plastic bottles of toiletries in the villas and spa showers. In their place were Molton Brown products in refillable ceramic bottles. Shored by a private beach, the eco-conscious resort is looking to eliminate the usage of plastic bottles by next year and is actively working with the local government to conserve a reef resplendent with corals, 300 metres from the shore.
A Food Scene in its Own Right
One of travel's great joys, to me, is experiencing new cuisines and tasting the glorious gamut of flavours in a new place. Each bite holds the story of migration, tradition, history, and culture. While chatting with Peter Neto, Fusion Resort Phu Quoc's General Manager and fellow foodie, I agreed with his astute observation: "Garnishes are not just for show in Vietnamese cuisine, they are actually part of the dish." Basil leaves, stalks of spring onions, and sprigs of coriander added depth and freshness to the delicate flavours of every dish. While most dishes are terrific on their own, Vietnamese cuisine allows diners to customise to their palate with table-side condiments such as fish sauce (Phu Quoc's ever popular export), sugar, sliced chilli, cuts of lime, and just-picked vegetables.
Try Bun Quay, a noodle dish unique to the island. A bowl of Bun Quay at Kien Xay (28, Bach Dang Street, Duong Dong, Phu Quoc) consists of gelatinous noodles and finely minced fish-shrimp paste bathed in seafood broth. Quay denotes the stirring motion used to cook the noodles. Pair the tummy-warming dish with the signature sauce of salt, sugar, pepper, kumquat, and ground chilli (the ratio for each item is on loop on the eatery's video screens) and tamp down the heat with Mia, sugarcane juice with a squeeze of lime.
Another treat is Goi Ca Trich, or raw herring salad. Head to Vuon Tao (Cua Lap Hamlet, Dong To, Phu Quoc) for the exquisite dish which combines sliced herring and shredded coconut wrapped in rice paper. The rolls are then served alongside a basket of fresh greens and a special dip of chopped chilli, garlic, shallots, and roasted peanuts.
For a round-up of local favourites, check out Cho Dem Night Market (Bach Dang Street, Duong Dong, Phu Quoc). The pedestrian-friendly market bustles with activity, and visitors can be found perusing the plethora of dining options, most of which offer live seafood and street snacks, before settling into the makeshift dining space.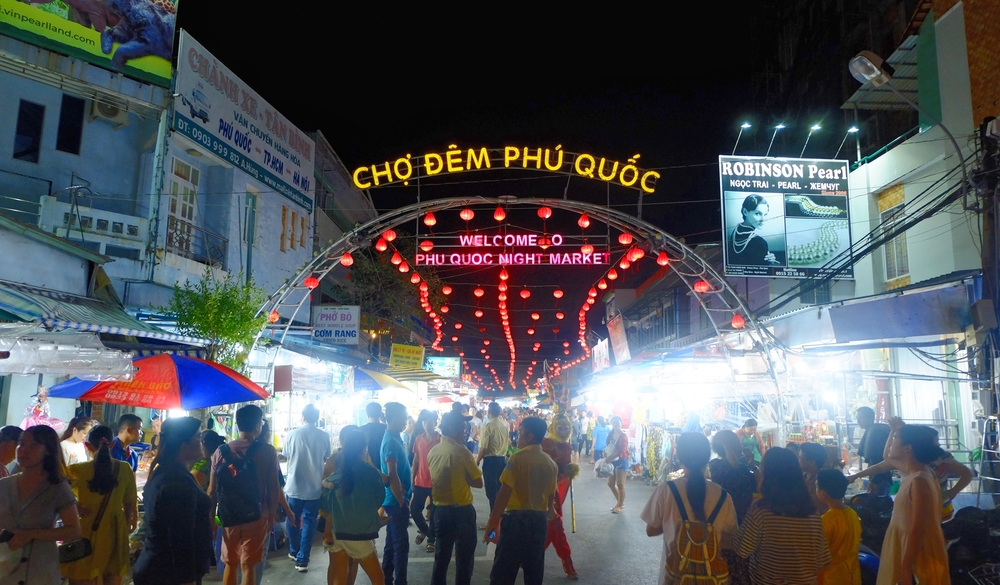 On one of the nights, I ducked into Che Ngon Nha Co (14, Duong Bach Dang, Phu Quoc), where the owners spoke no English whatsoever, randomly pointed at one of the items on the wall-taped menu, and plonked on a tiny stool. Minutes later, I gingerly dug through my glass of Che Thap Cam,a luscious dessert made up of a mix of beans and colourful jelly squares drenched in coconut milk, topped with finely shaved ice and roasted peanuts.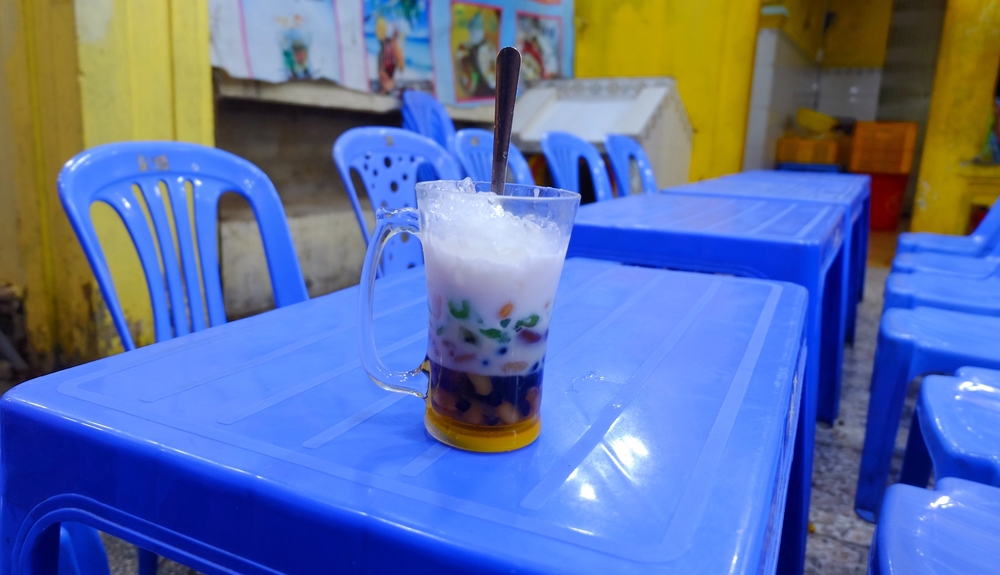 A Day Out in the South
A paradise in the making, Phu Quoc beckons visitors to mellow out. For those with a desire to explore, a day out in the South might be your siren song.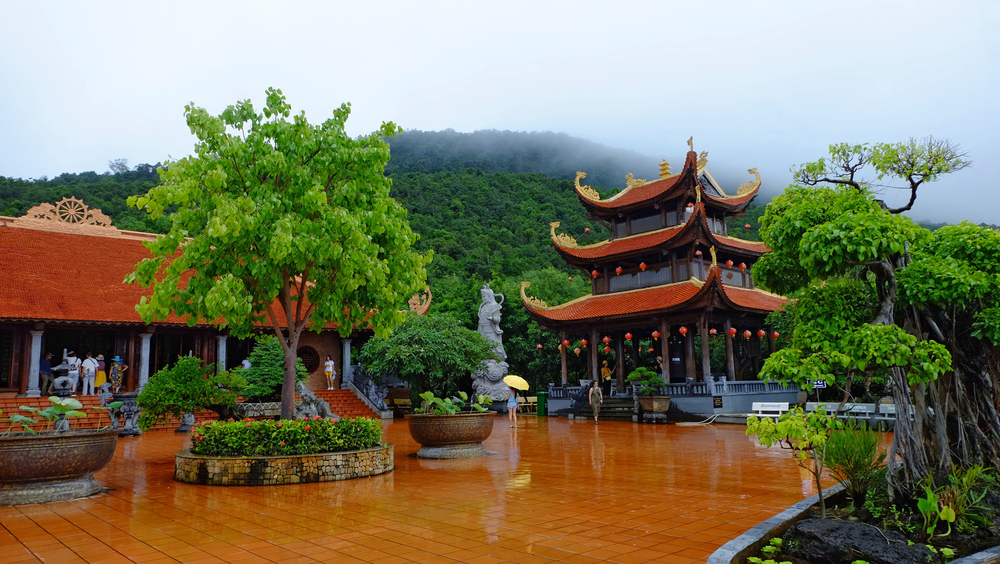 At Phu Quoc Bee Farm, you can learn about the essential role of honeybees in the ecosystem. Then, there is Ngoc Hien Pearl Farm, where you discover the history and process of pearl farming and afterwards, shop for souvenirs like boxes, inlaid furniture, and art pieces made from shells of oysters, within the building itself. The island is also famed for its sun-dried peppercorn varieties, best seen at the picturesque Pepper Farm Phu Quoc. From there, head over to Hu Quoc Pagoda, the largest Buddhist temple on the island, perched majestically at the base of a lush mountain. Before leaving, take a dip at Sao Beach, one of the many found here, each with clear azure waters.
Once built by the French colonial administration to house over 40,000 Vietnamese prisoners, Cay Dua (translated as Coconut Tree Prison) was once Southern Vietnam's largest incarceration centre. The site has since been repurposed as a museum-cum-memorial, demarcated with barbed wire and built with mannequins to depict the prisoners' life and turbulent history of the camp.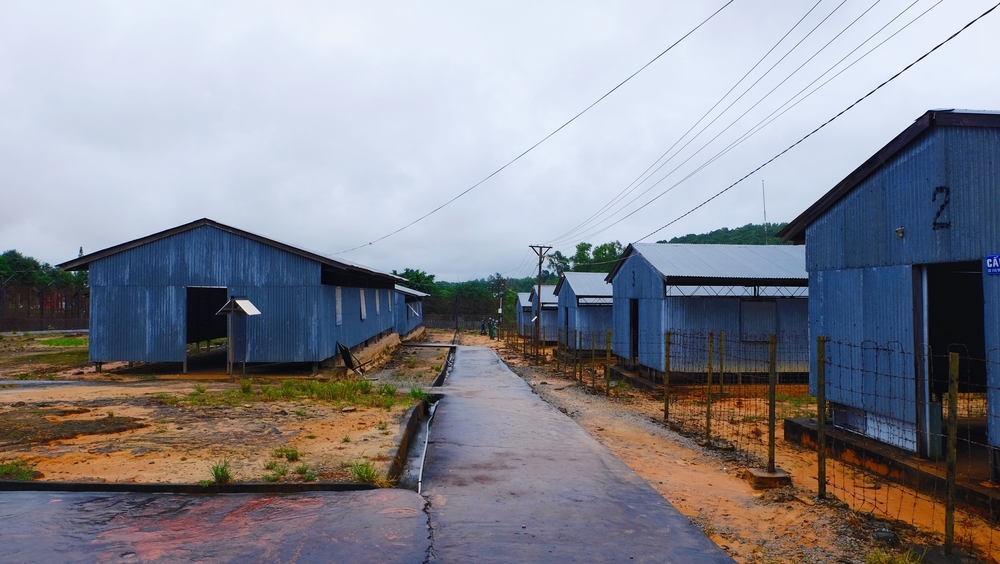 A Lesson in Wellness and Slow Travel
While the definition for the travel trend continues to expand, travellers are once again turning to retreats for a chance to escape, unplug, and reset. I travel the same way I live: adventure-filled, passion-led, and curiosity-bound. I jump heart-first into projects I care about, imbibe my whole self into them, and rarely take a day off to simply rest. All of that changed in less than 12 hours after landing – the halcyon life and heady reverie the island exudes are addictively ubiquitous, so much so that doing nothing actually seemed appealing.
Phu Quoc turned out to be the escape I did not know I needed. More importantly, I learned to be unapologetic about my insouciance – after all, there is absolutely nothing wrong in taking a break to just simply be.
An easy-to-love destination, Phu Quoc is openly inviting and without pretence. Doors are almost never locked even late into the night, people are genuinely friendly, and everything happens in an unhurried pace. If you are looking for an introductory lesson in wellness and slow travel, this might be just the destination for you.
---
"ExpatGo welcomes and encourages comments, input, and divergent opinions. However, we kindly request that you use suitable language in your comments, and refrain from any sort of personal attack, hate speech, or disparaging rhetoric. Comments not in line with this are subject to removal from the site. "
Comments