For someone experiencing a cruise for the first time in their life, staring at a ship as big as a building is needless to say, quite a surreal experience. The closer I got to it, the more it resembled an apartment block instead of a seaworthy craft. Yet, being on board and experiencing the sight and sound of seawaters rushing by was exhilarating. Combined with the gentlest of rocking sensations felt during quiet moments, it was truly an experience to be appreciated.
And with Australian-born culinary legends and recent TV stars Chef Mark Best and Shane Osborn aboard as a highlight feature presenting behind-the-scenes insights into a hit Netflix cooking competition and serving up truly beautiful food, excitement was at an all-time high.
The Genting Dream
Standing at 19 decks tall, the Genting Dream debuted in November 2016 as the first vessel of the Dream Cruises line by Genting Hong Kong. Her sisters–the World Dream was subsequently launched in November 2017, and the Explorer Dream (formerly the SuperStar Virgo) extended its illustrious sailing history to Australian waters for the 2019-20 cruise leg.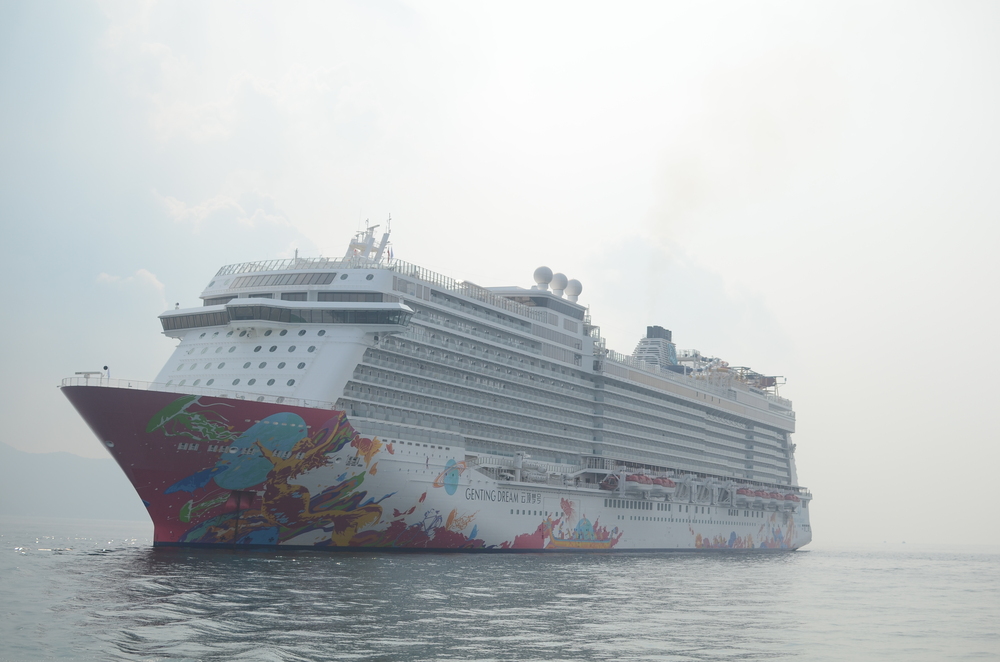 The outer hull of the ship sports the signature pop art of Chinese artist Jacky Tsai, the official artist of the Dream Cruises, and Genting Dream offers a truly spectacular sight. Centring on the theme of otherworldly romance, an astronaut and a mermaid are depicted to be making contact, and the two are the ship's beloved mascots. The two are surrounded by other Oriental symbols of good luck and fortune such as water lilies, goldfish, and a special decal of stalwart dragon boat racers, completing the encapsulation of a whimsical voyage with a dedicated crew at hand.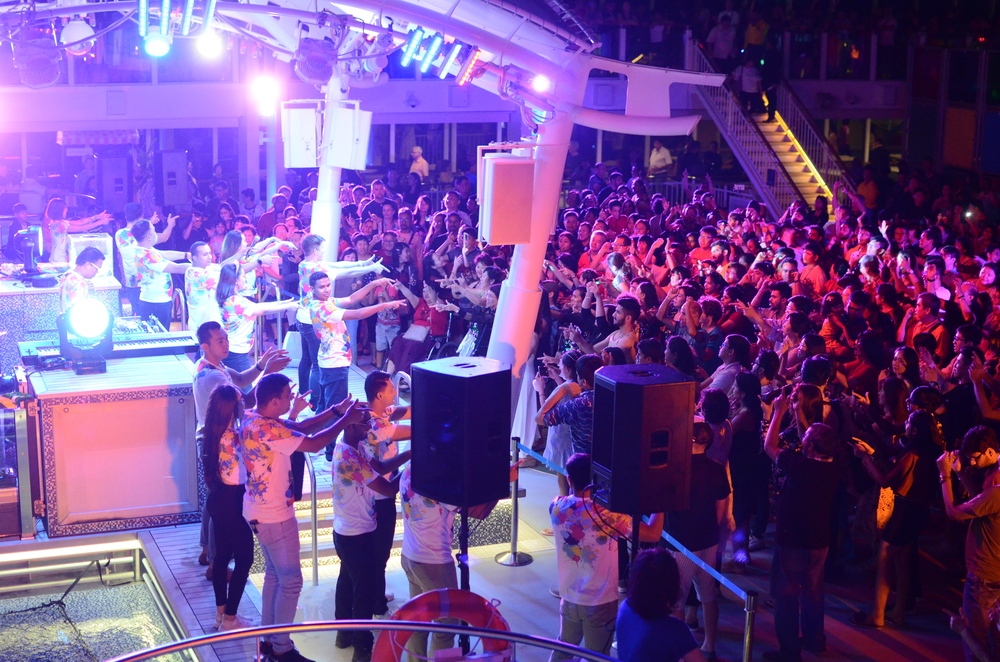 Designed to cater for the Asian cruise market, Genting Dream offers eight different accommodations, ranging from the Interior Stateroom– a 13sq.m modest, windowless accommodation containing two single beds with added options of a Pullman bed or a sofa bed to house two to four people; to the luxurious Palace Villa– 224sq.m of double story apartment-style living, complete with outdoor Jacuzzi, grand piano, bar, and dining room in addition to two bedrooms and a patio area to house a maximum of six guests.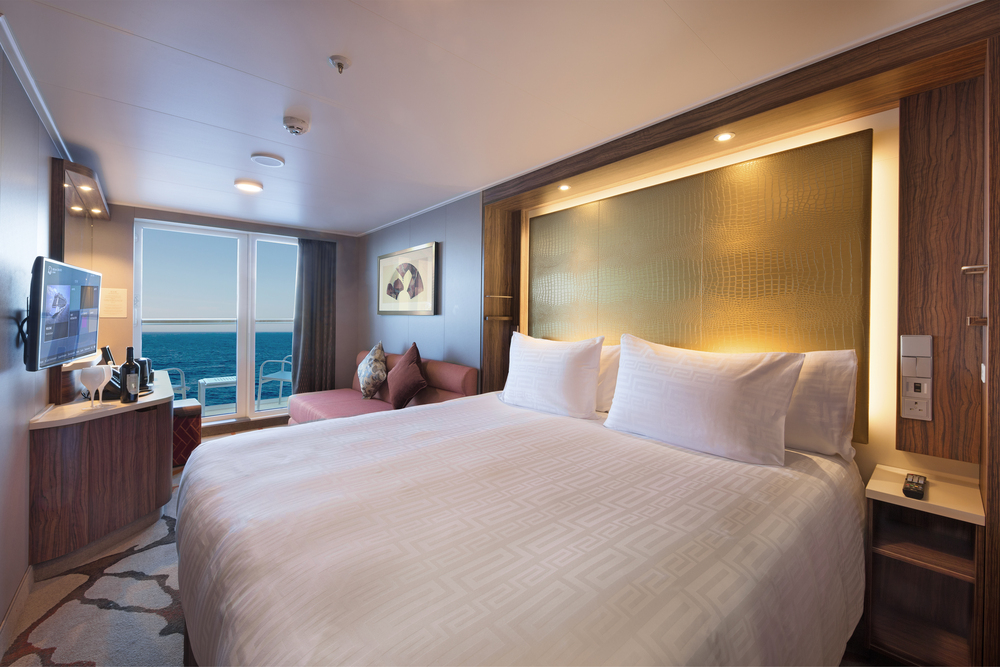 I had the pleasure of taking up the Balcony Deluxe Stateroom, where a Queen-sized bed and balcony became my retreat for the next five days. The 22sq.m room was indeed a luxury for singular me, as the room was intended to house three to four persons.
As a guest of the Genting Dream, I had the pleasure of dining at three inclusive restaurants of the 15 available dining and bar areas on board. The Lido is a half deck restaurant featuring rows and rows of buffet dining, and was the only restaurant to provide 24-hour eats for guests who are feeling peckish or who did not manage to grab a meal during normal eating hours. Dream Dining Room Upper and Dream Dining Room Lower provided more communal-style meals, great for dining together over traditional Chinese dishes.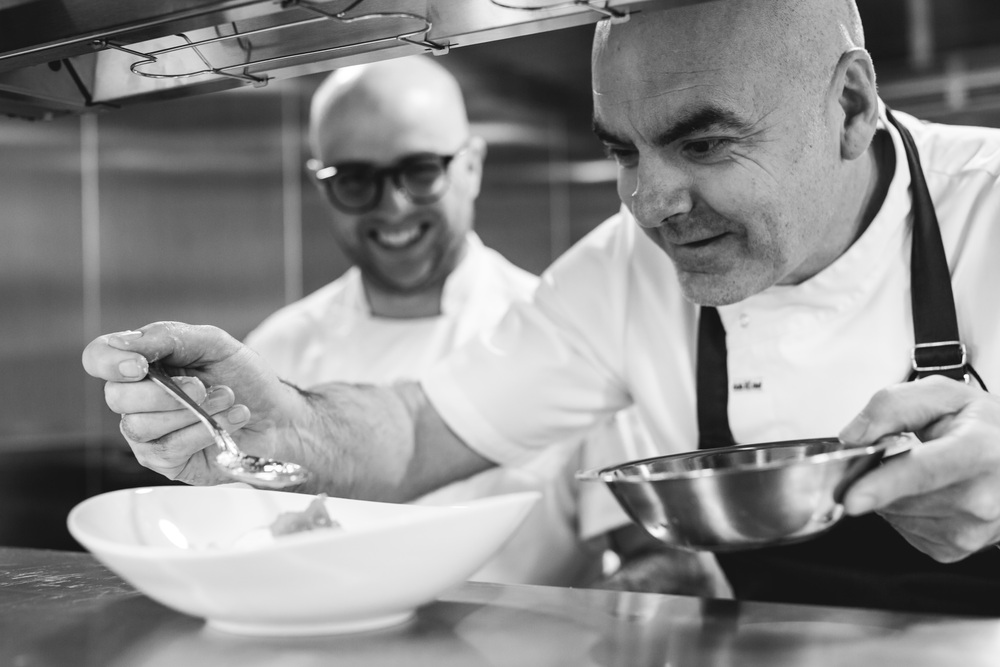 As a bonus, I got to dine at the Seafood Grill & Prime Steakhouse by Mark Best for a welcome and farewell dinner course, and was treated to Umi Uma Teppanyaki, where a fantastic and interactive dining experience is definitely worth the additional on-board spending.
The Final Table Experience
As one of the most ambitious culinary programs of its kind to ever be produced, The Final Table brought together renowned chefs from around the world to showcase their expertise in recreating technically and culturally challenging dishes from specific regions.
Even amongst the notable line-up, Chefs Mark Best and Shane Osborn were regarded as household names in the industry, and many expressed intimidation and awe at being able to compete against the Australian-born legends.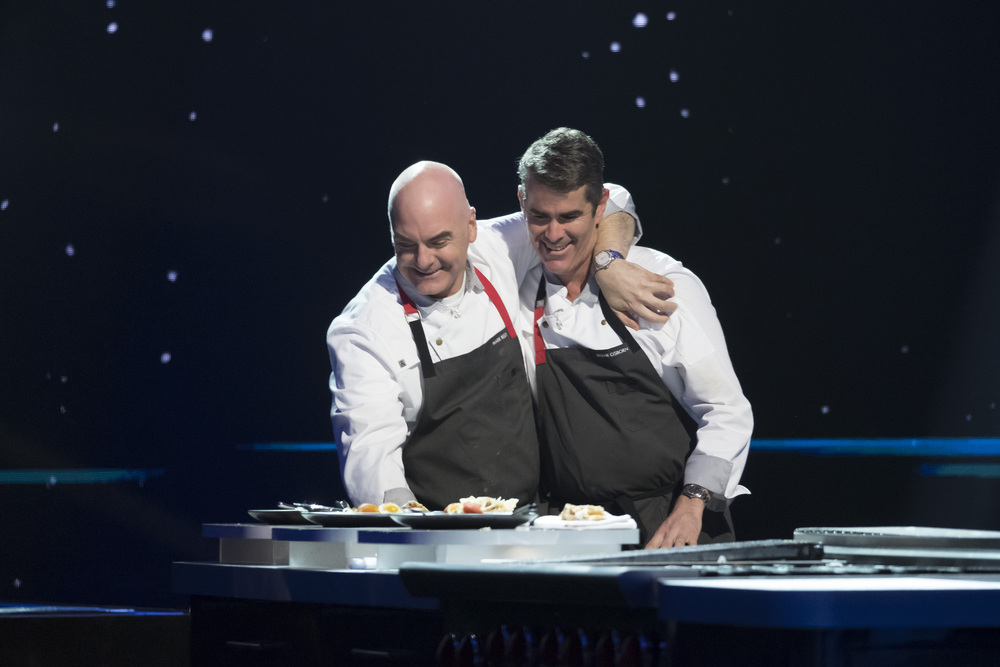 It was surprising to know that the duo who gained popularity with their 'dad jokes' and extremely compatible dynamic (dubbed the 'Shmark bromance' by viewers) had previously never cooked together until the Final Table pairing.
Apart from currently having signature restaurants on board the Dream Cruises ships, Chef Mark Best's reputation in his homeland of Australia has been nothing short of venerable. Owner and head chef of Sydney's best fine-dining restaurant, the Marque, Best has been the recipient of every major dining accolade in the nation, and holder of three Sydney Morning Herald Good Food Guide hats for a full decade. Through this restaurant, Best has also been lauded with the Breakthrough Award for the 2010 World's Best 50 Restaurants list, and held a position on the listing three times. He has since closed Marque in 2016, and has become a prominent presence abroad.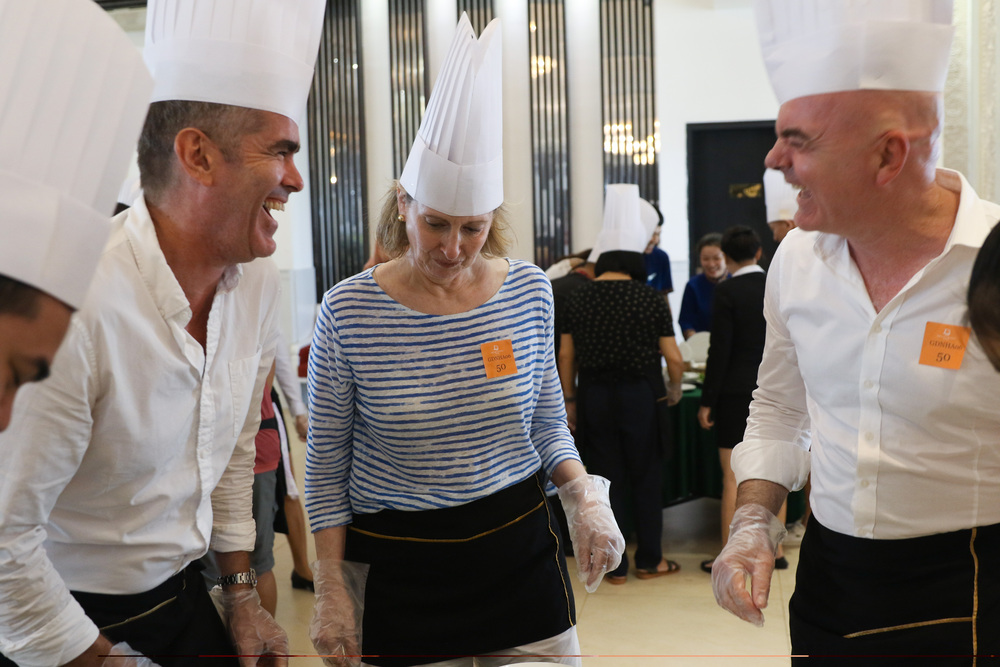 Also a highly reputable chef, fellow countryman Chef Shane Osborn has had an illustrious career overseas, being the first Australian chef to be awarded two Michelin stars, and being the force in winning another at self-owned and acclaimed Pied à Terre in London. 25 years into his career, Osborn felt the need for a change of scenery and spent two years travelling the world with his family before settling down in Hong Kong and opening Arcane (which brought in yet another Michelin star!).
The opportunity to meet with these two amazing personalities in the flesh solidified their fun presence with easy-going confidence, and both shared many titbits about the Netflix show.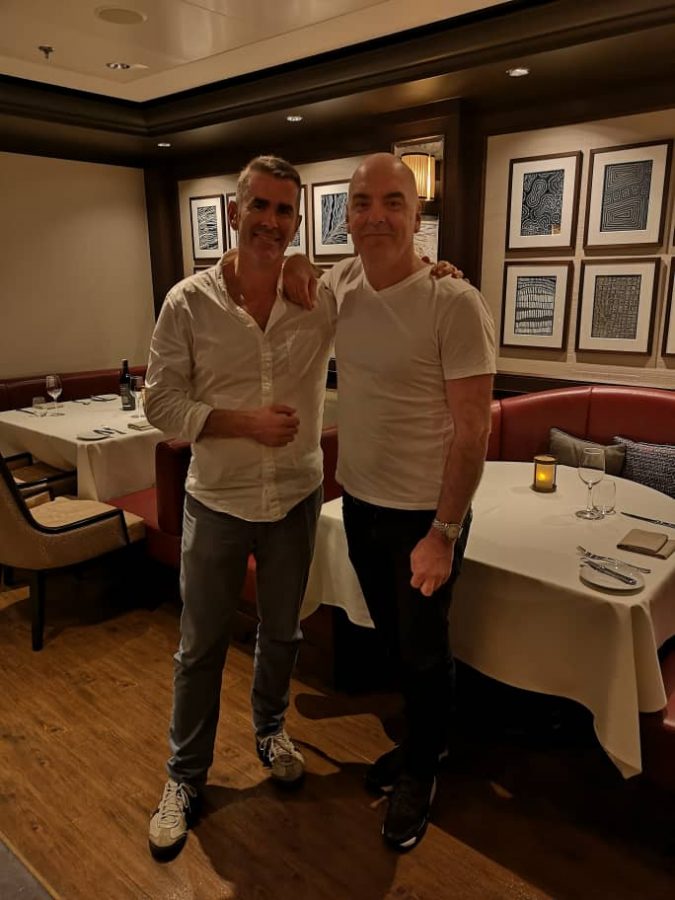 To say it was gruelling could be an understatement. The US$22 million that backed the production of the program meant that each participant had to be very carefully selected and prepared to undergo 10 to 16-hour day shoots over a course of over two months, and no excuse could be given for poor conduct.
The competition truly demanded the best of the best, and the Australian pair even found themselves in the elimination round twice. With a record of five wins and two 'safe' rankings in the 10-episode run however, Best and Osborn emerged as runners-up by team category, and the final episode of a surprise individual free-range competition proved that they still have so much to offer.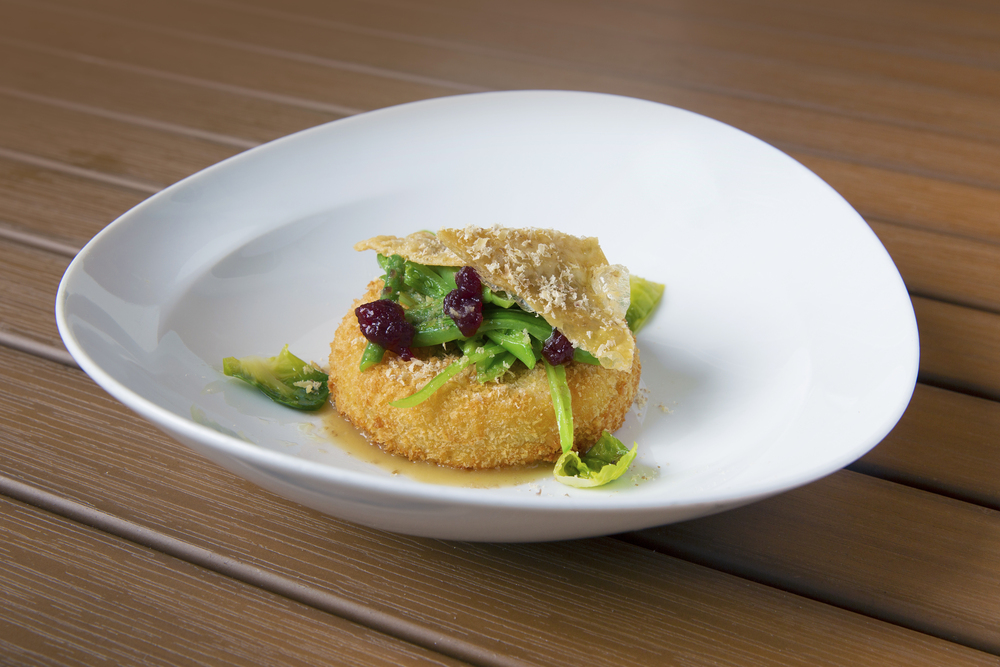 Among the nine dishes Best and Osborn created together during the show, their Thanksgiving Turkey Burger that won the American national food episode by a landslide was made the feature of The Final Table Experience aboard the Genting Dream. Held at the Lobby on Deck 6, the chefs expertly and humorously recreated the process of putting together an entire Thanksgiving menu into a singular patty. It's worth mentioning that this feature was also their first public reuniting to cook together since The Final Table wrapped.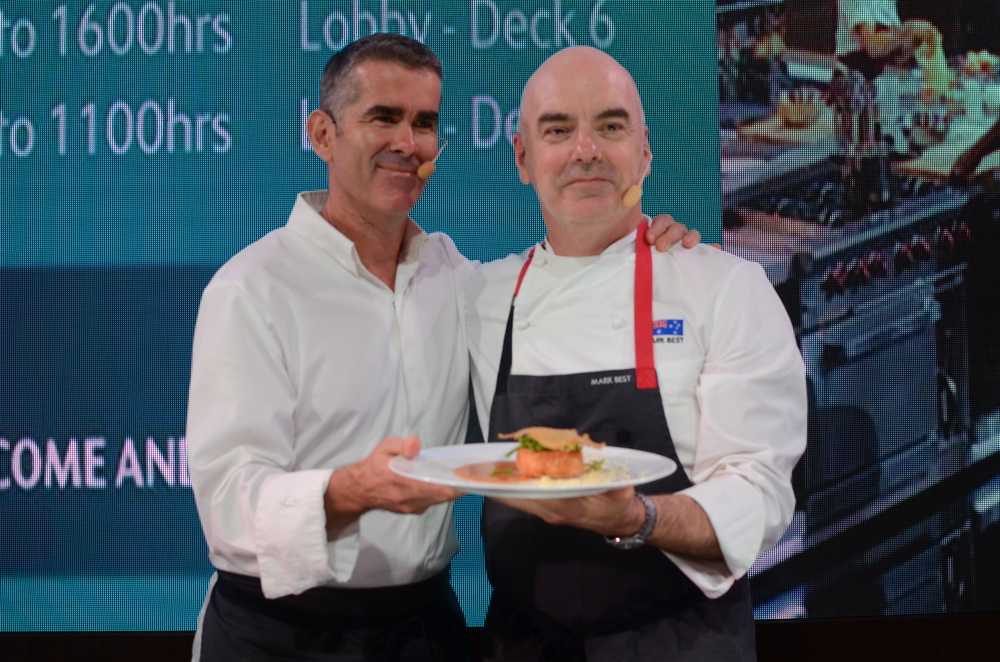 In addition to the cooking demonstration and enrichment talk, the duo also headed an exclusive group dinner, where a 6-course collaborative menu showcasing their unique cooking styles truly treated me to a whole new perspective on fine dining.
Cruising the South China Sea
The 5N 6D cruise round trip from Singapore to the coastal town of Nha Trang and capital Ho Chi Minh City of Vietnam was smooth, with full days of high-sea sailing on undisturbed waters and bright sunshine. Occupying time aboard a vessel such as the Dream Cruise was amusing, as the many on-board entertainment avenues such as outdoor water slides and elevated obstacle courses made for exciting afternoons. I even got to zip line above the ocean right off the ship's extended rope course platforms!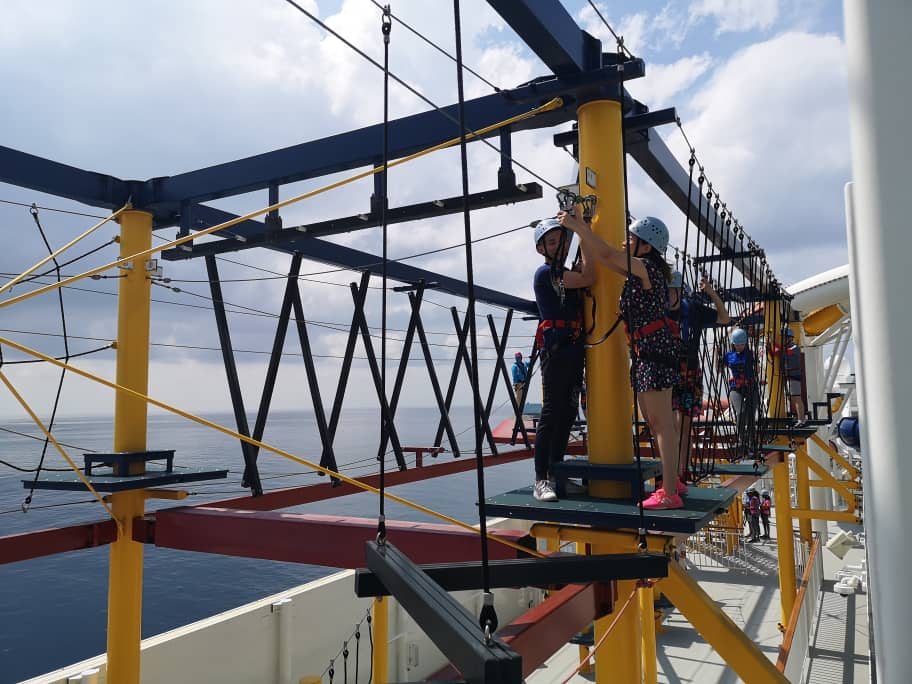 For the people who wish to continue their daily exercise, an outdoor jogging path is neatly outlined around the open swimming pool deck, and a basketball court, ping pong tables, mini golf, rock-climbing wall and the beautiful boardwalk overlooking and connecting all the outdoor facilities is open for use. Be one of the guests who pay a little extra to stay in the Palace suites, and the Crystal Life Fitness gym is available for 24-hour use.
The shore excursions to the ports in Vietnam were well-tailored to showcase each area's specialties. The antiquated city of Nha Trang brought us back to simple times, rich with history and community, while the tour of Ho Chi Minh centred on how Vietnam has grown so much as a developing nation ready to incorporate international trade.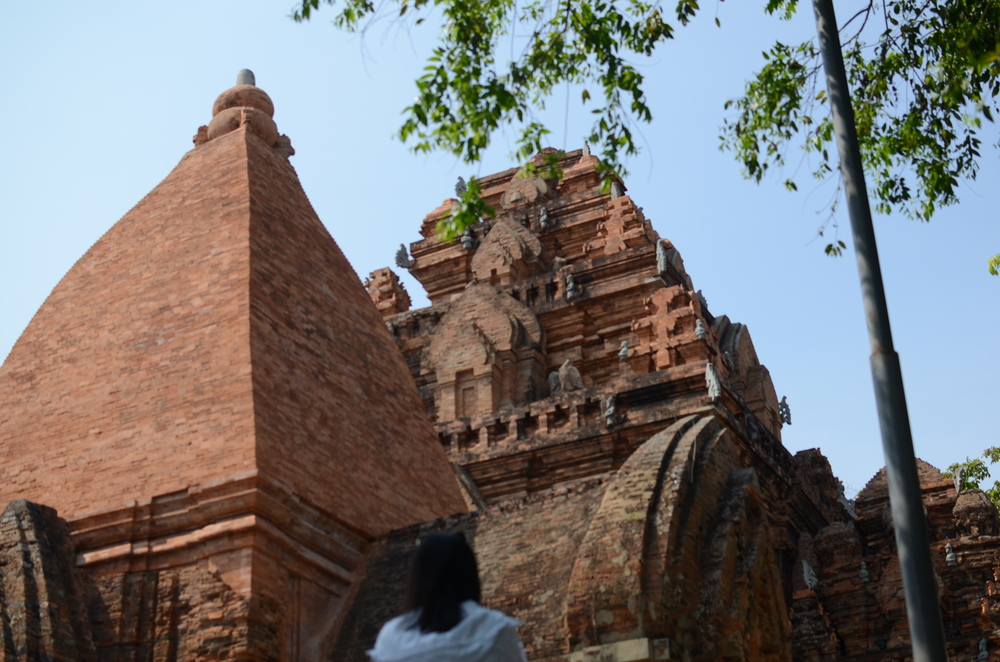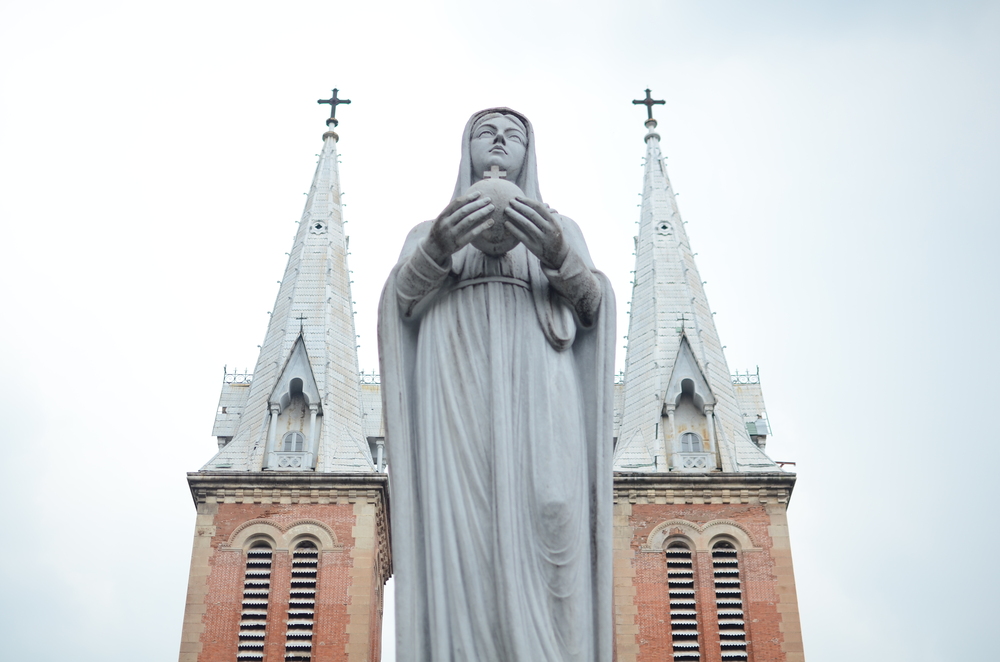 While my experience with cruises are limited, the excellent hospitality provided by Genting Dream's wonderful staff, fun-filled tours of Vietnam and once-in-a-lifetime experience of dining with and by Australia's greatest culinary experts absolutely was an experience I am grateful to have had alongside a fun group of new friends.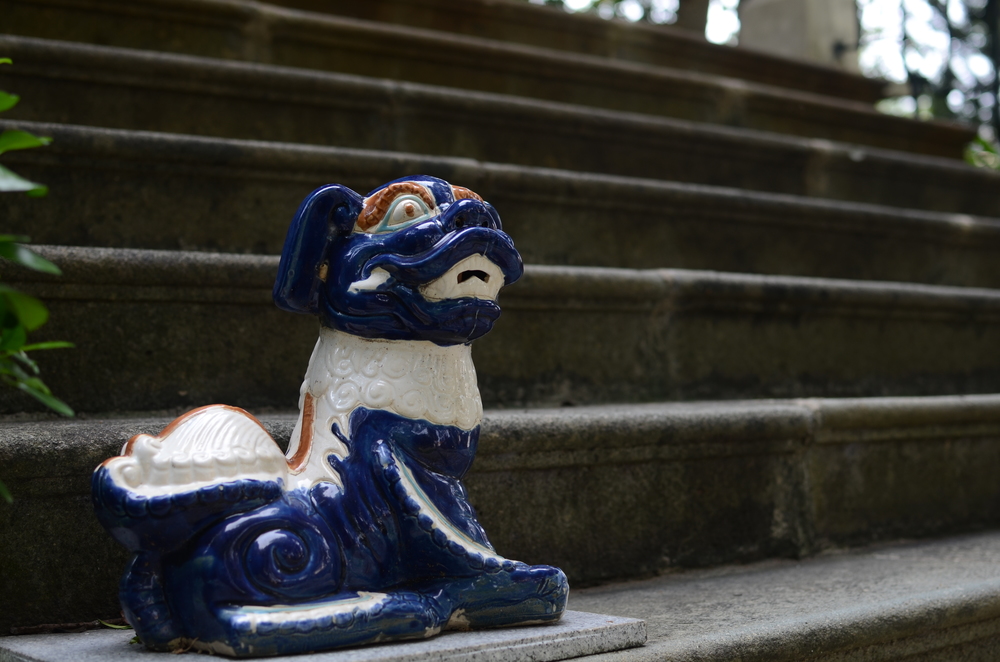 As of time of publication, Chef Mark Best has gone on to the Explorer Dream to be closer to home, while Chef Shane Osborn has continued exploring the world. We at The Expat wish them all the best and hope to see them cook together again!
This article was first published in The Expat magazine (January 2020 edition). Subscribe and get more content like this here!
---
"ExpatGo welcomes and encourages comments, input, and divergent opinions. However, we kindly request that you use suitable language in your comments, and refrain from any sort of personal attack, hate speech, or disparaging rhetoric. Comments not in line with this are subject to removal from the site. "
Comments