New artist on the scene Gerald Mohan Constantine talks about his love of comic books, sculpting, and fantasy art with Priscilla Emmanuel.
A voracious comic book fan, sculptor, and scale model builder, Gerald Mohan Constantine did not call himself an artist until he turned 40 years of age. He delineates the timeline of his life for me, remembering his creative tendencies as a child which eventually grew into a love for molding and building. Coming from a family that prioritized the sciences over arts which isn't a solitary occurrence in this part of the world, Gerald wasn't able to fully submerge himself in creating until adulthood. He recalls coming across an interview with Chicago-based artist Bruce Riley on YouTube, who did very unique forms of fluid abstract paintings that ignited something within him. "After watching him paint, making the colours flow and mix into each other, something in me awoke and lit up. In that interview, I came to a revelation that art can mean nothing, or it can mean everything. That's when I knew I wanted to be an artist. I then spent the following year making one painting a month and perfected my own techniques and versions of fluid painting," he explains.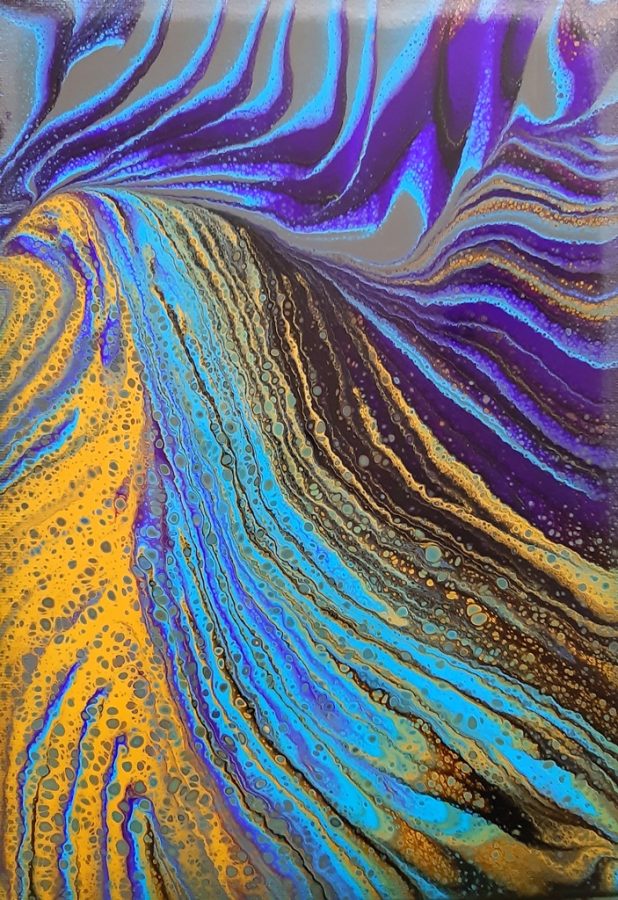 I asked him about his favourite comic book artists and he names Tim Sale who did the artwork for 'Batman: The Long Halloween,' and Todd MacFarlane for his work on 'The Amazing Spiderman' and 'Spawn.' He also cites Michael Whelan as his top pick for fantasy art who inspires his own fantasy themed sketches and paintings.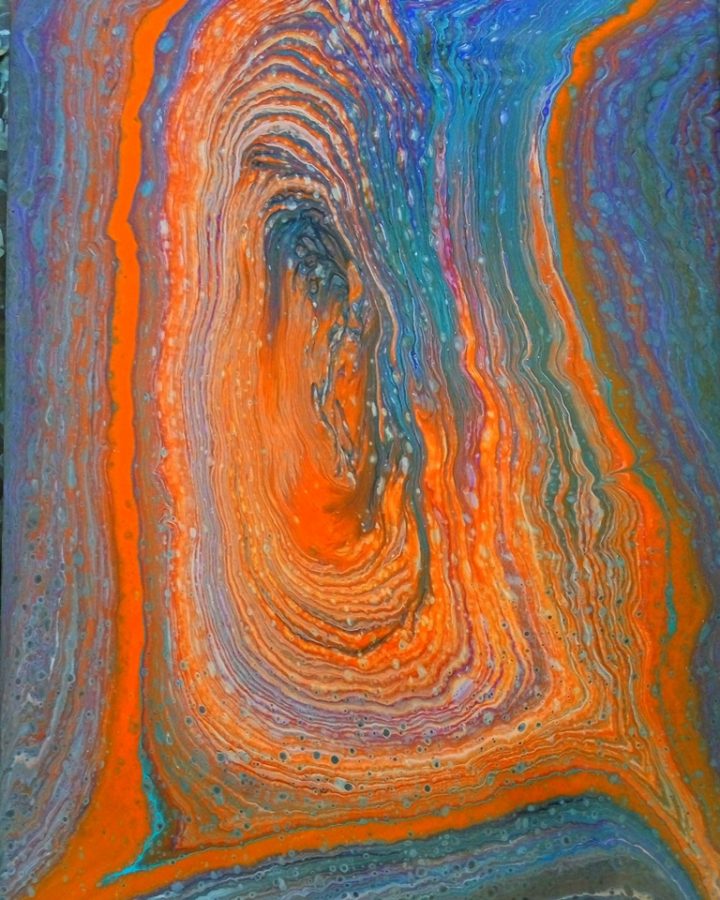 I was especially intrigued with a specific passion project of Gerald's called 'The Rubber Tapper.' It carries a very distinct and special significance for me as my paternal grandparents were rubber tappers themselves. Gerald tells me that it was a 10-year old idea of "wanting to explore the Indian diaspora in Malaysia specifically from 1890 to 1920 when the Indians where brought in to work on the plantations." He finally brought it to life this year, being particularly fascinated with the Indian women who worked on the rubber plantations.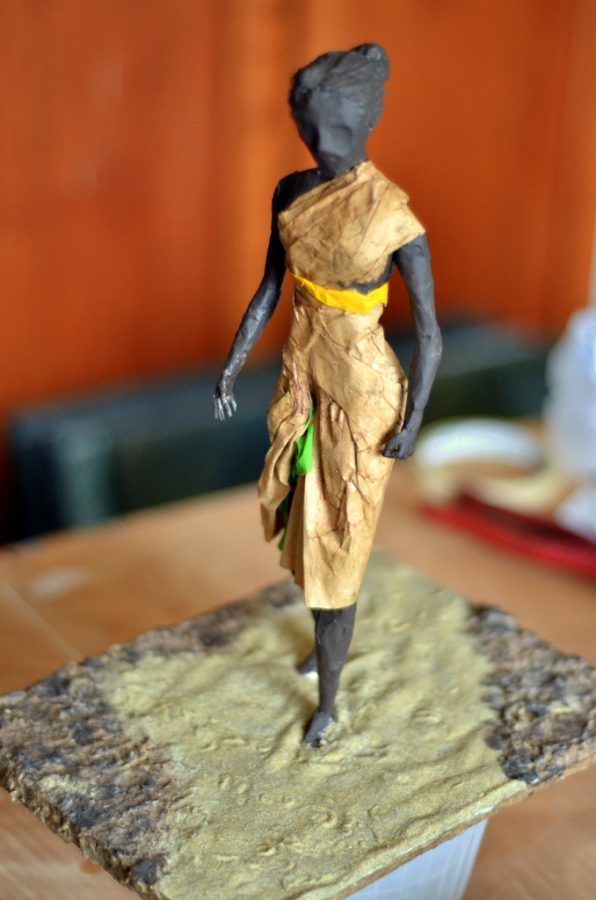 "I can only imagine their life on the plantations, what they've had to endure, and how much they've contributed in making Tanah Melayu the number one exporter of raw rubber. 'The Rubber Tapper: Malaya 1890' was my second paper sculpture in 10 years so it was a little bit of a learning curve, or should I say a re-learning to capture the way their sarees were tied just right, and I was so very proud to display it at my first group exhibition.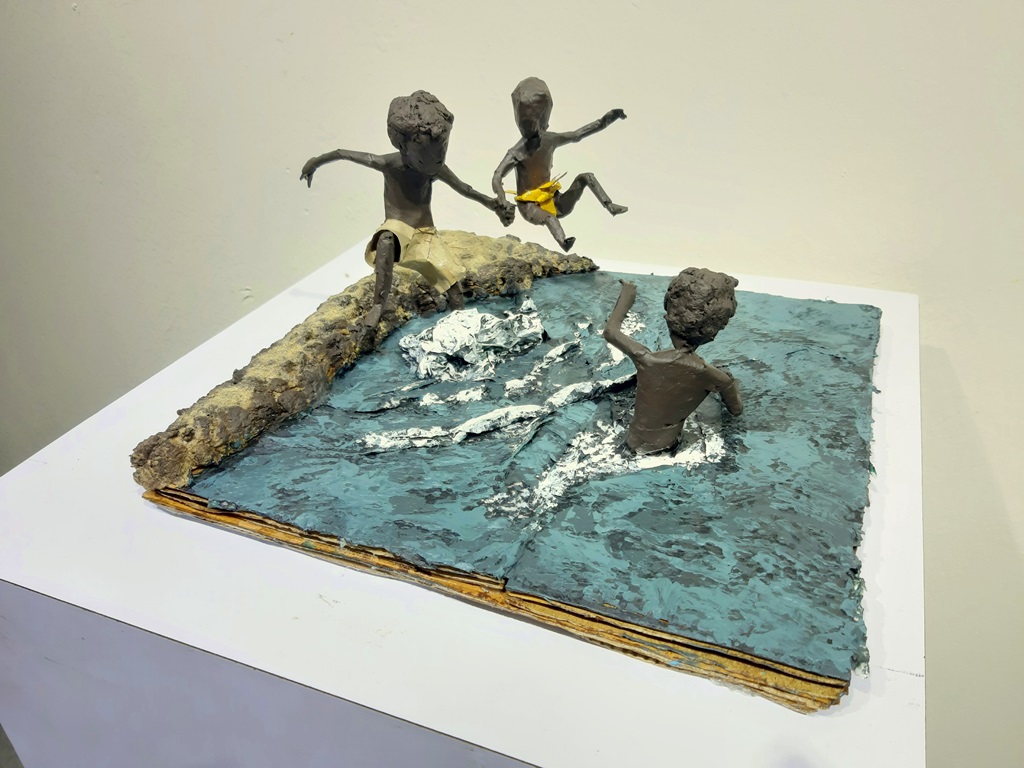 I followed up on the Indian diaspora idea with another paper sculpture, 'The Three Boys' which where 'The Rubber Tapper's' three children playing in a pond. This really pushed my paper sculpture skills further but I must say that 'The Rubber Tapper' is still my favourite. And while paper always makes people think it's easily destroyable, my sculptures will make you wonder if it's really made of paper."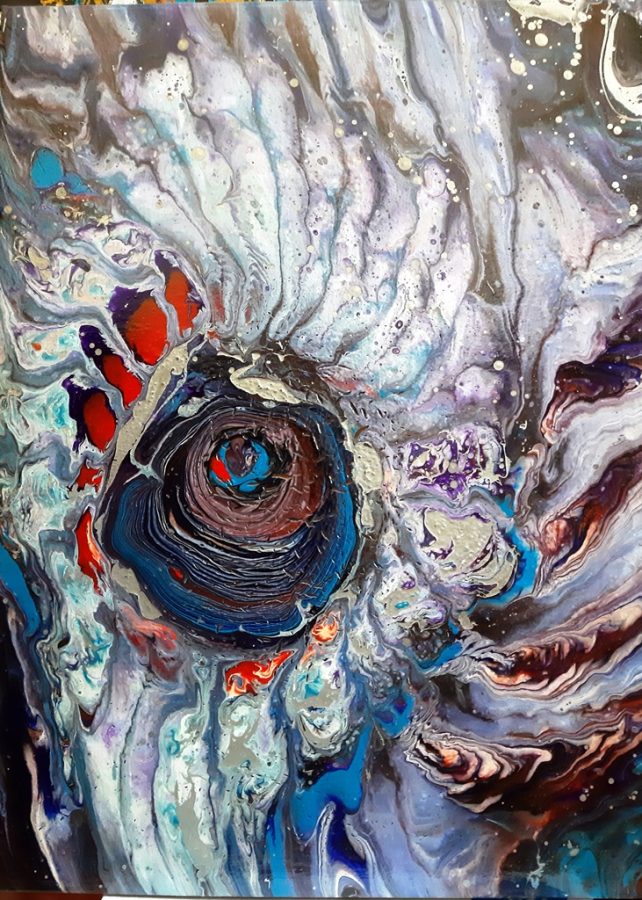 Going back to the subject of his abstract paintings, Gerald tells me that he has been diversifying his techniques besides pour acrylic. He goes on to say that, "Abstract is not just splashing colours together as people often think. Some paintings take a long time as we create multiple layers to give depth and meaning to the art. Each piece has a different emotion of story. In some of my pieces I like to hide figures or messages that are not so easy to spot."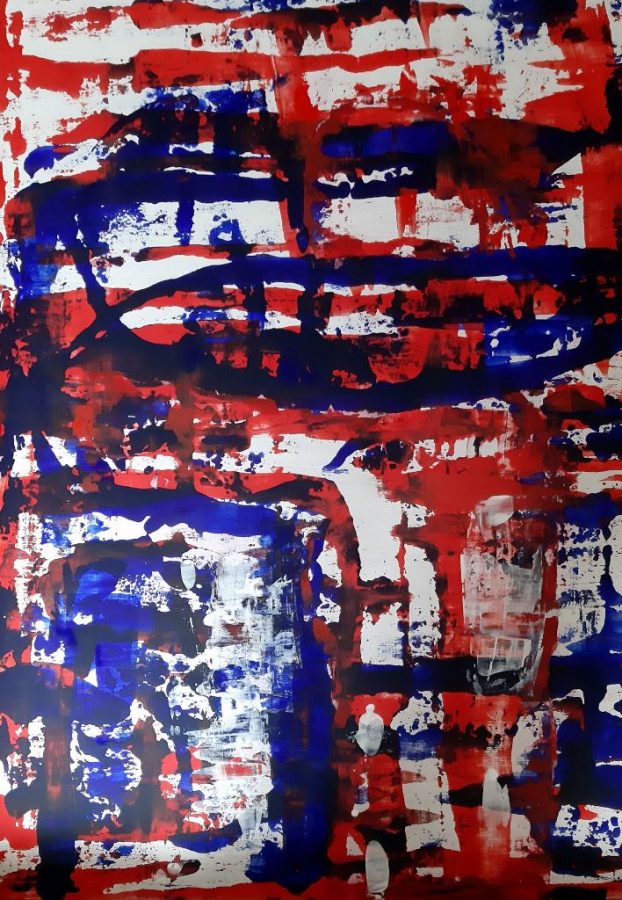 This holds true as I've witnessed it myself at his most recent group art exhibition called Tell Me a Story. Standing in front his piece called 'Broken Vessels,' I was completely spellbound, and captivated. It showed a reflection of the delicate and perplexing dynamics of two fractured humans attempting to start over; a rumination of how modern relationships are experienced after multiple heartbreaks. Another painting I couldn't stop staring at–Blue Eyed Boy Meets Brown Eyed Girl–brought completely different feelings to the surface, being a transfixed elation, and a strange yet recognizable euphoria. The story behind this last one made me laugh after learning what inspired the flow and colours used. I'll leave it to discerning art lovers to figure it out, or better yet, see it in person before retrieving its secret.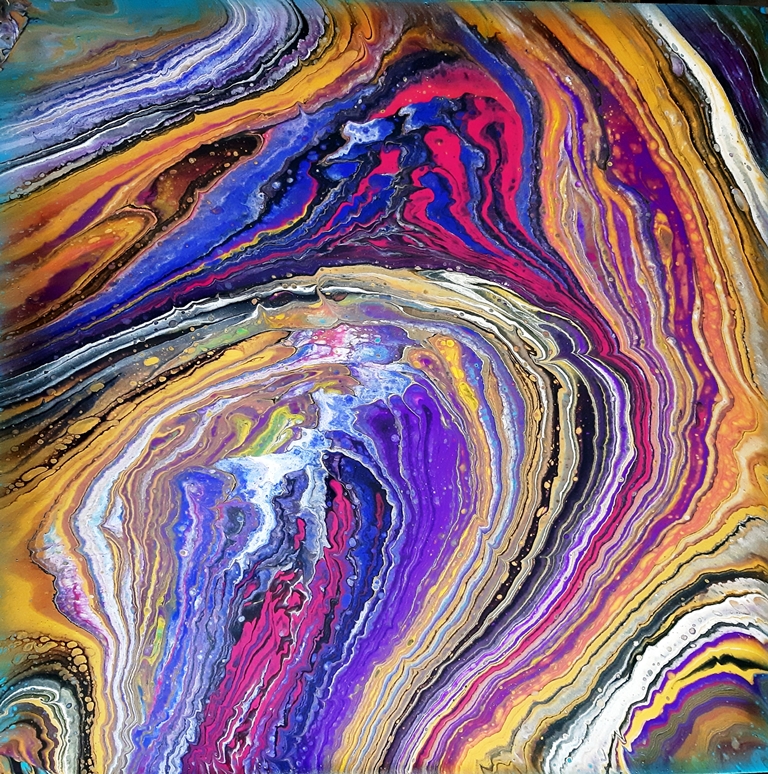 Gerald accredits fellow artist Visithra Manikam (featured in The Expat August issue) for making it possible for him to enter the Malaysian art sphere by inviting him to participate in her inclusive group exhibitions which she curates a couple of times a year. When asked about upcoming projects, Gerald tells me that he is currently working on his biggest sculpture to date which will be unveiled sometime in the future.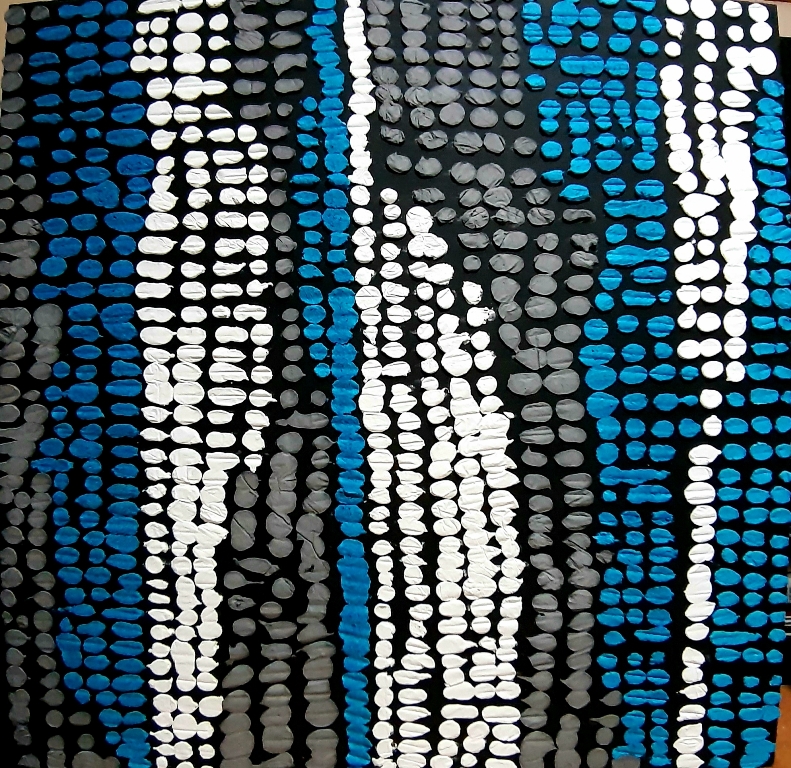 If you would like to follow Gerald's art journey, find him on Instagram @geraldmohan. For inquiries on viewing or purchasing his pieces, contact him at [email protected].
---
"ExpatGo welcomes and encourages comments, input, and divergent opinions. However, we kindly request that you use suitable language in your comments, and refrain from any sort of personal attack, hate speech, or disparaging rhetoric. Comments not in line with this are subject to removal from the site. "
Comments