The decision to allow Malaysia My Second Home visa holders (MM2Hers) into the country was warmly welcomed after they had been denied entry to Malaysia, effectively being locked out of their homes for two months. Some have had a tough time of it and, like us, could not understand why the government could let in over 38,000 Malaysians returning from overseas, but not a few hundred foreigners who had made their homes in Malaysia.
Even now that they are theoretically allowed back in, things are often confused and the decisions being made seem to reinforce the notion that the government is still very reluctant about letting expats into Malaysia. The rules being announced do not make it easy even for MM2Hers to return. We share here what we know and welcome feedback from expats who have personal experience.
We are seeking information: If any expats reading this have been through the return or are still trying to get back, please share your stories with us. Also, if you find anything in this article to be incorrect or can provide additional information, please email [email protected].
GETTING A FLIGHT
Some airlines have told people they will not take MM2Hers because the IATA website still does not state they are allowed to enter. We are trying to get that updated.
The following letter from the Director of Immigration states that MM2Hers are allowed to return although it also states only if they are on the list. The original letter in Bahasa Malaysia is shown. An unofficial translation follows.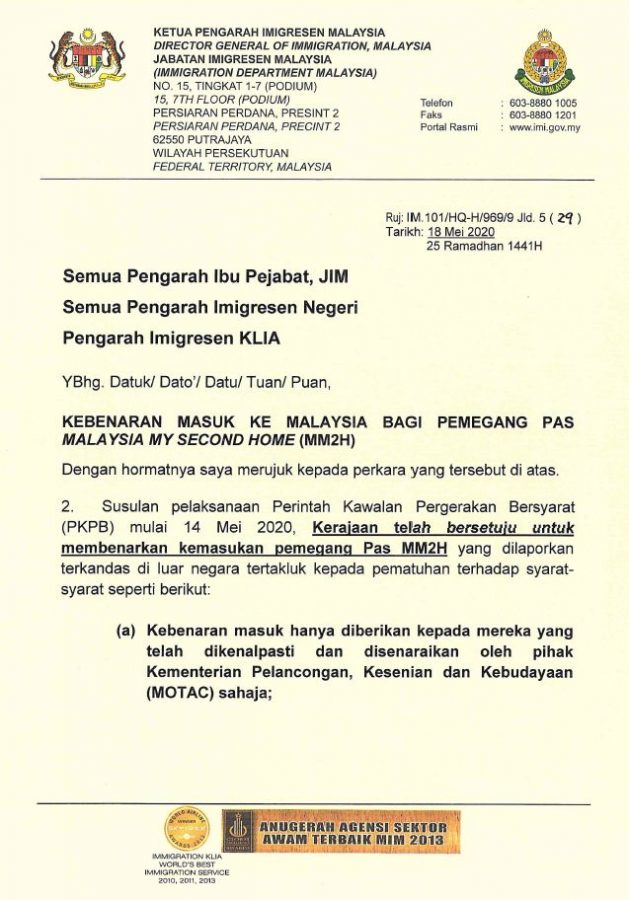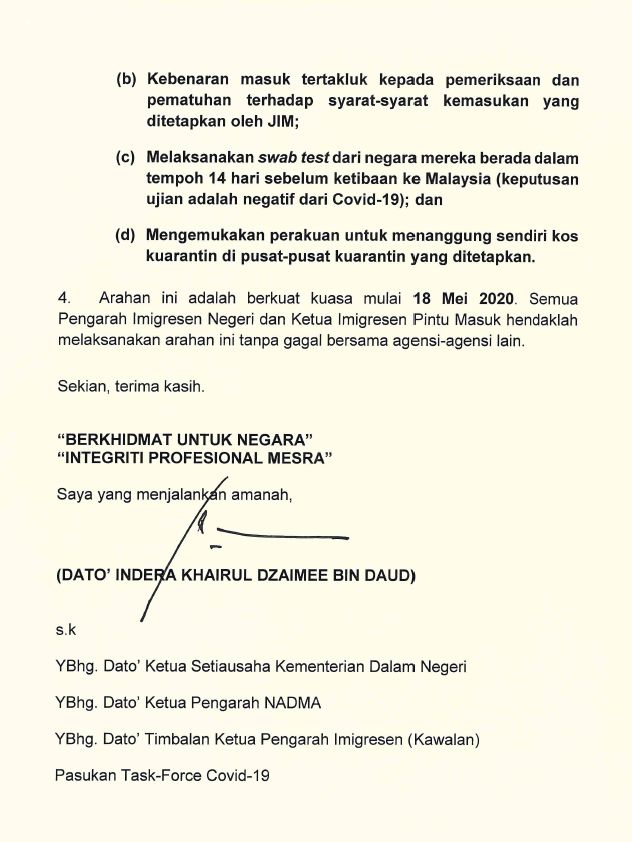 TRANSLATION:
Permission to enter Malaysia for MM2H pass holder
I respectfully refer to the above
2. Following the implementation of the Conditional Movement Control Order (PKPB) from May 14, 2020. The government has agreed to allow entry of MM2H Passport holders overseas based on compliance with the following terms:
a. Admission is granted only to those who have been contacted and listed by the Ministry of Tourism, Arts, and Culture (MOTAC) only;
b. Permission to enter is subject to inspection and compliance with JIM's entry requirements;
c. Perform a test swab from their country within 14 days of arrival to Malaysia (test results are negative from Covid-19): and
d. Submit a certificate to bear the cost of quarantine at designated quarantine centers.
4. This directive is effective from 18th May 2020. Sem, the Director of State Immigration and Head of Immigration shall enter into this order without fail with other agencies.
CONFUSION AND CONTRADICTION?
Unfortunately, because of confusing feedback this was never mentioned when it was announced that MM2Hers were able to return. Since nothing to the contrary was stated, it was assumed all MM2Hers could return. We are not sure if immigration is strictly enforcing this on entry, but frankly, given their hardline approach to date, it is best to assume they are, so please email us if you want to ensure your name is listed as a safety measure.
There was initially a list which we submitted to the Ministry of Tourism, but then news came through that all MM2Hers would be allowed in and we stopped adding to it, which means if you contacted us only recently, your name may not have been submitted. We will be providing an updated list to the Ministry.
Frustratingly, when the Ministry of Tourism first announced MM2Hers would be allowed back in from May 17th, their announcement was not accepted by immigration who continued to tell expats they could not enter. As can be seen, the letter from the Director General was only written on May 18th. (It also notes May 14th as the date the CMCO was implemented; in fact, this took effect on May 4th. Furthermore, the numbering in the memo is incorrect – only items 2 and 4 are noted, not 1 and 3, so we assume these are merely typos.)
Hopefully, now immigration will allow entry, but probably only if you are on the list.
GETTING THE COVID-19 TEST BEFORE ENTRY
Despite placing all new expats arrivals in quarantine, the government is insisting they also show negative test results for the virus or they will not be allowed entry. A key question being raised was how recent the test needs to be.
Well, according to the email (pictured below) from the immigration department, the test must be done within 14 days of your arrival.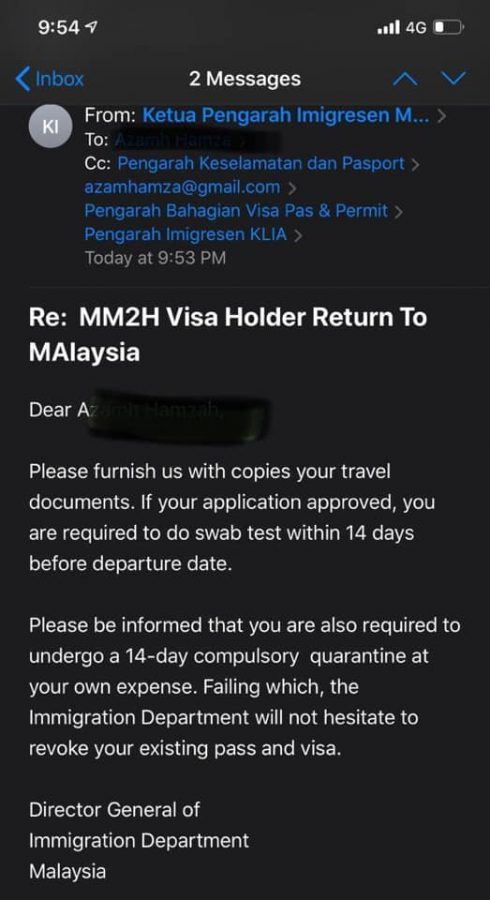 The next problem is that in a number of countries, only people with symptoms are allowed to have the coronavirus test. That was a problem in both Singapore and the UK until MM2Hers found friendly places that were willing to help them return to Malaysia.
Of course, if you feel you have any of the symptoms and can convince the testing place of that fact, then you will be able to get tested. Apparently, loss of smell and taste is now considered a symptom of the disease in some countries.
You will be tested again when you go into quarantine and also just before you are released.
ARRIVAL IN MALAYSIA
After arriving in Malaysia and clearing immigration, you will be driven to a government-designated quarantine centre. Foreigners are usually sent to one of a number of 4- and 5-star hotels which the government have designated and set up as quarantine centers. You have no choice where you are sent, and some expats who had booked their own rooms elsewhere were advised they could only go to the government-approved locations.
You will be given some snacks, and three meals a day will be left outside your room at specified times. Some places allow you to order other food.
Married couples are usually forced to take separate rooms. There were a few cases where they were permitted to share and we originally thought all would be allowed to have a double room. Some hotels try and get them connected rooms if possible and others have allowed married couples to visit each other, but generally they insist on separate rooms. It is not clear why.
Although Malaysians are given free quarantine, this is not extended to expats, who have to pay their own way. The typical price seems to be RM350 a day, which includes food.
CONCLUSION
Things are not going as smoothly as planned, and clearly the government is still reluctant to let any foreigners into the country, even if they were invited here or approved for long-term work visas. We continue to try and get them to allow working expats back into the country or to at least be kind enough to tell us why they are not permitted to return, and when that might be changed.
A reminder that anyone who can correct or add to the above story – or simply wishes to share their experiences – please contact me at [email protected].



" ExpatGo welcomes and encourages comments, input, and divergent opinions. However, we kindly request that you use suitable language in your comments, and refrain from any sort of personal attack, hate speech, or disparaging rhetoric. Comments not in line with this are subject to removal from the site. "



Comments